*FYI - this post may contain affiliate links, which means we earn a commission at no extra cost to you if you purchase from them. Check out our Privacy Policy and Disclosure. for more info.
If you are one of the many people interested in the idea of reality shifting, especially reality shifting to Hogwarts, this article will provide you with a free and easy fill-in-the-blank Hogwarts shifting script template that you can use to craft your ideal Desired Reality (or DR).
If you are completely new to reality shifting, we recommend you start here first with a basic guide from GeekTrippers, which explains the concept very well.
When you are ready to start scripting, return to this shifting script template and hopefully it helps you successfully shift to Hogwarts, or (as many of us know it) – home.
Pin these ideas for later: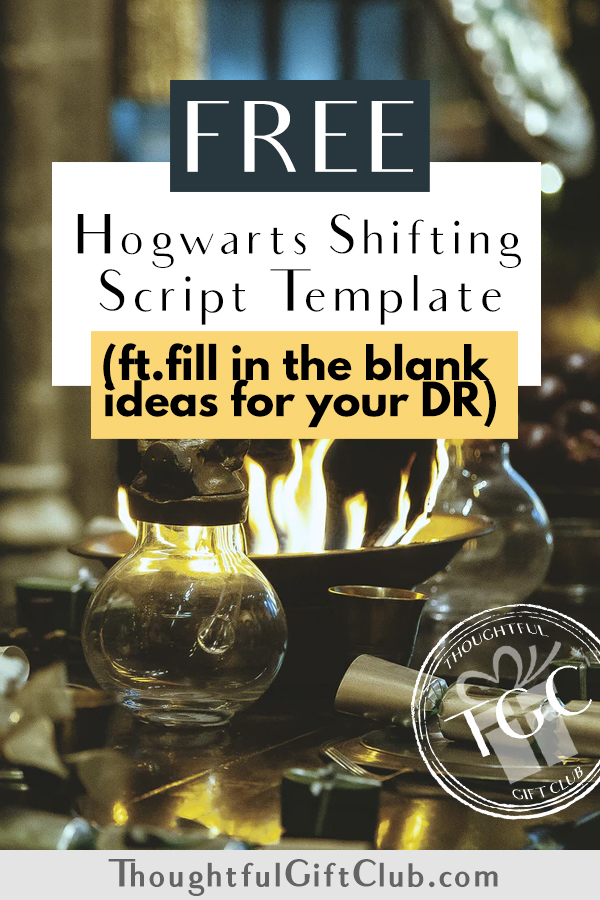 How to Use This Hogwarts Shifting Script Template
Below, you'll find the Hogwarts shifting script template we have created for your reference.
Remember, scripting is not a mandatory part of shifting, nor are there any rules set in stone, so you can use as little or as much of the script template as you wish. Feel free to also personalize it further and make it your own with visuals, more details, etc. to craft your Desired Reality. Might we suggest a trip to DracoTok to get your imagination going?
Your shifting script to Hogwarts can be physically written down (e.g. in a notebook or on parchment), or it can be digital (on your phone, in a Word doc, etc.)
It can also include visuals or be 100% text.
All of this is up to you – be sure to make it your own. Good luck!
NOTE: You can also use this script as a jumping point for creating scripts related to other realities, like for example the Marvel Universe, Star Wars or even Bridgerton.
Our Fill in the Blank Hogwarts Shifting Script Template
Follow this script for shifting to Hogwarts and be sure to fill in the blanks to make it your own. As a reminder, shifting can be a long process for many and it doesn't instantly happen, so don't get discouraged!
My name is _______.
The nickname(s) that my friends call me is ________.
I am _____ years old. I am in my ______ year at Hogwarts.
My birthday is _______.
I have ______ hair and _______ eyes. I am ______ feet/cm tall, and my body type is ________.
My best features are __________.
My catchphrase is _______.
At Hogwarts, my friends are _____. My friends understand my sense of humor and references. We became friends because _____ (insert friends origin story). None of my friends can die.
My best friend at Hogwarts is ________. We have been best friends for _____ years and our favorite thing to do together is _. We became best friends because _____ (insert best friend friendship origin story). My best friend cannot die.
I share my dorm with _________.
My love interest at Hogwarts is ______. We are ________ (just friends, seeing each other, in a committed relationship, etc.) They are _______ (insert personality traits of Hogwarts love interest) and likes me for my _____ (insert traits of yours that your Hogwarts love interest likes). I met my love interest when _____ (insert love interest origin story). My love interest cannot die.
People I don't get along with at Hogwarts include _______. My main rival is _____. We are rivals because _____ (insert rival origin story).
I am very talented at ______ (insert things you are good at).
I speak ___ languages. They are ______ (insert the languages you speak).
I am very ____ (introverted or extroverted). My friends love me because ______ (insert positive traits).
In my free time at Hogwarts, I like to ______ (insert hobbies/extracirriculars, e.g. Quidditch)
Hogwarts is stunning and magical. I know Hogwarts very well, like the back of my hand, and can navigate the halls with ease.
My favorite part of Hogwarts is _______.
I can always find the Room of Requirement whenever it's needed.
I am friendly with all the paintings and ghosts at Hogwarts.
I have permission to go to Hogsmeade and my favorite thing to do there is _______.
My pet is ____.
My Patronus is _______.
My wand is made of ______.
My parents are ______ and _______. I am of ______ blood (e.g. pure).
My professors at Hogwarts like me and I get great grades without having to study very hard.
My favorite professor is ____.
My favorite class is _____. Of my friends, __________ are also in the same class.
My signature scent is ______.
My favorite foods at Hogwarts are ______. They serve them every ______ (insert occasion or day of the week).
I am healthy. I cannot get sick.
I cannot die or incur any major harm. I feel minimal pain.
Nothing I encounter will traumatize me.
Nobody asks me questions about my backstory or question why I'm there.
When I have successfully shifted, I will know because _____ (insert a sign of some kind like what you're wearing, what you can smell, what you see, etc.)
My Desired Reality will pause when I leave it.
When I am in my Desired Reality, 1 hour of my Current Reality is equal to ______ in my Desired Reality.
I cannot get stuck in my Desired Reality.
My waiting room looks like _________.
Life in my Desired Reality will follow the plot of the Harry Potter movies except ________ (insert changes you would make, e.g. Voldemort doesn't exist, Ron and Hermione don't get together, etc.)
My clone will act as I normally do while I am in my Desired Reality.
My clone will not tell anyone that I have shifted.
To return to my Current Reality, I will _______ (e.g. clap 3 times, tap my feet together 3 times, etc.)
I have a safe word to return to my Current Reality. It is _____.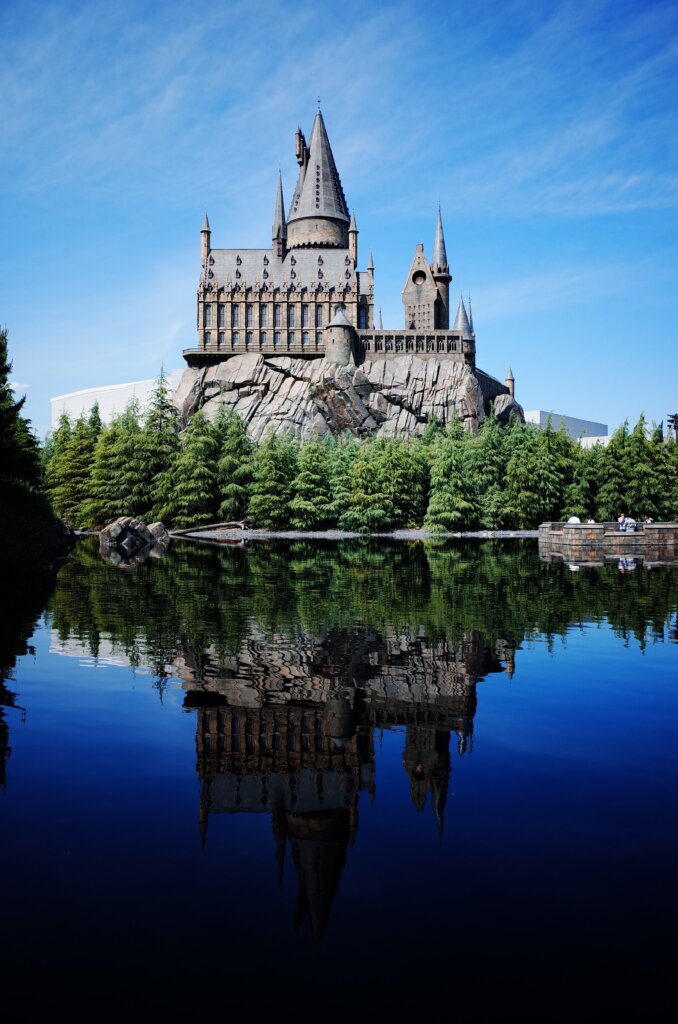 Other Things to Add to This Hogwarts ShiFting Script Template
Of course, the Hogwarts shifting script template above is just a start!
Remember, shifting is a completely personal experience and you can put as much detail into your script as you want.
Here are some additional Hogwarts scripting ideas that you can add:
Visuals of what you look like
Visuals of what your dorm looks like (click here for aesthetic Pinterest boards with inspo for each house)
Visuals of what your love interest looks like and what you like to do together
Convenient script additions like you always have money, you never get your period, you don't need to shave/wax, you don't get acne, you always have clean clothes, your breath always smells great, you are physically fit and don't get tired, etc.
Fun script additions like what you get to eat for breakfast at the Great Hall, what the Yule Ball will look like, etc.
Random things you're good at e.g. you're a good kisser, you are a very gifted artist, etc.
Best of luck with your own Hogwarts shifting script!
We hope you found this template helpful. Be sure to click here for a fun guide on how to make a shifting toolkit for your friends as a nice DIY gift, or click here to browse our other Harry Potter gift ideas.
PS: You might find this list of HP themed pickup lines useful too!