*FYI - this post may contain affiliate links, which means we earn a commission at no extra cost to you if you purchase from them. Also, as an Amazon Associate I earn from qualifying purchases. Check out our Privacy Policy and Disclosure. for more info.
This Thanksgiving, be the Belle of the (Butter)ball and impress everyone with your DIY skills!
From crafty and creative to nommy and tasty, this list covers the best DIY gift ideas for your next Thanksgiving gala (no matter how large your family is!). Whether you're looking to gift the host/hostess some cute pumpkin wall art or perhaps some tasty baked goods filled with love, you'll find plenty of inspo here.
As always, some of our edible food ideas include healthy plant-based options for our vegan friends as well. Now, allow us to lead the way and showcase all these homemade ideas to brighten up your Thanksgiving this year!
Pin for later: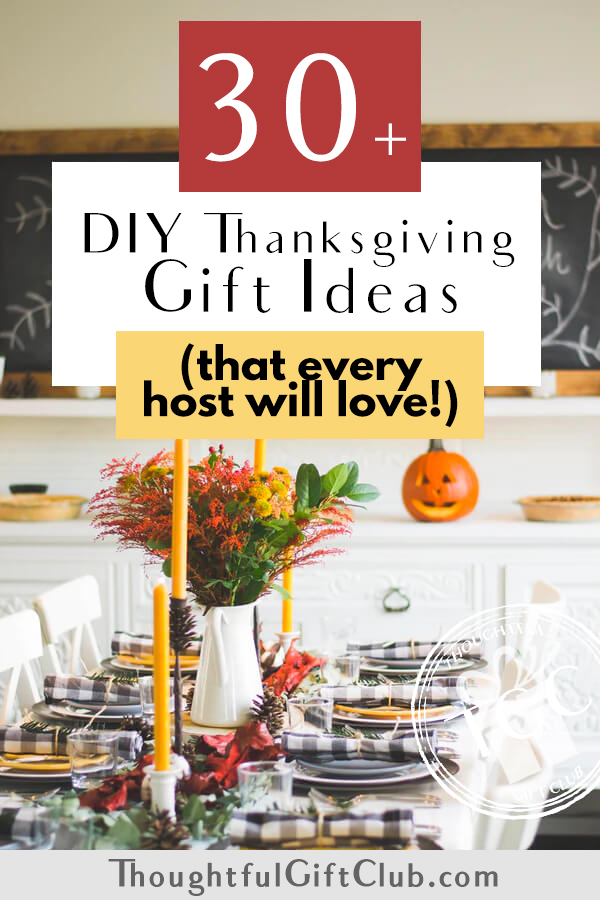 Edible DIY Thanksgiving Gift Ideas
You can't have Thanksgiving without copious amounts of food, right? The following DIY Thanksgiving gifts are beyond delicious, and consist of homemade recipes made from the comforts of your own kitchen. Whether you're whipping these up for your Thanksgiving feast or simply looking for edible Thanksgiving gift ideas, these recipes are ideal to save and continue to reuse on a yearly basis!
1. Savory Spiced Pecans
Gifting something that you have made in your own kitchen is always so much more thoughtful than anything store-bought. These savory spiced pecans are sure to be a hit as a Thanksgiving gift, and they also make the perfect snack leading up to the big turkey feast!
Click here for the recipe from Confessions of an Overworked Mom.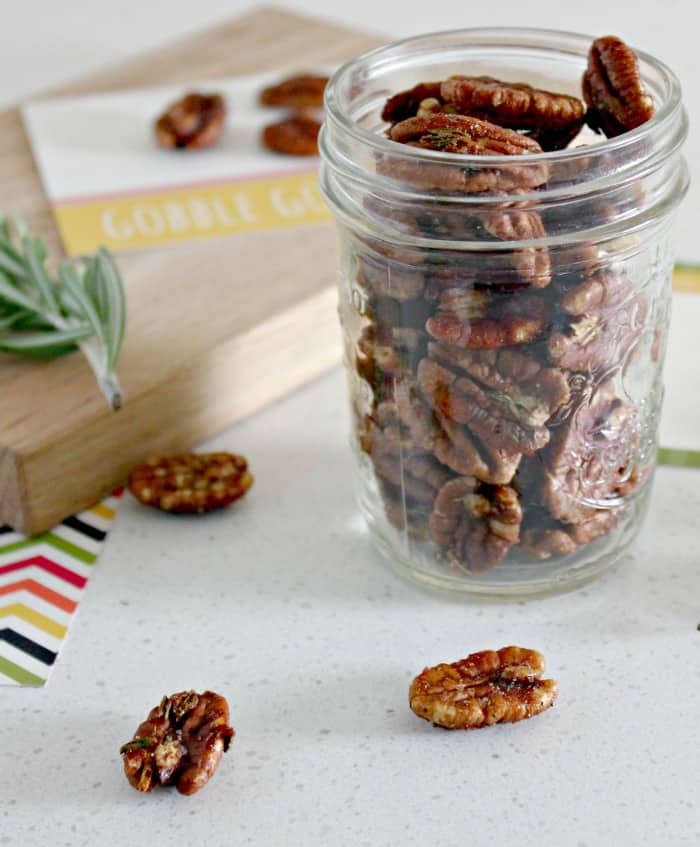 If you're keen on giving pecans with more of a sugary twist, try these candied pecans. Click here for the recipe from Chisel & Fork.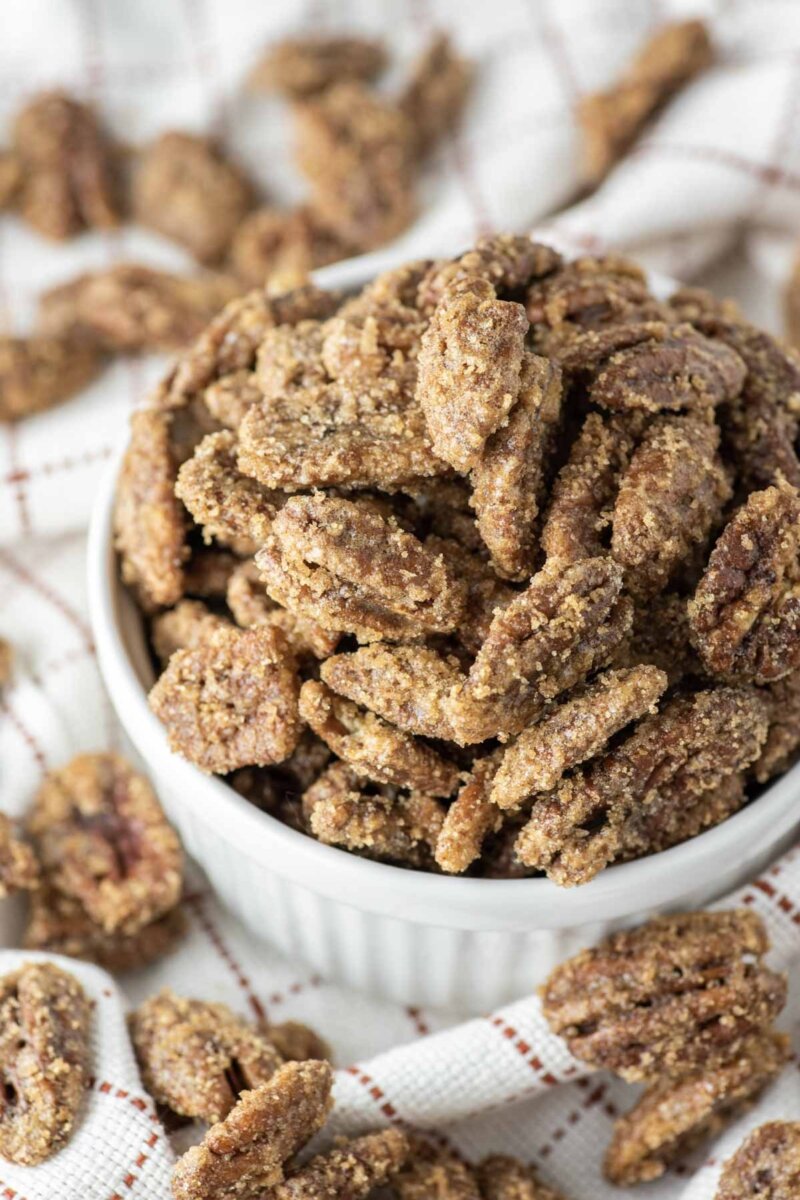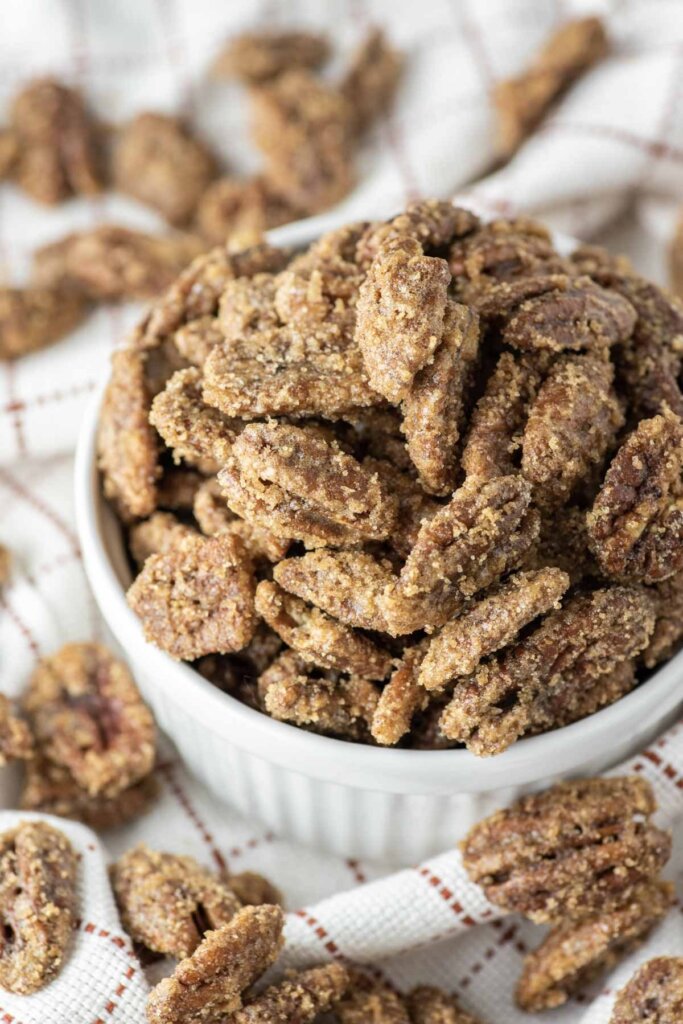 Or, try these chocolate caramel pecan bites – a simple yet delicious holiday recipe. Plus, they only take 5 minutes to whip up! Click here for the recipe from Homemade Interest.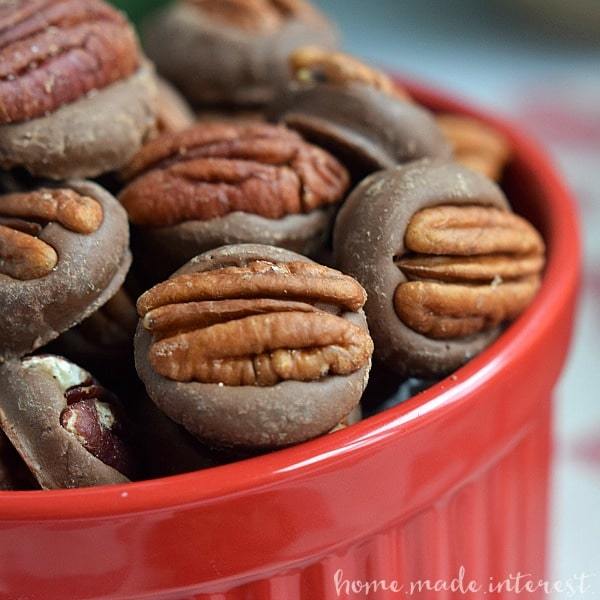 2. Ginger Peach Pie
This ginger peach pie is the perfect Thanksgiving gift for anyone you want to impress with your stellar pie-making skills.
The spice of the ginger pairs lovely with the peach's sweet juices and adds an extra kick of zing to your tastebuds. You'll be surprised to note that the recipe calls for a splash of vodka, as well – which gives the crust its extra flakiness!
Click here for the recipe, via Bake or Bust.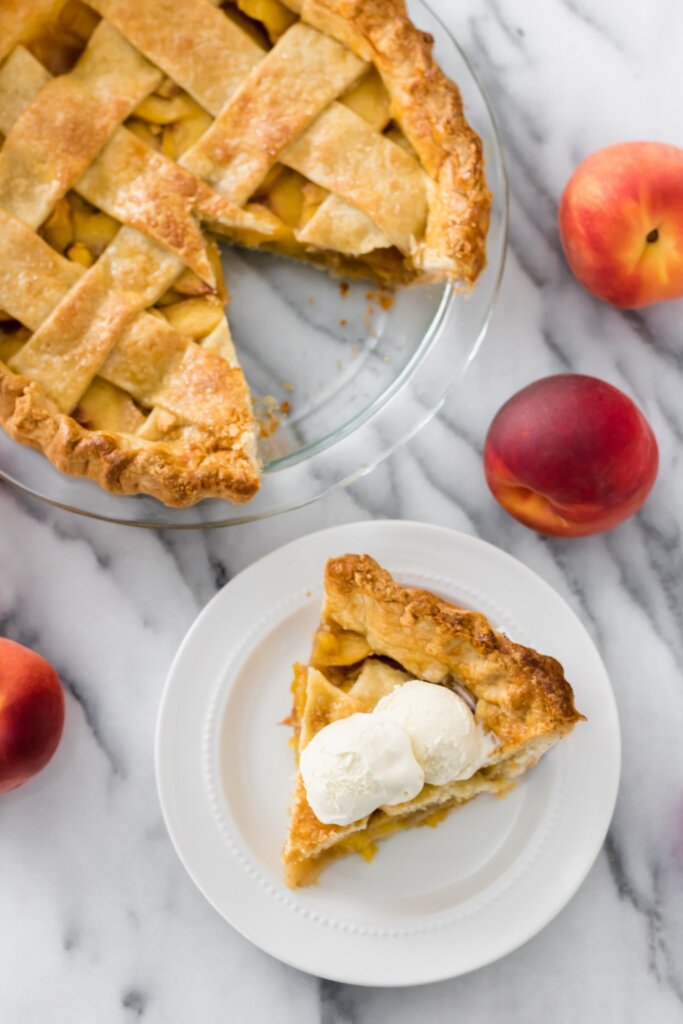 3. Thanksgiving Blessings Mix
This Thanksgiving blessings mix is filled with the perfect amount of sweet and savory. There's a little something for everyone in this recipe, and it makes for an easy snack mix to package up and gift to relatives for Thanksgiving.
Click here for the recipe (as well as four other ideas for Thanksgiving gifts) from Craft Room Time.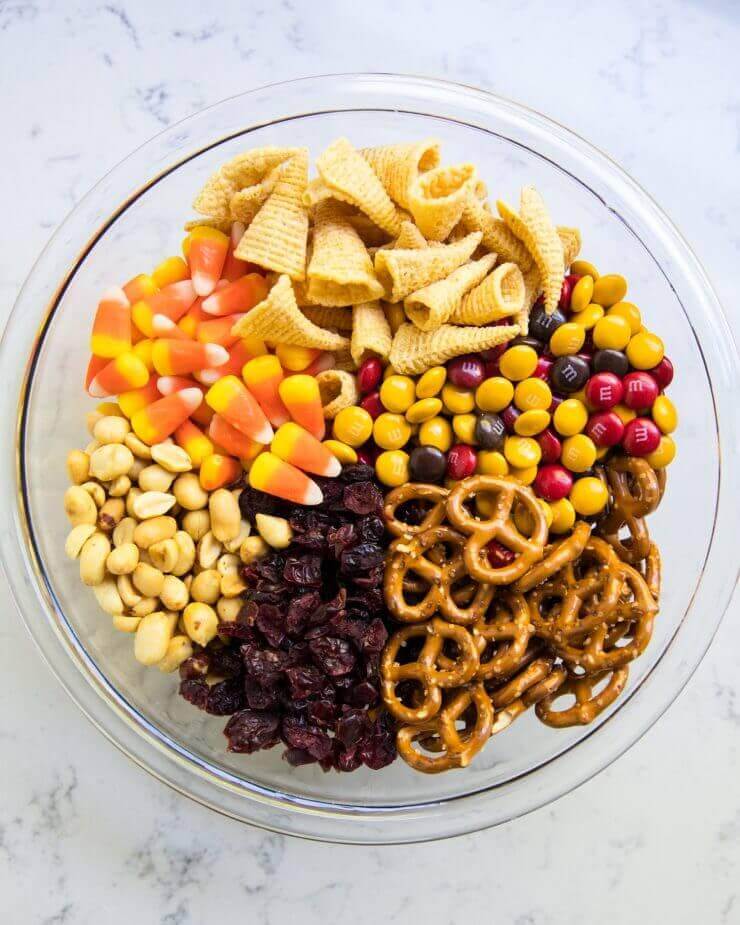 4. Canned Blueberry Syrup
It's great to be able to celebrate a bountiful harvest by giving away something homemade for Thanksgiving. This easy blueberry syrup is a welcome addition to a fall or winter breakfast!
Click here for the recipe from Fluxing Well (@lisa_fluxingwell on Instagram).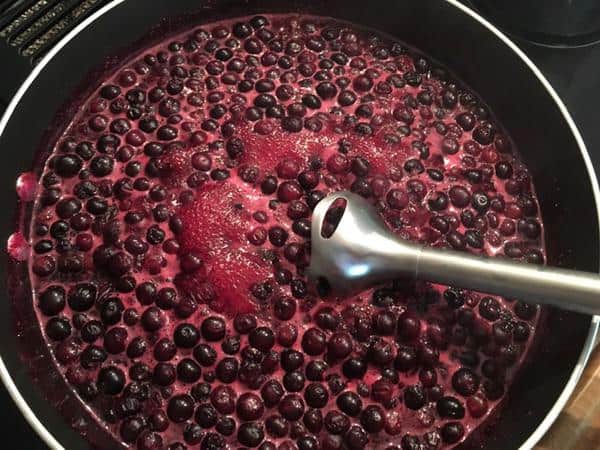 5. Mashed Potatoes & Gravy with Cannellini Bean Cream
Looking for a hearty yet health-conscious recipe to bring to Thanksgiving? Creating a holiday feast couldn't taste any better or be more doable with this recipe. Serve a warm and comforting combo of gluten-free southern-style stuffin' muffins and dairy-free mashed potatoes and gravy – and please everyone at your table this Thanksgiving!
Click here for the recipe from Veeg.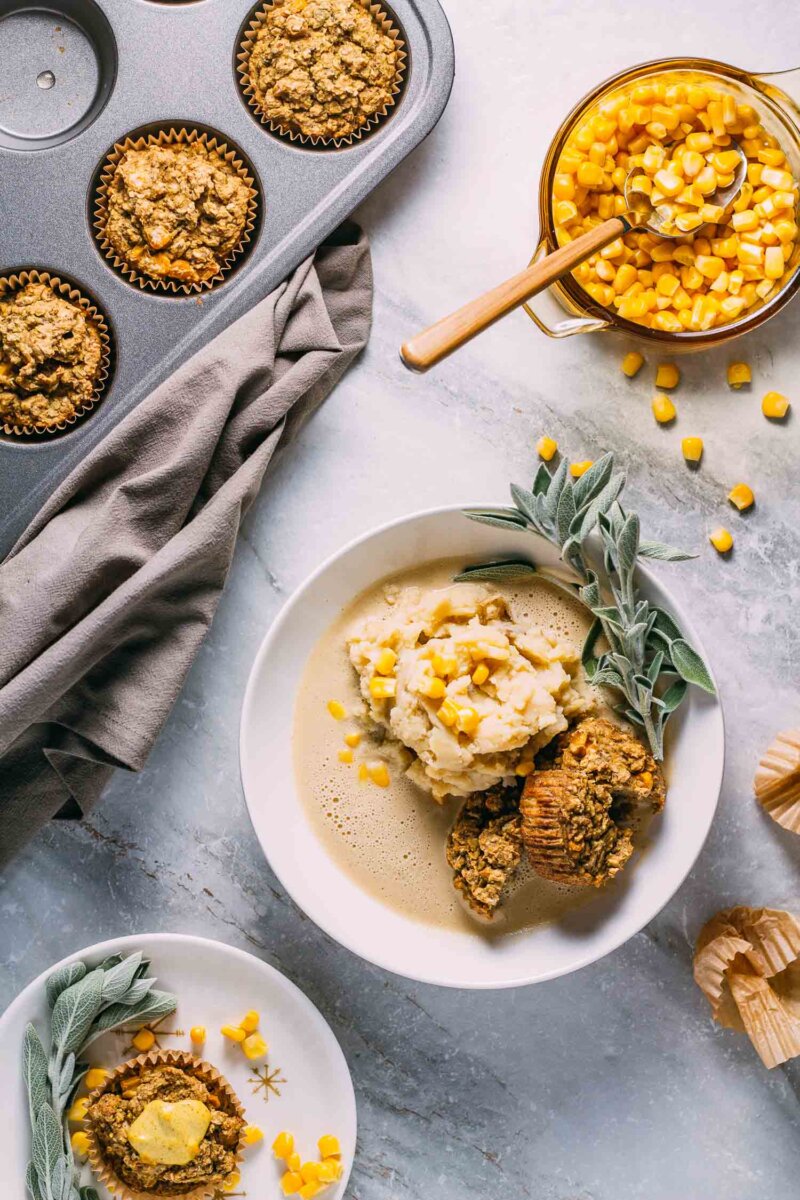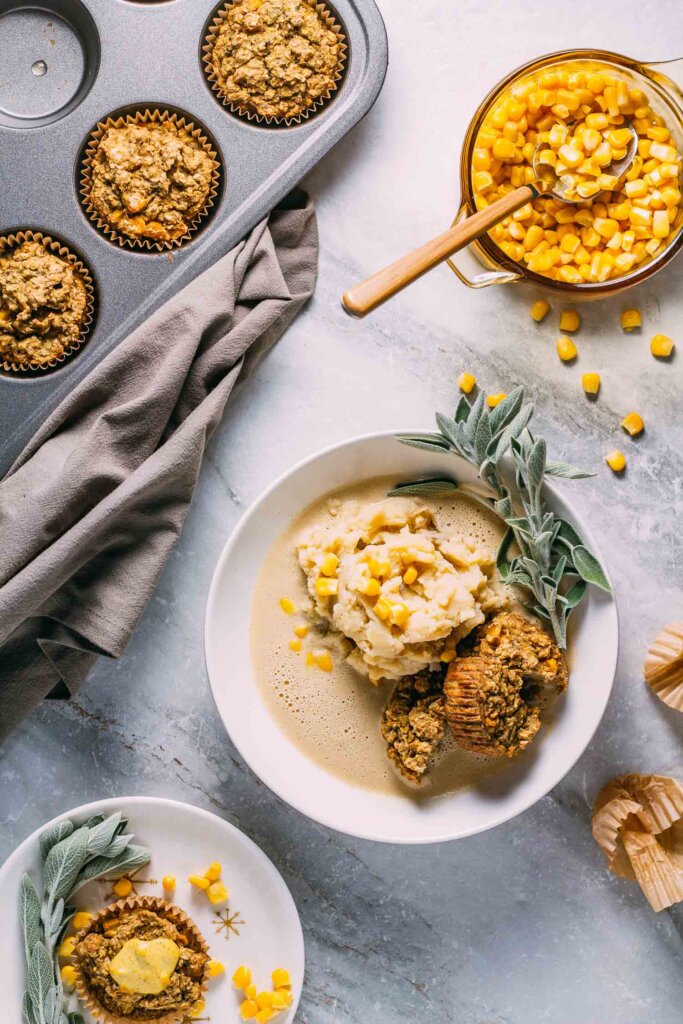 6. Apple Cinnamon Jam
This delicious jam can be made from the apples in your kitchen, and it yields enough (six 6-oz. jars!) to gift to multiple people this Thanksgiving. You can always gift this with any of the items listed above, or bake up some homemade bread to complement this nicely.
Click here for the recipe from Confessions of an Overworked Mom.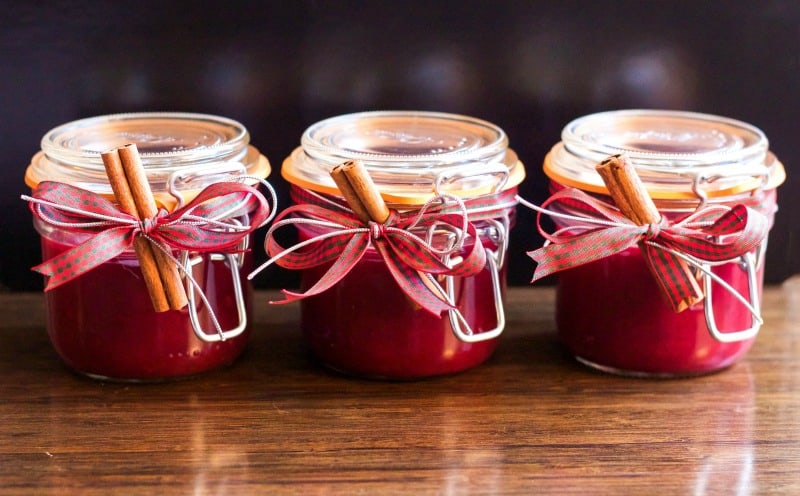 7. No-Bake Pumpkin Cheesecake
Dietary preferences are no problem for this dairy-free, gluten-free, plant-based vegan cheesecake. This pumpkin cheesecake is also a no-bake dessert – you won't even need to turn on the oven.
Click here for the recipe from Veeg.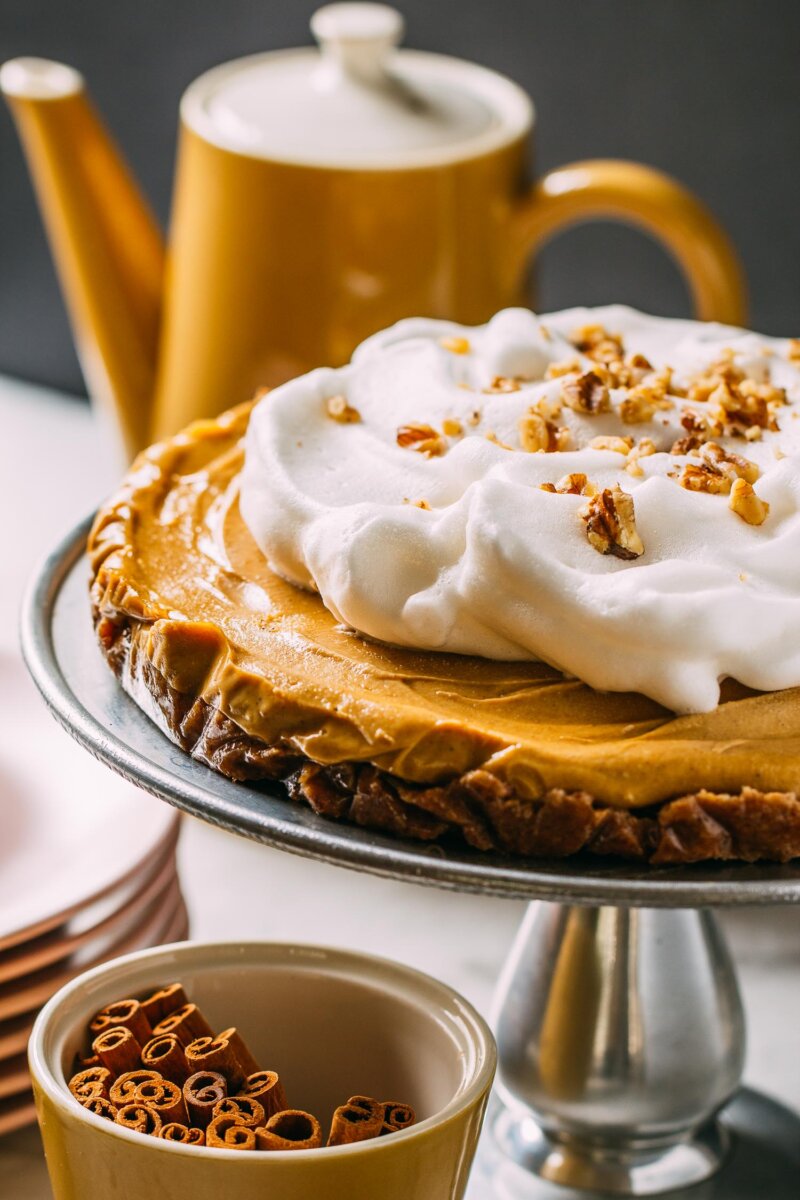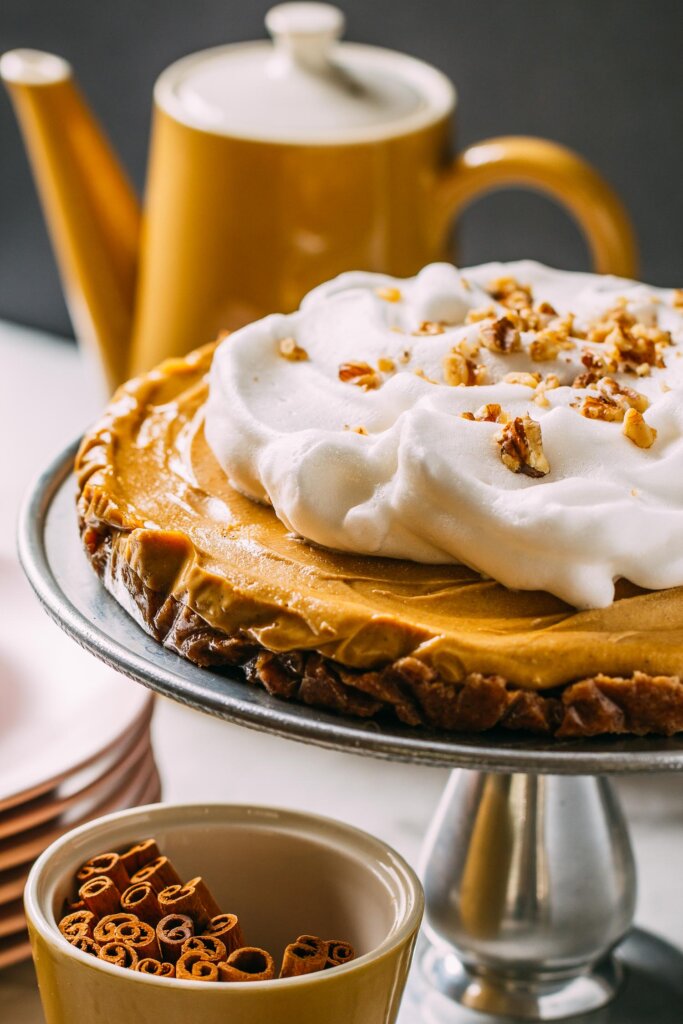 8. Lentil Brown Rice Dry Soup
This mason jar dry soup mix makes for a unique, affordable, and thoughtful gift that friends and family will love! Plus, a free printable recipe card is included, so it's a perfect gift for Thanksgiving.
Click here for the recipe from Cheerful Choices.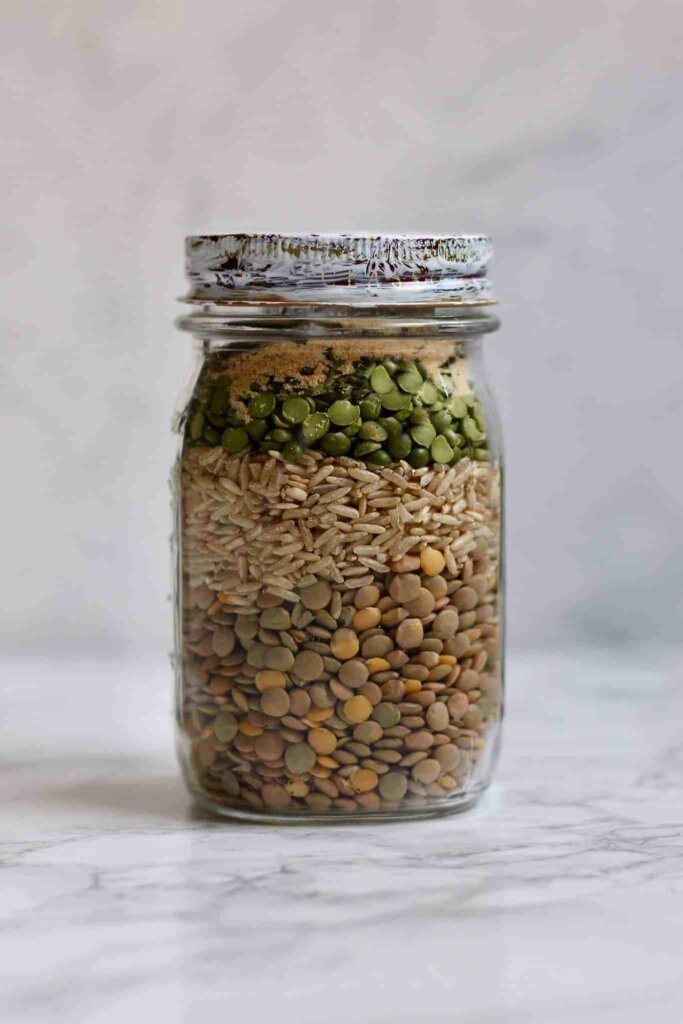 9. Vanilla Extract
Thanksgiving is the start of baking season, so why not give your host the gift of a replenished vanilla extract stock? This is an easy, homemade recipe that will add some sugary sweetness to anything cooked up in the kitchen.
Click here for the recipe from Crave the Good.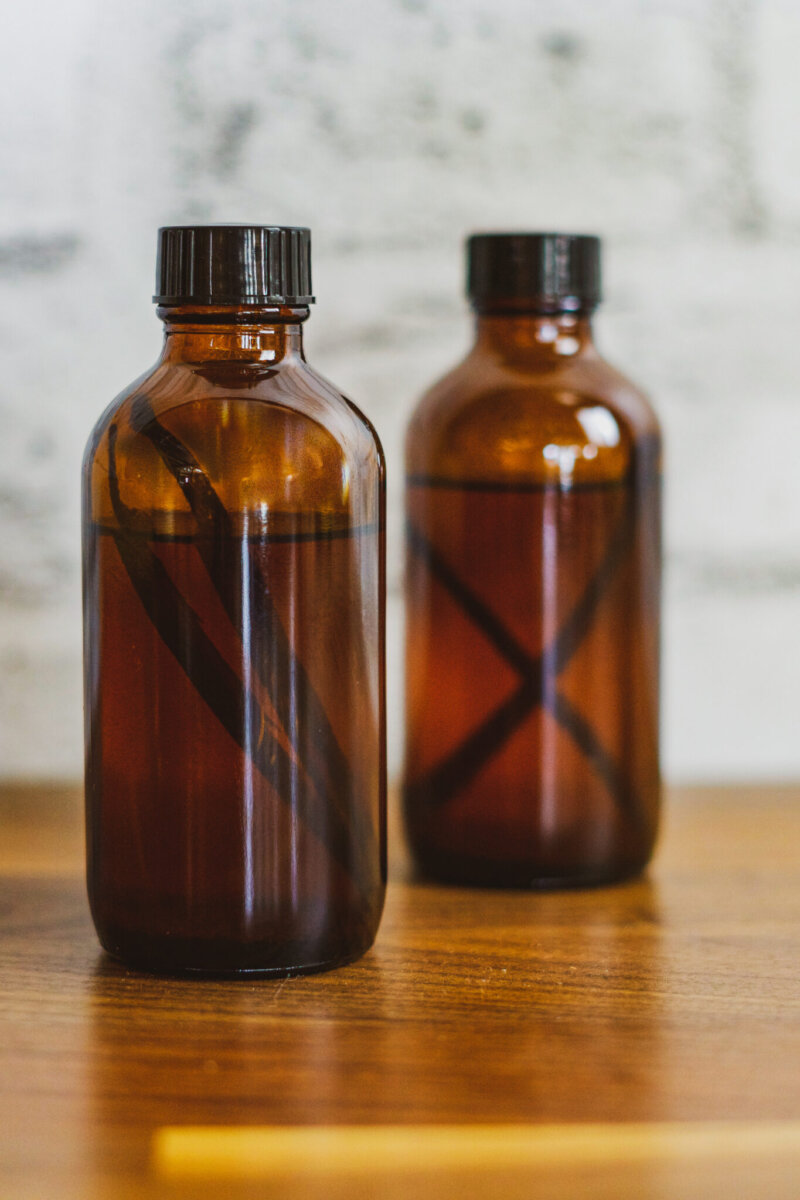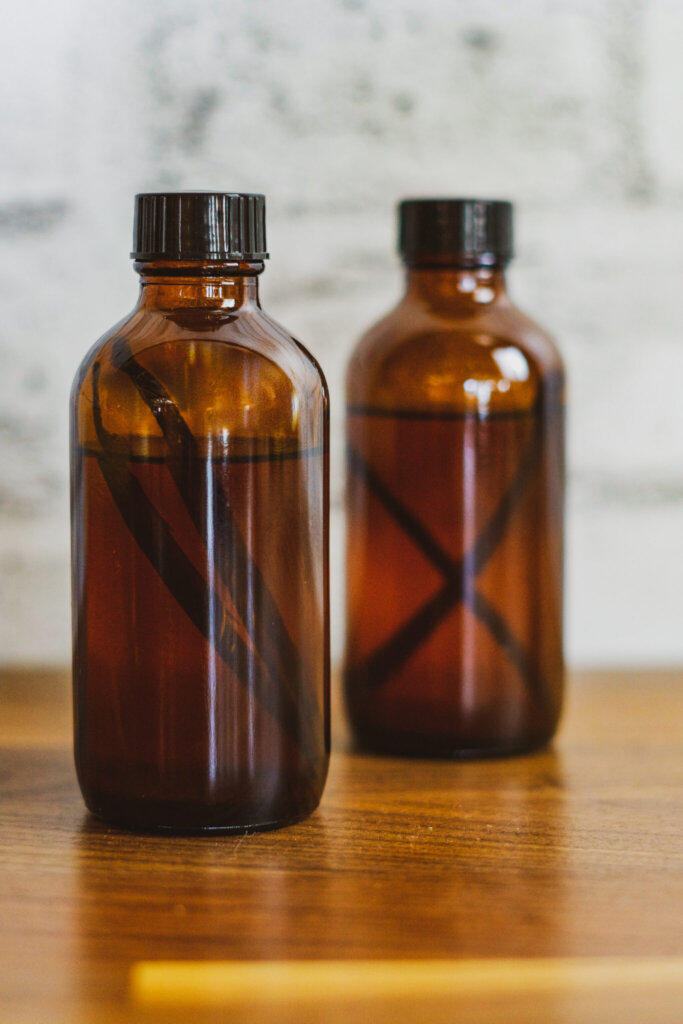 Crafty Homemade Thanksgiving Gift Ideas
A crafty heart is a thoughtful heart, right? These crafty DIY Thanksgiving-themed gift ideas will surely delight your recipients. You can also reuse many of these ideas throughout the year, since they're THAT nifty!
10. Handmade Cloth Napkins
This Thanksgiving, learn to sew handmade cloth napkins so you can reduce waste, paper costs, and give a thoughtful gift that can be used over and over again.
The best part is that this project is meant for beginners, so they're simple to stitch together in a jiffy. Plus, you can throw them in the wash and never have to worry about wasting money on disposable napkins or paper towels ever again! Cha-ching!
Click here for the tutorial from Happiest Camper.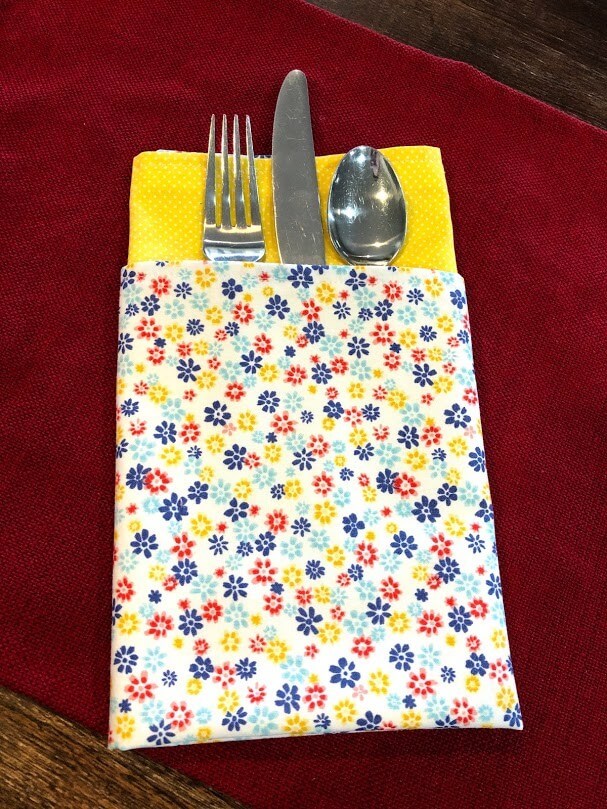 11. Microwave Bowl Cozies
If you've ever accidentally burnt your fingers while getting a bowl out of the microwave, these fabric cozies are the perfect solution to your woes.
You can even personalize these with your own cotton fabrics to make a handy gift to anyone in the family! Click here for the tutorial from Happiest Camper.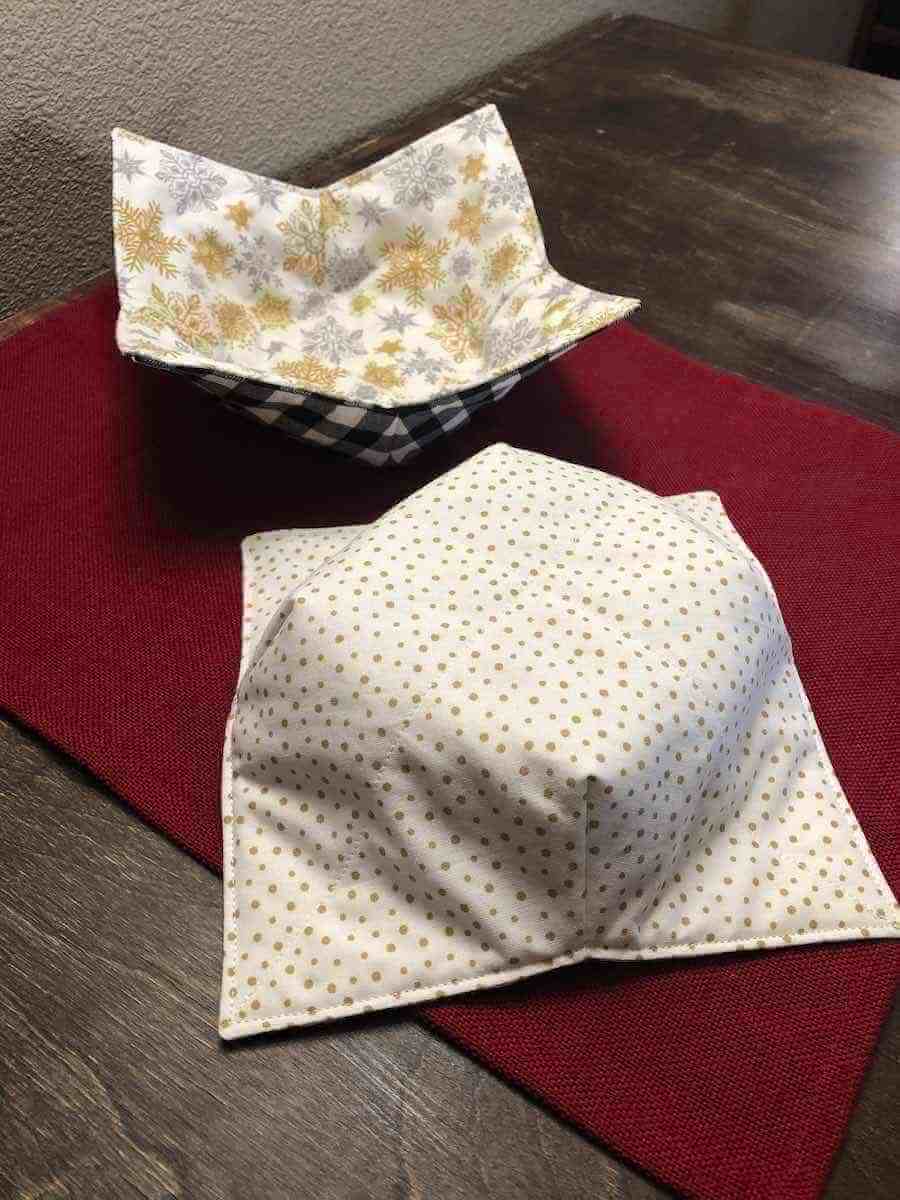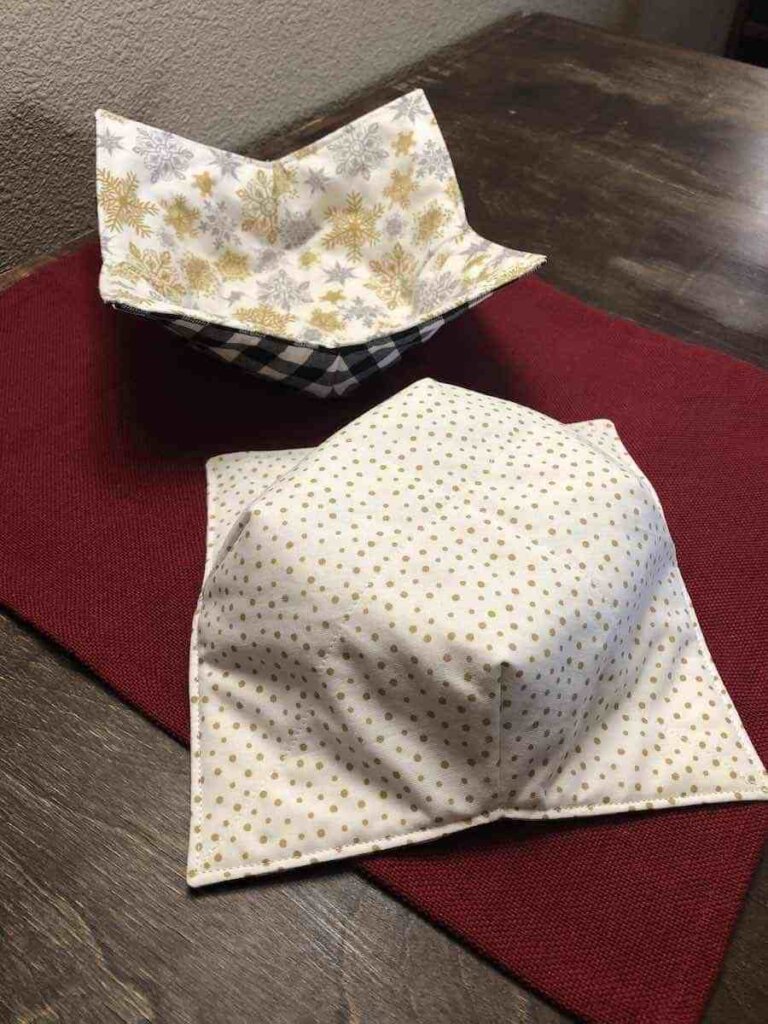 12. Orange Flaxseed Soap
This orange flaxseed soap is a surefire hit for Thanksgiving gifts, and it smells absolutely wonderful.
Flaxseed acts as a great skin exfoliator, and the orange scent will liven up your bathroom in seconds. Plus, it's a great gift to be wrapped up that will get plenty of usage.
Click here for the tutorial from Confessions of an Overworked Mom.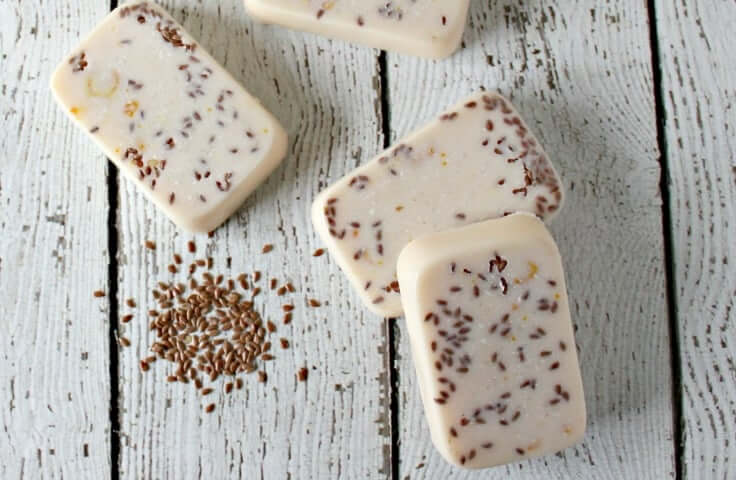 13. Felt Acorn Napkin Rings
These felt acorn napkin rings are the perfect homemade Thanksgiving gifts that are subtle yet gorgeous.
These napkin rings are prime examples of things you didn't know you needed until you made them. They're especially perfect for Thanksgiving flatlays and photoshoots of your decadent spread, and you're bound to be lauded with compliments for making them.
Click here for the tutorial, via Tikkido.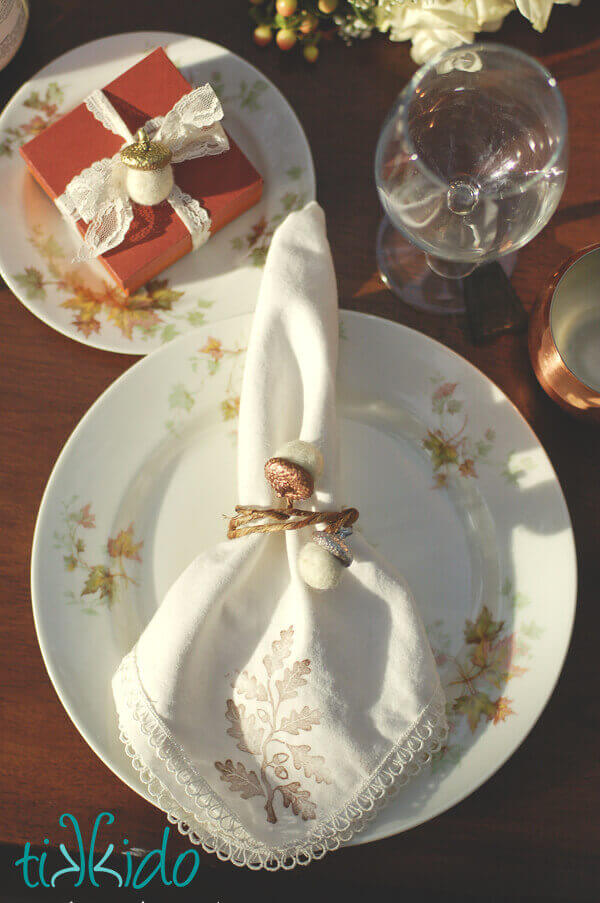 14. Memory Jars
These memory jars are the perfect DIY Thanksgiving gifts to showcase the art of gratitude and appreciation.
They're extremely inexpensive to make, and you can most likely find all the supplies at your nearest dollar store (including the jar itself)! You can also type up your own personalized note to gift along with it, so that your recipient will know that its purpose is to recap the year's end with all of the happy events that occurred earlier that year.
Click here for the tutorial, via Strength and Sunshine.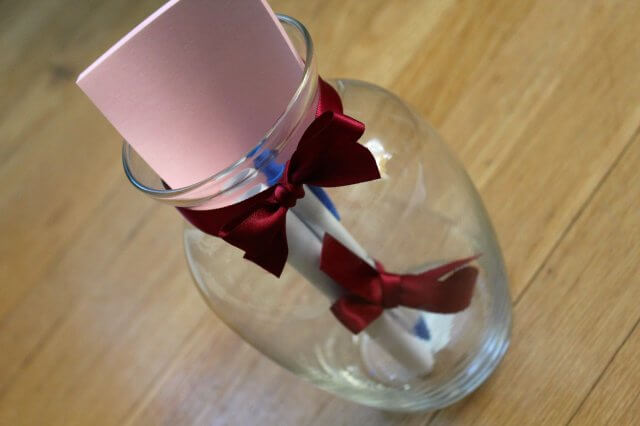 15. Thankful Pumpkin
This beautiful Thanksgiving project turns an ordinary pumpkin into a potential family tradition. Everyone in the family can participate in this and write down what they've been thankful for this year (on the back of the pumpkin). It's a beautiful art piece to add to your Thanksgiving dinner!
Click here for the tutorial from The Country Chic Cottage.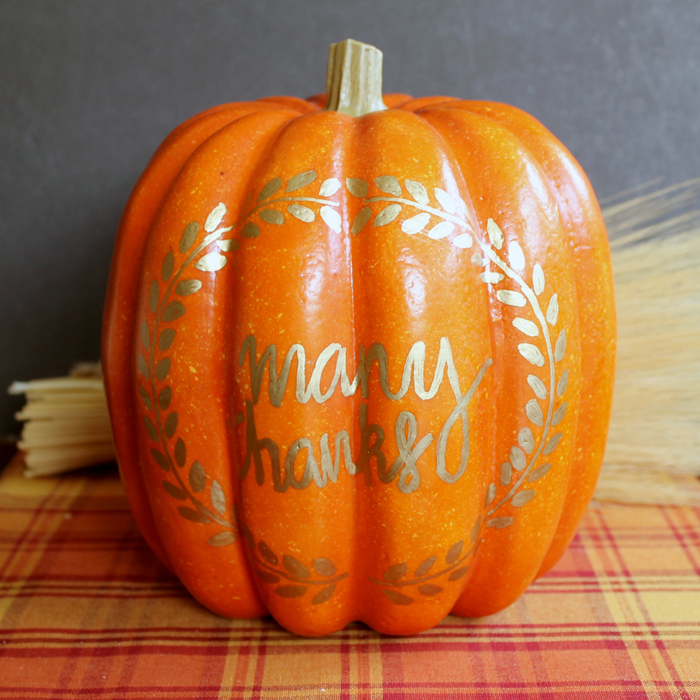 16. Thanksgiving Printables
Show someone you're thankful that they're part of your life by framing one of these free designs for printable wall art and giving it to them. The article also includes printable cards and chalkboard art that make great gifts for Thanksgiving (or any time of year) as well.
Click here for the tutorial, via Swanky Den.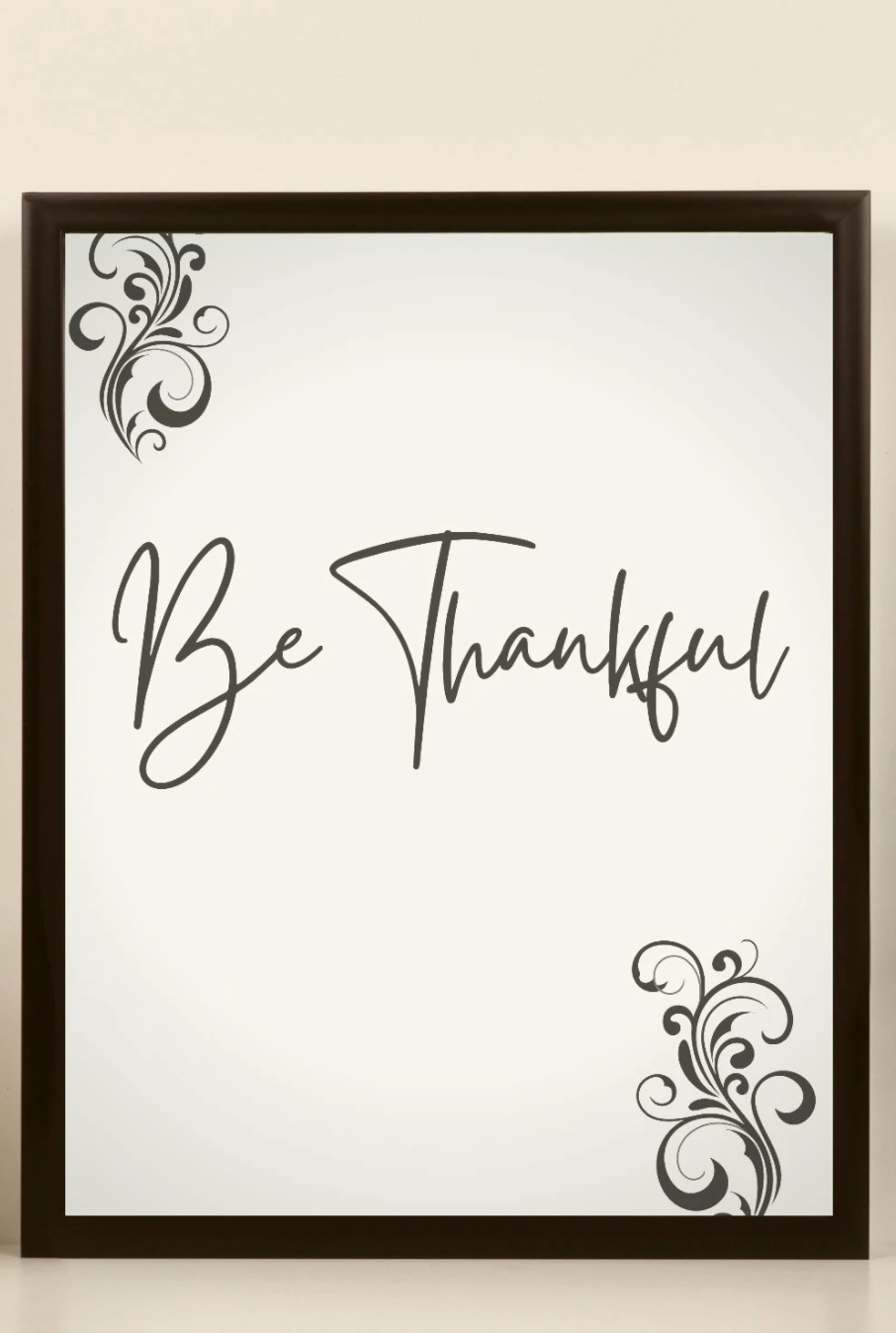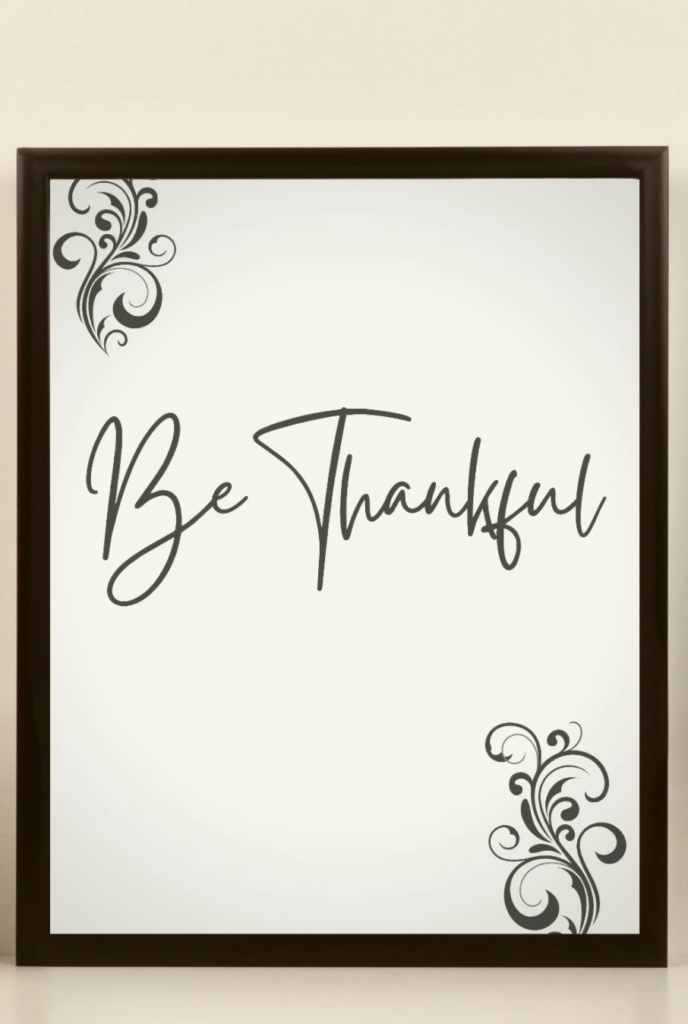 Check out these Psalm 100 wall prints below that also serve as beautiful Thanksgiving gifts. Click here for the printables from Press Print Party.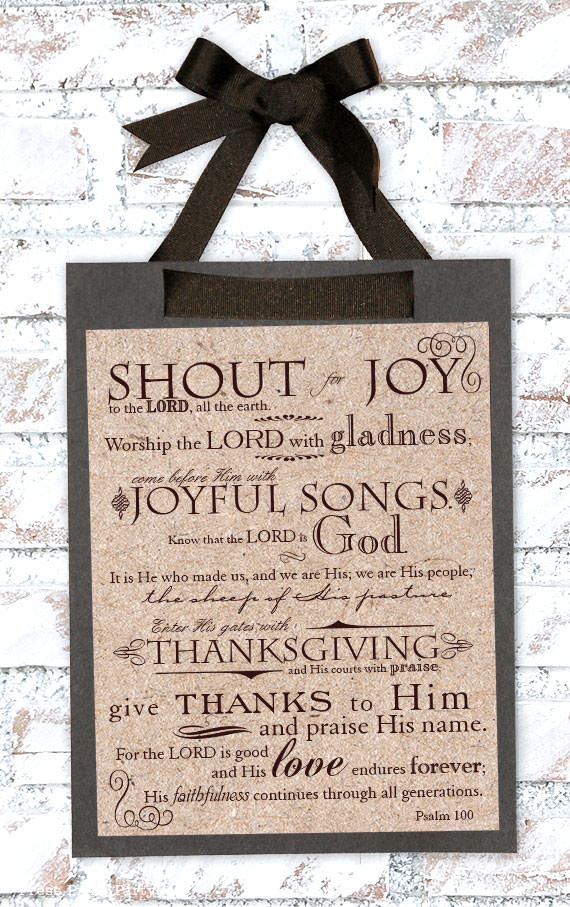 17. Pumpkin Canvas Painting
Looking for an artsy yet adorable handmade Thanksgiving gift? Why not paint this easy fall pumpkin and customize it with some thoughtful lettering? It makes a special DIY Thanksgiving gift that is completely unique and thoughtful!
Click here for the tutorial from Feeling Nifty.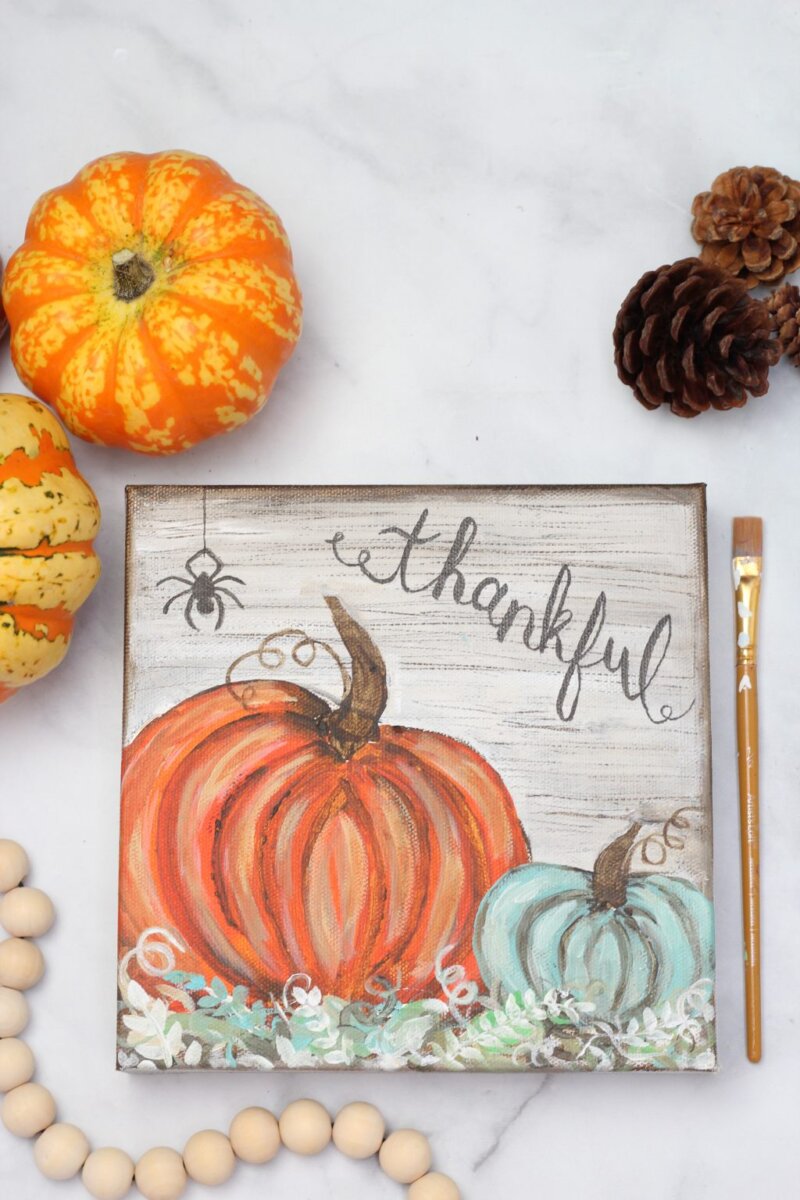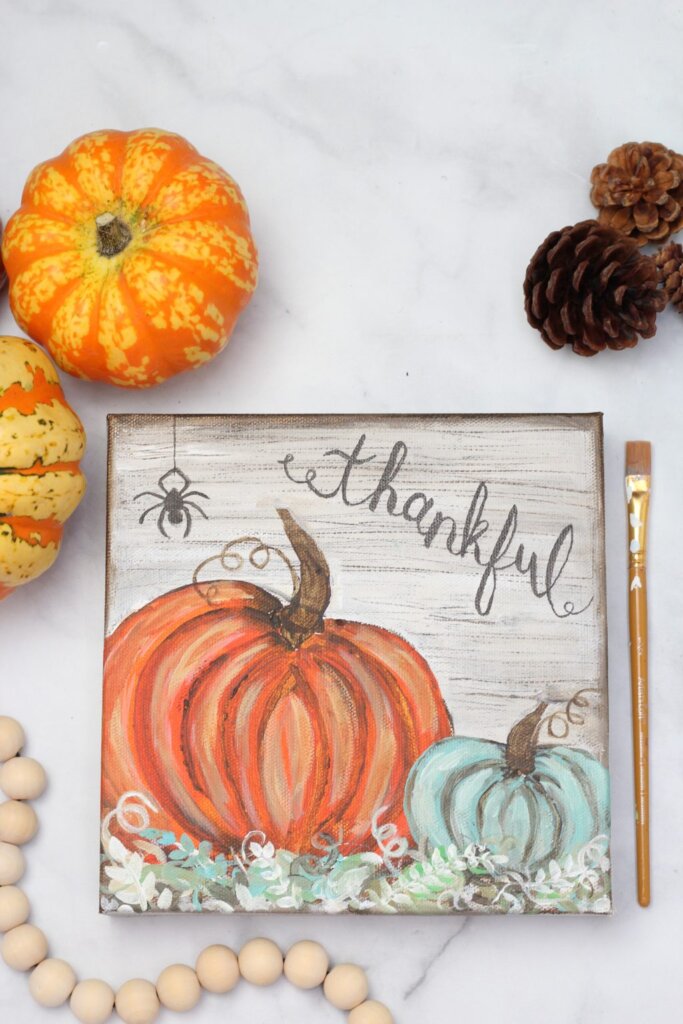 DIY Thanksgiving Beverage Gift Ideas
Ah, and of course – you can't forget the delicious drinks of a proper Thanksgiving meal. Here are some ideas (both family-friendly and a little adult beverage-y) for some refreshing beverages that will quench everyone's thirst at the table!
18. Black Cherry Mocktail
If your Thanksgiving feast will have many kids in attendance, this black cherry mocktail is perfect! It's a simple and straightforward recipe that makes for a deliciously cool way to complement all the sweet and savoury Thanksgiving foods.
Plus, it's extremely healthy and approved for those on the Whole30 diet! Click here for the recipe from Luv Ashland.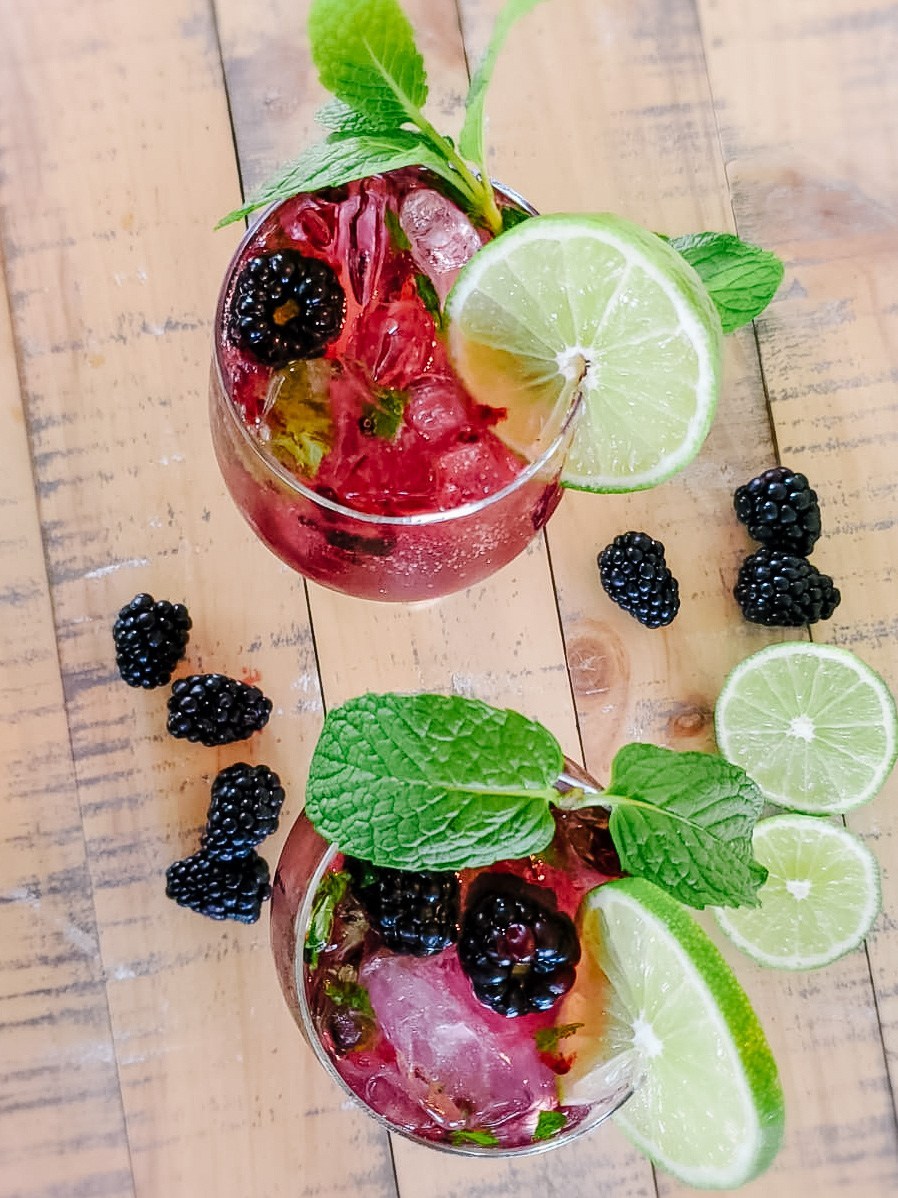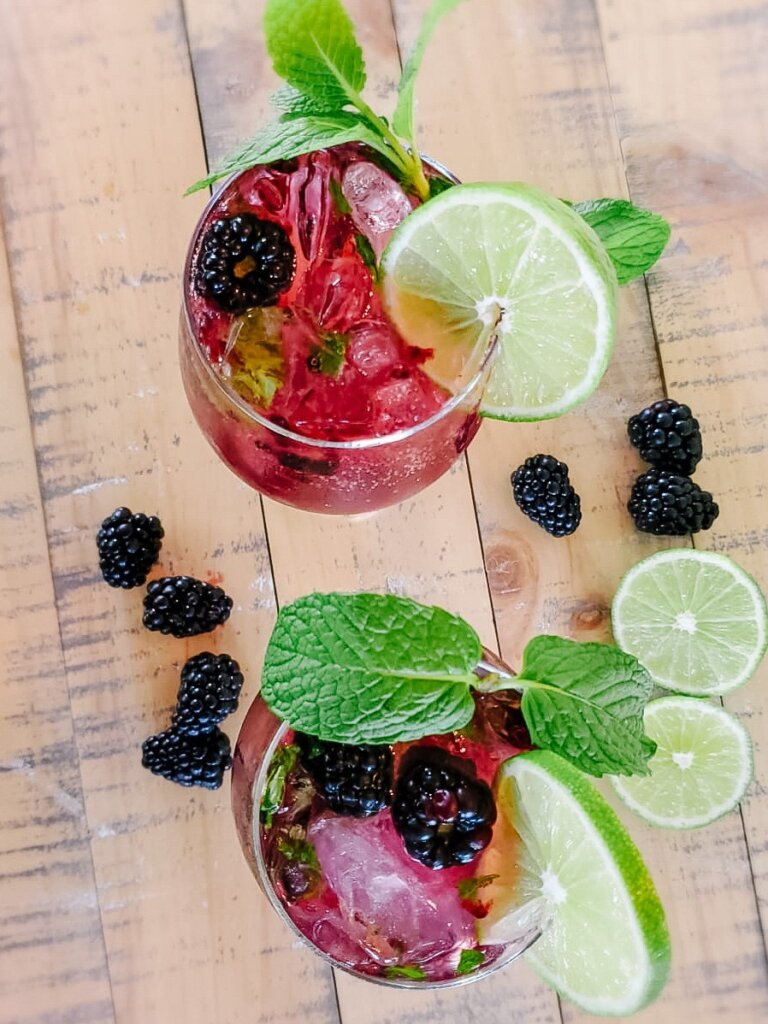 19. Holiday Gin
This holiday gin isn't just for Christmas – it makes a great Thanksgiving feast beverage (or gift)!
The cinnamon stick and cranberries give this drink its extra special flair. You can also pair this with any of the edible gift ideas from above for an even more wholesome gift!
Click here for the tutorial from The Wallet Moth.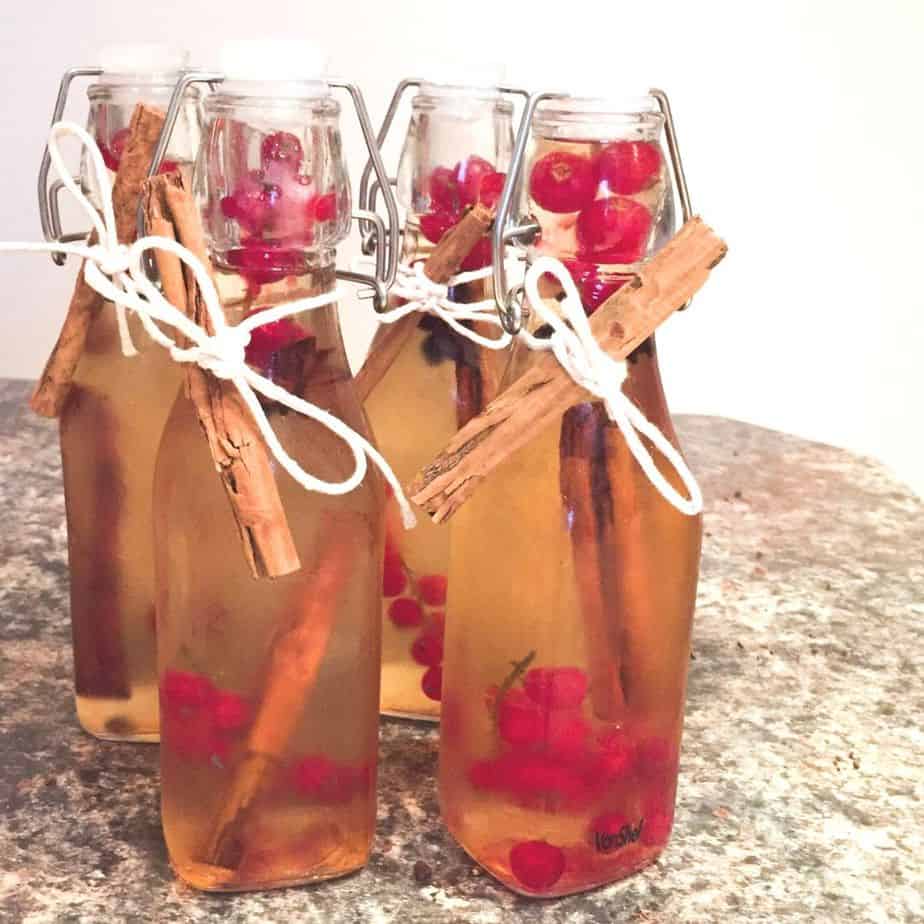 20. Pumpkin Spice Smoothie
Having PSL withdrawals but trying to save money? This pumpkin spice smoothie will SURELY delight your guests at Thanksgiving dinner!
It's easy to make, and everyone of all ages will go crazy over this protein-packed drink. Who knew that healthy drinks could actually taste this amazing?
Click here for the recipe from Amy Gorin.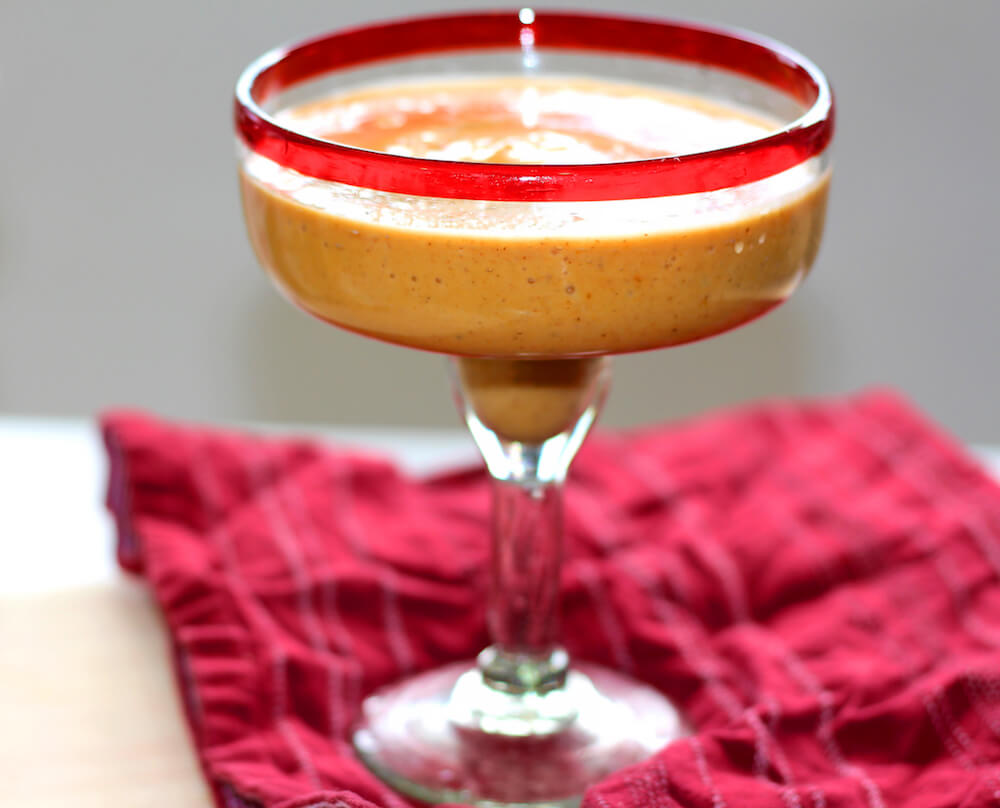 We hope you enjoyed this list of thoughtful DIY Thanksgiving gifts!
With so many DIY Thanksgiving present ideas, you should be all set for gift-giving this season! Let us know in the comments if you have any other Thanksgiving-themed thoughtful gift ideas.