*FYI - this post may contain affiliate links, which means we earn a commission at no extra cost to you if you purchase from them. Also, as an Amazon Associate I earn from qualifying purchases. Check out our Privacy Policy and Disclosure. for more info.
While they may not remember (or even be aware of) everything happening around them, babies deserve special attention on Easter. And not just because they're egg shaped. But because these are lasting impressions that are important to make on an infant!
And the surest way to any baby's heart this holiday is through, well, Easter toys for babies. There's no better way to let them know this holiday deserves to have some respect put on its name. And, luckily, you came to the right place for help!
Whether you're looking for your baby's first Easter gifts to make it truly special, or simply basket stuffers, we've got a little bit of everything. And, best of all, we've scoured the Internet so you don't have to.
So, without further ado, here are the best Easter gifts for infants available!
Pin for later: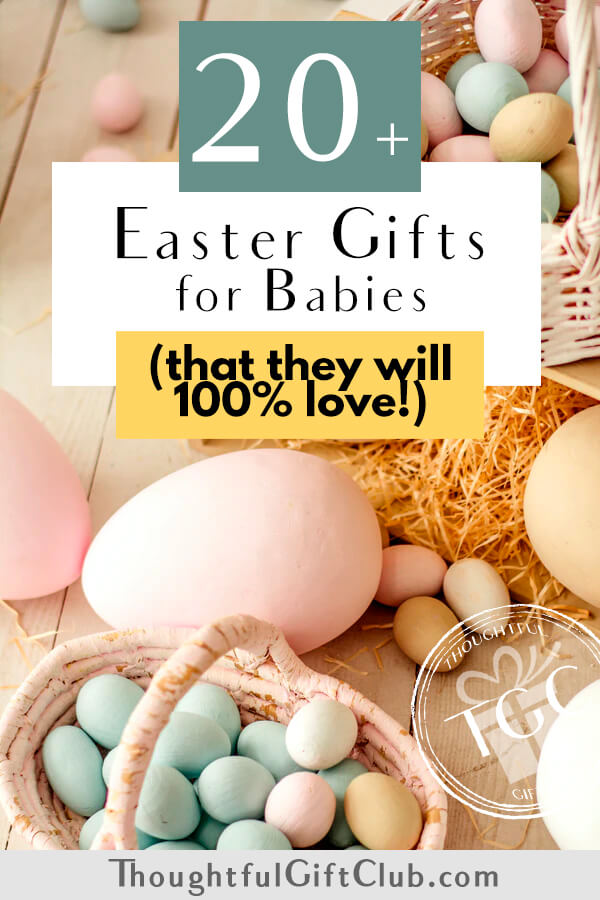 ---
The best Easter gifts for babies under $20
If you're concerned about getting your infant's first Easter gifts on a budge, don't worry! There are plenty of options available. But, more importantly, babies barely aware of anything apart from diaper changes and shiny objects. So it's not like they can gauge the price of a gift. But, still, we know this is important. For your little one and you. This kind of sets the tone. So we get that you want to make it count. And, whether you're looking for baby Easter basket stuffers or complete Easter baskets themselves, we've got you covered! Here are our favorite gifts for every little one on a budget.
---
Crocheted Easter Toys
Small, adorable, and perfect for any little one, these crocheted Easter egg animals are sure to be adored by any baby lucky enough to receive them. And, with classic Easter designs available, it will definitely revive everyone's Easter spirit.
Most importantly, however, this gift can be received in literal minutes. And, since you download the PDF to make them, there will be an added sentimental touch of you making them yourself. Just pick which shape you want and monitor your email.
Click here to check prices and reviews.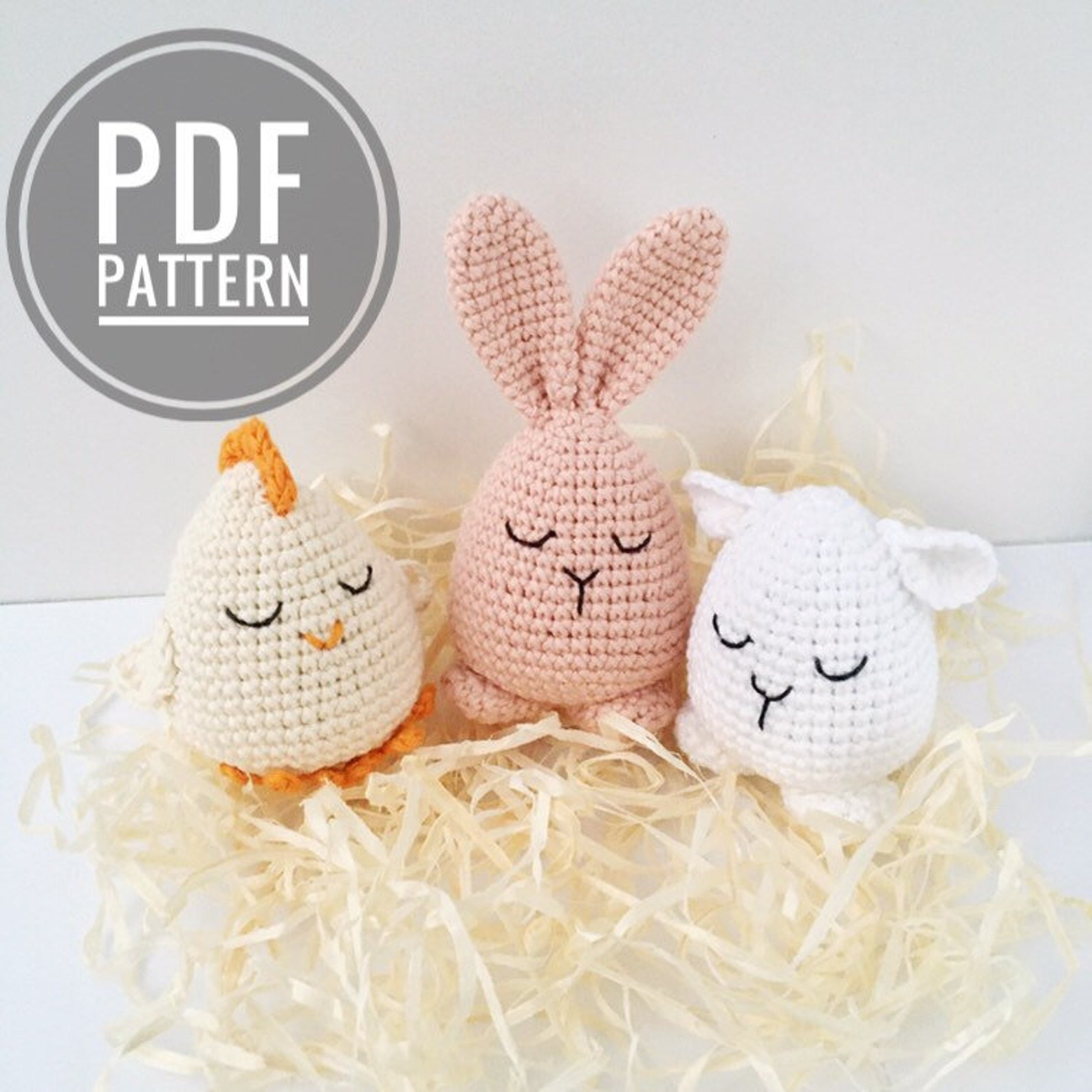 ---
Easter Peeps Headband
People love dressing up their babies. And, while a baby is usually about as complicit with its clothes as an egg is with its paint, that doesn't mean it's not still adorable. So, if this is your vibe, this Easter peeps headband is the perfect accessory for your little one!
Handmade with nylon, this headband is a one-size-fits-all kind of deal. With a 3-inch bow tied on, this is perfect for any Easter. And let's be honest—this kind of thing exemplifies how, on holidays, the little ones can sometimes do most of the legwork.
Click here to check prices and reviews.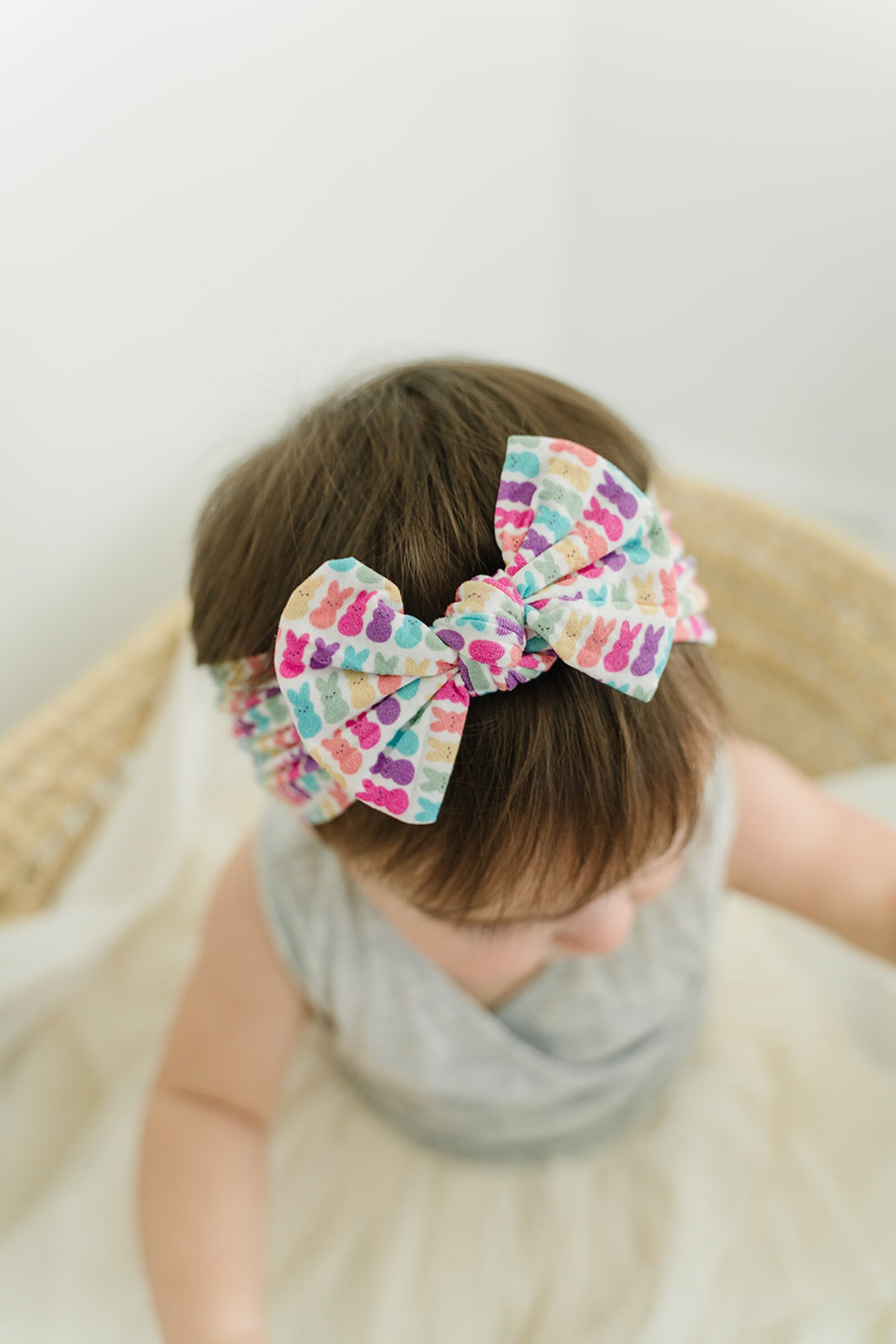 ---
Easter Teething Ring
If you're looking for a gift that's more than just an accessory and more than just something for your baby to play with—if you're searching for something with some utility—this Easter teething ring is a rare gift that synthesizes fun and pragmatism.
Handmade with cotton and wood, just select between a round, bunny, or chick shaped teething ring, and choose to include or exclude a gift bag. And, better yet, this gift will literally be in their face, imprinting all this Easter imagery on their impressionable brain.
Click here to check prices and reviews.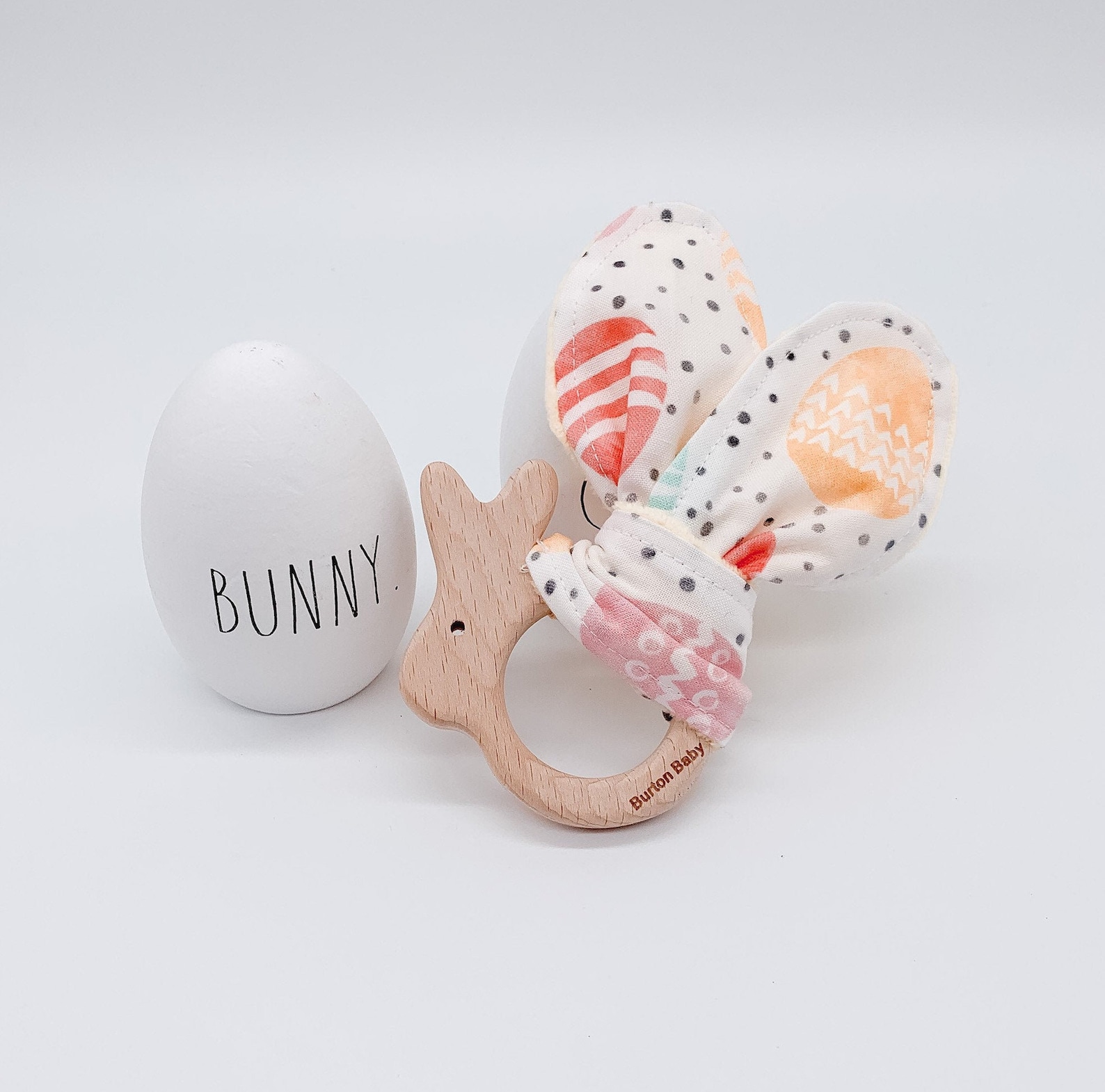 ---
Bunny Ring Rattle
This may be another teething ring, but there's something that sets it apart. This bunny teething ring rattle, well, rattles. Which, for babies, is kind of a big deal. And, best of all, it's soft and more forgiving than wood. Which might appeal to some.
Made with luxuriously soft, tan, velour, plush material and silky, blue, satin ears, the details really set this ring apart. With embroidered, safety eyes and a striped satin bow, this machine washable, rattling gift is sure to keep them occupied.
Click here to check prices and reviews. 
---
Plush Easter Basket
Now, if you're looking for your infant's first Easter basket, then look no further. Because this plush Easter basket is a baby's dream. And let's be honest—if they made these big enough, most adults would be unable to resist enjoying the softness.
Soft and resplendent, this basket comes with 7 separate pieces to keep your baby busy for hours. It comes with a basket, frog, carrot, 2 eggs, bunny, and a chick plush rendering. Nothing will make them love Easter quite like this. Seriously.
Click here to check prices and reviews.
---
The best Easter gifts for babies under $50
If you're still looking, make no mistake about it: we admire your dedication. And, while some may scoff at the idea of dropping extra cash on a baby's first Easter basket, we don't. In fact, we applaud it. And, luckily, there are plenty of great gifts that are only marginally more expensive but exponentially more touching! Whether you're doing this for your baby or, well, you, we're sure everyone will enjoy them. So, from a baby girl or baby boy Easter basket to stand alone gifts, here are our favorites that are sure to be a hit!
---
Nut-brown Rabbit Jack-in-the-Box
A literal classic, this nut-brown rabbit Jack-in-the-box is sure to elicit plenty of that infectious laughter from your little one! And, if you doubt its appeal, remember: to a baby, every time the rabbit pops out, it's a completely unexpected surprise.
Vintage in style, this is a great surrogate for you or your spouse when you don't have the time (or, let's face it, energy) to make it through another round of peek-a-boo. It plays "Pop Goes the Weasel" and features artwork and text from a classic children's book.
Click here to check prices and reviews.
---
My First Easter Egg Hunt Personalized Book
This is the kind of gift that you guys will be pulling out for years to come. Even when they're full-grown adults, this My First Easter Egg Hunt personalized book is sure to still hit them in the feels for that optimal reaction.
Easy to order and perfect for your baby's 1st Easter, simply make the purchase and keep your eye on your email. You'll receive instructions to personalize it with all the necessary images and details to make this a one-of-a-kind gift for a one-of-a-kind baby!
Click here to check prices and reviews.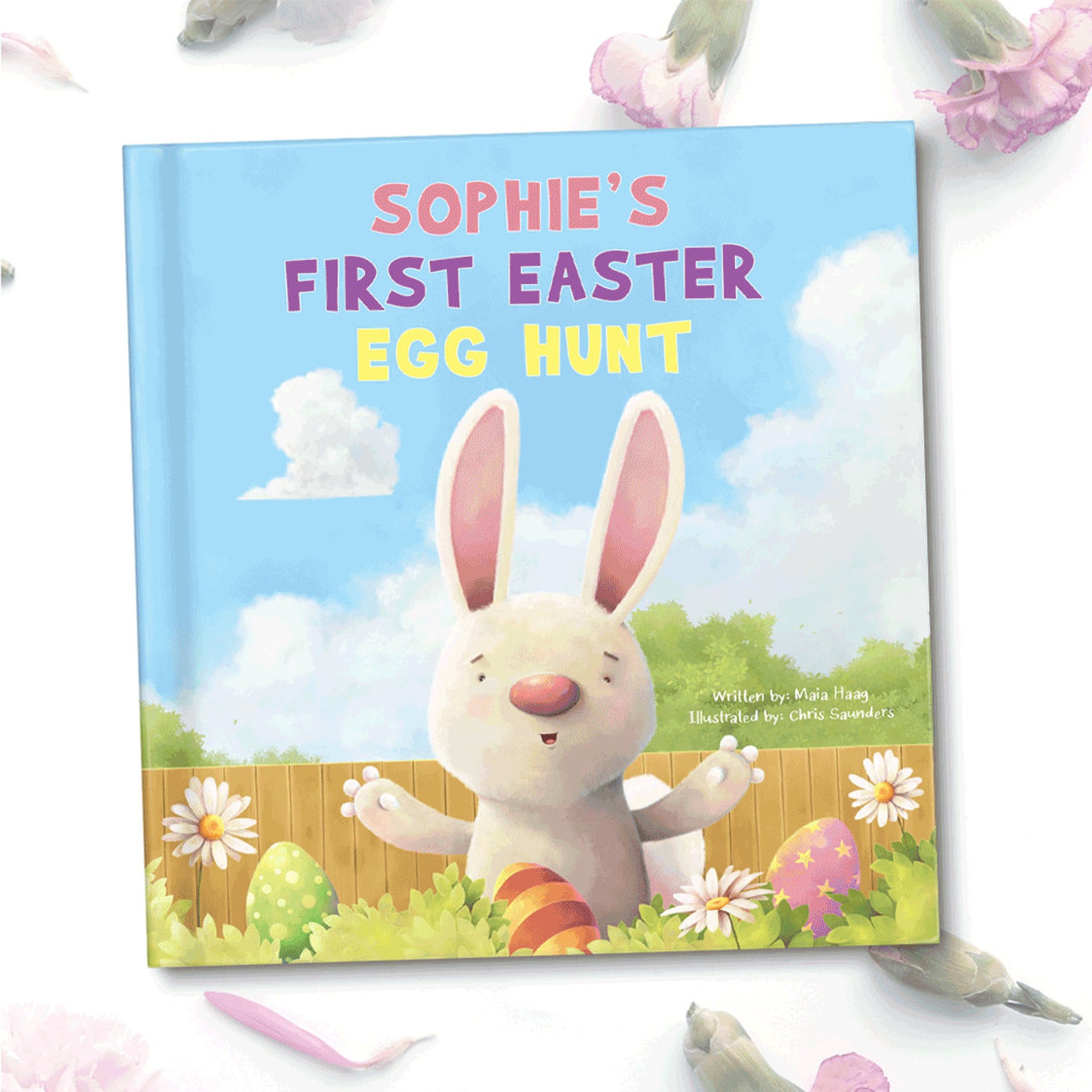 ---
Cotton Teethers Veggie Crate
Now, there's a chance this isn't exactly Easter themed. But let's be honest—the season as a whole is one of blooming and new life, and what better way to celebrate that aspect of the holiday than with this harvest of cotton teethers veggie crate!
Hand made out of organic materials, this is the perfect alternative to any Easter basket. Machine washable and dryable, the veggies include: a tomato, carrot, mushroom, and pea. It's never too early to establish healthy habits!
Click here to check prices and reviews.
---
Garden Plate and Utensils
While kids are usually discouraged from playing with their food, with this awesome set of a garden plate and utensils, you're sure to make an exception. And, again, establishing healthy habits can never start too young.
Made out of polypropylene plastic, this Easter-colored, leaf-decorated set does things a little differently. It has compartments for food, and instead of the traditional fork, knife, and spoon, it has a shovel, pitchfork, and rake. Trust us: dinner will never be the same.
Click here to check prices and reviews.
---
Bunny Family Garden Sculptures
Now, this might not seem like a gift for a baby. But, let's be honest, what baby wouldn't like to spend some time outside playing with this set of bunny family garden sculptures? There's probably nothing that will get them in the Easter mood sooner.
Made out of steel with a patina that darkens over time, this set comes with a whole family of bunnies: a papa bunny, mama bunny, big brother bunny, little sister bunny, and baby bunny. And, as a bonus, this could very well help teach instill crucial family dynamics.
Click here to check prices and reviews.
---
The best Easter gifts for babies under $100
If you're still looking and willing to spend more, then we can only assume you're making up for putting them in a truly tortuous Easter outfit. But don't worry. We're still here to help. We understand that thinking of the perfect baby Easter basket ideas is no easy feat, especially with a baby around monopolizing all your attention and time. But rest assured: you're in good hands. From stuffers to a whole, luxurious baby Easter basket, we've found a little bit of everything. Here are our favorites!
---
Easter Newborn Outfit
If you're looking for the most adorable outfit to dress your baby up in, then look no further than this Easter newborn outfit. This is particularly great if you're planning on taking Easter portraits or something of the like.
Hand-knitted, simply specify the sizes of both the hat and the booties. This lilac outfit includes a floppy brim hat with a floral accent, cuffed baby booties, and a durable plush lamb for your baby to hold and snuggle with. Everyone wins with this one.
Click here to check prices and reviews.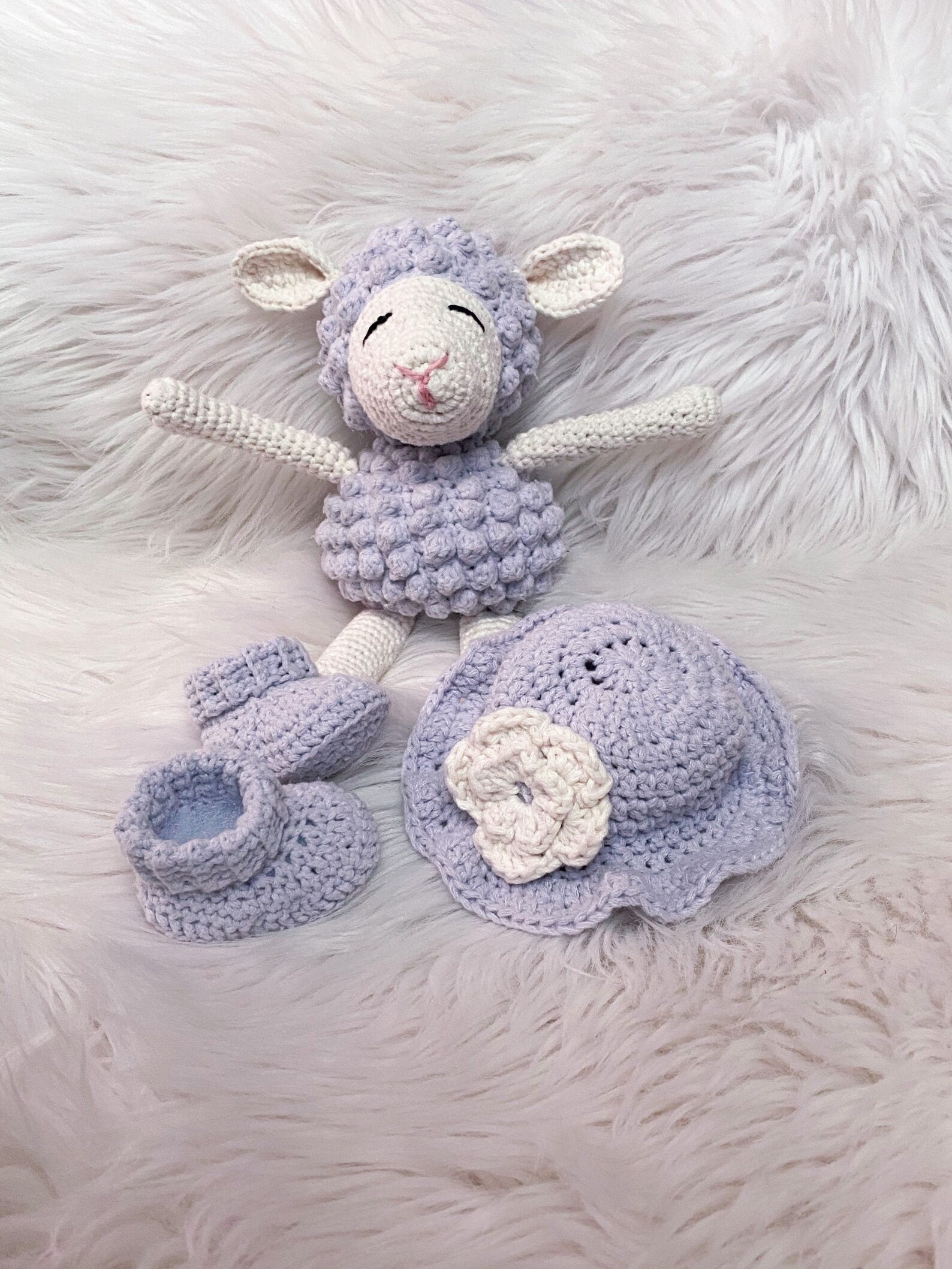 ---
Easter Basket Bassinet
Soft, cozy, and nothing short of inviting, this Easter basket bassinet is a great gift to get practically any baby. And, let's be honest, this is the kind of thing that might end up being like their second home if they enjoy climbing inside.
This great gift comes with a baby doll, but that can easily be removed, or you could even save it for when they're old enough. It includes a mattress, a mini duckling and gosling, and a pair of slippers. For any customizations, they just ask that you let them know.
Click here to check prices and reviews.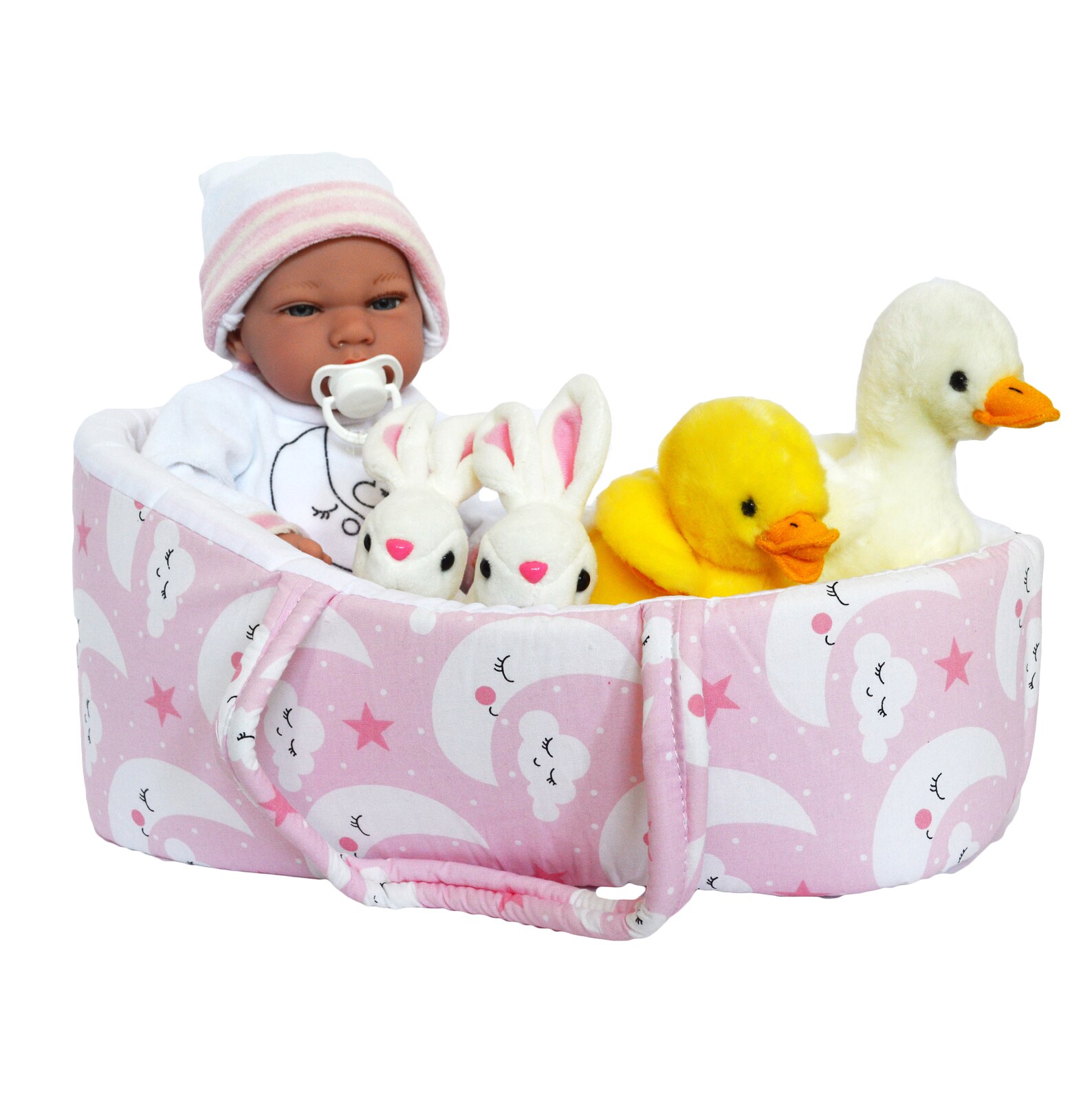 ---
Easter Bunny Bundle
Who wouldn't like a bundle of gifts? Most adults would appreciate it, so it only makes sense that most babies would, too. That's why this Easter bunny bundle is great. It's a whole haul of Easter gifts all in one.
Handmade with plenty of customizations available, they just ask that you contact them with personalizations. In all, this bundle comes with an ultra soft baby blanket, heart hat, hair clips, heart rattles, a drool cloth, a matching teether, and much, much more.
Click here to check prices and reviews.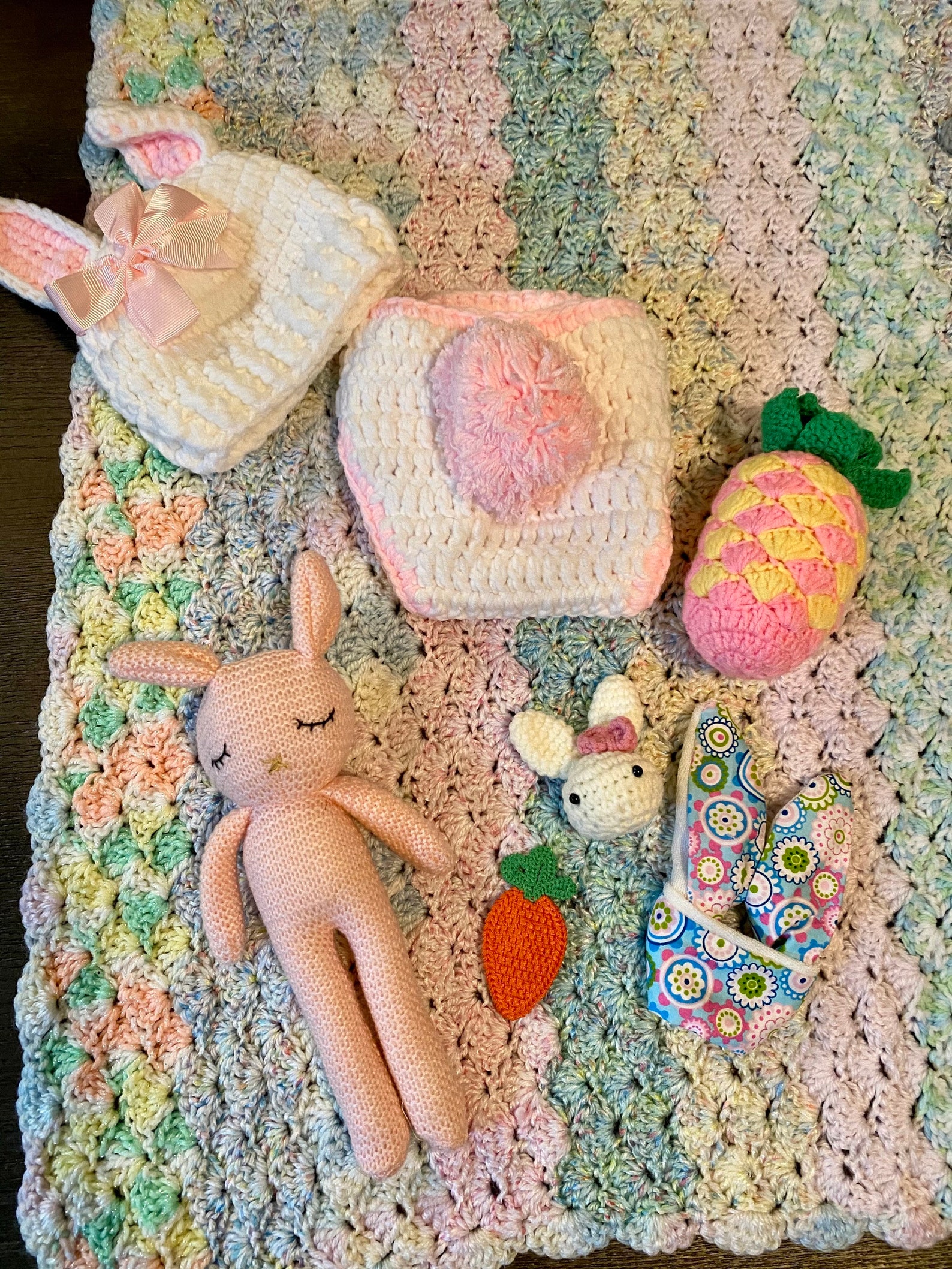 ---
Footless Knitted Bunny Romper and Bonnet Set
Handmade and stinkin' adorable, this footless knitted bunny romper and bonnet set is the perfect outfit to put your infant in if you want them to steal the show. And FYI: that says way more about you than it does your baby.
Anyway, hand-knitted and cozy, all rompers and bonnets are designed, cut, and assembled by the seller. Just remember that your baby shouldn't be left unattended with a bonnet. It could be a choking hazard. But you probably know that already!
Click here to check prices and reviews.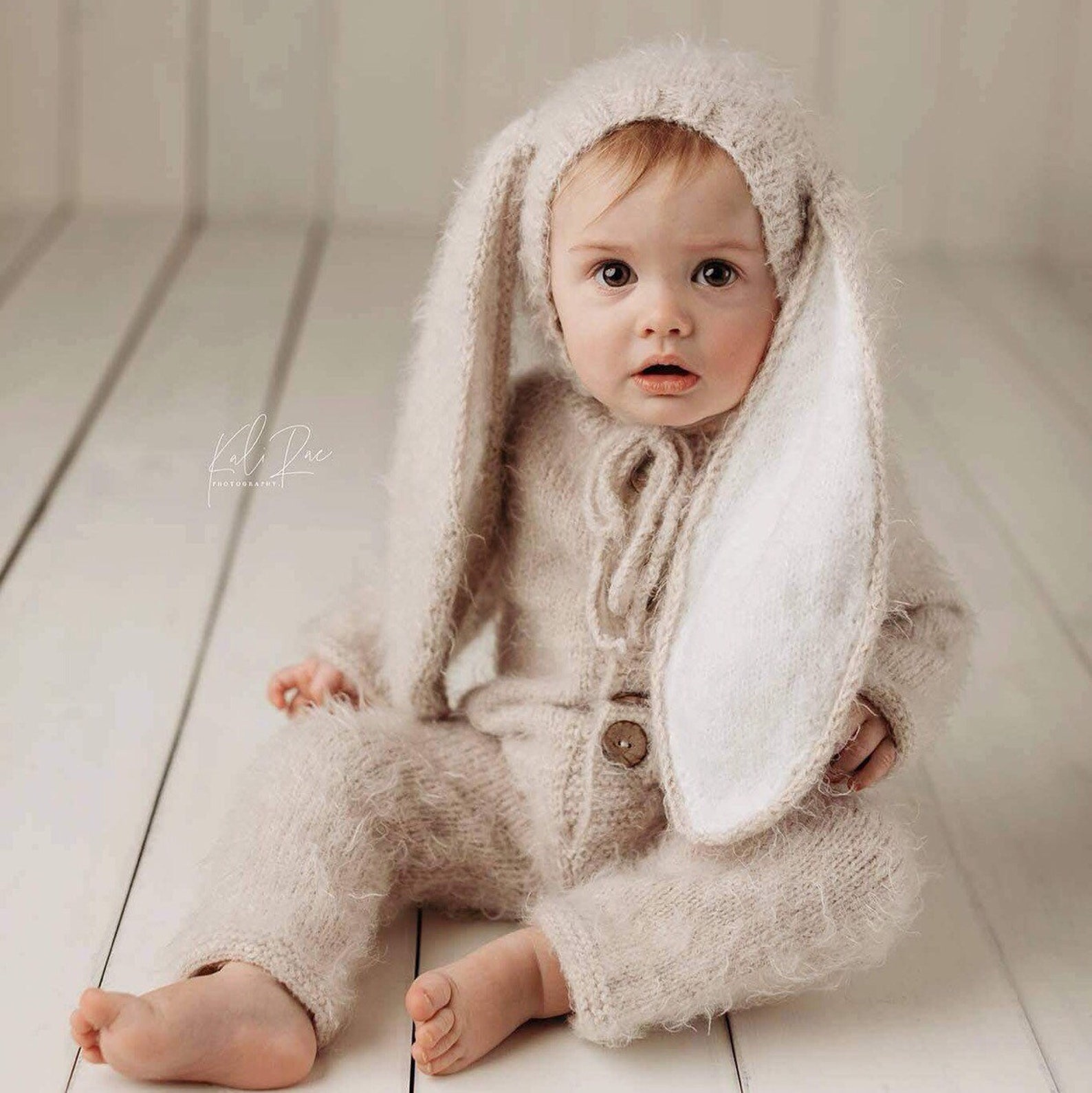 ---
Fancy Easter Bunny
It's no secret bunnies are, quite simply, the symbols of Easter. So it's only fitting you should gift your baby a fancy Easter bunny they'll cherish forever. And, who knows, maybe some of that will spillover onto the holiday itself.
Handmade and crocheted, this Easter bunny is a beautiful stuffed animal with phenomenal attention to detail. From the ribbons to the acrylic and even the safety eyes, this plush rabbit is sure to be a reliable companion, possible for the rest of their life!
Click here to check prices and reviews.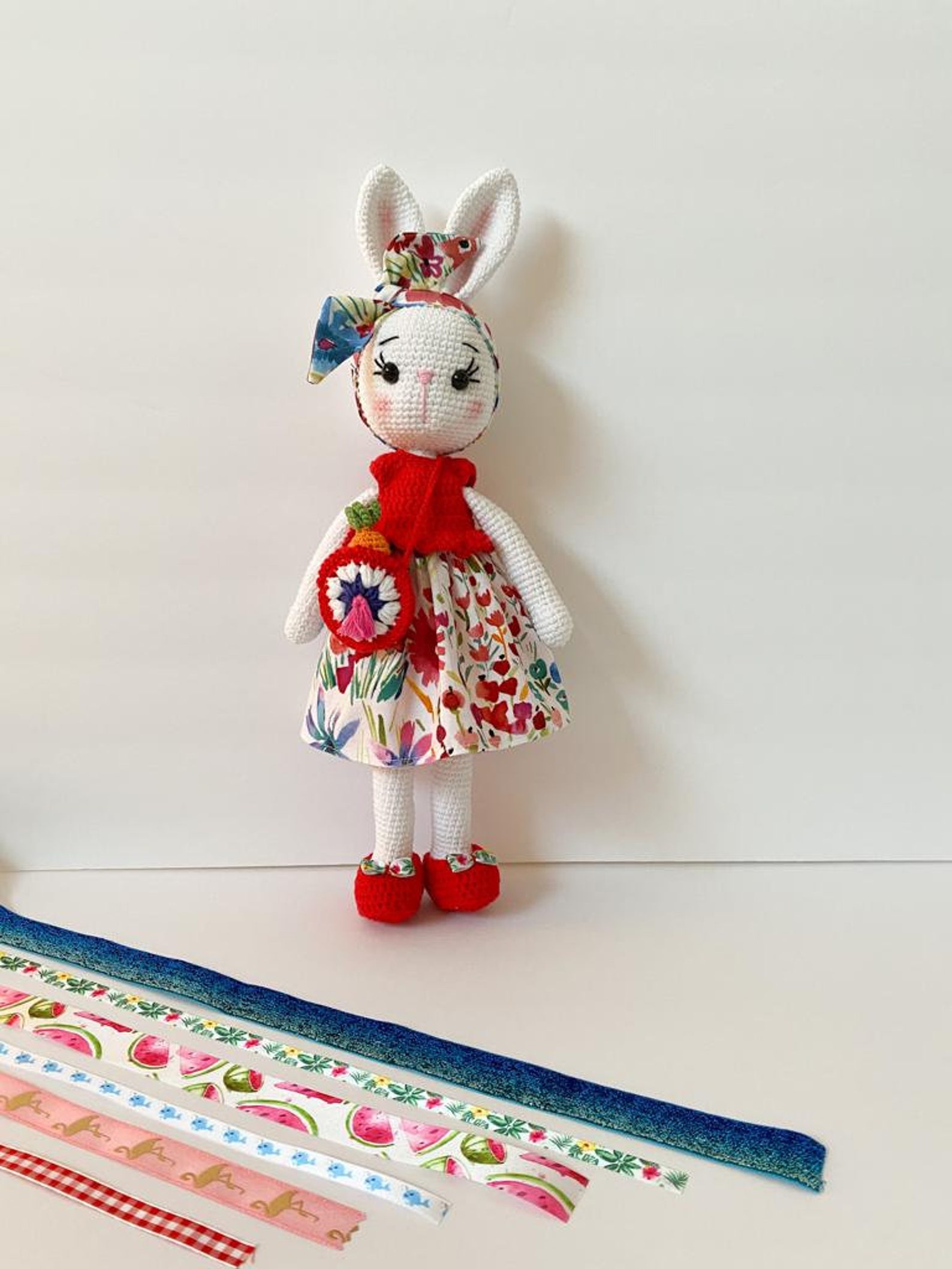 ---
The best Easter gifts for babies over $100
So nothing so far has done it for you and you're not going to settle for anything but the best presents for your baby's first Easter basket. And, honestly, it's commendable. And let's be honest. You're never too young to appreciate luxury and the finer things in life. But, if this is the kind of bar you're trying to set, we just hope you understand what this could mean for your gift-buying in, say, five years. But that's not important. What's important is finding the perfect newborn Easter basket or presents. And that's exactly what we're here to supply you with. Here are our favorite luxury Easter gifts for your little one.
---
Easter Gift Basket
The best gifts you can get a baby are gifts both their parents and them will either enjoy or get some use out of. And that's exactly the kind of gift this personalized Easter gift basket is! This basket has a little bit of everything.
Handmade and of the utmost quality, you can even have the stuffed bunny personalized with their name stitched in. The basket includes 3 bodysuits, two pairs of matching socks, a two-piece outfit, a long-sleeve one-piece outfit, a beanie, and a stuffed rabbit.
Click here to check prices and reviews.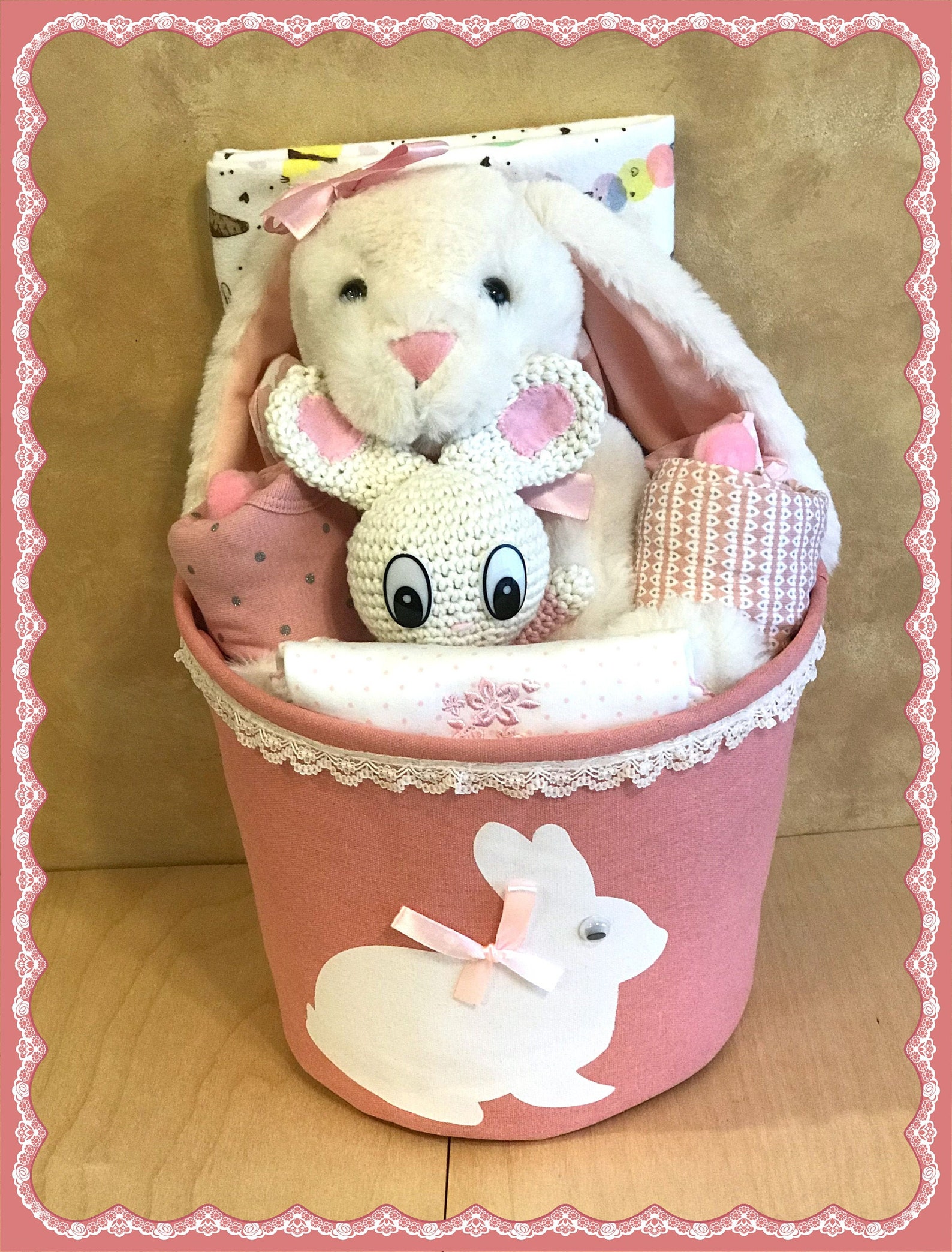 ---
Easter Beanie Baby Basket
Now, this awesome Easter Beanie Baby basket has a few different great applications for the little one. Firstly, who doesn't love Beanie Babies? They're practically unrivaled. And, secondly, they could be resold for a big price if kept in good enough condition.
Nonetheless, this basket comes with three different colored bunny Beanie Babies and a beautiful, colorful, and durable pink metal-framed chicken-shaped basket trimmed with beads and eggs. Depending on your age, this is gifting them a part of your childhood.
Click here to check prices and reviews.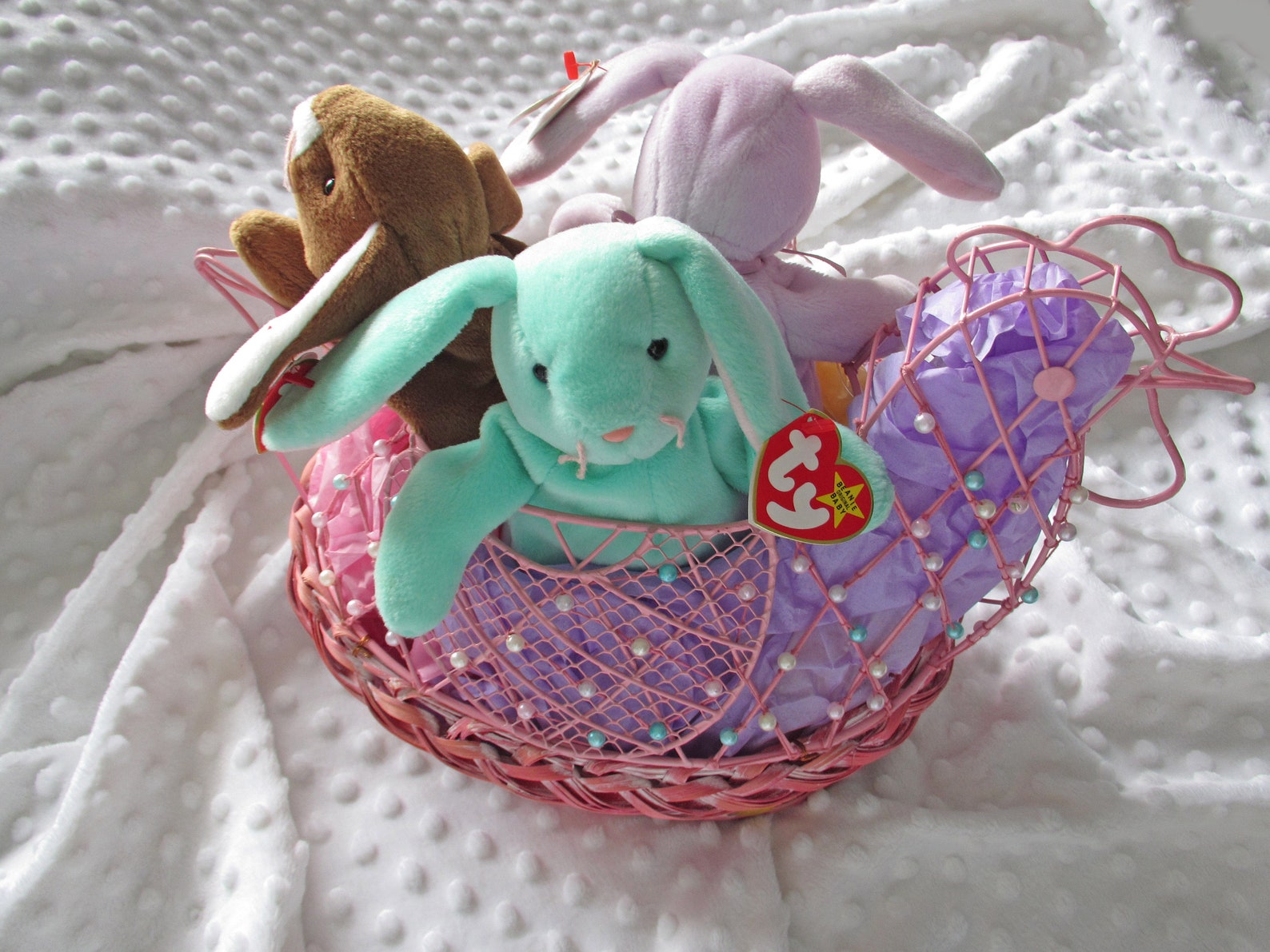 ---
Baby Name Bracelet
Now, in a world where you can't put a collar with an identifying tag on your baby, this personalized baby name bracelet is the next best thing. But be warned: starting with these gifts this early only makes things harder. Still, that doesn't mean it's not worth it!
Select between yellow gold, rose gold, and white gold, all 14 karats. And you can even choose to have just one side, or both sides, engraved. Then simply input the lucky infant's name and wait for their inaugural piece of bling to arrive.
Click here to check prices and reviews.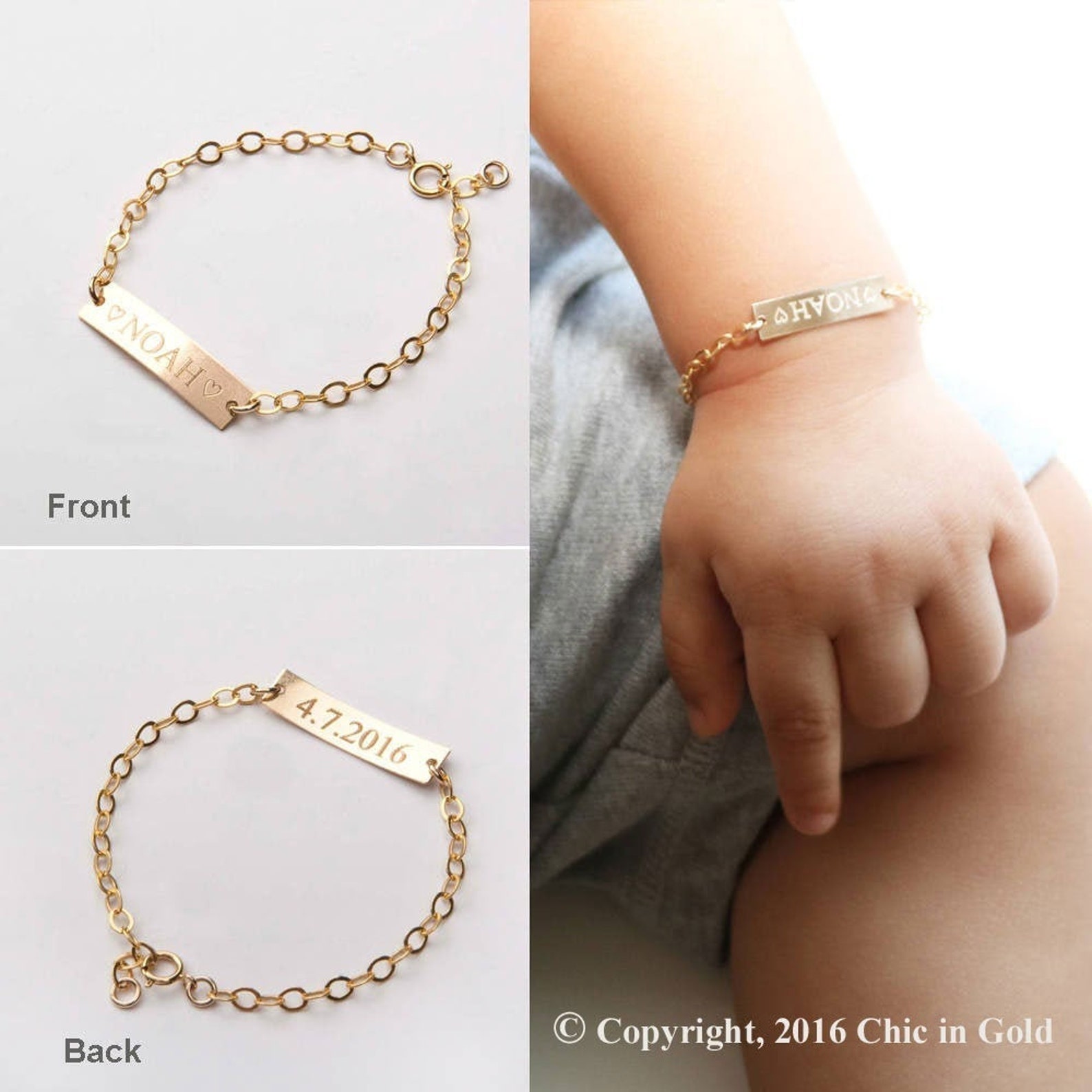 ---
Bunnies and Flowers Quilt
Everyone probably knows this by now: babies spend a lot of time swaddled in cozy blankets, quilts, and whatever else. And make no mistake: this bunnies and flowers quilt will be the perfect addition to that cocoon.
Totally handmade, this special quilt will be as warm and comforting as their own parents' embrace. With a pattern featuring bunnies, flowers, and mailboxes, the Easter colors are easily the most perfect finishing touches you could imagine.
Click here to check prices and reviews.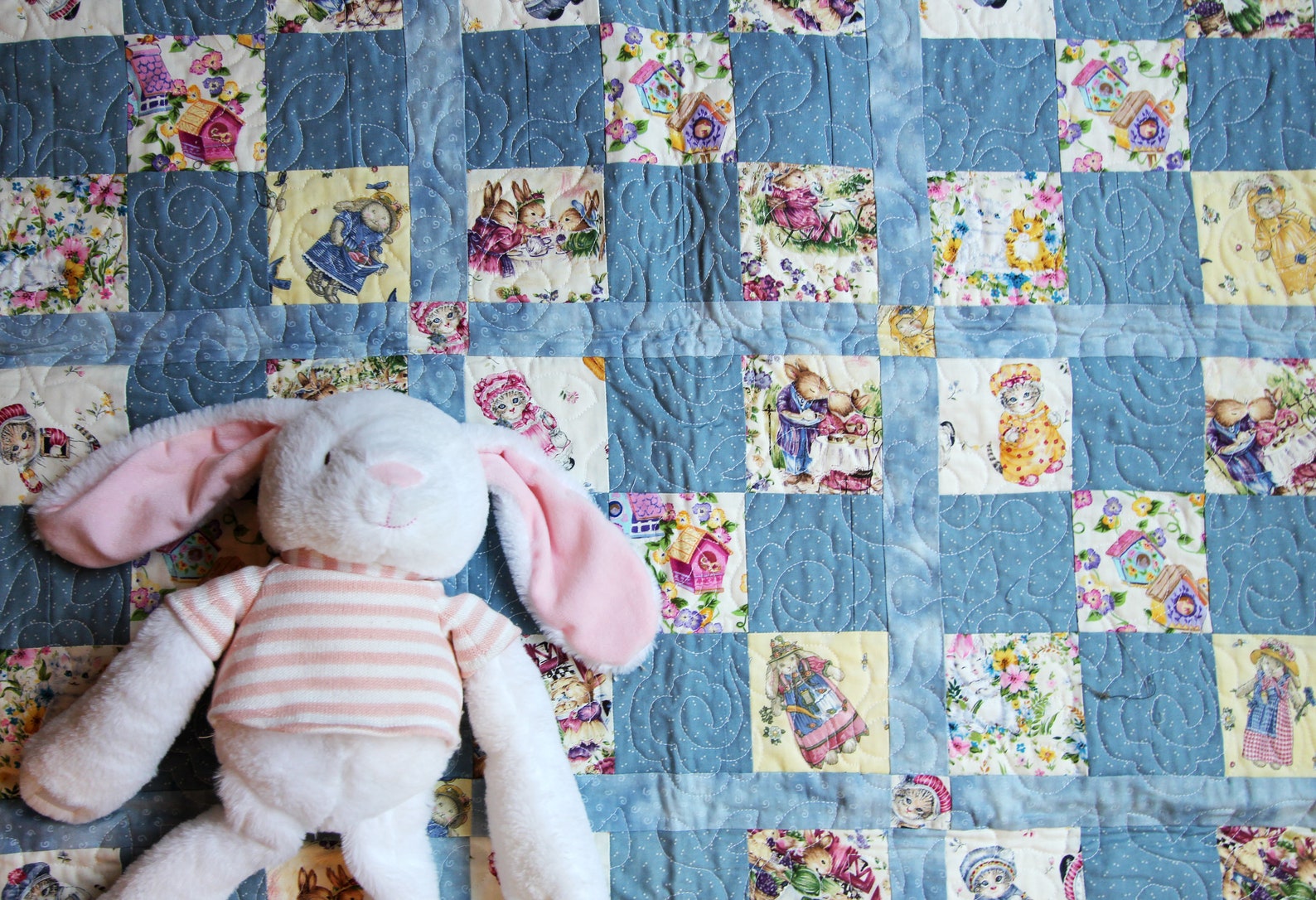 ---
Genuine Leather Baby Swing
Now, on Easter, you guys might be having a big to-do. And, if you have guests coming over and are planning some kind of event that adults also expect to enjoy, then this genuine leather baby swing is perfect.
Handmade out of genuine Italian full-grain leather, this swing will look perfect in practically any home. Choose to have a safety belt and pillows included if you want. This is a great way to ensure you keep an eye on your little one while getting some rare face-to-face time with other real-life grown-ups.
Click here to check prices and reviews.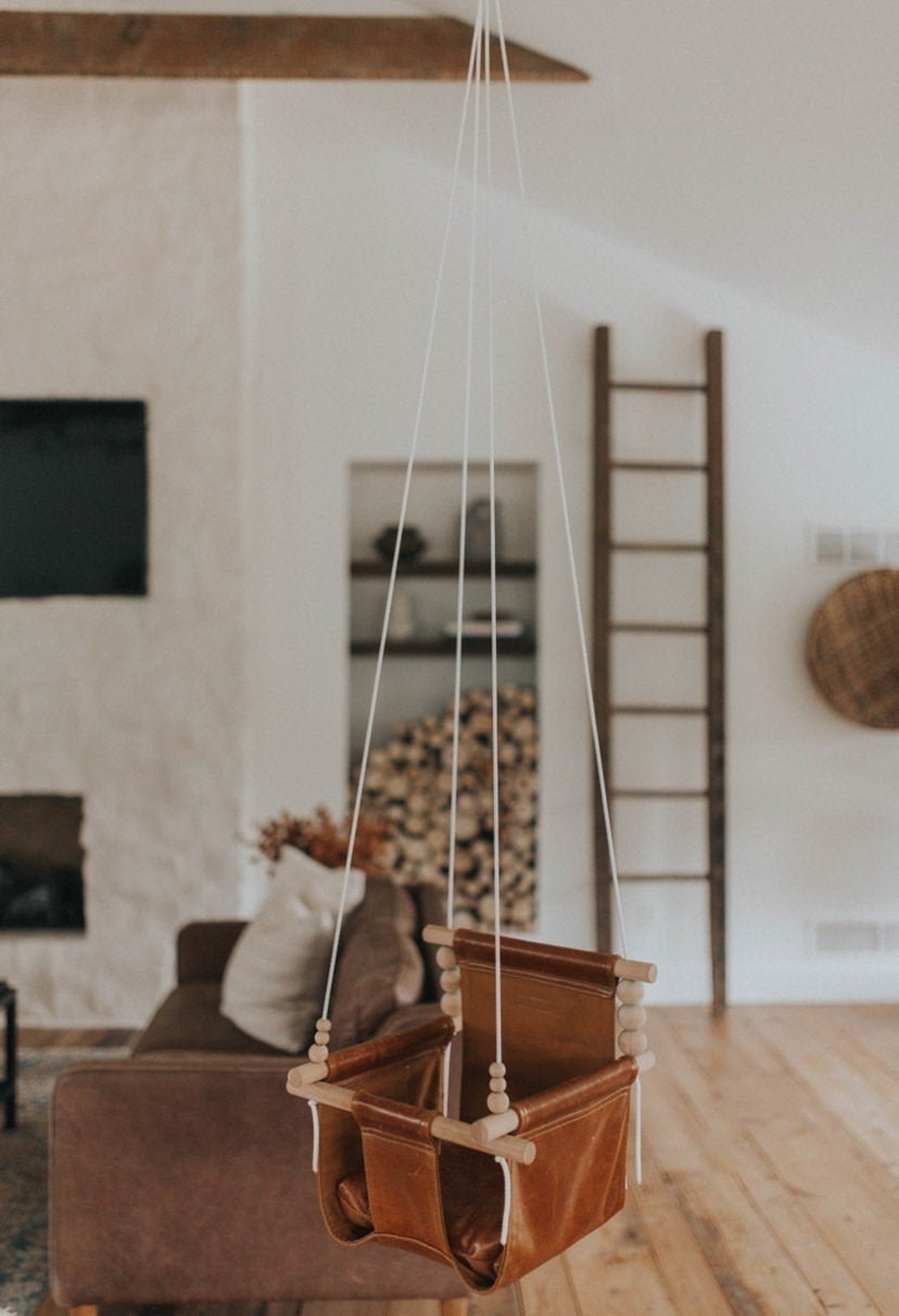 ---
Hopefully our list helped you find the Easter presents for babies you were looking for!
We're convinced we've provided you with the definitive list of Easter presents for your infant. But, if we somehow didn't find exactly what you were looking for, hopefully we were at least able to point you in the right direction!
Please don't hesitate to contact us if you have any questions, comments, or concerns at all. Some would argue the most important holidays are in those first, most impressionable years. And, honestly, there's something to that. So make this one count!