*FYI - this post may contain affiliate links, which means we earn a commission at no extra cost to you if you purchase from them. Also, as an Amazon Associate I earn from qualifying purchases. Check out our Privacy Policy and Disclosure. for more info.
Ever wanted to be a Laird or Lady in Scotland? Keen to own part of a Scottish castle?
… Got 20 bucks?
Boy, do we have some great news for you.
In what may be the best gift ever (even if it's for yourself), Dunans Castle in Scotland is selling ownership of one square foot plots of pasture on their castle grounds on Groupon… which then grants the purchaser the decorative title of 'Laird' (Scottish Lord) or 'Lady'.
… Yes, you can become a Scottish laird or lady, and all you need is twenty bucks.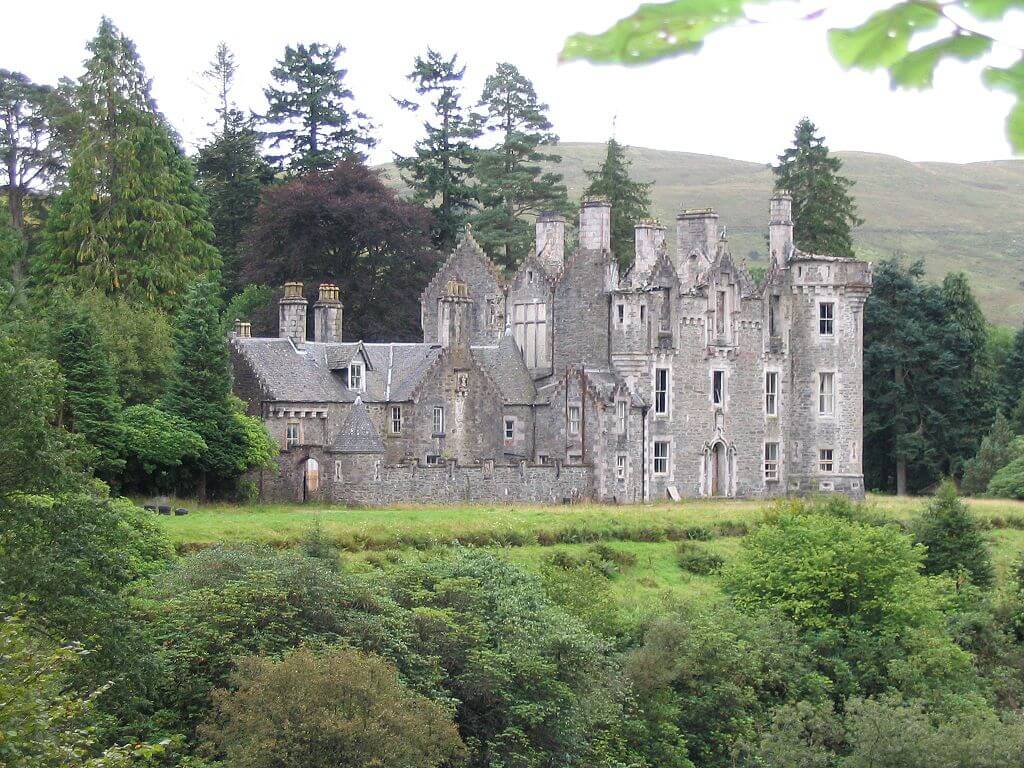 While the titles are of course more for fun and wouldn't grant you any kind of actual power or rights as a noble, you nonetheless do get deeds of entitlement with your purchase, which would make you technically a Laird or Lady… and hey for twenty dollars, technically is good enough for us.
Click here to check out the Groupon.
The plots are being sold as a genius fundraiser of sorts for the restoration of this beautiful Highlands castle which dates back to the 16th century.
While it once served as a hotel for years, a fire destroyed most of the building in 2001, and the castle has been in disrepair since. The plots of land being sold are therefore a smart little way of generating money to help restore the castle to its former glory…
… While also forcing everyone in your life to call you Laird or Lady.
Here's what the castle looks like today:
As a bonus, every purchase comes with free tours to the castle grounds if you were to ever visit… which means yes, you can go see your own little piece of Scotland in person for free! You also get access to the estate's garden and rivers for fishing, along with (our personal favorite perk), the "rights to use and wear the Dunans Rising Tartan".
According to the official Groupon page here, there are three tiers of packages you can buy:
Standard:
Lord or Lady of Chaol Ghleann title with a souvenir folder
Ownership of one square foot of pasture on the grounds of Dunans Castle
Deed of entitlement signed and sealed by present Laird
Includes downloadable pdf with deeds of entitlement
Free tours to all Lords and Ladies of the grounds and building
Access to woodland garden and rivers for fishing on the ancient estate
Titles help towards restoring the historic Highlands castle
Deeds of entitlement posted, signed, and presented in a presentation folder
Subscription to the Lords and Ladies Monthly Newsletter
Rights to use and wear the Dunans Rising Tartan
Deluxe:
All Standard Package components
Lord or Lady of Dunans Castle title with premium-quality souvenir folder
Deed of entitlement, signed and wax-sealed by the present Laird
Personalized email address with an @lairdofdunanscastle.com and/or @ladyofdunanscastle.com domain
Online access to stationary templates for letters, business cards, and compliment slips
Premium:
Presented in a red presentation box with silver foil insignia
Ownership of one square foot on the ground floor of the castle
Double-size personalized deed of entitlement with a large wax seal
Ground-floor plan of the castle with owned square foot marked by the current Laird
One tartan item such as a tie, scarf, or teddy, subject to availability
Copy of The Conservation Plan for Dunans book, signed by the Laird
Gold ID and discount card
Personal letter from the Laird
A personal tour of the project from the Laird
50% discount on first night's stay at Dunans Castle after restorations are complete
Fancier gift boxes are also available on Amazon for a bit extra:
For more info on this fun gift, visit the Groupon page here.