*FYI - this post may contain affiliate links, which means we earn a commission at no extra cost to you if you purchase from them. Also, as an Amazon Associate I earn from qualifying purchases. Check out our Privacy Policy and Disclosure. for more info.
Looking for the perfect Harry Potter music box?
Whether you're shopping for a lucky Potterhead recipient, or just trying to pick something for yourself, finding THE one can be a bit overwhelming, especially since there are a ton of cheap but low-quality ones floating around out there. Don't worry though, in this post, we've rounded up five gorgeous HP music boxes in a variety of price ranges so you can find the perfect one for your needs.
Enjoy, and try your best to just buy one!
Pin for later: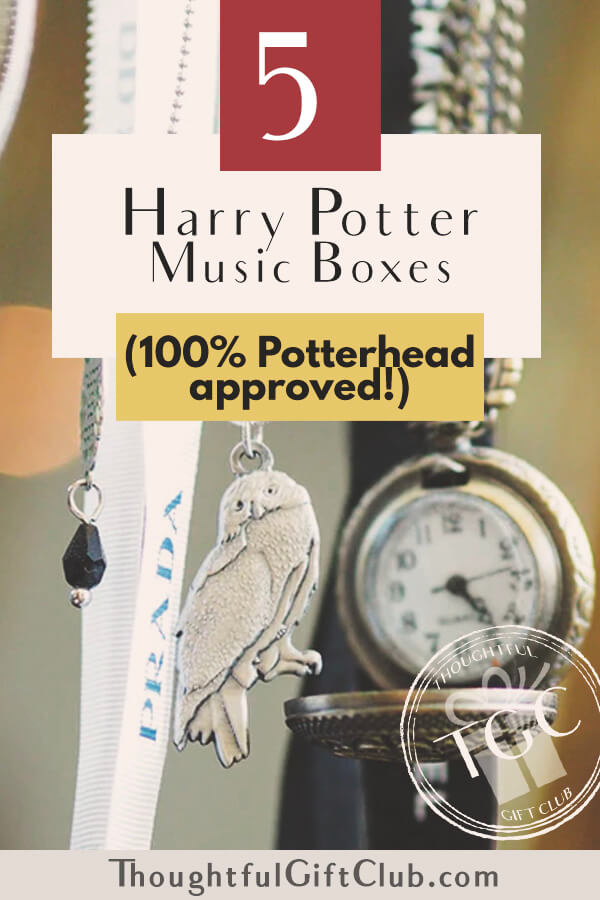 1. This Epic (Engraved) Harry Potter Wooden Music Box
We'll start with an incredibly detailed 5***** music box that's perfect for any hardcore Potterhead. As most HP music boxes do, this one plays the main theme, but it's definitely a unique piece for its beautiful hand-carved box. The carving in this one is exquisite and is especially perfect for mega-fans of both Harry and Snape. I mean… just look at it! Click here to check prices and reviews.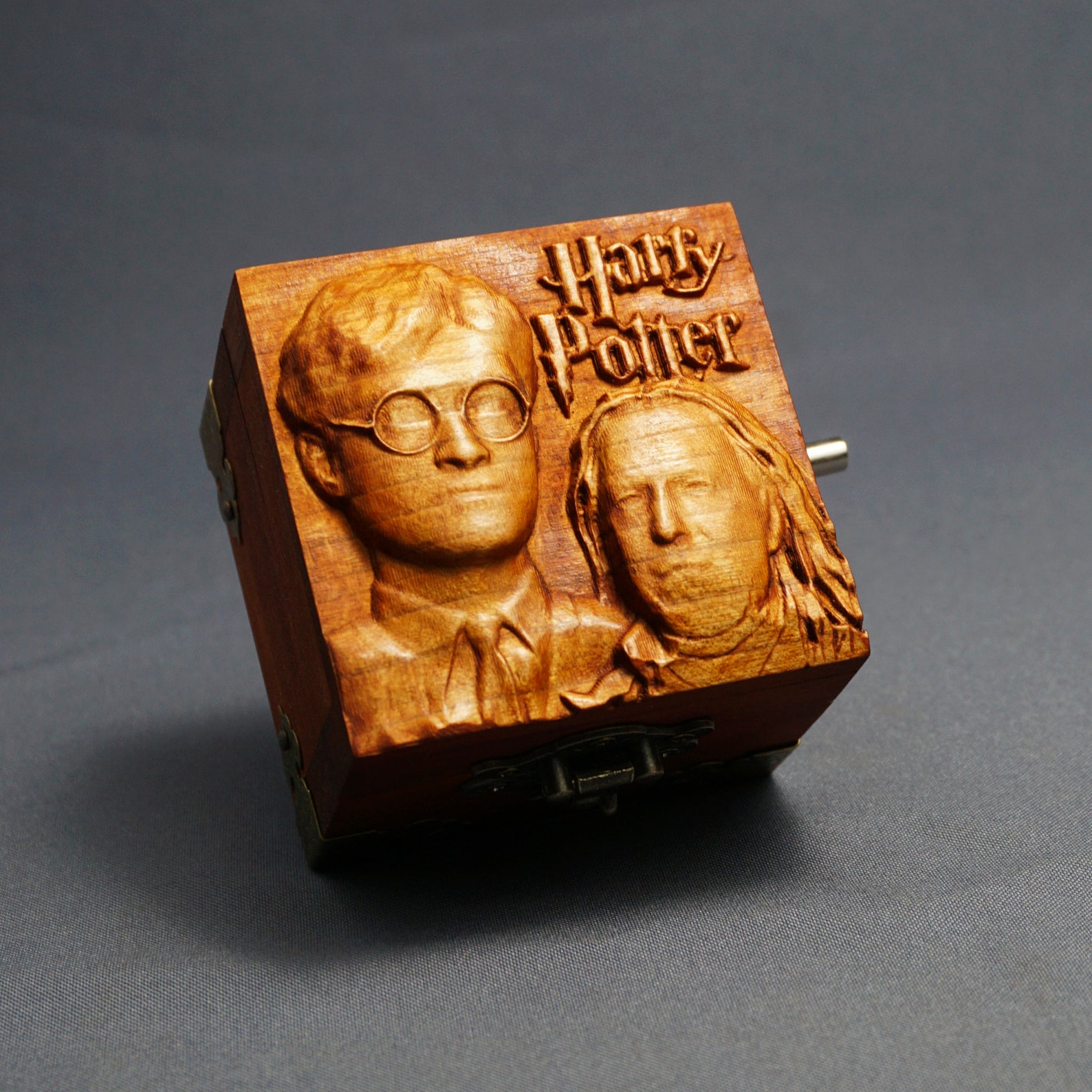 2. This (very affordable) hand crank HP Music Box
While music boxes sound like super fancy (and often expensive) gifts, there is a huge variety of mini hand crank music boxes out there that are surprisingly affordable and also really cute too. So, if the gesture is more important than the actual physical gift, this mini hand crank music box is a great affordable Harry Potter music box to look into… the bonus is of course that it's also decorated with the Hogwarts crest, the Deathly Hallows symbol and some iconic HP phrases too.
PS: As you might have guessed, this one also plays the main Harry Potter Theme song (Hedwig's theme).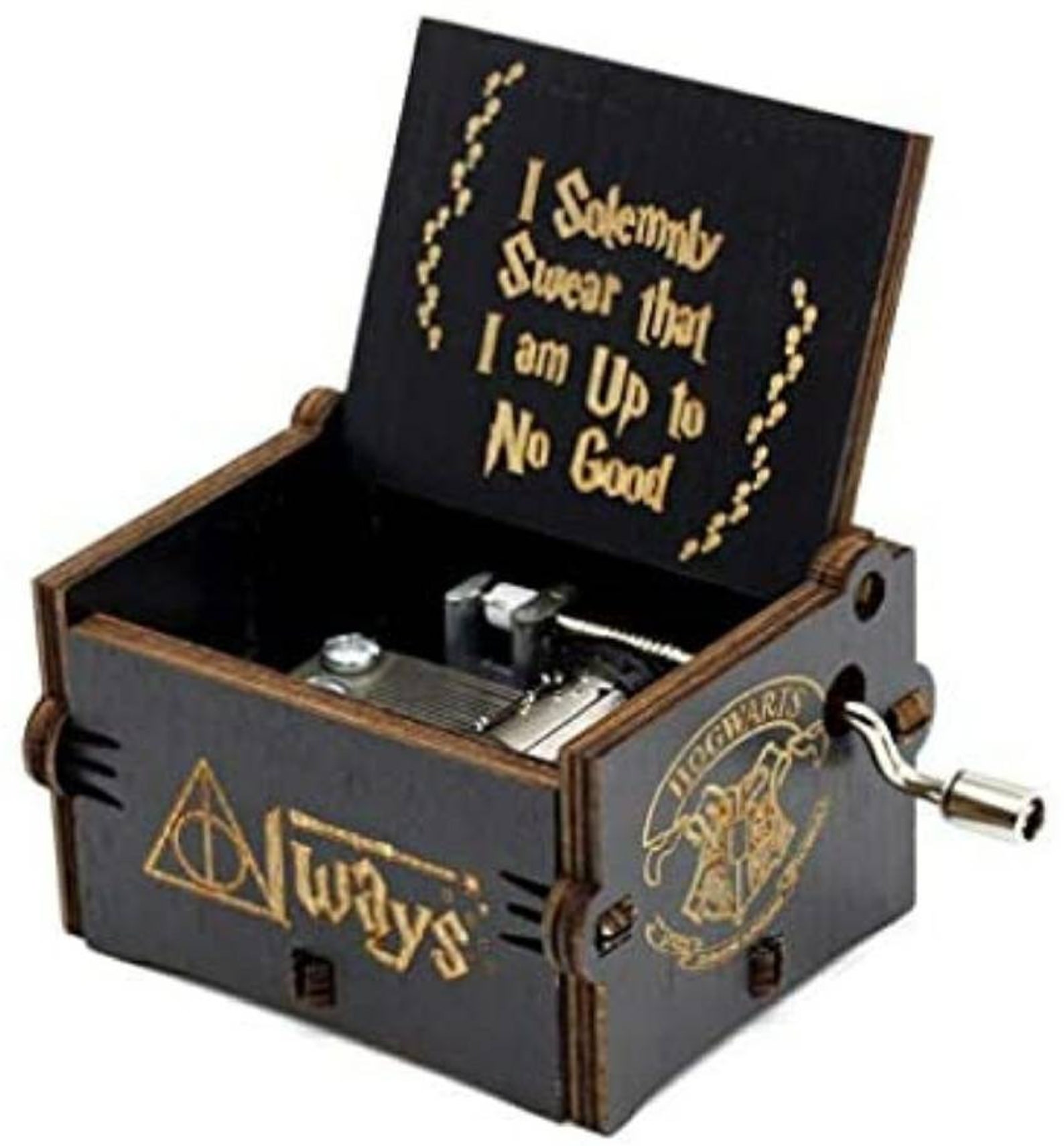 3. This Personalized Harry Potter Music Box
For something a bit fancier, check out this handmade customizable Harry Potter music box. Not only can you choose the wood finish from Cherry, Mahogany, Ambrosia Maple, and Walnut, you can also pick your HP quote of choice (written in the classic font of course) in addition to choose between two different songs. This one is definitely more expensive than some of the other choices out there, but if you want something handcrafted and high-quality, you should definitely check it out. Click here to see prices and reviews.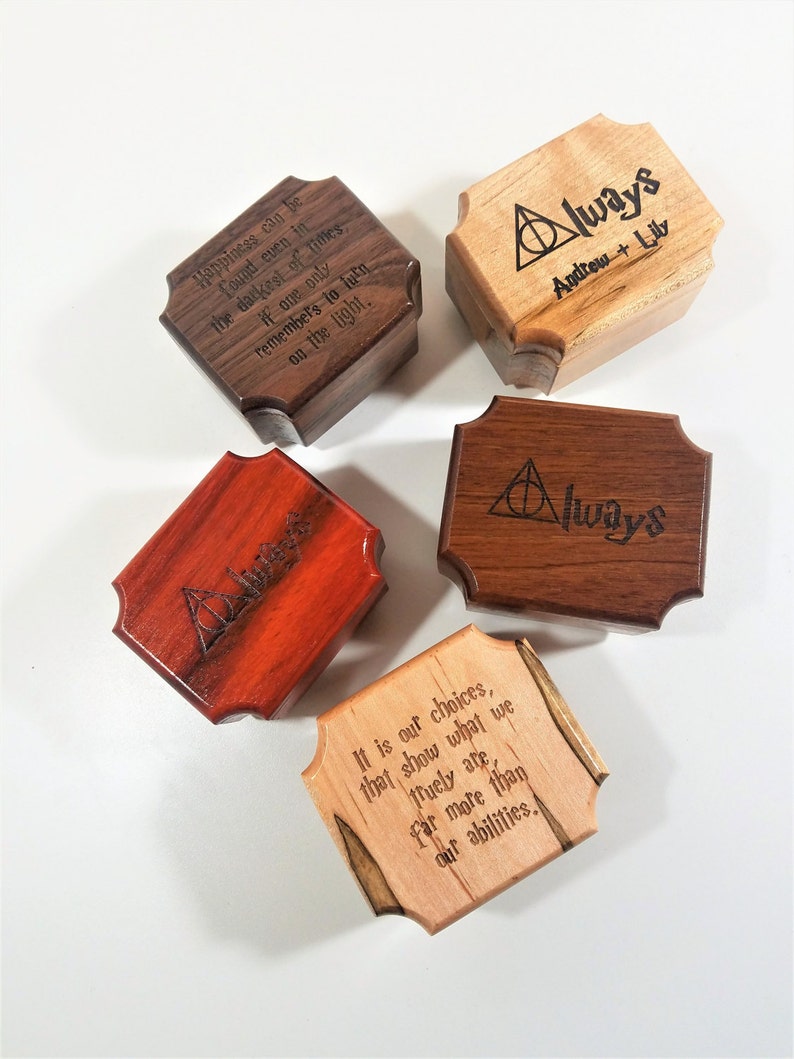 4. This Beautiful Harry Potter Wind Up Music Box
This circular Harry Potter music box is probably one of the prettiest picks of the bunch if you're not looking for anything personalized – it's a minimalist design, but beautiful, and almost resembles a locket when opened. This one does of course play Hedwig's theme as well, and even comes with a special gift box upon purchase which saves you the painful task of wrapping! Click here to price check.
Last but not least, we have this beautiful music & jewelry box combo – perfect if you're looking for the ultimate Harry Potter gift to impress! Not only can you get this one personalized with a laser cut engraving on the top, you can also choose the wood finish, the engraving on the inside, and the song that plays. While there's two Harry Potter options (Hedwig's Theme and I Solemnly Swear), there is also a large catalogue of other songs too, so if you're looking for a music box with a Harry Potter theme, but something that plays another song (maybe a song that's special to the recipient!) then this is the perfect gift. Click here to check out the different options.
5. This Beautiful Harry Potter Music + Jewelry Box