*FYI - this post may contain affiliate links, which means we earn a commission at no extra cost to you if you purchase from them. Also, as an Amazon Associate I earn from qualifying purchases. Check out our Privacy Policy and Disclosure. for more info.
We have an unofficial saying around here at Thoughtful Gift Club – when in doubt, gift a mug. And if you're here because you're looking for a list of the best Harry Potter mugs out there, well we'd venture to guess that you agree!
Mugs are one of the easiest gifts out there that are guaranteed to please, with the helpful bonus that they're both useful and budget-friendly too. So, if you're shopping for THE perfect Harry Potter mug, whether it's for yourself or for a lucky Potterhead recipient, here are some awesome ideas on cute Harry Potter themed mugs to buy.
Pin for later: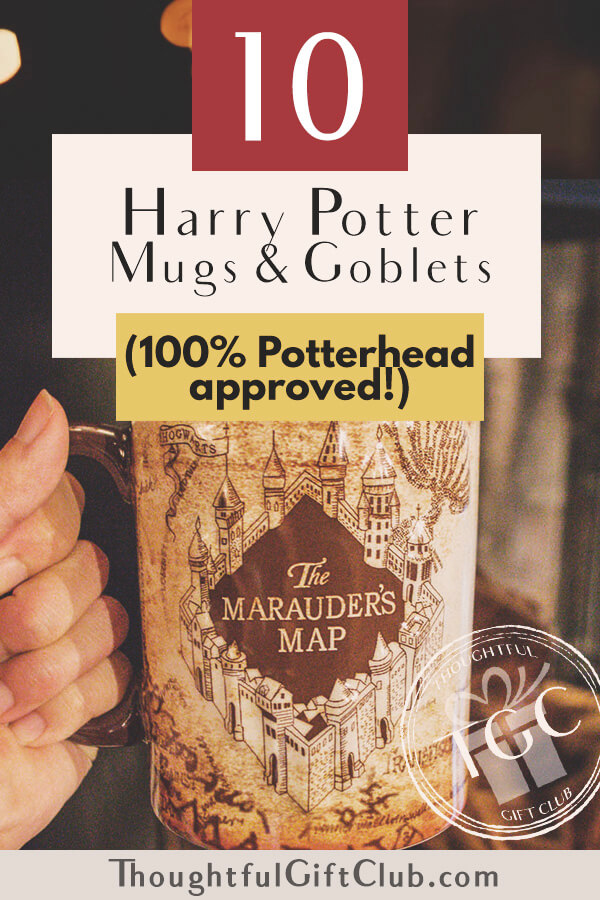 1. This set of Harry Potter House Mugs
These mugs (or goblets as they're called on the product page) are a must-have for any Potterhead's kitchen. With a unique design and 4 gorgeous goblets representing each house, there's no better way to show off your unhinged nerdiness every morning.
… I guess the only tricky part is fighting over who gets which mug. Might we suggest a Sorting Hat mug to figure it out?
2. This awesome Harry Potter travel mug
This stainless steel insulated tumbler is a gorgeous Harry Potter travel mug that will no doubt be perfect for any Potterhead. Not only is this mug super high-quality and guaranteed to keep your Butterbeer at the ideal temperature all day long, it's a beautifully designed Hogwarts 'alumni' style bottle that will make you the envy of the room. Click here to check reviews and pricing.
3. This adorable Harry Potter cauldron mug
Given that it's Harry Potter we're talking about, a cauldron mug definitely makes a lot of sense. Luckily, there are loads of great options out there! Here is a beautiful cauldron mug that you can get with the Hogwarts crest, or you can get specific house ones too. Click here to check out all the different styles.
4. This Magical "I Solemnly Swear" Mug
If it's a truly magical Harry Potter mug you're looking for, check out this super cool morphing mug that magically transforms when it's hot. This particular one goes from a black design to showing the iconic phrase "I solemnly swear that I am up to no good".
5. This be-hoo-tiful Hedwig mug
If you want to start your mornings right with faithful Hedwig by your side, then this awesome Hedwig mug is the one to get. This 3d sculpted ceramic mug is the perfect loyal companion for your cups of tea or coffee, and would look perfect perched on any cabinet or shelf.
6. This awesome Mischief Managed Mug
For another unique Harry Potter mug, check out this cute Marauder's Map "Mischief Managed" mug. Besides bearing one of the most iconic phrases/images from the entire Harry Potter series, the wide bowl-esque shape of course also makes it perfect for soups, cereal and whatever else you want to use it for. To be fair, you'll probably be finding all sorts of excuses to bust it out.
7. This (Customizable) Harry Potter Mug Set
For a truly thoughtful and unique Harry Potter mug set, check out this customizable mug set on Etsy. Not only can you get everything personalized with different hairstyles, robe colors, backgrounds and details, you can also include up to 5 people! Click here to check out prices and reviews.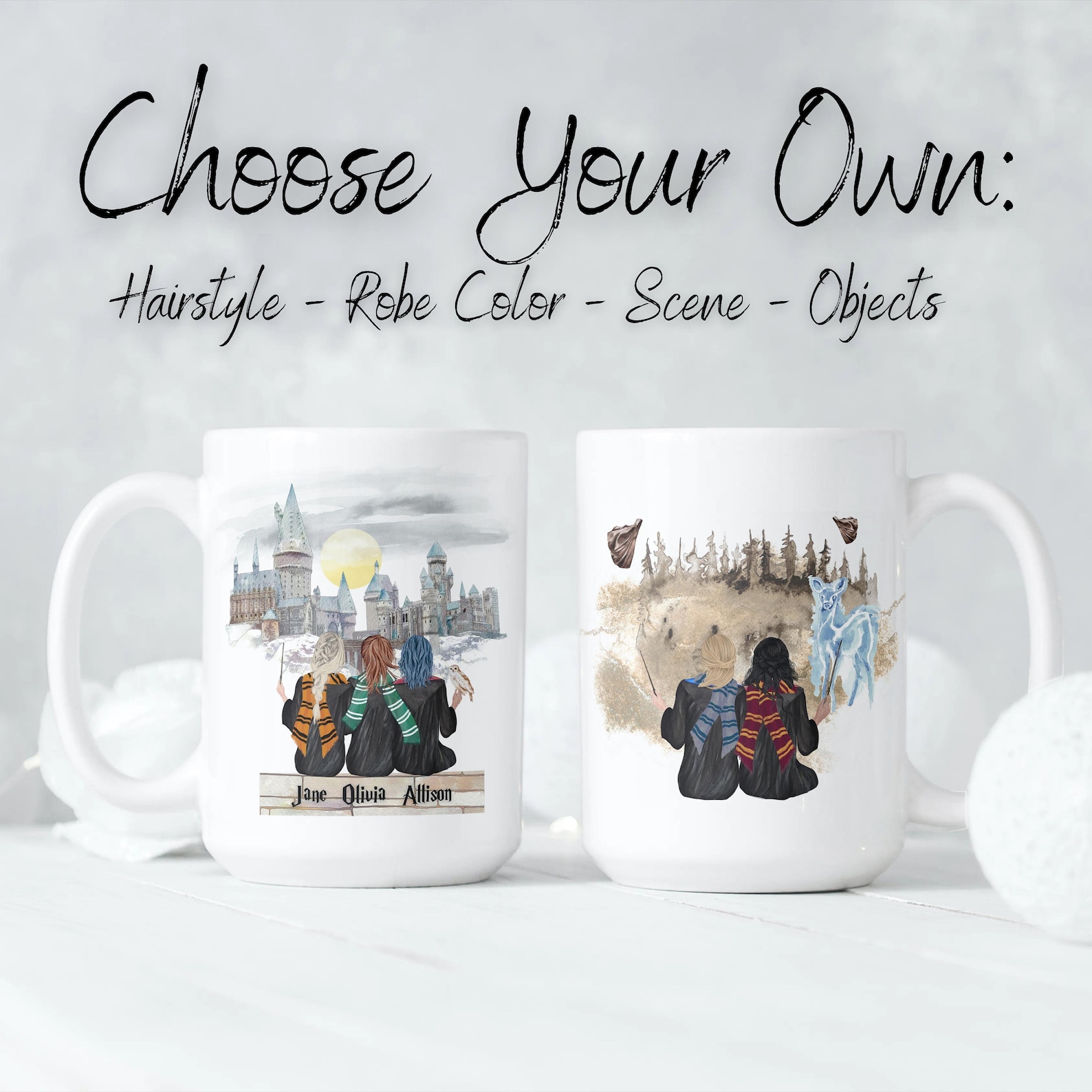 8. This unique lightning bolt Harry Potter mug
While there's no shortage of Harry Potter mugs out there these days, a lot of them can look the same. Luckily, exceptions like this unique golden lightning bolt mug do exist! The minimalist gold detailing on this mug is gorgeous, and the unique handle makes it a must-have for any Potterhead.
9. This Dobby mug
Another great idea for a Harry Potter themed mug is something featuring everybody's favourite House Elf, Dobby. We love this funny (mildly sassy) Dobby mug that perfectly captures what life is like before having that first cup of coffee. As a bonus, the back of the mug even shows you Dobby's back! Click here to check prices and reviews.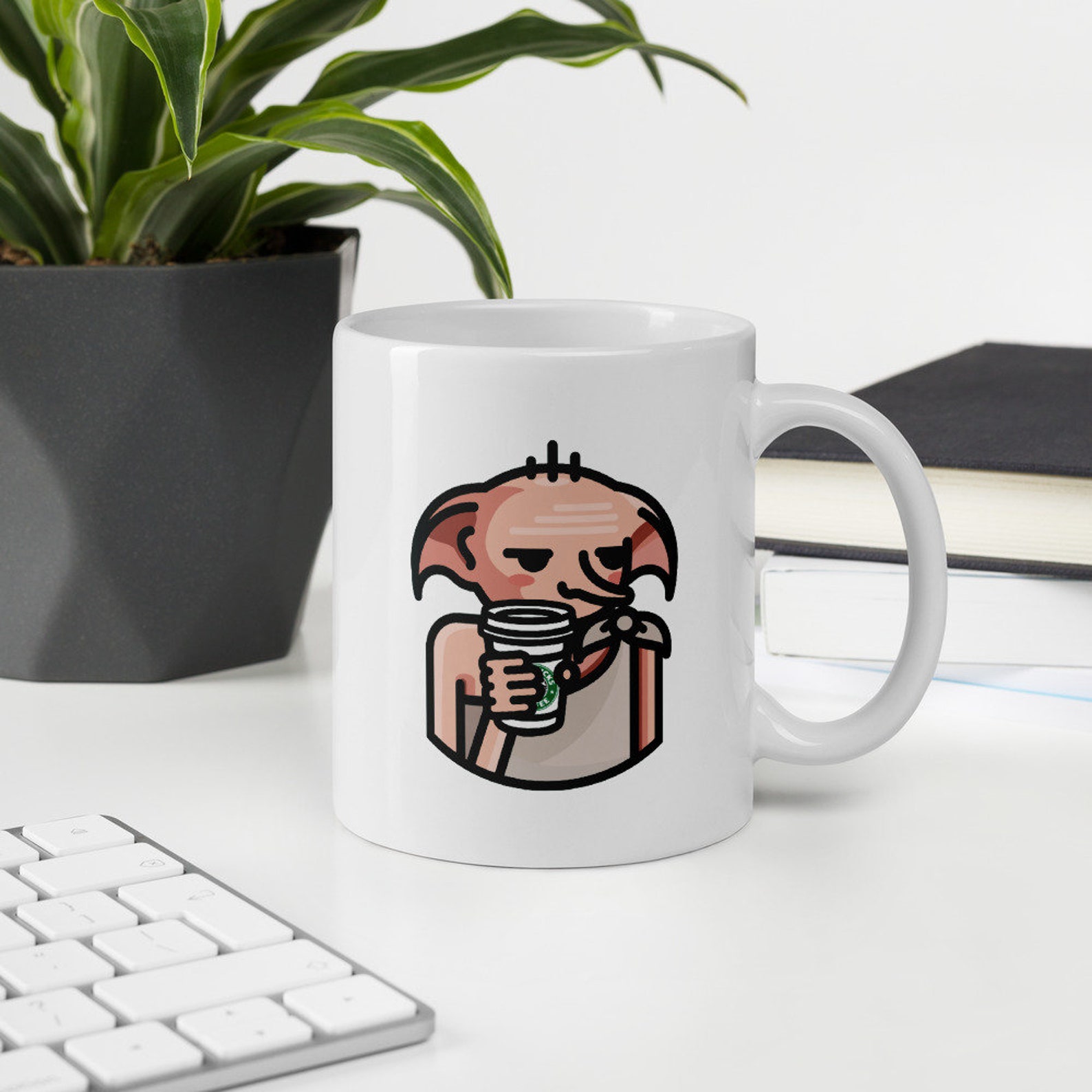 10. This Magical Reveal Sorting Hat mug
Last but not least, here's a final Harry Potter mug that will set any Potterhead heart aflutter: a magical mug that (when warmed up) shows you your actual Hogwarts House! Click here to browse the different options.