*FYI - this post may contain affiliate links, which means we earn a commission at no extra cost to you if you purchase from them. Also, as an Amazon Associate I earn from qualifying purchases. Check out our Privacy Policy and Disclosure. for more info.
While finding the perfect gift can be fun and inspired, searching for the perfect present for her can oftentimes feel like an added ring in Dante's Inferno. A good gift will convey everything that words are unable to articulate, while a bad gift can send the irreparably wrong message—whatever that may be.

Part of the problem doesn't seem like a problem at all—there are so many options to choose from that it can feel overwhelming. And, while purchasing an easily procured piece of jewelry might be the most convenient option, there are plenty of customized gifts for her that would be even better.
So, if you're wondering, what are the best personalized gifts for her?, or, more importantly, where to get personalized gifts for her, we've got you covered!
Without further ado, here's our curated selection of personalized gift ideas for her! Hopefully they'll snatch you from the jaws of domestic strife before its too late—and, if it is too late, hopefully these ideas will be your redemption!
Pin for later: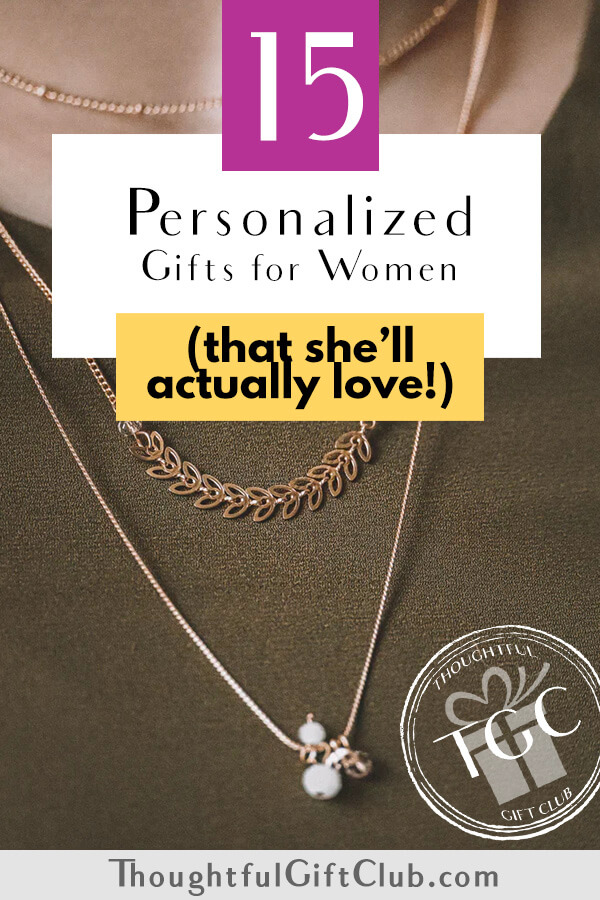 ---
PERSONALIZED GIFTS FOR HER UNDER $20
Are funds limited? No problem! If you're trying to express your appreciation on a budget—which could very well be the perfect overture—here are some great customized gifts for her that won't break the bank.
---
Personalized Couples Coffee Mugs for Her
Every (sane person's) day starts with a cup of coffee—so why not get a feasible reminder of how much you care that she can appreciate while she hotwires herself back to life each morning?
Coffee mugs are enduring pieces of kitchenware that oftentimes outlast all of their contemporaries (e.g. the plates and bowls that are so carelessly dropped), and they are a great way to set the tone of their day.
Here are our favorite personalized couples coffee mugs for you to choose from!
These custom adventure mugs are a great option. If you guys are (or just she is) sporty and enjoy outdoor activity, this adorable testament to your love of natural excursions is the perfect gift. It can be a great way to celebrate the longevity of your relationship and a wonderful shared hobby. You can add both your first names to it, and you can even add a date of your choosing that you'd like to commemorate. All you have to do is input the names and date you want in a form—it's that easy.
These personalized couples coffee mugs are perfect personalized presents for her. The cool thing about these mugs is that they can pretty much be tailored to accommodate every occasion. Whether this is a Christmas gift or a birthday gift—or even an anniversary gift—these mugs are the unilateral answer! All you have to do is input the font, style, size, text, and name—and, while these customizations are predominantly for the backside of the mug, it's possible to customize the front side, too, if you reach out and contact the company!
This personalized coffee cup is undoubtedly one of the best personalized gift ideas for her —while it's considerably cheesier than the others (and we're talking the suffocating and pungent stench of high-octane-delicacy echelons of cheese), it'll definitely be appreciated as a cute and thoughtful gift. Basically, you can get a set of mugs (with respective his and hers caricatures) for both you and her with interconnected hearts and your personalized names printed just beneath. After putting in your order, you receive a link to provide your personal information.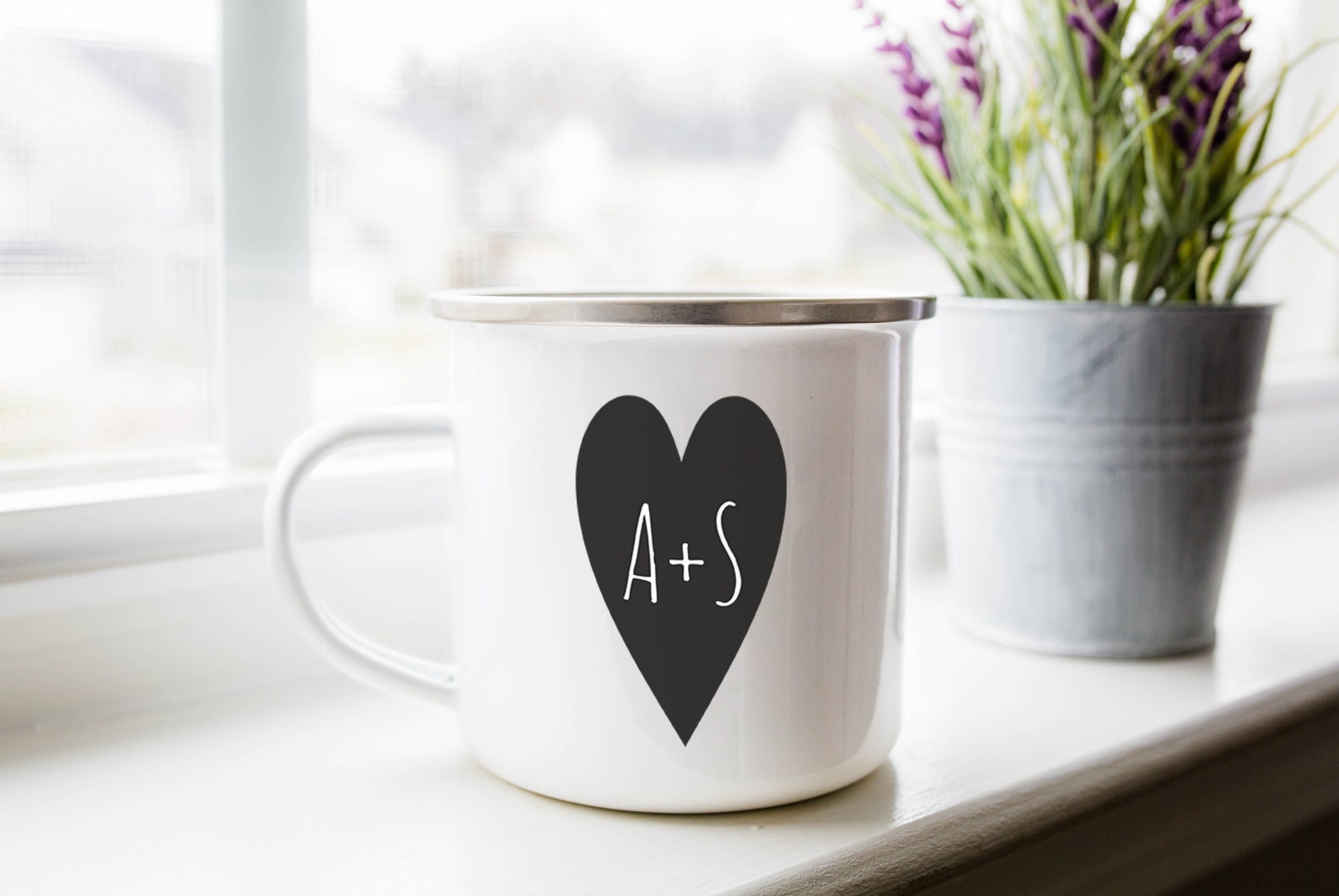 ---
Personalized Keychains for Her
Key chains harbor the most valuable possessions because they grant access to the most valuable places, which makes purchasing one of these personalized keychains for her a touching symbolic gesture!
There are plenty of options for you to choose from, but our favorite is this custom finished keychain. It's one of the perfect engraved gifts for her.
You have the choice of a variety of graphics, as is evidenced by the classic tree-trunk graphic and this turtle graphic. These pieces are beautifully finished (you have the choice between a matte and shiny finish, though the latter is recommended because it's waterproof), and you can even make it a set!
All you have to do is input the initials and year you want to appear on this gift.
These keychains are made from naturally fallen tree branches, and they're the perfect gift for those connected with the natural world! Also, if wrapping gifts is your Kryptonite, they offer gift-wrapping at checkout.
Click here to check prices and reviews.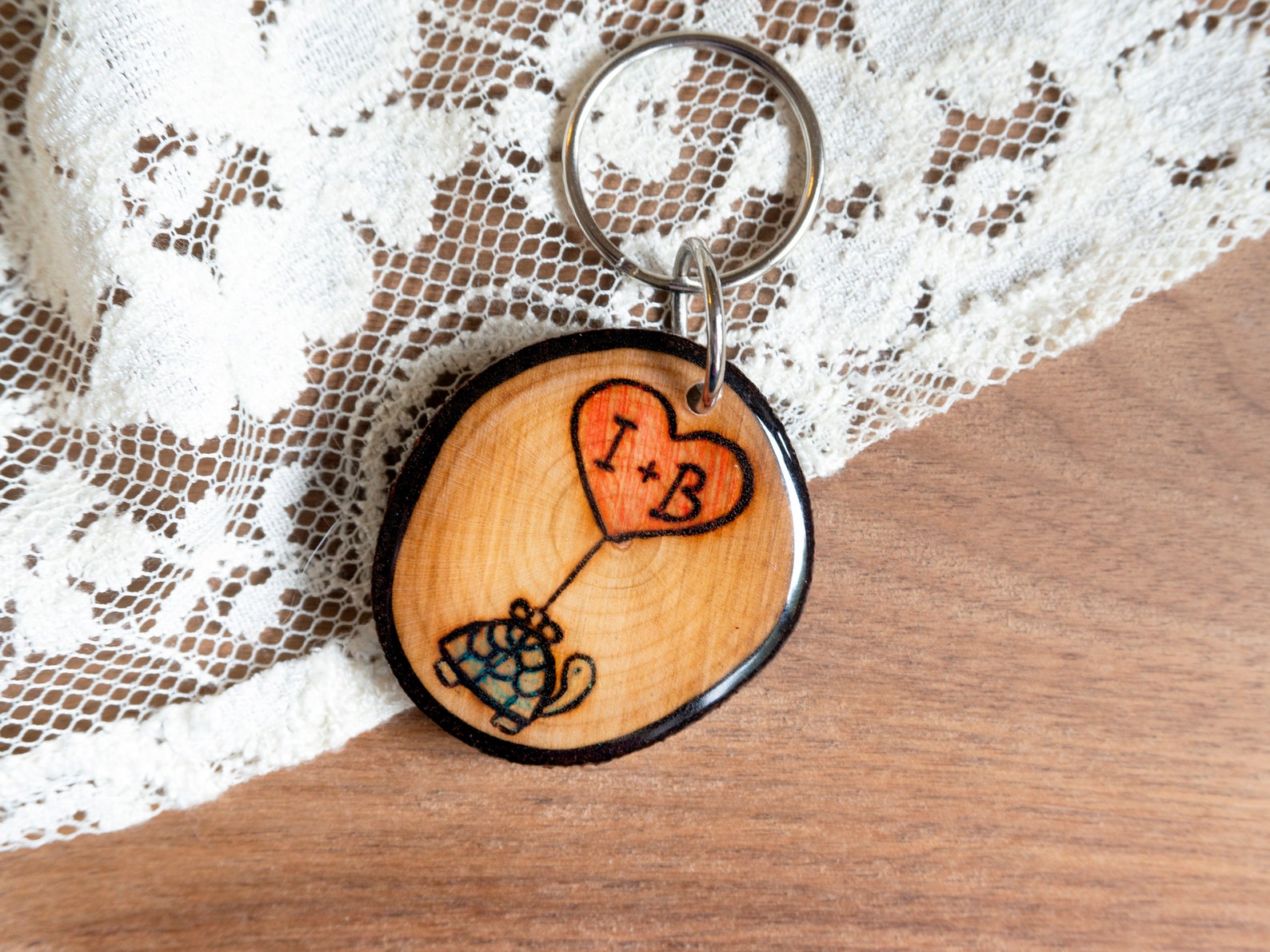 ---
Personalized Monogrammed Wine Tumbler
There are plenty monogrammed gifts for her to choose from, but this is one of the best—especially if the recipient enjoys indulging every once and a while (or more frequently—no judgment here!).
Nothing makes you feel quite like royalty as much as drinking out of a personalized wine glass does. All you have to do is input the recipient's name (all characters welcome—but keep them at 12 or below).

These handmade twelve-ounce stemless floral patterned receptacles are dishwasher safe and guaranteed to satisfy! And, hey—maybe this will be the excuse you need to get your own personalized glass to elevate day drinking from a bad-habit you occasionally indulge in (cue the Kid Rock) to one of luxury and uncontestable class (cue the classical music)!
Click here to check prices and reviews!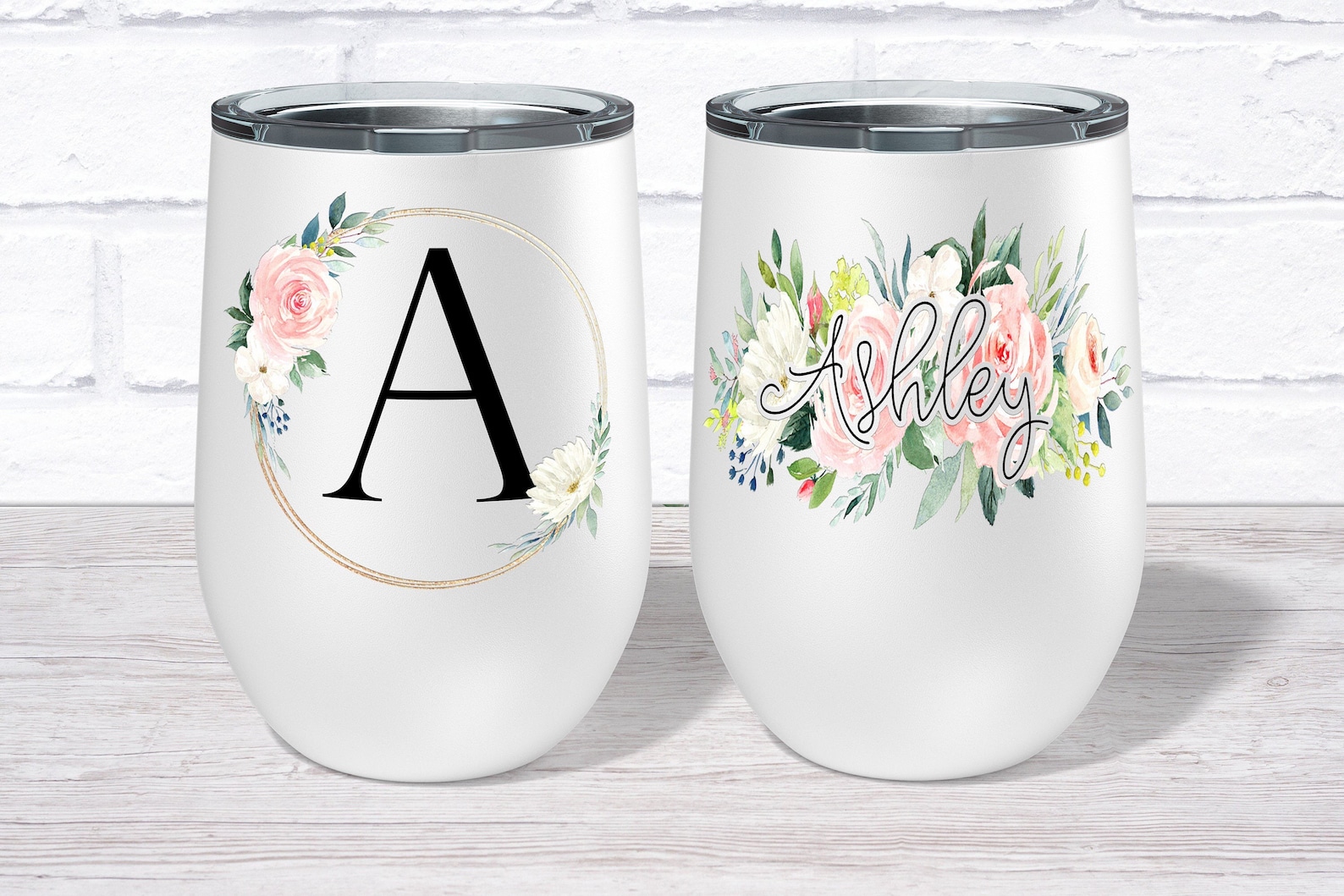 ---
Personalized Monogrammed Tote Bag
This is one of the most useful monogrammed gifts for her out there!
You might be shopping for someone who is environmentally conscious and doesn't want to walk away from every transaction with a bundle of plastic and paper bags, or you might be shopping for someone who just likes tote bags for their simplicity.
Regardless, these handmade zippered personalized tote bags are a great and affordable gift that the recipient will undoubtedly get loads of use from. Plus, it's simplistic style makes it easy to match with all kinds of outfits! You can specify the size, and you can specify the initial that's to be stitched in.
Click here to check prices and reviews.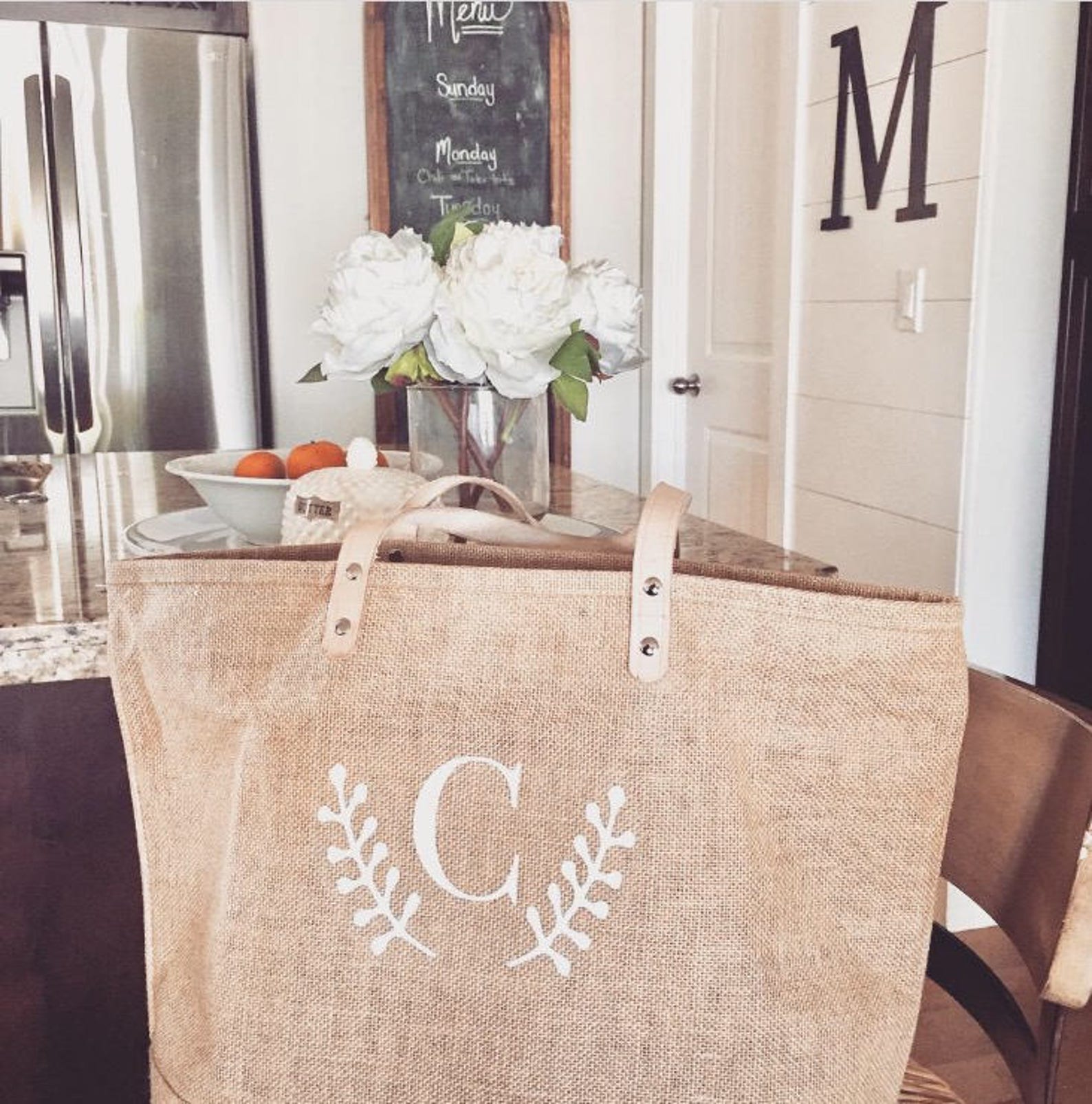 ---
Personalized Gifts for Her Under $50
If none of these are doing it for you and you're willing and able to spend a little extra money (it's worth the investment and will pay dividends down the road), then we have you covered. Here are some personalized gifts for her for under $50!
---
A Custom Necklace for Her
There's a reason that jewelry is one of the most common types of gifts given, and that's because it works some kind of inexplicable alchemy.
That's why a custom necklace for her might be the perfect gift! It could work wonders if you still have problems remembering her name (I'm joking, of course).
These necklaces are great and simple gifts. You can choose between sterling silver, 18k gold, and rose gold, and you can customize the length from 14 to 22 inches long.
Lastly, you can select the name that the pendant will be molded into and the font number size! These personalized necklaces for her are handmade and unique. If you're having problems finding the perfect gift, you can't go wrong with personalized necklaces for her!
Click here to check prices and reviews.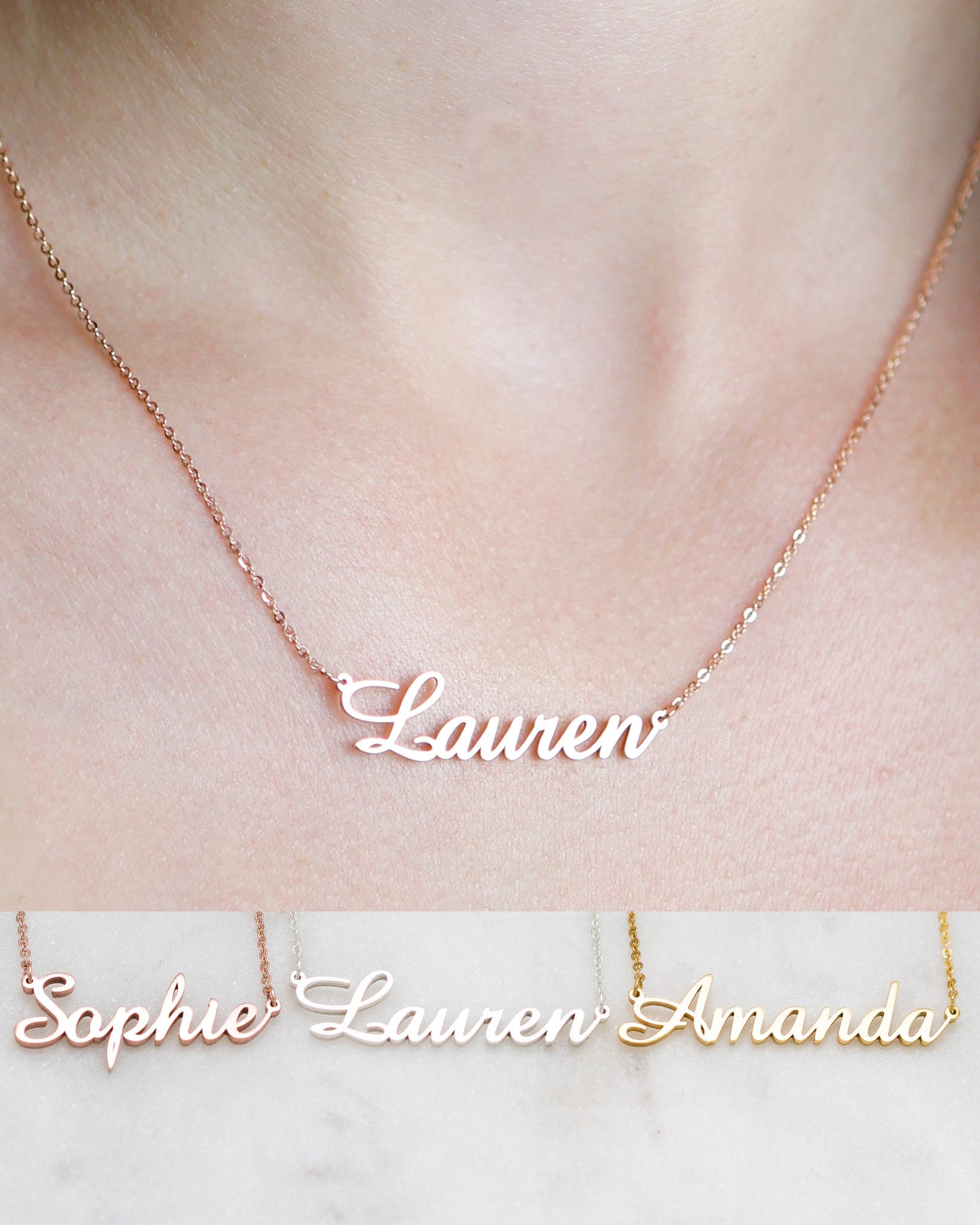 ---
Personalized Aprons for Her
These personalized aprons for her are the perfect gift for someone who has a passion for the culinary arts—or even someone who simply enjoys spending time cooking!
Even if the recipient has an apron or two already, you can never have too many! Plus, these great linen aprons come in a unique Japanese cross back style that make them really stand out from the average apron.
You can select between a natural or white color. Just input the name font you want on it. You can even add logos. These gifts are machine washable and one size fits all! Also, if you're in a rush, for an added fee, you can receive 24-hour processing and priority shipping.
Click here to check prices and reviews.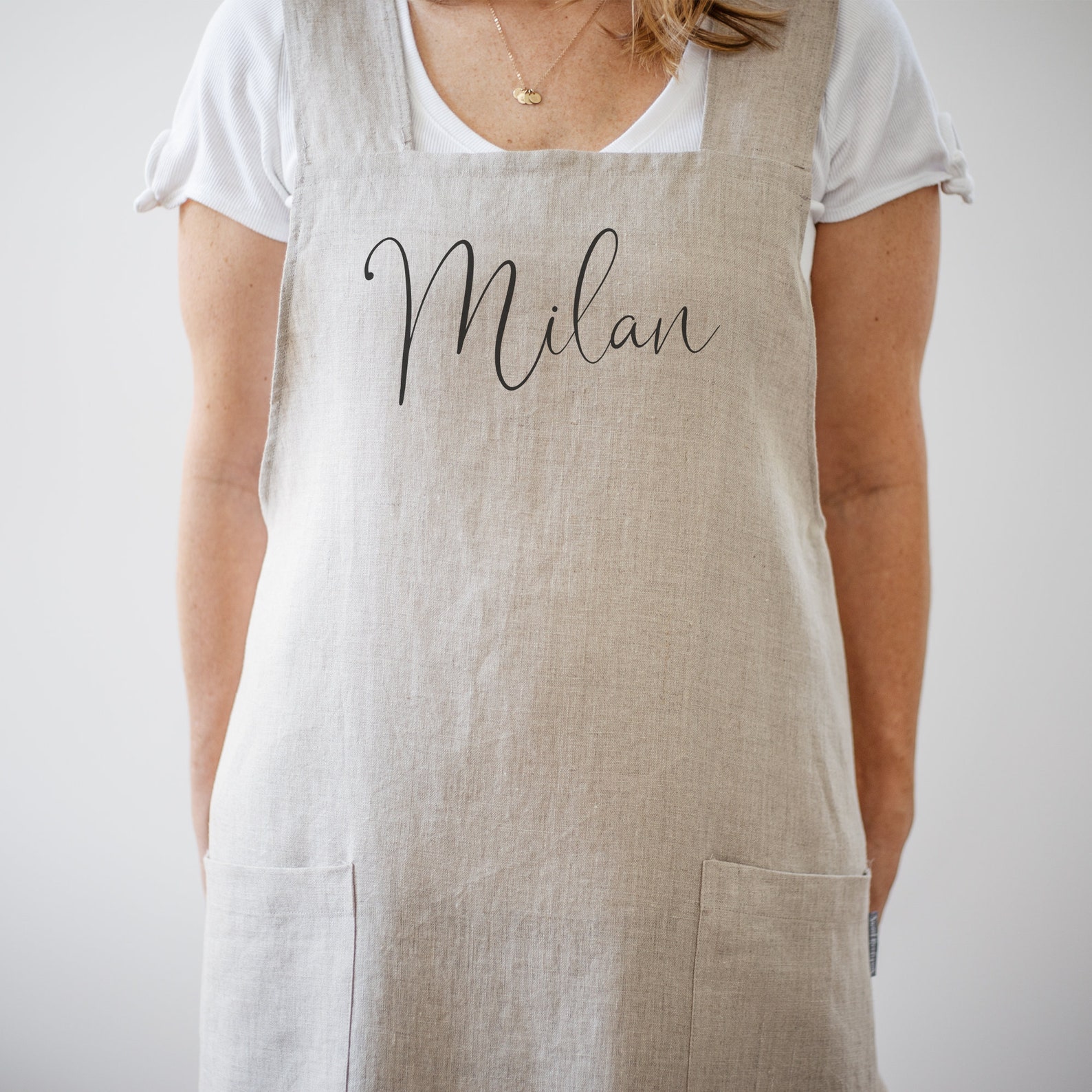 ---
Personalized Photo Gifts for Her
There's nothing quite like photo gifts for her to commemorate your relationship! It's a great gesture, and these kinds of gifts have unmatched longevity, which makes it paramount to carefully select a picture both parties are happy with.
This great photo compass gift not only contends for one of the best personalized photo gifts for her, but it's also one of the best engraved gifts for her that you'll find out there!
This unique compass design can be customized with a photo of your choice, and an engraving on the back, the front, or both sides. You just have to choose the font and text you want etched in. This locket-style brass compass is sure to be a heart-melting hit!
Click here to check prices and reviews.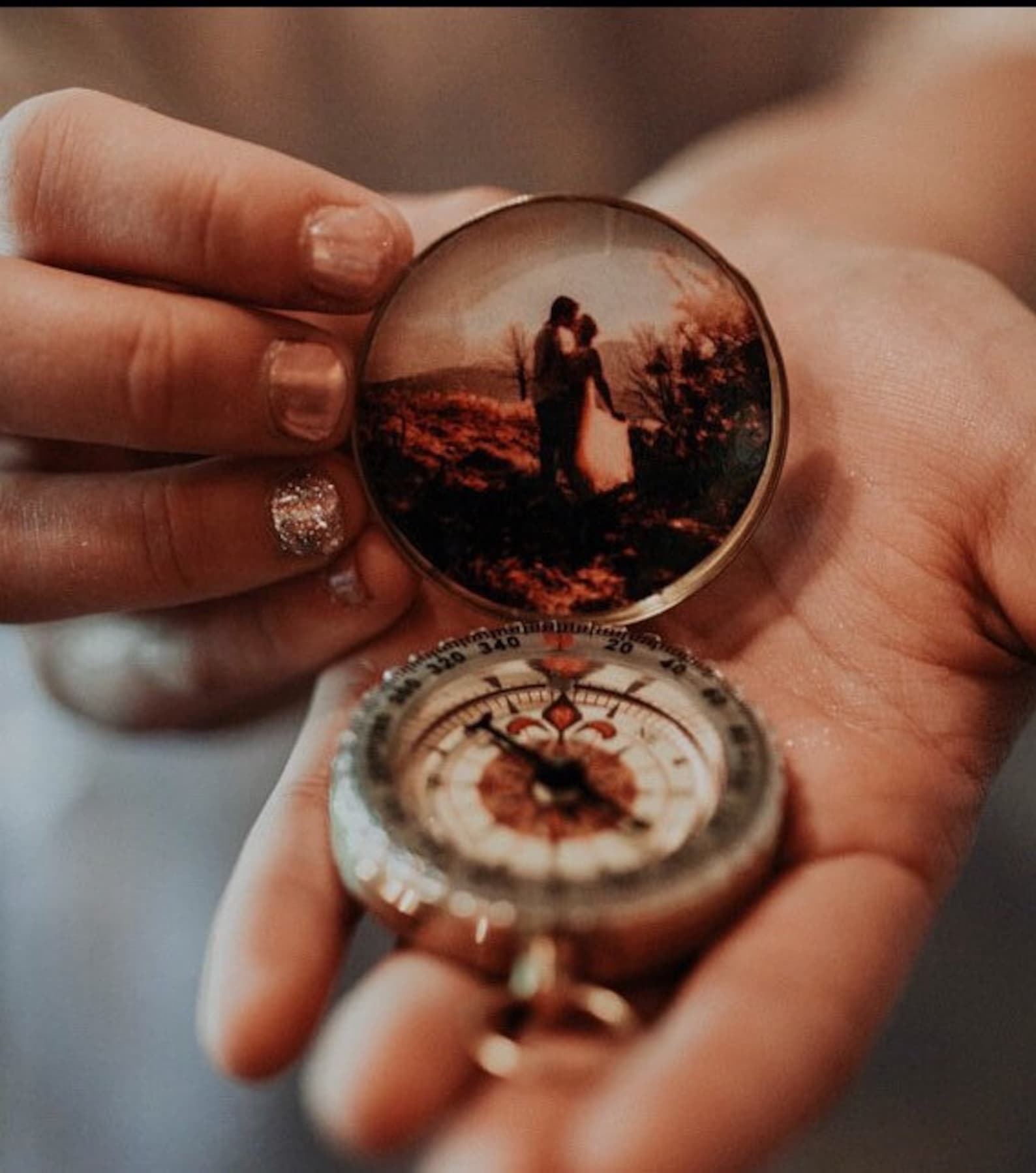 ---
Personalized Gift Baskets for Her
We all know women who never truly treat themselves. Some people handle self-care with the reluctance of a dog being coerced into a bath.
These personalized gift baskets for her are the perfect gift for those who deserve to be pampered! These gift baskets contain vegan and all natural oils—though it's important to be aware of any allergies that the recipient might have before making a purchase (I may or may not be speaking from experience).

The basket itself includes a moisturizing body coffee scrub, all natural soap bars, a natural handcrafted cranberry vanilla bathbomb, an all natural coconut deodorant, and organic chamomile lavender herbal tea. This is essentially a portable spa day that can be enjoyed at home.
Also, you can add a beautifully and individually printed card with a personalized note to be included. Relaxation is supremely underappreciated—help her realize its value!
Click here to check prices and reviews.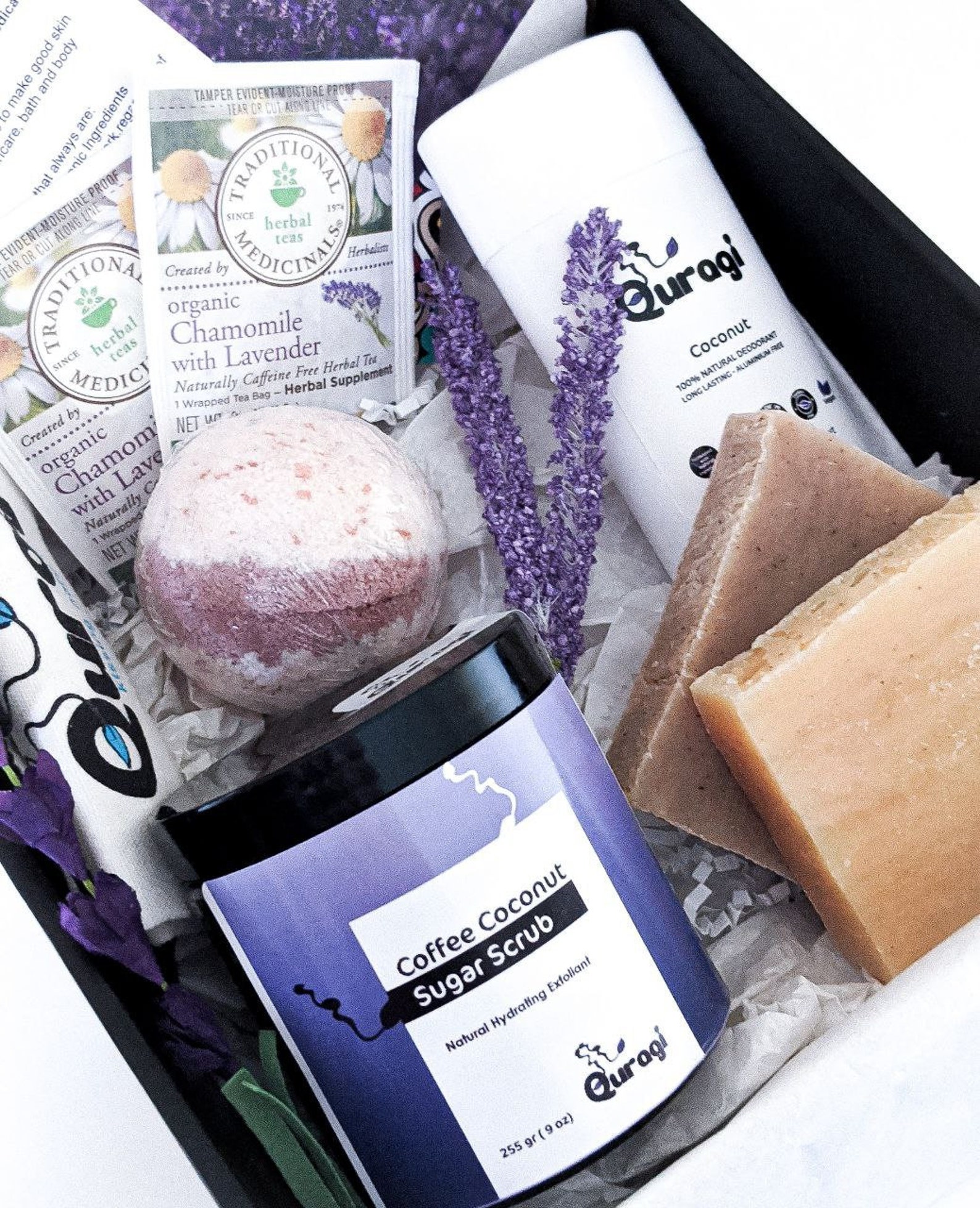 ---
Personalized Gifts for Her Under $100
If nothing here caught your eye and you're looking to spend a little extra cash, we have plenty more options! Here are some great gift ideas that cost a little more money—and with these gifts, you definitely get what you pay for!
---
Custom Bracelets for Her
These custom bracelets for her are a great gift that you can add to for years to come! With these charm bracelets, you can select an abundance of charms (though they do augment the price), and you can select between a rose gold, a 14k gold, and a rhodium silver finish.

What's cool about this gift is that it comes with birthstones as charms, and it's great for girls and women who value this kind of thing! You can have your birthstone and their birthstone attached for no price differential as a kind of symbolic gesture.
Also—if a child happens to be introduced into the mix, you can easily add another birthstone, and so on. They make it even easier for the more inept gift buyers (i.e. guys like me) and just ask that you provide which birth months you want represented, what order they should be in, and any other relevant details. This is a great, fashionable, and modular gift certain to hit all the right notes!
Click here to check prices and reviews.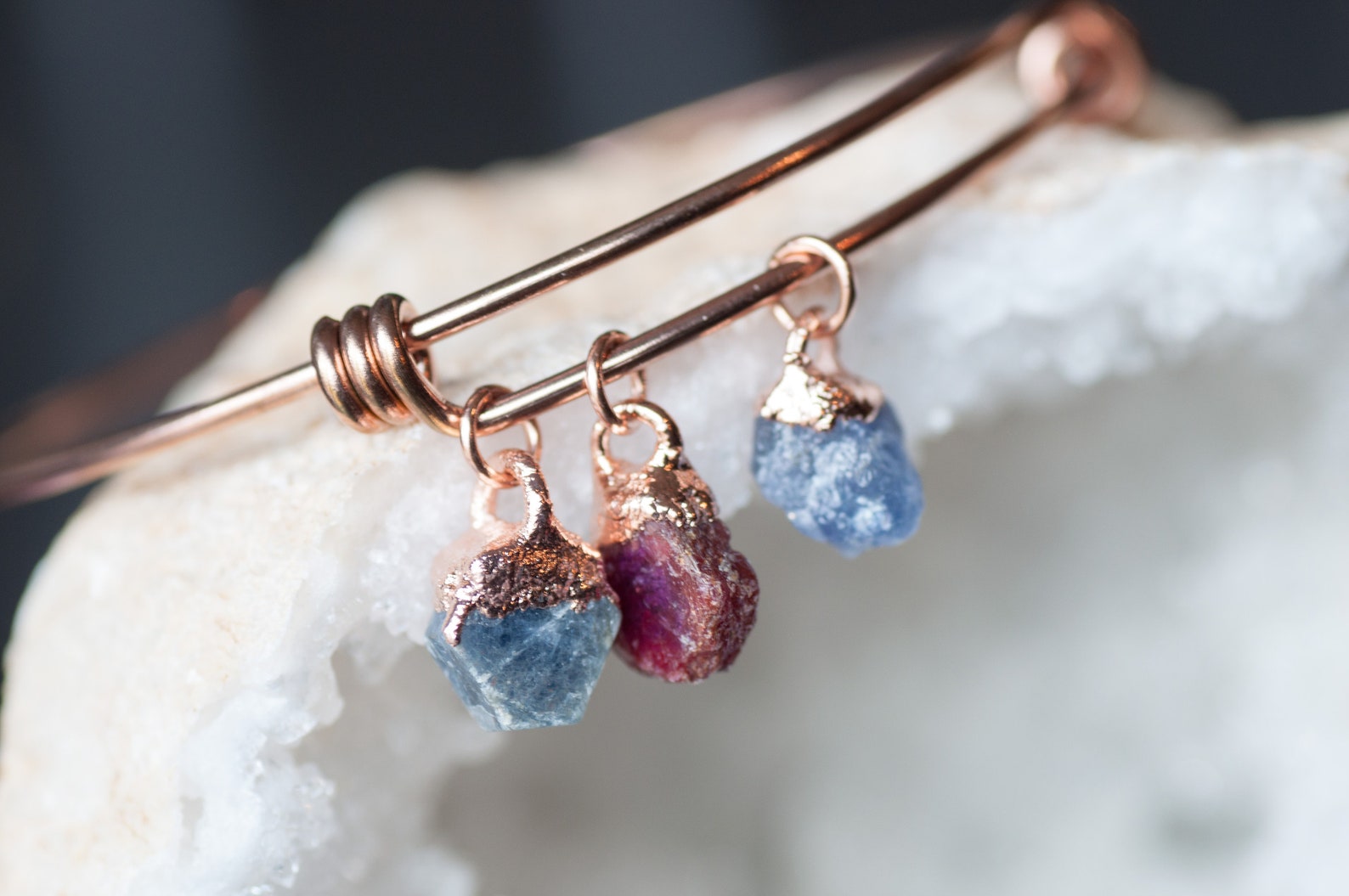 ---
Personalized Ring for Her
If you're shopping for the kind of person who likes jewelry, this might be the perfect gift! This personalized ring is simple and tasteful, and you can select the sizes and the material (from 8k to 18k) you think the lucky recipient will like the most.
It's imperative to know what ring size to get (again, from experience), and if you're unsure, try to get that information as inconspicuously as possible. The ring will come with the name you input in the customization section. These handmade rings are a great and simple gift to show someone how much you care!
Click here to check prices and reviews.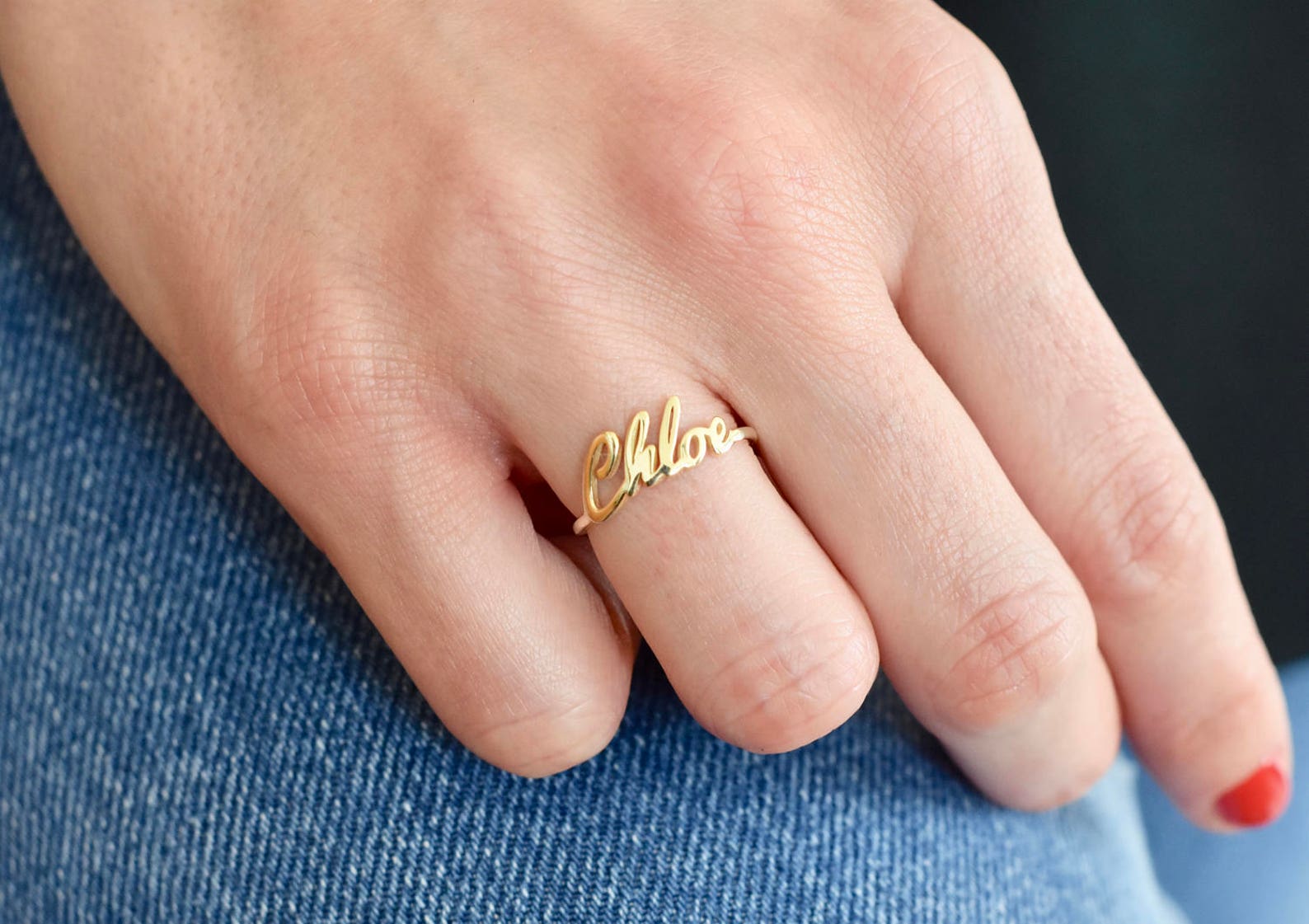 ---
Personalized Bathrobe for Her
The most cherished gifts can sometimes be gifts you never really get to show off! These personalized hooded bathrobes are prime examples of that.
They're comfortable and perfect for those much needed lazy days spent luxuriating and not doing much of anything.
These robes are velour and 100% cotton. You can select from a wide variety of colors (this might be something to run by the missus somehow), and you can select if you want initials or their full name embroidered.
You can also select the font and the thread color, and you can even request some custom designs. These robes are handmade and will probably encourage the recipient to find excuses to stay home more often (which isn't a bad thing)!
Click here to check prices and reviews.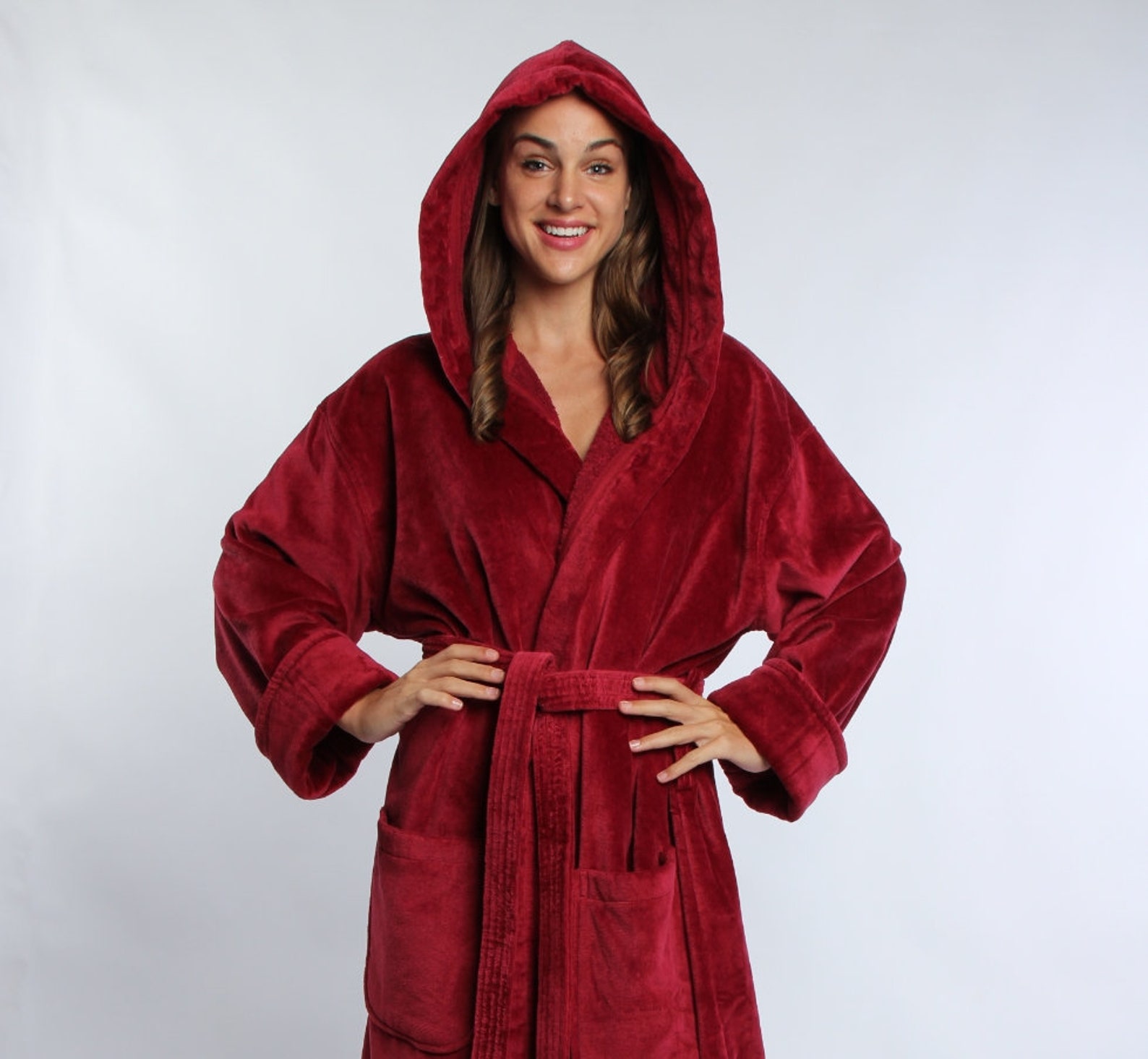 ---
Custom Fur Sandals
These are sandals for a special kind of person—and make no mistake about it: you'll know whether she'll like these sandals or not as soon as you see them. These are a little flashier and more eccentric than other items we've listed, but that's just because some people are flashier and eccentric than most.

These custom fur sandals are a great gift, and they're particularly useful for someone who runs quick errands.
They come in a number of different colors, and you can choose what you personalized name you want stitched in with cursive glitter writing (some people like telegraphing their worth to the world—and that's OK!). These are handmade items and come with a black sole (unless you get white fur, in which it comes in a white sole). This could be the perfect gift someone with that kind of taste.
Click here to check prices and reviews.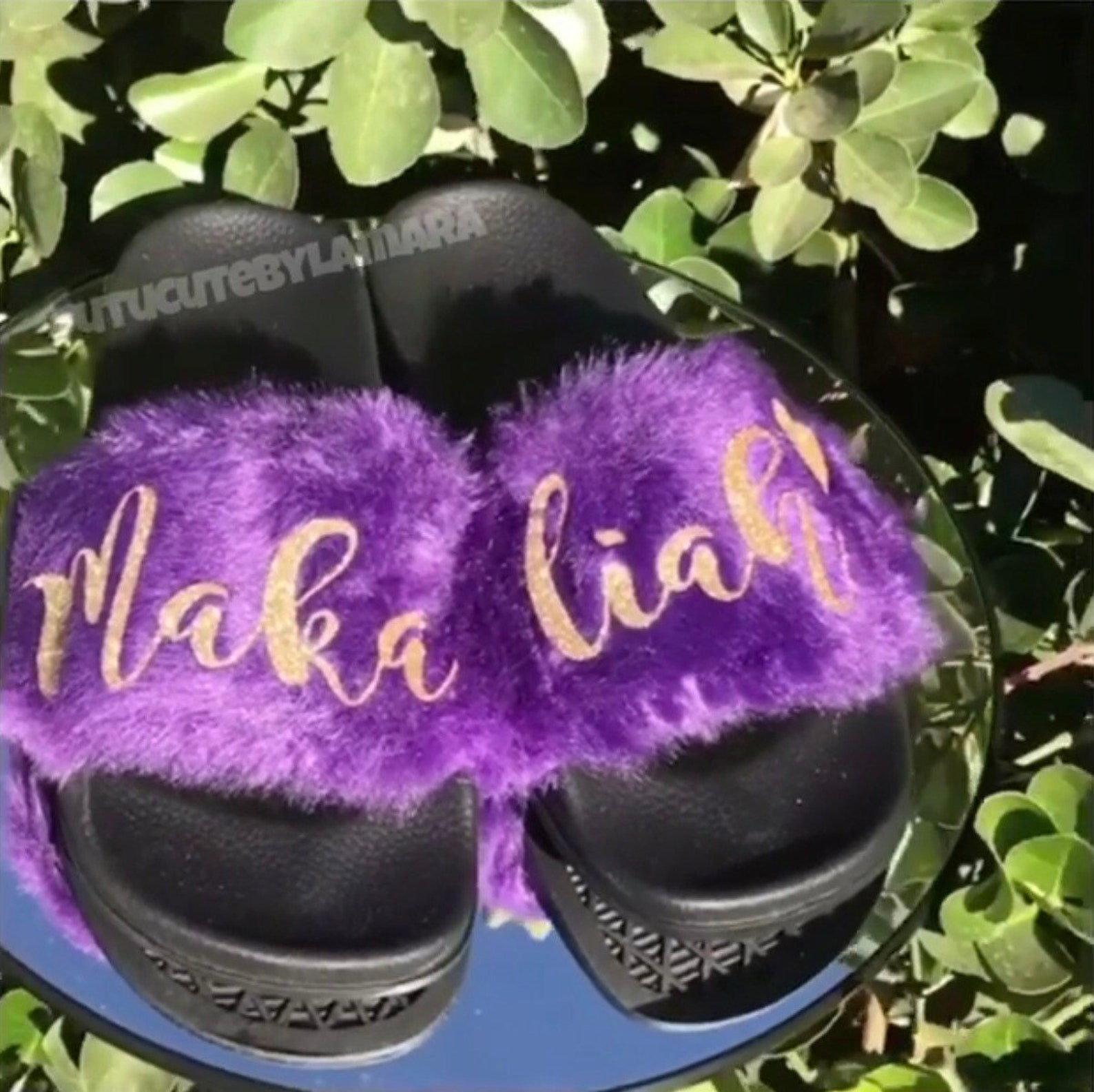 ---
Splurge-Worthy Personalized Gifts for Her over $100
If none of the gifts we've listed so far are doing it for you—don't worry! There are plenty of options available for big ballers like yourself! Here are some of our favorites!
---
Personalized Portrait
Pictures and portraits are always going to retain a little more sentimental value because of how specific they are to the recipient—they operate with a pretty unfair handicap in this regard.
So why not take advantage of this fact? These personalized cartoon portraits are a great and fun gift for her! All you have to do is specify the material (paper, canvas, or email) and size.
And you can even select what kind of frame you want it in (if you want it to come framed at all). Two people are included in the base price (though you can add pets), and no two portraits are ever the same.
These are hand-drawn that could stay with her for a lifetime! You can even customize what you want the characters to be doing or holding.
Click here to check prices and reviews.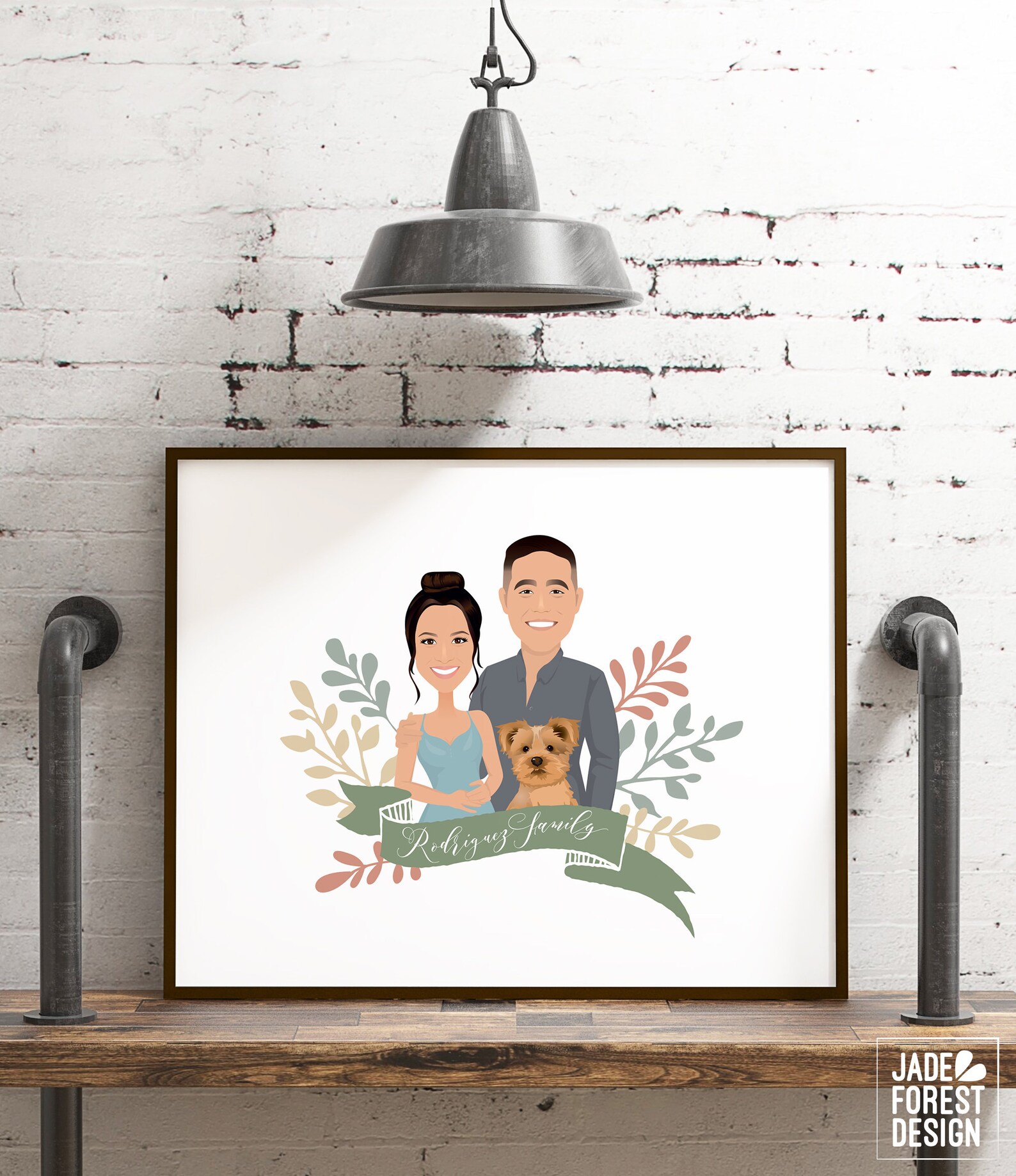 ---
Personalized Necklace
Jewelry comes in all different shapes, sizes, and price ranges—and if you're still reading, it's safe to assume price isn't a deal-breaker. If the person you're shopping for appreciates good jewelry, this is the gift for them.
These personalized necklaces for her are a little more expensive, but they're simple and beautifully designed. You can select from 14k white gold, 14k rose gold, or 14k yellow gold.
All you have to do is input the initial you want for the piece. This handcrafted piece of jewelry comes in different sizes you have to specify, and it's certain to get the job done!
Click here to check prices and reviews.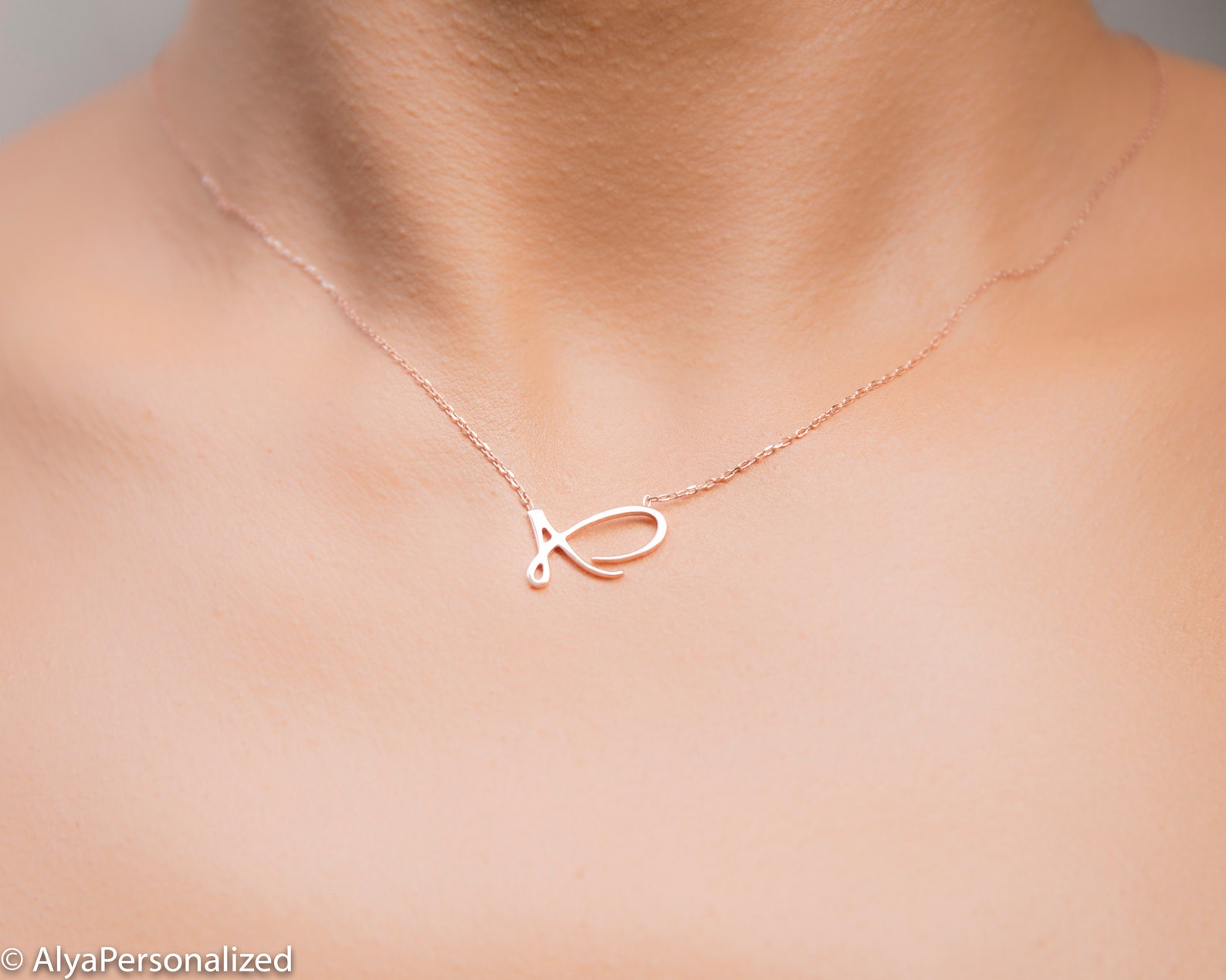 ---
Personalized Music Box
This is the perfect gift for someone with a passion for music! This unique gift option might be just what you're looking for. It's great for storing jewelry, and adding the right song could cement this in the pantheon of your gift giving history!
You can choose if you want engraving in the top of this handmade box, or in the top and inside of the lid. You can even choose between cherry, ambrosia maple, mahogany, and walnut wood.
You need to specify what text and font you want engraved, and you even get to specify the song and artist, so choose wisely to maximize the impact!
It even has a rechargeable battery. There are more customized designs available, too. So—if you're looking for a unique and dazzling gift, look no further! This might be the one if you do it right.
Click here to check prices and reviews.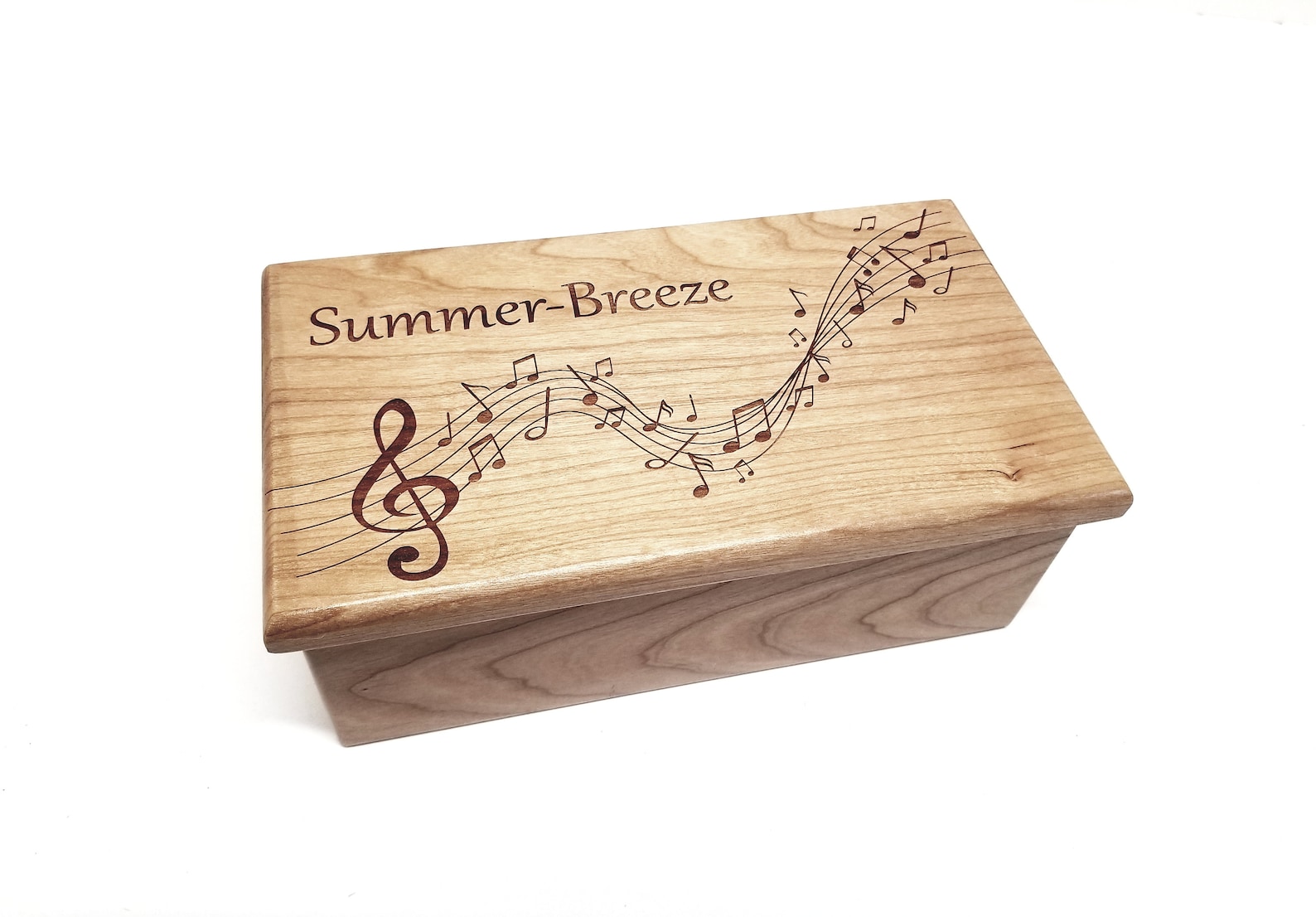 ---
A House Blessing Box
A House Blessing Box is perfect for those people who appreciate the vibe and ambiance of a room—those people who talk about energies as if they're not abstract and metaphysical things. But, in all seriousness, this gift is so much more than just a gift box—it's a meditation box and an implement designed to secure some much-needed serenity in a world replete with disorder and chaos!
This handcrafted box comes with an organic santal candle, rose water, black tourmaline, rough rose quartz crystals, an amethyst crystal, a handmade onyx bowl, sage, and—of course—a handmade oak keepsake box.
One of its cooler features is you can have it engraved—just input the text and font exactly as you want it engraved. You can have two lines of text and up to 25 characters per line. And remember: a little harmony never hurt anyone.
Click here to check prices and reviews.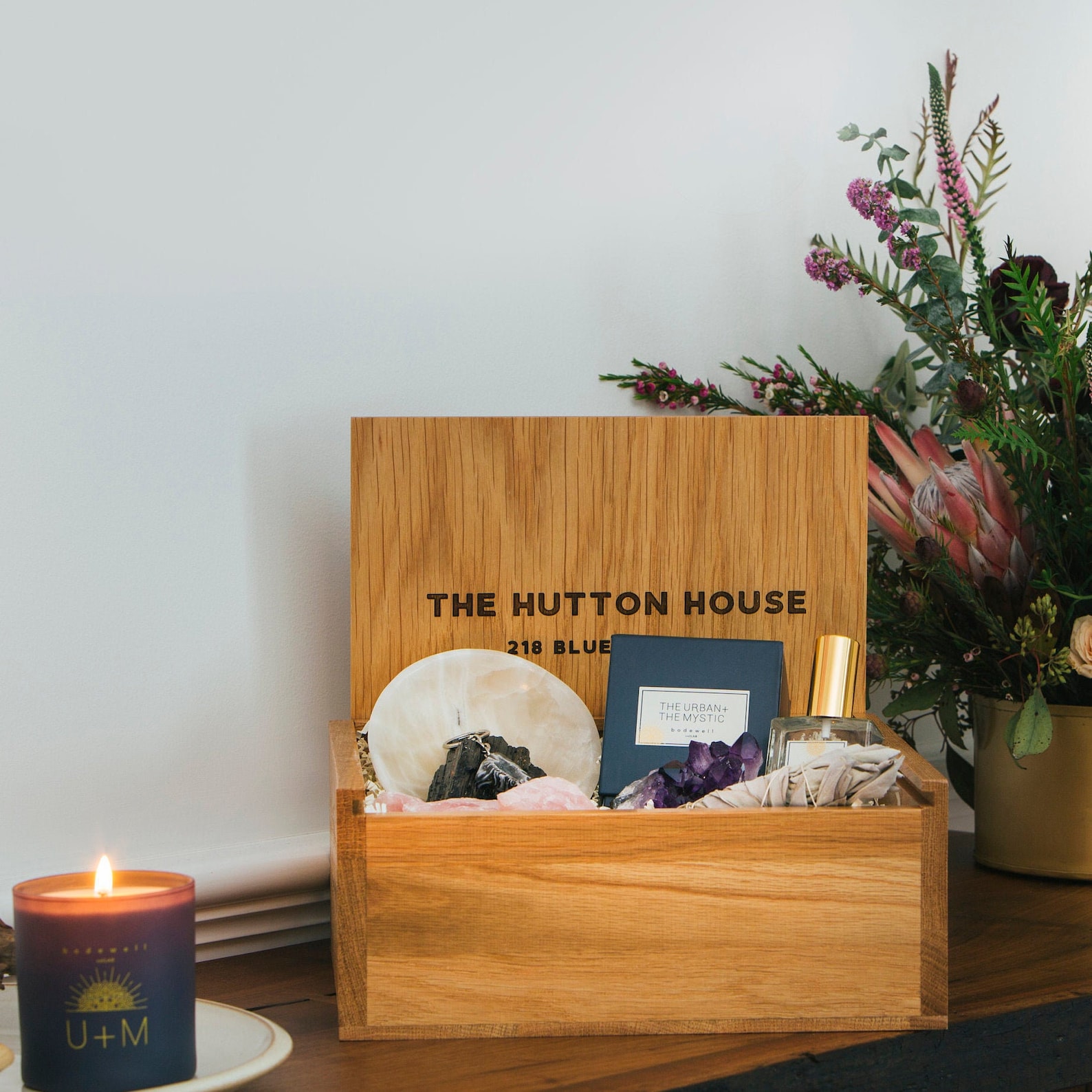 ---
Hopefully our List Helped You Find the Perfect Personalized Gift for her You were Looking for!
Now that we've inundated you with plenty of (stellar) options, you should have at least an idea as to what you want to get and where to start!
From photo gifts for her to coffee mugs, gifts are a lot more significant than people sometimes want to admit, so it's important to take time and deliberate—make sure you're spending your money on a gift that'll make the recipient feel as good as you would want to!
If you have any questions, please don't hesitate to shoot us an email and ask. Or—if you're afraid we'll transmit cooties (or COVID) via email contact (in which case, you should probably get that checked out)—browse some of our other gift guides for ideas!