*FYI - this post may contain affiliate links, which means we earn a commission at no extra cost to you if you purchase from them. Also, as an Amazon Associate I earn from qualifying purchases. Check out our Privacy Policy and Disclosure. for more info.
Looking for adorable Christmas cat puns to add to a card, message or Instagram caption?
You've cat to be kitten! That's exactly what this post is all about. We've done all the hard work for you and assembled some of the best festive feline puns and wordplay to help you out this holiday season… this way, you can focus on what's important: kitten cuddles and taking a million photos of your cat in boxes.
Anyways, we hope you find what you're looking for! Enjoy.
Pin for later: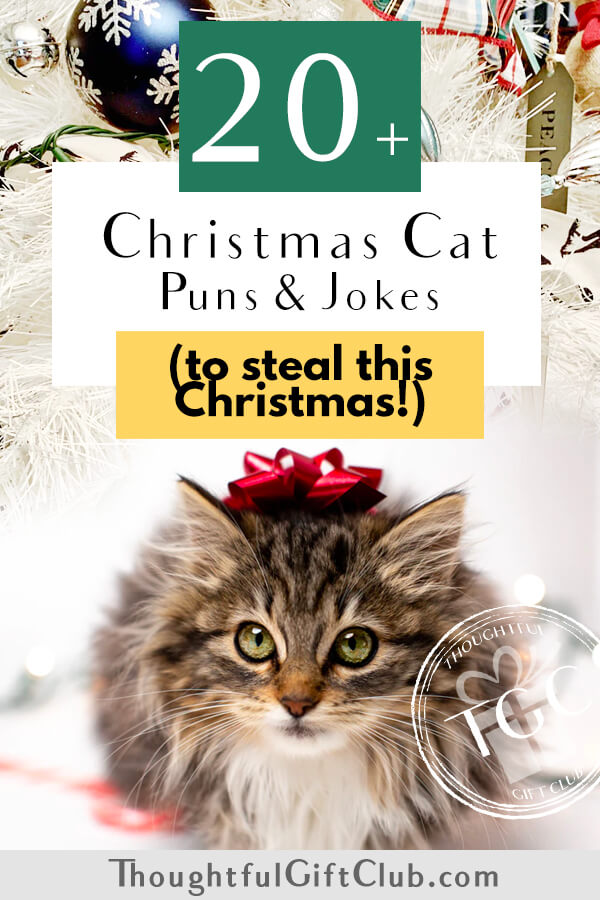 General Christmas Cat Puns for Every Need
Whether for a card, a punny caption or whatever else, here are some easy, general cat puns & wordplay that can easily be tweaked for any use!
Santa Claus: Santa Claws
Merry Christmas: Meow-ry Christmas
Winter wonderland: Whisker Wonderland
Christmas: Cat-mas
Present: Purr-esent
Frosty the Snowman: Fur-osty the Snowman
Feeling: Feline
Wreath: Fur-eath
Mistletoe: Meow-stle toe
Christmas Tales: Christmas Tails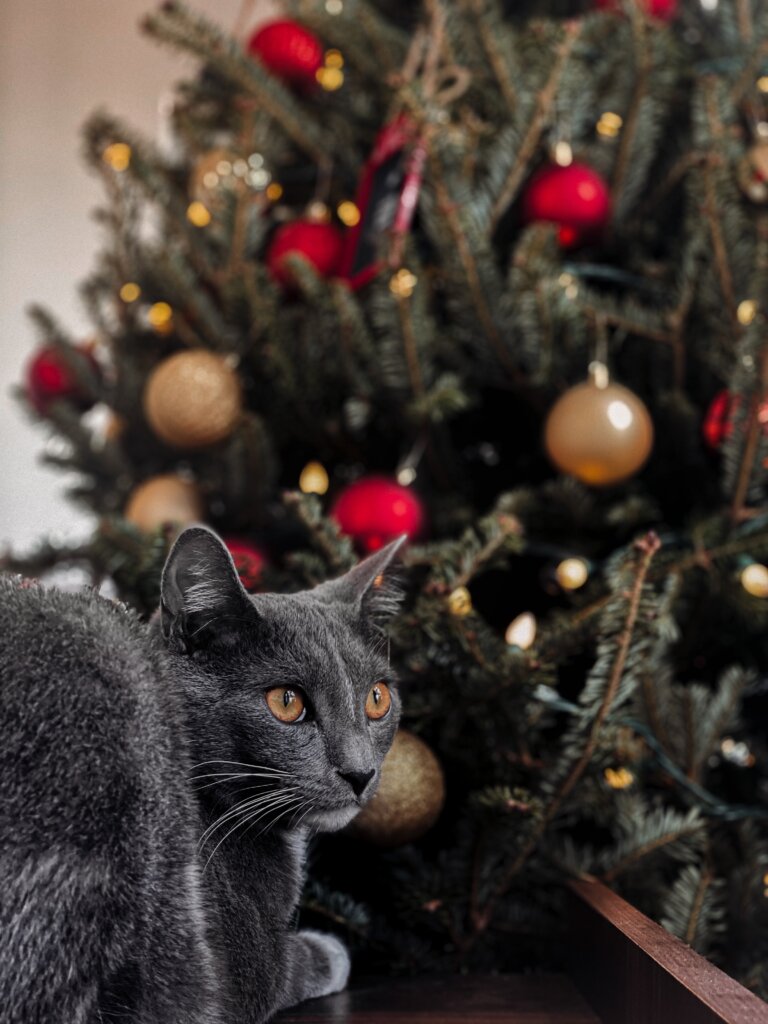 Christmas Cat Puns and Wordplay for Instagram Captions
If you're lucky enough to have a cat to 'gram this year, even better if they're wearing a festive sweater or outfit, then you definitely need the perfectly punny caption to match. Here are some adorable cat-themed Christmas Instagram captions that are absolutely purr-fect.
Meow-ry Christmas from me and [insert cat name]!
It's the meow-st wonderful time of the y-ear!
Enjoy a pawsh little Christmas with my favorite cat.
I cat believe it's Christmas already… meow-ry Christmas, everyone!
Having a Blue Christmas is im-paw-ssible with this kitty on my side! Wishing you all a meow-ry Christmas!
Always a purr-fect Christmas with this one!
Santa Claws is coming to town.
Walkin' in a Whisker wonderland!
This one's on the naughty list this year, so no purr-esents…
All I want fur Christmas is you……. to stop ruining all my furniture and scratching up my favorite posessions.
Chestnuts roasting on an open fire… Jack Fur-ost cat-nipping at your nose…
I wish I could tell you how much I love Christmas time with this cat right here… but anything I say would simply be SCRATCHING the surface 😉
Christmas with this one is always a Cat-astrophe… wishing you all the best on this chaotic day!
I'm not Kitten when I say this is the best Christmas ever. Meow-ry Christmas from me and [insert cat name].
Wishing you all a purr-fect Christmas!!
Feline pretty good this Christmas… wishing you all the best day!
So fur-tunate to have this one by my side on Christmas day… Meow-ry Catmas!!!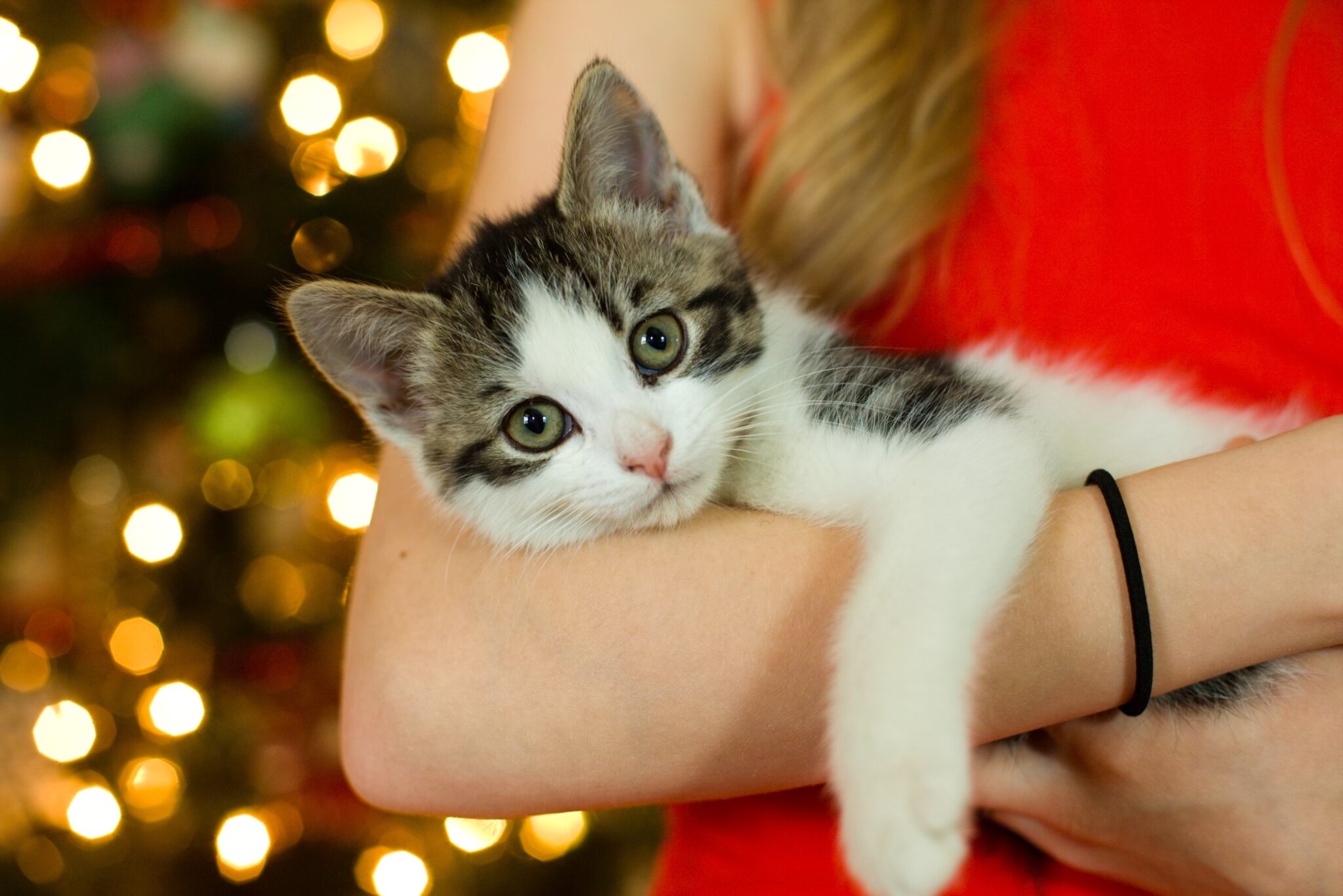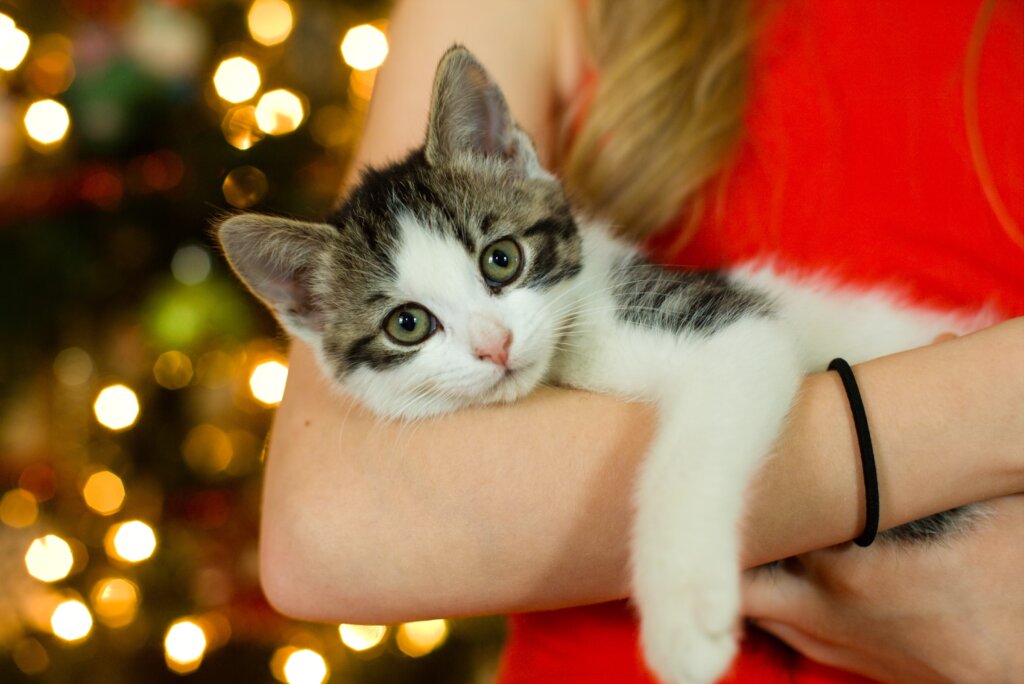 Christmas Cat Jokes
Okay, last but not least – if you're looking for cheesy Christmas-themed cat jokes, here are a few that will get you (at least) a few chuckles:
Why didn't the cat like the new soft toy he got for Christmas?
It wasn't up to Scratch.
Why did the cat give everyone gag gifts for Christmas?
He was just Kitten around.
What role was the cat assigned for the Christmas baking?
Whisker-ing the frosting.
What do you call Santa's cat?
Santa Claws.
Did we miss any of your favorite Christmas cat puns?
Let us know in the comments. Otherwise, we wish you a meow-ry Christmas and a Hap-purr New Year!