*FYI - this post may contain affiliate links, which means we earn a commission at no extra cost to you if you purchase from them. Also, as an Amazon Associate I earn from qualifying purchases. Check out our Privacy Policy and Disclosure. for more info.
2020 has been a weird year… and if you (like many) aren't able to celebrate with loved ones in-person this year, it might be all the weirder.
But let's face it – you don't need anything to stress you out any further… so let us help! If you're looking for the perfect Instagram caption to capture the Christmas 2020 mood, here are some ideas for you, from funny and punny Instagram caption ideas to some more heartfelt options.
Enjoy!
Pin for later: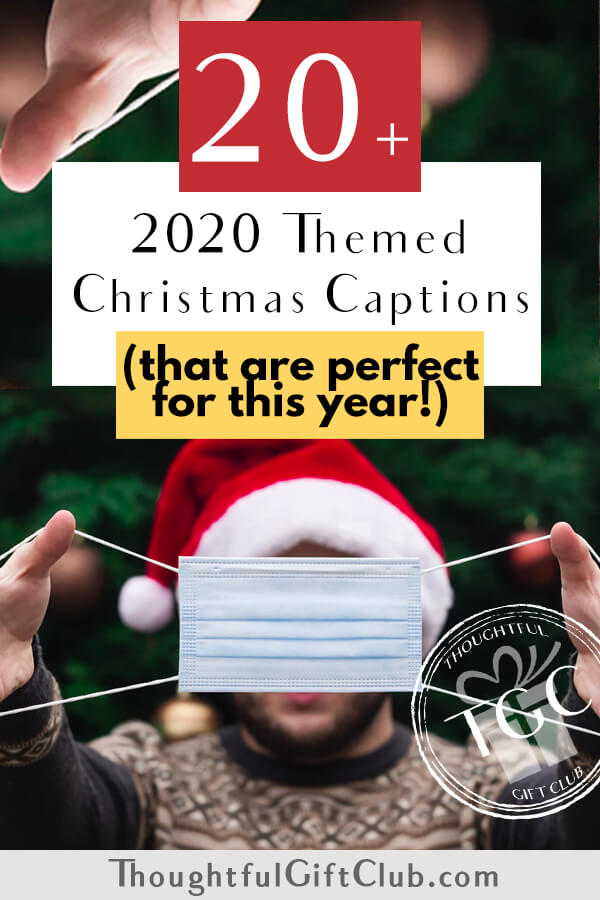 Funny and Punny Lockdown & 2020 Christmas Instagram Captions
Is humor your preferred coping mechanism…? Ours too! If you're looking for funny COVID Christmas captions or punny 2020-centric Instagram captions, then here are some that are sure to get an (awkward laugh) or two… whether you're captioning a photo with your Zoom Christmas or whatever other socially distant shenanigans you're up to.
Merry Zoom-mas!
When it comes to my love for you all, the Skype's the limit. Merry Christmas, friends!
Christmask time! Hope you all have an awesome day – after the year we've had, we all deserve it!
The best Christmas with my Quaran-Team!
Was gonna whine about not seeing my family this Christmas, but I decided to simply Wine instead. Merry Wine-mas, everyone!
Zoom, zoom, zoom, zoom, I want you in my room… 🙁 Such a weird Christmas this year but I'm grateful to be healthy and sane! (Though that is debatable) Merry Christmas, everyone!
From Season's Greetings to Season's Zoom Meetings, wishing you all the best for Christmas this year!
Have a holly jolly Covid-mas! It's the weirdest time of the year…
Merry Chris-mask from mine to yours!!
All Santa-tized and sanitized for this year's Covid-mas. Wishing you all the best day!
Christmask shenanigans looking a little different this year…!
I'm dreaming of a contactless Christmas… 😂
Wishing you all a merry flattened Curve-mas!
Merry Covid-mas! Hope this caption will superspread love & positivity to your day 😉 all jokes aside, hope you're enjoying the festive season, no matter how many Dalgona coffees it takes for you to get there.
I could never Mask my love for Christmas, but here we are… hope you all have a great day, despite the weird year we've had!
On the 12th day of Christmas, society gave to me… 12 vaccines coming,
11 Karen's typing
10 covidiots creeping
9 tiktokers dancing
8 masks a covering
Seven wines a' brimming
Six sanis spraying
Fiveeeeeee sterileeeeee thiiiiiiings
Four viral words
Three missed friends
Two latex gloves
And a test saying I'm COVID-free…!

All I want for Christmas is you……. to follow safety guidelines & celebrate safely in a socially distanced manner…
O Holy Night, the stats are brightly shining,
And that is why, we should all stay at home…
Heartfelt COVID Christmas Instagram Captions
Looking for something a bit more heartfelt? Not a fan of jokes when the subject matter is this delicate? Don't worry – here are some perfectly heartfelt and serious Instagram captions for a 2020 Christmas photo.
Missing my loved ones like crazy this year, but whether on video chat, on the phone, or simply through a Christmas card, I feel so much love & gratitude. Merry Christmas everyone – let's hope things return to normal soon!
A love like ours is one you can't lock down, no matter the miles. Merry Christmas from mine to yours, no matter where we all are in the world!
It has been such a tough year but I hope today reminds you of how loved you are, no matter how and where you're celebrating. Sending you all my love!
The magic of love and family is that its presence can be felt across miles, oceans, and computer screens. This Christmas is no exception. Wishing you all the best day!
Counting my blessings more than ever this year… and on today, possibly the weirdest Christmas I've ever had, I shall cheers to the loved ones I can't wait to hug, the trips I can't wait to take, and the memories I can't wait to make. Merry Christmas, and I hope to see you all again soon!
Someday we'll look back on this Christmas and realize it was the one that allowed our lives to return to normal. Cheers to patience, understanding & love that endures across miles. Happy holidays, everyone!
As we begin one of the strangest Christmases of our lifetime, I want you all to remember that we're all in this together, we've endured this together & we'll conquer it together. Merry Christmas – wishing you all a beautiful day.
I can't wait to hold you all, hug you all, and tell you all how much I treasure you… until that day comes, just know I'm sending you all my love from a (socially safe) distance. Wishing you all the best Christmas and happy holidays!
Any more COVID or Lockdown themed Christmas Captions?
We hope you found this list helpful. Have a great Christmas, and stay safe!