*FYI - this post may contain affiliate links, which means we earn a commission at no extra cost to you if you purchase from them. Also, as an Amazon Associate I earn from qualifying purchases. Check out our Privacy Policy and Disclosure. for more info.
Friendsgiving is upon us, and whether you're celebrating with a small group of your closest friends or a bigger gathering with plenty of gluttony on the menu, one thing will remain true: you probably need some fun Friendsgiving caption ideas.
Well, don't worry. We've done all the brainstorming for you so you can focus on the most important job: eating, drinking, and giving thanks.
Below, you'll find a variety of funny, cute & heartfelt Friendsgiving caption ideas that are perfect for Instagram, Facebook, Twitter or wherever else. Enjoy!
Pin for later: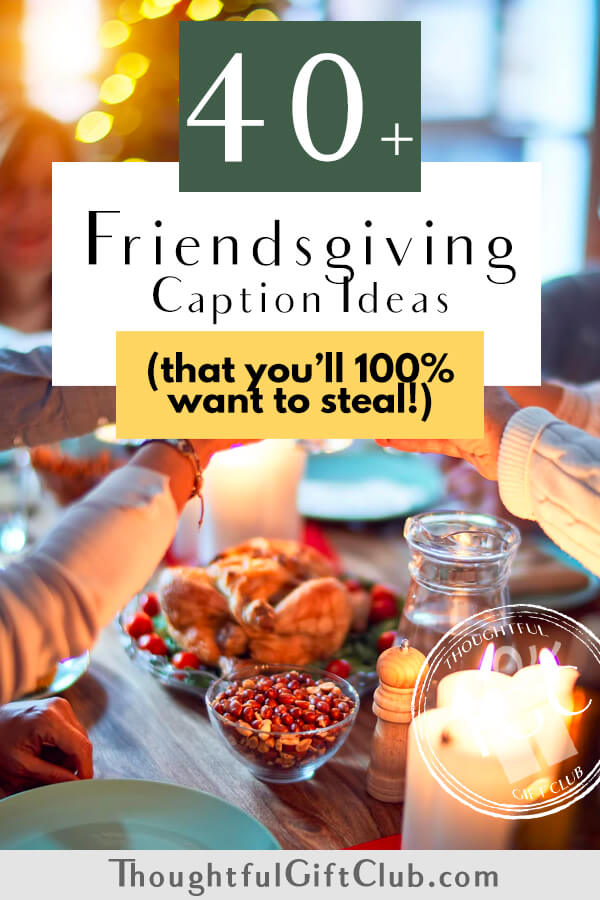 Funny Friendsgiving Captions
Looking for something quick and clever? Here are some Friendsgiving caption ideas that are sure to make your friends laugh this year.
Getting basted with my faves on Friendsgiving!
There's nobody else I'd rather eat 10 pounds of potatoes with. Grateful for these amazing friends… happy Friendsgiving!
I know they call it Friendsgiving… so which friend's giving me a ride home after I pass out from all this turkey?
Sure, I've got an attitude for gratitude but let's be honest – I've mainly got my eyes on the pies. Hope you all had the best Friendsgiving!
These are the besties I'll want to take with me to the grav…y. Happy Friendsgiving everyone!
Life is gourd with these friends by my side…
Beauties and the Feast – coming to an Instagram Stories near you this Thanksgiving 😉
Holy crop – had the best Friendsgiving ever with these amazing people!
You're looking at the dream cast for the Feast and the Furious: Friendsgiving Drift.
Getting all 50 shades of gra….vy up in here with my besties. Hope you all had a wonderful Friendsgiving!
Thankful for friends who love me for who I Yam. Best Friendsgiving ever!
These goofballs hold the tur-KEY to my heart. Happy Friendsgiving!
Tonight on the Friendsgiving agenda: much ado about Stuffing.
Just a few goblins gobblin'. Happy Friendsgiving from my group of weirdos to yours!
While this year may have been a bit of a clusterPluck, I'm beyond grateful to spend Friendsgiving with these ones!
Conquering leg day today with my partners in crime. Turkey legs count, right?
This Friendsgiving, it's pretty clear that all hell is gonna bake loose.
Tonight's Friendsgiving rule: stuff, stuff, pass… the mashed potatoes.
I literally have no idea who these people are – I just came for the free food.
An epic Friendsgiving and we only got into 4 explosive fights. I'd call that one a success!
We may not be the best cooks, the best conversationalists, or the best looking………….
But that's it. That's the caption.
Cute Friendsgiving Captions
Alright, maybe you want a Friendsgiving Instagram caption idea that's more cutesy and wholesome than it is funny. Here are some nice ideas that would fit the bill!
Friends are the family you choose. So thankful for the amazing company tonight! Happy Friendsgiving, everyone.
Beyond thank-FULL and thankful to have these amazing friends in my life. Friendsgiving has never tasted (or looked) better.
Good food, and the best company. Friendsgiving: 1, 2020: zero.
Full stomachs, and even fuller hearts! So grateful for friends who made this the best Friendsgiving yet.
Definitely had the best company for Friendsgiving tonight… what do you thank?
I can't imagine any Butter company than this group for Friendsgiving. Thankful to have such great people in my life!
I cran't believe how lucky I got with my Friendsgiving dinner dates tonight. Feeling berry grateful!
So grateful I've found my people…. and even more grateful that these people know how to cook! Cheers to the best Friendsgiving yet.
Baste day ever with my besties. Happy Friendsgiving everyone!
Living appley ever after with the apples of my eye this Friendsgiving. Feeling so grateful and blessed!
Thankful to have these silly turkeys in my life! Thank you all for the laughs, the hugs, the endless support and…. the zero judgment of my calorie intake!
With our plates and hearts full, I couldn't be happier with who I spent this Friendsgiving with. Thank you all for the unconditional love, and the unconditional food comas!
Heartfelt Friendsgiving Captions for Instagram & Facebook
Alright, last but not least, if you want to caption your Friendsgiving photos with something more emotional and impactful, here are some ideas for truly sentimental Friendsgiving captions that might even inspire a tear or two!
Forever grateful for the friends who stood by me during this rollercoaster of a year. My heart is so full, I could burst! Thank you for the endless belly laughs, the late 2am chats, and for tonight – the most perfect Friendsgiving I could have ever imagined. So thankful to be doing life alongside you!
A single caption could never sum up how much these people mean to me. So thankful for their endless love and support even in the worst of times. I'll stand by you all forever, but for now, it's time to do Friendsgiving the best way we know how: with plenty of food, wine and laughs!
"Let us be grateful to the people who make us happy; they are the charming gardeners who make our souls blossom."- Marcel Proust
"Ultimately the bond of all companionship, whether in marriage or in friendship, is conversation."- Oscar Wilde

Thankful for the conversations I have with these ones – whether they make me laugh, cry or spiral into an existential crisis. Thank you all for another wonderful Friendsgiving, and even more wonderful conversation.
"A true friend is someone who thinks that you are a good egg even though he knows that you are slightly cracked."- Bernard Meltzer

Feeling especially thankful for my good eggs today. Happy Friendsgiving!
"If ever there is tomorrow when we're not together… there is something you must always remember. You are braver than you believe, stronger than you seem, and smarter than you think. But the most important thing is, even if we're apart… I'll always be with you."- Winnie the Pooh

Thankful to have spent my Friendsgiving with the best <3
"A real friend is one who walks in when the rest of the world walks out."- Walter Winchell

Thankful for this amazing group of friends who have stuck by my side and helped me be the person I am today. This Friendsgiving, I celebrate you!
"Keep away from those who try to belittle your ambitions. Small people always do that, but the really great make you believe that you too can become great." – Mark Twain

Grateful to have spent Friendsgiving with those that make me believe I can become great <3 Love you all!
"Truly great friends are hard to find, difficult to leave, and impossible to forget." – G. Randalf
We hope you enjoyed this list of Friendsgiving caption ideas!
Let us know in the comments if you have any more ideas… and happy Friendsgiving!