*FYI - this post may contain affiliate links, which means we earn a commission at no extra cost to you if you purchase from them. Also, as an Amazon Associate I earn from qualifying purchases. Check out our Privacy Policy and Disclosure. for more info.
Let's be real, on Thanksgiving, your #1 priority should be polishing off multiple plates of food, NOT thinking up a clever Thanksgiving Instagram caption…
So let us do the heavy lifting. Below, you'll find some fun ideas for Thanksgiving-inspired Instagram captions that will make all your loved ones laugh, smile, and go "aww".
Enjoy!
Pin for later: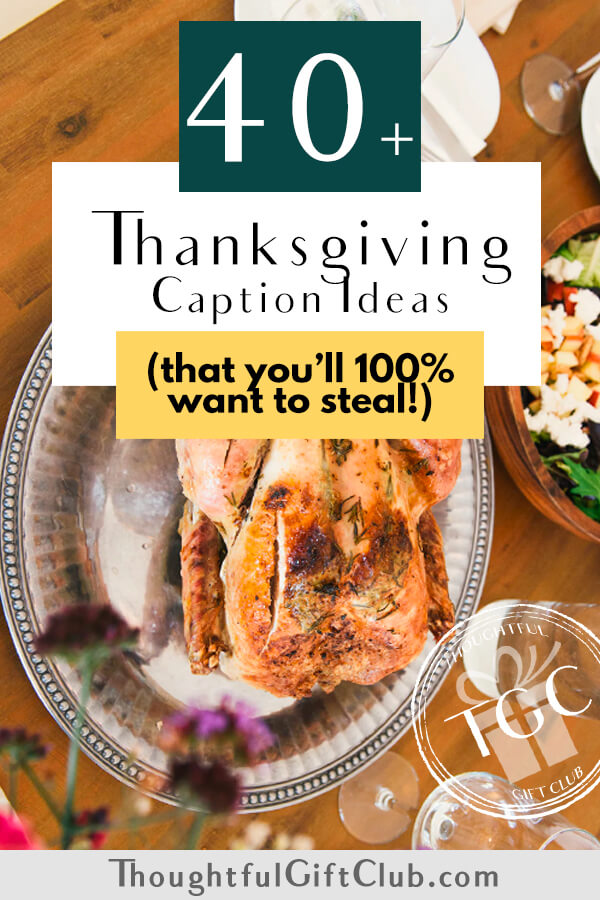 Funny Thanksgiving Captions
Whether you're looking for sarcastic Thanksgiving quotes or clever Thanksgiving captions to pair with your Turkey Day gram, here are some ideas for you.
Thanksgiving – come for the food, stay for the explosive family drama……. and pie.
"Gobble me, swallow me, drip down inside of me" – my Thanksgiving turkey.
Here Ima lurkey til I gets me some turkey.
Thankful I only have to deal with these people once a year.
I'm too blessed and my turkey is too dressed for me to be stressed.
Thankful for a family that accepts me for who I truly Yam.
Grateful for bountiful Thanksgiving feasts & wonderful people to spend it with… now, who's going to be Thanksgivin' me a ride home after my food coma?
I forgot how ridiculously sassy my family was, but hey, you can't spell Gratitude without attitude….
Welcome to the Feast and the furious: Thanksgiving drift.
It has been a rough year, but something tells me I'll feel Butter soon.
I'm usually pretty into fitness around Thanksgiving time… fitness this entire turkey in my mouth.
The turkey was suspiciously good tonight… I suspect Fowl play.
Today is definitely leg day…. turkey leg day.
A lot of people thought I wouldn't be able to finish the potatoes but hey, taters gonna tate.
I've been waiting all year for this – today, I shall gobble til I wobble.
Cute and Heartfelt Thanksgiving Captions
Looking for a sweet and heartfelt Thanksgiving-themed caption? Here are some ideas that will fit the bill:
Great food and even better company – thankful for an amazing family that gives me so much to be grateful for. Wishing you all the best this Thanksgiving!
This Thanksgiving, may your hearts be full and your plates even fuller. Hope you have an amazing day!
Roast assured, tonight's Thanksgiving meal is going to be one of the best we've ever had.
Thanksgiving is a time to let your Gourd down and remind everyone how much you love and appreciate them.
This year's Thanksgiving really was stuffing special.
Of all the families in the world, how did I get so lucky with this one? Thankful for another Thanksgiving filled with amazing food, laughs, and love. Feeling way too blessed tonight!
Too blessed to be stressed. Feeling oh so grateful today for the amazing things in my life, this amazing family and YOU included! Wishing you the most incredible Thanksgiving with plenty of food and loved ones.
Sure Thanksgiving is about stuffing yourself silly, but I always leave with a full heart too. Cheers to our health, our fortune and all the best things to come!
i'm grateful for everything they've given me and all the memories that are still to come… Feeling so much love today for this wonderful family of mine. There's no one else I'd rather eat, drink, and be merry with. Happy Thanksgiving!
Another wonderful Thanksgiving for the books. Thankful as always for great company and even better food… or maybe the other way around?
Thanksgiving Captions with Friends
Celebrating Friendsgiving, or looking for a cute Thanksgiving caption for photos with friends? Here are some ideas, but click here for a full roundup of Friendsgiving caption ideas.
Getting basted with my faves on Friendsgiving!
Beauties and the Feast – coming to an Instagram Stories near you this Thanksgiving 
Just a few goblins gobblin'. Happy Friendsgiving from my group of weirdos to yours!
Friends are the family you choose. So thankful for the amazing company tonight! Happy Friendsgiving, everyone.
Thankful to have these silly turkeys in my life! Thank you all for the laughs, the hugs, the endless support and…. the zero judgment of my calorie intake!
Cute Thanksgiving Quotes and Captions for Couples
Whether you're looking for adorable Thanksgiving quotes for your boyfriend or girlfriend, here are some foolproof and fun ideas.
Thankful that this goof has the tur-KEY to my heart. Hope you all have a wonderful Thanksgiving – we certainly did!
I have a lot to be thankful for but this one is probably at the top of the list… thanks for the food, the laughs and for making sure my plate and heart is always full.
The pumpkin to my pie… the apple of my eye. So grateful to have this one on Thanksgiving!
Thanks for being my emotional support after my 3rd helping of mashed potatoes. Couldn't have done this withoit you.
We came, we gobbled, we wobbled. Thankful for a wonderful Thanksgiving with this one by my side!
Grateful to be with someone who doesn't judge my eating habits, even when the meat sweats come in. Happy Thanksgiving to you and yours!
With this one by my side, I cran conquer anything. Grateful for a perfect Thanksgiving together. Here's to many more!
Cheers to us, our health, and our eerie ability to finish each other's…. (turkey) sandwiches.
This one is the only side dish I'll need this Thanksgiving!
Any more Thanksgiving caption ideas?
Let us know in the comments, and we hope this article gave you plenty of perfect ideas for cute Thanksgiving quotes for Instagram.