*FYI - this post may contain affiliate links, which means we earn a commission at no extra cost to you if you purchase from them. Also, as an Amazon Associate I earn from qualifying purchases. Check out our Privacy Policy and Disclosure. for more info.
Feeling crafty for Halloween?
Well good news – we've rounded up some truly epic DIY Halloween crafts for your reading pleasure, whether you plan to give them as gifts, add spooky flair to your home, or just for the heck of it (because who doesn't love Halloween?)
And while these Halloween crafts are primarily meant for adults, the majority of these can obviously still be done as family-friendly projects (with the kiddos lending a helping hand).
The best part? We've ensured that we've chosen the simplest, most budget-friendly ideas so that you're able to gather your supplies and dive straight into Halloween-ville.
Thus, without further ado, here is our roundup of Halloween crafts for adults that are perfect for gifts, decor, and fun!
Pin for later:
Awesome Halloween Crafts for Adults
Ready those glue guns and Cricut cutters – these Halloween craft ideas are sure to awaken your crafty side!
1. Mickey Mouse Halloween Planters
If you're an avid Disney fan, these adorable Mickey Halloween planters are the perfect Halloween DIY project at home!
Created by a very talented Disney/mommy blogger who has invested her time in many "Magic at Home" projects this year, these Halloween planters are easy to make with just a few inexpensive supplies. They're the cutest spooky-esque decorations to bring out every year, and they make a perfect thoughtful gift for those who love a bit of Halloween fun (but Disney-fied)!
Click here for the tutorial from PB & J Adventure Book (@pbandjellyjenn on Instagram).
For another Mickey-fied DIY Halloween project, try making these pumpkin Mickeys. They're a great idea for the little ones at home. Click here for the tutorial and free printable from Craft, Play, Learn.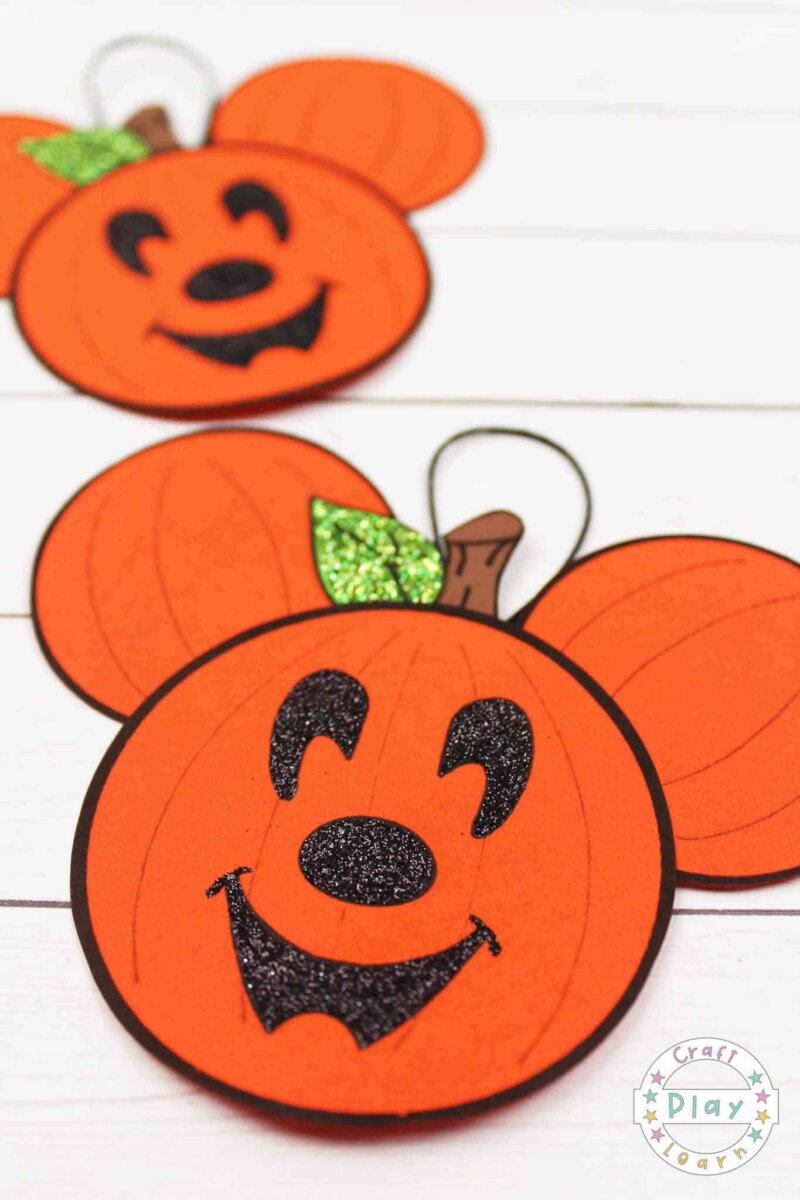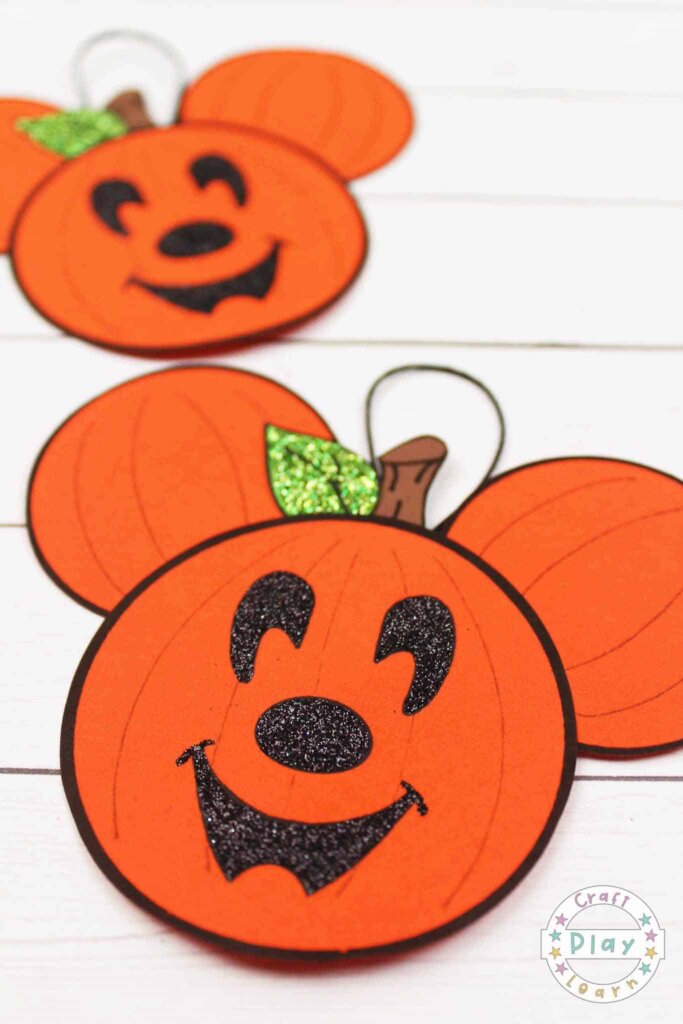 2. Halloween Potion Bottles
Halloween potion bottles are an amazing addition to any party (or make a great gift for Harry Potter fans!). Find out how to bottle up food coloring properly in order to give them that cool, potion-y effect when gifting. Professor Snape would be proud of your efforts!
Click here for the tutorial and free printable from Tikkido.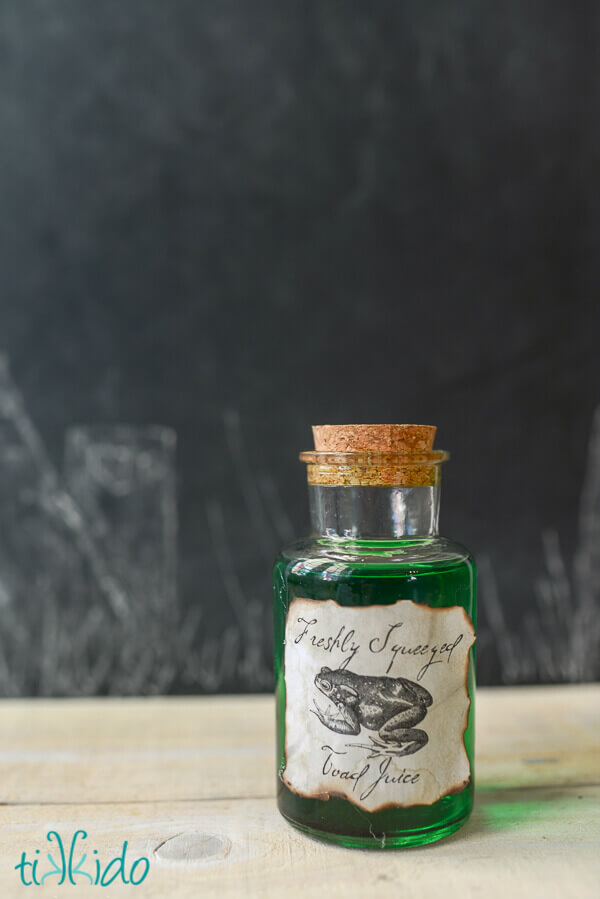 3. 3D Halloween Mirror
For the more adventurous, this 3D Halloween mirror is sure to drum up compliments and awe from passersby. This project involves resin and skeleton molds, and battery-operated lights illuminate its face at night!
Click here for the tutorial from Unique Creations by Anita.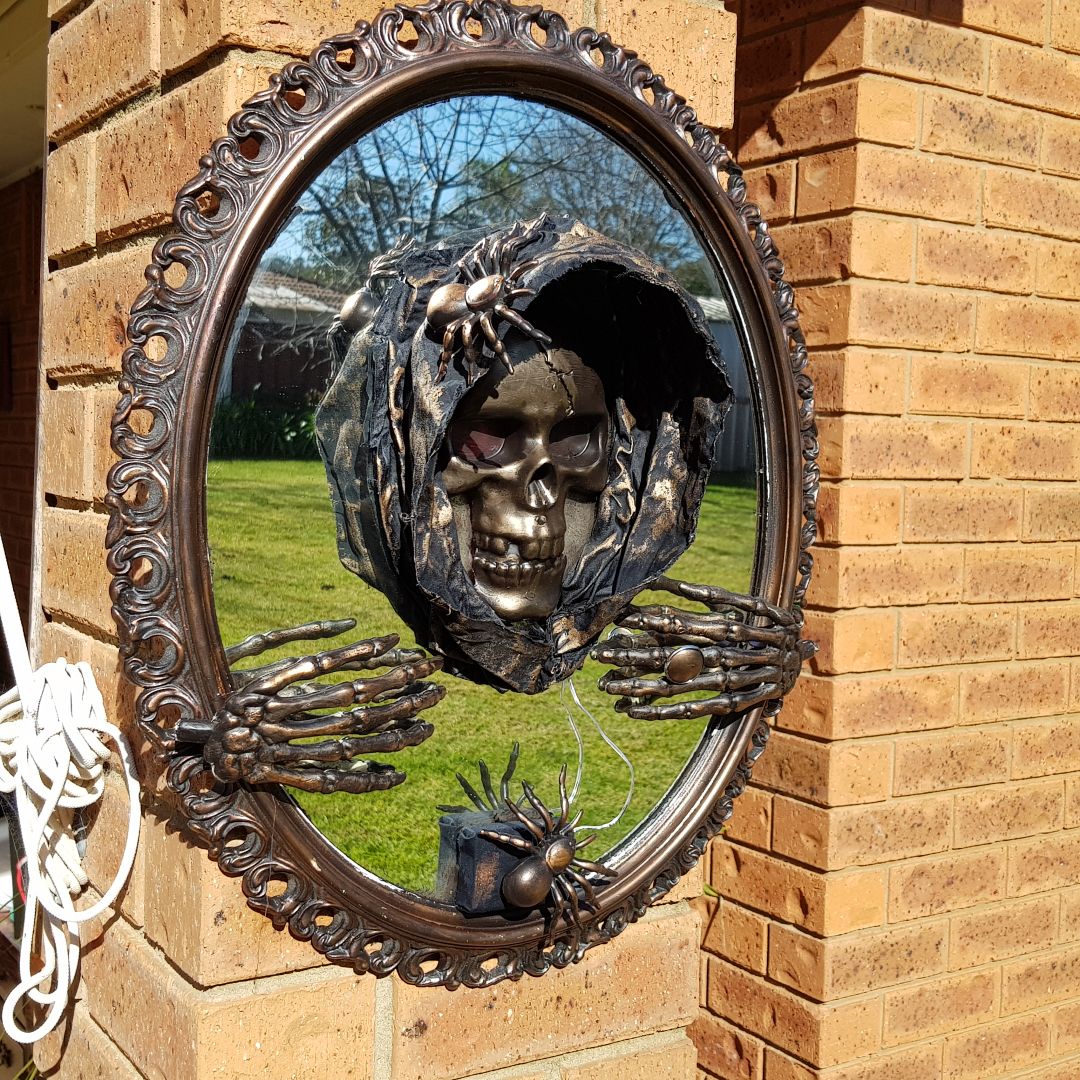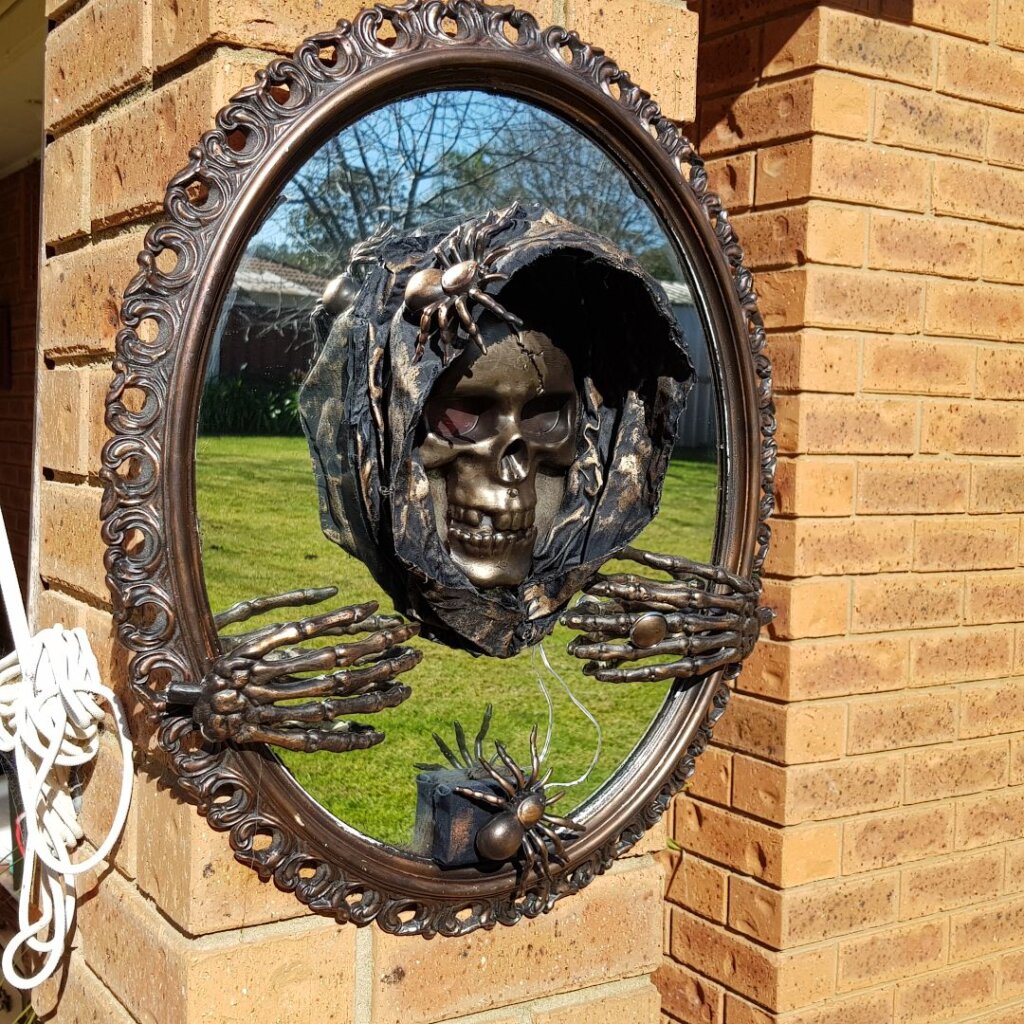 4. Halloween Candy Bucket Wreath
For a unique take on the traditional wreath, make this Halloween candy bucket one – nearly all the supplies come from your local dollar store! Just be sure to hot glue those empty candy boxes down, or else sneaky hands may true to steal some goods for themselves.
Click here for the tutorial from Craft Bits.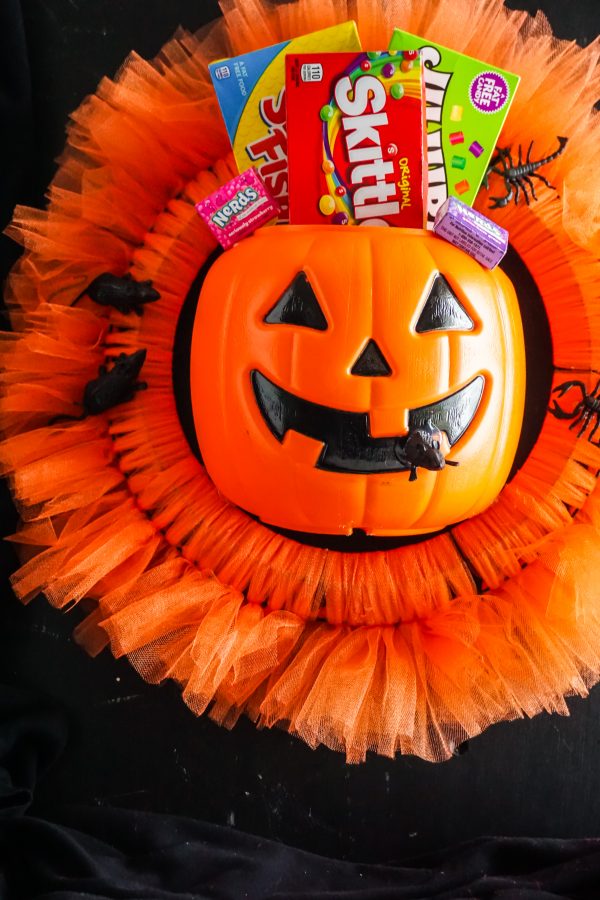 For a different version of a Halloween wreath, try this rag wreath. It's simple and cheap to make, and serves as the perfect Halloween decoration to put on your door to welcome guests. Click here for the tutorial from Retro Housewife Goes Green.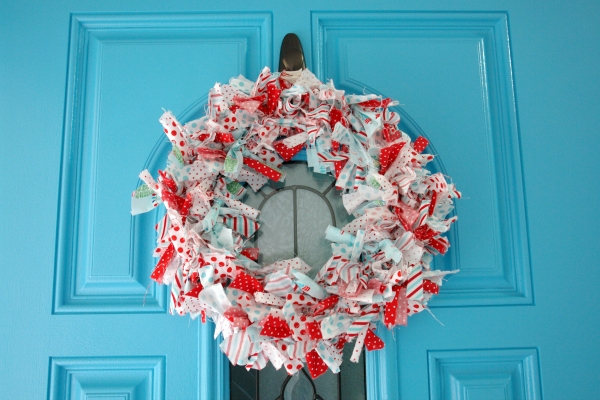 5. Halloween Silhouette Cake Stand
DIY silhouette projects are always fun to make. This simple yet elegant cake stand is perfect for your Halloween party, or just as table decor during the month of October.
Click here for the tutorial from Handmade in the Heartland.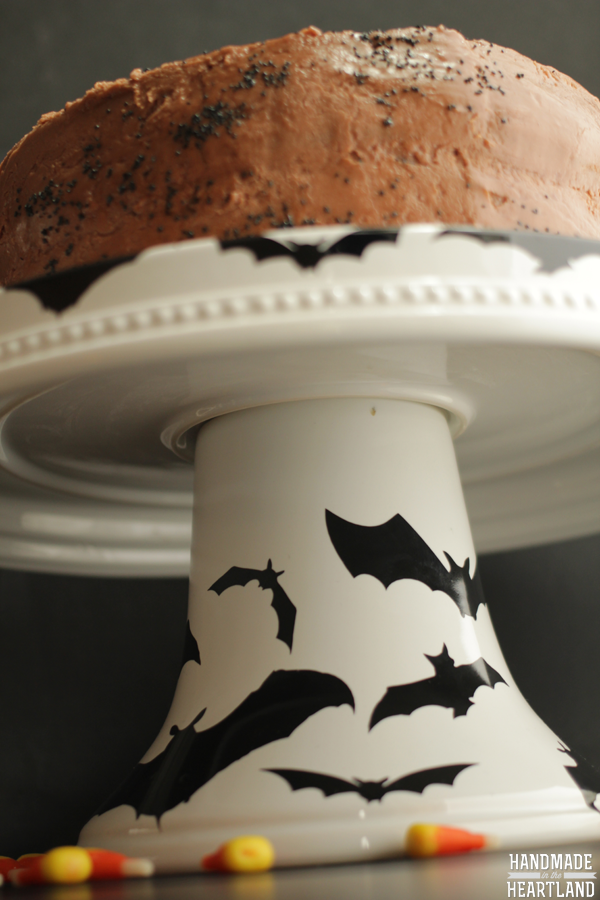 The article also features instructions on a DIY Halloween-themed silhouette pitcher: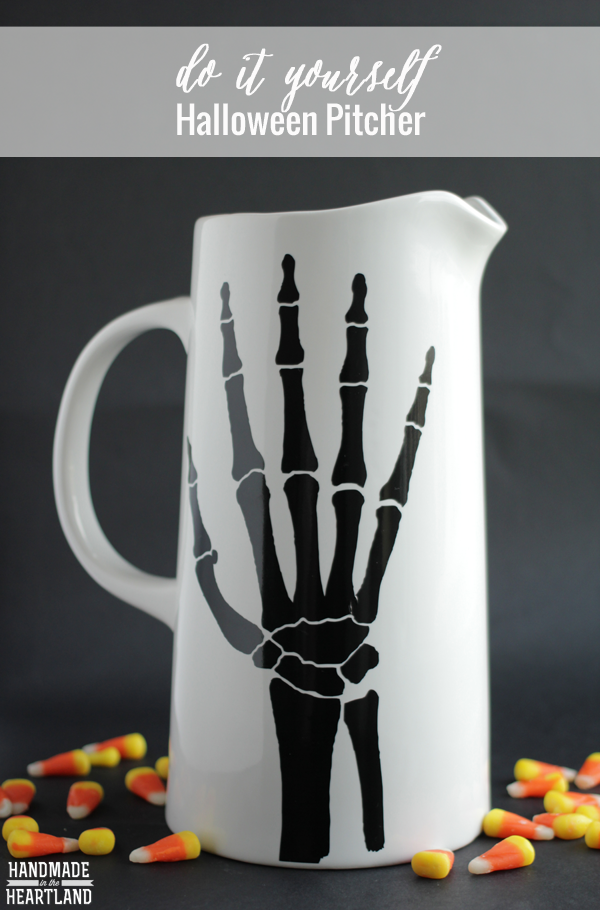 6. Googly Eye Headband
With this headband, you'll always be able to say, "I've got my eyes on you!"
This easy DIY project just requires some googly eyes and felt, and you might even use it for your next Halloween costume.
Click here for the tutorial from Tikkido.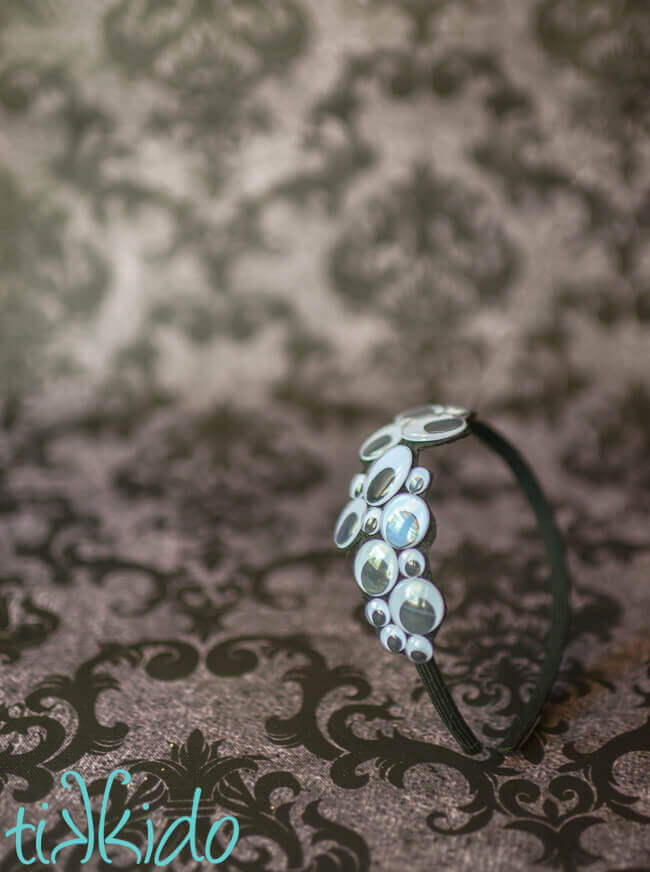 7. Halloween Gift Bag Toppers
If you're making gift bags for a Halloween party, why not make them special with these simple gift bag toppers made from clothespins? They're simple, yet add such an adorable, personal touch to your gift.
Click here for the tutorial from Sum of Their Stories (@sumoftheirstories on Instagram).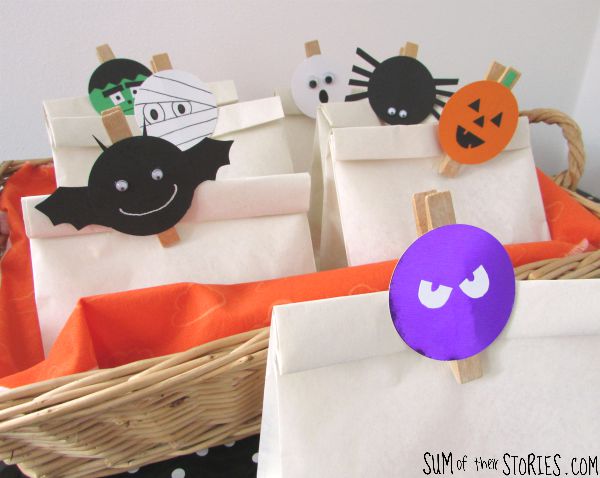 8. Hocus Pocus Decorative Garland
This Halloween-themed garland is the perfect addition for your home decor during fall and autumn!
Inspired by Hocus Pocus, Popcorner Reviews created this DIY project using a Cricut machine, cardstock paper, and a bit of witchy good fun. It's so cute and minimalistic, you may even leaving it hanging above your TV the rest of the year!
Click here for the tutorial from Popcorner Reviews (@monica.delmonico on Instagram).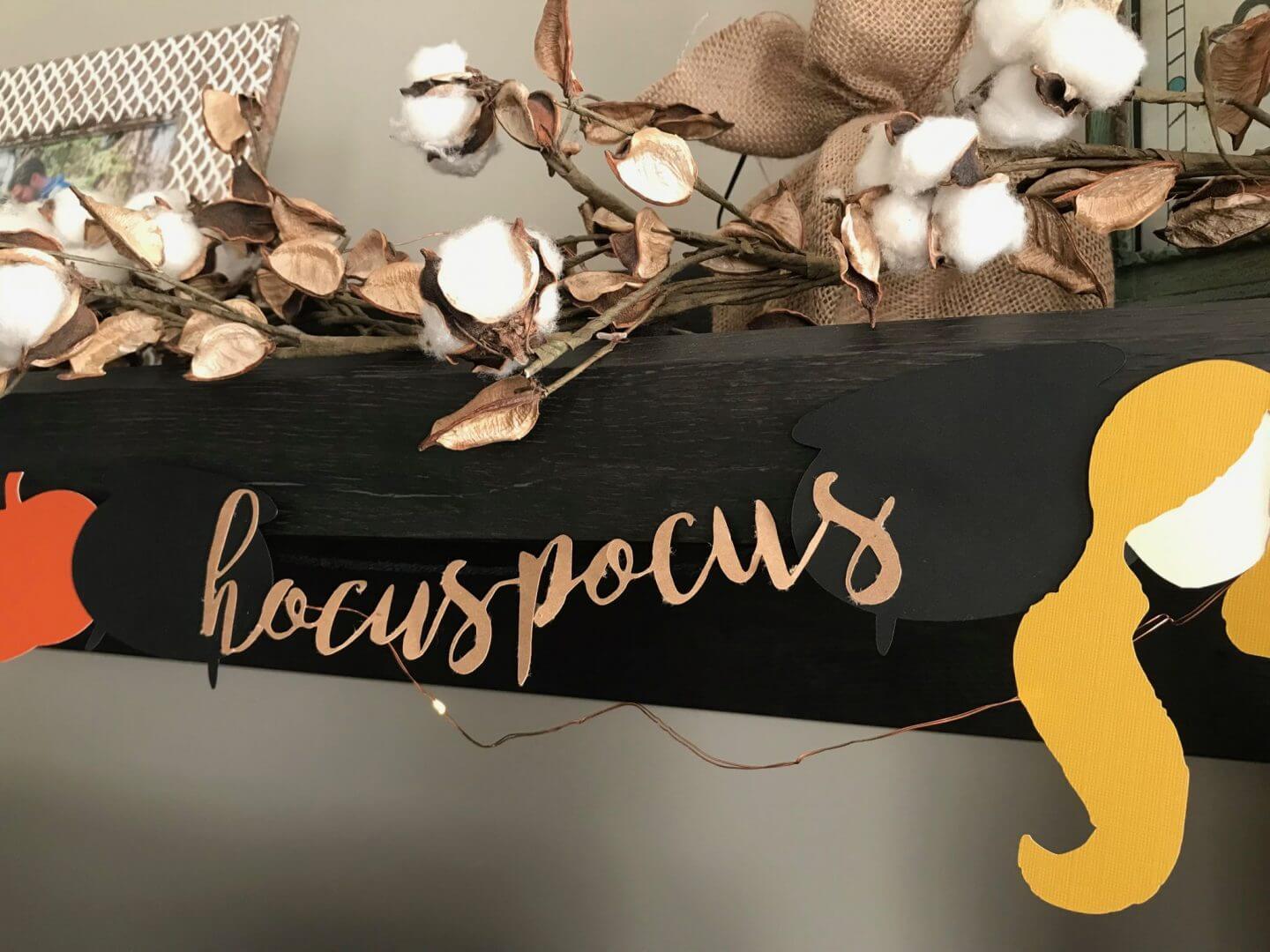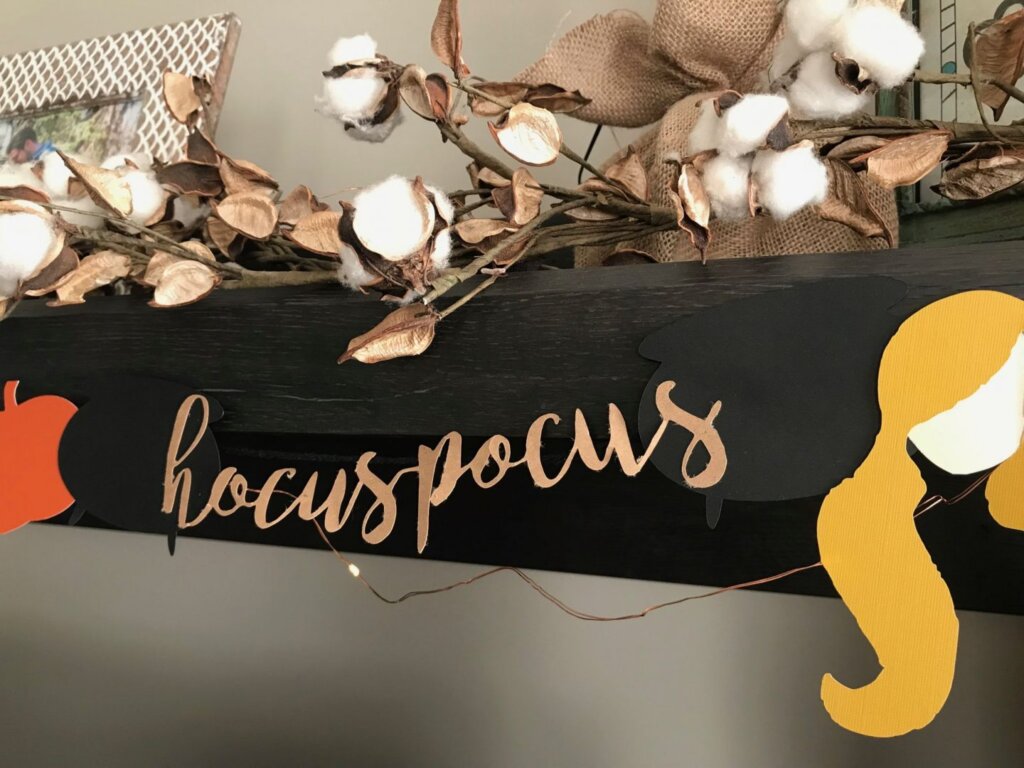 9. Candy Corn Bath Bombs
This Halloween, make these candy corn bath bombs with just a few simple ingredients. If you're giving them away as gifts, you can event make them in snap-together ornaments that serve as its protective gift case.
Click here for the tutorial from Creative Green Living.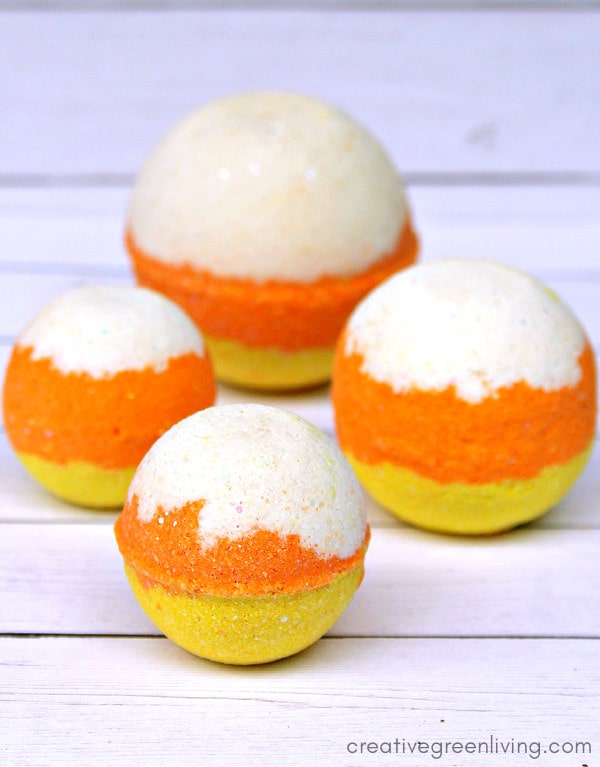 For a spidey-vampirey bath bomb DIY, you can make this red and black-hued bath bomb. Click here for the tutorial, via Craft Bits.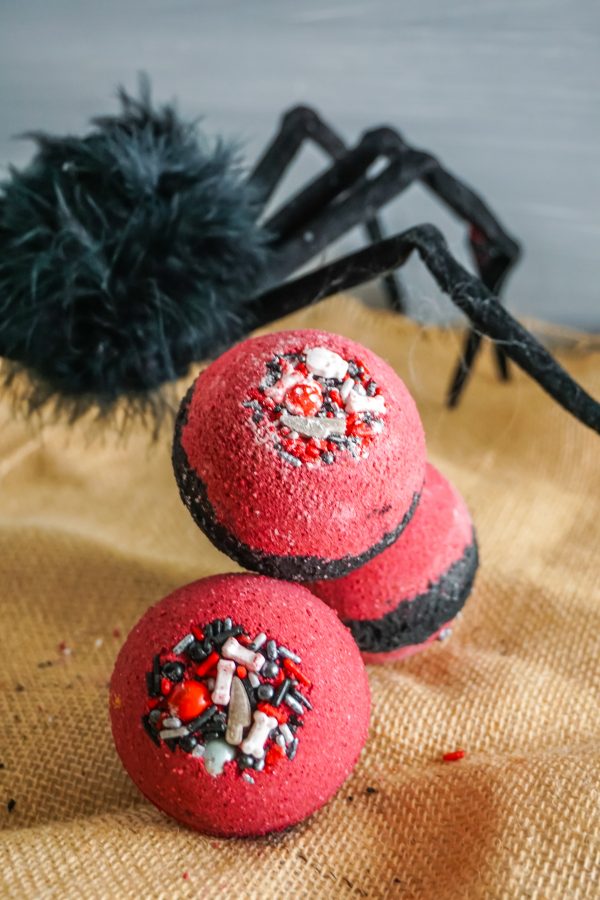 10. Mummy Candle Holder
This fun craft project is another great gift idea or Halloween decoration. They're made out of upcycled mason jars, so they're also incredibly affordable!
Click here for the tutorial from She Saved.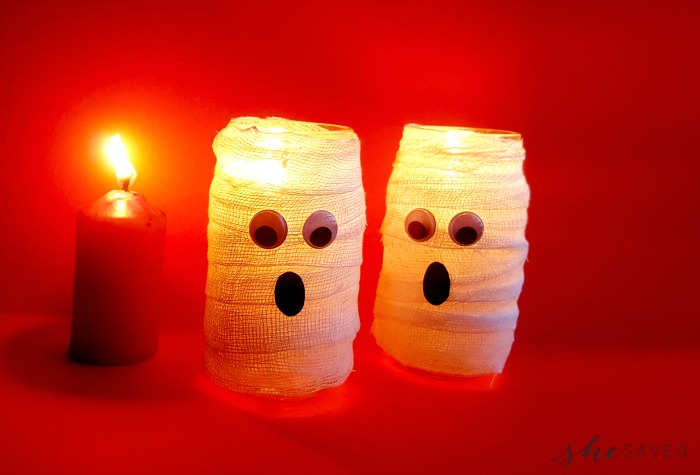 11. Light-Up Halloween Tree
If you're looking for an extravagant DIY project to set your Halloween decorations apart from everyone else's, this Halloween tree is the way to go. It requires quite a few materials, but the end product is entirely worth it – plus, it lights up with an LED light or battery-operated candle inside! How's that for spooky?
Click here for the tutorial from The Country Chic Cottage.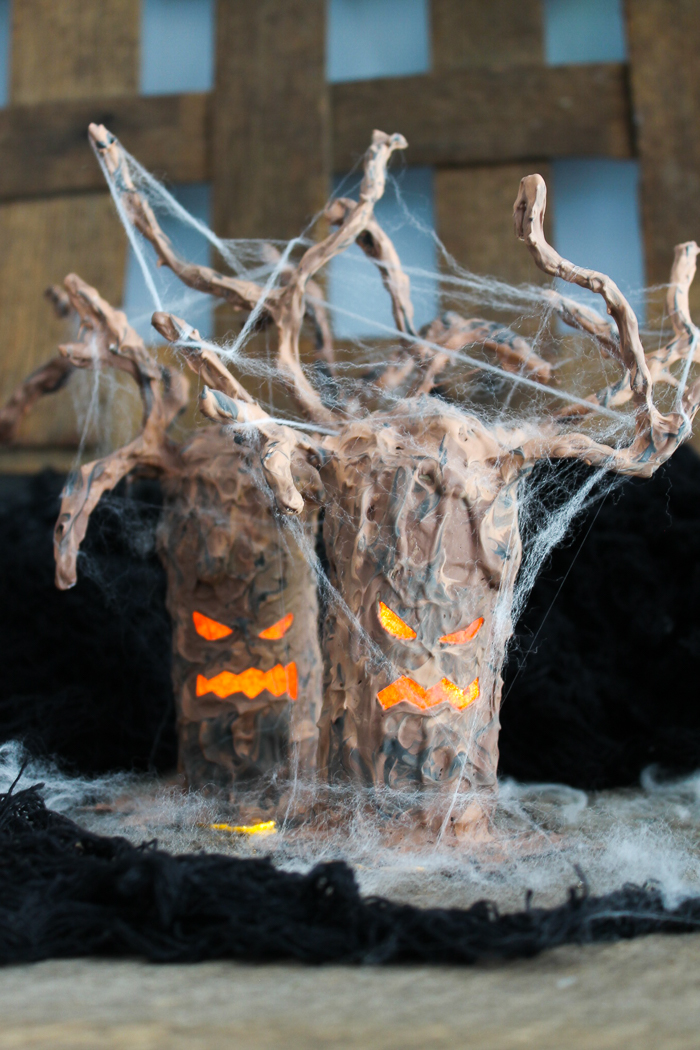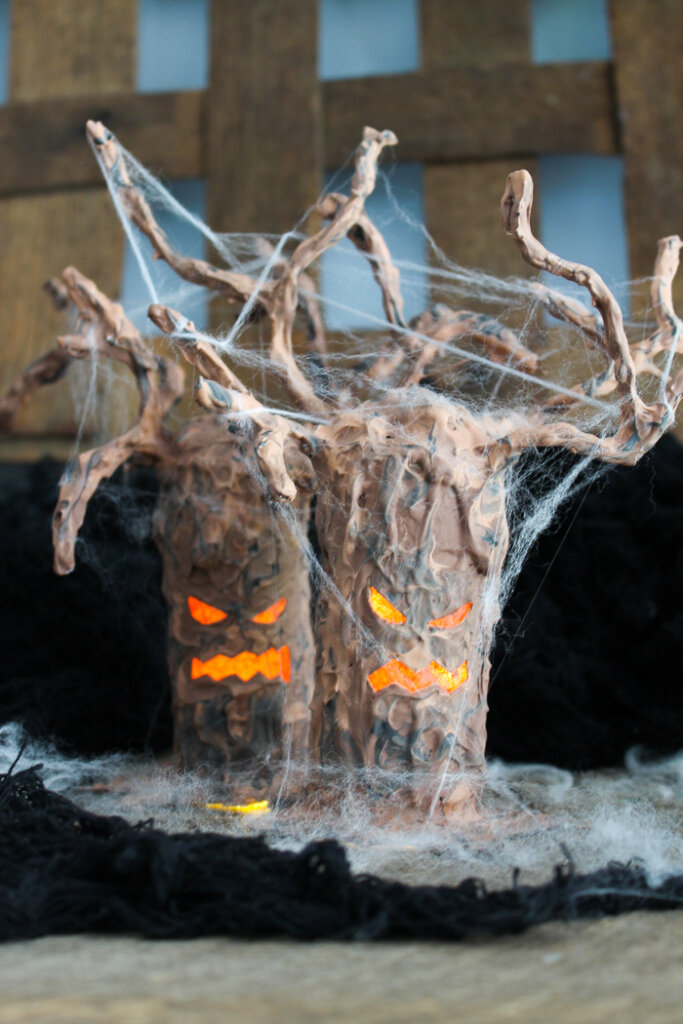 12. Beetlejuice Welcome Mat
This "Beware of Sandworms" welcome mat inspired by Beetlejuice is cooler than anything you'd find in a store!
For a fun DIY Halloween project, try your hand at this welcome mat – all you need is a mat, outdoor acrylic paint and brushes, pins, and a Cricut machine (template provided in the article). You're bound to get plenty of compliments from your guests (and brownie points to them if they recognize where it's from!).
Click here for the tutorial, via Popcorner Reviews.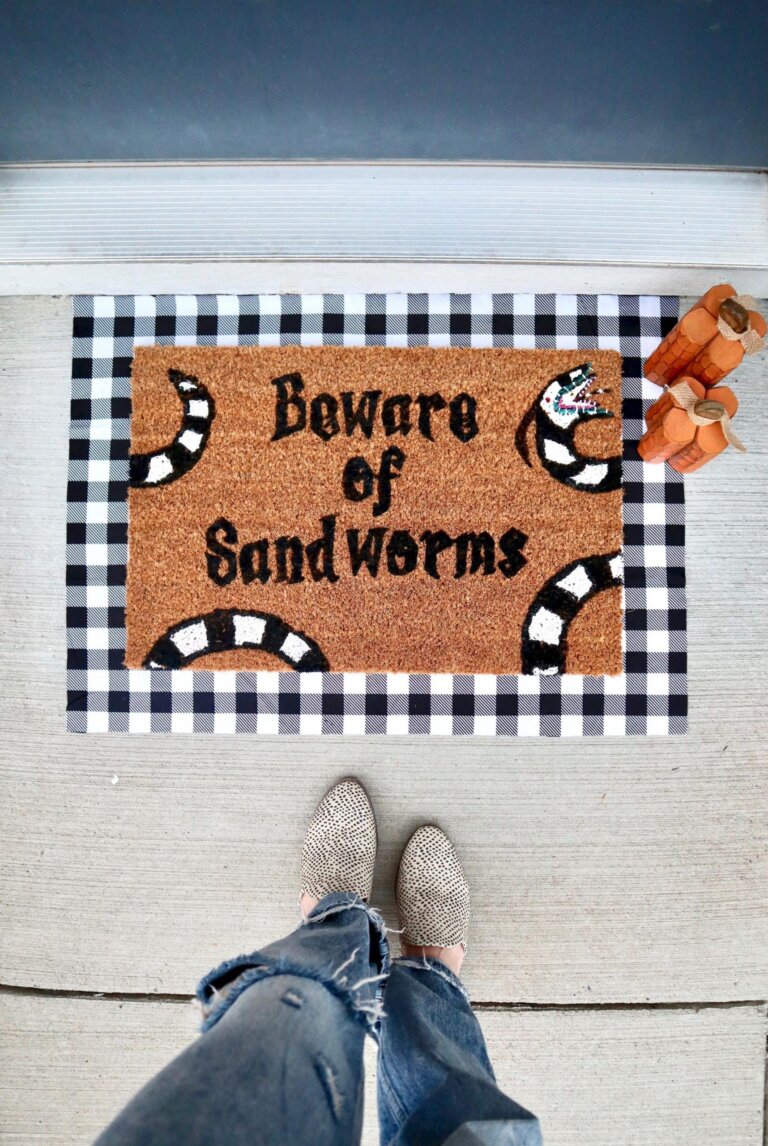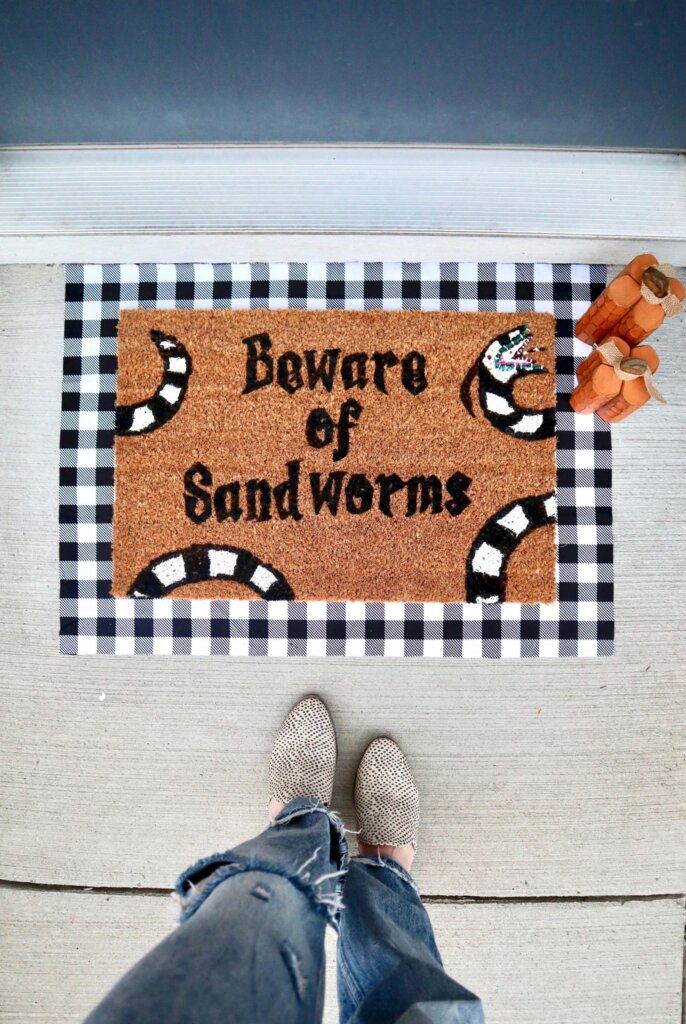 If Nightmare Before Christmas is more of your thing, check out this DIY rug. Click here for the tutorial from Popcorner Reviews (cute dog not included!).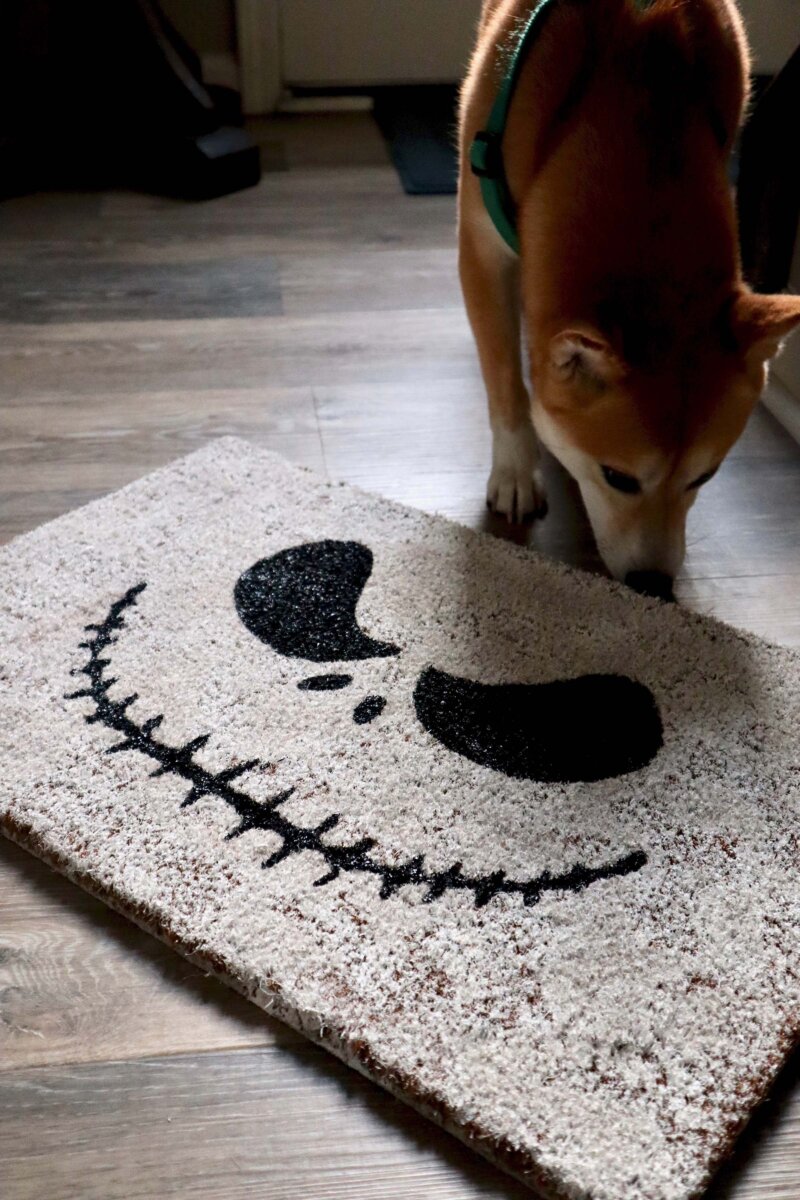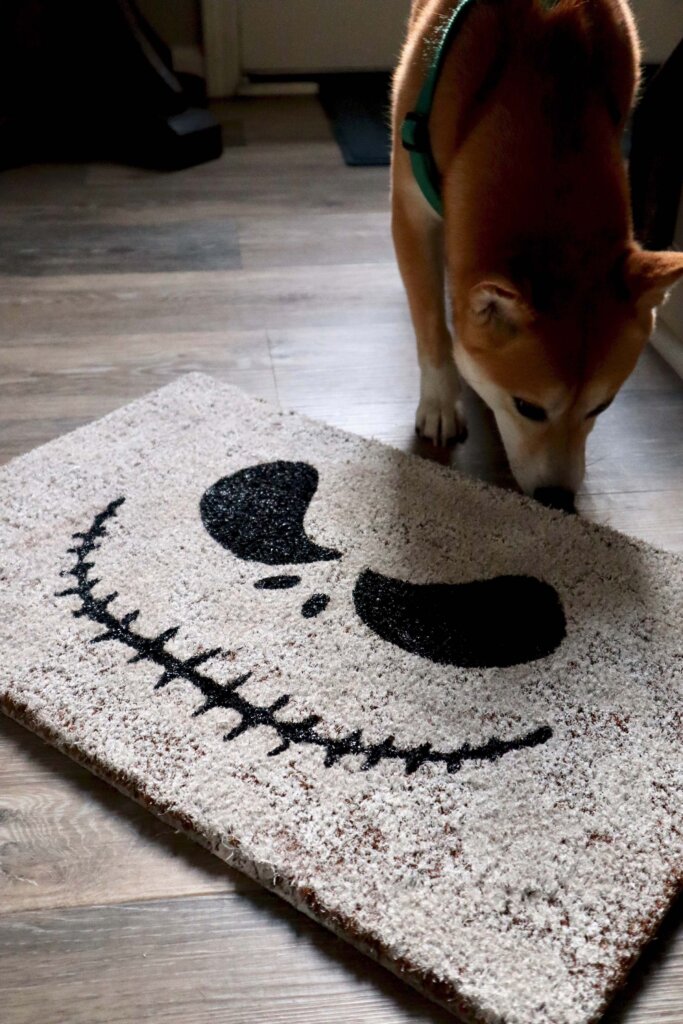 13. Modge Podge Decorative Plate
This is an inexpensive DIY Halloween project that can be used for Día de los Muertos celebrations as well. All you need is a glass plate, modge podge, printed fabric or paper, and paint brushes in order to create this fun activity.
Click here for the tutorial from Craft Bits.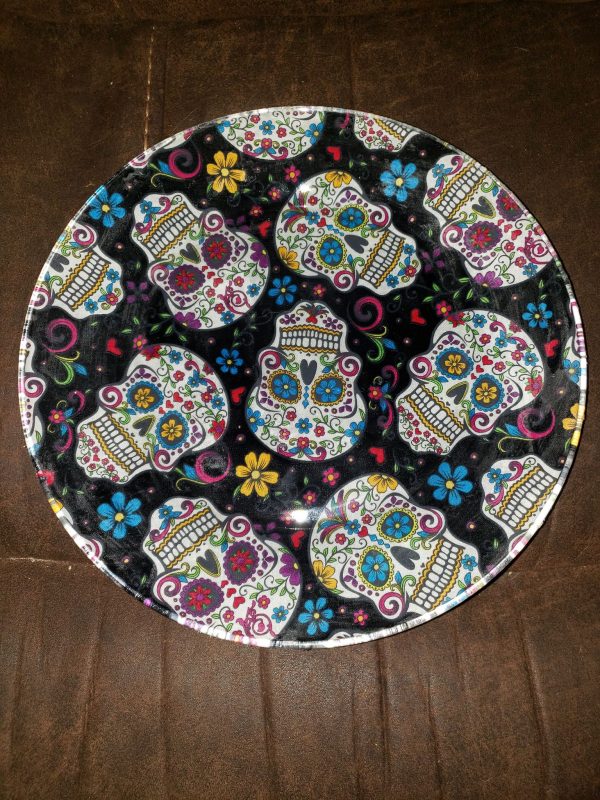 14. Upcycled Pumpkin Splatter Screen
This simple DIY Halloween project only requires four materials (some of which you may already have at home), and the splatter screen itself can be picked up from a local dollar store. It's a great way to decorate any wall or door to give 'em pumpkin to talk about!
Click here for the tutorial, via Dukes & Duchesses.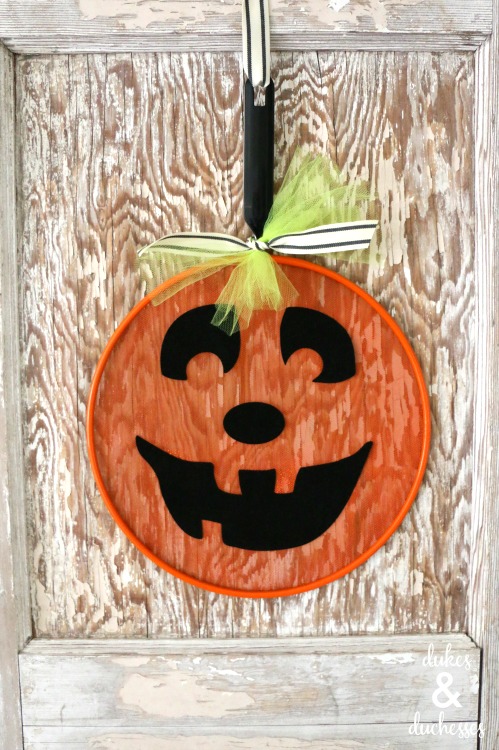 15. Upcycled Tin Can Pumpkins
Upcycle your tin cans to make this simple makeshift pumpkin Halloween decoration. It's perfect for the entire fall season (and not just Halloween), and it's a fun activity for the whole family to get involved with!
Click here for the tutorial from Drugstore Divas.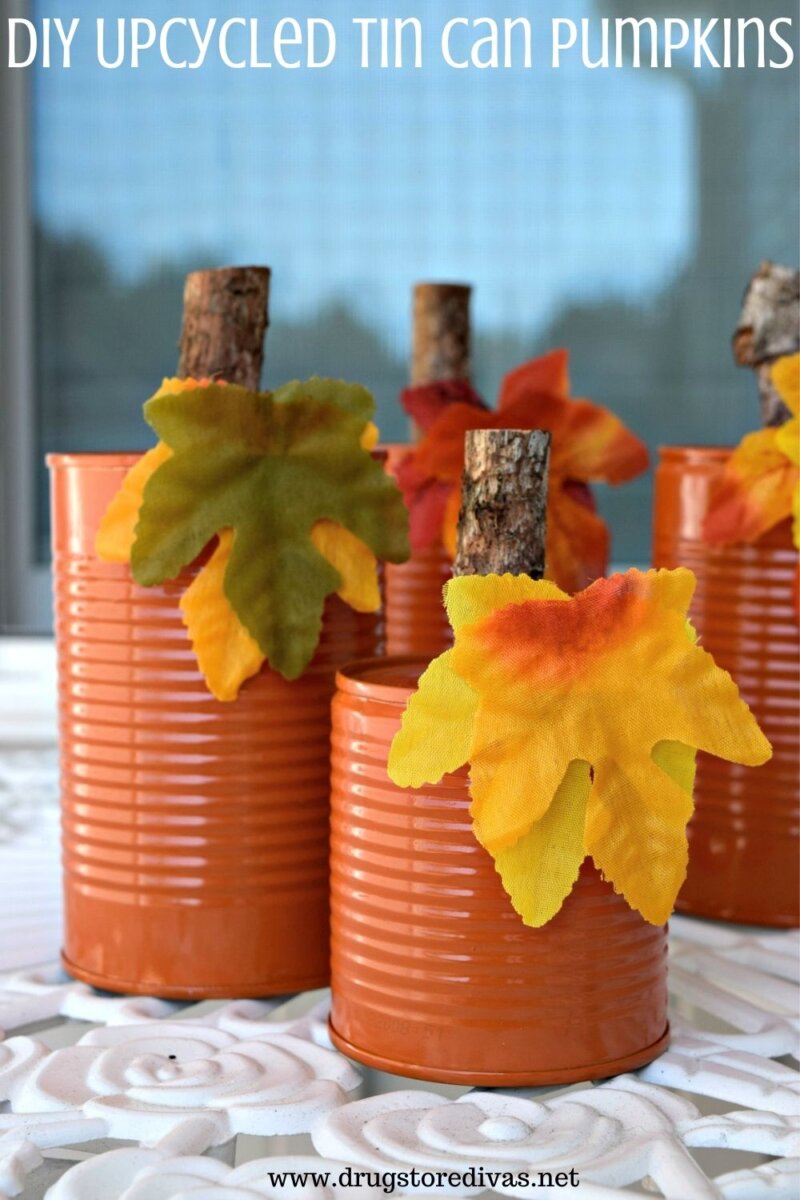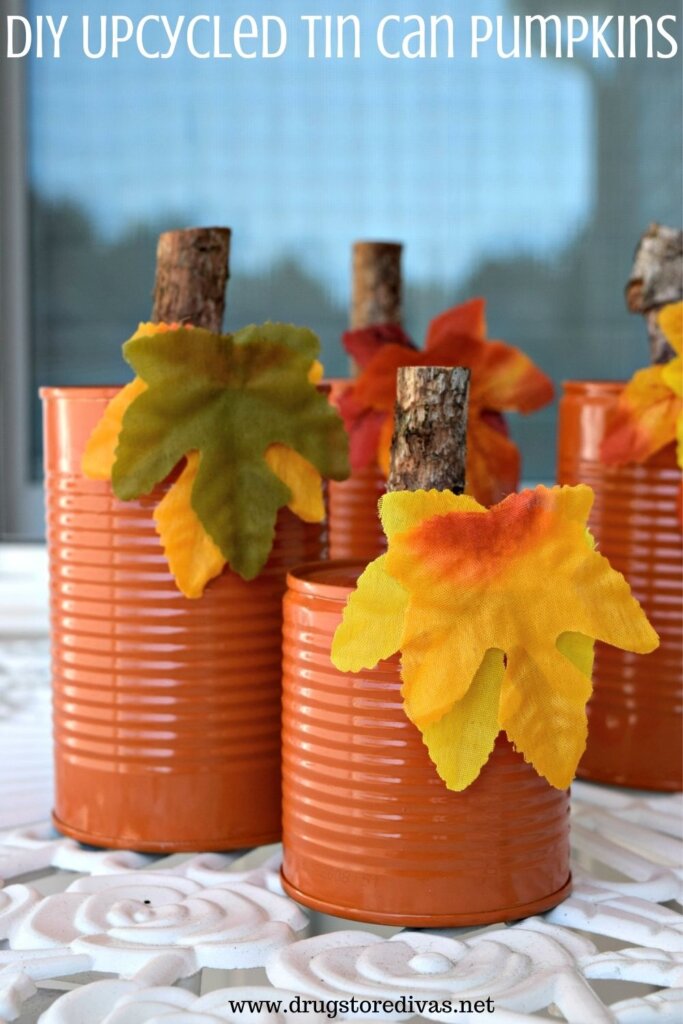 16. Printable Halloween Soda Labels
These free Halloween printable soda labels are creative and fun, making for the easiest DIY add-on to any party. The designs are so realistic, your guests may actually end up asking for clarification that they're really not made with any poison!
Click here for the tutorial, via Handmade in the Heartland.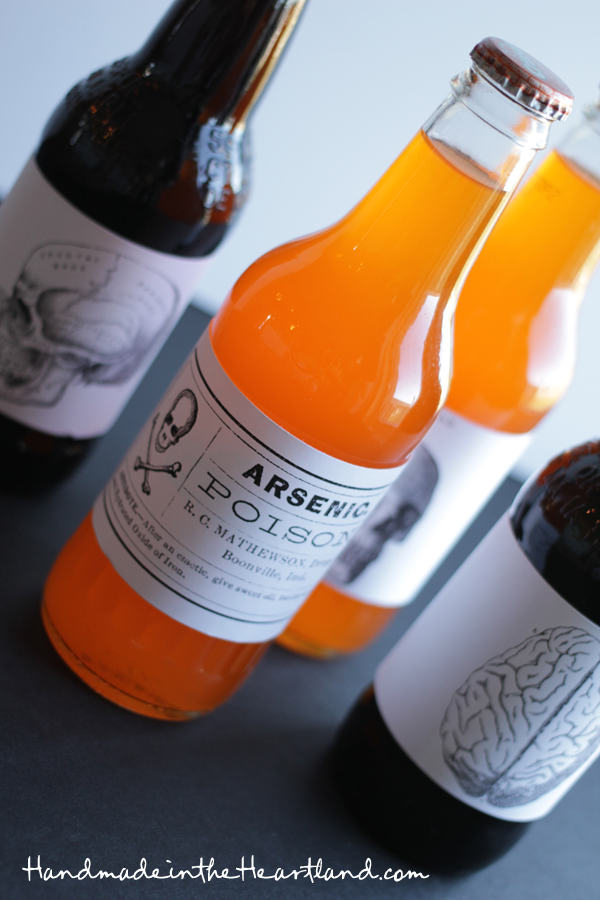 Fun Halloween Crafts That Kids Will Love Too
Looking for some cute crafts that you can also do with little ones? Here are some bonus projects!
17. Mix and Match Wooden Pumpkin Decor
These pumpkins are made from scrap wood and leftover paint. If you paint four full faces, this yields 256 combinations of faces, so it makes an incredible Halloween gift for the kids.
Click here for the tutorial, via Drugstore Divas.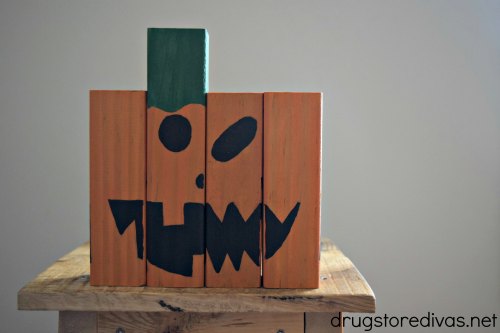 18. Melted Crayon Pumpkin
Who knew that a pumpkin could be colorized with something as simple as melted crayons? This DIY project proves that you don't need to carve pumpkins with knives in order to get the same fun. Plus, kids will love personalizing their pumpkin to their heart's desire.
Click here for the tutorial, via From Engineer to Stay at Home Mom.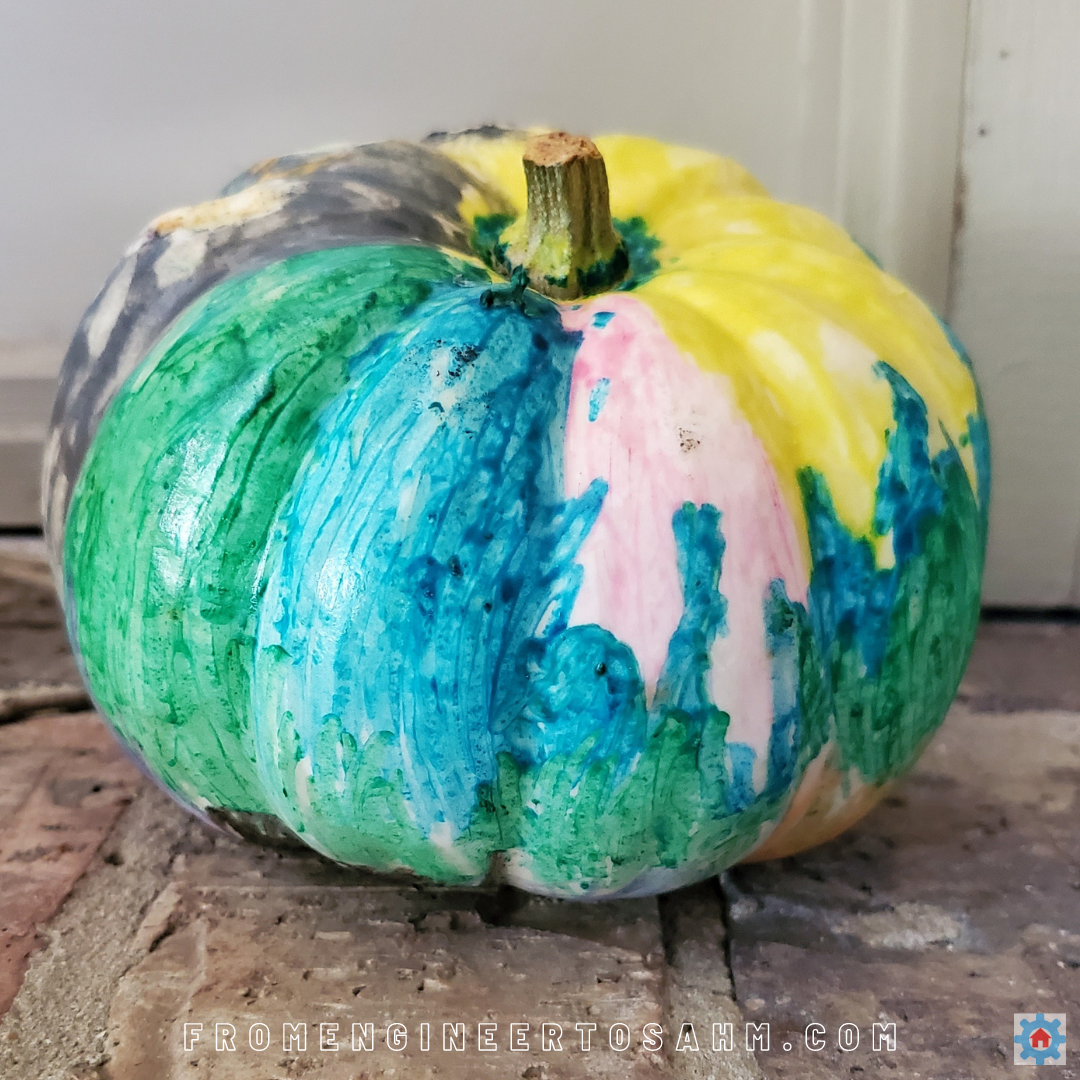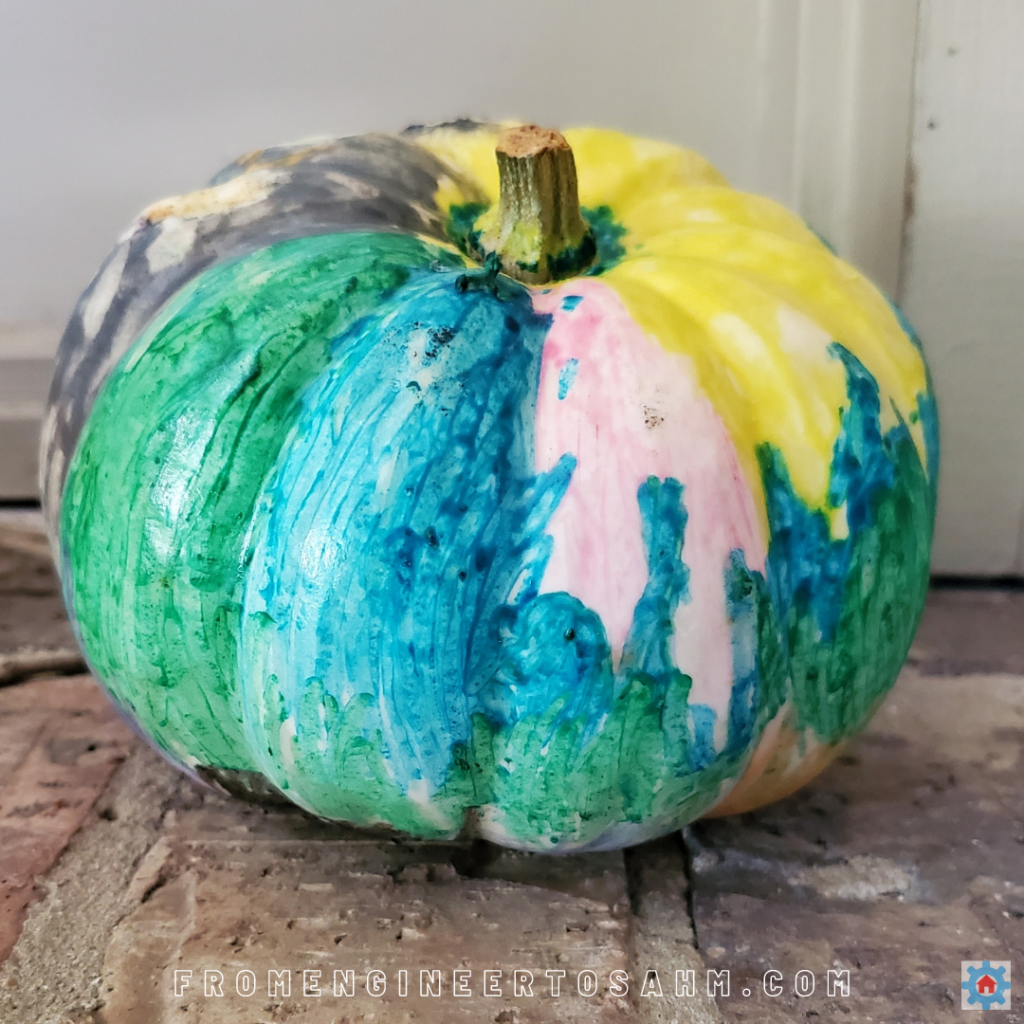 19. Reclaimed Wood Black Cats
This Halloween DIY project just requires some wood, a saw, paint, and ribbon. Plus, they're much more affordable than going out and buying a similar decor item!
Click here for the tutorial from Crafting Reality with Sara.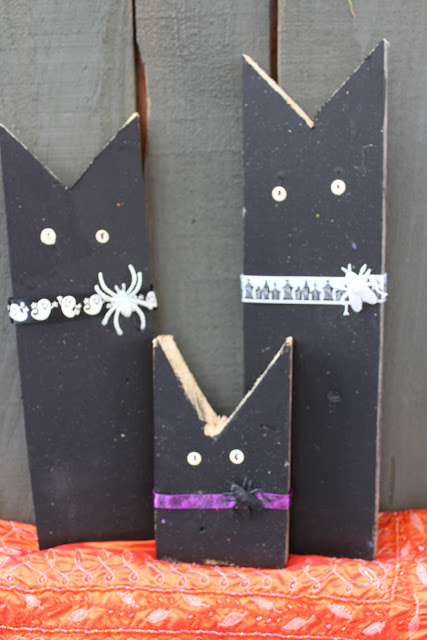 20. Halloween Slime in a Jar
This Halloween, make your kids something they'll really love – slime in a jar! It's even cooler than Play-doh (and cheaper), and it's unlike the typical green slime you see in the stores. If you bottle it up in mason jars, you can give them away as thoughtful gifts as well.
Click here for the tutorial, via The Country Chic Cottage.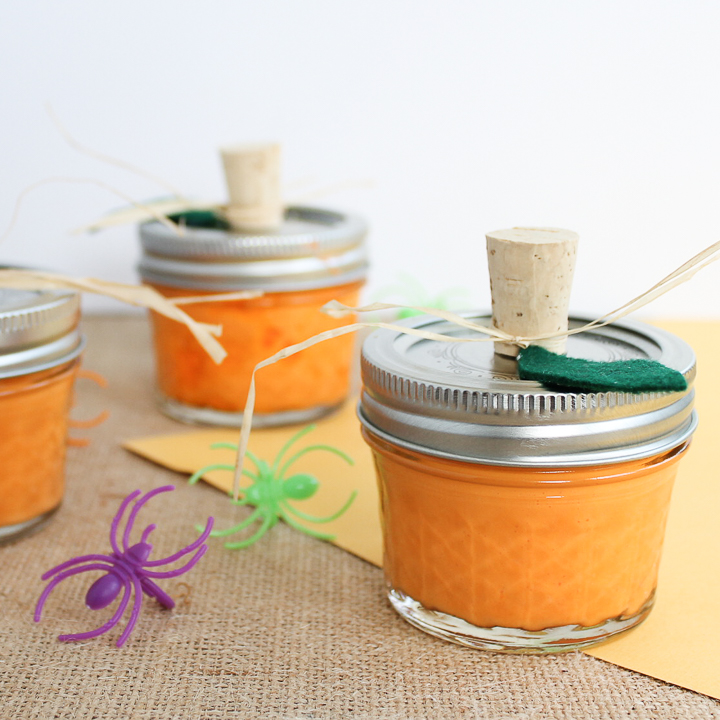 21. Toilet Paper Roll Ghosts
For another quick and easy DIY Halloween activity, try making these toilet paper roll ghosts. All you need are spare toilet paper rolls, googly eyes, string, and a Sharpie market to bring the ghosts to life. This may be the easiest DIY project on the list, but they still make a cute decoration for Halloween!
Click here for the tutorial, via Three Kids, Three Cats, and a Husband.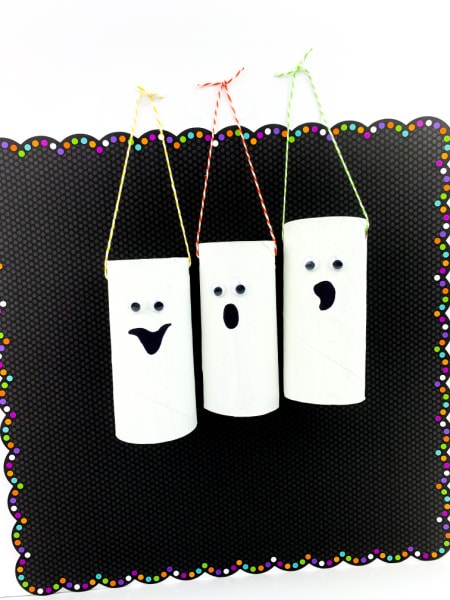 22. Halloween Paper Luminaries
These Halloween DIY paper luminaries can be assembled in mere minutes! Plus, they're flame-free; all you need are flameless tea lights to create a magical glowing effect at night.
Click here for the tutorial, via Lil' Tigers.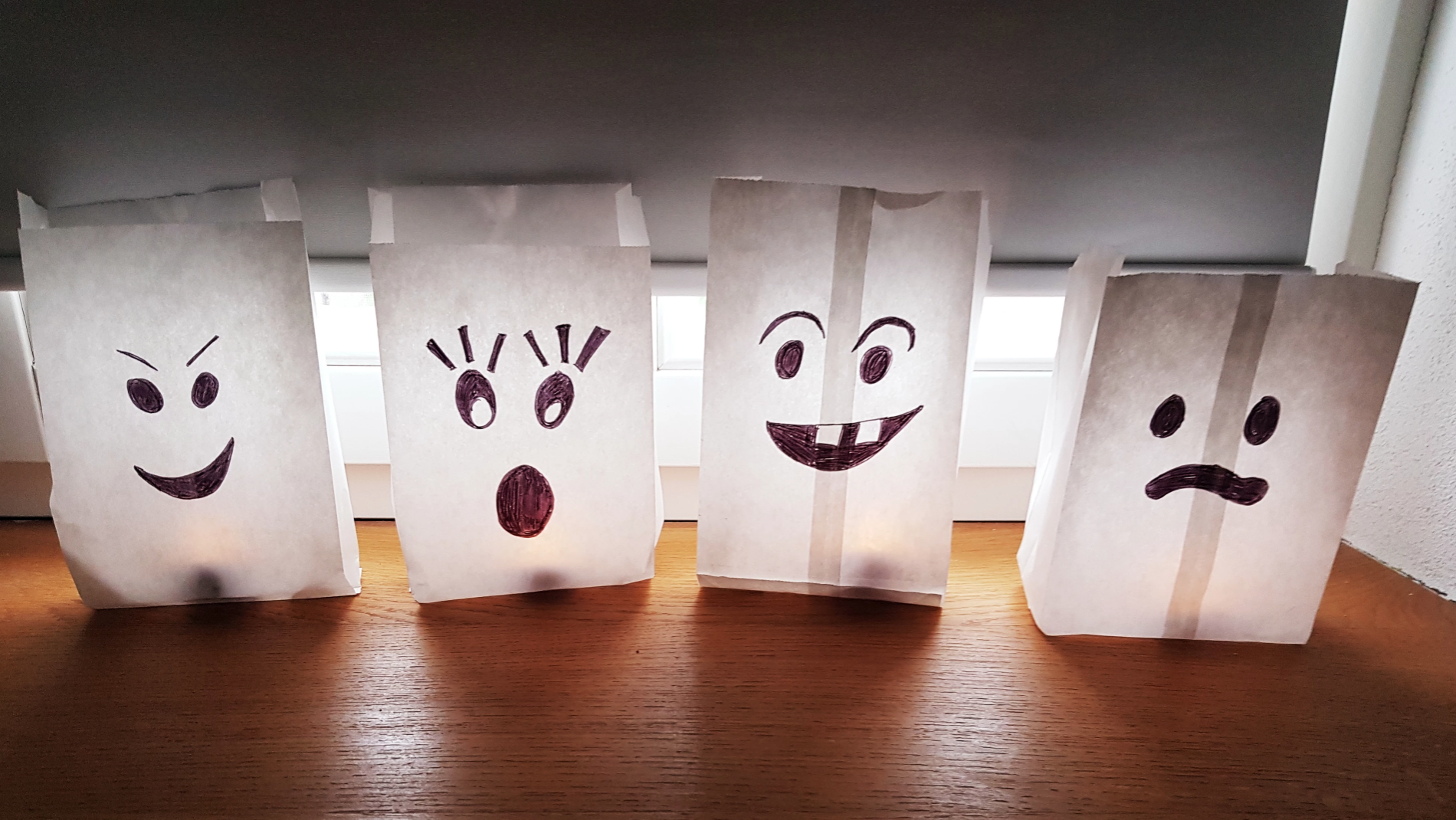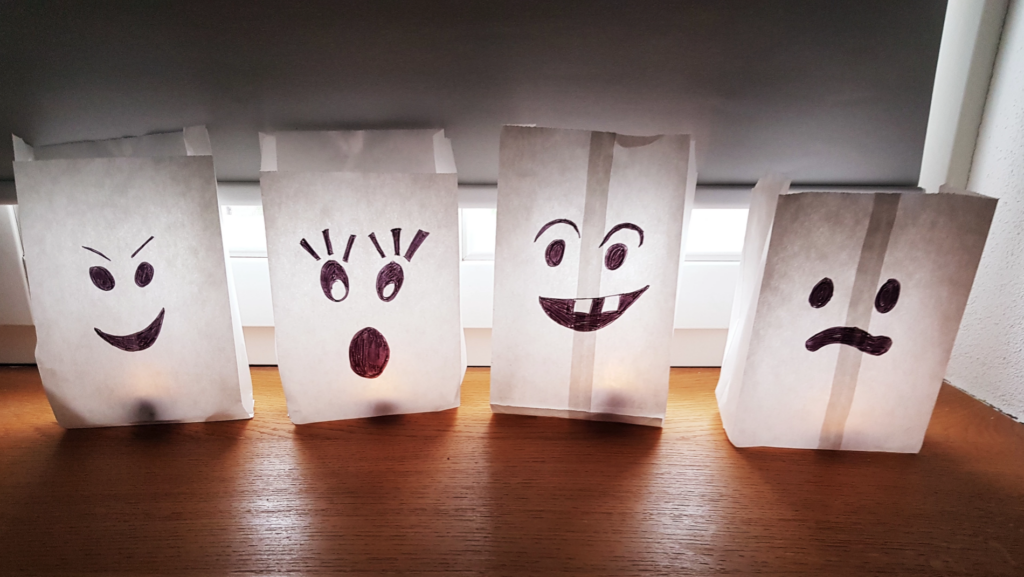 23. Halloween Painted Stones
These DIY Halloween painted stones make for a fun, easy activity with kids. You can easily reuse them as Halloween decorations for years to come, and the kids will have them to reflect upon when they get older!
Click here for the tutorial from Crafted with Bliss.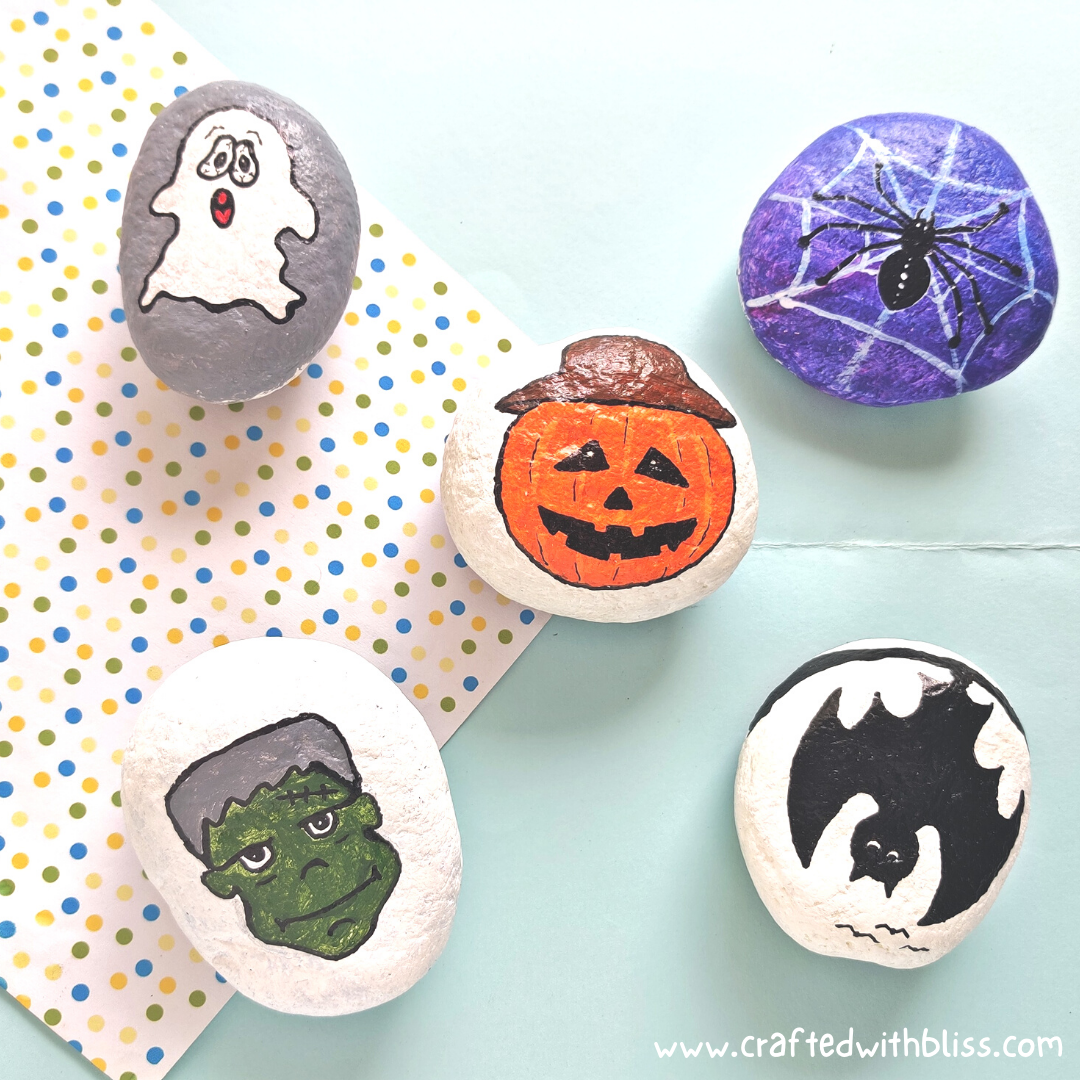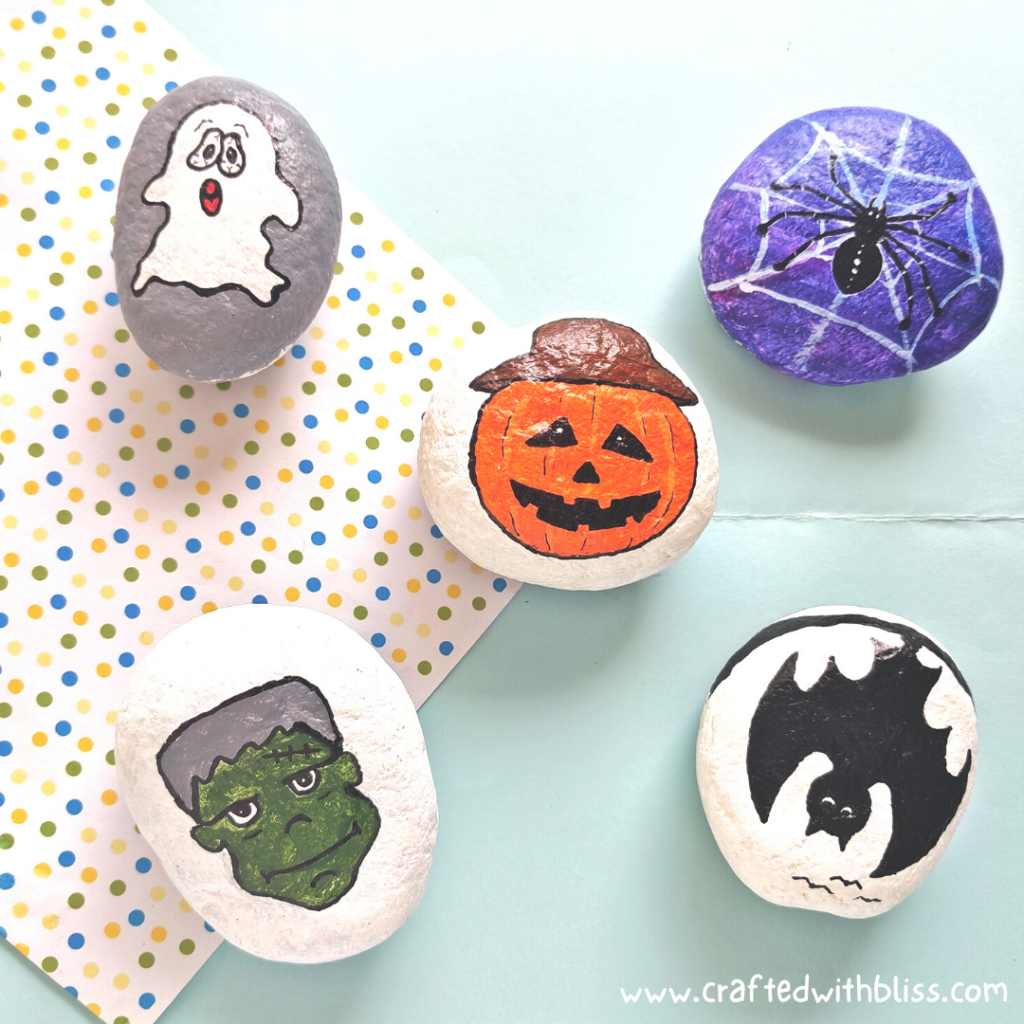 24. Halloween Felt Pencil Toppers
Make these cute and easy Halloween felt pencil toppers for the kiddos this Halloween – and you can find all the materials from your local dollar store! They're perfect for trick-or-treaters in party bags, or for thoughtful Halloween gifts.
Click here for the tutorial, via Girl Just DIY.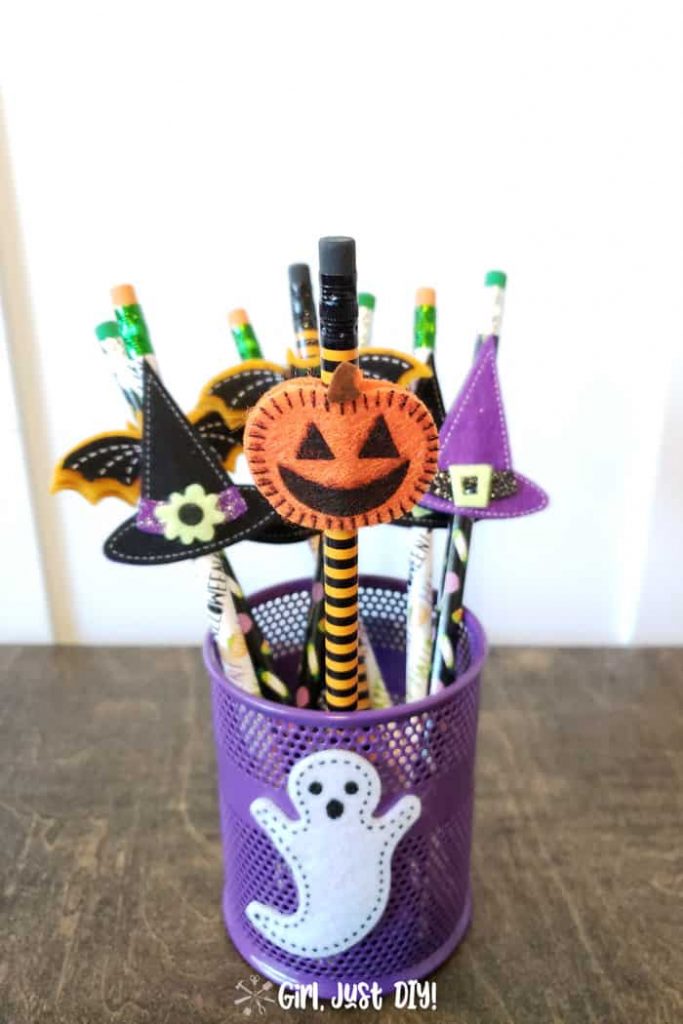 We hope you enjoyed our list of Halloween crafts for adults (and some bonus additions for kids)
If you have a fun Halloween craft idea for us to add, drop a comment below! We're always looking for more boo-tiful inspiration in one of the most fun holidays of the year.