*FYI - this post may contain affiliate links, which means we earn a commission at no extra cost to you if you purchase from them. Also, as an Amazon Associate I earn from qualifying purchases. Check out our Privacy Policy and Disclosure. for more info.
If you're on the hunt for adorable Harry Potter wedding gifts, you're in the right place!
Shopping for wedding gifts is (admittedly) a very stressful affair even on the best of days, but luckily, if you know the couple is super into Harry Potter, the amount of cool gifts you can get them is endless. In this post, we round up 10 of our favorites.
So, zap that stress away! Below you'll find a romantic and magical roundup of amazing Harry Potter wedding gifts every Potterhead couple is sure to enjoy. Hope you find it helpful!
Pin for later: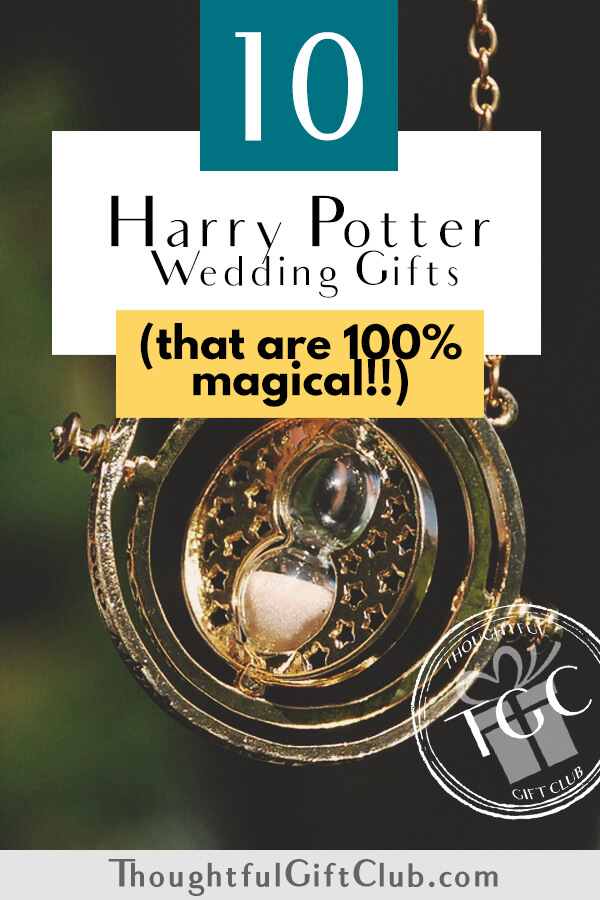 1. This adorable "Always" cutting board
This awesome Harry Potter wedding gift can be customized with all sorts of wonderful details, including the couple's name and of course their wedding date. If it's a truly obsessed Potterhead couple you're shopping for, the "Always" in classic Harry Potter font is of course sure to please. Click here to price check.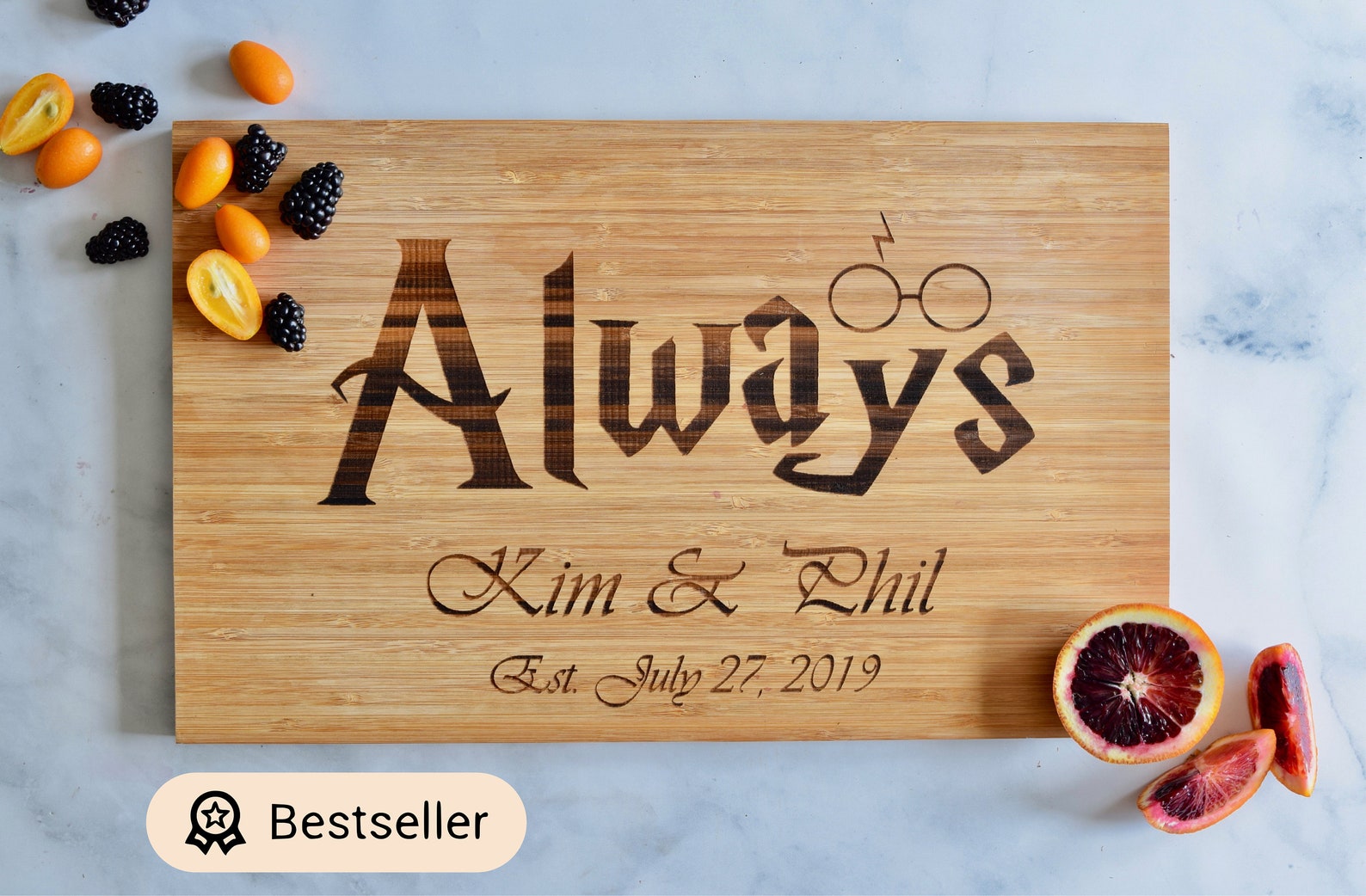 2. This set of gorgeous HP wooden coasters
For a similarly practical HP wedding gift, check out this set of awesome wooden coasters. Emblazoned with a cool Deathly Hallows symbol, you can of course get these personalized with the couple's name as well for a perfectly thoughtful finishing touch. Click here to price check.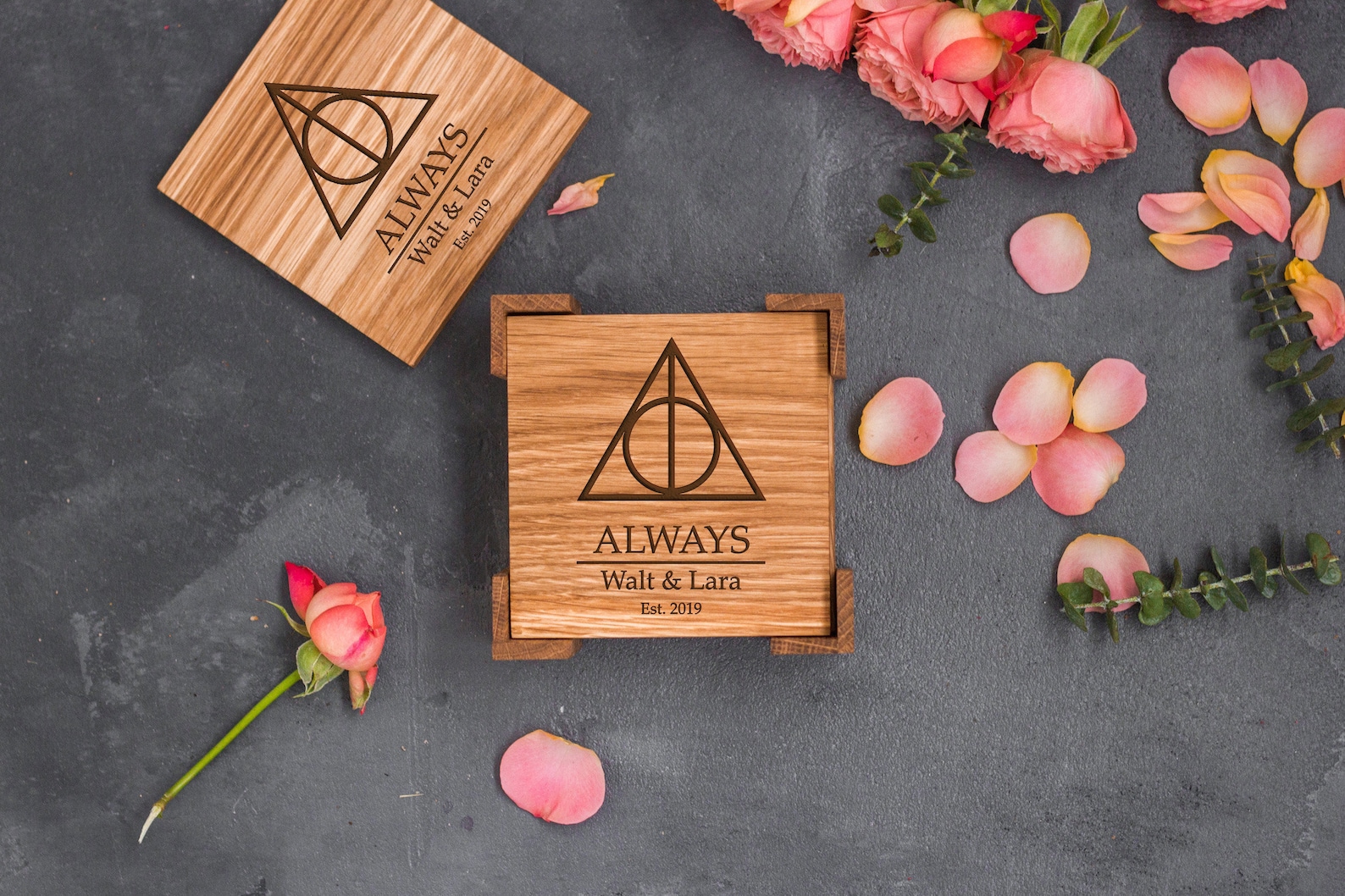 3. This personalized couples' Harry Potter Wall Art
For something more low-key but still adorable, check out this cute Hogwarts wall print that you can get personalized with the couple's name/figures. If you're struggling to find a Harry Potter wedding gift that is budget-friendly but still thoughtful, consider immortalizing their love (and their love for Harry Potter) with this awesome gift that won't break the bank. Click here to price check.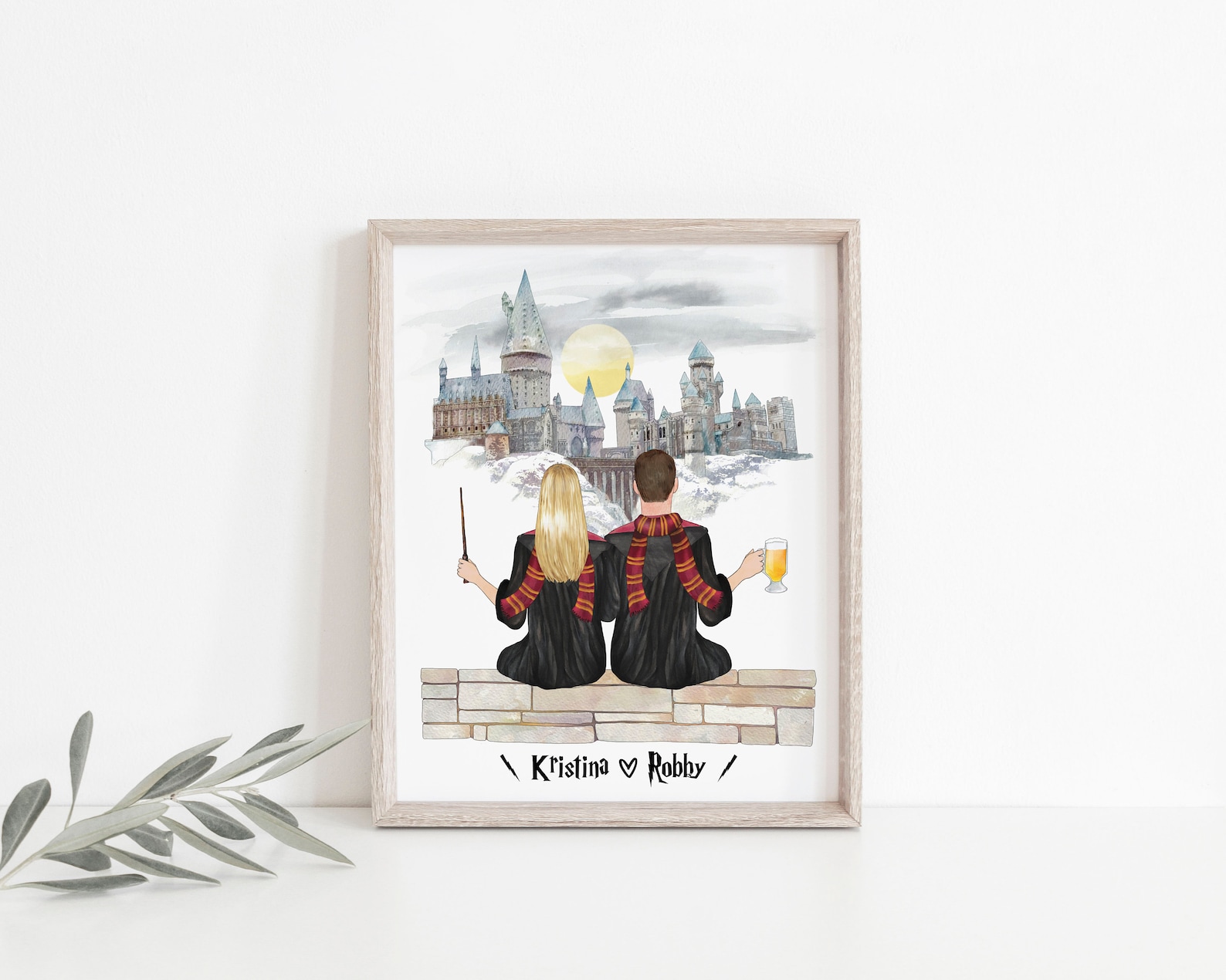 4. This customized (hand-drawn) portrait
To kick things up a notch on the Hogwarts portrait front, you can also commission a customized hand-drawn portrait of the couple decked out in Hogwarts robes. The best part of this gift is of course it's 100% personalized for the couple (down to their faces and houses of choice), and is sure to bring a smile whenever they look at it. Click here to price check.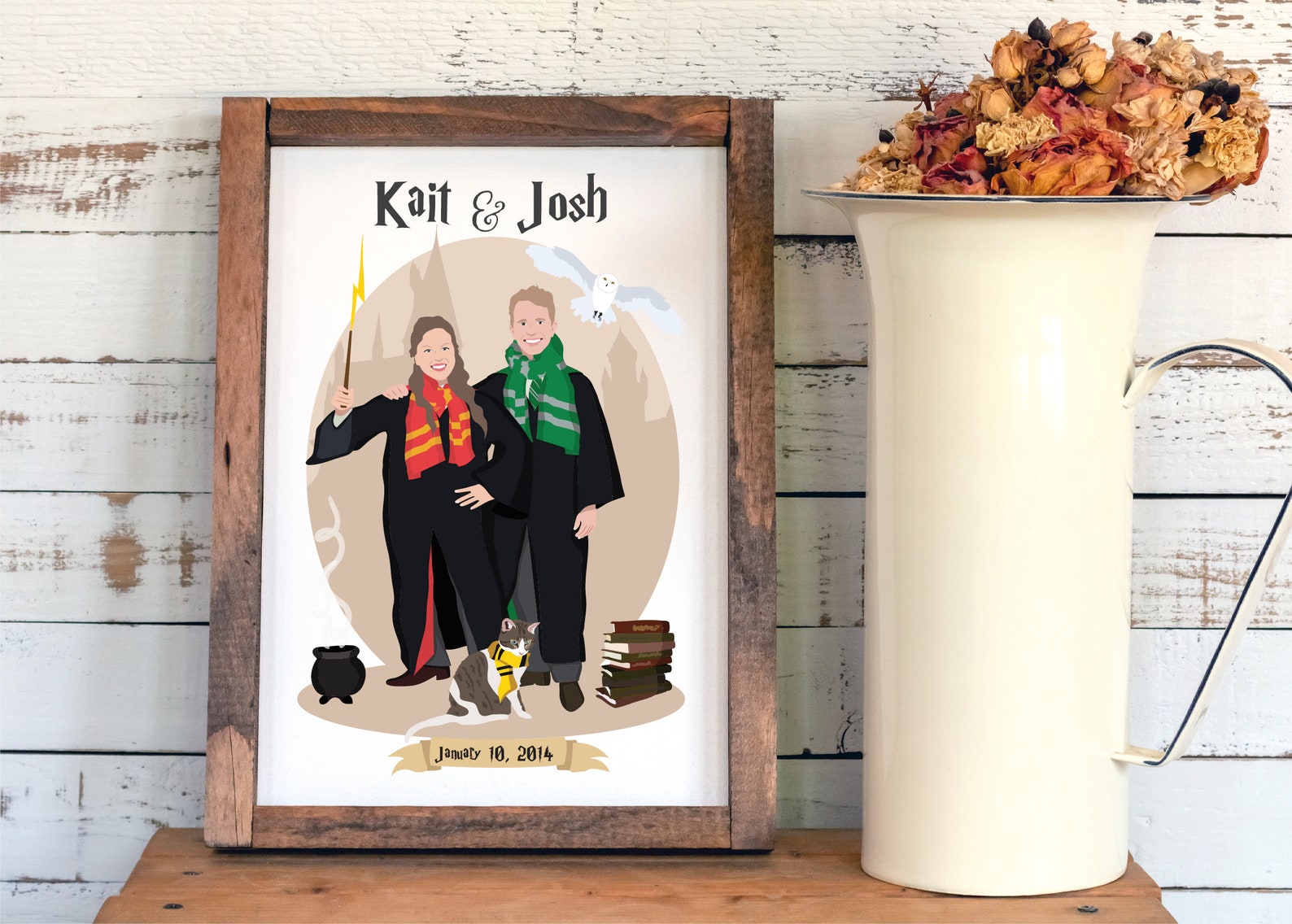 5. These adorable matching glasses
While it's likely the happy couple will be downing a great deal of fizz on their wedding day, why not give them more reasons to pop a bottle here and there with these adorable Harry Potter themed champagne flutes? You can also get them on other types of glassware if bubbly isn't really their thing. Click here to look at the different options.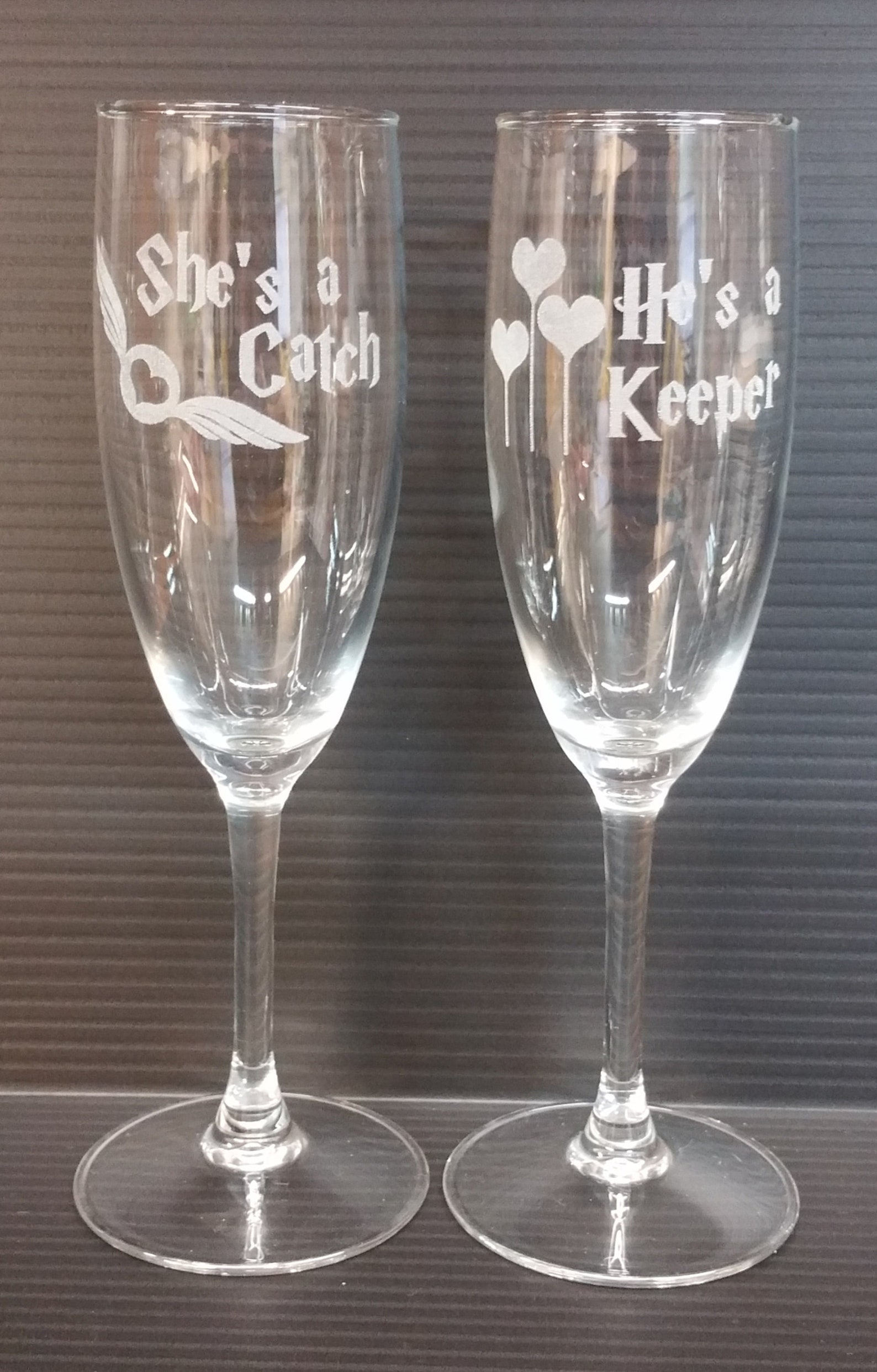 6. This super cute Harry Potter doormat
If you want to rake in endless brownie points for a super practical, yet adorable gift, then look no further than this sweet Harry Potter themed doormat. Click here to price check.
PS: You might be interested in checking out our full roundup of Harry Potter housewarming gifts here.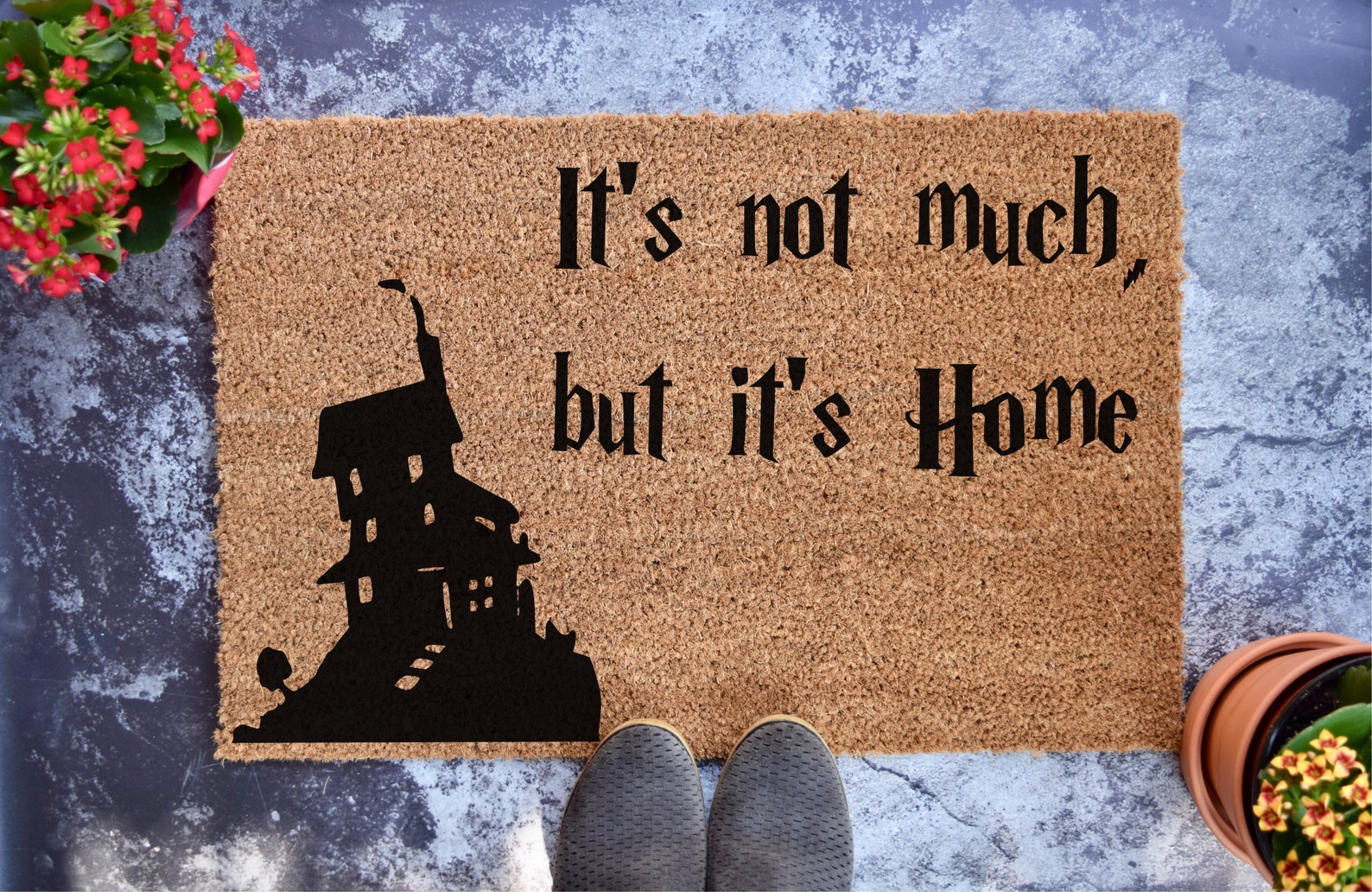 7. This matching cushion set
For a wonderfully geeky home decor gift, consider getting the happy couple this matching set of Harry Potter cushions. This is one Harry Potter wedding gift that is guaranteed to make them smile. Click here to price check.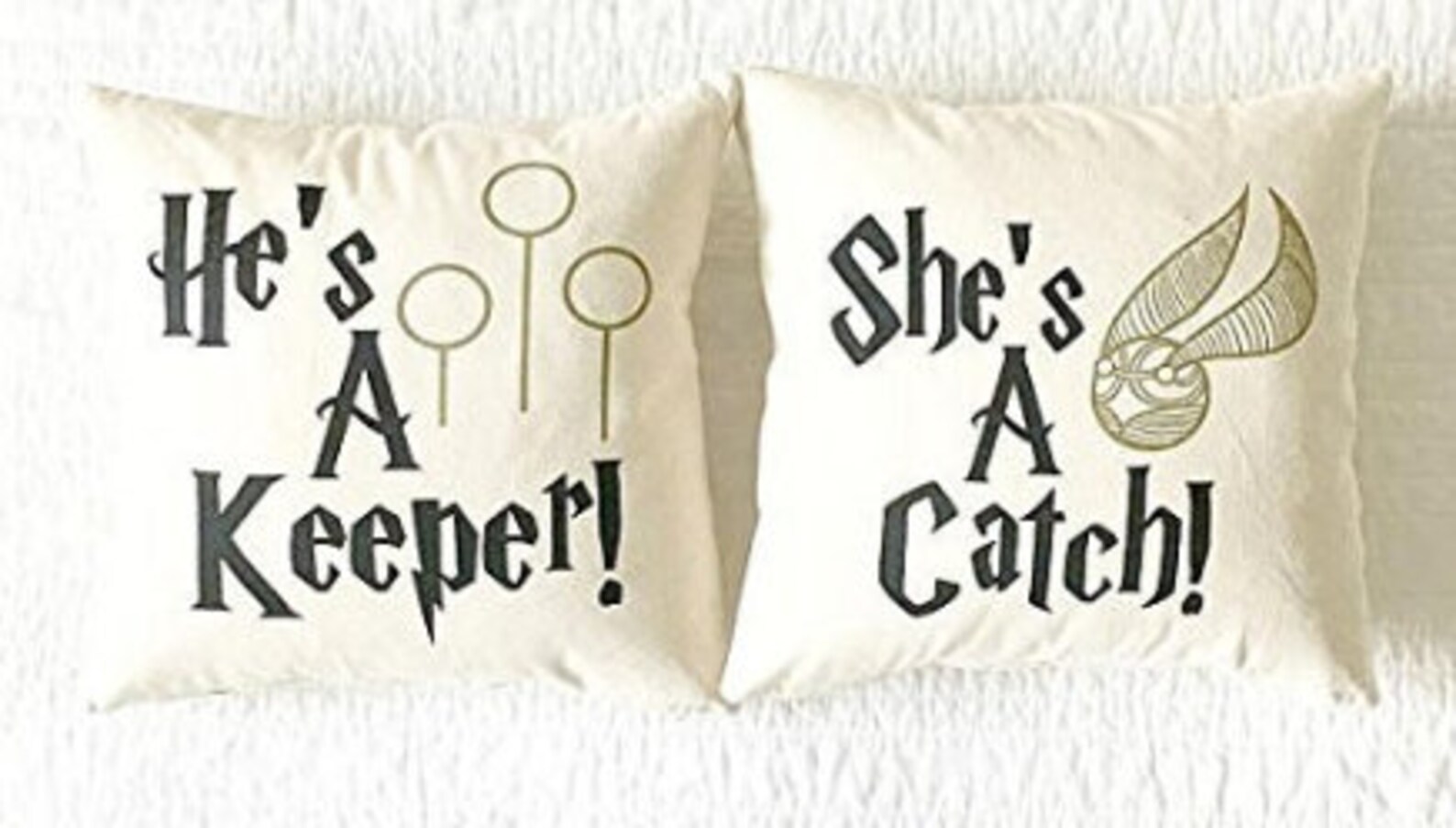 8. Some fun Harry Potter scented candles
For a unique wedding gift that they'll be able to enjoy long after their wedding day, consider gifting the couple a set of Harry Potter inspired scented candles. The selection out there is enormous, but some examples of the ones you can get include Fire Whiskey, Gilly Water, Floo Powder and more. Click here to price check.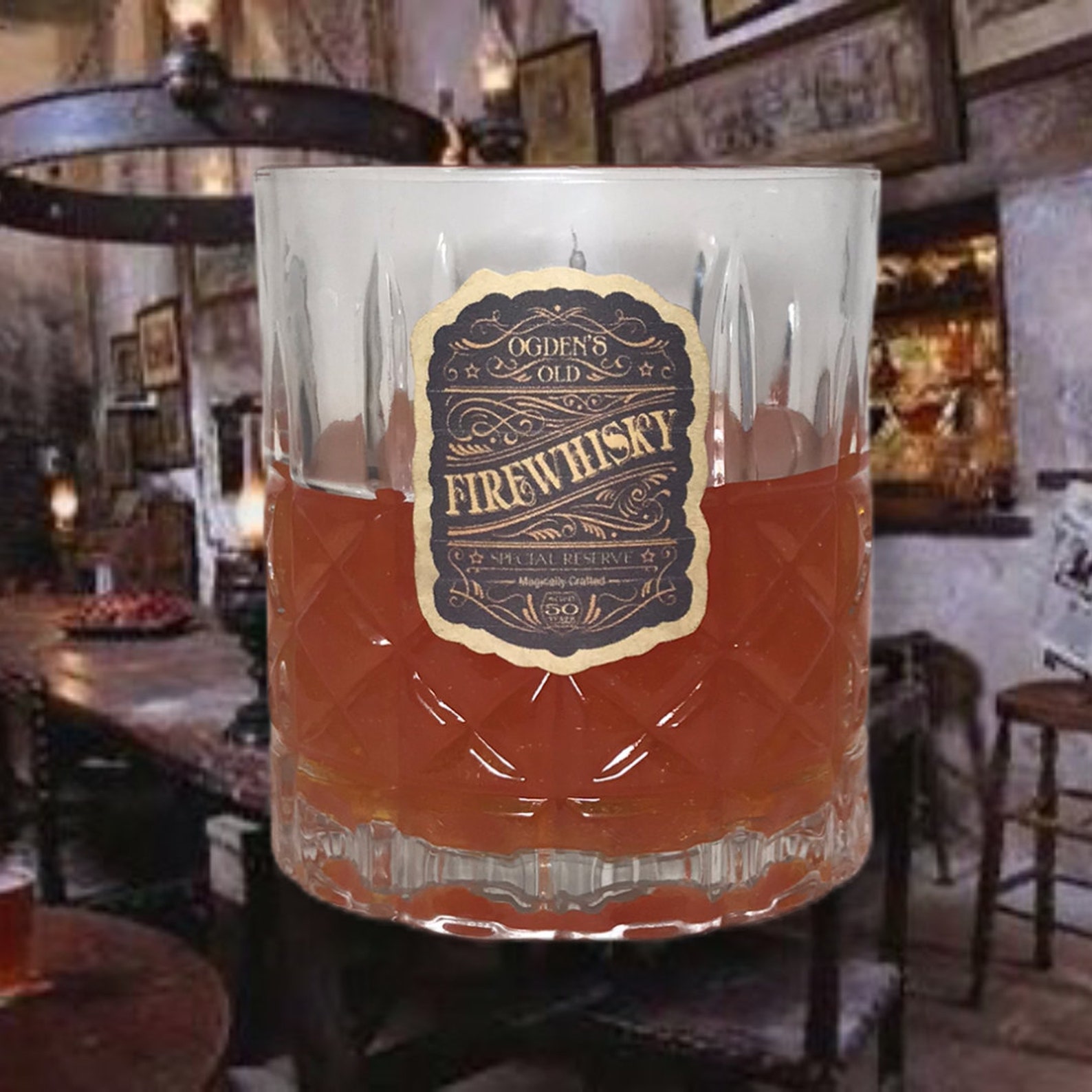 9. Cute Matching Harry Potter Tees
Sure it's a little dorky, but if the couple you're shopping for is shamelessly cutesy and wouldn't mind rocking a matching set of tees, this would make one awesome (and simple!) Harry Potter wedding gift. Click here to price check.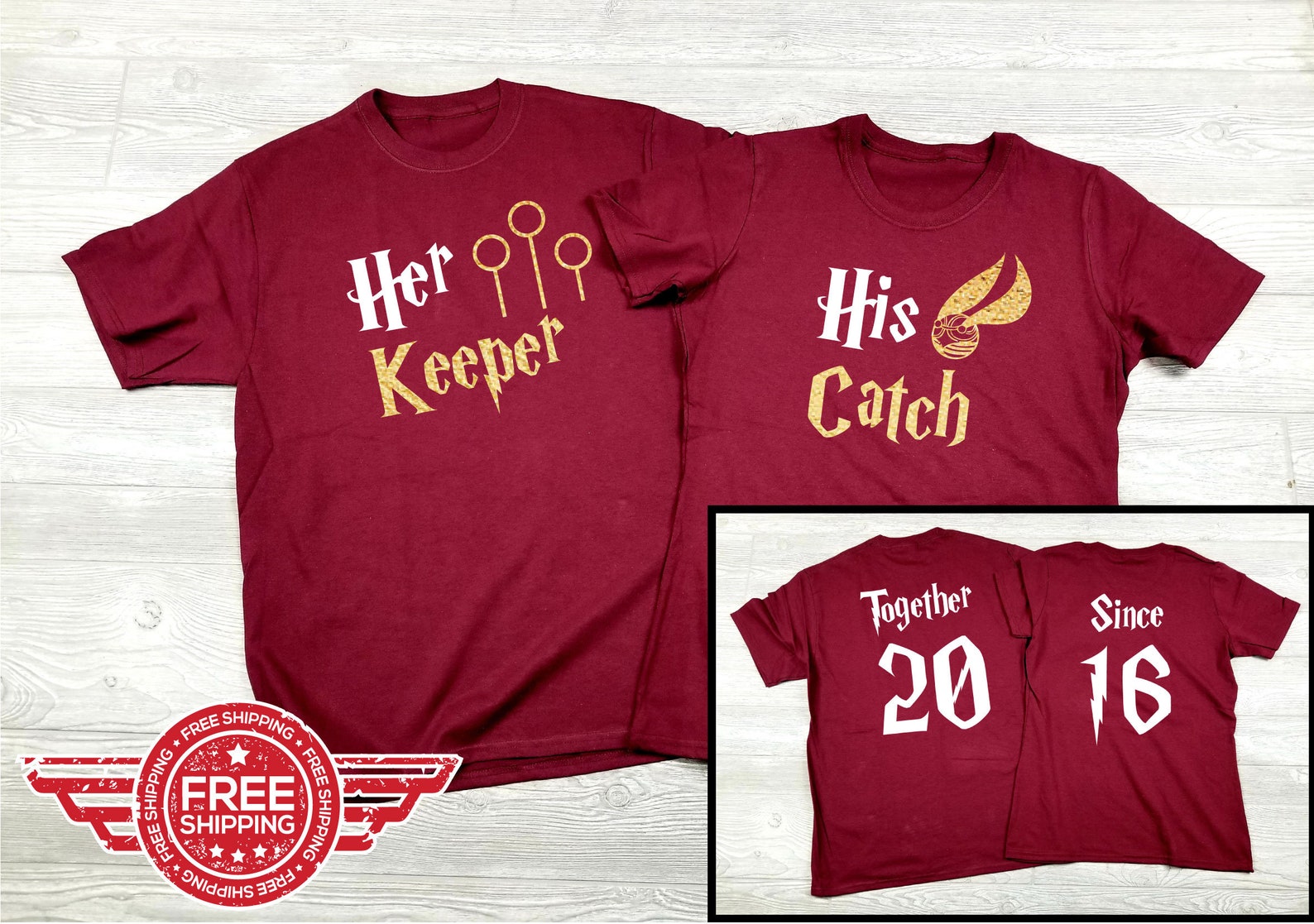 10. A Harry Potter experience for their honeymoon
Last but certainly not least, a truly epic Harry Potter themed wedding gift would be to give the couple a cool HP-themed experience. There are lots of options out there – you just have to be creative!
Sure, you may not be able to give them the gift of honeymooning at Hogwarts (although there are several places you can visit Hogwarts IRL)… but there are definitely ways to give a similarly magical gift.
From gift certificates to things like the Harry Potter Studio tour near London or the Wizarding World of Harry Potter at Universal Studios, all the way to more low-key experiences like a Harry Potter escape room or HP-inspired cocktail class, there are tons of cool thing you can book for them.
The exact activity might depend on where they'll be honeymooning or where they normally live, but have a Google for "Harry Potter experiences + location" and see what you find!
PS: Is the happy couple going to London during their honeymoon? Click here for a list of Harry Potter experiences in London.
Hope you found this list of Harry Potter Wedding gifts helpful!
Let us know in the comments if you have any more ideas.