*FYI - this post may contain affiliate links, which means we earn a commission at no extra cost to you if you purchase from them. Also, as an Amazon Associate I earn from qualifying purchases. Check out our Privacy Policy and Disclosure. for more info.
Spending Valentine's Day in lockdown and not sure what to caption your adorable V-Day pics?
Here are some ideas to get those creative juices flowing, with options that are funny, punny, and heartfelt!
PS: You might also like our list of lockdown-friendly Valentine's dates here.
Pin for later: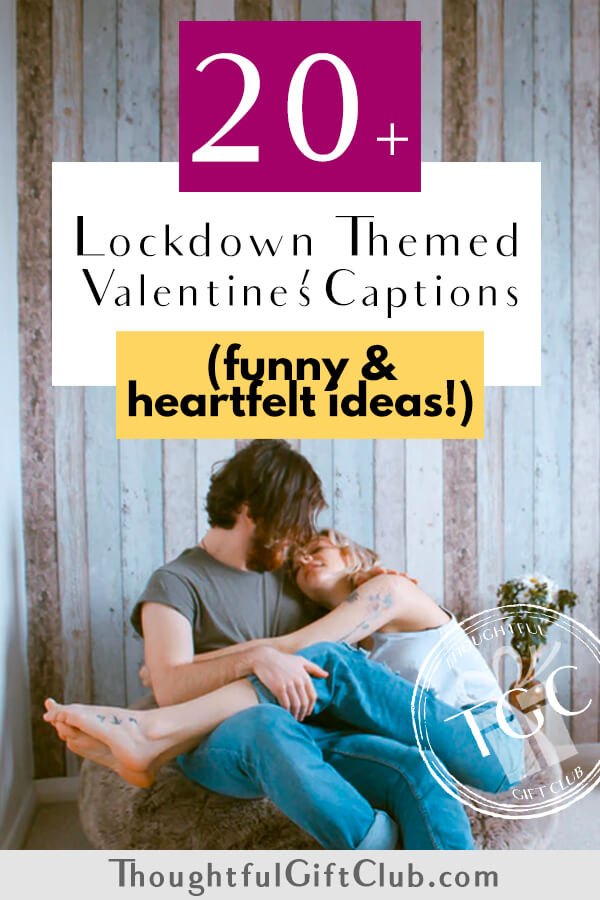 Funny Lockdown Valentine's Day Instagram Captions
Don't want to get too mushy on social media? We feel you. Here are some lockdown themed Valentine's Day captions that are more lighthearted, and likely to make all your friends and family laugh.
I love you to the kitchen and back… Unfortunately the Moon is not open to visitors at the moment. Happy Valentine's Day to my lockdown lover!
Well, if lockdown hasn't made us hurl each other out the window, then nothing will. Happy Valentine's Day from me and the only human I've spoken to in 3 months!
Live, laugh, lockdown. Happy Valentine's Day from our bubble to yours!
Cheers to a crappy year for proving that our love is indeed essential. Happy Valentine's Day to my the love of my (lockdown) life. Cheers to many more… hopefully with some more space to roam around!
It took a pandemic for this one to lock me down, but hey, I've been thankful for every minute. Happy Valentine's Day from mine to yours!
This Valentine's Day, we decided to have a romantic meal for two in the newest restaurant in town: Le Kitchen. We had to make the food ourselves and there was no service, but we coped alright. Hope you all had a wonderful day!
Like two peas in a tiny, tiny, socially distanced pod. Happy Valentine's Day to my partner in locked down crime!
You're my best view… literally, because I can't go anywhere else. Happy lockdown Valentine's, you.
My quarantine valentine… I know those two don't rhyme but shhh let's just pretend, okay?
Wow, are you a mask? Because you just took my breath away! Happy Valentine's Day from me and my Lockdown Lover!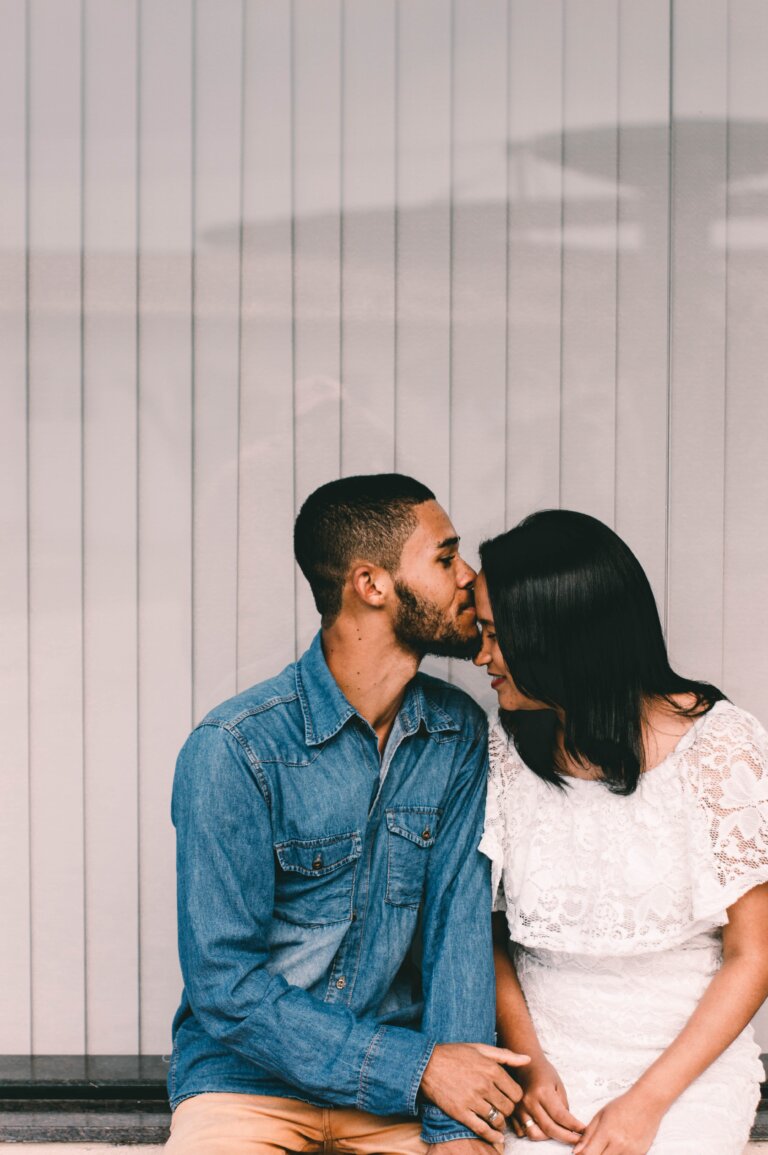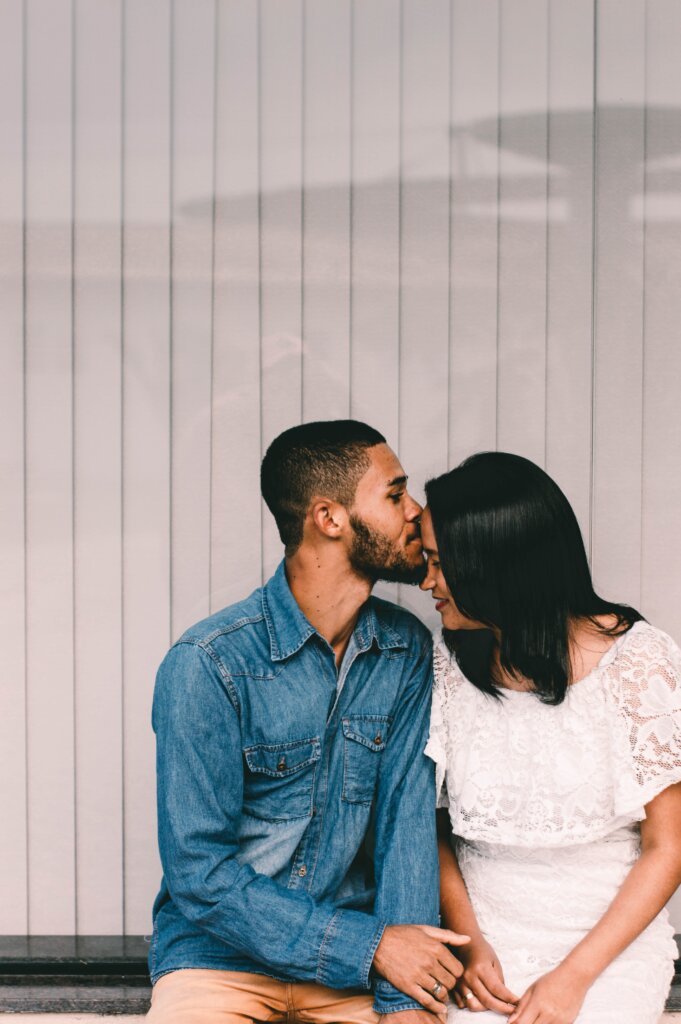 Mushy and Heartfelt Lockdown Valentine's Day Captions
Want to showcase your love for all the world to see? Here are some truly mushy lockdown-themed Valentine's Day captions to show off on Instagram, Facebook and everywhere else.
Cheers to my lockdown lover. No one else I'd rather spend Valentine's Day with!
Roses are red,
Chocolates are brown,
There's no one I'd rather
Be with for lockdown.
Lockdown isn't all bad… Thankful to have this one by my side, today and everyday. Cheers to you, Valentine.
Lucky to be locked down with this beauty of a Valentine… thank you for making me feel loved everyday. I love you, and Happy Valentine's Day!
The past year has made me grateful for all the little things – from hot coffee in the morning, belly laughs at night, and all the random moments in between. Happy Valentine's Day to my lockdown lover who gives me a reason to smile every day…. I love you!
Staying at home has never felt so sweet. Thank you to my Valentine for making everything so bearable. I love you!
The greatest Valentine's gift was simply your presence! Thankful for all the time we've had these past few months to laugh together, learn each other's quirks and fall even deeper in love than ever in spite of them. Happy Valentine's Day to the person who makes staying at home so easy. I love you!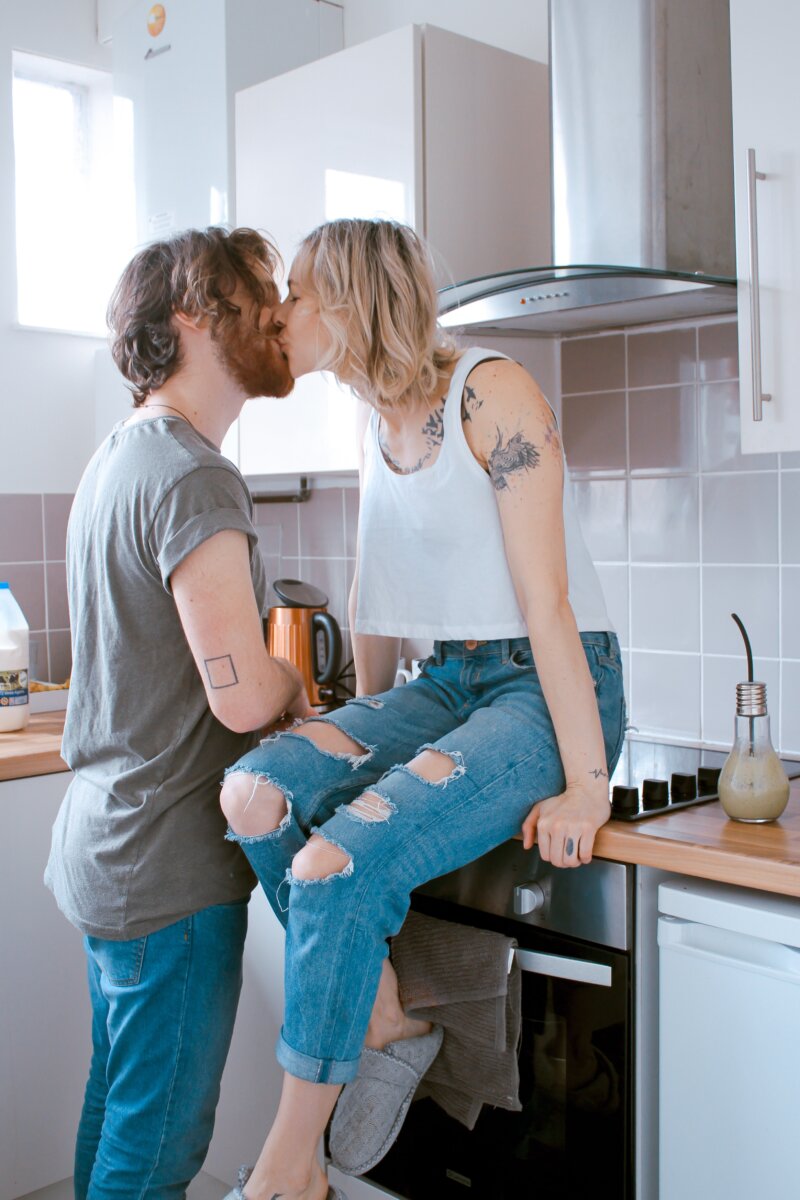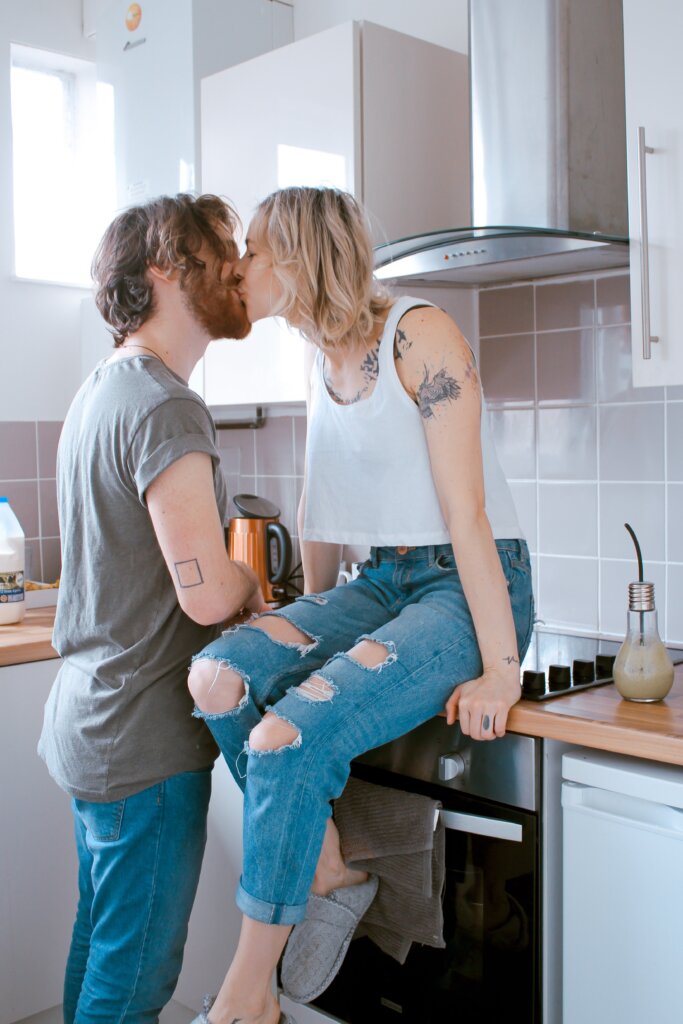 Clever Lockdown Puns & Punny Captions for Valentine's Day
Last but not least, you know we here at Thoughtful Gift Club love a good pun, so here are some punny lockdown/quarantine Valentine's Day caption ideas for you to steal:
Valen-time to party it up! By that, we mean drinking wine alone in our kitchen. What else is new? Happy Valentine's Day, everyone!
It'd be a Valen-crime if I didn't give this one a shoutout today… thanks for being my rock this past year. Happy Valentine's Day!
Impossible to Mask my love for this one… Cheers to the weirdest Valentine's Day we've had together yet!
Couldn't have asked for a better person to be part of my Quaran-Team this year. Love you loads – Happy Lockdown Valentine's!
Lean, mean, quaran-team. Happy Valentine's Day from us to you!
Happy Valentine's Day to my QuaranQueen. So many things to love about you, and discovering more everyday. Thank you for being such a light in my life!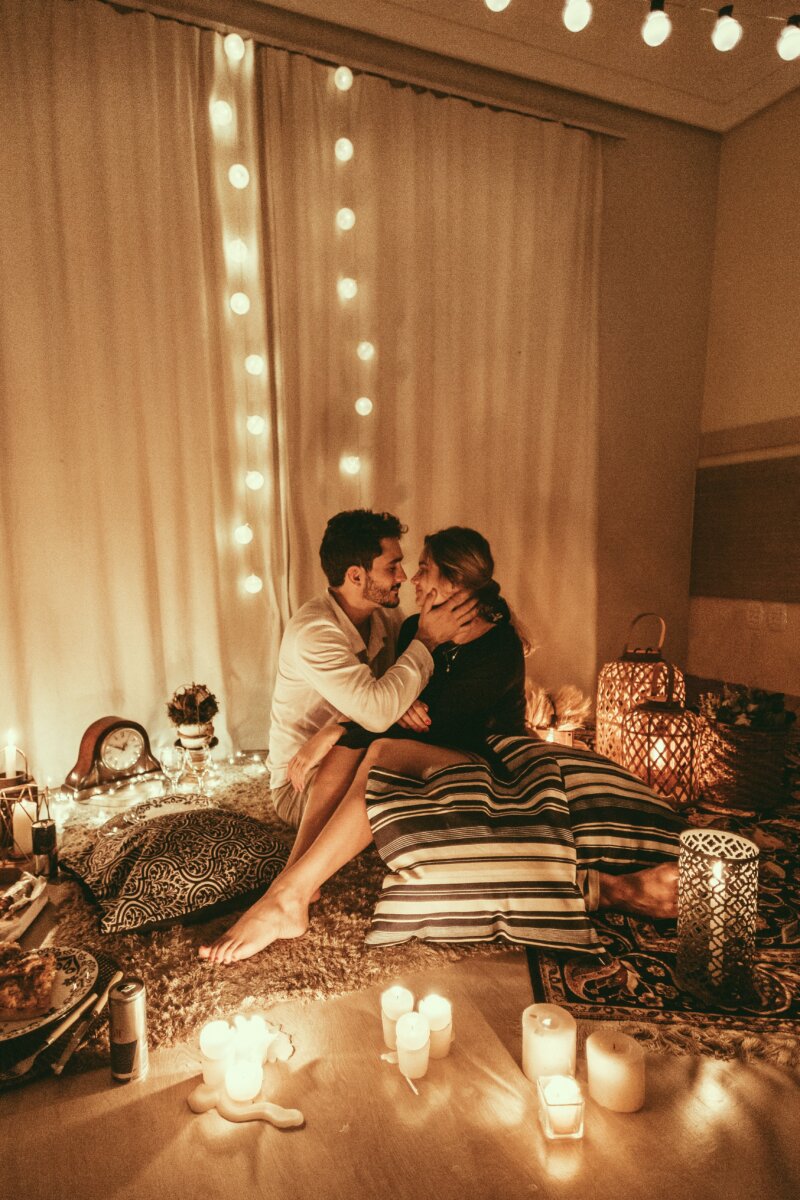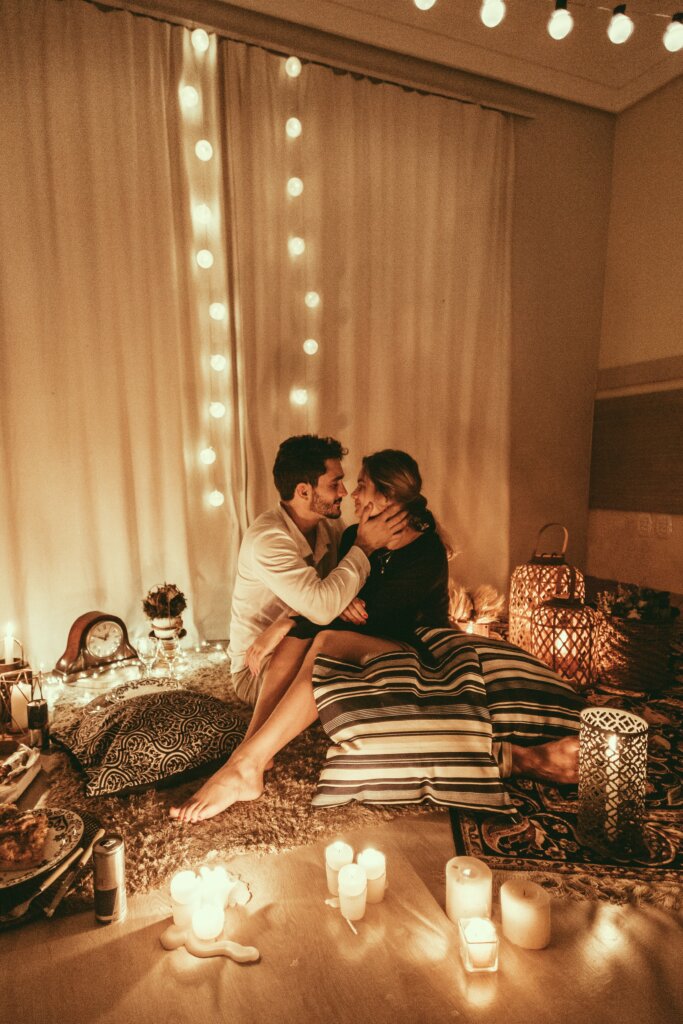 We hope you enjoyed these lockdown Valentine's Day captions!
Let us know in the comments if you can think of any more we should add to the list. Happy (early) Valentine's!