*FYI - this post may contain affiliate links, which means we earn a commission at no extra cost to you if you purchase from them. Also, as an Amazon Associate I earn from qualifying purchases. Check out our Privacy Policy and Disclosure. for more info.
Wondering how to build your own awesome snack backpack? This tutorial will show you step by step how to do it!
I have to admit, a couple months ago when I read this Foodbeast article about girls in Korea assembling 'snack backpacks', I fell in love.
What is there to not love? It is literally a backpack made of snacks. When I saw this article, I immediately sent it to my fellow snack-loving friend, Katie, and last week, when it came time for Katie's birthday… well, I knew what to do.
Easily customizable, easily crafted and unimaginably wonderful, these snackpacks are perfect gifts for any human in your life. So, without any further ado, here's a step-by-step on how to make one of these beauties for yourself!
Pin for later: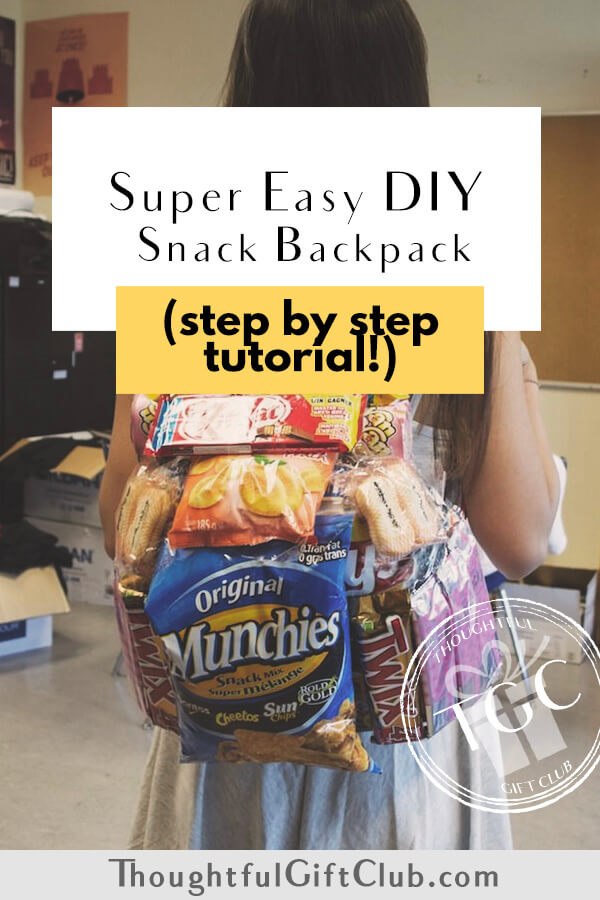 What you'll need for your snack Backpack:
Snacks snacks snacks
Clear packing tape (this is crucial – regular scotch tape won't cut it)
1. Buy an absurd amount of snacks
This will be the most fun you ever have in a grocery store. Go wild, buy all the junk food you've ever dreamt about. Of course, ensure that any snacks you buy are nicely packaged. I suggest buying a few bags of your favourite chips as the base of the backpack and some narrow snacks (chocolate bars, Fruit 2 Gos, etc.) for the straps. I also purchased doubles of certain snacks so that my final design would be symmetrical.
2. Make da base
Use chips for the base of your backpack. This is good for getting the shape of the whole thing started without making it super heavy. I taped 3 bags of lays together, with a bag of Munchies on there for good measure. I wish I had more tips to give you about taping technique, but seriously just tape the bags together and add layers as needed to make it more secure. Be careful not to get too excited and crush the chips!
3. Create the straps
As I mentioned before, narrow snacks such as chocolate bars and Fruit 2 Gos are perfect snackpack straps. I opted for Fruit 2 Gos because a) they were on sale and b) they seemed at least kind of healthy (read word: fruit). Tape them together (6 per strap). Be sure to tape them really securely because assuming your snackpacker actually wears it around (which duh obviously they will), you need to make sure the straps don't break mid-strut.
4. Get the straps on there
Use lots of tape for this bit, because the straps are the part of your snackpack that will be most susceptible to breaking! Tape one end of your strap to one of your chip bags and layer lots of tape on there, then do the same for the other end of the strap.
5. Go nuts and add the rest of your snacks
With the base of the backpack established and the straps taped on, you basically now have free reign to do whatever you want. All those snacks that you shoved into your basket earlier? Time to get them on there! For purely aesthetic purposes, I tried to keep my bag as symmetrical as possible. There's only two things you need to keep in mind here: firstly, remember that this is a backpack, so add your snacks on in a way that maintains a standard backpack shape. Secondly, use a lot of tape. That is all.
Isn't it beautiful? Just keep adding until you're happy with the result and then you're ready to go! Of course, don't forget to try it on before you gift it! Make sure that your snackpack is the real deal: Edible and wearable art.
And that's it! I hope you guys have tons of fun assembling your own snackpacks and I hope that the recipients of your epic gift know just how lucky they are to have you as a friend. Until next time folks, I'm off to school!