*FYI - this post may contain affiliate links, which means we earn a commission at no extra cost to you if you purchase from them. Also, as an Amazon Associate I earn from qualifying purchases. Check out our Privacy Policy and Disclosure. for more info.
Although I don't consider myself much of a gamer, most of my close friends know that I will easily fangirl at the sight of anything related to the Legend of Zelda. I can shamelessly admit that I own a functional ocarina of time, I carry mints around in a mini Hylian Shield case and oh, yeah, I also happen to own a life-sized Hylian Shield as well.
So, last summer, when I had the opportunity to bake a cake for a fellow Zelda appreciator, I knew that I had to do it – a Hylian Shield Cake – the ultimate Zelda cake for any fan!
… and I'm happy to report that it turned out just as epic as I hoped! Here's how I did it.
Pin for later: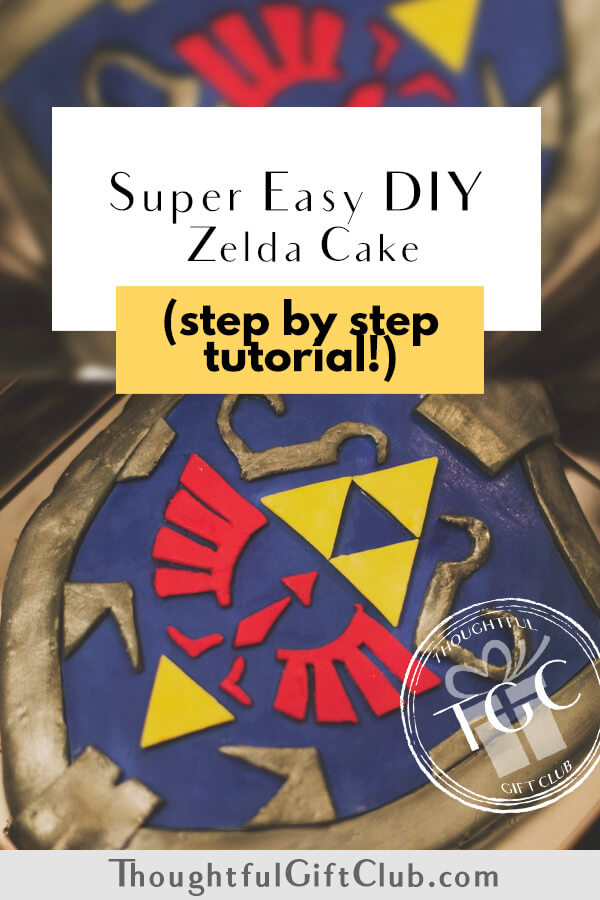 What you'll need for Your Zelda Cake:
A cake recipe (my go-to is here)
* Rather than buy each colour individually, this fondant multi-pack has small portions of blue, red and yellow fondant which should be enough for this cake
White fondant (I make my own. Recipe here)
Vodka (Not joking, you genuinely need this)
The ZELDA CAKE MAKING process
The cake itself was actually not too difficult to make. Here is the process that I followed:
The cake
I baked two chocolate 9×13 sheet cakes and then stacked them to get a good height. Afterwards, I printed out an outline of the shield, cut it out and carved around my stencil with a knife. After stuffing my face with the leftover edges (yeah I actually do that and it. is. awesome.), I covered it in frosting, then blue fondant and added the cut-out details (using water as a 'glue' to attach them on the cake).
The fondant
While making fondant at home is cheaper and not too difficult (see the recipe I use here), I really wanted vivid and bright colours for this cake. For that reason, I bought the blue, yellow and red fondant from Michael's and only made the grey one myself (by making white fondant first and adding black food colouring). Achieving such bright colours can be really tough at home without using absurd amounts of colour gel, so this was just easier!
Note: look into buying a fondant multi-pack that has the blue, yellow and red fondant packaged together. If you don't waste any of it (or make any mistakes!) then a multipack should have enough of each colour for the purpose of creating the shield. Here's a cheap one on Amazon. Buy bigger quantities if you're paranoid you might need more.
The decorating
To literally make the cake shine, I enlisted the help of some good old vodka. … And pearl dust of course! Pearl Dust is generally available at most craft or cake supply stores. For this cake, I bought some Wilton's Silver Pearl Dust. By mixing the pearl dust with a bit of clear alcohol (vodka in this case), I was able to take a paint brush and use the mixture as a silver paint. This is how I achieved the metallic look that can be seen in the silver parts of the shield. It only took a bit of extra work and made a huge difference in wow factor. I genuinely can't believe how well it worked! It gave my shield a brilliant metal sheen that really took it to the next level. And don't worry, the vodka evaporates soon after it's painted on, so your cake will not get you drunk. (Sorry to disappoint)
Overall, I was really pleased with how this cake turned out! Watching the pearl dust work its magic was just awesome and the cake recipient enjoyed it too. Because I made this cake a year ago, I neglected to take adequate 'process' and 'tutorial' photos, but this video from Nerdy Nummies is really great and essentially details the process I followed (with the exception of the pearl dust). Check it out: