*FYI - this post may contain affiliate links, which means we earn a commission at no extra cost to you if you purchase from them. Also, as an Amazon Associate I earn from qualifying purchases. Check out our Privacy Policy and Disclosure. for more info.
If you're lucky enough to have a Hufflepuff to shop for right now (even if it's yourself!), here's some good news – we've rounded up the best Hufflepuff gifts out there to make your task oh so easy.
Here's the thing: Hufflepuffs (and yes, I identify as one!) are probably some of the nicest, most inclusive people you'll ever meet… which means naturally, you should spoil them whenever you get a chance. Think of it as a nice little reward for their loyalty and patience.
So, from awesome Hufflepuff gear and prints to more unique Hufflepuff goodies like branded 'designer' bags, here is a roundup of amazing fits for Hufflepuffs that you won't be able to resist. Enjoy!
Pin for later: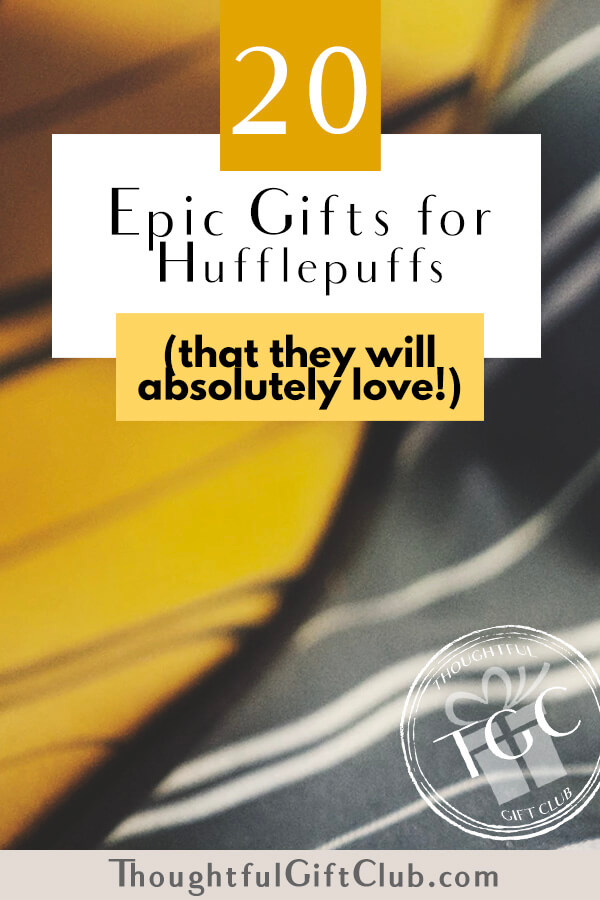 Hufflepuff Themed Gifts Under $20
Getting the perfect Hufflepuff gift doesn't need to break the bank. Here are some Hufflepuff gift ideas that are more than reasonable considering how awesome they are:
This awesome Hufflepuff Coffee Mug
We here at Thoughtful Gift Club love a good mug, and one of the best affordable Hufflepuff gift ideas you can take advantage of is this – an adorable cauldron-shaped mug emblazoned with the Hufflepuff crest. Click here to check reviews and prices. This is guaranteed to not just be an adorable aww-worthy gift, but a useful one too.
Why stop at just this one though? A set, or multiple is the way to go! Click here for a roundup of other fun Harry Potter mugs.
This cute Hufflepuff Keyring/Keychain
For another simple but effective Hufflepuff gift idea, why not get them a keychain so they can carry their Hufflepuffness proudly wherever they go? There are loads of options out there, but I really like this cute simple one. Click here to check prices and availability.
This Gorgeous Gold Foil Hufflepuff Notebook
If your lovely gift recipient loves Harry Potter, odds are they're probably pretty into notebooks (don't ask me why, it's just science). SO, if you're looking for a thoughtful Hufflepuff gift, consider getting them a nice notebook that features Hufflepuff elements. This gold foil one has the crest on the cover and is super gorgeous. Click here to price check it.
Framed Hufflepuff Quotes
If your gift recipient is in need of some new wall decor, something featuring framed Hufflepuff quotes might be a nice idea! I really like this bold print that contains the typical traits of Hufflepuffs, plus it has a bold and pretty design that would jazz up any wall, no matter how cluttered 😉 The bonus? This one is sold as a digital printable so it makes a great last-minute option – just print and frame. Click here to check the options.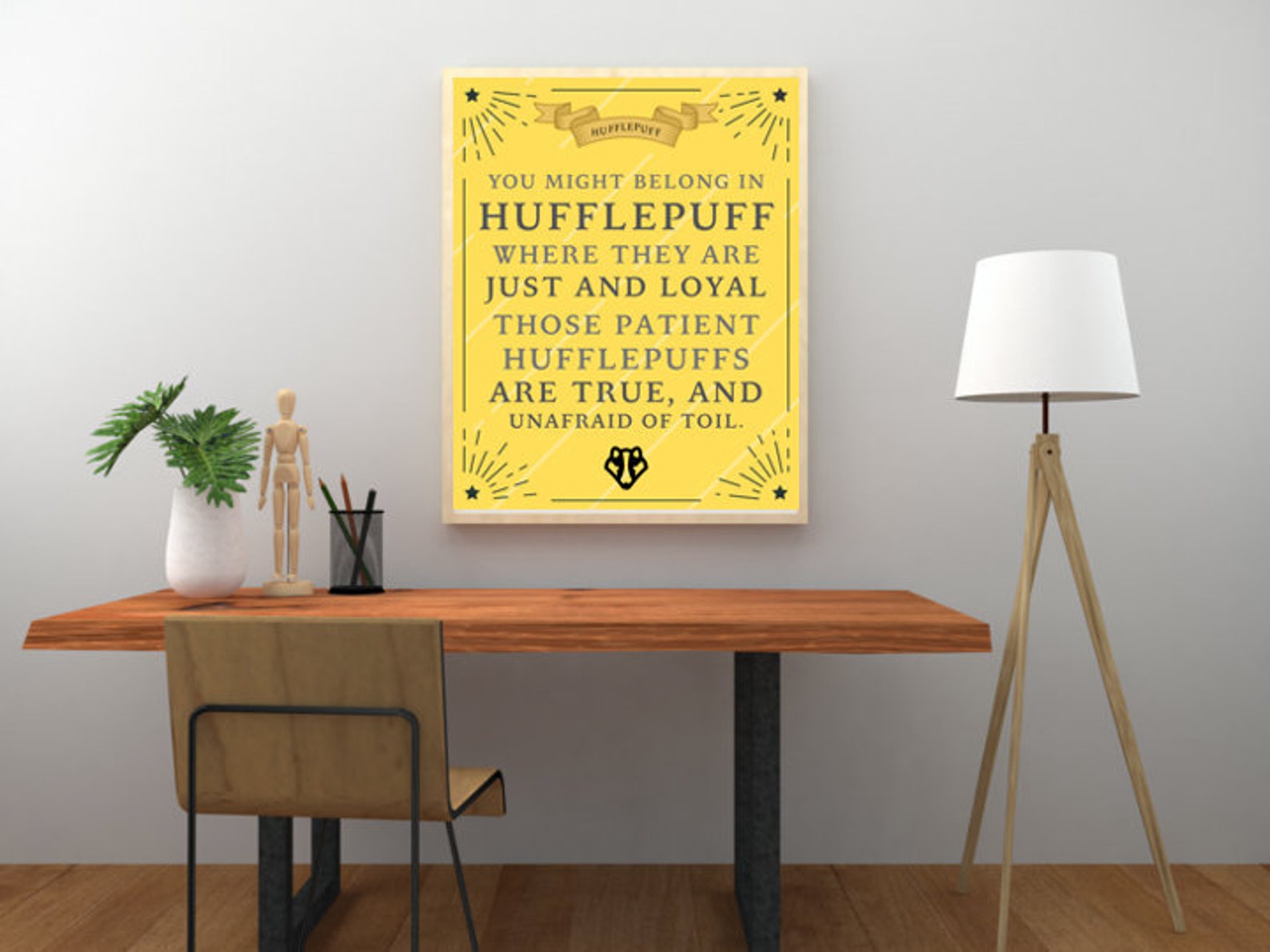 Fun Hufflepuff Posters
In a similar way, some Hufflepuff posters would also make a wonderful thoughtful gift, especially if the Hufflepuff in question has recently moved or is doing some redecorating in the near future. There are loads of options out there, from posters featuring Hufflepuff dreamboats like Newt or (* sob *) Cedric, to simple minimalist foil prints featuring the Hufflepuff crest. Click here to check the options.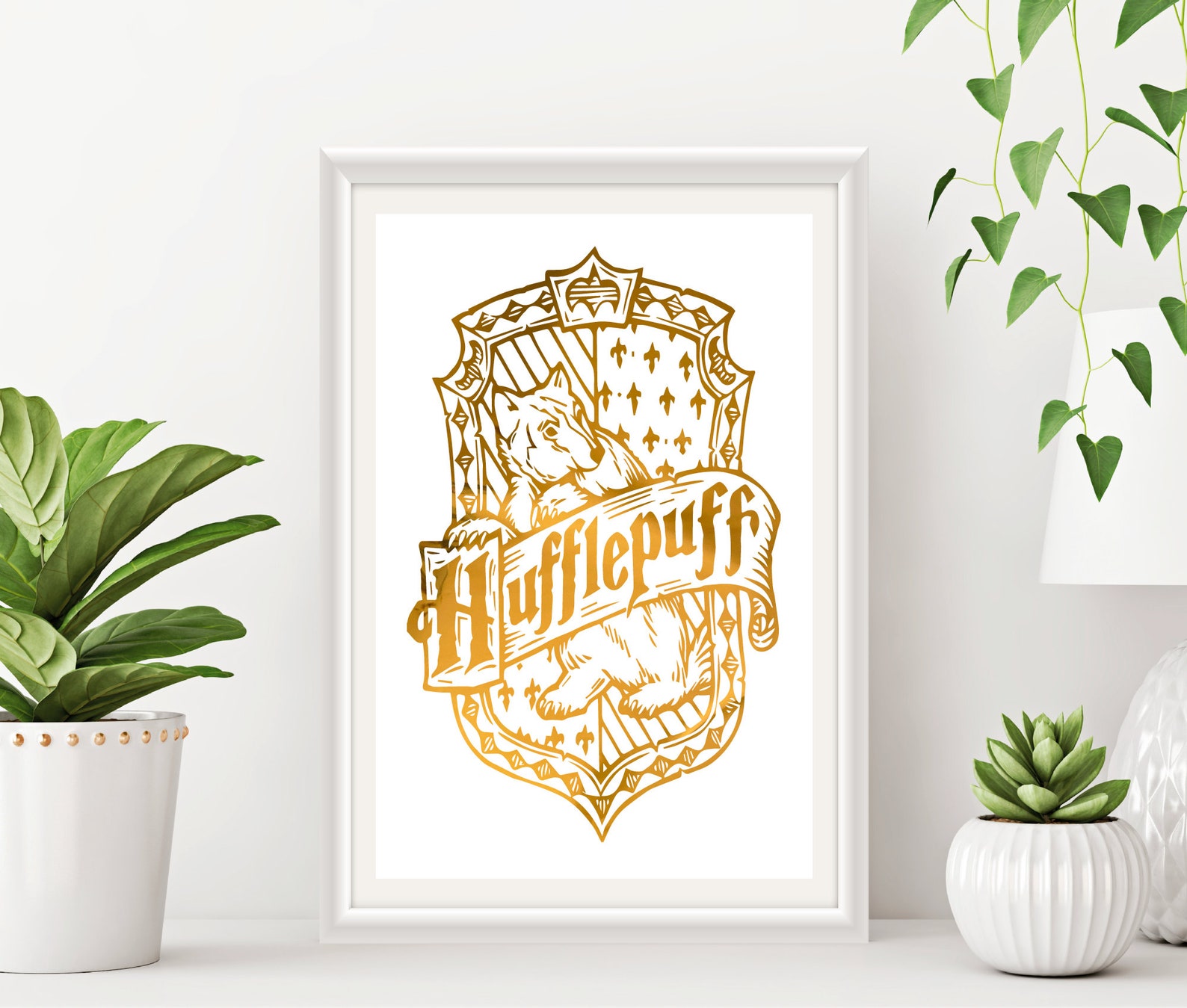 This Hufflepuff travel neck pillow
For the Hufflepuff who travels, consider gifting them this awesome travel neck pillow tastefully decorated with a little Hufflepuff crest. It's the perfect practical gift as well, plus it's relatively affordable and has great reviews. Click here to price check.
This cool Hufflepuff snapback
If your gift recipient is the type of person who likes to flaunt their Hufflepuff status proudly, check out this fun snapback that advertises their house clear as day. I personally like that it's somewhat subtle, so it's not glaringly obvious "Harry Potter merch" until you take a closer look at it. Click here to see to price check.
This spiffy Hufflepuff tie
This is the perfect cute little gift if your Hufflepuff is a little preppy – their very own Hufflepuff house tie! There are lots of options out there, from the more minimalist ones that simply rock the house colours, all the way to bolder ones like this that also sport the Hufflepuff crest. Click here to check out the options.
This super-cute Hufflepuff bowtie
Bows are a really cute gift idea if you're looking for a small gift that's still adorable and thoughtful. Besides its obvious use as a bowtie, this bow can also be repurposed as a hair bow, or um… if you're weird like me, a cute accessory for your favourite stuffed animal. Click here to price check.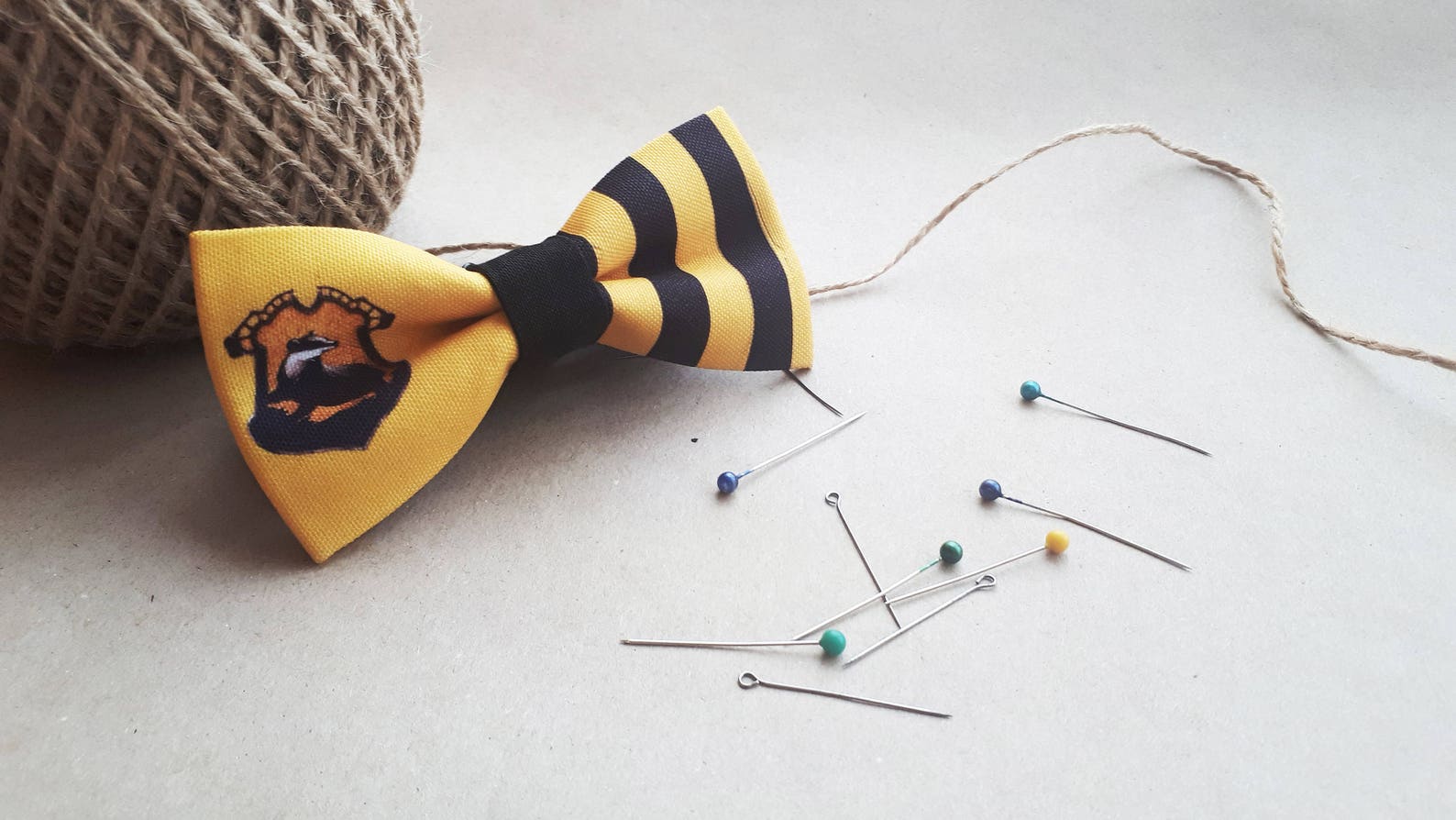 Adorable Hufflepuff badger pins & stationary
Lastly, for a really tiny but awesome Hufflepuff themed gift, consider getting them something with the Hufflepuff badger! A pin or a little notebook might be a great idea. I love this pin personally from Etsy (pictured below), with nods to Hufflepuff's mascot and of course the house's ties to herbology. Click here to price check.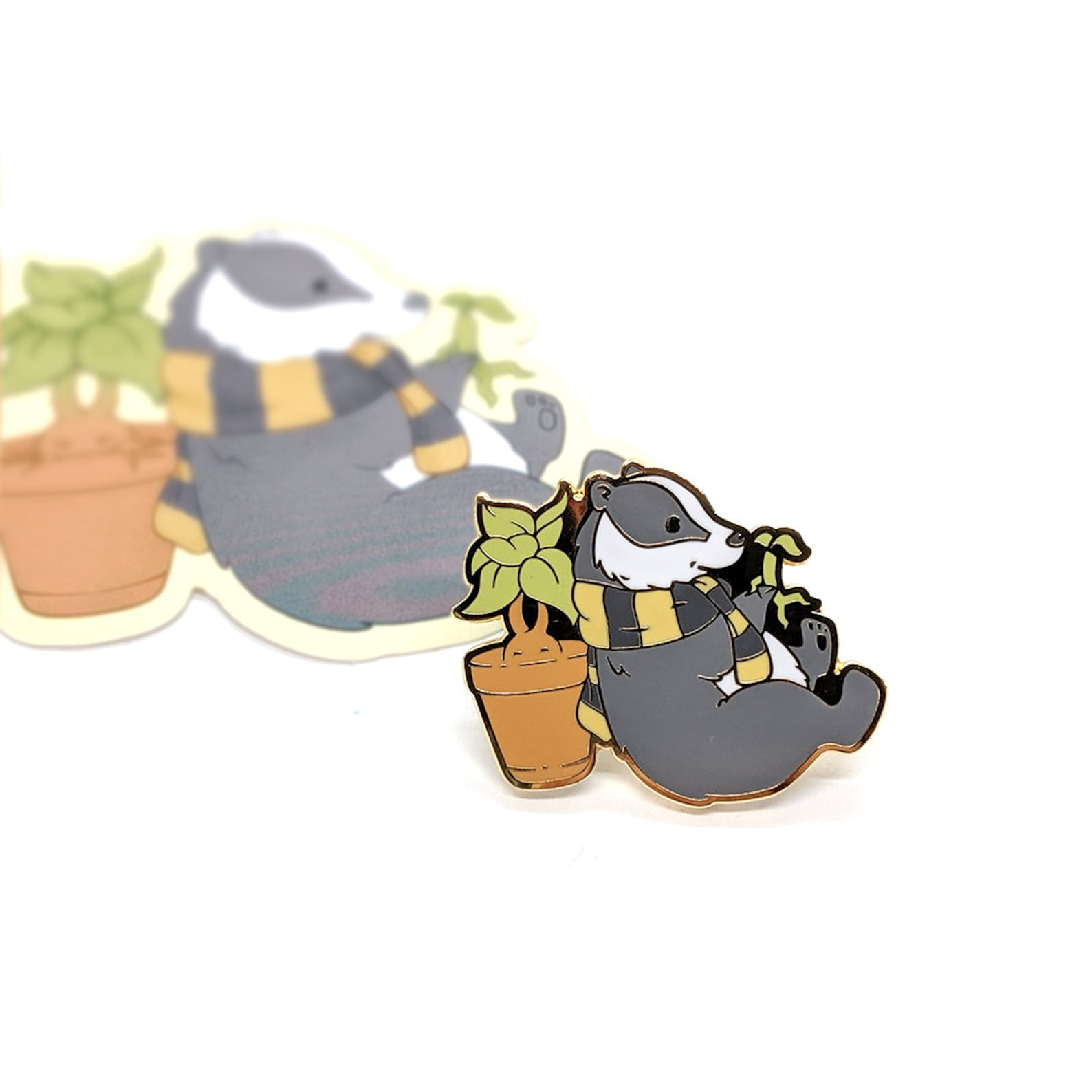 Hufflepuff Things that Cost $20-$50
Willing to spend a bit more to get that perfect gift for the Hufflepuff in your life? Here are some options that still keep things under $50 but are definitely worth the extra splurge.
This warm Hufflepuff scarf
Perhaps best suited for a winter birthday or Christmas gift, a nice Hufflepuff scarf is a great gift to get your Hufflepuff channelling their inner Hogwarts student. You'll find tons of options out there, but to be honest, many house themed scarves can be cheap or made of really thin material. To go for the ultimate wow-factor, pick a high quality scarf that will actually keep your gift recipient warm. I really like the look of this deluxe chunky knit one. Click here to price check!
This comfy Hufflepuff hoodie
Another comfy yet practical Hufflepuff gift is a hoodie, especially when they're well-designed and not just novelty products. I find this zip-up hoodie absolutely adorable, and think it strikes the perfect balance between geeky and stylish. Click here to check sizes and options!
This badass Hufflepuff goblet
For a truly epic Hufflepuff gift, consider getting them this super awesome Hufflepuff goblet. I mean, any drink (even water) would be instantly cool with this in hand. Click here to check out the options.
This beautiful Hufflepuff blanket
For some wonderful Hufflepuff-themed home decor, consider buying this awesome throw blanket that has the Hufflepuff crest splashed over it. I just want you to take a moment and imagine how good this would look draped over a chair in a cozy library. Mmgh! Click here to check out the options.
This gorgeous Hufflepuff necklace
If you want to get your Hufflepuff something pretty and vintage-inspired, this Hufflepuff inspired necklace is the perfect choice… just look at how gorgeous it is.
And while it's not overtly Hufflepuff-themed (i.e. with a crest), we'd say it's a tasteful tribute to one's house while looking pretty darn stylish too. Click here to price check.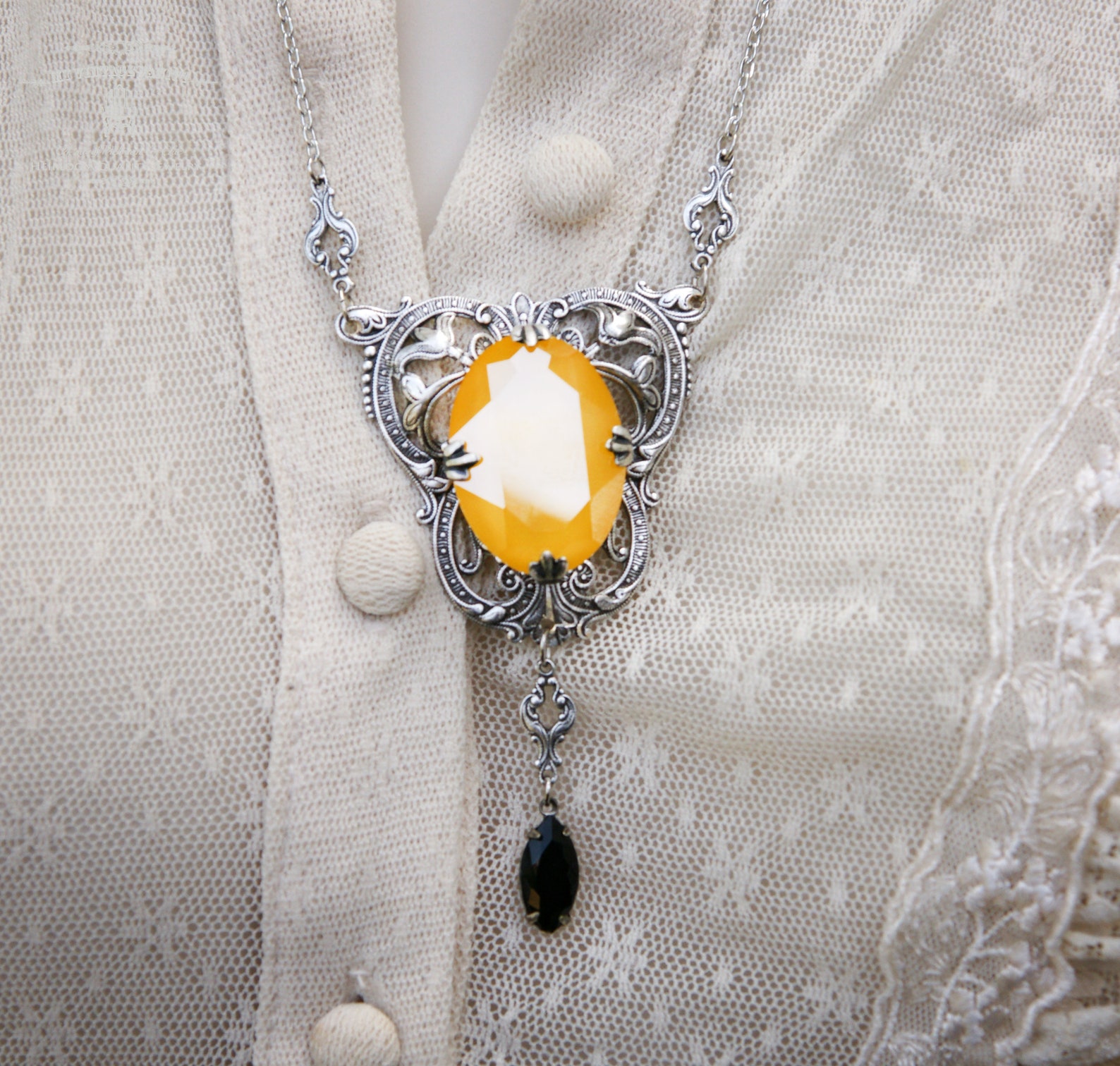 Gifts for a Hufflepuff that Cost $50+
Last but not least, if you want to truly spoil the Hufflepuff in your life and are willing to splash out a little extra cash, these are some slightly more expensive gifts for Hufflepuffs that are certain to be a hit.
Authentic Hufflepuff robes
What Harry Potter fan HASN'T dreamt of owning their own set of wonderful wizarding robes? Well, if you're looking for a way to completely make your Hufflepuff's day (or life, really), then consider getting them these authentic deluxe robes that are (yes a bit pricey) but complete replicas of the ones from the movies!
Click here to check out the options.
A beautiful Hufflepuff wand
In a similar vein, what kind of Harry Potter fan hasn't dreamt of owning their own wand? While we do all know that the wand chooses you, who says you can't be gifted one too? 😉 If you want a bucket list gift that your Hufflepuff will absolutely adore, consider getting them the wand belonging to their favorite wizard. We're not here to sway your vote, but uhh… Click here to check out Newt Scamander's wand and all the other options.
This gorgeous Hufflepuff "designer" bag
Designer bags might be an ideal gift for some, but let's be honest, a branded Hufflepuff bag is better! This set of gorgeous bags are modelled after classic designer chic, which means you get a cool looking bag that you can bring everywhere, with of course a touch of geekiness to round things off nicely. There's one for every house, including Hufflepuff of course. Click here to check them out.
Custom Hufflepuff high tops
While hoodies and hats are one common way to flaunt your house, we'd say that the ultimate show of commitment is SHOES. Imagine rocking these Hufflepuff high tops. Just imagine it! These custom shoes are definitely a great Hufflepuff gift if you can swing the extra spend, and trust us when we say it's a gift that they'll love for sure. Click here to check out the options.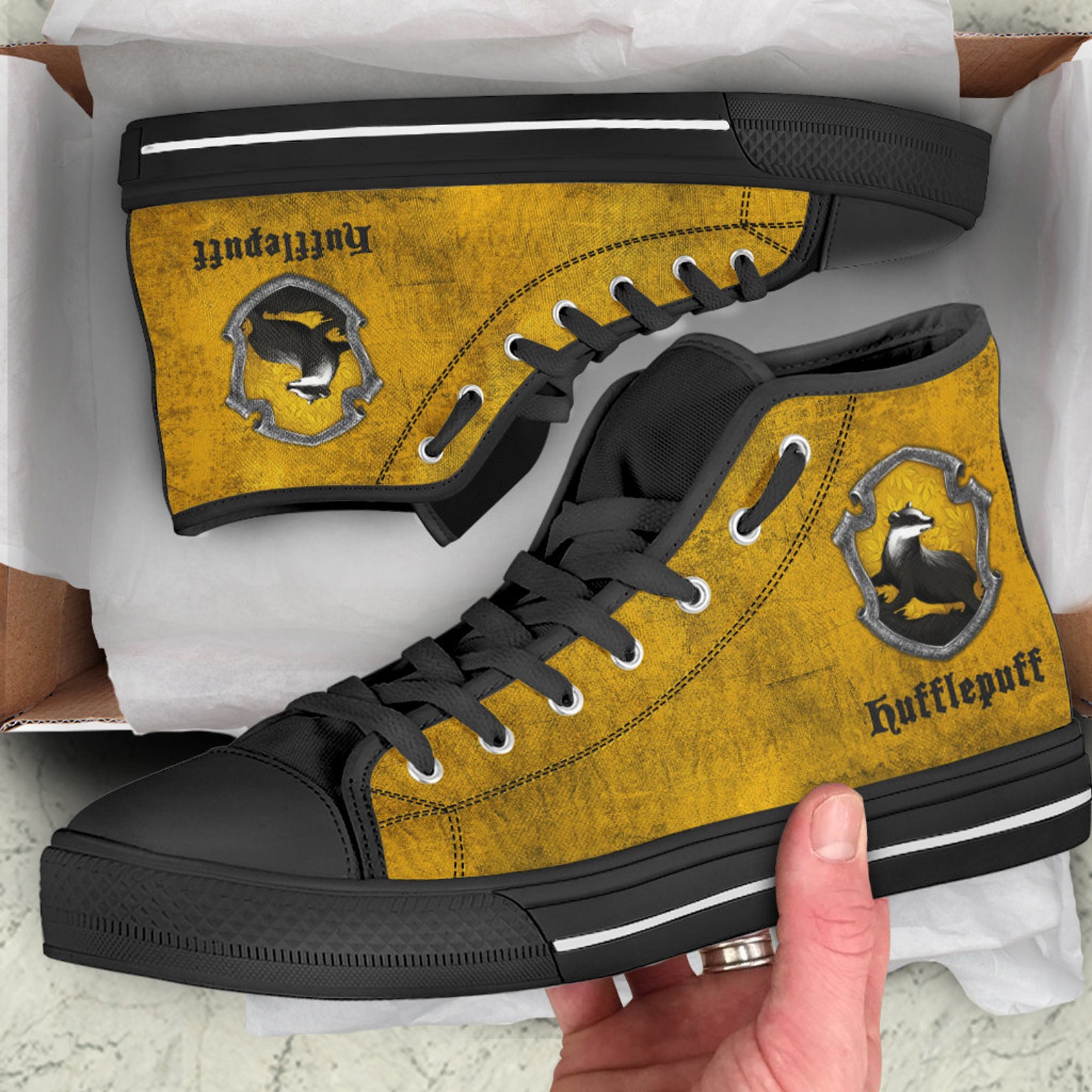 A badass Hufflepuff ring
Last but not least, if you want an enduring gift that your Hufflepuff recipient can love and treasure for a long time, consider getting them this high quality ring that includes (naturally) the Hufflepuff crest. Click here to check out the options!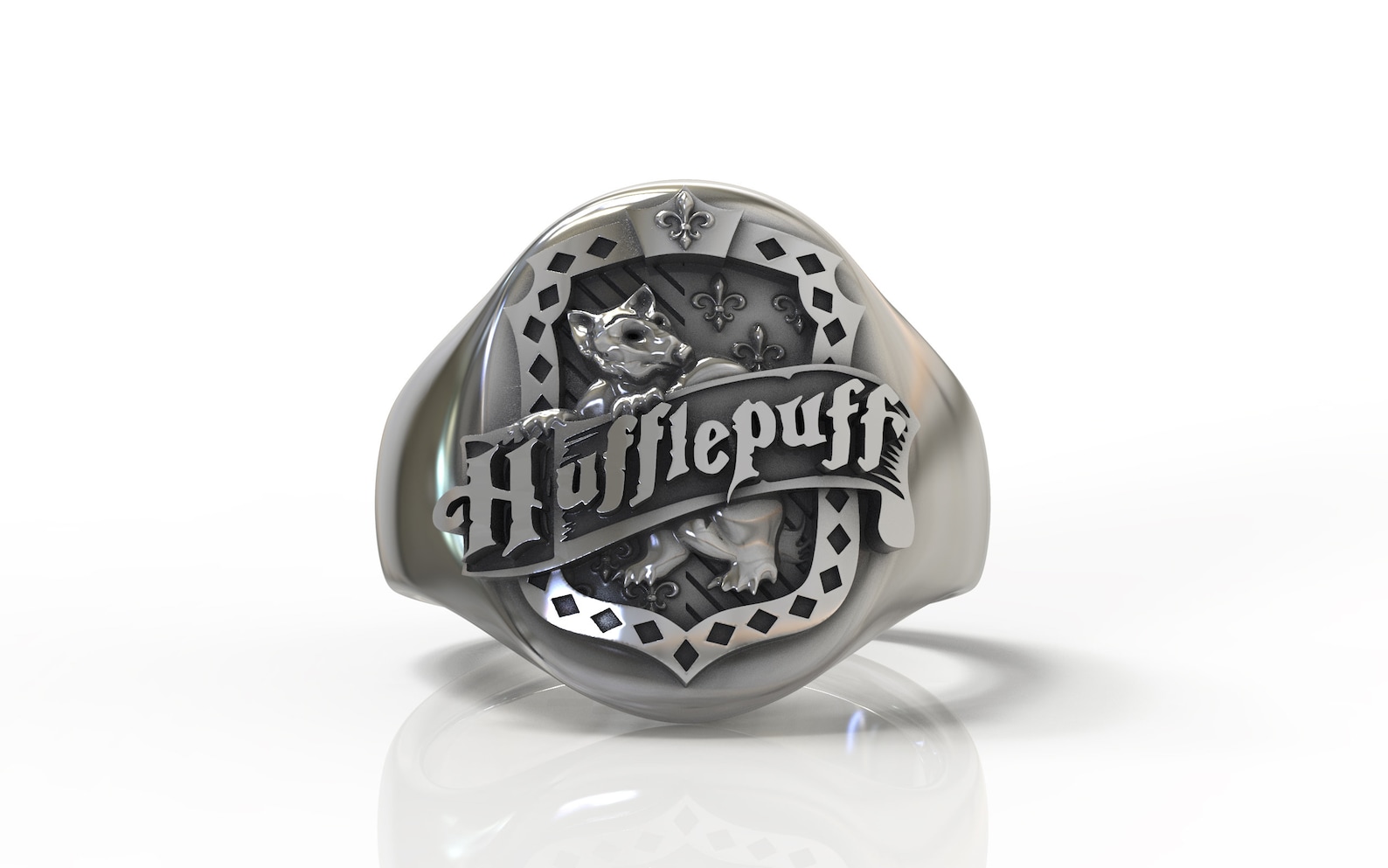 Any more ideas on gifts for Hufflepuffs?
By now, you should have more than enough epic Hufflepuff gear for your wishlist, but let us know in the comments if there are any other Hufflepuff things we should add to this list!