*FYI - this post may contain affiliate links, which means we earn a commission at no extra cost to you if you purchase from them. Also, as an Amazon Associate I earn from qualifying purchases. Check out our Privacy Policy and Disclosure. for more info.
Looking for a creative and fun way to gift money this Christmas? A Money Christmas Bauble might be exactly what you're looking for!
Sure, gifting cash might not seem like the most personal option, but dressed up right, it can still be a fun gift to both give and receive.
This awesome DIY gift only takes a few minutes to put together, and is a lot more fun than just handing over a stack of cash. Plus, look at how cute it looks on a tree: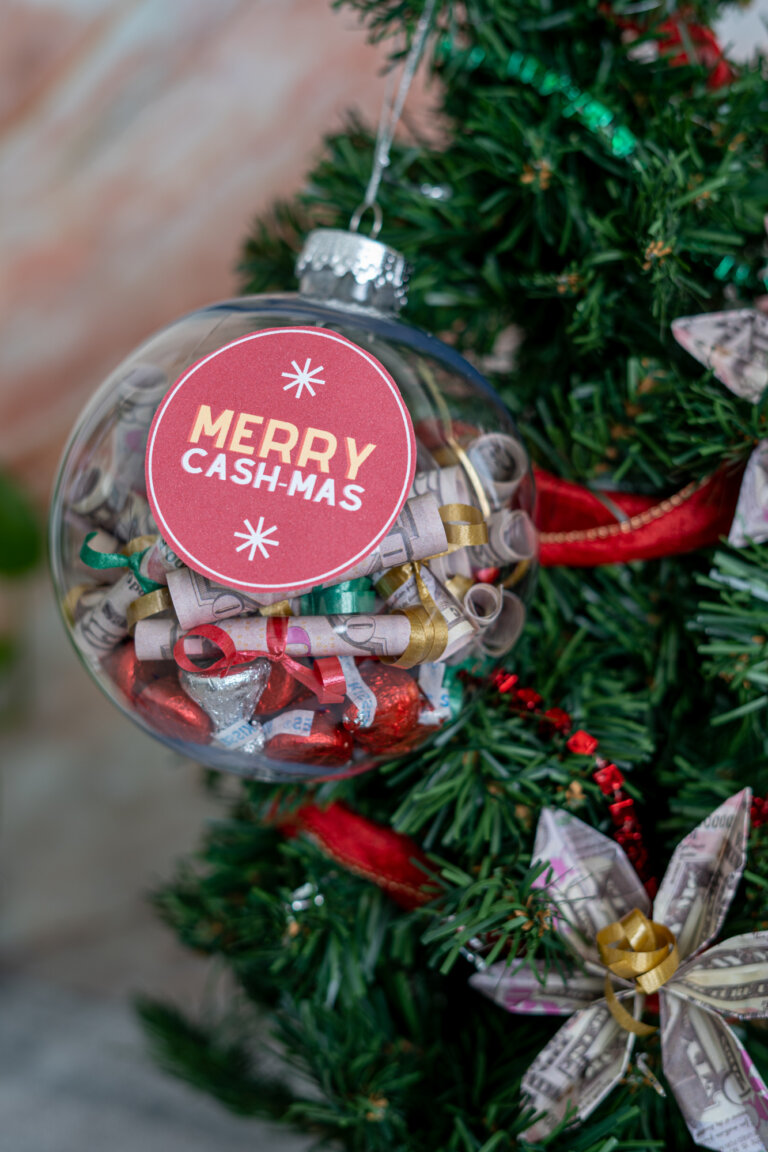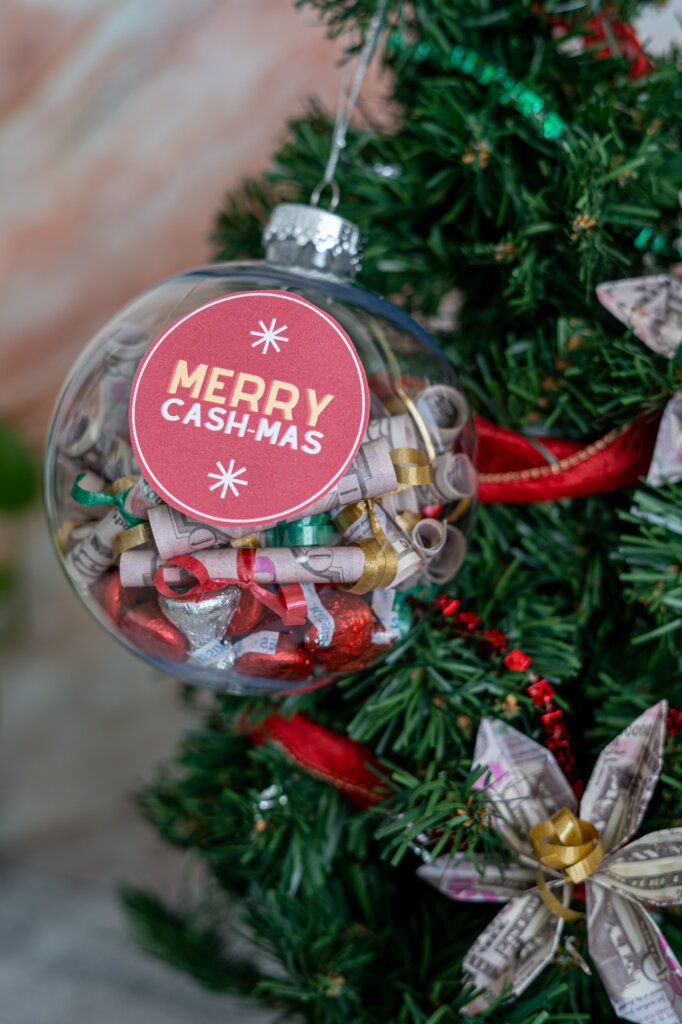 In this Money Christmas Bauble tutorial, we'll be showing you step by step how to make this ultra easy gift, which we're sure any recipient will appreciate.
We hope you find it helpful!
Pin for later: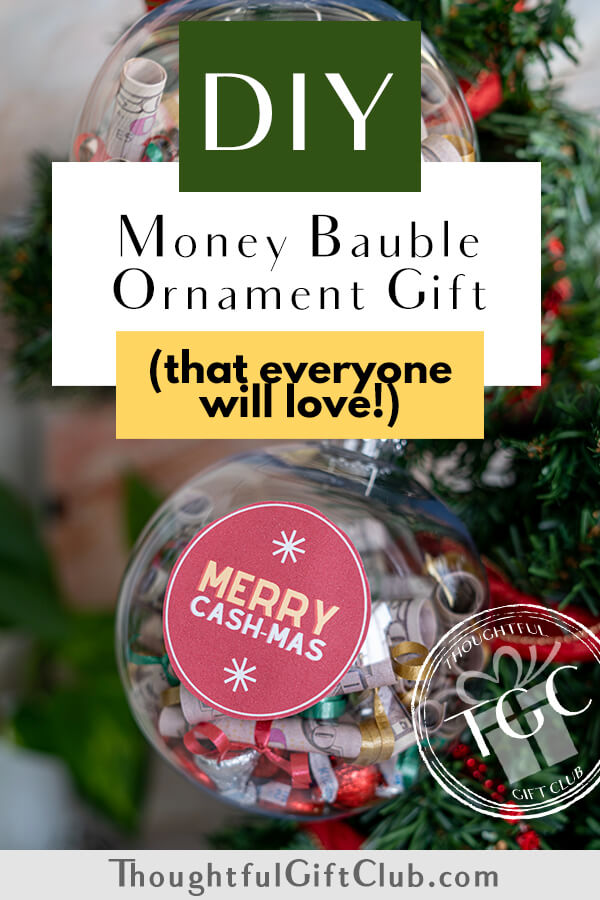 Materials for Your Money Christmas Bauble
For this easy DIY money-themed Christmas gift, all you need is:
A large clear bauble
Dollar bills
Curling ribbon
Scissors
OPTIONAL: Small candies e.g. Werther's Originals or Hershey's Kisses
OPTIONAL: Punny Gift Tags (Here are printable ones we made)
NOTE: For the purpose of our crafting, we use fake bills to demonstrate, which is why you'll see "COPY" written all over our bills. Of course, be sure to real use currency for yours if you plan to gift it!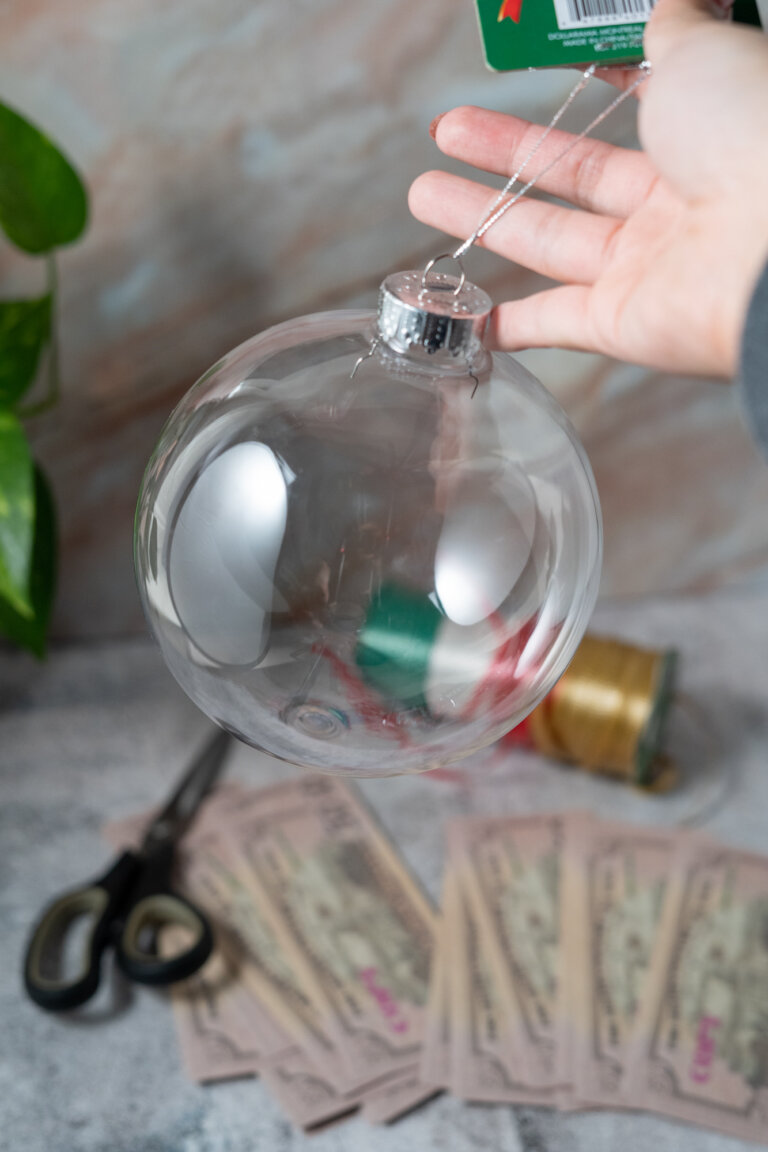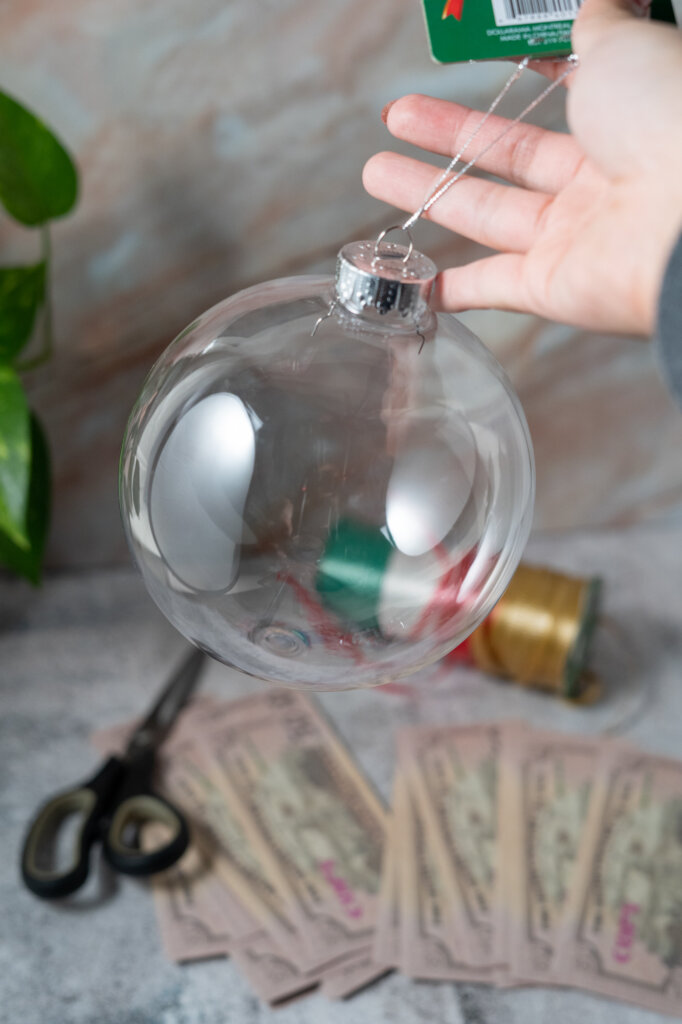 How to Make a Money Christmas Bauble: Step by Step
Have all your materials gathered? Now let's get to work…
Step One: Prepare Your Mini Money Scrolls
There are a lot of ways you could fill up a Money Christmas Bauble, but the simplest and quickest one we'd recommend is simply rolling them up into little scrolls.
These can slot perfectly into any bauble, and (once unrolled) they're relatively crinkle-free, compared to other options like money origami.
To make your mini money scrolls, simply place your bill down on a flat surface, and begin to roll tightly…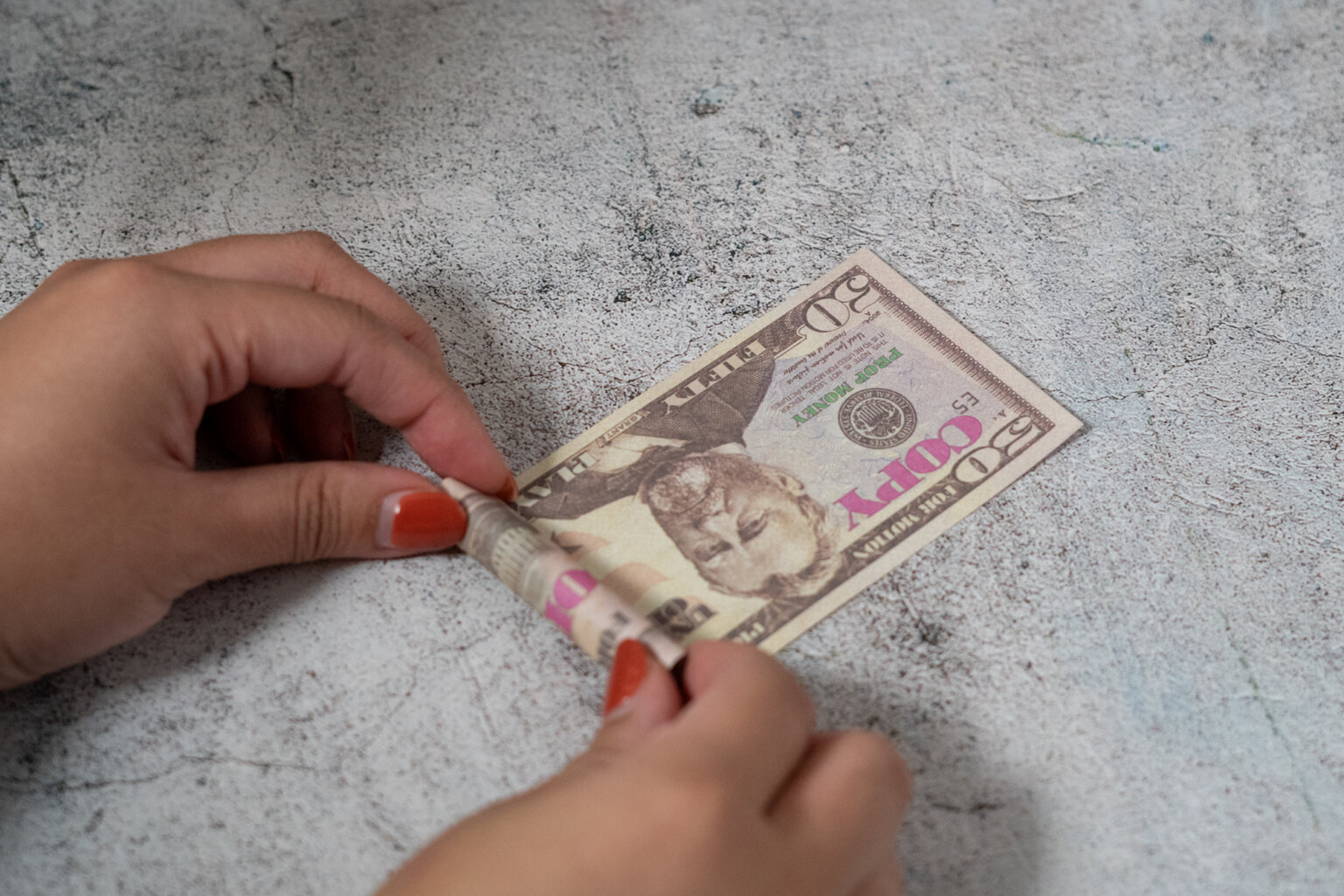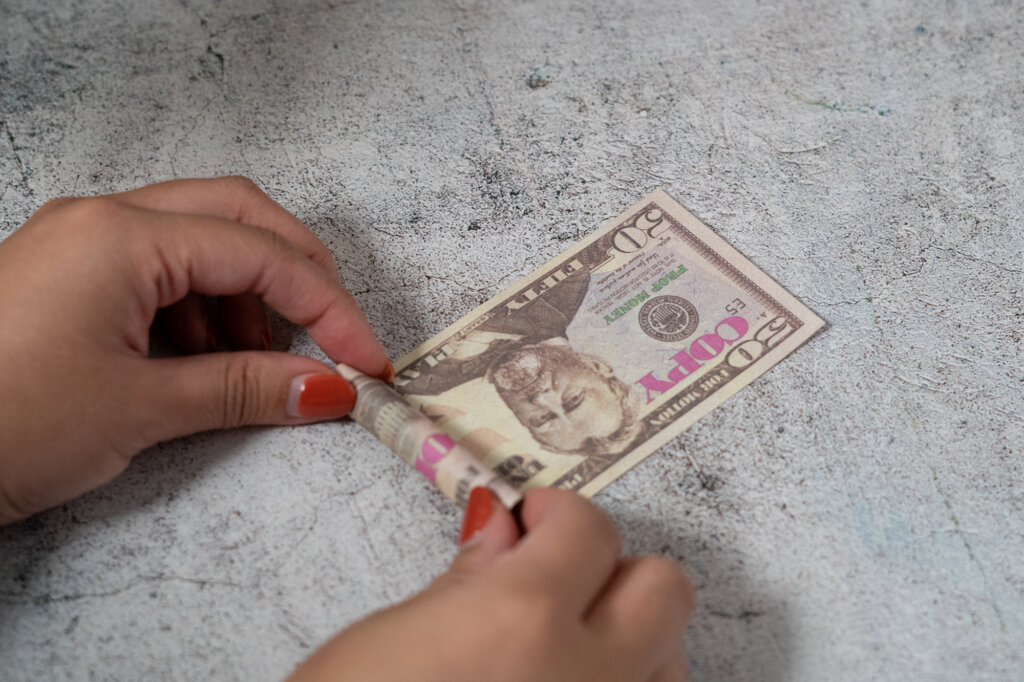 It should look something like this when you're done. The tighter the better!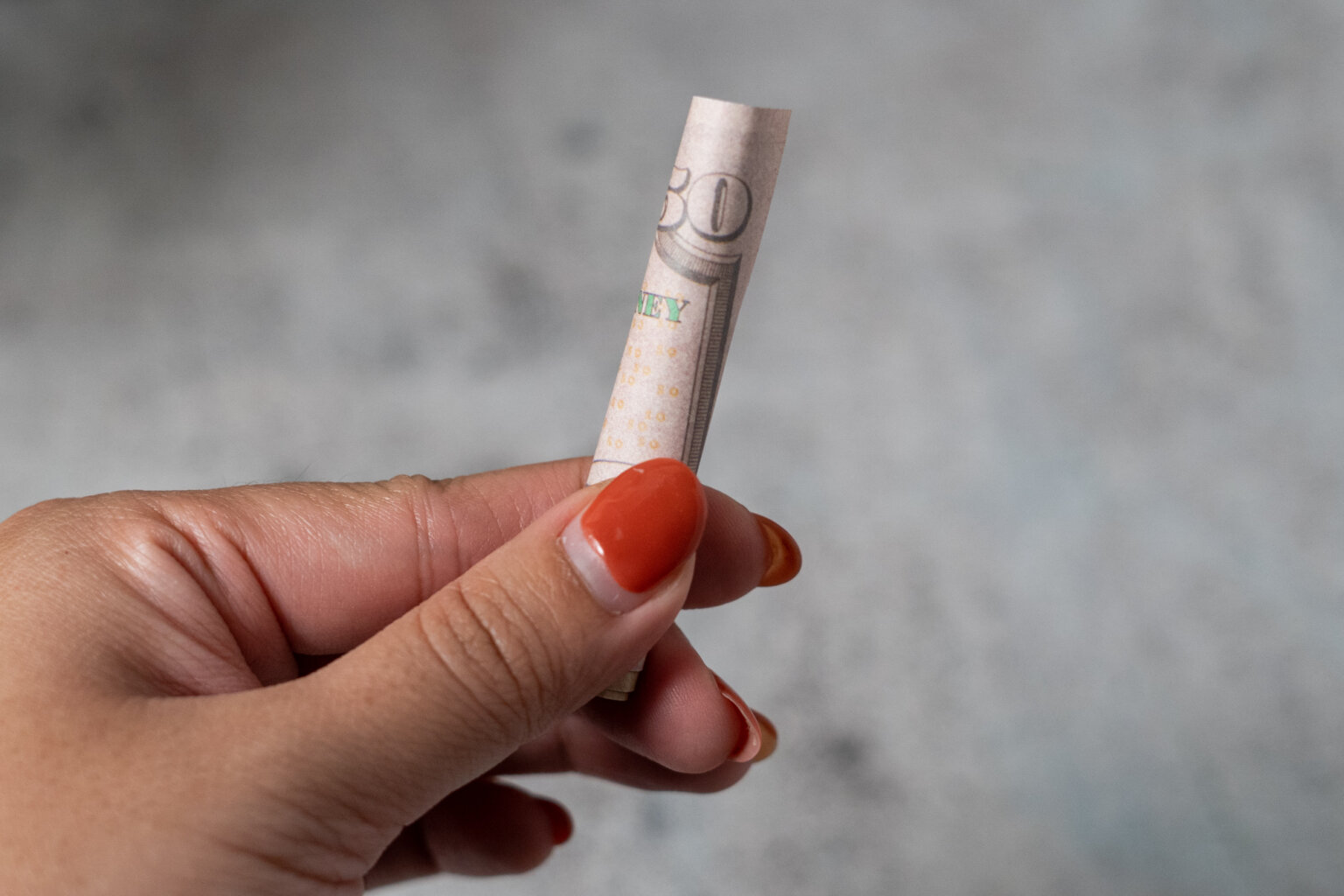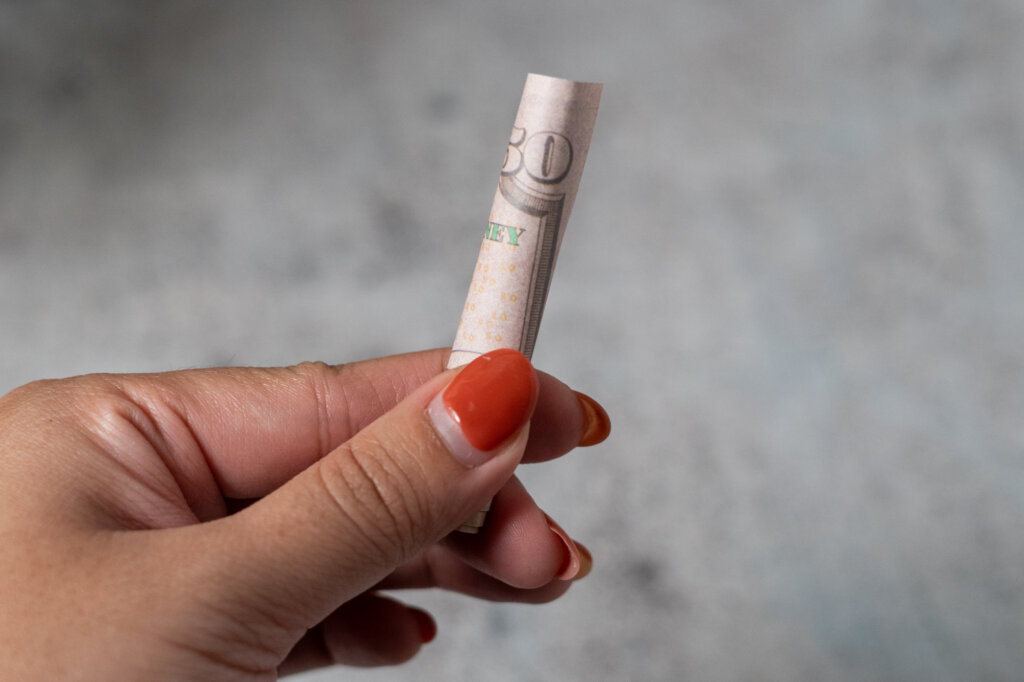 Next grab a small piece of curling ribbon, and tie it around your cash scroll.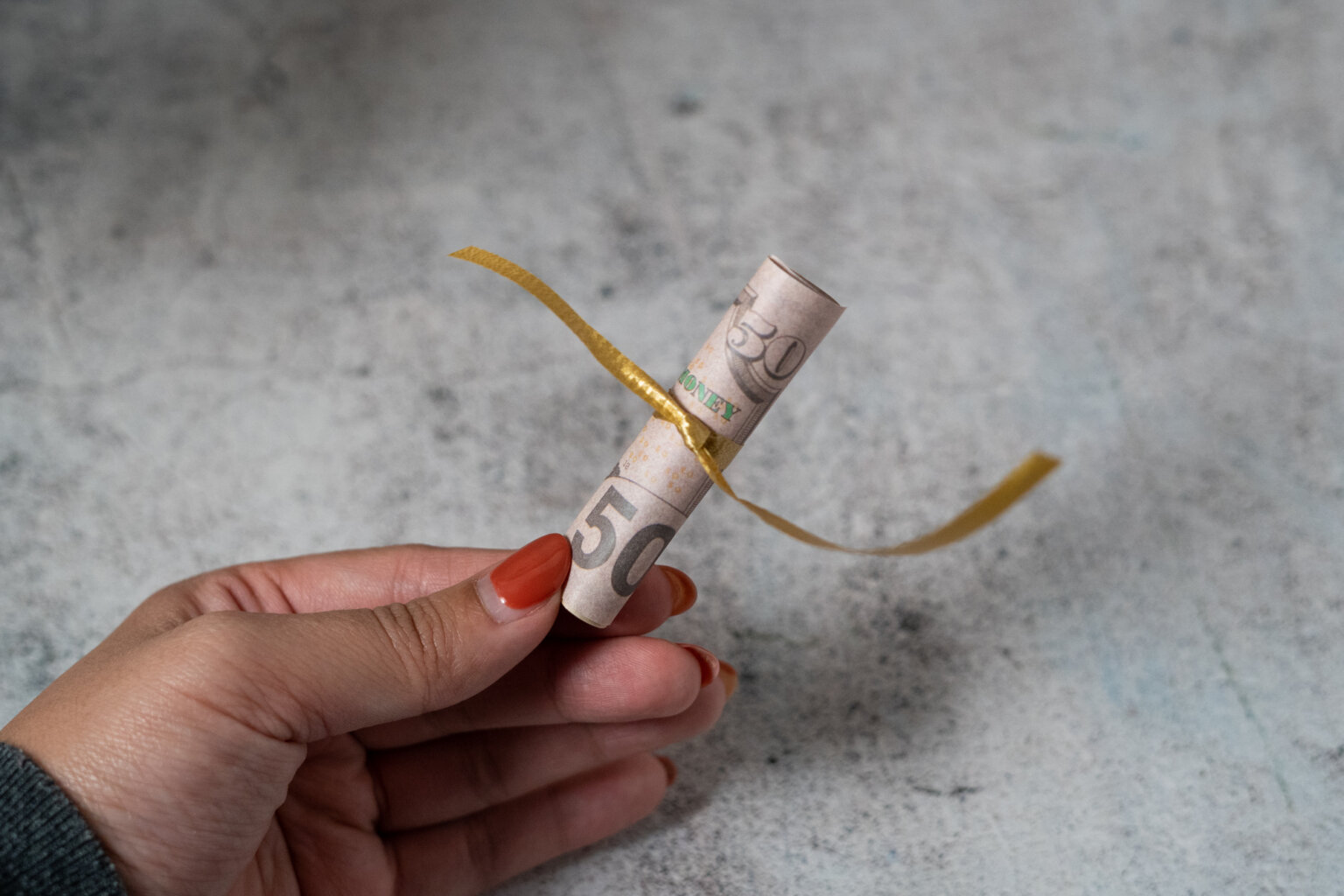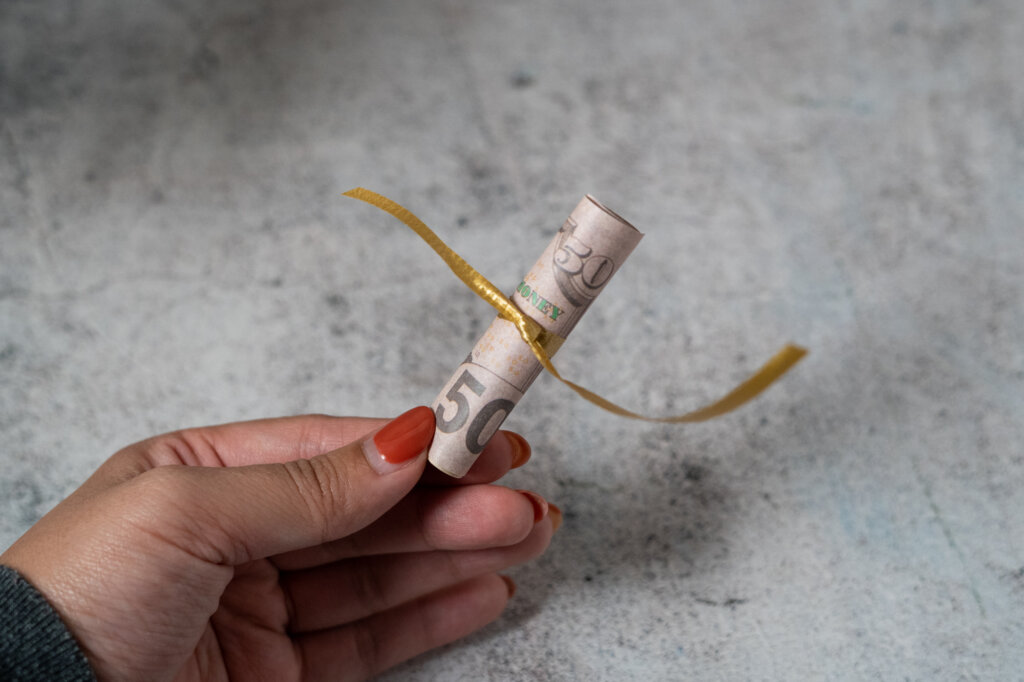 Finally, take a pair of scissors to curl the edges of your ribbon to give it a nice, festive look.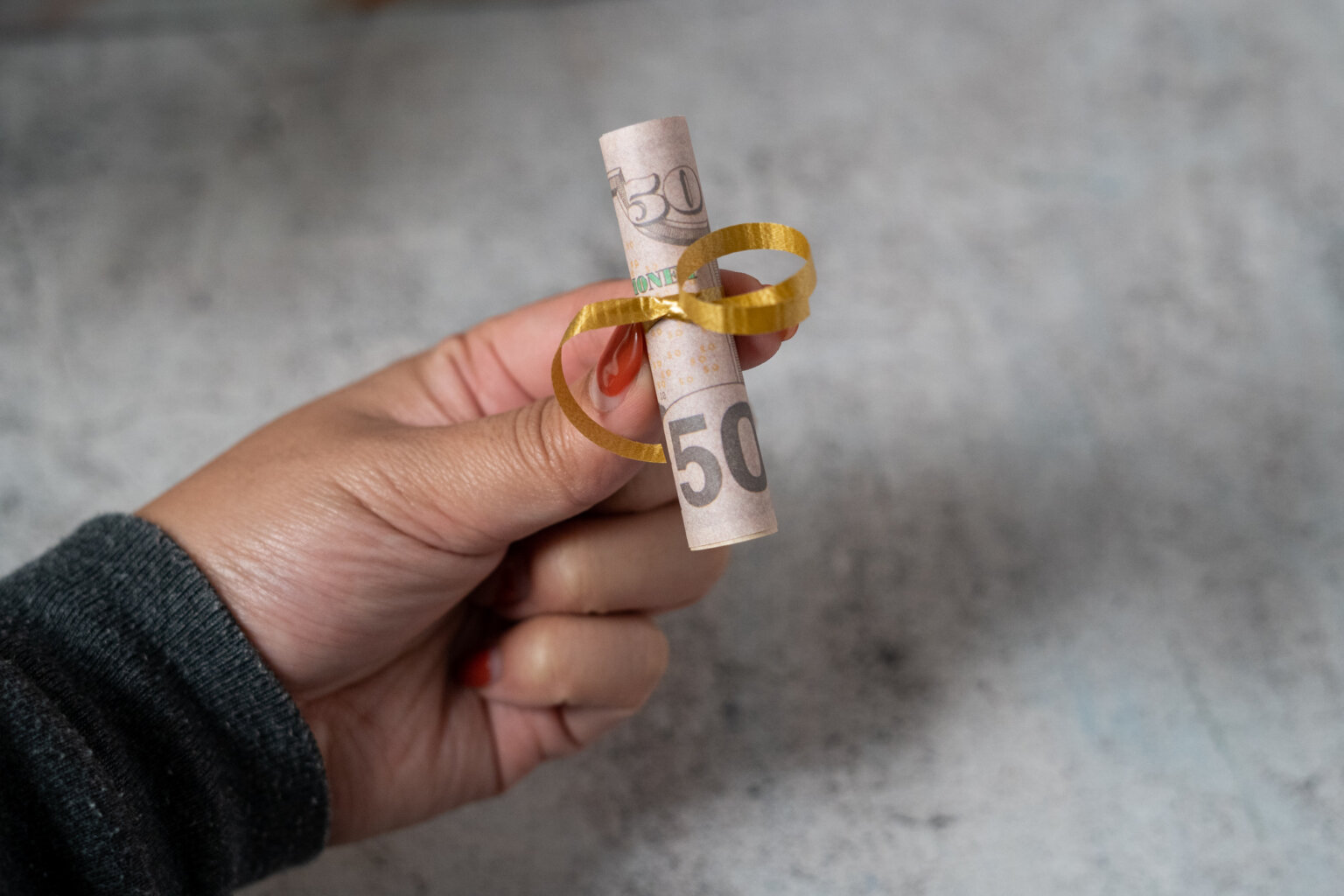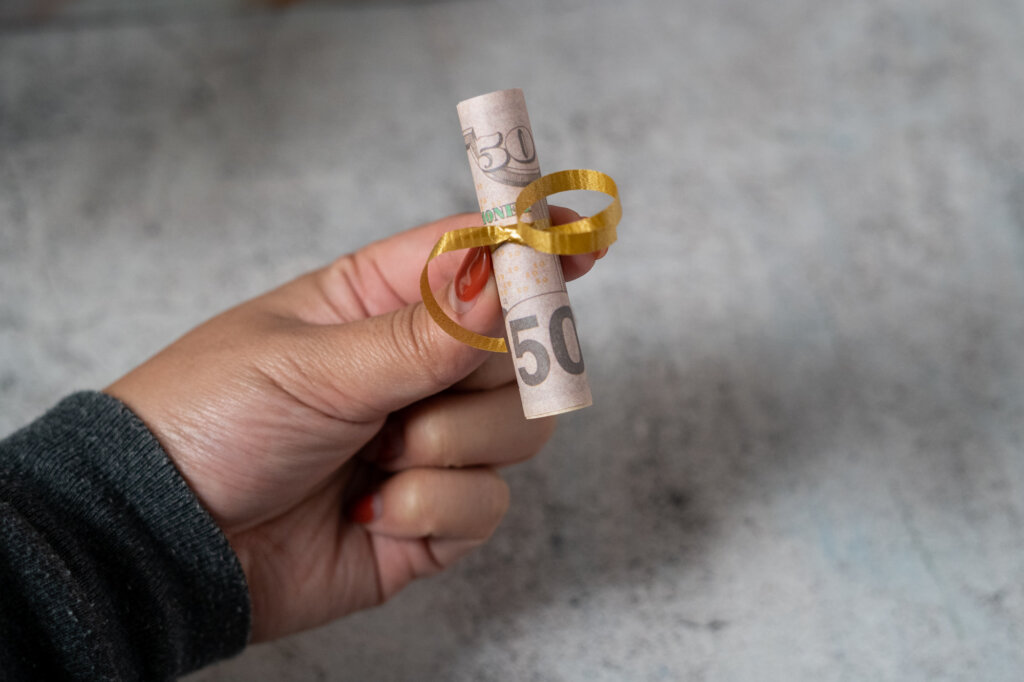 Repeat this process until you've turned all your bills into little scrolls.
Step Two: Fill Up Your Bauble
Now comes the easy part! Simply put your money scrolls into your bauble one by one.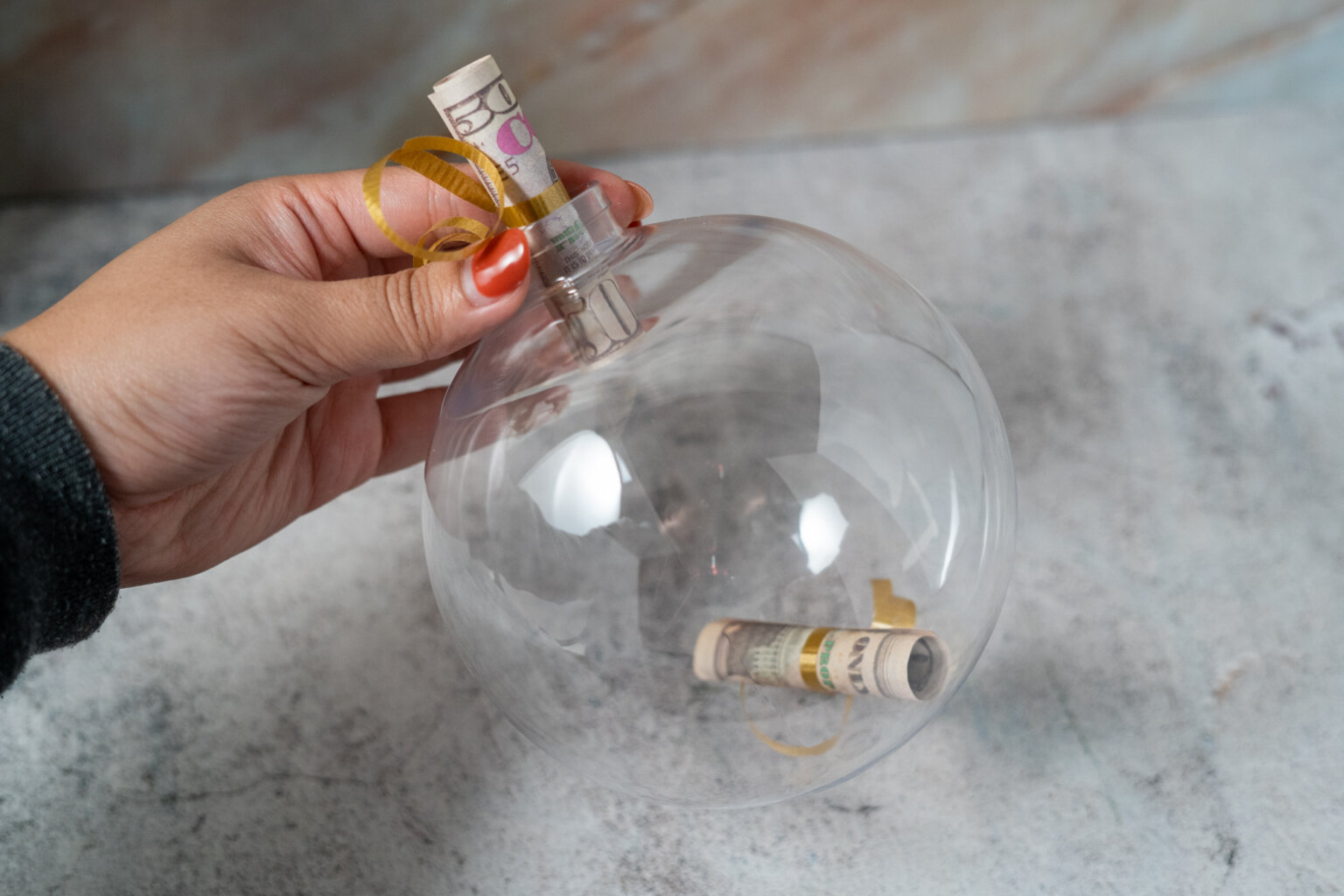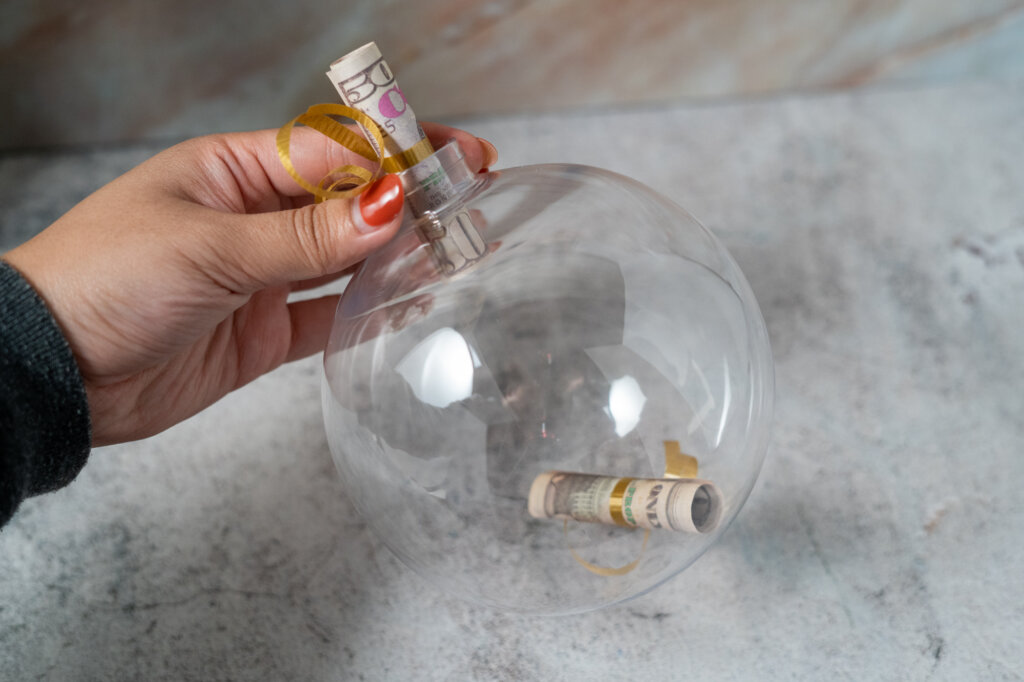 … and keep filling until you've added all your cash scrolls.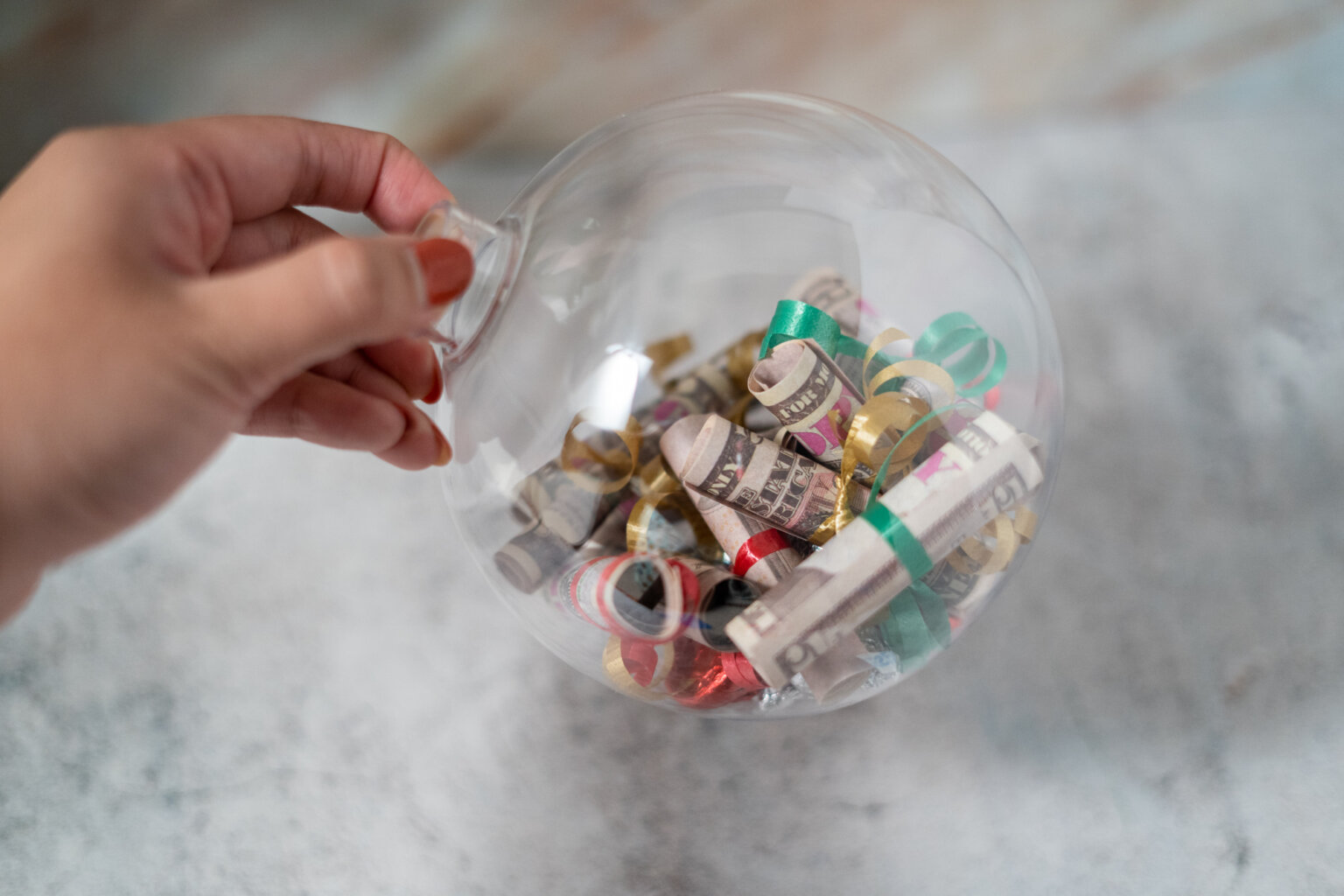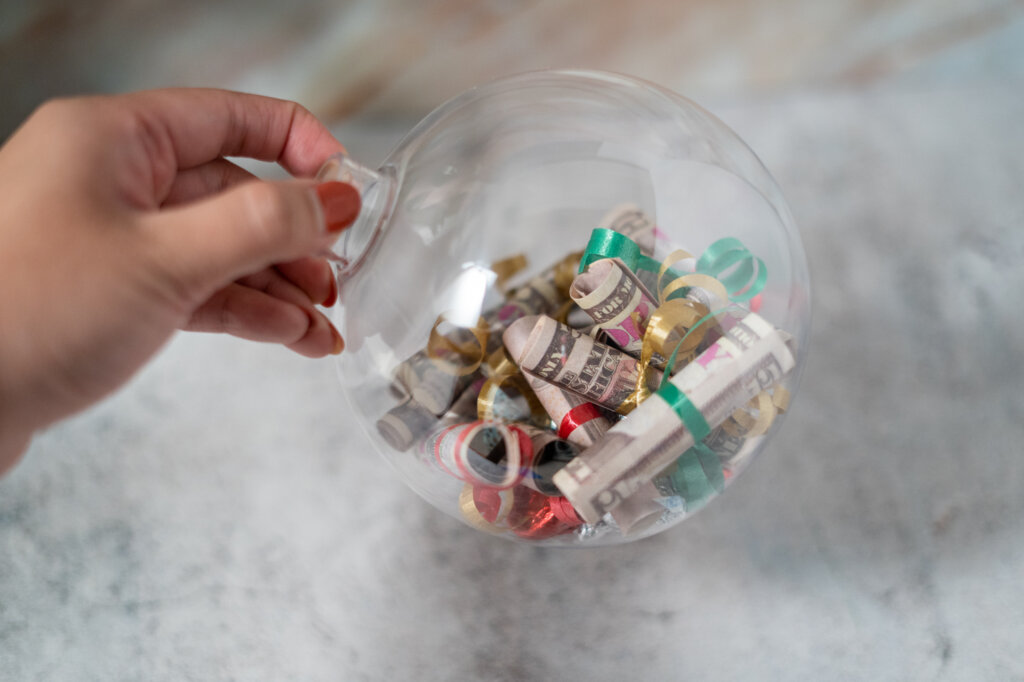 Step Three: Add the Finishing Touches
To finish things off, we'd recommend adding a few small candies inside to fill up the bauble a bit more if you have additional space.
We'd also recommend adding a punny tag on the front to bring it all together. Here are printable ones we made.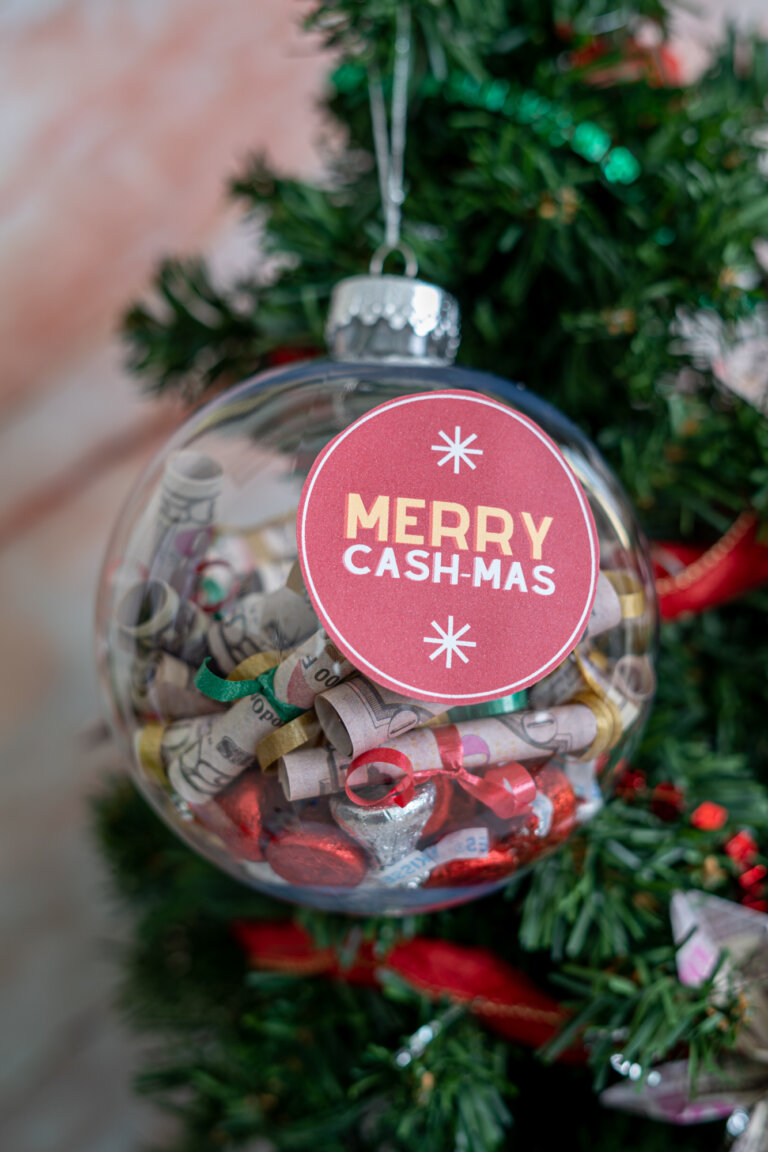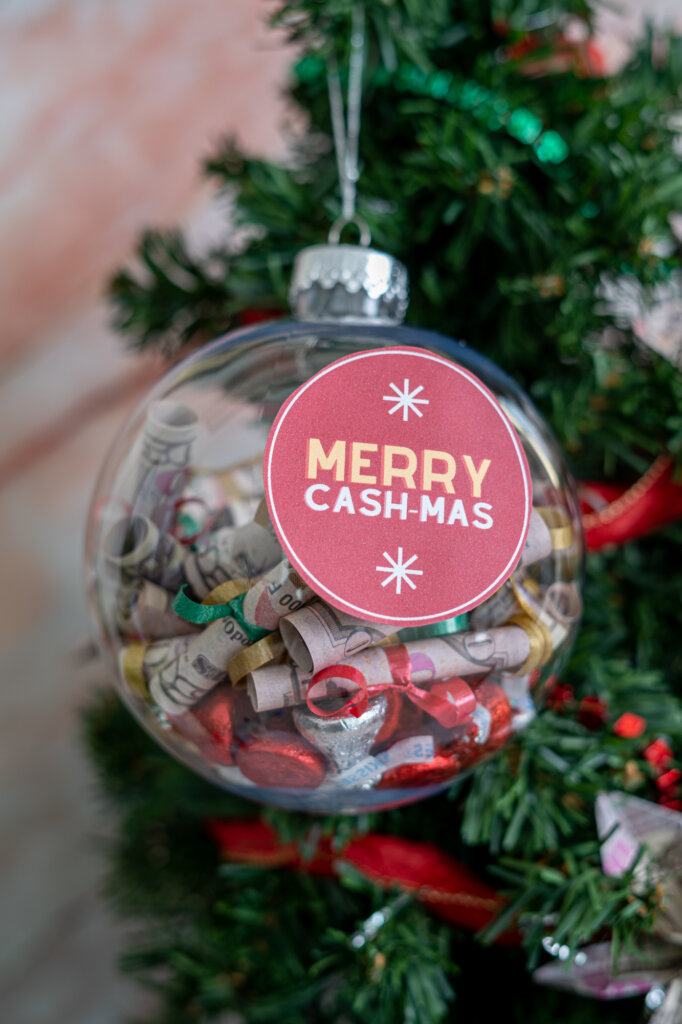 We Hope You Enjoyed This Money Christmas Bauble Tutorial!
Let us know in the comments if you have any questions, or send show us a photo of your creation!