*FYI - this post may contain affiliate links, which means we earn a commission at no extra cost to you if you purchase from them. Also, as an Amazon Associate I earn from qualifying purchases. Check out our Privacy Policy and Disclosure. for more info.
While Easter may be a holiday that typically revolves around children, that doesn't mean adults don't celebrate it, too. And, in all actuality, there are plenty of Easter goodies available to ensure everyone is enjoying the holiday regardless of age.
Whether you're looking for an adult Easter basket or some other adult-oriented Easter haul, you came to the right place. Because there's plenty of fun for the grown-ups to have while the kids are on the prowl for Easter eggs! (Besides just cracking cheesy Easter puns).
So, without further ado, here are the best Easter favors for adults that'll ensure every man, woman, and child has a knockout Easter holiday!
PS: If you need more gift ideas, check out our other Easter gift guides, including…
Pin for later: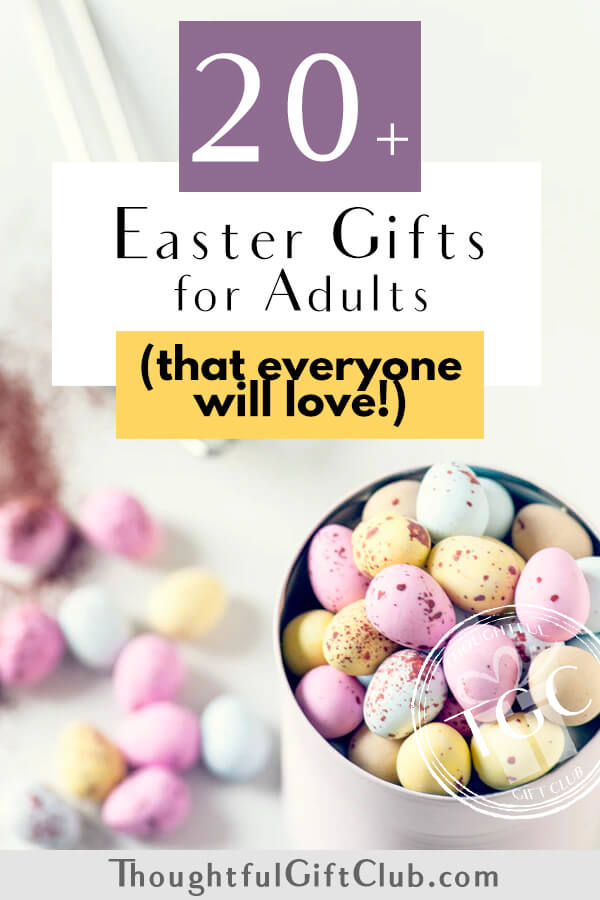 ---
The best Easter gifts for adults under $20
If you're looking for Easter gift ideas for adults on a budget, don't worry! There are plenty affordable Easter presents available that are sure to brighten their holiday, especially if they don't have to scavenge for an egg to receive it.
It doesn't take much to let people know you care, and hopefully, with a gift like this, their holiday spirit will be in line with the spirit of the holiday, which is reborn. Anyway, here are big and small Easter gifts for adults that are sure to put a smile on their face.
---
Easter Wine Labels
Some of the best ways to turn what would otherwise be a child-centric day into one adults can enjoy, these Easter wine labels are sure to be a hit! And don't worry—it's literally the blood of the man of the hour. So that should make it permissible, right?
Quick and easy, simply buy, download and print off the label, and then attach them to your favorite bottle of wine. This is one of the rare gifts that everyone can enjoy, although wine gifts are always a good idea. And it's particularly great as a last-minute gift to demonstrate how much you love your "peeps."
Click here to check prices and reviews.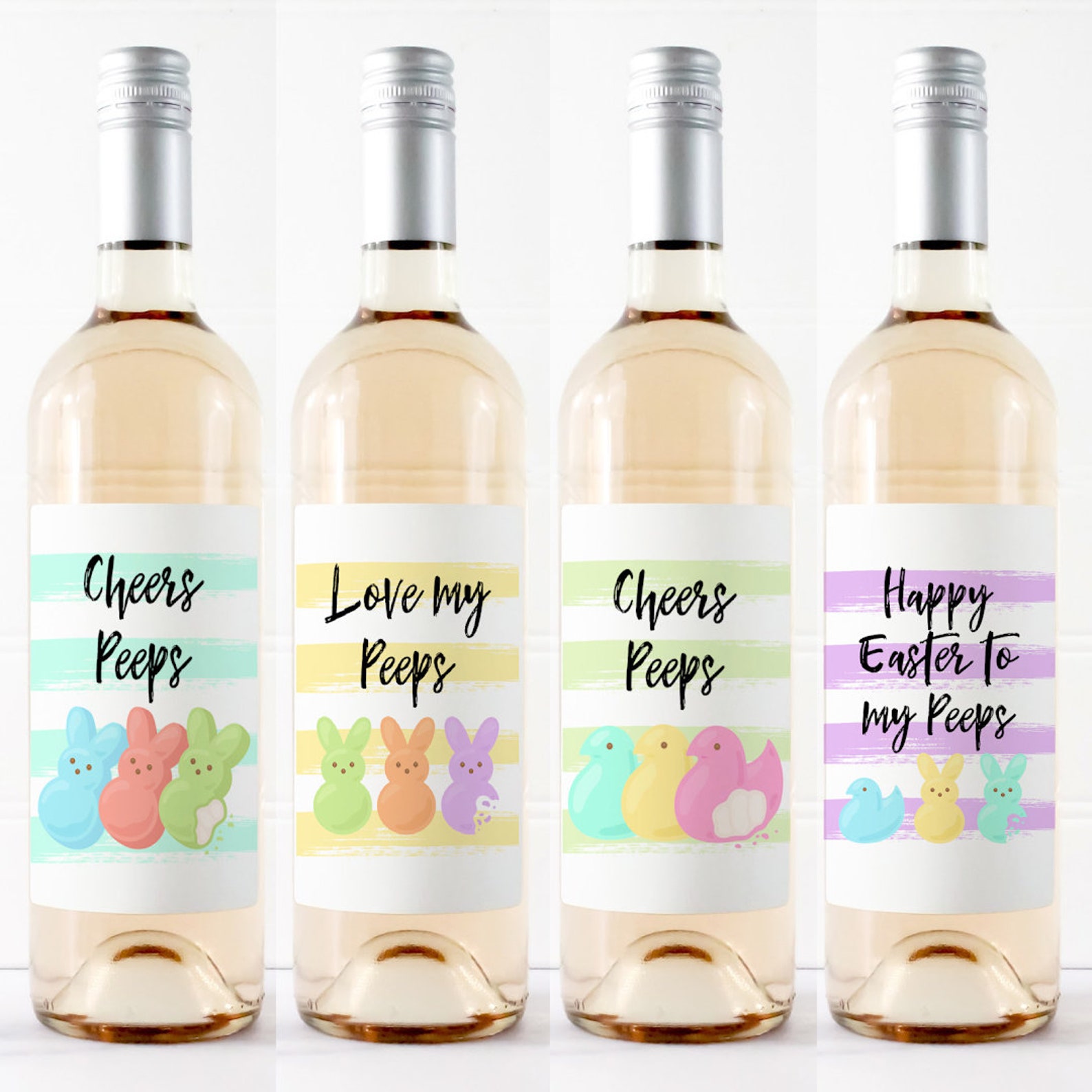 ---
Happy Easter Candle
Easter is often a good indicator of the season you're in. And that's what makes this happy Easter candle such a great gift—with scents reminiscent of summer and spring, you can't go wrong getting this gift for someone. Plus, who doesn't like using candles?
With a variety of sizes and lid colors available, just select between a wide array of scents. Handcrafted out of soy, each candle comes already packaged in a box that's ready to be gifted. Which makes your job all the easier!
Click here to check prices and reviews.
---
Inspirational Keychain
In some ways, Easter is a testament to faith. And everything it symbolizes is encapsulated in this inspirational keychain. Which easily makes it one of the best, affordable Amazon Easter gifts for adults you're likely to find!
Elegant and encouraging, this is the kind of gift people sometimes need just to get a second wind and persevere. Besides, who couldn't use a little bit of that every now and again? With "Let your faith be taller than your fears" and a giraffe engraved, it's perfect!
Click here to check prices and reviews.
---
Personalized Wine Glass
Let's be honest—it wouldn't be a holiday without a few generous glasses of wine. That's why this great personalized wine glass is a perfect Easter basket stuffer, or just a plain old present. And make no mistake about it: this will definitely be emptied and refilled several times over.
Just select the name, tail color, as well as the font color, and then input what name is supposed to be included. In some ways, having wine is getting closer to the man himself, is it not? So indulge a little! It certainly couldn't hurt.
Click here to check prices and reviews.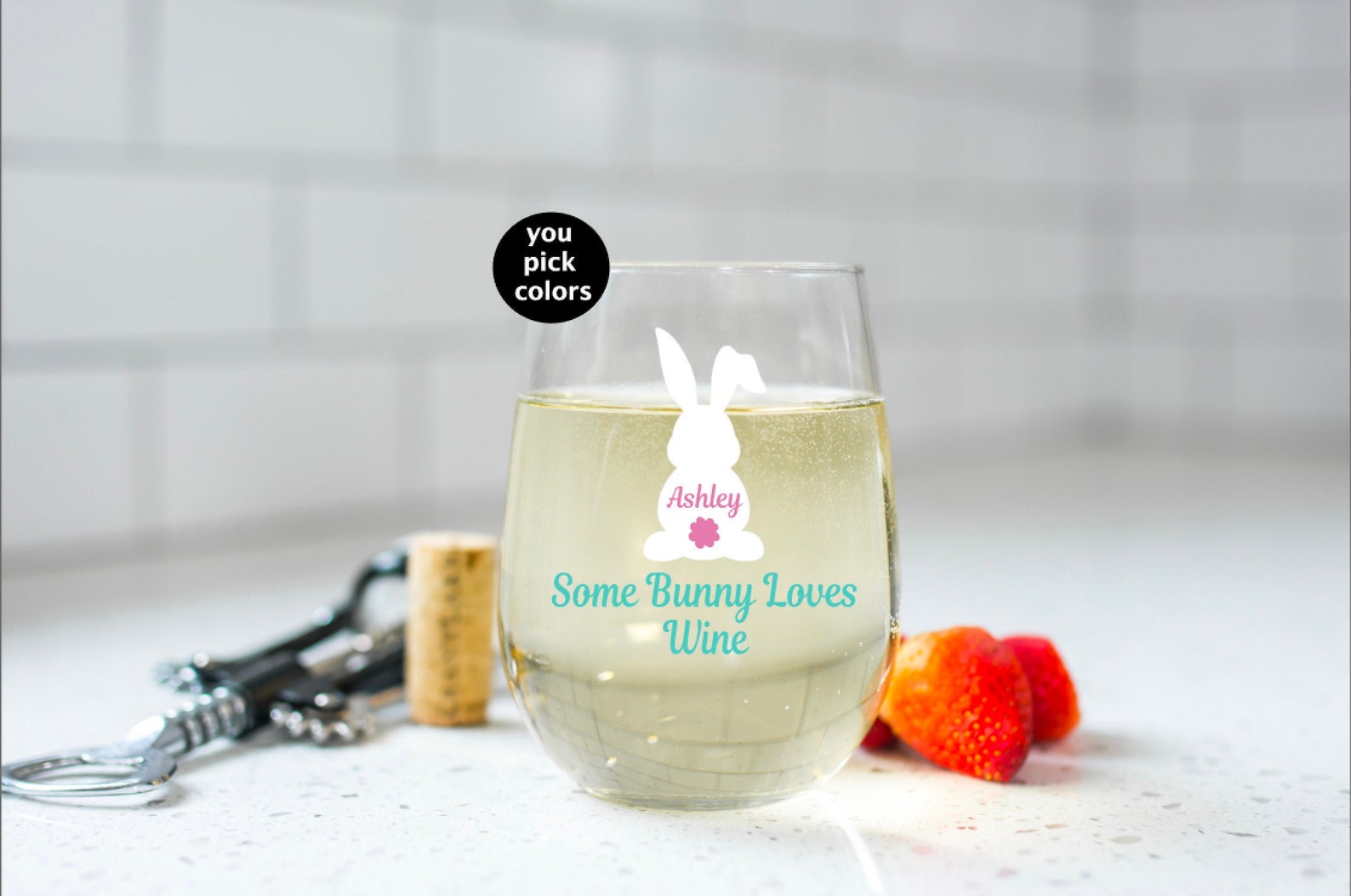 ---
Seed Kit
If you're shopping for someone who has a green thumb, this seed kit is one of the best gifts to get them this Easter season. And, let's be honest, there's something humbling about gardening that's similar to witnessing a resurrection: both are out of your control.
Simply select the egg and ribbon color combination, and then input what personalizations you'd like included. With seeds included in a paper egg, as well as soil and a pot, this is the kind of Easter egg every gardener would love to crack open!
Click here to check prices and reviews.
---
The best Easter gifts for adults under $50
If nothing so far has done it for you, don't worry. We get it, and we commend you, and we're sure they're going to appreciate the thought you put into it. Clearly this holiday holds a special place in your heart, so only the best Easter present ideas for adults will do.
Because if it's special for you, then it's special for us.
Luckily, there are plenty of presents that are only moderately more expensive but immeasurably more touching! Whether you're looking for funny Easter gifts for adults or gifts that are downright sentimental, we have you covered. Here are our favorite gifts that are sure to do the trick!
---
Easter Gift Set
If you're looking for the perfect Easter gift to get your mom, the mother of your children (or anyone else's), or a woman in general, this Easter gift set is probably a great option! And, after all the running around, a spa day will probably be much appreciated.
Choose between having cream and no cream, and this beautiful gift set will supply the lucky recipient with everything they need to take the edge off. It includes a glossy white gift box, butter cream in different scents, a bar of soap, a bath bomb, and much more!
Click here to check prices and reviews.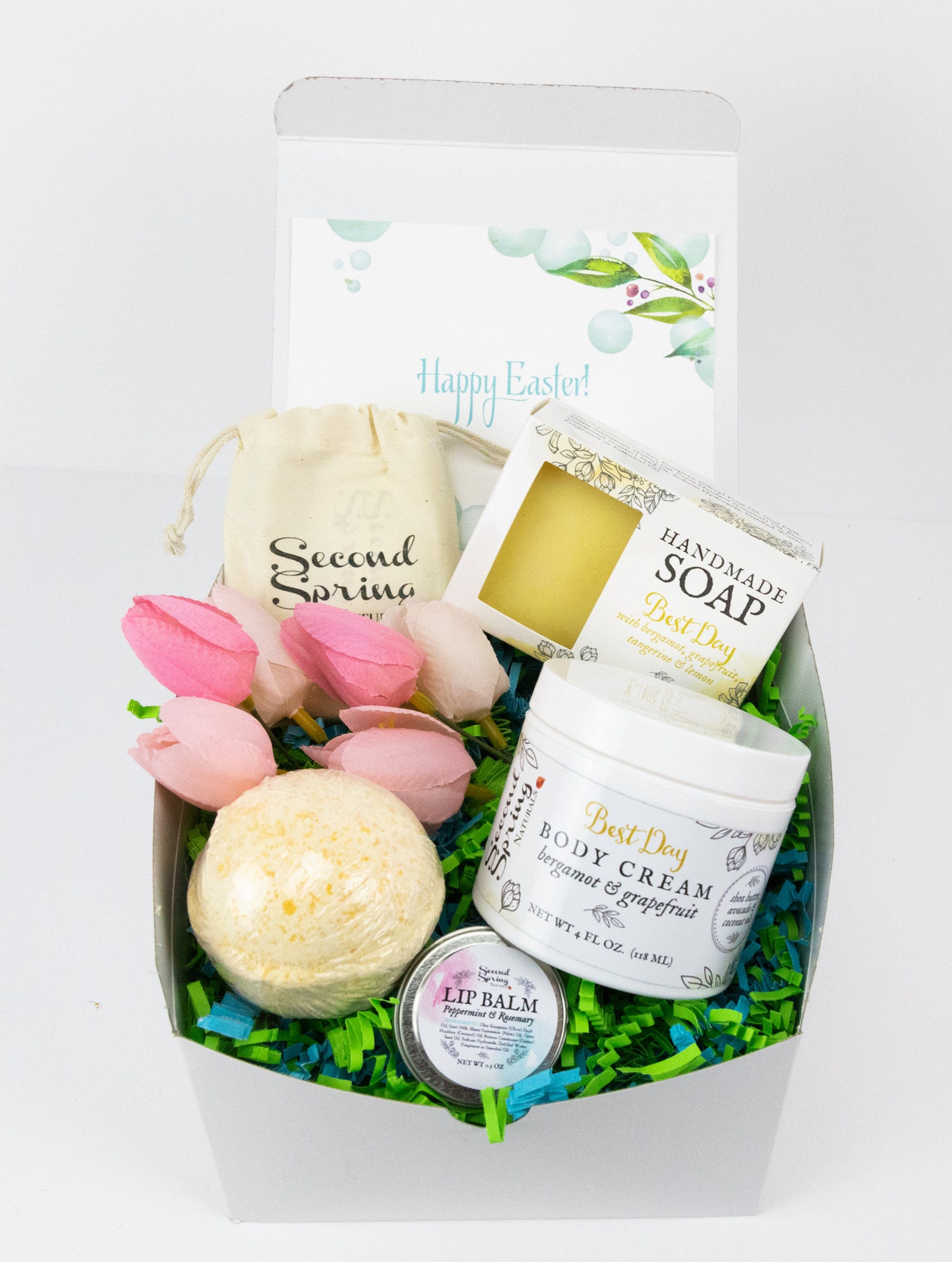 ---
Bunny Family Garden Sculpture
Perfect for any garden during this particular holiday season, this set of 5 bunny family garden sculptures is the kind of gift that will certainly make an annual appearance. And it will definitely put kids and adults alike in the holiday spirit!
Handmade out of steel with a patina that darkens over time, this set comes with a papa bunny, mama bunny, big brother bunny, little sister bunny, and baby bunny. Whatever configuration they choose for their yard, it'll be a charming addition!
Click here to check prices and reviews.
---
The Connoisseur Gourmet Gift Basket
Now, most people associate Easter with big baskets spilling over with candy, toys, and other goodies. And this connoisseur gourmet gift basket is the perfect adult iteration of that. Because grown-ups need that kind of thing, too!
With personalized gift messages available and an unparalleled presentation, this basket comes with a whole assortment of goodies perfectly suitable for any adult pallet. And let's be honest here—you're never too old for a basket full of gifts.
Click here to check prices and reviews.
---
Easter Sweatshirt
Some people don't need all those extra goodies and gifts. And those are the people for whom this Easter sweatshirt is perfect! Complete with a watercolor painted Easter egg design, this gift is sure to put everyone who sees it in the Easter spirit!
Click here to check price sand reviews.
---
Easter Care Package
Now, while there are gift baskets specifically geared toward adults available, that doesn't mean grown-ups can't have a sweet tooth. And, if you're shopping for something for someone who loves indulging, this Easter care package is perfect!
Beautifully arranged in a gift box with purple paper shred to truly make this a party (though a box full of candy doesn't need help on that front), it comes with a wide array of treats guaranteed to send them crashing back down to earth after their sugar rush!
Click here to check prices and reviews.
---
The best Easter gifts for adults under $100
So nothing has done it for you so far. And we can only suspect you're making up for burdening people with the brunt of the egg painting.
And, if that's the case, then you had this coming. But regardless, there are plenty of great Easter gift basket ideas for adults that are sure to make up for it. Because—believe us—painting Easter eggs is only enjoyable for so long.
Anyway, from cute Easter gifts for adults to the raddest selections, here are our favorites! And, luckily, a willingness to spend some extra cash will only make this easier for you.
---
Nest Egg Necklace
Now, keeping in theme with everything Easter symbolizes, from eggs to rebirth, this nest egg necklace is simply one of the best pieces of jewelry to gift someone on this holiday. You won't find many Easter themed items that look this good.
Fashioned out of copper, sterling silver, and amazonite, this necklace comes with a few different pendants. The first has the engraving of a bird, while the second two are Easter colored eggs, and the last is a copper nest for them to rest in.
Click here to check prices and reviews.
---
Faux Fur Double-Faced Throw Blanket
If you're shopping for someone who could use a some help decorating their home and cultivating some holiday spirit, then look no further than this supremely cozy Easter faux fur double-faced throw blanket!
With a number of Easter themed colors available, this soft blanket is sure to be appreciated by virtually everyone. It'll provide unbelievable comfort to anyone who's lucky enough to get it. And, best of all, it'll look good anywhere.
Click here to check prices and reviews.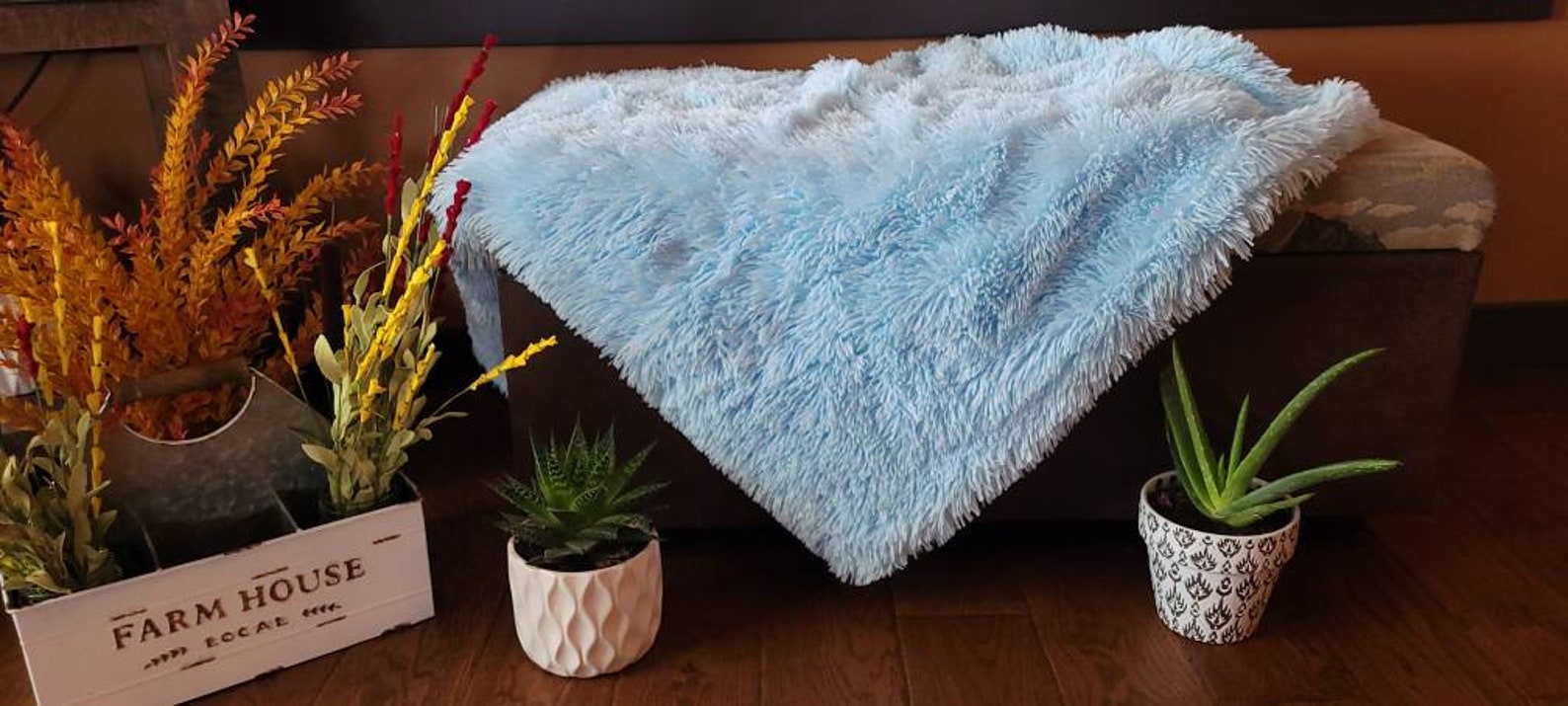 ---
Easter Gift Basket
If you don't know what to get, but you know you want to get something memorable for a special someone, then this Happy Easter gift basket might be perfect! Because something in it is sure to land with them.
Simply enter the personal message you'd like to be included, sign your name, and it'll be all the more special. This box includes body butter, a candle, bath salts, lip balm, moisturizing salve, organic sweets, decorative Easter eggs, matches, and much more.
Click here to check prices and reviews.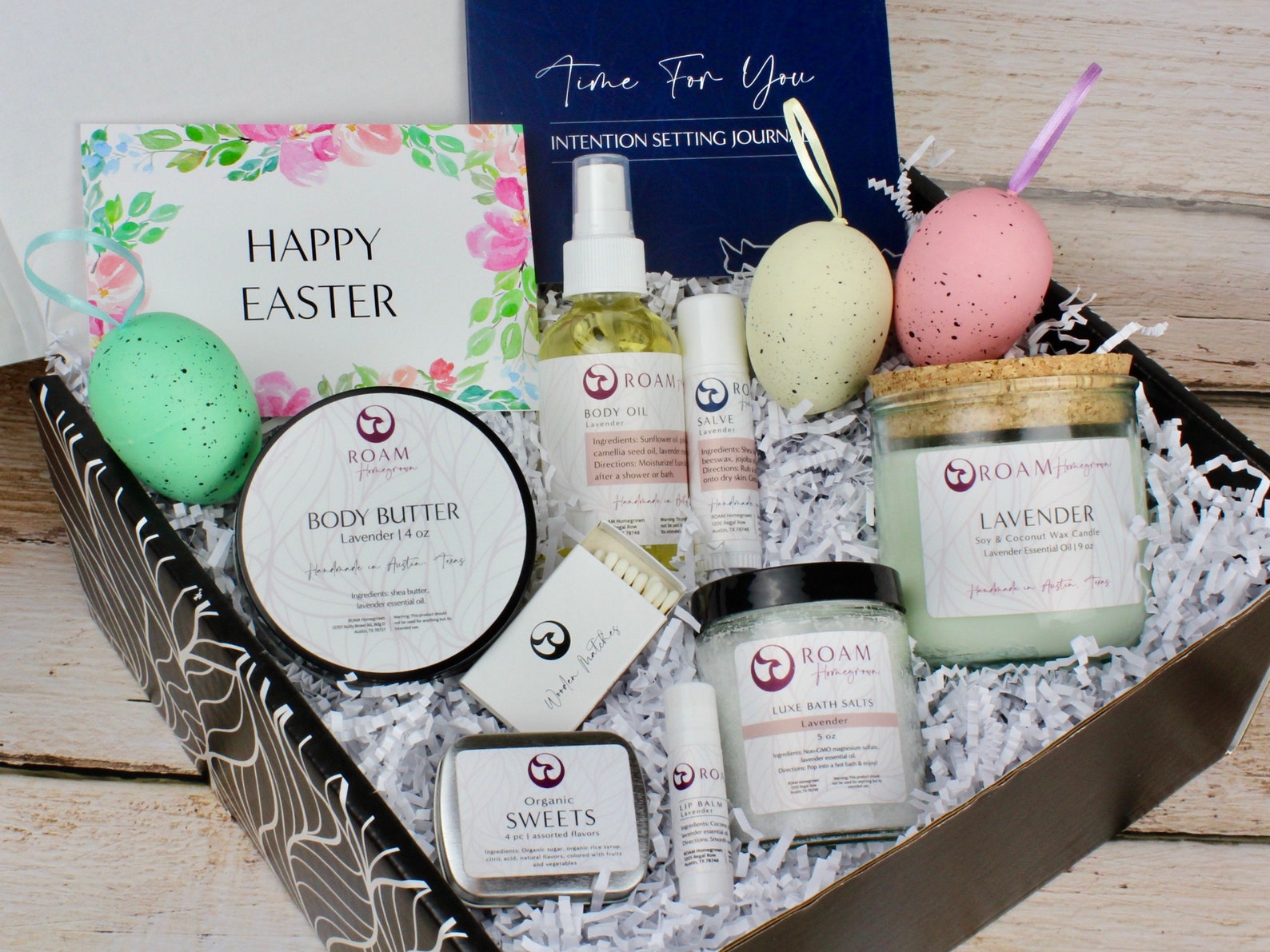 ---
Vintage Rhinestone Bunny Brooch
If you're looking for something for someone who would love to sport something like this Rhinestone bunny brooch, then look no further. And trust us: you'll know if this is something they'd rock when you see it.
Perfect for someone who likes all things vintage, this brooch is from the 1950s. With an abundance of sparkle and equal parts charm, this is sure to make someone's holiday. All that glitters isn't gold—sometimes it's rhinestone. And this is evidence of that!
Click here to check prices and reviews.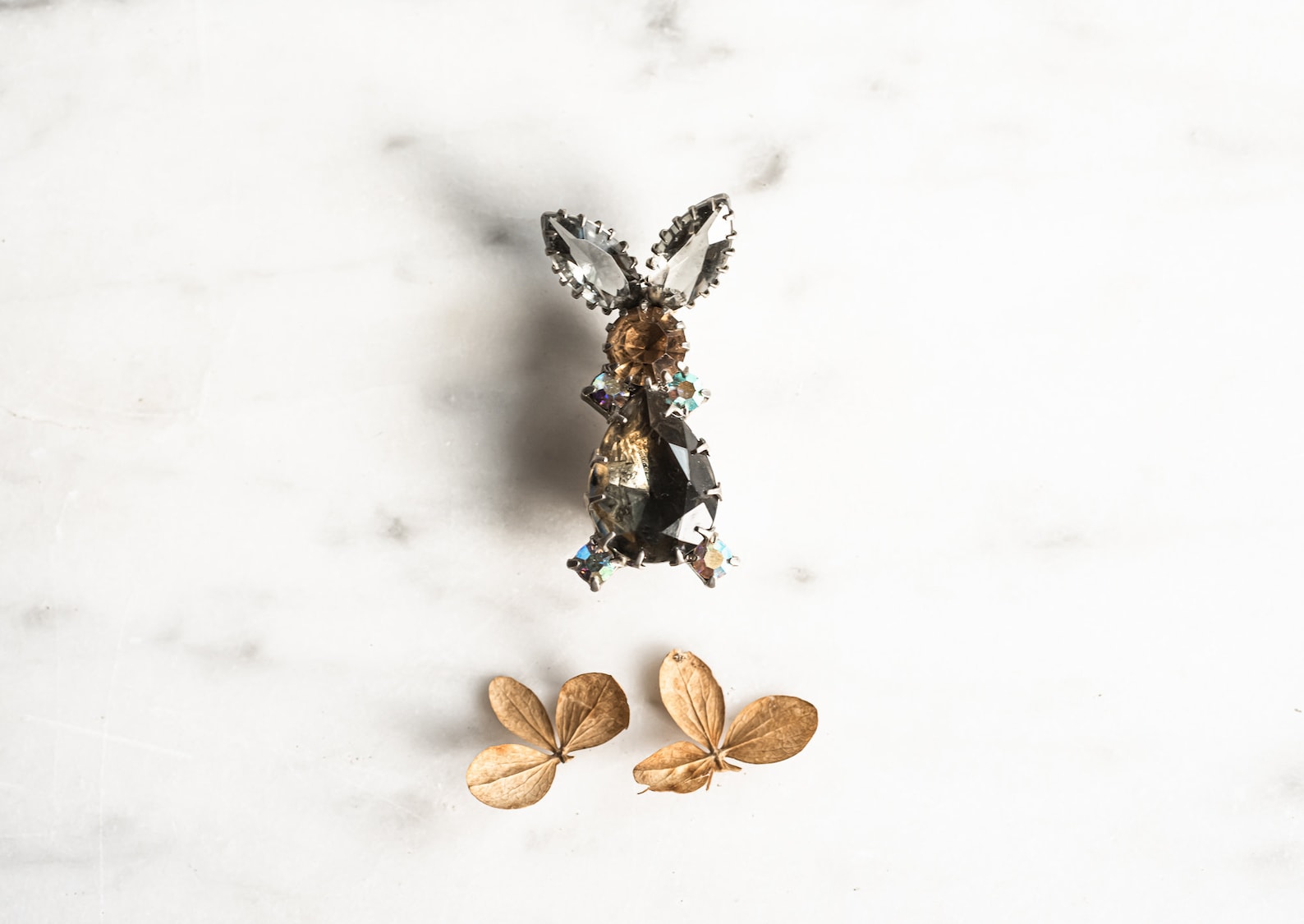 ---
All Things Are Possible Necklace
Another necklace that would also be appreciated, this "all things are possible" necklace is the perfect gift that synthesizes style and faith. It's one of the best gifts to truly remind someone what this holiday is all about (shocker—it's not just about candy and eggs).
Made with two pendants, one being sterling silver and the other being 22kt gold plated brass, this gift also comes with an 18 inch chain. One pendant has a cross, and the other has "With GOD all things are possible" engraved. Nothing says Easter quite like this!
Click here to check prices and reviews.
---
The best Easter gifts for adults over $100
If you're still shopping, then we can only assume you have lofty ambitions this holiday. Maybe you're in the process of resurrecting some relationships and finding the best Easter baskets for adults with no candy is your ticket to that salvation.
Or maybe you're just that awesome and love going above and beyond. Whatever the reason, we're here for you! Here are some luxury Easter basket stuffers for adults that are sure to accomplish whatever it is you intend them to.
---
Religious Paracord Bracelet
One of the best gifts to get someone—particularly a guy—to wear and remind them what and who this holiday is all about, this religious paracord bracelet is sure to drive the point home that this is about so much more than prowling for hidden eggs.
Handmade in a Celtic style to make it a little more fashionable for some, these bracelets are made of incredibly durable, scratch-resistant rope and original 925 sterling silver beads featuring the images of Jesus Christ, Saint Nicholas, and Virgin Mary.
Click here to check prices and reviews.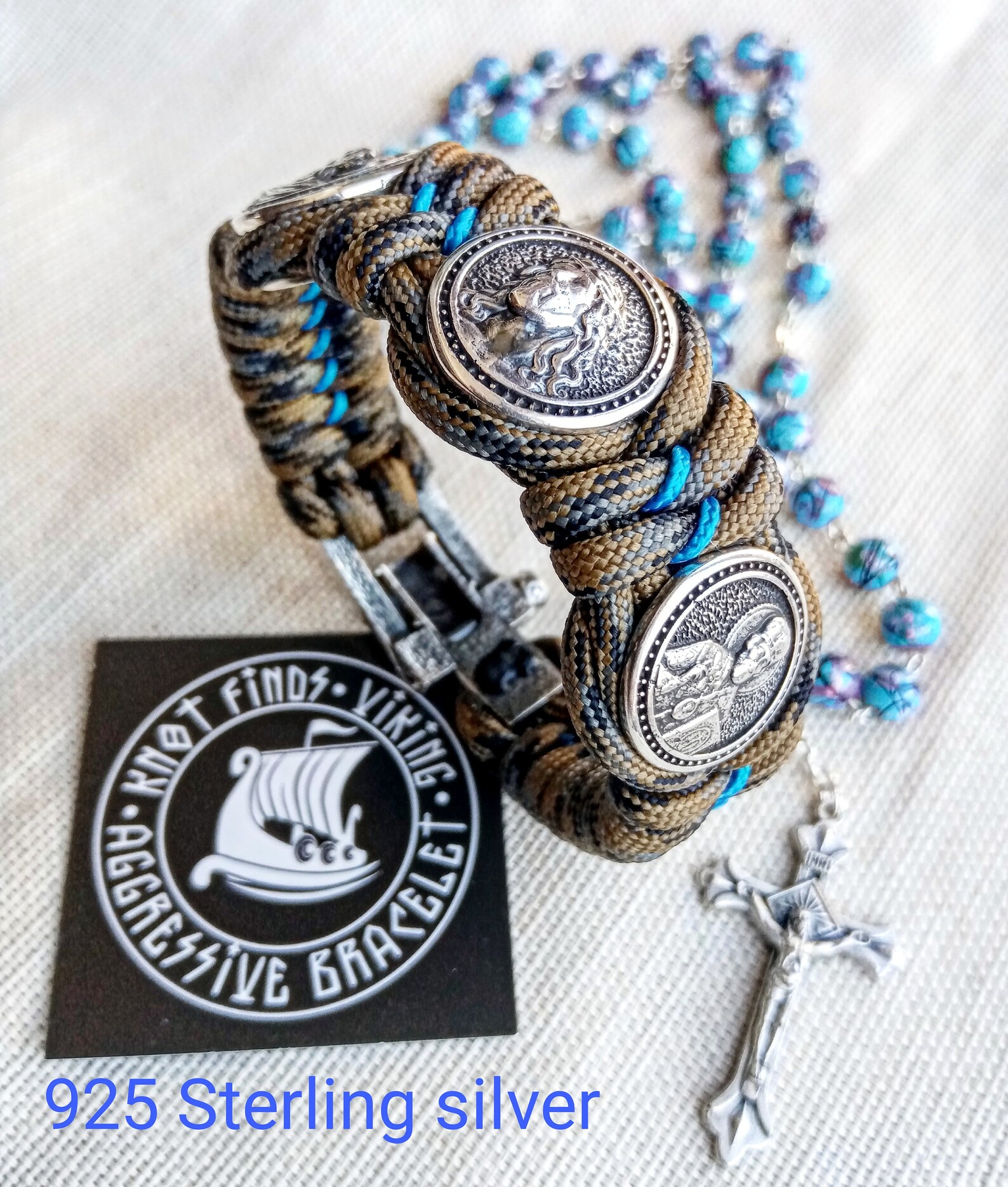 ---
Antique Aventurine Crystal Earrings
Now, if you're shopping for something for someone who has an Easter outfit all picked out—and if they have no problem matching with freshly painted the eggs—then this pair of antique aventurine crystal earrings might be the perfect gift!
Amazing for people who love all things vintage, this pair of 14k yellow gold teardrop earrings is fashioned out of aventurine crystal. The stone symbolizes heart and healing, which is pretty much what Easter is all about.
Click here to check prices and reviews.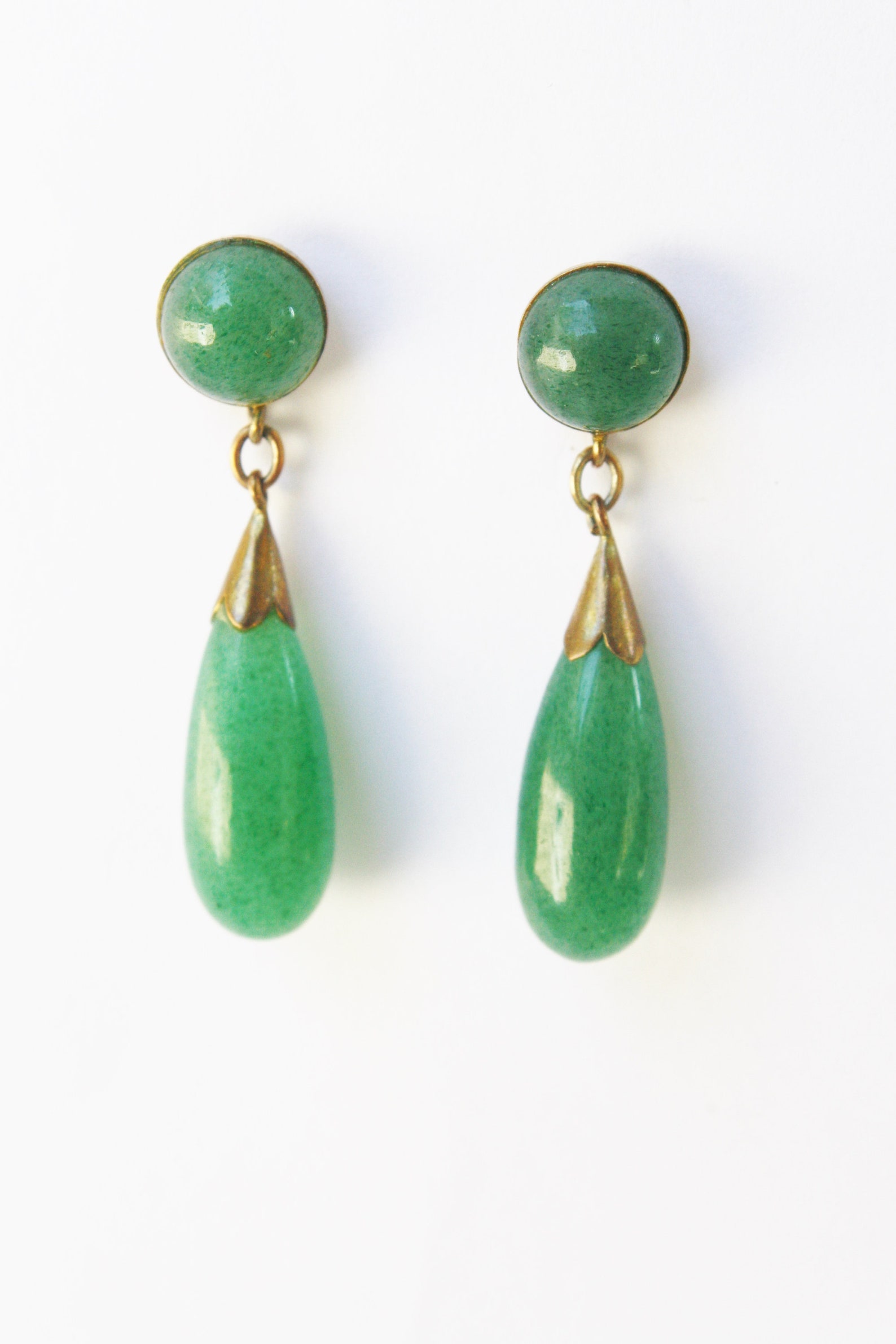 ---
Easter Bunny Wreath
The perfect gift for anyone who likes to go all out with their holiday decorating, this Easter bunny wreath is sure to be cherished and mounted every holiday season. And, of course, it'll warn everyone who enters that this is a household that loves pageantry.
Handmade out of artificial eggs, carrots, decorative mesh, and a bunny who got stuck à la Winnie the Pooh, this is a gift that a certain kind of person will love (especially if they have kids). And, again, you'll know if it's right pretty much as soon as you see it!
Click here to check prices and reviews.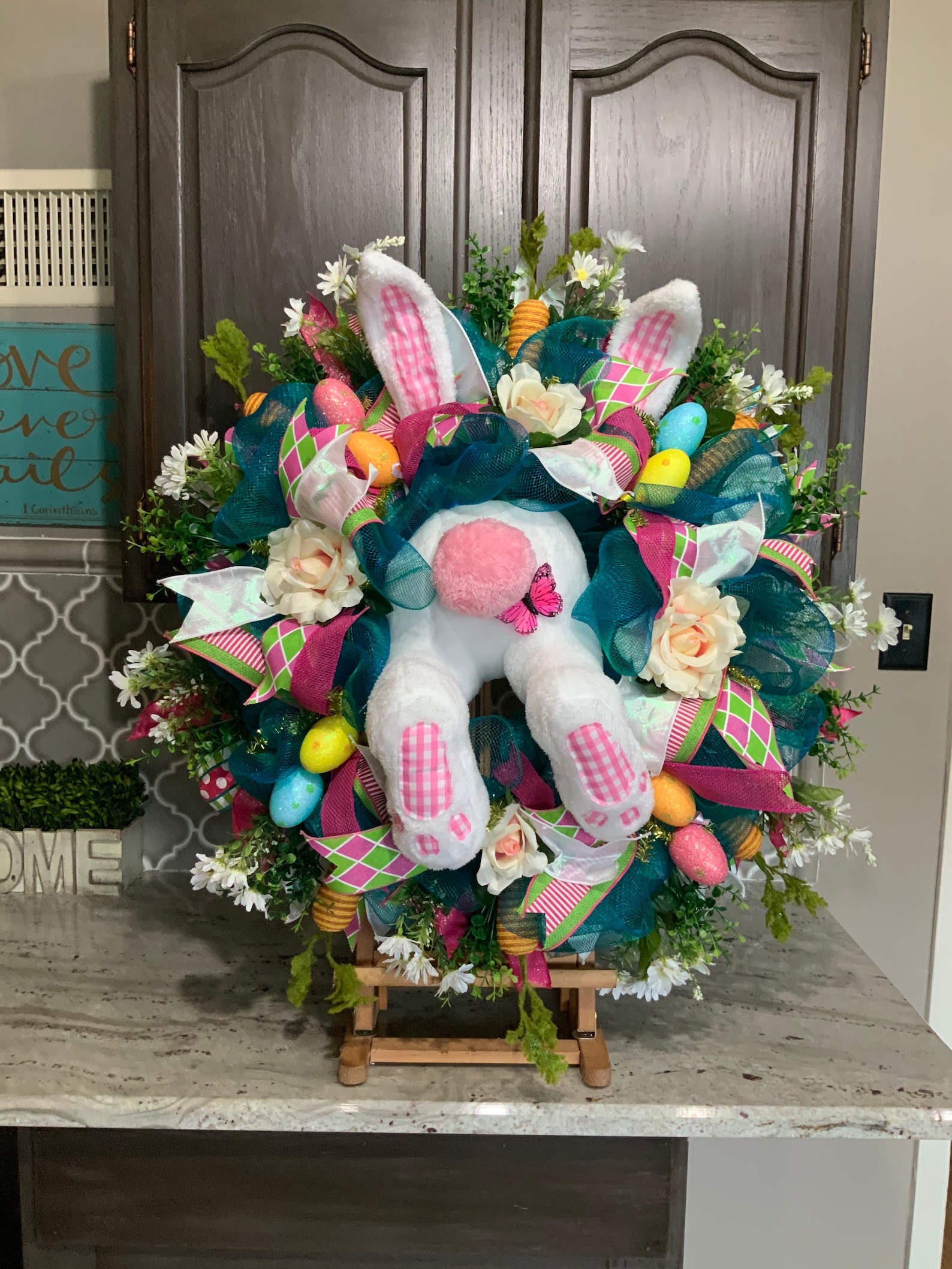 ---
Easter Lily Panel Quilt
A great gift perfect for this holiday season, this Easter lily panel quilt is big, and it's reminiscent of your favorite church's stain glass windows. It's designed with lilies positioned over an empty cross. You can't miss with this one!
Click here to check prices and reviews.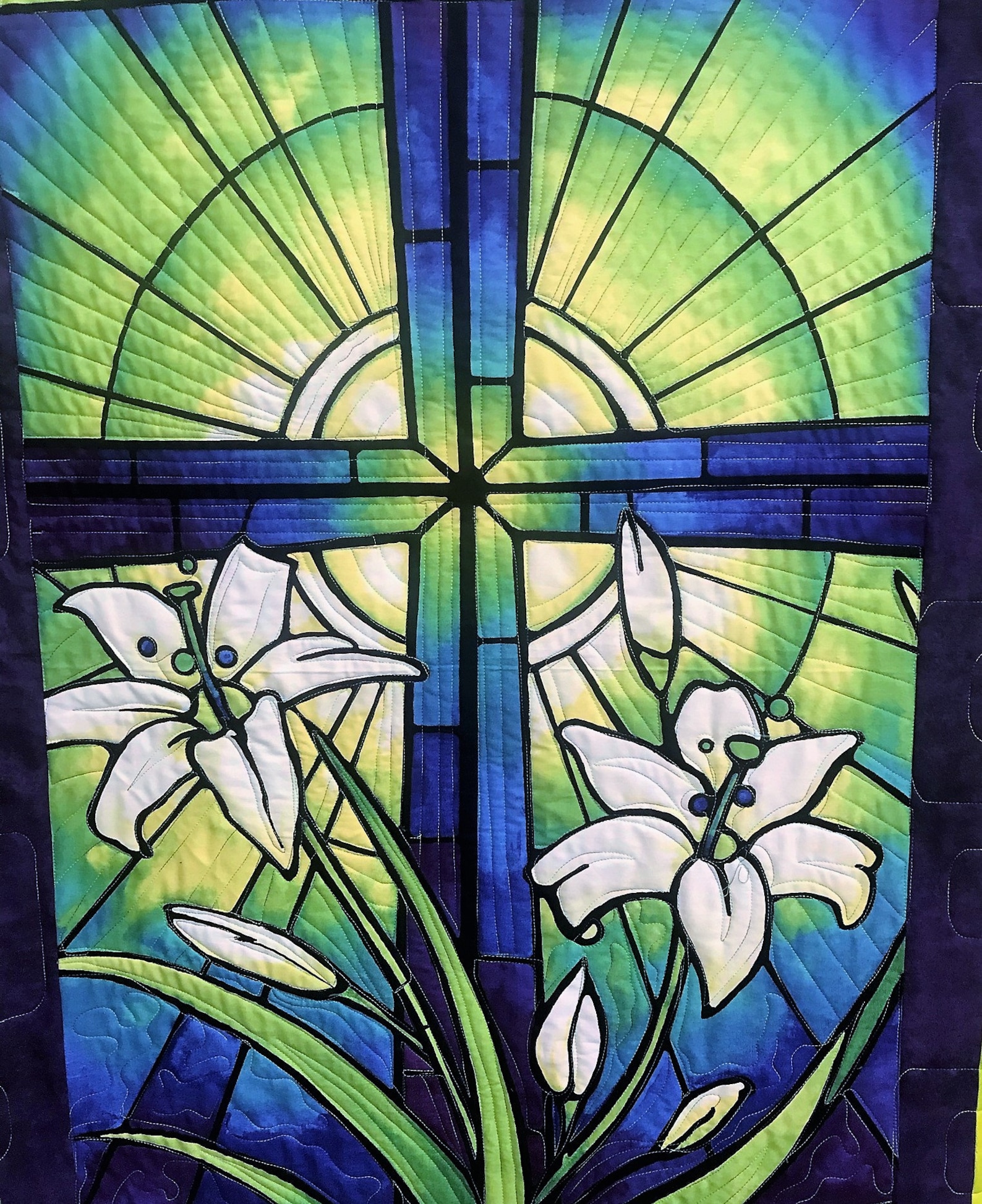 ---
White Rabbit Onesie for Men or Women
Now, maybe you guys are planning on dressing up for the little ones. Or maybe you're planning on dressing up just because. Whatever the reason, this white rabbit onesie for men or women is the perfect adult Easter costume for you!
Select the size, and this handmade costume will be on its way. Knitted out of cotton, these costumes are comfortable and elastic, and its craftsmanship is on full display down to the detailed ears and tail. This is particularly good for entertaining little ones!
Click here to check prices and reviews.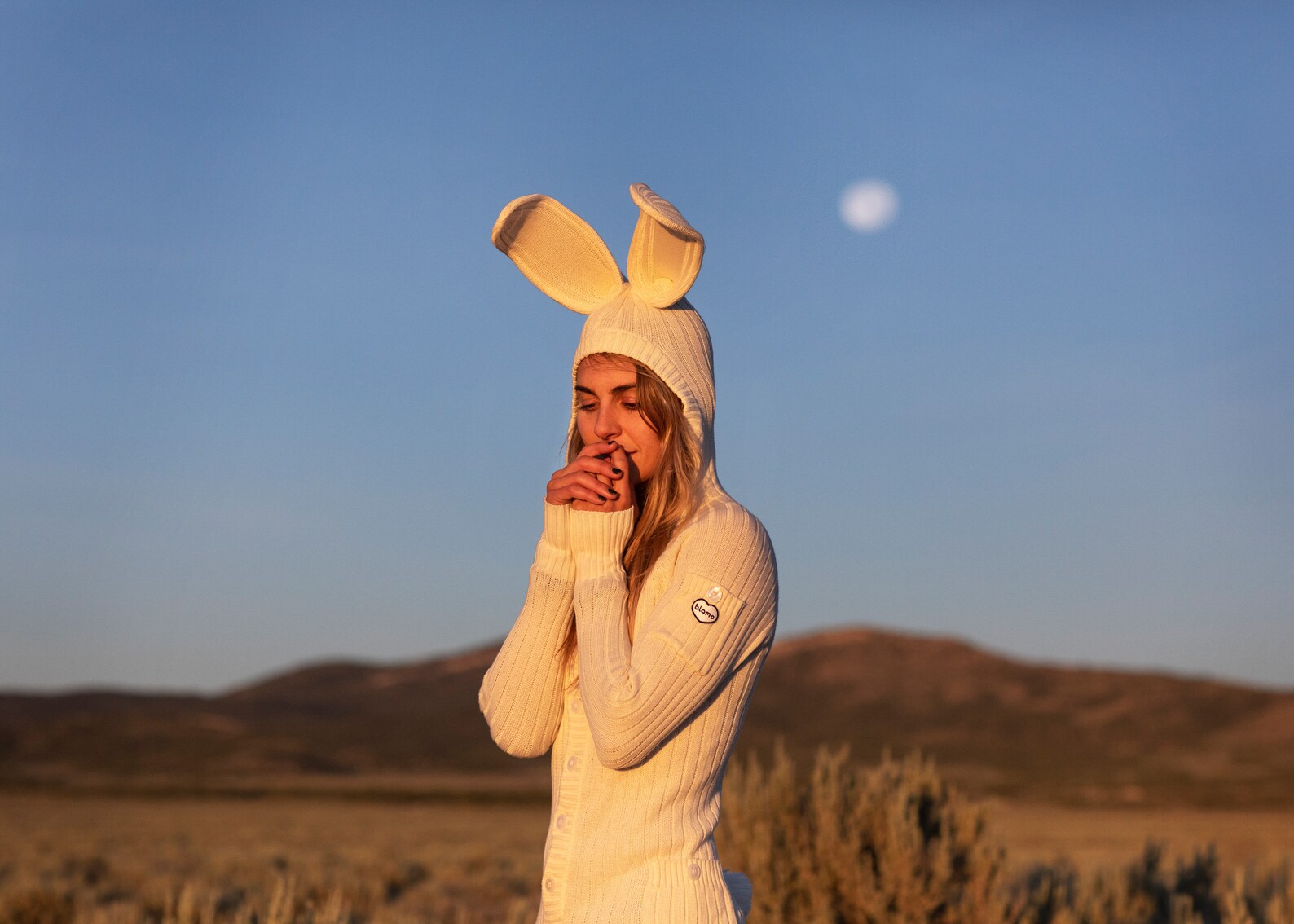 ---
Hopefully our list helped you find the Easter presents for adults you were looking for!
So there you have it! We're confident we've supplied you with a definitive list of Easter gifts to get this holiday season. From Easter gift baskets for adults to whatever else you could imagine getting, we're sure we've found and listed it.
Please don't hesitate to contact us if you have any questions, comments, or concerns at all. This is a great opportunity to show the people around you how much you appreciate them. So make it count! We're sure they'll appreciate it plenty (and hopefully reciprocate).