*FYI - this post may contain affiliate links, which means we earn a commission at no extra cost to you if you purchase from them. Also, as an Amazon Associate I earn from qualifying purchases. Check out our Privacy Policy and Disclosure. for more info.
Yes, the Force is strong with little tykes, too!
If you're looking for the perfect Star Wars gifts for your little tots, stop right here! We've researched all the cutest, coolest toys in the galaxy to put a smile on any kid's face.
We've separated the gifts into age categories (ranging from 4-12 yrs. old) to make it easier for your organizational needs when dividing up gift lists. Or, if you're speaking in Jedi ranks, these are the best gifts for Younglings and Padawans (the rest of the ranks will be addressed in other articles!). 
So, if you want to find some unique Star Wars toys or be the world's coolest ____ (insert family title here) when gifting this year, we've got you covered for all the coolest Star Wars gifts for kids across all ages.
Best of all, these aren't just reserved for the holidays – you can give these galactic goodies year round!
Pin for later: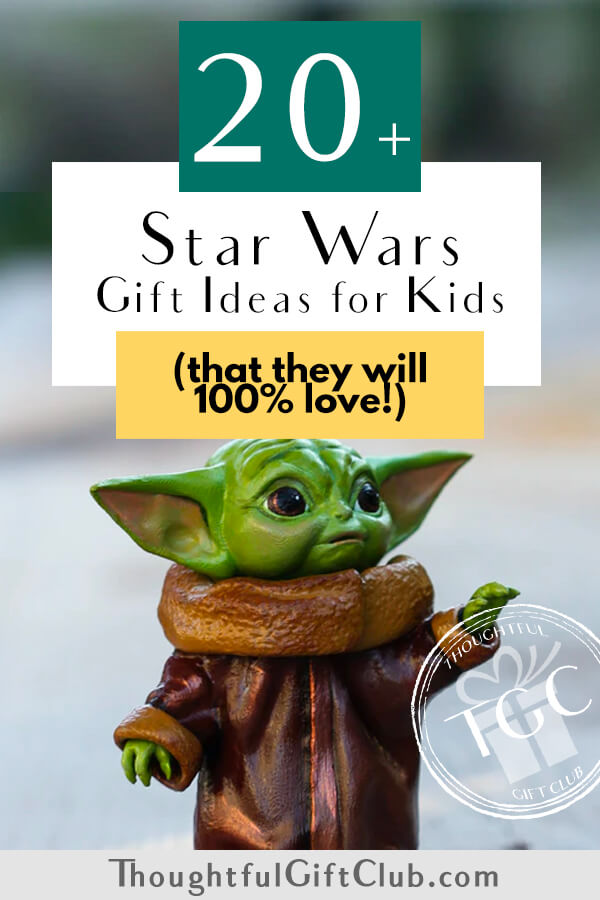 Star Wars Gifts & Toys for Newborns
Was there a Youngling born into the fam recently? We've assembled a few of the cutest, safest, and "necessary" gifts to give this future Jedi Knight! After all, the grooming and training starts young…
1. BB-8 Crocheted Baby Blanket
Little Lovey Crochet designed this adorable crocheted baby blanket… in the form of BB-8, the most loveable droid ever. Irresistibly cute, right? It's the perfect gift for a little boy or girl, and there's no doubt about it that it can be saved and used for kitchen use once the bubs grows up!
Click here to check prices and reviews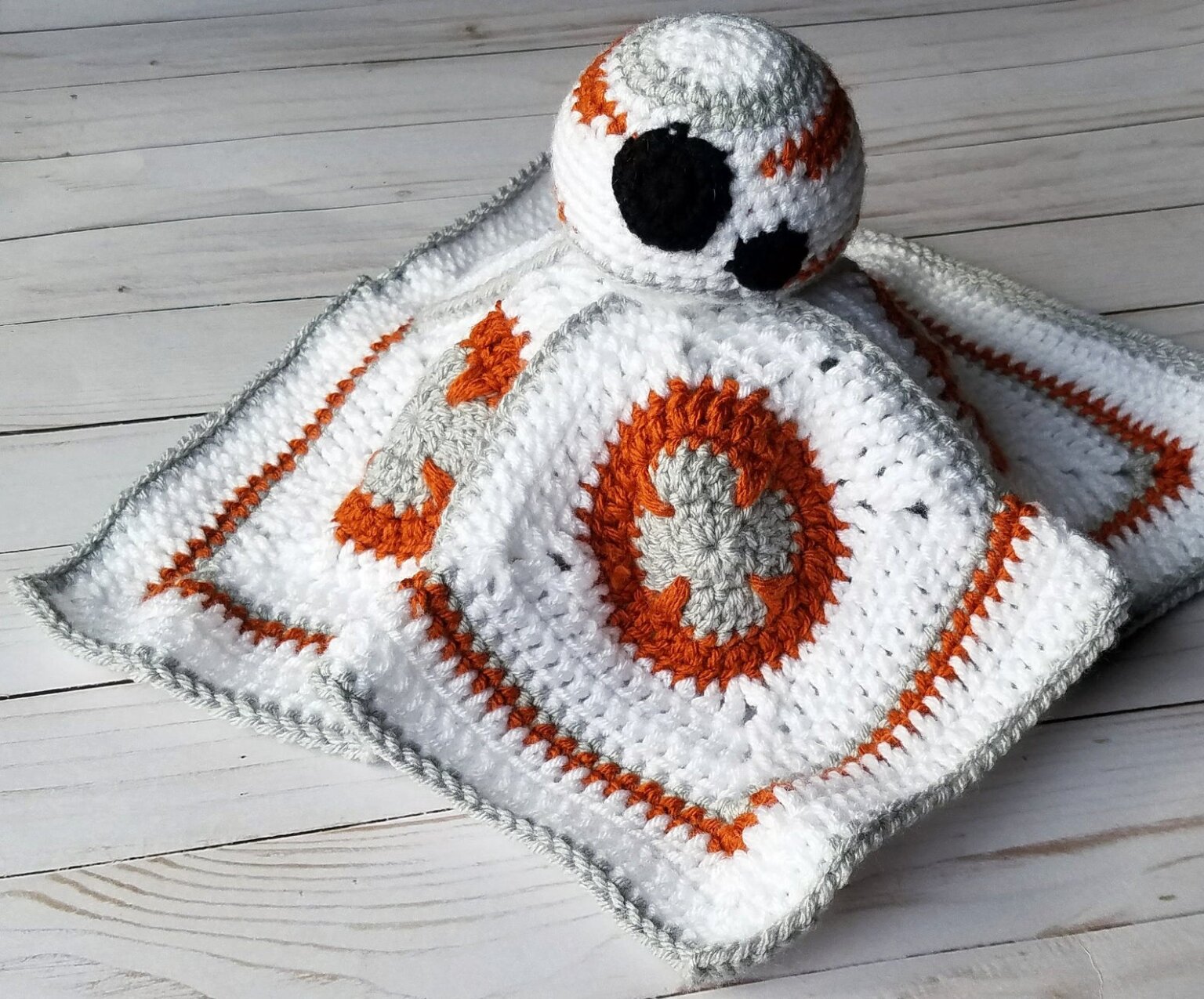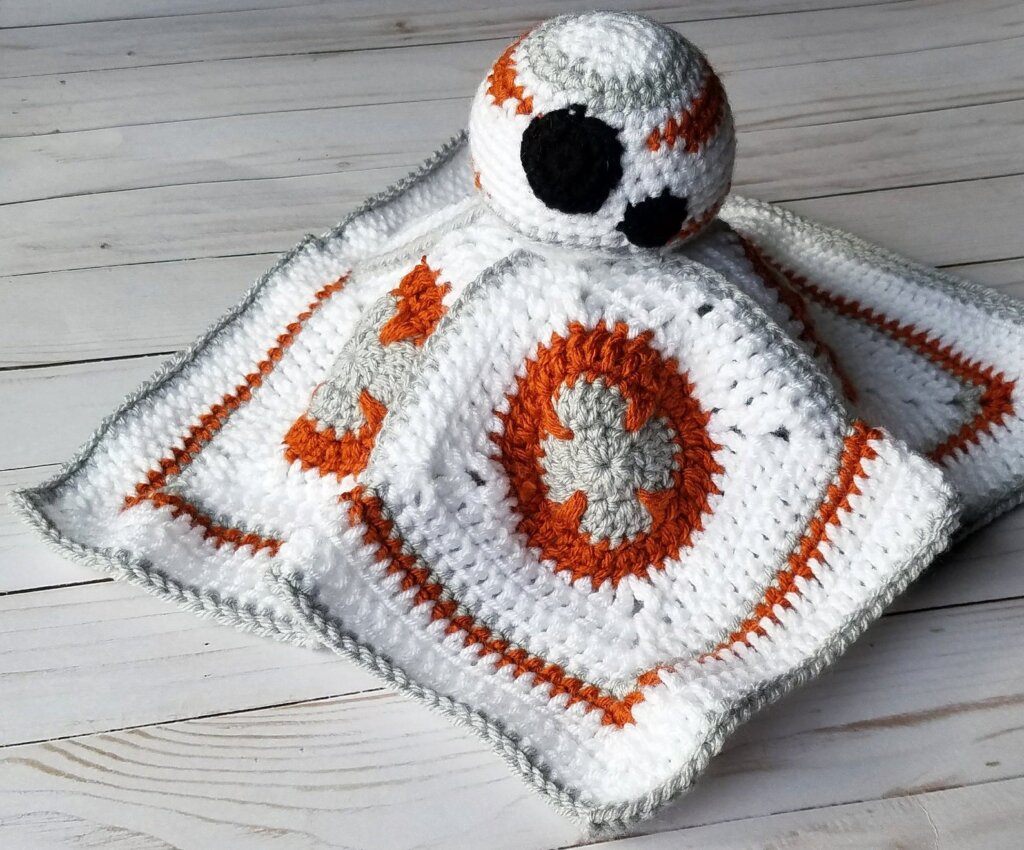 2. Personalized Wooden Name Puzzle for Nursery
Last Piece of the Puzzle makes these customized wooden name puzzles that are perfect for displaying in a nursery. When the little one gets older, they can even pop the pieces in and out as much as they wish.
The Star Wars characters and letters are all hand designed, making this is the perfect thoughtful gift for a new addition to the family!
Click here to check prices and reviews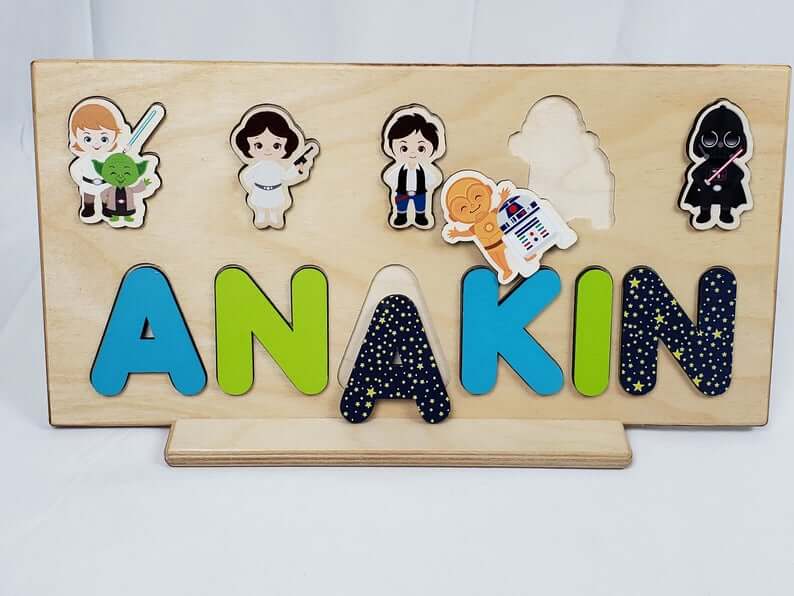 3. Star Wars Teethers
Paci Catchers designs adorable Star Wars-shaped wooden teethers and pacifiers for babies. You can either order the wooden teether on its own or in a set (with a paci-catcher).
All teethers are handmade of hard maple or cherry and will not splinter, are naturally anti-bacterial, non-allergenic, and sealed with organic coconut oil and beeswax finish for a silky, soothing feel for baby gums. The teether can be clipped to a car seat, stroller, or clothing, further preventing it from being lost or tumbled on the ground.
Click here to check prices and reviews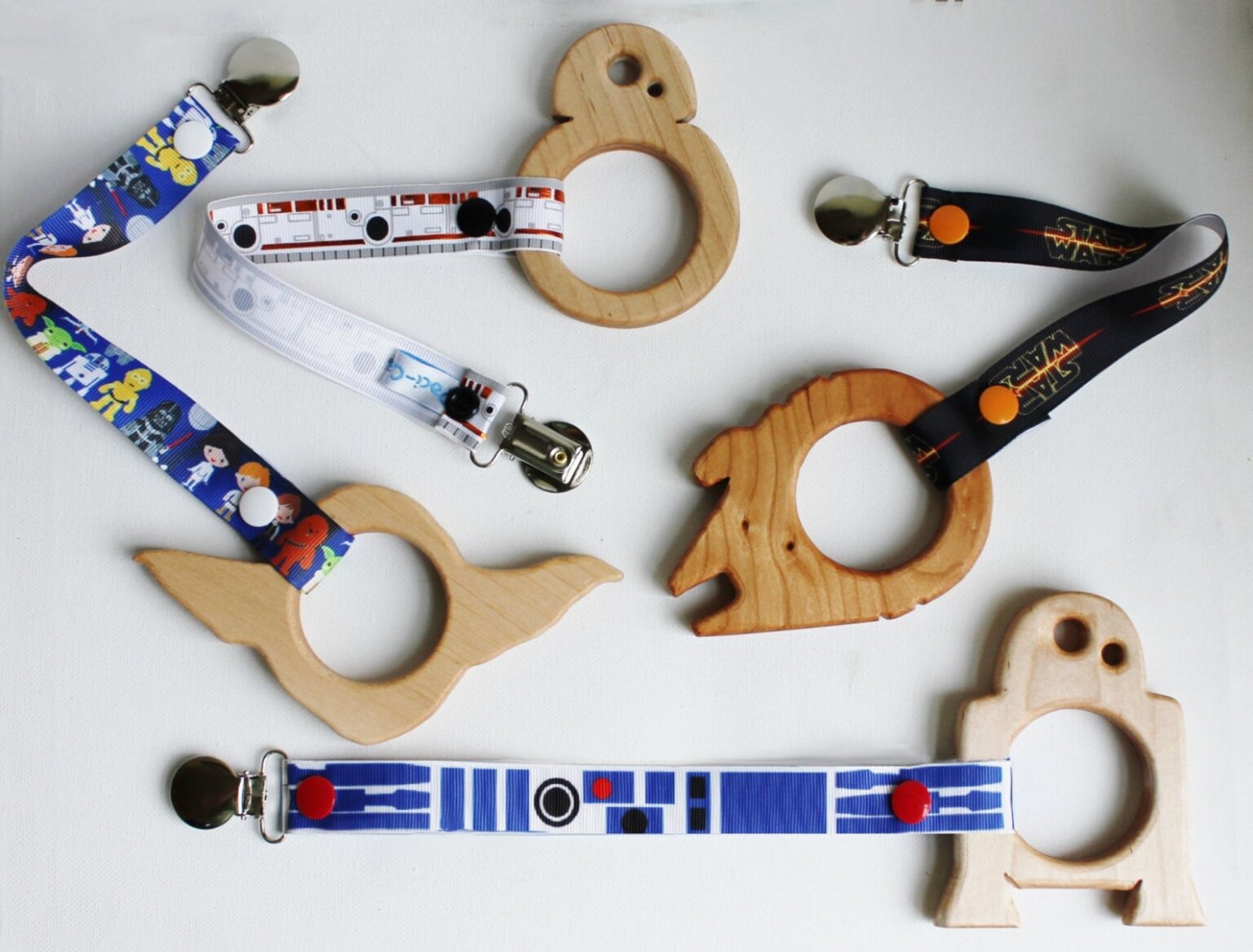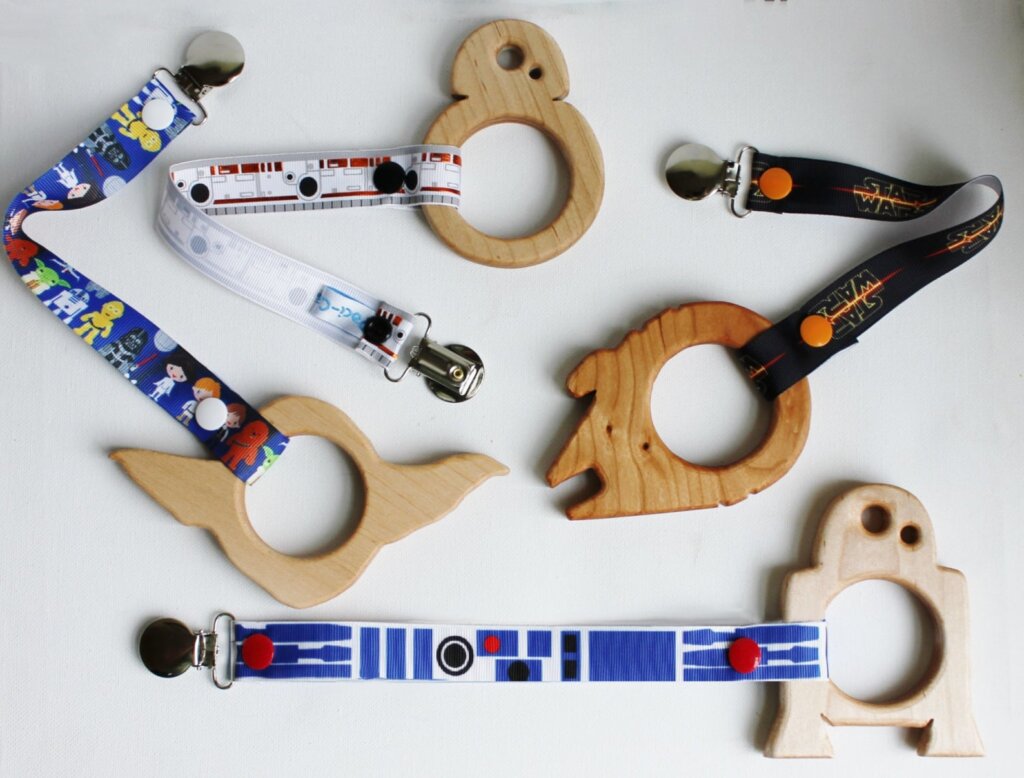 4. Baby Yoda Crib Mobile
Crazy Felt Co. hand crafts these adorable Star Wars crib mobiles out of felt – and you can even customize the character (but personally, we think this Baby Yoda one is the most fitting and cutest ever).
The little bubs will always be able to sleep soundly and peacefully if this dangles above them! This is definitely the cutest gift that will most likely gain the approval of any parents as well (especially if they're Mando fans).
Click here to check prices and reviews
Also, if you're gifting to a Mando fan, don't forget to check out our article on the best gifts for Mandalorian superfans!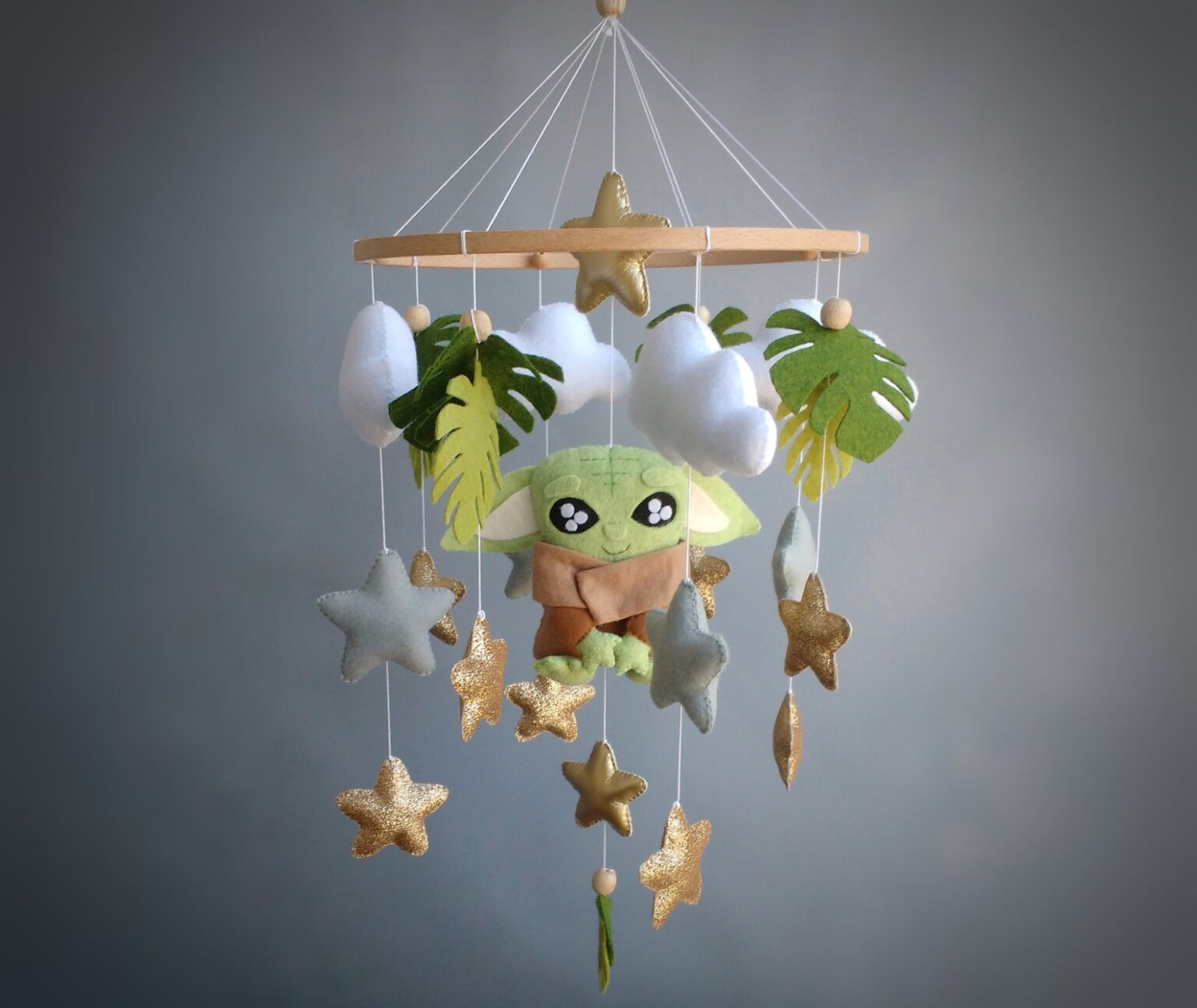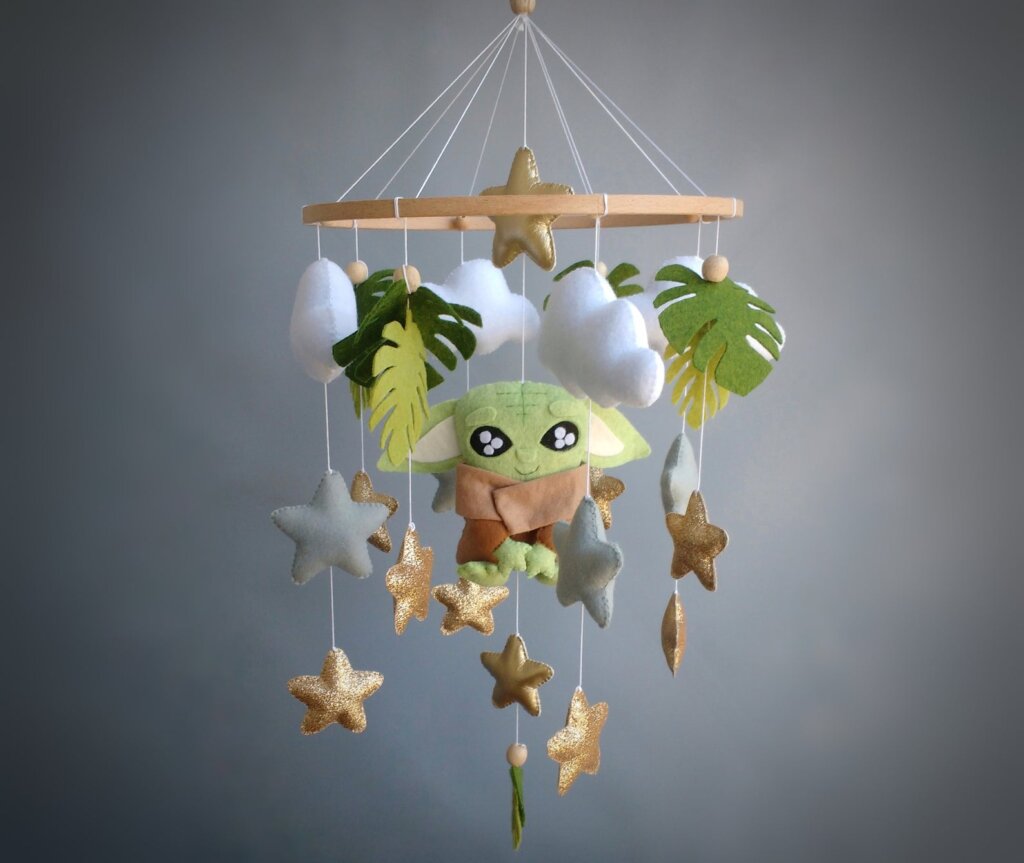 5. Baby Yoda and Princess Leia Crocheted Baby Rattles & Teethers
Yu Yu Toys designs these hand-crocheted baby rattle and/or teether sets for newborns that are absolutely adorable. You can either order Princess Leia or Baby Yoda designs, all made from hypoallergenic acrylic and cotton yarn.
The shop also offers several other Star Wars toys for newborns and various amugurumi designs, so be sure to browse its main page for further gift ideas.
Click here to check prices and reviews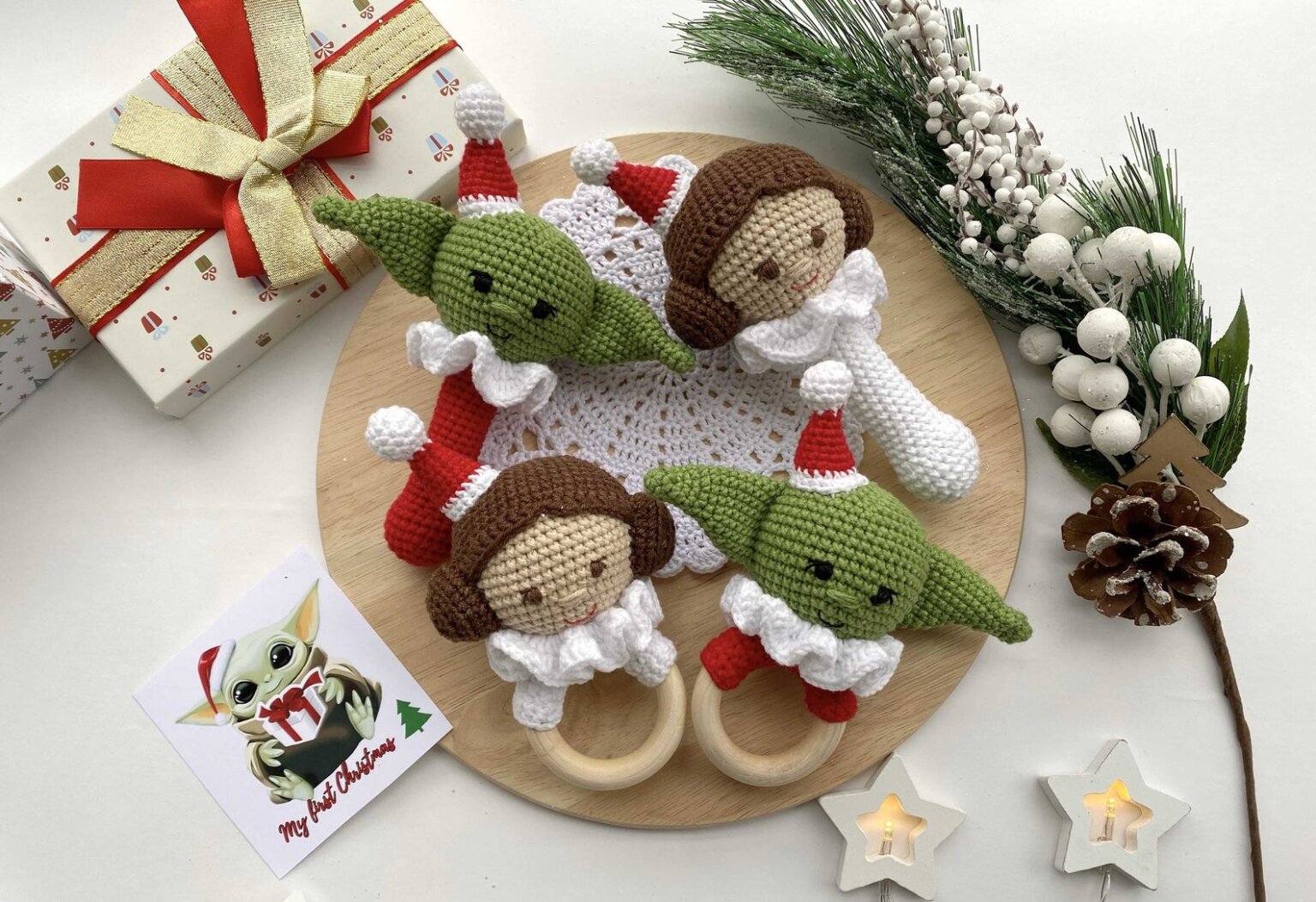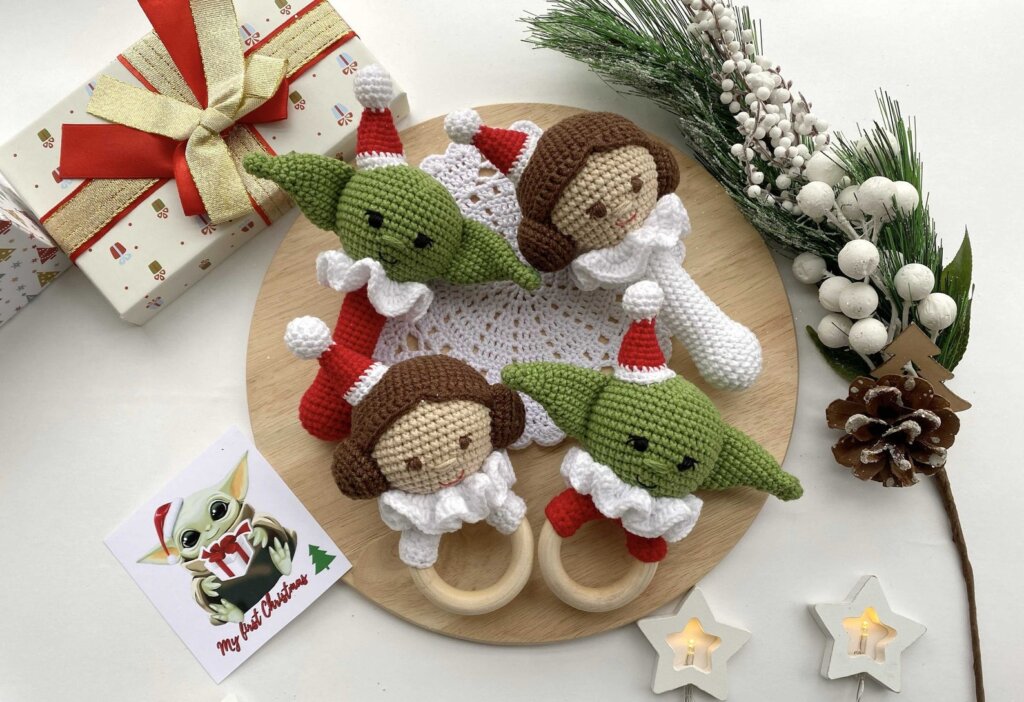 Star Wars Gifts & Toys for Kids 4-6 Years Old
Still looking for gifts for slightly more mature Younglings? We've compiled a list of some of the coolest Star Wars gifts for 4-6 year olds below (everything from remote-controlled cars to real lightsabers).
And if you're thinking of buying any of these for your kids JUST for the sake of hopefully inheriting them in the future once (or if) they grow tired of them, we won't judge. The Star Wars fandom has no age limits!
6. Lightsaber Plush Pillows
M Sharp Creations designs these adorable lightsaber plush pillows that are great for kids of any age. The best part? You don't even have to worry about siblings hurting each other, since they can bonk each other over the head with these pillows and cause no damage!
They're the world's safest (and most versatile) lightsaber toys, which also serve as a great cushion for the couch or bed.
Click here to check prices and reviews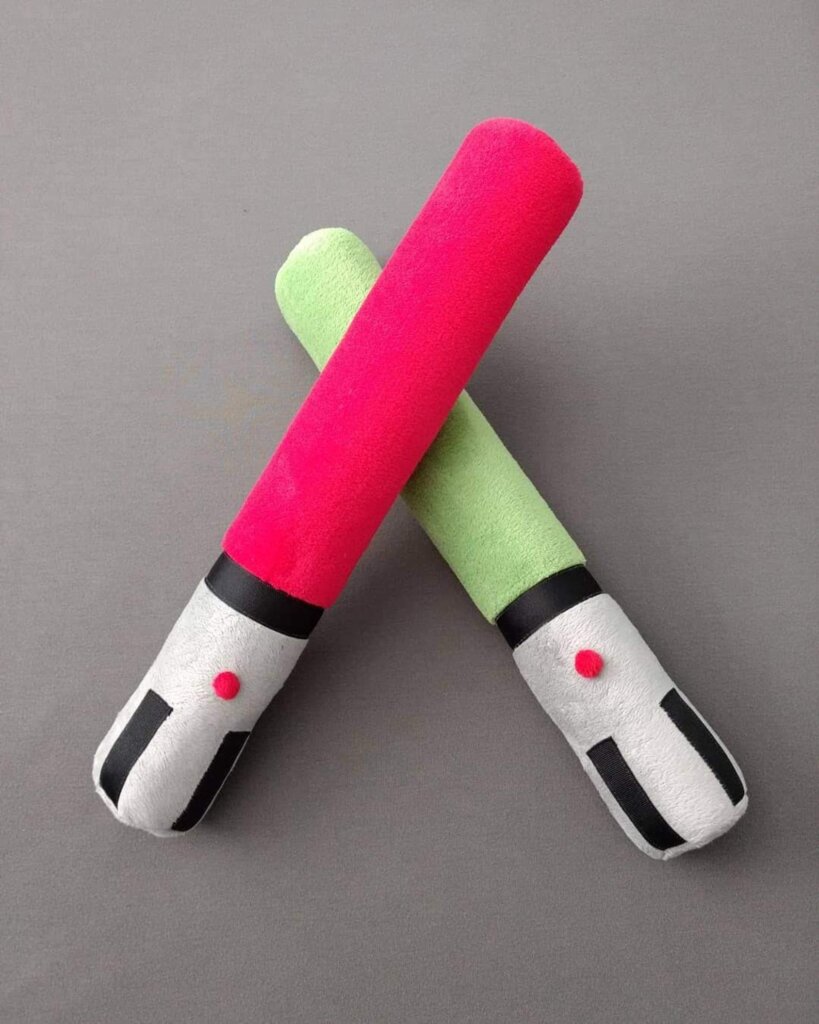 7. Anakin Skywalker Lightsaber
Okay, so if you want to really spoil a Youngling, gift them their very first lightsaber. Anakin's saber (before he falls to the dark side) is not only a gift – it's a keepsake.
The retractable, telescopic blade ensures that no one is actually injured in battle, but the hilt is as realistic as they come (at least, for this age-appropriate version). There are, of course, other Jedi sabers that you can buy as well – but c'mon, isn't everyone's fave saber the blue one (Anakin's)?
Click here to check prices and reviews
8. Darth Vader Black Series Action Figure
SunshineSociety79 sells a Darth Vader replica 6-inch action figure toy (suitable for ages 4+) modeled after the infamous baddie from The Empire Strikes Back.
His arms and limbs are posable, and he comes with his lightsaber (of course!), so the playing opportunities are endless. Just remember that it's okay to let the kids play with this one – not everything has to stay pristine in the box, untouched and unopened!
Click here to check prices and reviews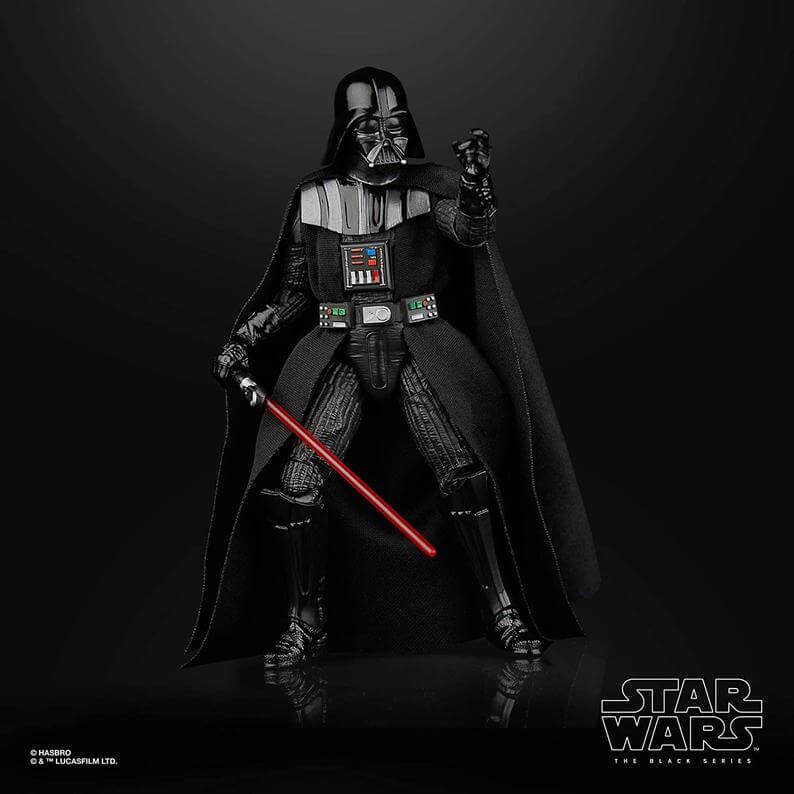 9. Handmade Rey Plush Doll
Angel Art by Ozlem designs adorable dolls that are meant to become keepsakes. This Rey doll is no exception, since it's handmade from PolyCotton, felt, and plush fiber, and is hand-sewn with adorable flair.
Rey's clothing is made with impeccable detail (and accuracy), and she's bound to be a fave toy for any child to sleep with (especially if you're raising them to be Jedi Knights).
Click here to check prices and reviews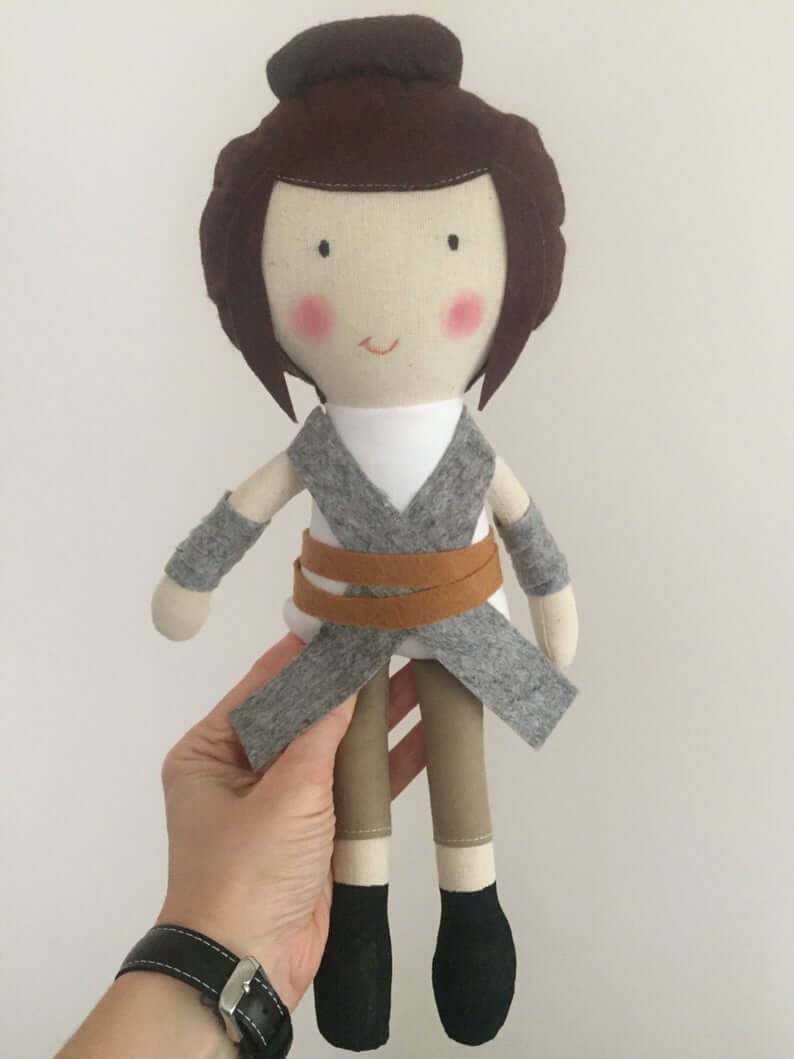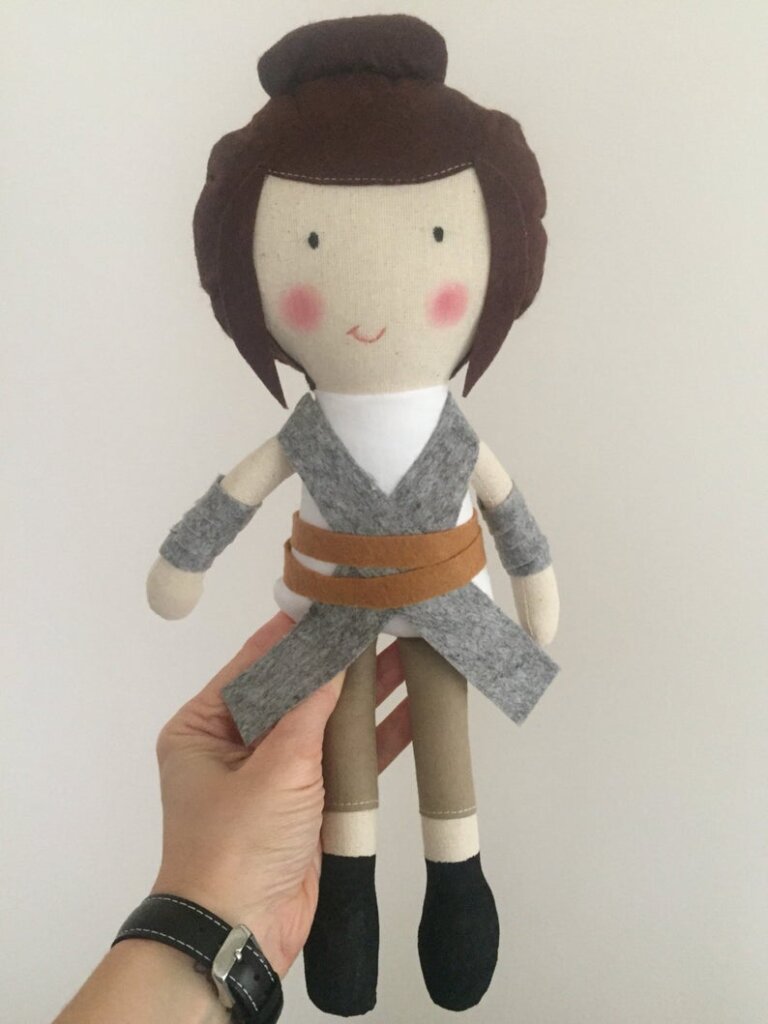 10. Remote-Controlled D-O
For the electronic-obsessed tykes, gift them this remote-controlled D-O rolling toy. Even if the kids are too young to have watched The Rise of Skywalker (when D-O first makes his appearance), this will still fascinate them to no end.
After all, who wouldn't want to control their very own droid from a wee age? It might even be better than getting them a dog for Christmas!
Click here to check prices and reviews
11. Play-Doh R2-D2 and BB-8
For the little ones who have just discovered the endless, sticky fun of Play-Doh, gift them this Play-Doh R2-D2 and BB-8 set. BB-8 comes with six stampers to create recognizable Star Wars shapes (and he even emits lasers from his side), while R2-D2 features a removable mold that allows kids to create C-3PO.
Three cans of Play-Doh are included in this set, so don't worry about the kids accidentally losing some bits under the couch.
Click here to check prices and reviews
12. Hot Wheels BB-8 Character Car
Anything car-related is always a safe gifting choice for boys who are starting to understand how much they love it when cars go "Vroom, vroom!" This Hot Wheels BB-8 character car is a cute reimagining of the droid, and they can either be combined with other Star Wars character cars or just played with individually.
Click here to check prices and reviews
13. Darth Vader Voice-Changer Mask
Finally, a mask that does what every kid dreams of – it changes his/her voice to match the iconic heavy breathing and raspiness of Darth Vader himself. This mask is modelled after Vader in Rogue One, but there are pre-recorded lines from The Empire Strikes Back that can also be re-enacted.
The mask is battery-operated and officially licensed by Hasbro, so you know it'll be a great gift for your future Jedi (er, I mean, Sith Lord).
Click here to check prices and reviews
For a similar talking mask with authentic Chewbacca roaring sounds, check out this one below (meant for ages 5+):
Or, if your child worships Kylo the most, check out this Kylo Ren voice-changing mask:
Star Wars Gifts & Toys for Kids 7-9 Years Old
Almost a Padawan! This middle age range signals a bit more variety in the gifting realm of all things Star Wars. We've managed to find quite a few unique gifts suited for 7-9 year olds (that kyber crystal growing kit is our fave!), so all your gifting needs can be sorted if your little ones fall in this category.
14. Dark Saber
Sure, every kid knows what a lightsaber is – but what about the Dark Saber?! This is actually the #1 Amazon bestseller in the "Toy Construction Tools" category, so you can be assured that everyone has this on their Christmas list this year.
The saber comes stocked with realistic sound FX inspired by The Clone Wars, so the kids will have no problem imagining that they're actually battling in epic wars.
But the COOLEST feature? When the button is held down OR when the saber is swung, the saber lights up and emits ultra-awesome lightning FX. Heck, this is even a toy that we, at Thoughtful Gift Club, have considered buying for ourselves (despite being full-grown adults!).
Note: The instructions say that this is meant for ages 5+, but we're putting this in the 7-9 yr. old category since it seems more appropriate here.
Click here to check prices and reviews
15. Lightsaber Kyber Crystal Growing Kit
This lightsaber kyber crystal growing kit is the coolest gift for any Jedi-in-training (or Sith, but let's hope you're not gifting this to a future Sith Lord). They light up in electric blue or flaming red to showcase the duality of the Force.
This is a full-blown science kit with a solution that crystallizes and forms into a real (yes, REAL) crystal in just 7-10 days! Rave reviews have been left by buyers, and an educational poster is included that explains how the lightsaber crystals are connected to other crystals (and their properties).
Click here to check prices and reviews
16. R2-D2 Inventor Kit
This droid inventor kit is the perfect gift for the aspiring engineer or mechanic in your family. The kit even includes easy-to-understand coding, in which electronics are controlled with code in 6+ block-based coding missions.
Asides from being a WICKEDLY awesome gift (how cool is it to see R2-D2 as a see-through droid?), there are also over 22 missions where kids can teach their droid new skills. The entire building process is connected via a smartphone (either iPhone or Android) and an included app.
This kit has even won over 50 toy awards and topped holiday gift guides in the past years, so you know this is a real winner!
Click here to check prices and reviews
17. Mandalorian NERF Rocket Gauntlet
Let's be real – if your kid loves the Mandalorian, they would LOVE this NERF rocket gauntlet. Other than his jet pack, it's probably one of Mando's coolest features!
Rest your worries aside, since NERF darts are soft and don't cause the actual damage that Mando's gauntlet does. It works in the same way as the one in the show, so kids will be jumping for joy when they get to watch new episodes while wearing (and using) this bad boy!
Click here to check prices and reviews
18. Death Star Color-Changing Night Light
Aqua Lux Crafts designs laser cut, 3D-printed night lights like this epic Death Star one. The night light is remote-controlled and can change 16 colors, powered either by a cable or batteries.
Plus, it even comes in a Star Wars-themed box, making your gift even more special! The kids will never be afraid of the dark as long as the Death Star continually shines bright in their room.
Click here to check prices and reviews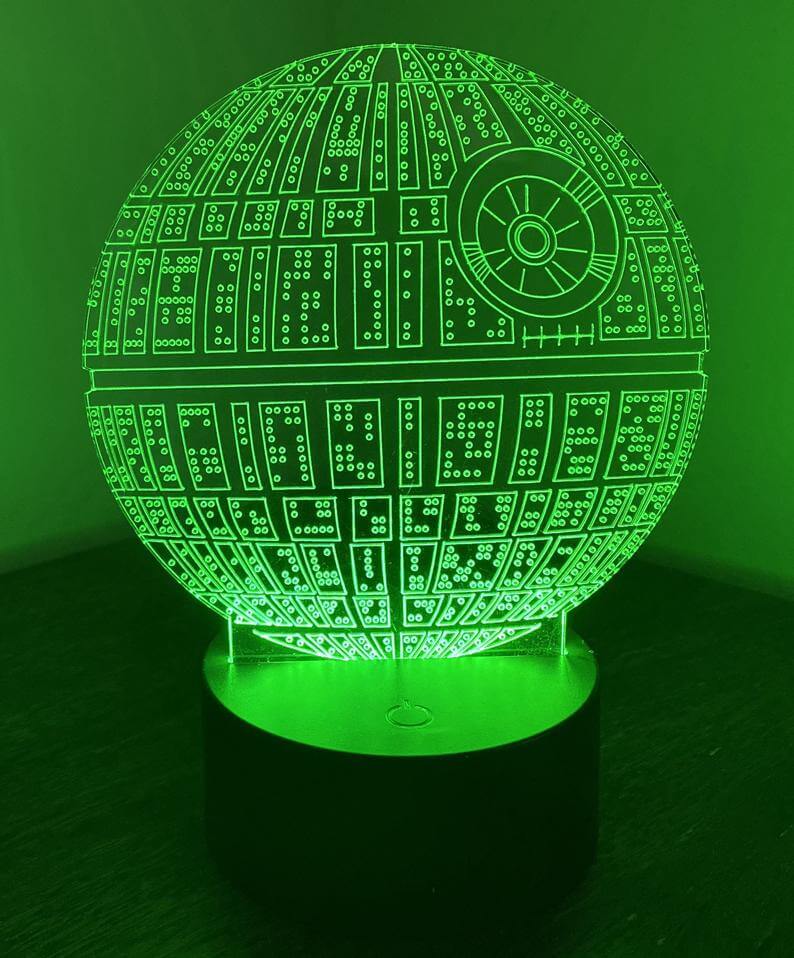 19. Character Hooded Towels
BandEDesignShop makes these adorable hooded towels that will turn any kid into R2-D2, Vader, Leia, or Yoda – but without all the heavy armory and costumes!
We've listed this in the 7-9 yrs. old age category because the towels are adult-sized, but they could probably be a cute gift for anyone (of any age). And for the fussy kids who don't like bath time, these towels will instantly sway them otherwise!
Click here to check prices and reviews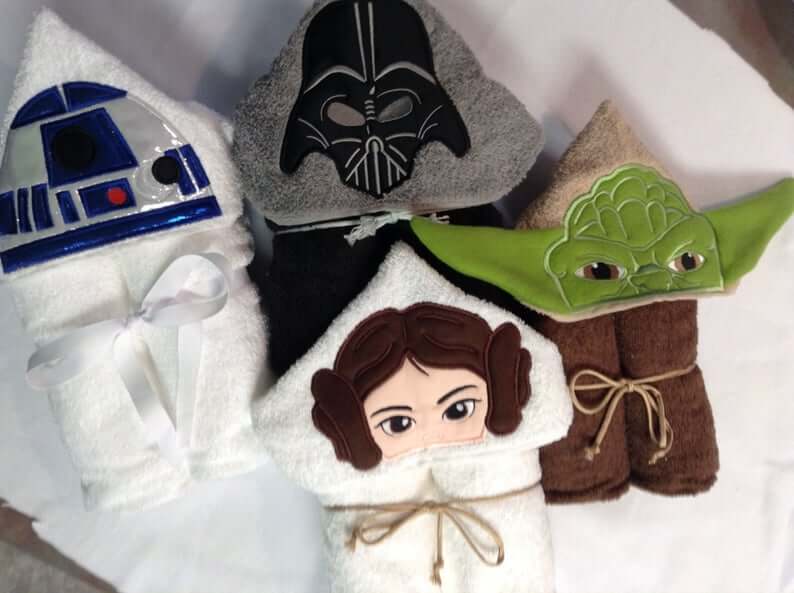 Star Wars Gifts & Toys for Kids 10-12 Years Old
Ah, finally young Padawan stage (kinda – but for the sake of making the oldest age category on this list feel special, we'll say that they are, indeed, Padawans). Check out our fun-filled list of the best gifts for this age range (we dare you to try not to buy everything!).
20. Jedi Force Levitation Kit
For the aspiring Jedi who are also science nuts, this Jedi Force levitation kit is the perfect gift. Not only is it Star Wars-related, but it's also an educational gift!
Kids learn to use actual electrical charges to suspend and move objects mid-air with electrostatic force. A Jedi training rod is included, as well as eight other "Force deflectors" that allow one to use the Force as it's seen in the films (take our money NOW, right?).
Who knew that science could be so cool? An included guide also breaks down how the static electricity generator can be used for household objects.
Click here to check prices and reviews
21. The Force Coding Kit
For those especially intelligent kids who want to know exactly how the Force works, this kit was made specifically to answer all their questions. No coding experience or computer science background is necessary beforehand!
With this kit, kids will build a sensor that detects 3D motions (and learn how it works in the process), learn to use the Force properly (via lightsabers, Force pushing Stormtroopers, and piloting X-wings), and even make their own stories (such as levitating Baby Yoda). There's even an option to make music (and code beats) inspired by the films.
Note: This product states that it's for ages 6+, but we're placing it in this age category based on reviews. A compatible device is required (iPad, Mac OS, Windows 10).
Click here to check prices and reviews
22. AT-AT LEGO Building Set
Any kid would gladly unwrap a LEGO set for the holidays! This AT-AT building set features six Star Wars mini figures (Luke, General Veers, two AT-AT drivers, and two Snowtroopers), all with their respective weapons to reenact those iconic Rebel Alliance vs. Empire battles.
Three figures can fit into the AT-AT's cockpit, and there are a ton of cool features (such as spring-loaded hooters and a bottom hatch for Luke to throw in the thermal detonator). The set comes with 1,267 pieces, but is suitable for anyone ages 10+ who wants to take on the challenge of building this project and role-playing.
Click here to check prices and reviews
23. LEGO BrickHeadz Mandalorian and Baby Yoda Set
This 295-piece, dual LEGO set includes BrickHeadz of Mandalorian and Baby Yoda (in his floating crib). These are perfect for kids who love LEGO but don't want a gigantic set taking up the entire living room (okay, maybe this only applies to parents' wishes).
The Baby Yoda LEGO's ears are even adjustable to evoke various emotions (talk about cuteness overload), and its "hoverpram" really looks like it's floating due to its transparent LEGO stand on the bottom. On the other hand, Mando comes equipped with his handy dandy blaster.
Click here to check prices and reviews
24. Millennium Falcon LEGO Building Kit
We've saved one of the most epic gifts for last – this Millennium Falcon LEGO building kit.
Coming with a whopping 1,351 LEGO to assemble, this gift is sure to be a hit with of the kids who worship Star Wars. The kit includes seven mini figures (Finn, Chewie, Lando, C-3PO, Boolio, D-O, and BB-8), all of whom are recognizable from The Rise of Skywalker.
Some of its cool features include rotating top and bottom gun turrets, two spring-loaded shooters, a lowering ramp, and an opening cockpit (yep, just like the one in the films!).
Note: This gift is designated as being for ages 9+, but we've placed it in this age category based on reviews. Also, please note that this is NOT the epic 7,541 piece Millennium Falcon set (that one is only available through the LEGO site and is usually out of stock, meant for ages 16+).
Click here to check prices and reviews
We Hope You Enjoyed Our Roundup of Star Wars Gifts for Kids!
If you have any suggestions for gifts that are strong with the Force, please let us know in the comments below. After all, Younglings are best trained to be Jedi from the earliest ages possible!