*FYI - this post may contain affiliate links, which means we earn a commission at no extra cost to you if you purchase from them. Also, as an Amazon Associate I earn from qualifying purchases. Check out our Privacy Policy and Disclosure. for more info.
Thanksgiving is already a stressful enough ordeal that baking up the best Thanksgiving puns or Instagram captions shouldn't add any more stress to your plate!
Luckily for you – we here at Thoughtful Gift Club are obsessed with wordplay, so we've done the hard work for you so you can focus on keeping your plate full with more important things – like mashed potatoes.
So, whether you're looking for the perfect Thanksgiving themed pun to round off an Instagram caption, or simply a silly seasonal dad joke to tell at the dinner table, this post has you covered with some of the cleverest and cringiest Thanksgiving puns we could muster… broken up into categories of course like general Thanksgiving puns, Thanksgiving food puns and more.
We're sure these will be the tur-Key to your Thanksgiving success.
Enjoy!
Pin for later: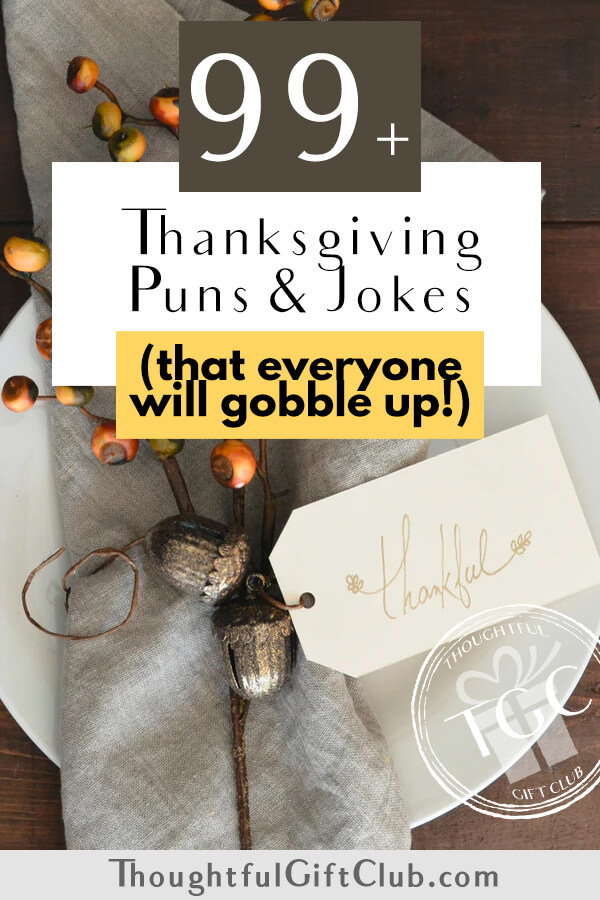 General Thanksgiving Puns & Wordplay for Instagram Captions
Looking for some clever captions that capture the general spirit of Thanksgiving? Here are some Thanksgiving pun ideas to be thankful for…
Good food and wonderful company are the gifts that keep on Thanks-giving.
Thanksgiving motto: I'm too blessed and my turkey is too dressed for me to be stressed.
Thankful and Thank-FULL. Hope you all had a great Thanksgiving, everyone!
This Thanksgiving, I'm dressing up as Tom Thanks.
I know Thanksgiving is all about thankfulness but I'm most concerned with the fullness part…
It's Thanksgiving, so tonight our family will become a famil-eat.
This Thanksgiving, may your hearts be full and your plates even fuller.
Thankly my dear, I don't Thanks-give a Yam.
I was going to avoid cheesy wordplay this Thanksgiving, but I'm sorry – it's impossible. I've already Thanksgiven it my best shot.
Grateful for bountiful Thanksgiving feasts & wonderful people to spend it with… now, who's going to be Thanksgivin' me a ride home after my food coma?
I wasn't planning on overindulging this Thanksgiving, but I guess in the spirit of the season, I might as well Thanks-give in.
You call it Thanksgiving, I call it Thanks-LIVING! Best time of the year right here.
I definitely had the best company this Thanksgiving… what do you thank?
Clever Gratitude & Thanks Puns & Wordplay
Thanksgiving is all about gratitude! Wanting to roll with this theme for your Instagram caption? Here are some ideas for IG captions that revolve around giving thanks.
Hey, you can't spell Gratitude without attitude….
Feelin' in the attitude for gratitude.
I wanted to avoid cheesiness this thanksgiving, but I just want to say how Grate-ful I am for everyone in my life.
This Thanksgiving, I'm both grateful and gravy-ful.
Thanksgiving is great, but the truth is I already thank about you all the time!
Thankly speaking, I have the best friends and family in the universe.
I'm not just filled with gratitude this Thanksgiving, I'm a full on gratiDude.
I gotta give thanks this year because life is gourd.
I'm a strong believer in gratitude and never having grati-too much food.
I love everyone in my life so much, but if I thank about it too much, I cry, so let's keep this brief!
Whenever I thank about my loved ones, my heart feels so grate-FULL! Happy Thanksgiving, all.
Thanksgiving Food Puns and Wordplay for Instagram Captions
Now, let's be honest… Thanksgiving is all about that baste… or, more accurately, more about the feast to come.
If you're looking for some clever Thanksgiving puns or wordplay related to food items, maybe to caption a photo of your tasty Thanksgiving spread, here are some punny ideas involving Thanksgiving classics like turkey, mashed potatoes, cranberry sauce, pumpkin pie and more.
Hungry for more? You can also find pumpkin specific puns here.
Tale as old as time – beauty and the Feast!
Welcome to the Feast and the furious: Thanksgiving drift.
Holy crop – tonight's Thanksgiving feast is going to be epic.
My favorite book? Definitely 50 shades of gra……vy.
Is dinner ready yet or am I too… Tur-Keen?
Think I eat too much? Well, I yam what I yam.
Thanksgiving dinner tonight was one of the yam-miest meals I've ever had!
I wasn't sure if I should have a second bread roll, but hey Butter safe than sorry.
It has been a rough year, but something tells me I'll feel Butter soon.
Let's get BASTED tonight!
I'm usually pretty into fitness around Thanksgiving time… fitness this entire turkey in my mouth.
Don't think I can eat all this? You best believe I cran.
Thanksgiving dinner is the tur-Key to my heart.
Roast assured, tonight's Thanksgiving meal is going to be epic.
I love Thanksgiving cran-berry much.
I'm fully stuffed from my br-Head to my sweet pota-Toes.
The turkey was suspiciously good tonight… I suspect Fowl play.
I know Halloween is over, but tonight I'm a Gobblin'.
Thanksgiving was a bit of a clusterPluck this year, not gonna lie…
I ate so much this year, you should probably lock me up and throw away the tur-Key.
I hope the main course is served piping hot tonight because I quit cold turkey.
Oh Thanksgiving turkey, I fowl under your spell every year…
I guess you can say I'm in a Fowl mood today.
I'm not usually one for Fowl language, but…
I can't help Fowl-ing in live with food….
Today is definitely leg day…. turkey leg day.
Sorry if this is corny, but I cob believe how lucky I am to have all of you in my life!
Corn you believe have tasty this Thanksgiving spread is?
Tonight's Thanksgiving meal was fantastic – corn but not forgotten.
Who needs someone to finish off the potatoes? I'm kind of a mash-ter at this sort of thing.
A giant plate of mashed potatoes later and Spud-denly I can't move…
A lot of people thought I wouldn't be able to finish the potatoes but hey, taters gonna tate.
Thanksgiving was so emotional tonight, I may have to Pie myself to sleep…
What an epic Thanksgiving it was! Goodpie, goodnight & good luck.
As the saying goes, beauty is in the pie of the beholder.
Tonight's dinner was fantastic, but I have to say dessert was the true apple of my pie.
Confusing Thanksgiving tips: keep your Pie on the (Butter)ball.
Good Pie, cruel world! Time to get pumpk-INto bed.
The best part about my Thanksgiving companions? They're all very crustworthy.
Tonight's Thanksgiving dessert wasn't just beautiful – it was a true work of Tart.
With amazing meals like these, it's Crust a matter of time before I pie of happiness.
Can't believe everyone whipped up all these side dishes behind my Bake…
This Thanksgiving, all hell is gonna bake loose.
I was going to eat all this myself, but I wasn't sure if that'd be a Feast-ible idea.
Tonight's feast was a Maize of calories and I wouldn't have had it any other way.
Thanksgiving dinner is ready! Time to Turnip!
Tonight's Thanksgiving spread really struck a Gourd with me.
Thanksgiving is a time to let your Gourd down and remind everyone how much you love and appreciate them.
I guess tonight, I'm working the Gravy-ard shift…
I'm not usually a Shakespeare person but tonight I'm indulging in a production of Much Ado About Stuffing.
My Thanksgiving motto this year? Eat, drink and cran berry.
I love my yam-ily as much as I love my family.
Thanksgiving was the Baste time ever.
It's getting late so I think I should just take the pumpkin pie and piece out.
For those who thought I would amount to nothing – you're wrong… This Thanksgiving, my life has amounted to stuffing.
Thanksgiving really was stuffing special.
Fill up my plate please – I'm an all or stuffing kinda diner.
I must be a green bean because wow I'm on a casser-ROLL tonight.
This pie is proof that appley ever afters do indeed exist. Happy Thanksgiving, everyone!
Such gourd times tonight at Thanksgiving. Hope you all had a good one!
Stuff, stuff, pass…. the mashed potatoes.
Trying to eat more fruits and vegetables this year so I'll be having apple pie, pumpkin pie, and also carrot cake for variety.
Corny Thanksgiving Jokes
Last but not least, here are some truly groan-worthy dad jokes to dazzle your dinner mates. Awkward chuckles guaranteed!
Hey what does a turkey like to drink out of?
A gobble-t.
What happened after everyone finished their Thanksgiving turkey?
They all Fowl asleep.
Why couldn't the Dad stop telling bad Thanksgiving jokes?
He wasn't able to quit cold turkey.
Why did the chef have to stop shredding cheese for Thanksgiving dinner?
He was grate full.
What kind of key can't unlock any doors?
A tur-Key.
My guests wanted a fancy soup for Thanksgiving so I made them something with……. 24 carrots.
Which instrument did the turkey play in his rock band?
Drums. He already had drum sticks.
Which instrument did the chef play in his rock band?
He was the Baste player.
Why didn't the turkey want anything for dinner?
He was already way too stuffed.
Why were the cranberries so red?
… Because they saw the salad dressing.
Why didn't the chef properly spice his turkey for Thanksgiving?
He didn't have enough Thyme.
What did Remy the mouse make for Thanksgiving dinner?
Gratitouille.
Why was the side dish so complimentary at Thanksgiving?
Because they were sweet potatoes.
Do you have any more Thanksgiving puns or captions to share?
Drop them in the comments below! We hope you enjoyed this punny Thanksgiving roundup;.