*FYI - this post may contain affiliate links, which means we earn a commission at no extra cost to you if you purchase from them. Also, as an Amazon Associate I earn from qualifying purchases. Check out our Privacy Policy and Disclosure. for more info.
Struggling to find the best way to send Happy Father's Day wishes? Well, as we at Thoughtful Gift Club always believe, where there's a meme, there's a way.
Below you'll find a selection of funny Happy Father's Day memes and e-cards that will help you express exactly what you meme 😉 We hope you find what you're looking for!
Pin these ideas for later: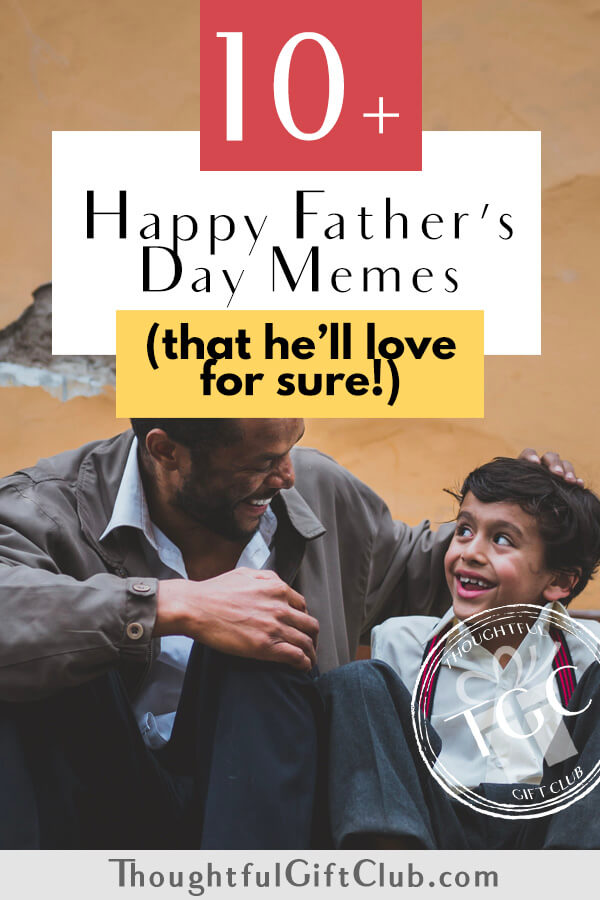 1. This funny tongue-in-cheek e-card about life pre-kids
All in good fun though…. kids are a blessing. Total blessing. * eye twitch *
2. This punny Happy Father's Day meme ft. the Rock
Simple, but effective.
3. This morbidly funny Star Wars Happy Father's Day meme
Of course, make sure your dad is actually a Star Wars fan so he doesn't think that you want to murder him. That would be ideal.
>

Happy Father's Day!!! #nerd #nerdlife #fathersday #funny #meme #starwars pic.twitter.com/2s92LXNOIQ

— Gaven Day (@gaven_is_legend) June 19, 2016
4. This Happy Father's Day greeting that's perfect for those with self-deprecating humour
Awkward moment when your dad laughs too hard at this one.
5. This awesome Happy Father's Day greeting that is a bit crass, but true
Where's the lie though?
6. This bluntly honest Father's Day greeting
Totally the best dad………. that we've had.
7. This fun Despicable Me inspired greeting
A perfect "Happy Father's Day" message if you ask us. * evil cackle *
8. This e-card that is perfect for tech-illiterate dads
The card is in the computer! Of course!
9. This funny Game of Thrones Father's Day meme
… Needless to say, spoilers below:
10. Lastly, this Father's Day meme that you can literally hear in your head right now
Dad. Dad. Dad. Dad. DAD. DAD. DAD!