*FYI - this post may contain affiliate links, which means we earn a commission at no extra cost to you if you purchase from them. Also, as an Amazon Associate I earn from qualifying purchases. Check out our Privacy Policy and Disclosure. for more info.
Spooky basket season is upon us once again, and if you're in need of a step by step guide on putting together THE ultimate spooky basket for your boyfriend, we're here to help.
This post will walk you through a bunch of sweet, thoughtful & epic spooky basket ideas for your boyfriend that he will 100% love. We hope it helps you create the best possible spooky basket for him!
Pin for later: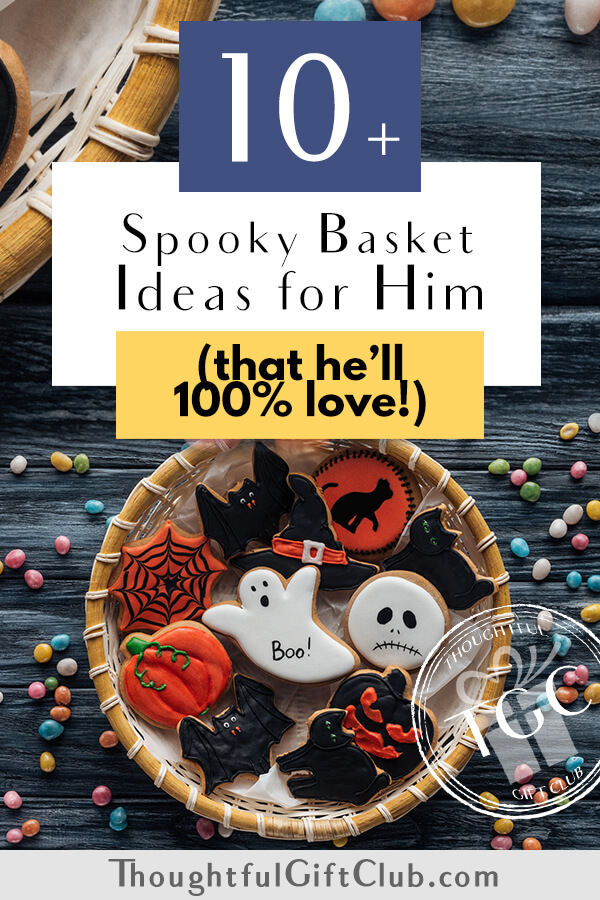 Basics of Creating the PERFECT Spooky Basket for Him
Spooky baskets are a great way to celebrate your boyfriend and make him feel loved, especially since the holidays are still a few months away.
And the best part is how customizable they can be. A great spooky basket for him can be as extravagant or low-key as you want, which means you can easily tailor it to your own budget and time constraints.
Of course, there are a few guiding principles you should follow when creating your boyfriend's spooky basket.
Every successful Spooky Basket you make for your boyfriend should be…
Super personalized
Filled with goodies that he'll love
Give off cozy/Fall vibes
NOTE: A lot of people assume that "bigger is better" when it comes to spooky baskets, but that's not necessarily the case. Work with your budget and make it work – a great spooky basket for him is a thoughtful one, not necessarily an expensive one.
This is cheesy, but the most important thing is that this Spooky Basket makes your boyfriend feel cozy, warm and loved. That's it!
Below, we'll be providing tips on what to include in your boyfriend's Spooky Basket and where to get it. For convenience sake, we've also included links to goodies you can buy online so you can get them delivered with a single click.
1) The Spooky Basket Container or Box
Let's start with the most basic part of your spooky basket – the basket itself!
Of course, you can be creative too and use a different container like a fun box or gift bag – the sky's the limit.
Here are some ideas for Spooky Basket containers (with options of where to buy it online):
Our Pick
Pumpkin Bucket Pre-Filled with Treats
Want a head start on your spooky basket? This cute Jack o Lantern bucket comes pre-filled with essential snacks so most of the hard work is already done for you!
Lots of Candy
While the world's your oyster when it comes to spooky basket goodies, one thing that every basket needs is sweets and CANDY!
Halloween-centric candies are an especially good idea, but you can't go wrong with including some of his favorites in there.
Here are some of fun candy ideas for your Spooky Baskets:
EXTRA THOUGHTFUL IDEA: Add some punny notes to the candy you include, e.g. "Because you're such a NERD" (with a box of Nerds), "Because I'm nutty for you" (with any nutty candy), "Because I love to KISS you" (with some Hershey's Kisses)
His Favorite Snacks and drinks
Another must-have for any spooky basket?
Delicious snacks! Fill the spooky basket for him up with his favorite food and drink and you definitely can't go wrong.
Here are some ideas of snacks you can add:
Here are some ideas of snacks you can add:
His favorite chips
Tubes of Pringles
Granola bars
His favorite childhood snack (e.g. Dunkaroos or Gushers)
Chocolate-covered fruit
Chocolate-covered nuts
His favorite trail mix or nut mix
Jerky
Dried fruit
Here are some ideas of drinks you can add:
Pumpkin beer or just his favorite beer
His favorite liquor of choice, or wine
His favorite energy drinks
Cold brew
A gift card to his favorite coffee place
Pumpkin syrup like this for coffee
His favorite soda
Hot chocolate mix
Delicious Pumpkin Spice Hot Chocolate Mix
For the ultimate Spooky Basket treat - this giant pack of pumpkin spice flavored hot cocoa can't go wrong. This is a perfect purchase if you plan to make multiple spooky baskets, or just want to save some for yourself too!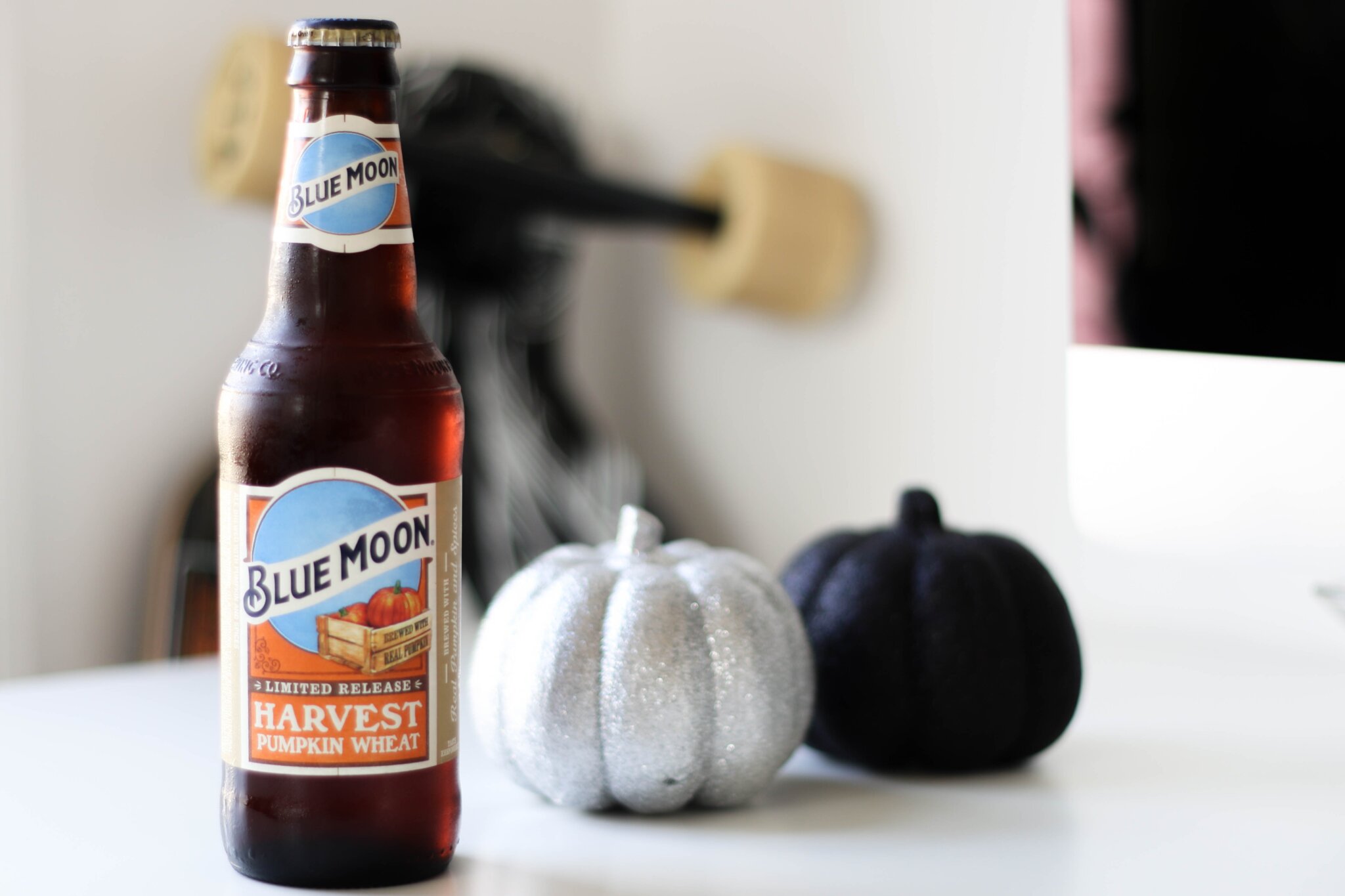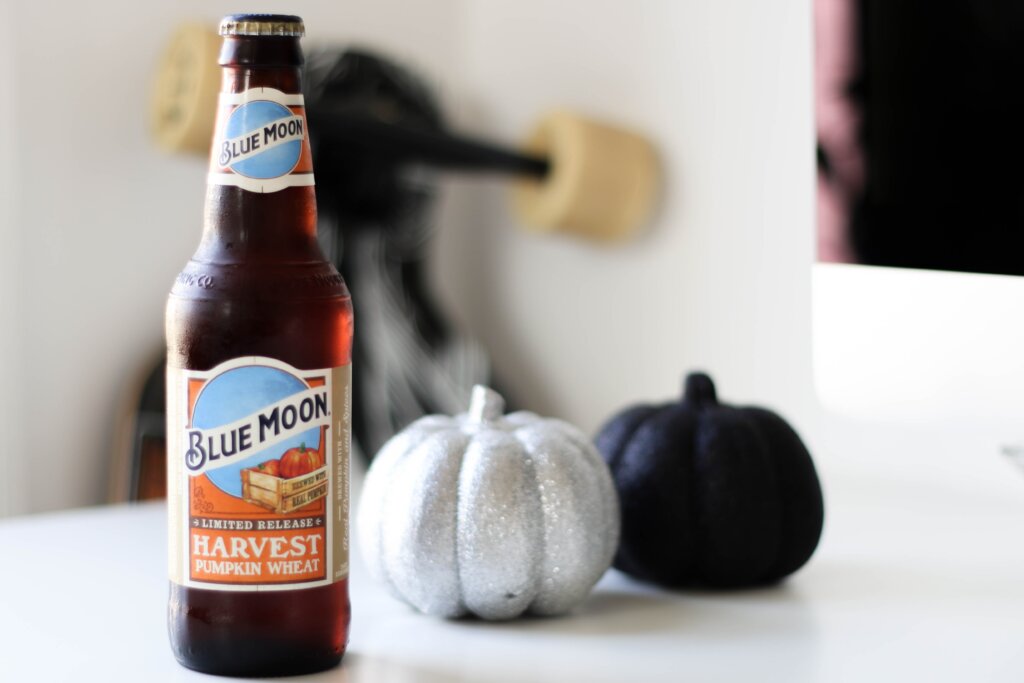 A Handwritten Note
If you want your boyfriend's spooky basket to win ALL the thoughtfulness points, including a card or note is a must.
The note doesn't need to be fancy – just make it personal, with inside jokes and the occasional Halloweeny pun.
This really doesn't have to be anything fancy, but make sure to toss in plenty of inside jokes and personalized gems. The rule we always go by is, "will anyone else understand or get this?" If the answer is yes, then you need to personalize it more!
Here are some ideas of what to write in your Spooky Basket note or letter:
Reasons I Couldn't Help but "Fall" for You (with drawings of Autumny leaves) and a list of reasons why you love him
A letter that starts with "To my boo…" (with a little ghost cartoon)
"Fall leaves are red, pumpkins are seedy, I feel so lucky that you are my sweetie".
Wellness & Self-Care Gifts
If the purpose of a spooky basket is to pamper your boyfriend and make him feel loved, then it's always a good idea to include some treats that are wellness and self-care related.
Some great wellness-related additions to a spooky basket would include:
A nice cologne or body spray
A nice shaving kit
A nice body wash set
Splurgy hair products he wouldn't buy for himself
Our Pick
Pumpkin Spice Beard Oil
Looking for a season-appropriate pamper gift to include in your boyfriend's spooky basket? This pumpkin spice beard oil is a must!
Comfy Essentials for Him
Another important component of the almighty spooky basket is comfiness/coziness!
Here are some ideas for comfy and festive things to include in your spooky basket for him:
Super Fun Spooky Season Socks
If you're looking for a cute and cozy addition to your spooky basket, these season-appropriate socks will (literally) be the perfect fit!
Fun Activities You Can Do Together
Another romantic element of a great spooky basket should be cozy activities that you two can enjoy together;
The most important thing to stress here is that you're picking activities that HE wants to do, not just cutesy stuff you want to do together. For example, don't just fill the basket with cute movies you want him to watch with you. Instead, make sure every item you add is something he loves.
Here are some Spooky Basket ideas for activities you can include:
His guilty pleasure movie/TV show
Fun crossword puzzle/word search books you can do together
A video game he's been wanting to buy
A spooky Halloween themed puzzle like this one
A festive board game like this one you can play together
Something Cute you Handmade Yourself
For a great finishing touch, consider adding something homemade to your boyfriend's spooky basket. This is the ultimate way to ensure utmost thoughtfulness and brownie points.
Here are some easy low-effort ideas:
A silly photo of you two in a frame
A photo collage of you both
A custom playlist (create it on Spotify/YouTube then slip the link on a card in your basket, or add the songs onto a USB, or go old school and make her a CD/mix tape)
Home baked goods like cookies or brownies
Looking for more Spooky Basket Ideas for Him?
Here is some inspo from Etsy! You can also just buy one of these as a shortcut. We won't tell!