*FYI - this post may contain affiliate links, which means we earn a commission at no extra cost to you if you purchase from them. Also, as an Amazon Associate I earn from qualifying purchases. Check out our Privacy Policy and Disclosure. for more info.
If you're looking for a unique gift idea for your friend or significant other, look no further than a 5 Senses Gift! 
This popular gifting trend has quickly become one of the most popular DIY gifts made for boyfriends, girlfriends and long distance relationships.
Not only are they adorable and thoughtful, they take a lot less work than many other DIY gifts made from scratch, and the possibilities for customization are endless.
If you're hooked, in this post, we'll cover what exactly a 5 senses gift entails, and how to make one yourself, along with tons of unique and thoughtful ideas on what to include.
We hope you find it helpful!
Pin for later: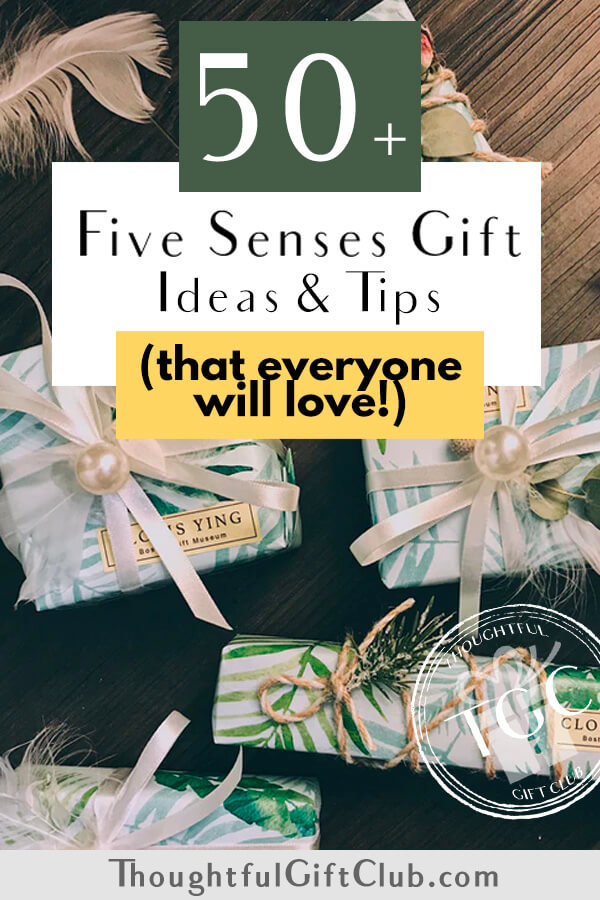 What is a Five Senses Gift?
A five senses gift is a unique gift idea that (long story short) combines 5 separate gifts: one for each sense: sight, sound, smell, taste, and touch.
You can think of it as a quirky gift basket that fulfills all senses.
Similar to the almighty Spooky Basket, Five Senses Gifts rose to popularity thanks to social media, and nowadays are a go-to for many people looking to spoil their loved ones.
The beauty of this gift is how easy you can tailor it to the recipient, creating a truly thoughtful gift that they'll remember for years to come.
So, long story short, here's how to make your own five senses gift:
Buy items related to each of the following senses: sight, sound, smell, taste, and touch (we'll be covering ideas for each sense below)
Wrap them up separately and label them with their associated sense
Add a cute message/card e.g. "I love you with all my senses"
Simple, creative, and mega-thoughtful – just how we like it.
Alright – now that you know what exactly a Five sense gift entails, here are some additional tips and ideas for making one yourself.
NOTE: You can even cheat and buy some printable tags like these to reduce your workload!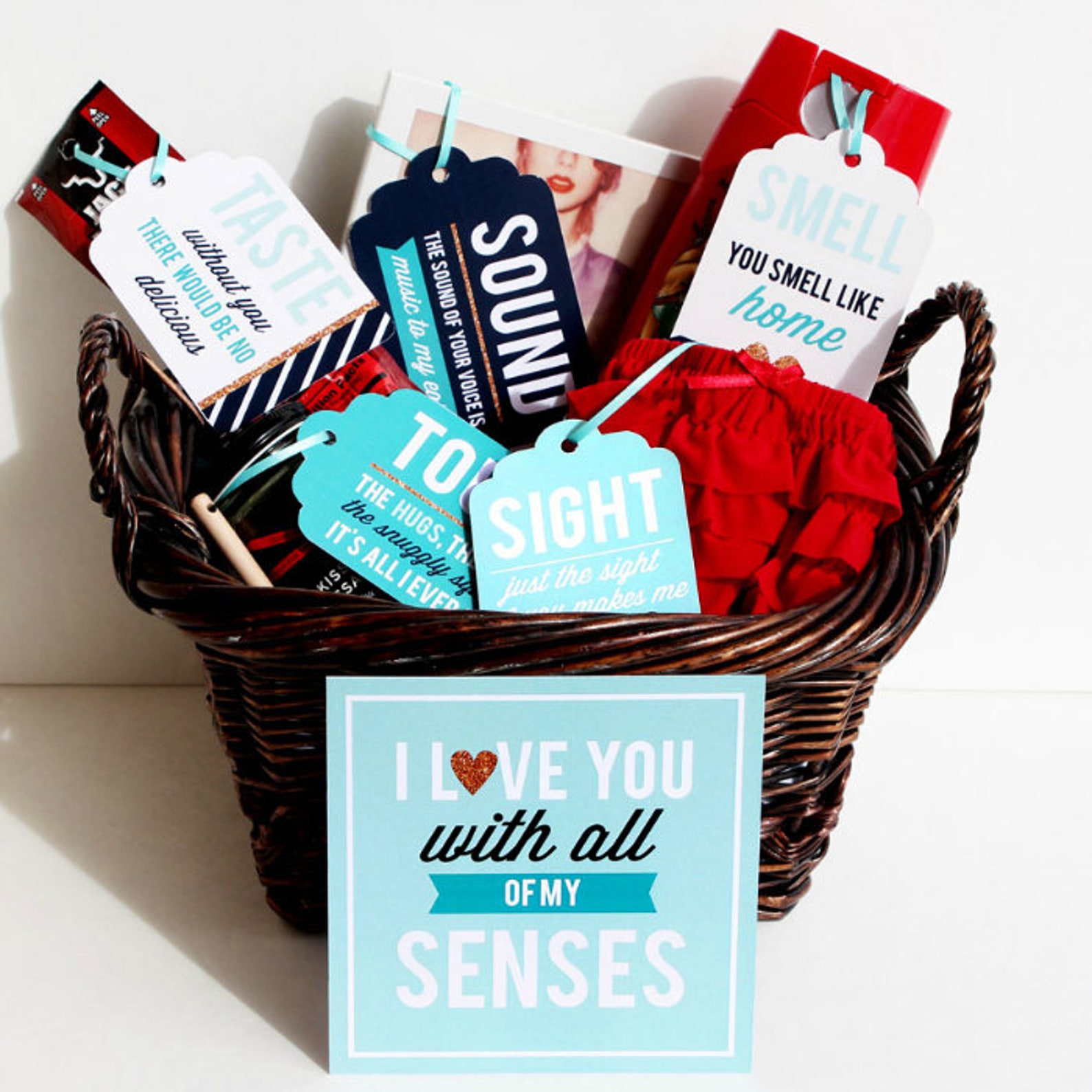 How to Wrap/Present Your Five Senses Gift
There are a lot of different ways you can create a Five Senses Gift, from using gift bags and boxes to wrapping each item individually and putting them in a special basket.
For an easy shortcut, you can actually even buy pre-made Five Senses gift boxes/bags from Etsy here.
If you're doing it all yourself though, here are some generic ideas for assembling your Five Senses gift:
5 separate gift bags (this set of 5 is super cute and comes with scratchable message panels)
5 separate gift boxes (this set of 5 is sturdy and gorgeous)
1 Gift Box with 5 items – each labelled with their associated sense
All the gifts in a basket with cute gift tags on them for each sense
BONUS THOUGHTFUL TIP: Make sure your wrapping is cute and personal as well. Using bags? Decorate them with cute messages/inside jokes. Using wrapping paper? Consider getting a fun custom wrapping paper like this one with your face on it, or choosing a design that's personal to your relationship in some way.
Our Pick
These Adorable Scratch-Off Gift Bags
This set of 5 gift bags is perfect for a Five Senses Gift! They're uniquely designed with Scratch panels so you can scratch in your own personalized message (for each sense). It even comes with colorful tissue paper, so you won't need to buy anything else to finish your gift.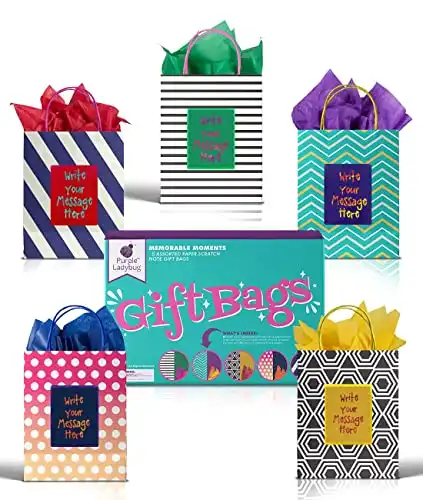 Five Senses Card Ideas
One of the most important (yet commonly overlooked) aspects of the Five Senses Gift is including a nice card. It's a small thing, but really helps to tie the entire gift together.
We'd recommend attaching at least a fun note related to the "senses" theme, but if you really want to knock this gift out of the park, including a handwritten letter would be an excellent final touch (with one of these punny phrases written on the envelope).
You can even buy beautiful pre-made envelopes here.
Some ideas for what to write on a Five Senses card:
I love you with all my senses
Life with you just makes sense
You and I make perfect sense
You're sense-ational
I sense a connection here
Thanks for always having a great sense of humor
Having you in my life is es-sense-tial
Thanks for always bringing me to my senses
BONUS THOUGHTFUL TIP: Feel free to sprinkle in some cheesy I Love You puns throughout your gift.
Alright, now let's move onto gift ideas on what to buy for a five senses gift. Remember, the beauty of this gift is its flexibility, so you can make it work with any recipient or budget.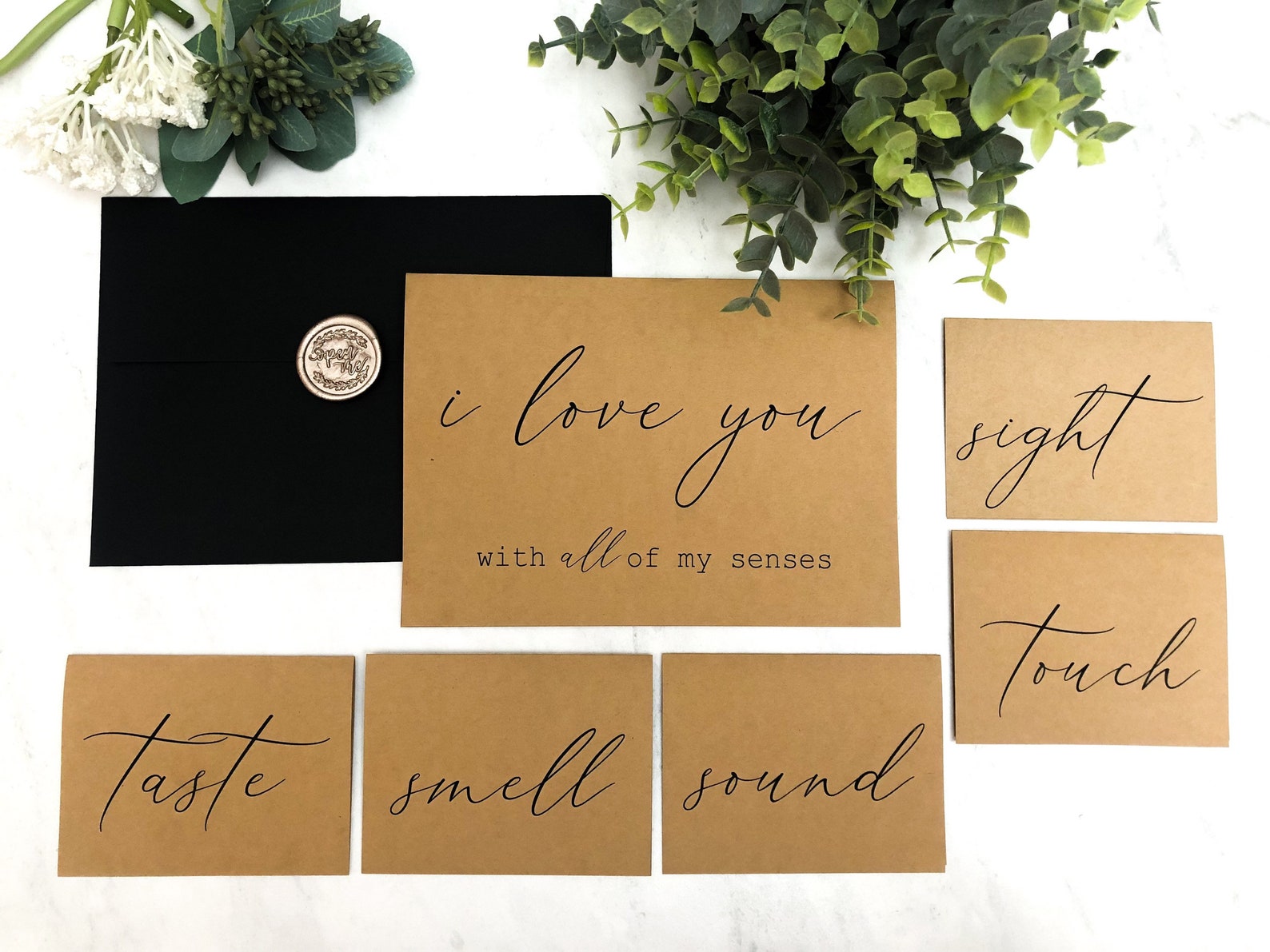 Five Senses Gift Ideas for Sight
For the "sight" sense, you'll want to include a gift that involves sight in some way, from things they can look at or watch to things that will help with their sight (e.g. fun sunglasses).
Here are some sight-related ideas for a Five Senses gift:
A good book
A scrapbook
A framed photo of you two
A digital frame like this one loaded with photos
A book they've been wanting to read
A nice piece of art/print
Tickets to a movie
Cool sunglasses
Our Pick
This Beautiful Personalized Photo Frame
This gorgeous frame has slots for two photos, and an adorable personalizable letterboard in the middle, making an easy and thoughtful "Sight" idea for your 5 Senses gift.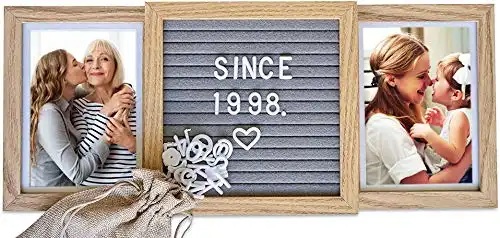 Five Senses Gift Ideas for Sound
For the "sound" sense, you'll want to include a gift that involves hearing, like things they can listen to or items that will help them with hearing/listening (e.g. headphones or speakers).
Here are some sound-related ideas for a Five Senses gift:
A card like this one where you can record your own voice message
A cuddly toy like these that have a built-in voice box/message you've recorded
This funny voice recording button with a custom message
Headphones
A bluetooth speaker (a waterproof one like this would be cool)
Concert tickets
A mixed tape or CD
A custom playlist 
An audiobook subscription
A serenade (record yourself and save the video on a USB stick or upload it somewhere with a link to the URL)
Amazon Echo or Dot (if they've been wanting one)
A song you wrote them
Five Senses Gift Ideas for Smell
For the "smell" sense, you'll want to include a gift that involves smelling, usually something that has a nice smell (e.g. candles and perfume) or will help them smell nice (e.g. self-care products).
Here are some smell-related ideas for a Five Senses gift:
Their favorite perfume/cologne 
A customized scent like this one
A little vial of your perfume/cologne so they can sniff it when they miss you
A candle 
Bath bombs
Flowers
Essential oils 
Essential oil diffuser
Nice smelling soap 
Nice smelling lotion
A spice set if they like to cook 
Five Senses Gift Ideas for Taste
For the "taste" sense, you'll want to include a gift that involves eating/drinking, whether that's a ready-to-eat set of snacks and drinks or perhaps a foodie experience like a cooking class or restaurant voucher.
Here are some taste-related ideas for a Five Senses gift:
Their favorite snacks 
Their favorite candy
Chocolate
Homemade baked goods
A gift card to their favorite restaurant 
A cooking class
Their favorite beer 
Their favorite wine
A bottle of champagne
Chocolate covered strawberries
A small bottle of their favorite liquor
Their favorite tea
Coffee 
A sample pack of sauces
A meal kit subscription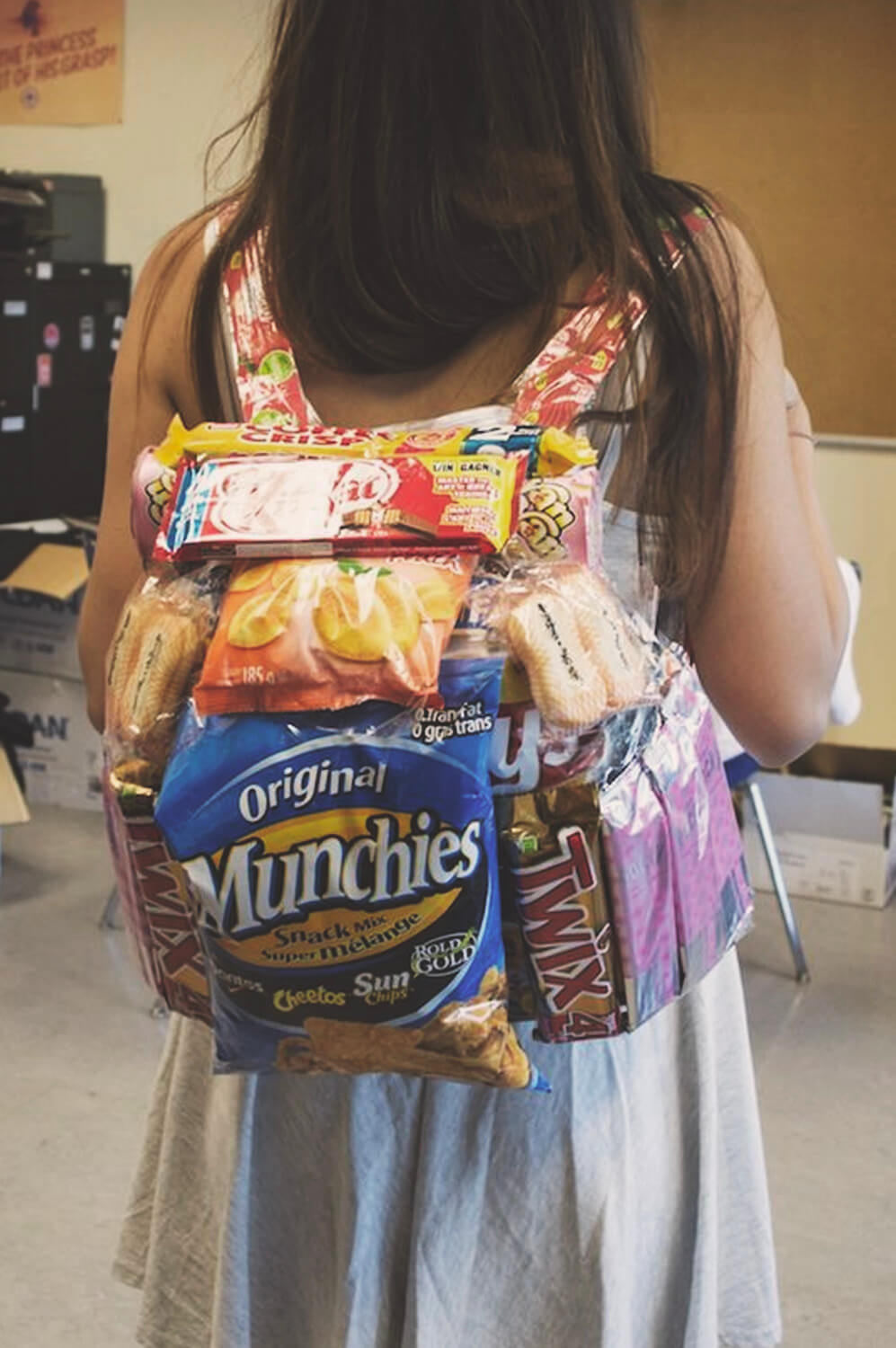 Five Senses Gift Ideas for Touch
Lastly, for the "touch" sense, you'll want to include a gift that involves touch, whether that's something soft and comfy like a new blanket and clothes, or perhaps a massage or pampering experience.
Here are some touch-related ideas for a Five Senses gift:
Massage oils 
A massage gift certificate
Fuzzy blankets
Cozy socks
Warm mittens
A massager 
A cute stuffed toy 
Comfy pyjamas
A gift certificate for a manicure/pedicure
A comfy weighted blanket like this one
Any clothing they've been wanting
Our Pick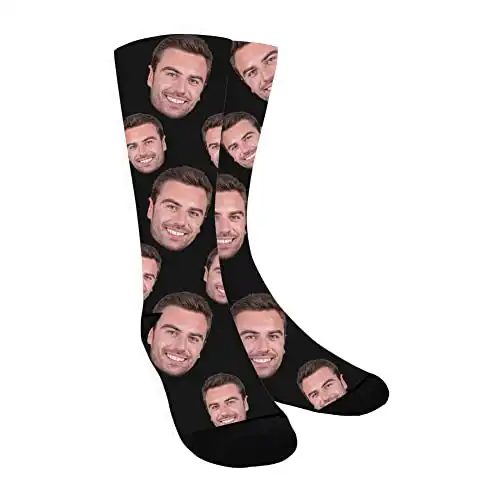 Final Tips for Making a Thoughtful Five Senses Gift
Putting together a Five Senses gift is already a thoughtful feat on its own, but if you want to ham up the thoughtfulness points, here are some additional tips/ideas for making the gift unforgettable:
Hand make each gift
This is a ton of extra work, but would really take your Five Senses gift to the next level!
Here are some ideas:
Sight: Personalized scrapbook
Sound: A song or poem you wrote
Smell: A DIY candle or bath bomb
Taste: Homemade baked goods or snacks, a voucher for a home cooked meal made by you
Touch: A massage from you, a hand knit accessory or blanket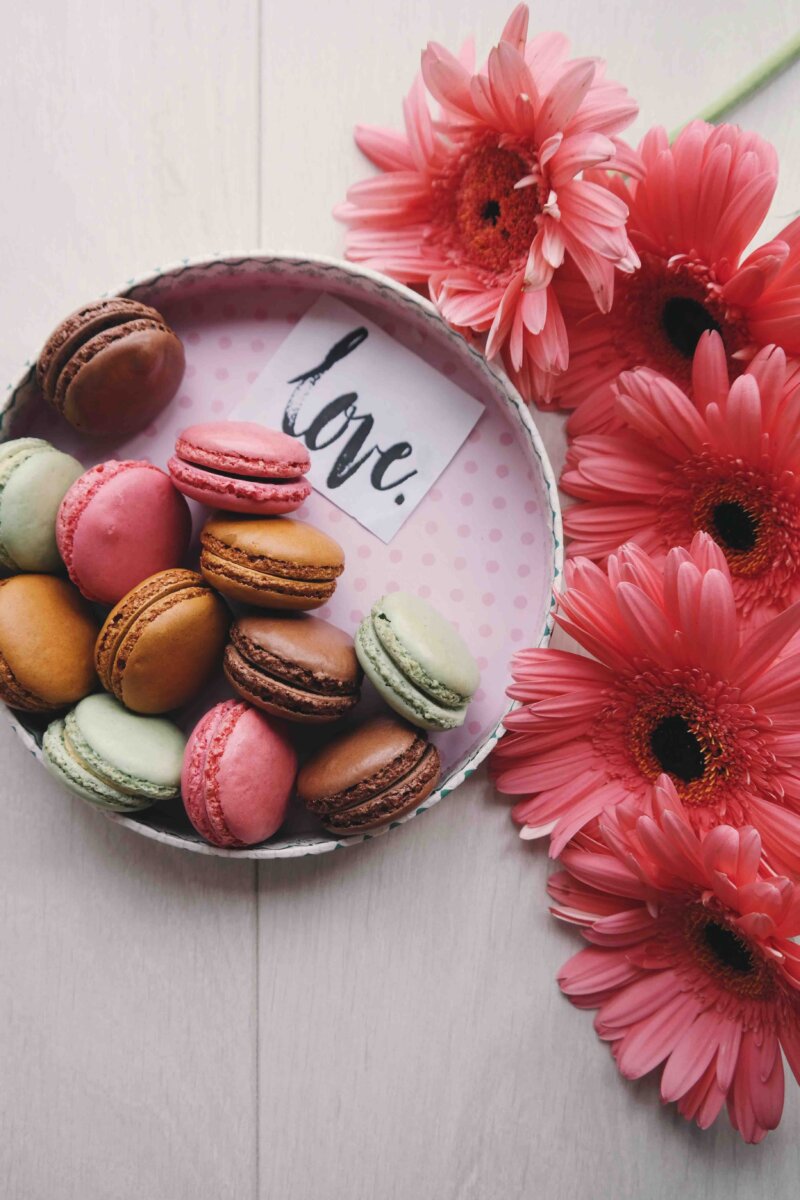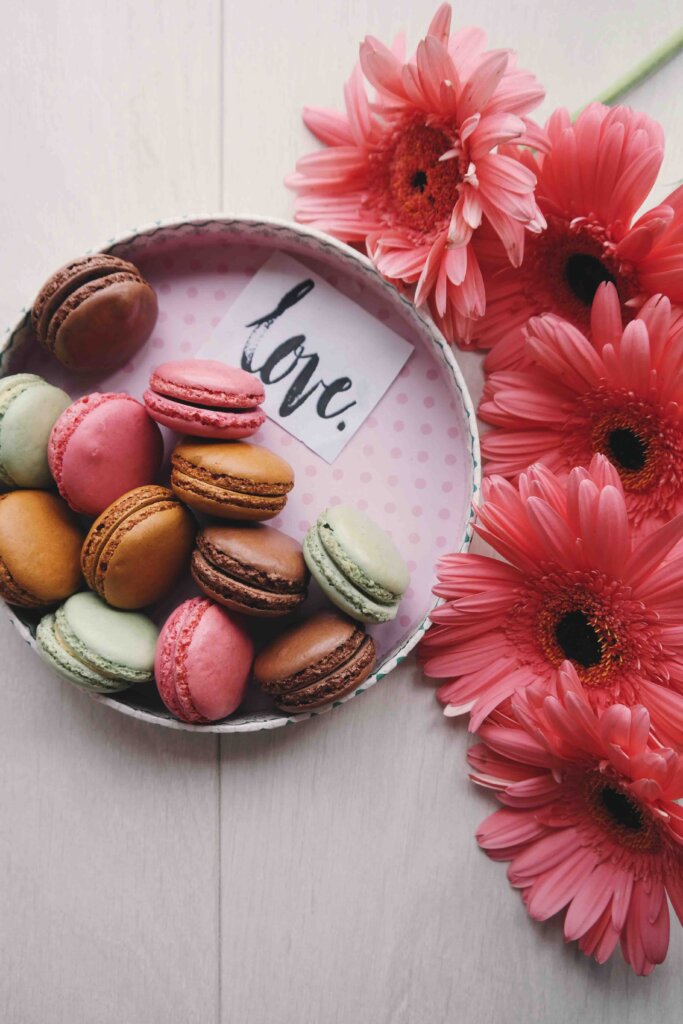 Link each gift to a story
We firmly believe that thoughtful gifts are never random, so odds are, if you're picking something for your Five Senses gift, there'll be a reason/story behind that… so, consider writing out that reason and attaching it to each gift!
For example, if you buy them a book they've been wanting, write a little note about the time you were walking past a book shop and they mentioned it, or how you got the idea. These little details will absolutely make them melt!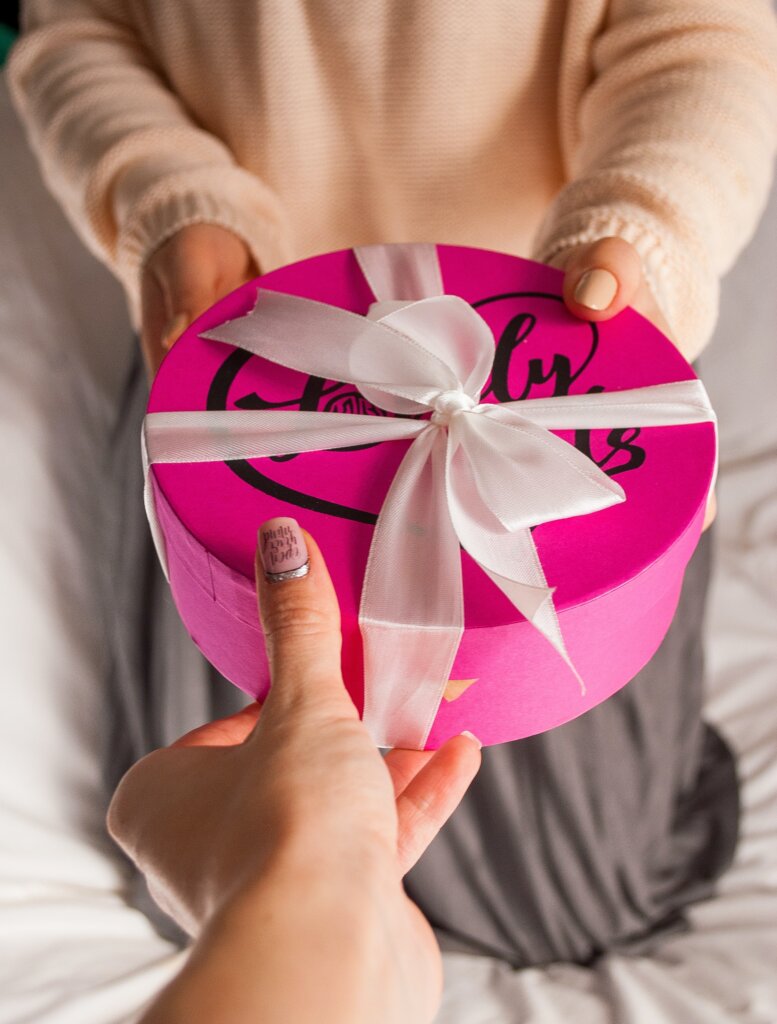 Link each gift to a reason you love them
Similar to the bonus thoughtful tip above, consider writing a mini-note for each gift that relates that gift to a reason you love them. Here are some examples:
Book: Because you're the smartest and most dedicated reader I know
Hot sauce: Because you're the hottest partner anyone could ask for
Concert tickets: Because you're my favorite concert buddy
Playlist: Because you have the best dance moves
Spices for cooking: Because you spice up my life like no other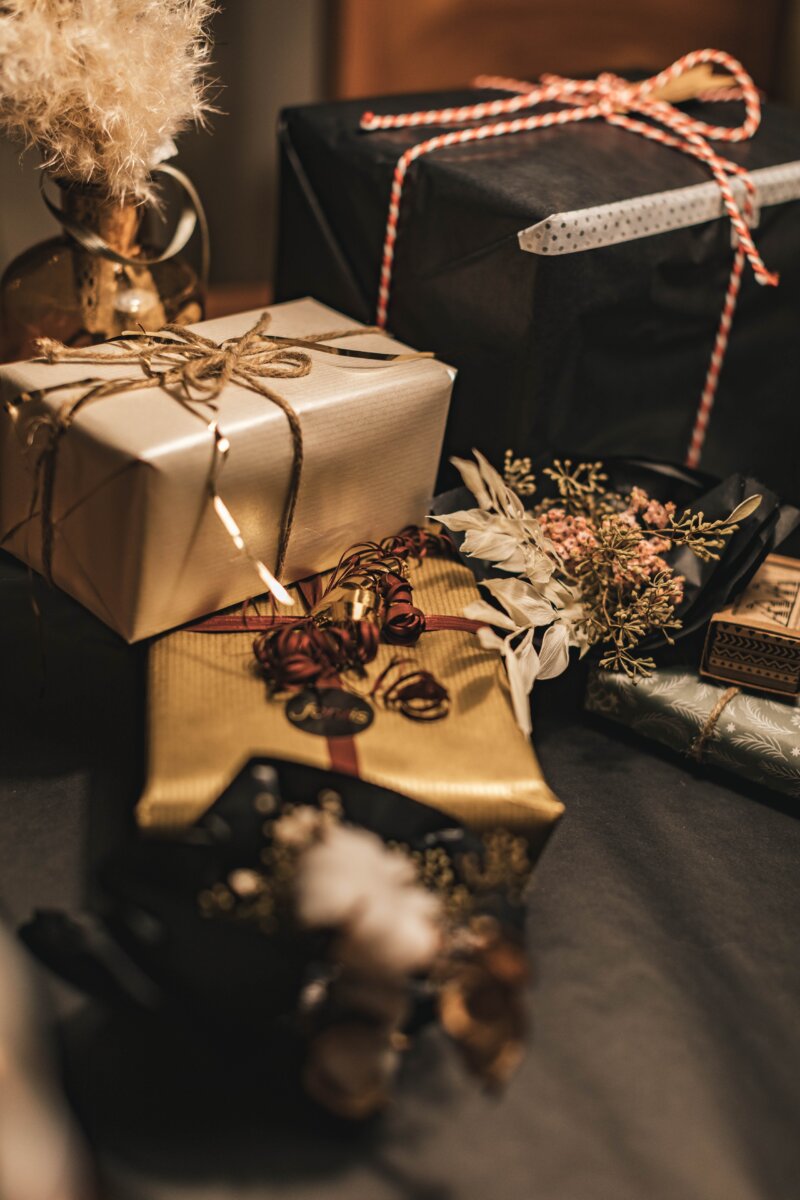 We hope this guide to making a Five Senses gift was helpful!
Let us know in the comments if you have any other ideas.