*FYI - this post may contain affiliate links, which means we earn a commission at no extra cost to you if you purchase from them. Also, as an Amazon Associate I earn from qualifying purchases. Check out our Privacy Policy and Disclosure. for more info.
Looking for the perfect Valentine caption to go with your cute selfie, dinner photo or adventurous throwback? 
You're in luck! We know how stressful Valentine's Day can be, and the last thing on your mind should be the perfect V-Day caption to share with all your friends and family at the end of the night.
So, we've done all the work for you and assembled the best, most clever Valentine's Day quotes and captions to get you started.
Below, you'll find some truly cute Valentines captions for every occasion – whether you're looking for something sentimental and heartfelt, something funny, or something to celebrate your Valentine's Day with friends or on your own.
You might also like these posts:
Pin for later: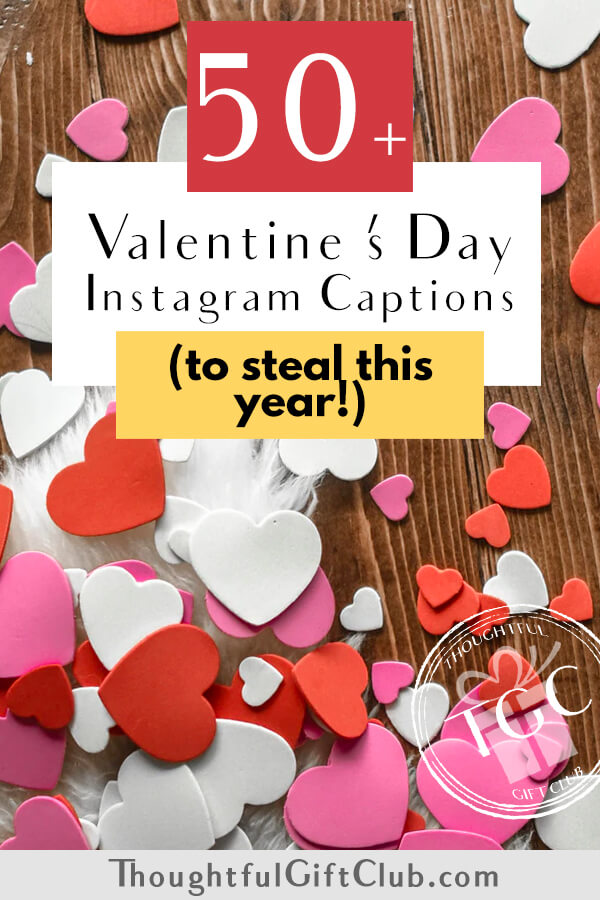 Funny Valentine's Day Captions
Not into overly cheesy Instagram captions for Valentine's Day? We get it – sometimes going the comical route is more fun. Here are some funny Valentine's day quotes and sayings to jazz up your Valentine captions on Instagram.
Normal couples: candlelit dinner and roses. Us: excited to pillage the 50% off chocolate tomorrow.
My Valentine, lookin' fine. Watch out folks, cuz this one's mine.
Maybe someday we'll gather up the strength to do a proper and "normal" Valentine's Day… but today is not that day.
Magically convinced this weirdo to spend Valentine's Day with me. If you need us, we'll be watching murder documentaries to candlelight.
Must solemnly announce that we chose to spend Valentine's Day apart this year because this clown didn't ask me to be [his/her/their] valentine. If you need me, I'll be wolfing down cheese in my bathtub.
Happy Valentine's Day to the one who will never judge me for [insert bad habit, e.g. biting my nails, shopping too much online, forgetting to do the dishes, etc.] Besides, I've got more dirt on [him/her/them] anyway.
Listen guys, we only do Valentine's for the chocolate.
Roses are red,
Candles are nice,
Here's a flex pic
So it was all worth the price.
Started out as a booty call, how did it end up like this……?
Started with me wanting a free dinner, now I'm here with a whole Valentine. Can someone explain to me how this happened?
I used to think Valentine's was the worst, but with this one by my side… I guess it's not so bad. Happy Valentine's Day to someone who makes even the cheesiest holidays bearable!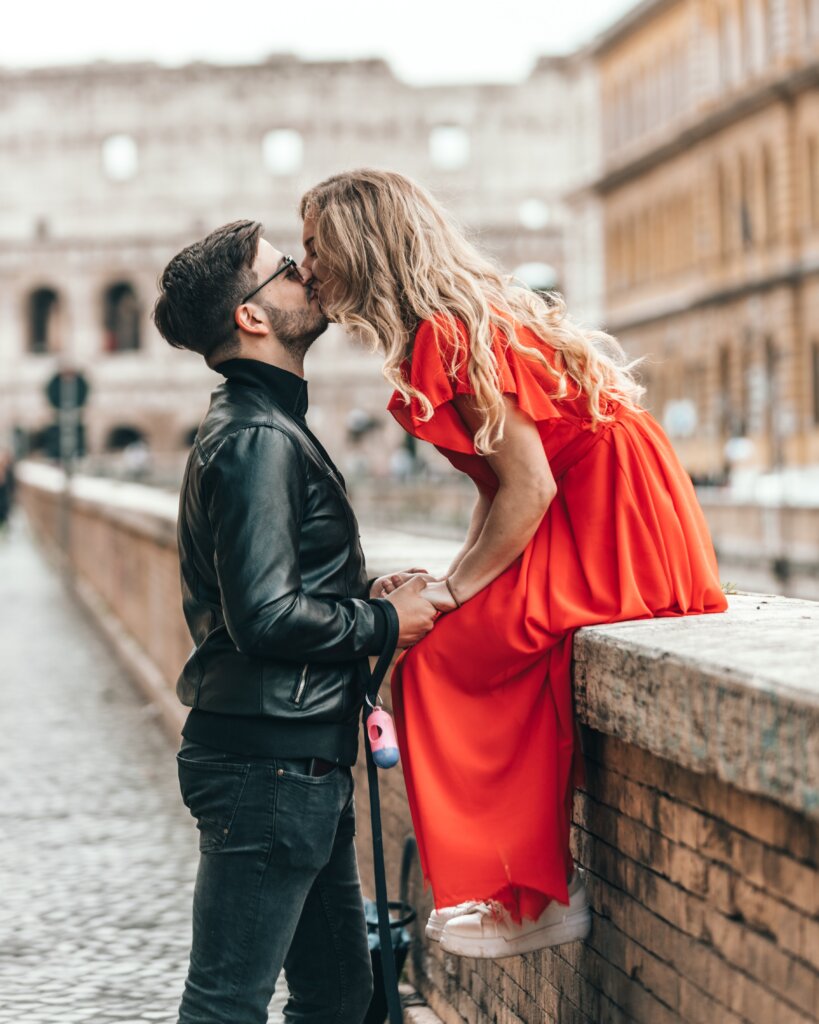 Romantic & Cute Valentine's Day Captions
Alright, you want something heartwarming, romantic and cheesy. We gotchu. After all, Valentine Instagram captions are meant to be a little cheesy, no? At least the best Valentines captions usually are. Here are some really sweet ideas to inspire you. 
Happy Valentine's Day to the one that makes everyday worth celebrating.
The PB to my J, the tequila to my lime, the one who makes me feel so special all the time. Love you, Valentine.
Honored to celebrate love with you everyday, not just on Valentine's Day.
Living the dream with the [man/woman/person] of my dreams. Happy Valentine's Day, you.
Happy Valentine's Day to the one who changed my life, and makes everyday better than the last. I love you!
My favorite Valentine, now and forever.
Someday we'll look back on this picture and think how young and stupid we looked. Well, that's okay by me. I can't wait to grow old with you, Valentine.
Valentine's date with my happily ever after.
You know you've found the perfect Valentine when you'd be just as happy eating takeout in your car as you would be at a Michelin star restaurant. Happy Valentine's Day to the one who always makes me laugh, and turns everyday into an adventure.
Happy Valentine's Day to my favorite adventure yet.
Valentine's Day is only as special as the one you spend it with, and I feel so lucky to have spent it with the most special Valentine around. Love you!
Another Valentine's Day done and dusted. Always so special to spend it with you <3
My favorite [insert animal of choice, e.g. Penguin, Lobster (Friends reference)]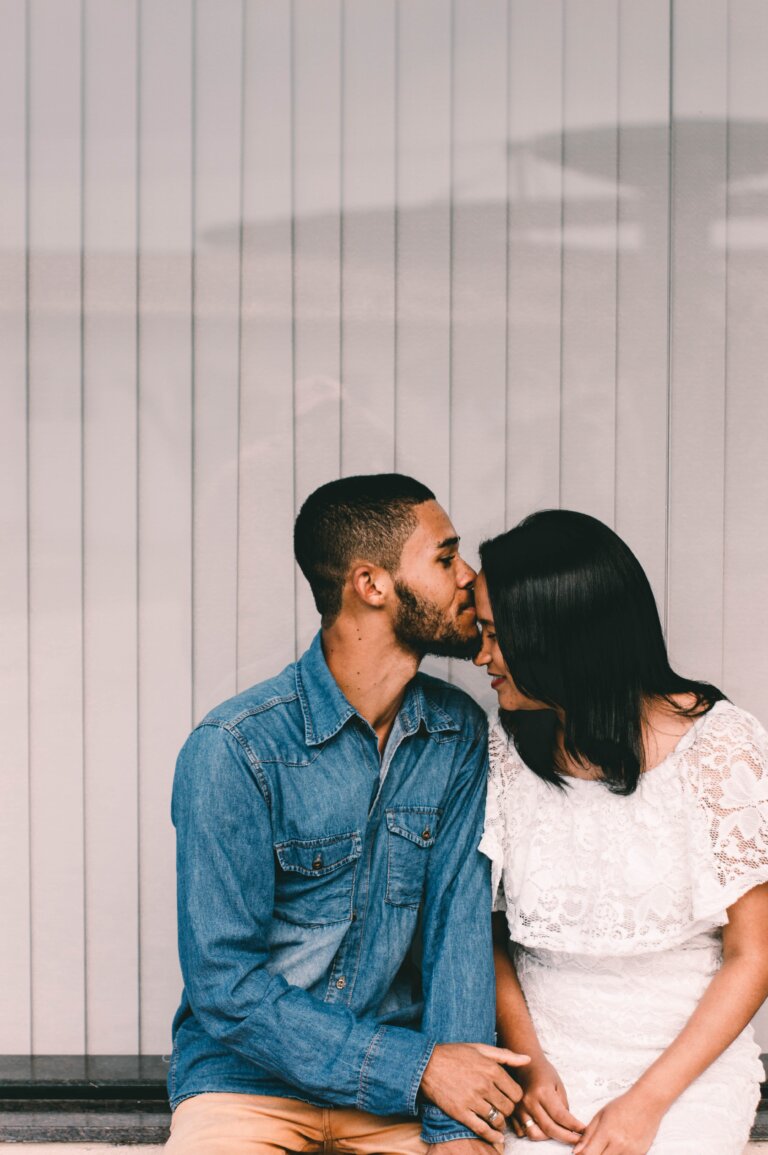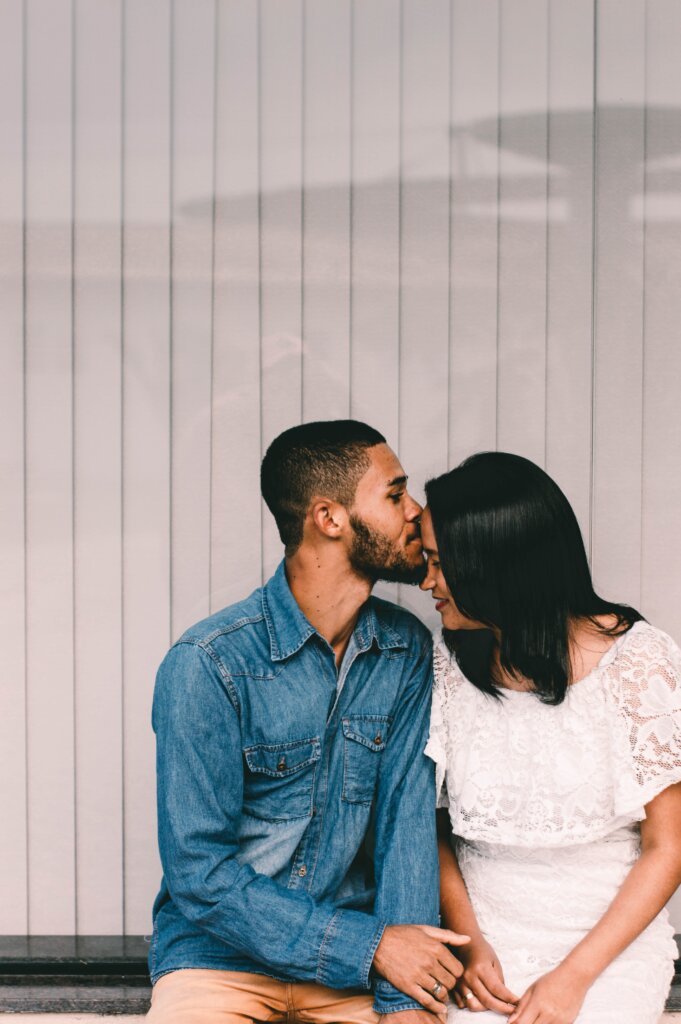 Perfect Song Lyrics for Valentine's Day Instagram Captions
Sometimes, music says it best. Bonus points if you pick a song for your Valentine caption that means something to you both (i.e. your song, something you've danced to, etc.) Sure, it's great to flaunt your relationship on social media sometimes, but all the better when the caption feels like an 'inside secret' shared just between you two.
Lucky I'm in love with my best friend. – "Lucky", Colbie Caillat and Jason Mraz
And when you smile. The whole world stops and stares for a while. – "The Way You Are", Bruno Mars
All of me loves all of you. – "All of Me", John Legend
Part of my entity, here for infinity. – "Umbrella", Rihanna
No love like your love. – "Everything I Do (I Do it For You)", Bryan Adams
If I'm dreaming, baby… please don't wake me up. – "Fallin' All in for You", Shawn Mendes
I can't help falling in love with you. – "Can't Help Falling in Love with You", Elvis Presley
A whole new world with you… – "A Whole New World" (from Aladdin)
Then you walked in, and my heart went Boom! – "Helpless" (from Hamilton)
Oh, how wonderful life is… while you;'re in the world. – "Your Song", Elton John
Home is wherever I'm with you. – "Home", Edward Sharpe and the Magnetic Zeros
How sweet it is to be loved by you. – "How Sweet it Is", James Taylor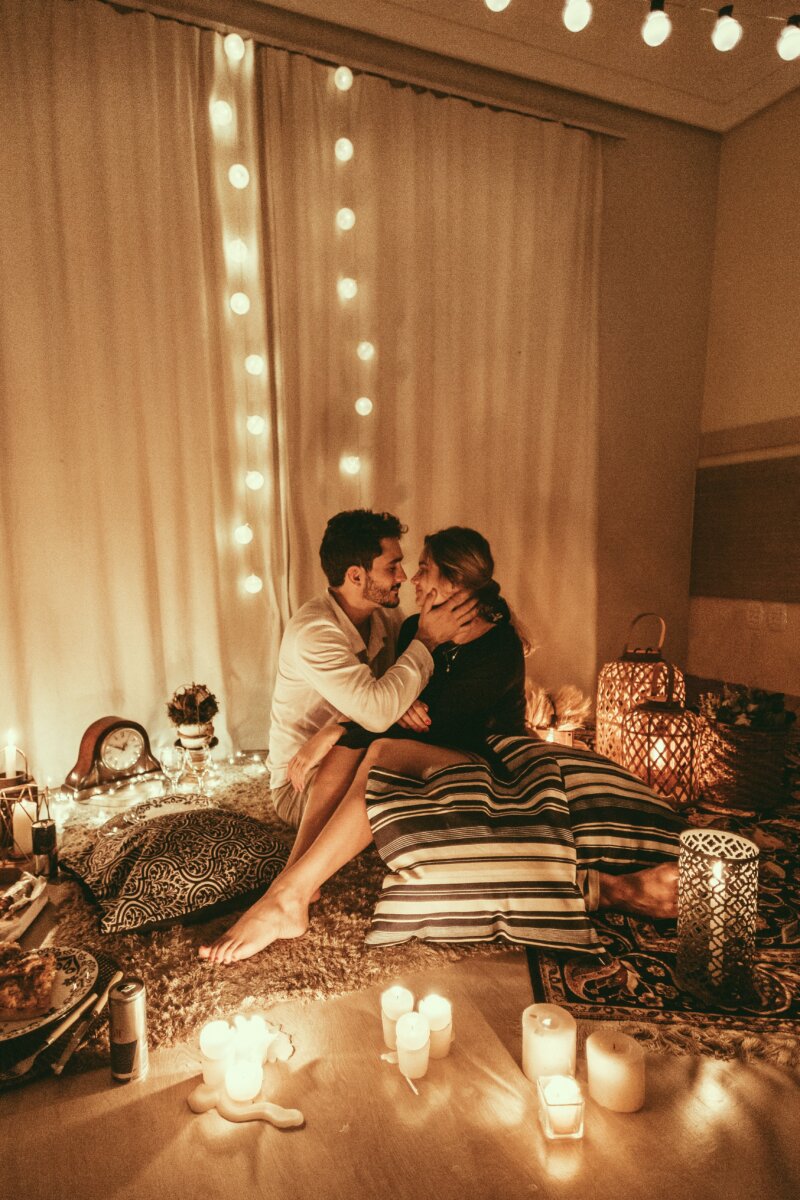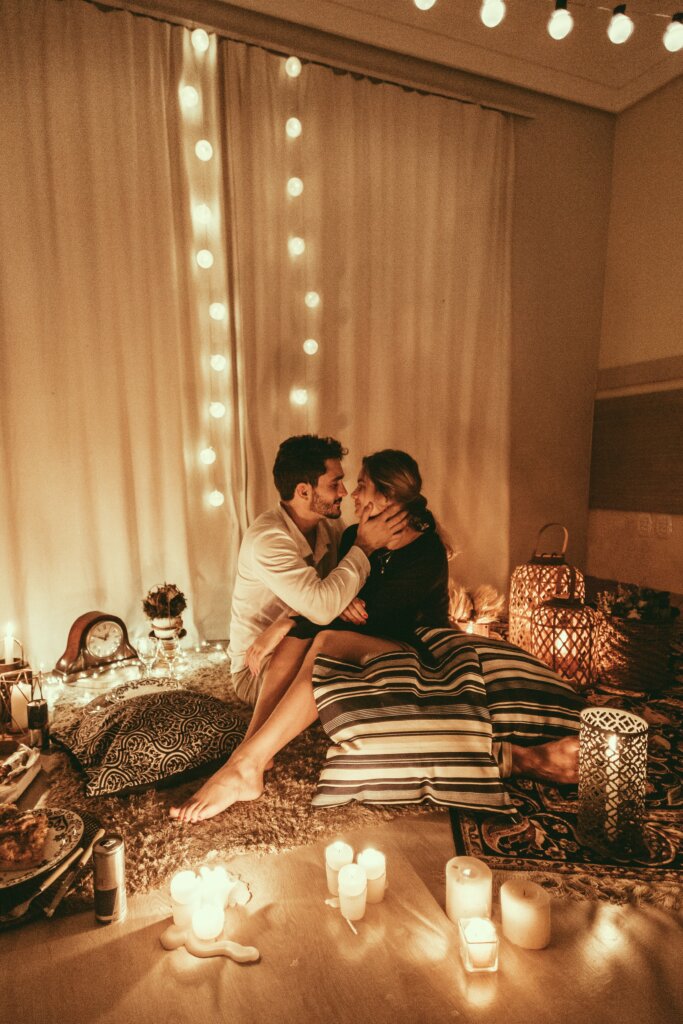 Valentine's Day Pun Captions
Got a punny sense of humor? Eager to torment all your followers with some pun-tactic Valentine's Day captions? You can can click here for a full list of Valentine's Day puns, but here are some ideas for you:
Back off – this one's Valen-mine.
Valentine's Day is Heart work, but thankful this one made it so easy.
Candy hearts, red and pink… ah yes, it must be that Valen-time of year.
This relationship right here is a true work of Heart.
For photos with a candle:
Nothing could ever a hold a candle to you, Valentine.
For photos with roses:
Really Rose to the occasion this Valentine's Day.
For photos with a bouquet:
Our Valentine's Day was pretty Bou-kay.
For photos with candy:
Celebrate the best Valentine's Day ever? Yes, we Can-dy.
For photos with chocolate:
Love this one a choco-Lot. Happy Valentine's Day!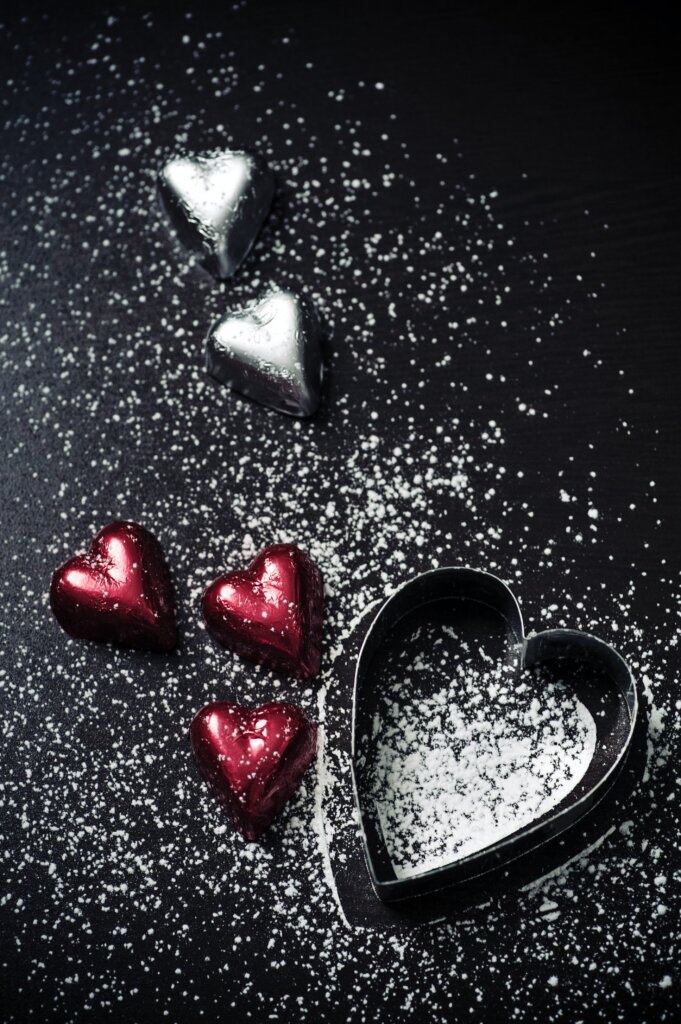 Valentine's Day with Friends Captions
If you're spending Valentine's Day with friends, you'll need an adorable caption to match. Here are some ideas.
Love takes shape in so many different forms… but my favorite has to be the bond I share with these ones. Happy Valentine's Day, from my besties to yours.
Yes, in case you're wondering, we've already made a pact to all marry each other if we're still single by 40. Happy Valentine's Day from our weird love cult to yours!
Celebrating Valentine's Day with the true loves of my life. 
"I get by with a little help from my friends…" – "With a Little Help from My Friends", the Beatles
One day I'll probably look back on this as one of the best Valentine's Days I've ever had. Cheers to these ones for being the best Valentine dates I could have asked for.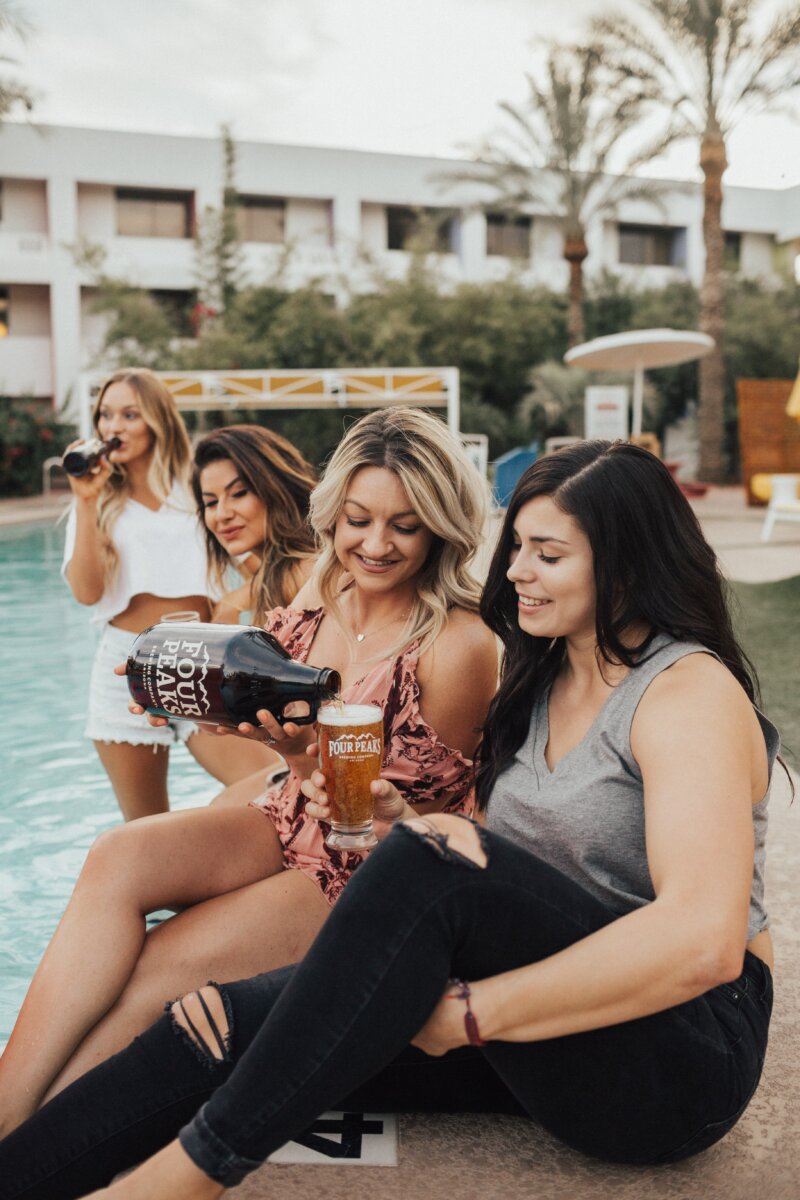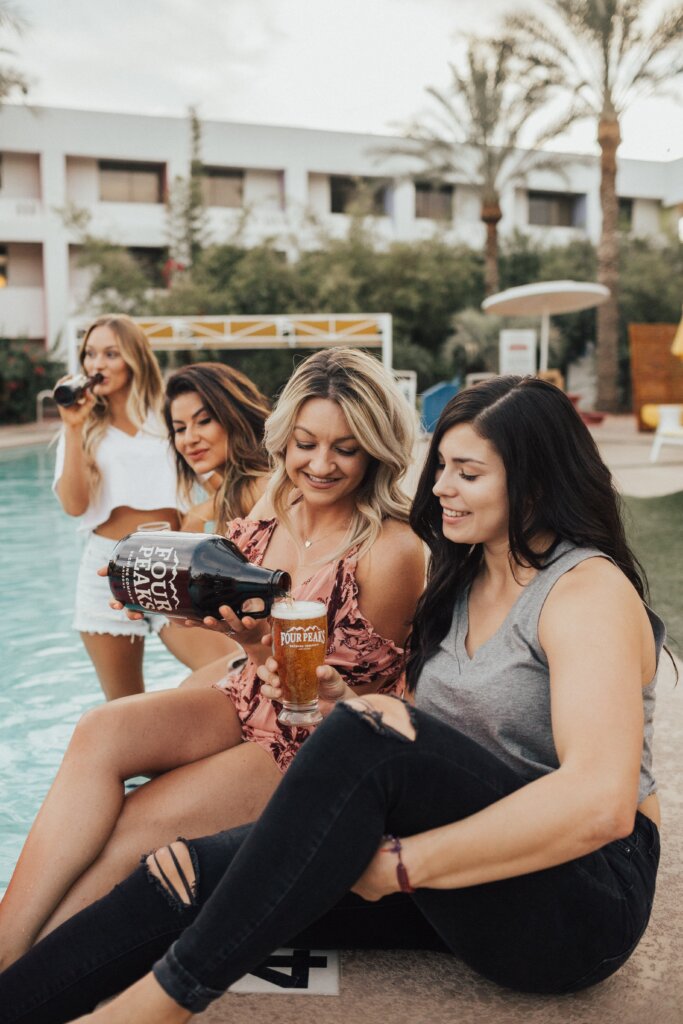 BONUS: Single on Valentine's Day Captions
Riding solo this Valentine's Day? Yes, we have captions for that too. We have our top Single for Valentine's Day captions here, but some of our favorites are below for your reference.
Don't feel bad for me spending Valentine's Day alone this year. It's a choice. Everyone else's choice, apaprently, but still a choice.
"Love yourself first, because that's who you'll spend the rest of your life with." Luigina Sgarro
The best thing I've learned this past year is to love myself and enjoy my own company. Valentine's Day is no exception. So, to all my fellow singles out there – know that you are enough, and I hope you treat yourself to something delicious and wonderful tonight!
Tips to impress me for Valentine's Day: be Wine.
Celebrating Single Awareness Day in style.
Looking for a fun thing to do with my bae this Valentine's Day. Can anyone recommend a good bae?
Counting down the minutes until I can go pick up a crap ton of 50% off red and pink chocolate tomorrow at all the shops.
I was about to get mad that my [boyfriend/girlfriend] didn't get me anything for Valentine's Day but then I remembered, I don't have one.
Is my [boyfriend/girlfriend] inconsiderate for not getting me roses for Valentine's Day? Or is that just because they simply do not exist?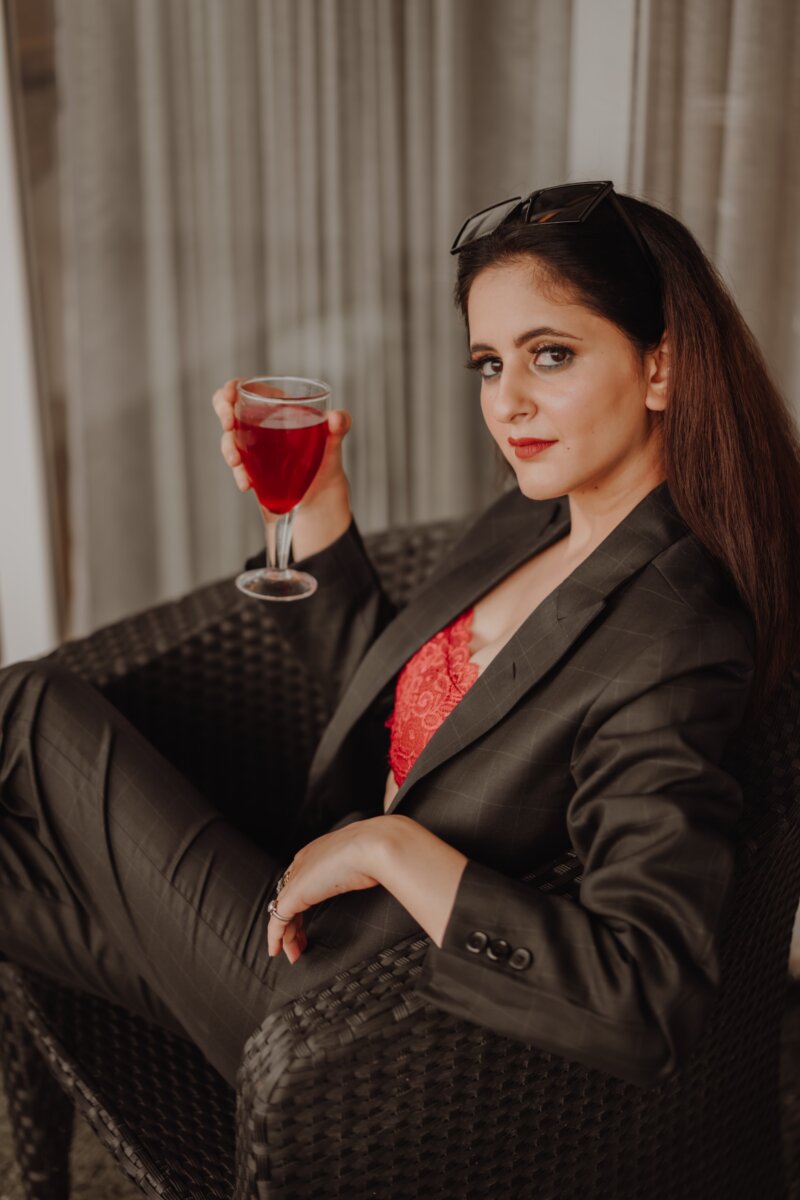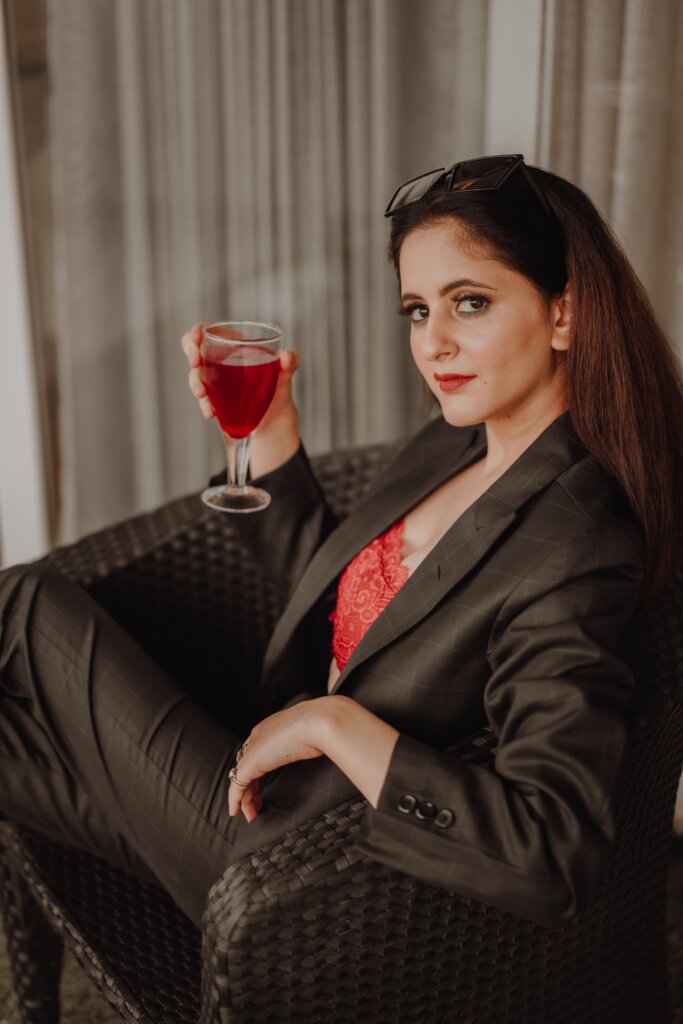 Hope you enjoyed these Valentine's Day Instagram Captions!
And, above all else, we hope this list has helped you find THE best caption for Valentine's Day to go with whatever adorable, cheesy or funny photo you have planned.