*FYI - this post may contain affiliate links, which means we earn a commission at no extra cost to you if you purchase from them. Also, as an Amazon Associate I earn from qualifying purchases. Check out our Privacy Policy and Disclosure. for more info.
Known for their ambition, cunning nature and resourcefulness, Slytherins aren't exactly smiley, happy-go-lucky people, and therefore not usually that easy to shop for (unlike Hufflepuffs!). Nonetheless, if you're looking for some help on the best Slytherin gifts you can buy online, you've found the right place.
What kind of gifts should you buy for a Slytherin? Well, whether they're of the studious sort or just enjoy flaunting their (frequently misunderstood) house, you'll find a list of genius gift ideas below that will dazzle and delight… well, as much as you can delight one anyways without any forms of dark magic ; )
We hope you enjoy this list of gift ideas for Slytherins! if you happen to be shopping for any other Potterheads, be sure to check out our other gift guides for Gryffindors, Hufflepuffs, and Ravenclaws too.
Pin for later: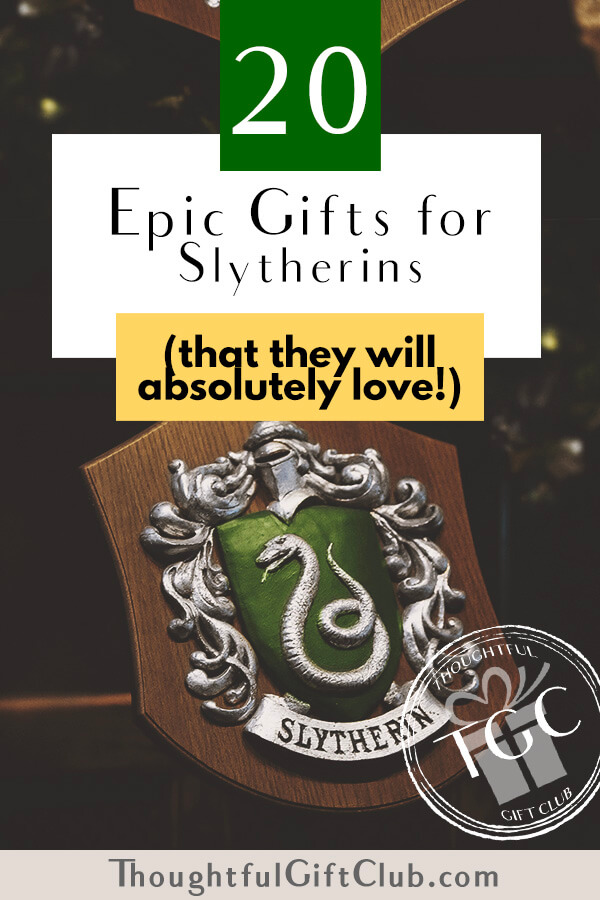 Slytherin Themed Gifts Under $20
What can you get a Slytherin without blowing through your budget? Luckily, there are plenty of wonderful gifts for Slytherins that you can buy that won't set you back more than $20. Here are some of our top picks.
This awesome Slytherin Coffee Mug
If there's one thing that can make a Slytherin smile, it's coffee. Wait – actually, I might just be talking about me, but hey, it's a universal truth that regardless of house, caffeination is a universal obsession. Well, why not jazz up your gift recipient's mornings with a little Slytherin sizzle by gifting them this awesome cauldron-shaped mug with the Slytherin crest? After all, those who don't believe dark magic exists clearly have never had a sip of strong coffee first-thing in the morning. Click here to price check.
Curious about other magical Harry Potter mug designs? Click here for a roundup of fun HP-themed mugs.
This cute Slytherin Keyring/Keychain
If you're shopping for a Slytherin that is very proudly Slytherin, odds are they'll enjoy flaunting their house no matter where they are. No gift is more practical (and mildly show-offy) than a nice keychain declaring your magical allegiance. This one is a simple keychain featuring the Slytherin crest. Click here to price check.
This Cool Slytherin Notebook
Shopping for a studious Slytherin? Well, why not get them a nice Slytherin notebook where they can write down all their schemes and plots? There are a lot of designs you can choose from these days, but this simple design with the Slytherin crest is our personal favorite. Click here to price check.
Framed Slytherin Quotes
Any proud Slytherin would happily display some of their common house traits on their walls… after all, who doesn't love to be known for cunningness and a ruthless um, let's call it goal-oriented nature? This digital poster download is super cheap and allows you to easily print out the poster to frame yourself for a perfect last-minute gift. Click here to check out the options.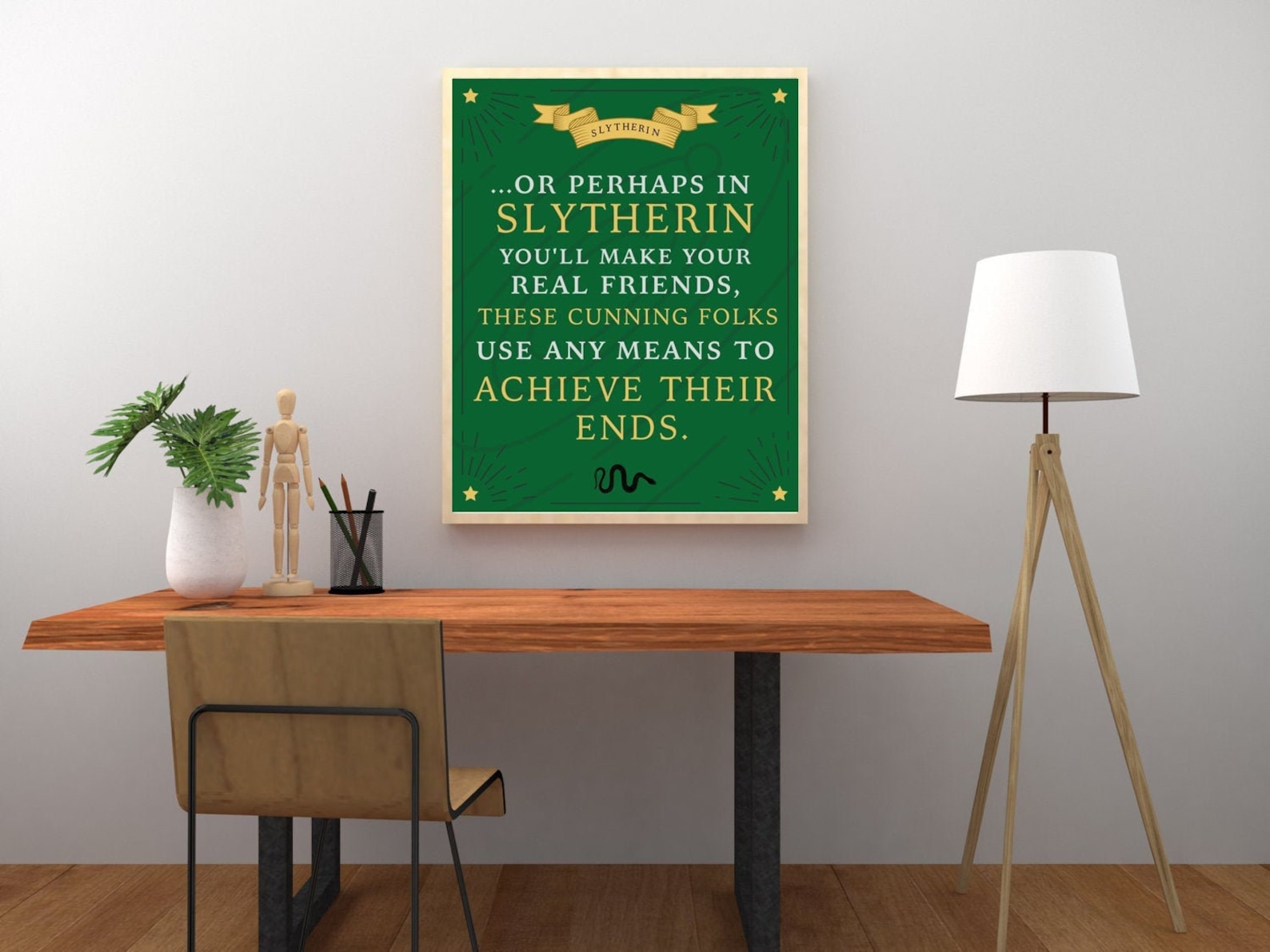 Fun Slytherin Posters
Besides the quote poster above, another good option for the Slytherin in need of new wall decor is this fancy foil Slytherin crest print, which includes a gorgeous deep green version of the crest. Snazzy and beautiful! Click here to check out the options.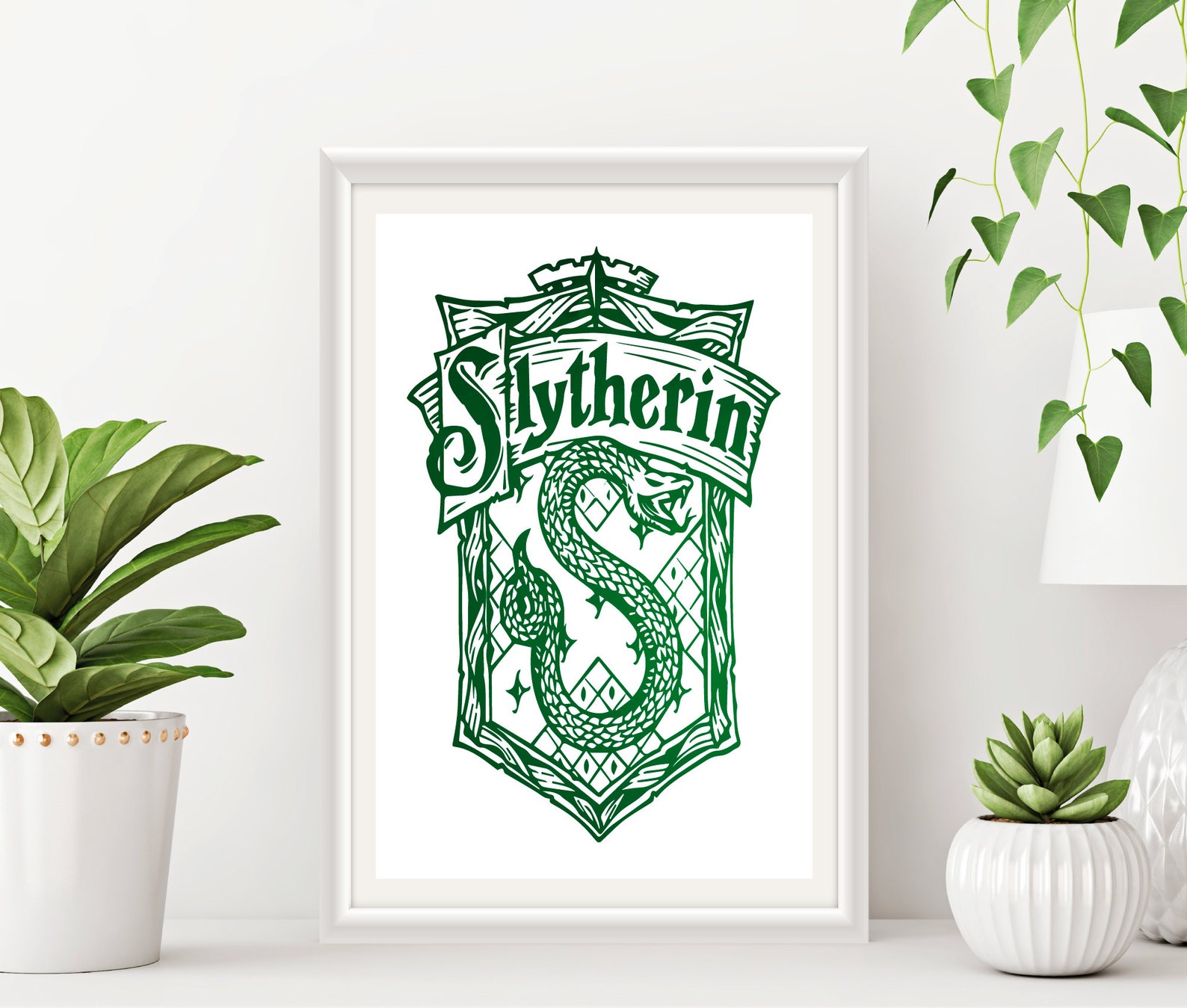 This Slytherin pillowcase
Wish your Slytherin sweet dreams with a fun on-brand pillowcase. I mean, even Slytherins need a good night sleep. Click here to price check.
This Slytherin hat
People brag about their favorite sports teams and alma maters all the time, so why not solidify the Hogwarts house pride with a nice Slytherin snapback? This casual piece of gear is the perfect gift for a Slytherin who's keen to show off their house, but still be a liiiittle subtle about it. Click here to price check.
This spiffy Slytherin tie
For the dapper Slytherin, consider getting a fun tie in Slytherin colors. This gift is perfect for any spontaneous HP parties, decoration, or just casual wearing around the house. There's tons of more minimalist ones out there that are just Slytherin colors, but we prefer this one with the crest. Click here to price check.
This super-cute Slytherin bowtie
And if your Slytherin has a quirkier sense of style, why not get a fun Slytherin bowtie like this one below, which has the crest on one side and a striped green design on the other? Sure, bowties aren't exactly the most stereotypical Slytherin aesthetic, but there's no doubt it would make the perfect little gift for some. Click here to check out the options.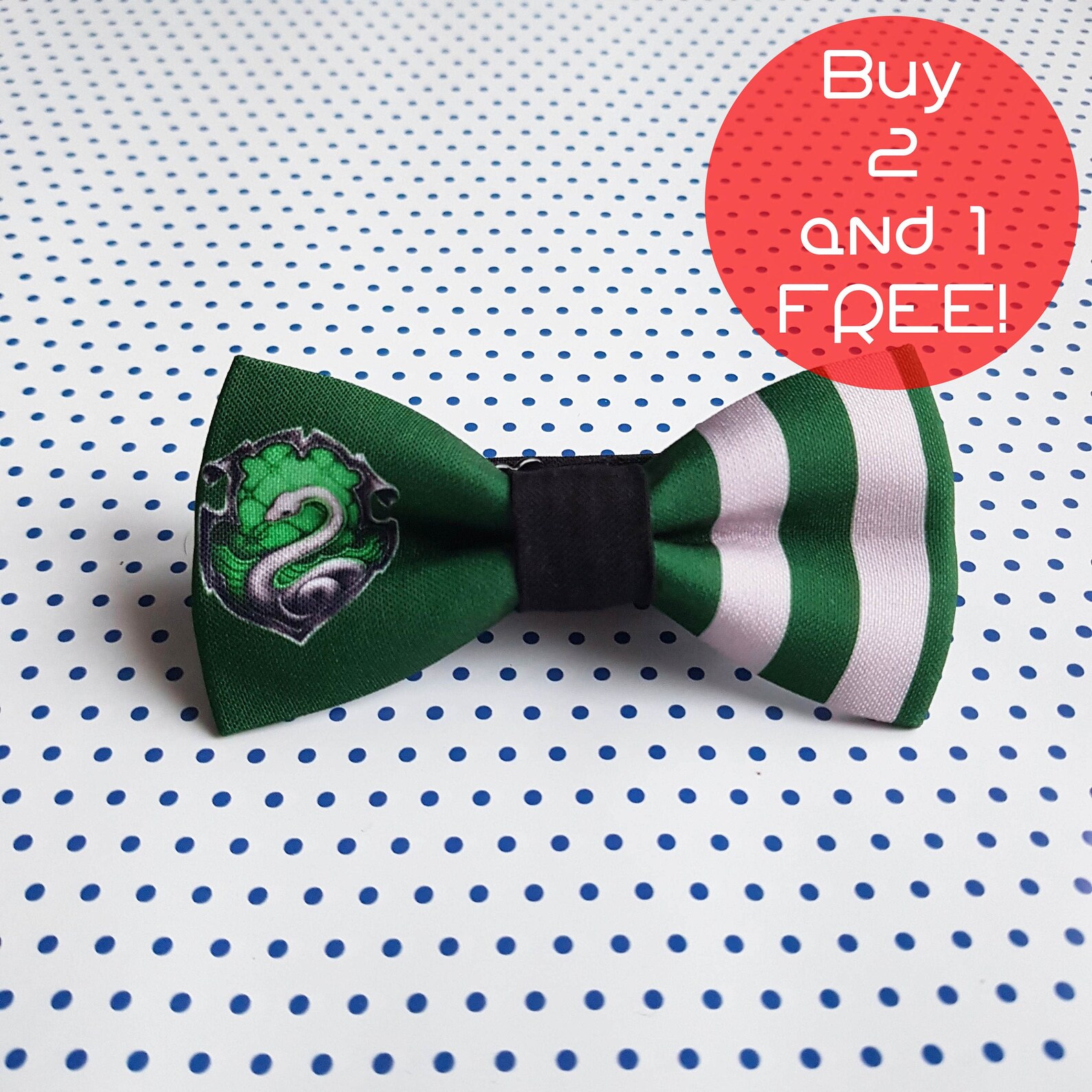 Adorable Slytherin snake pins & stationary
Lastly, if your Slytherin is (uncharacteristically) into cutesy trinkets, consider them getting a fun gift that features the famous Slytherin symbolic animal, a snake! This pin is super cute, and there are plenty of nice stationary pieces you can get too. Click here to check out the options.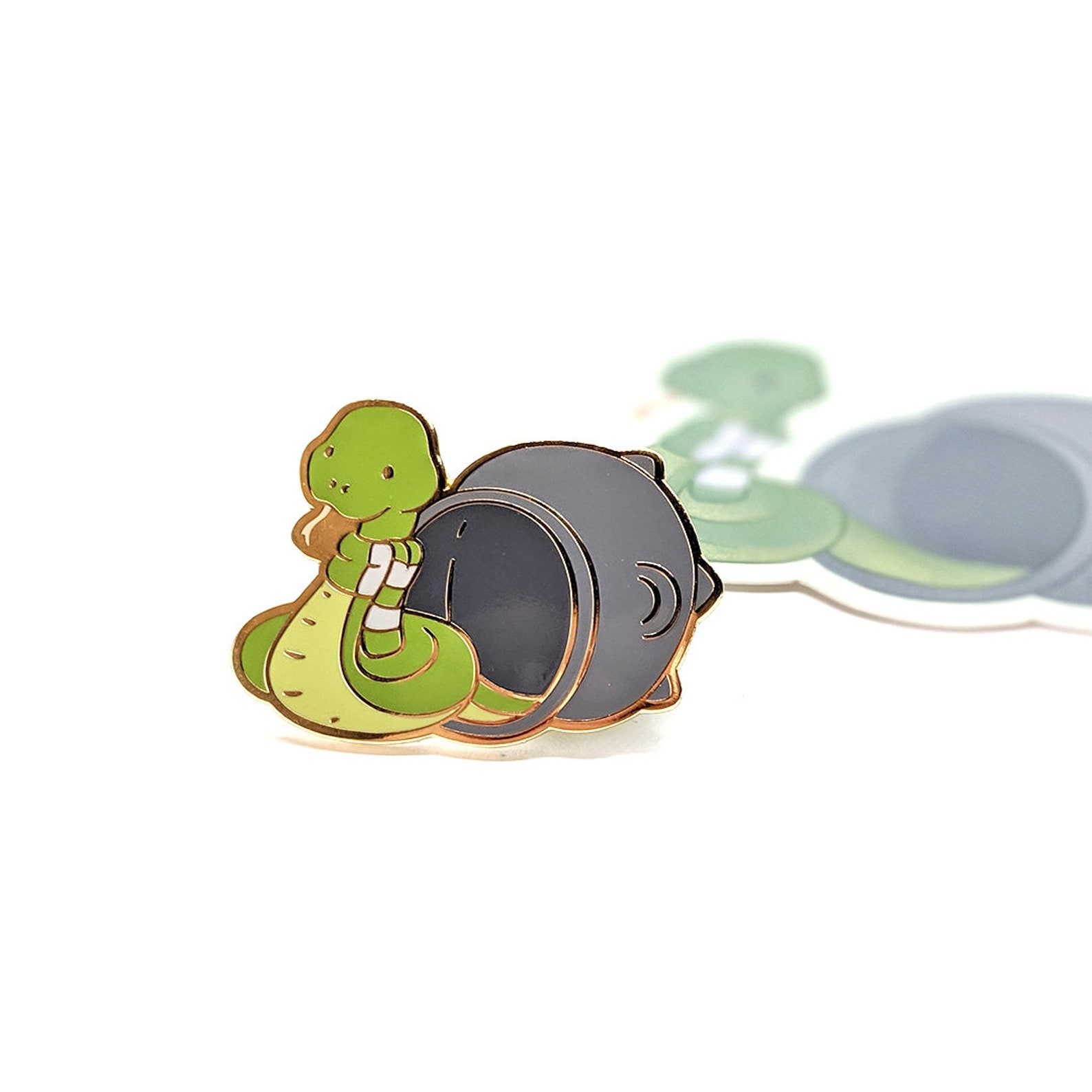 Slytherin Things that Cost $20-$50
Wanting to splurge a bit more to get the perfect gift for your Slytherin? Here are some slightly pricier options that still keep you under the $50 mark.
This warm Slytherin scarf
Slytherins may often be misunderstood for having cold hearts, but that doesn't mean the rest of them should be chilly 😉 One great practical gift to keep your Slytherin warm? A nice house scarf! Be wary of the really cheap models which are made of thin material and more for decorative purposes than anything else. Our recommendation? This scarf is a deluxe model with a nice knitted texture. Click here to price check.
This comfy Slytherin hoodie
Another cozy and comfortable gift for your favourite Slytherin is a nice house hoodie. What better way to show off your house pride than with one of these bad boys? Click here to check out the options.
This badass Slytherin goblet
For a truly epic gift for your Slytherin recipient, consider getting them one fo these super cool drinking goblets with the Slytherin crest. Something about these just makes anything instantly cooler, even if you're just drinking water. If you're shopping for a Slytherin though, it's more likely that they'll use it to drink the blood of their enemies. Joking! …. Kind of. Click here to price check.
This beautiful Slytherin blanket
Whether for decorative or coziness purposes, another wonderful Slytherin-centric gift idea is a nice crest blanket, perfect for using as a throw blanket or keeping warm on chilly nights. Click here to price check.
This gorgeous Slytherin necklace
Looking for a truly badass piece of jewelry that any Slytherin will love? Check out this beautiful Slytherin-inspired piece on Etsy. Not only does it have a gorgeous serpent wrapping around it, it features a beautiful and tasteful little green gem. Slytherin flair with a kiss of vintage glam – we love it! Click here to price check.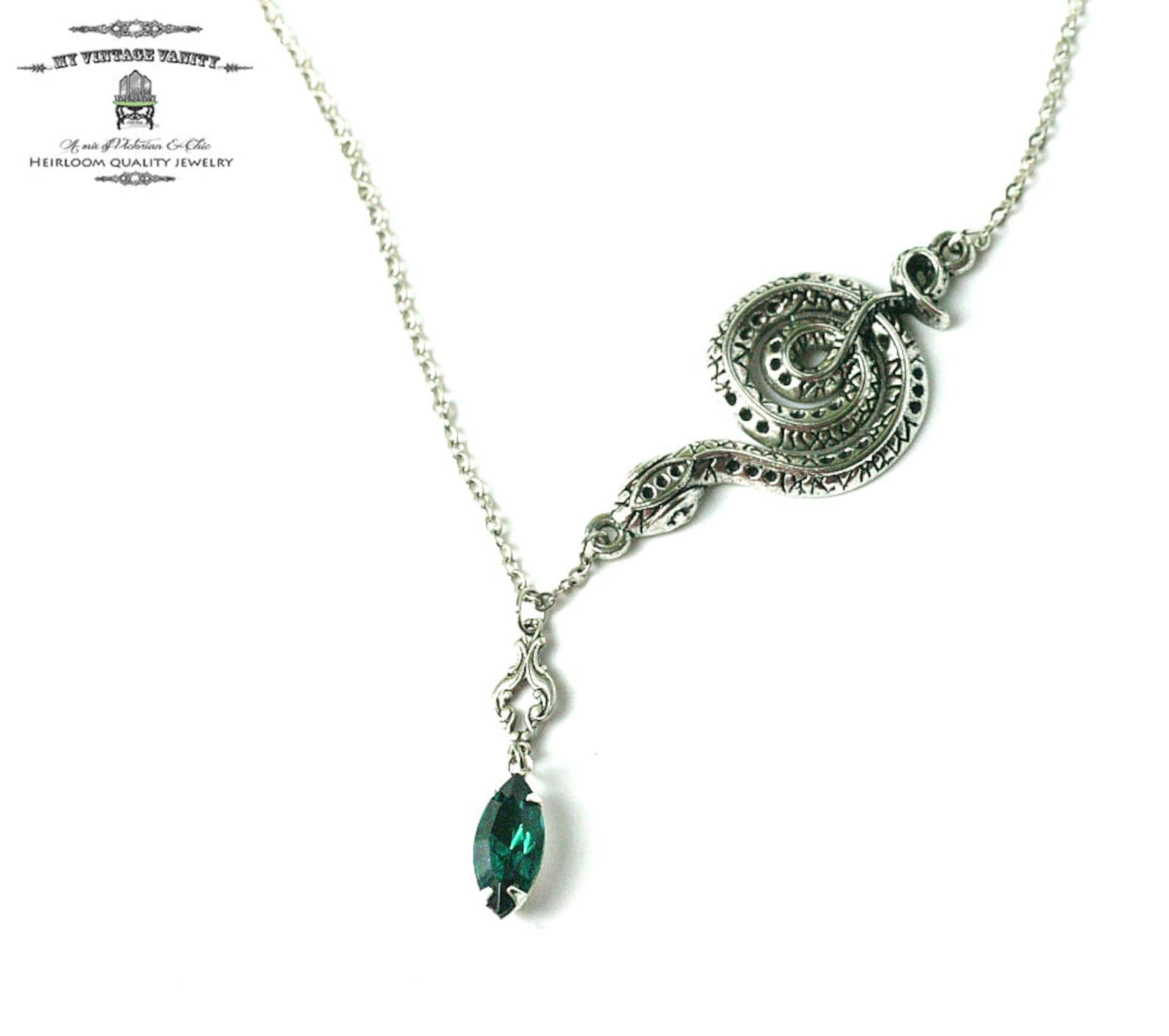 Gifts for a Slytherin that Cost $50+
Last but not least, we have some truly splurge-worthy Slytherin gifts that will cost a bit extra, but are well worth it. Here are some awesome gift ideas for Slytherins that exceed fifty bucks.
Authentic Slytherin robes
What better way to honor the magic of Harry Potter than getting actual authentic house robes that are replicas from the films themselves? They have them available for each house, and while they're pricier than some of the costumey ones, the quality speaks for itself. Click here to browse prices.
A beautiful Slytherin wand
Wands are a genius gift idea for any Harry Potter fan, all the better when you're able to do some research and find out who their favorite wizard is. You can get replica wands for most major characters, so if you're looking for some inspiration, click here to see Snape's wand.
This gorgeous Slytherin "designer" bag
For a chic and practical gift, consider gifting your Slytherin a nice house-inspired 'designer' bag in Slytherin's signature colors. Sure it's not Chanel, but it's far cheaper and we'd argue much more fangirl-worthy. Click here to check out the options.
Custom Slytherin high tops
What better way to rock one's house than through badass kicks? These Slytherin themed high tops come with the Slytherin crest on the side and a fun argyle/star pattern. Click here to price check.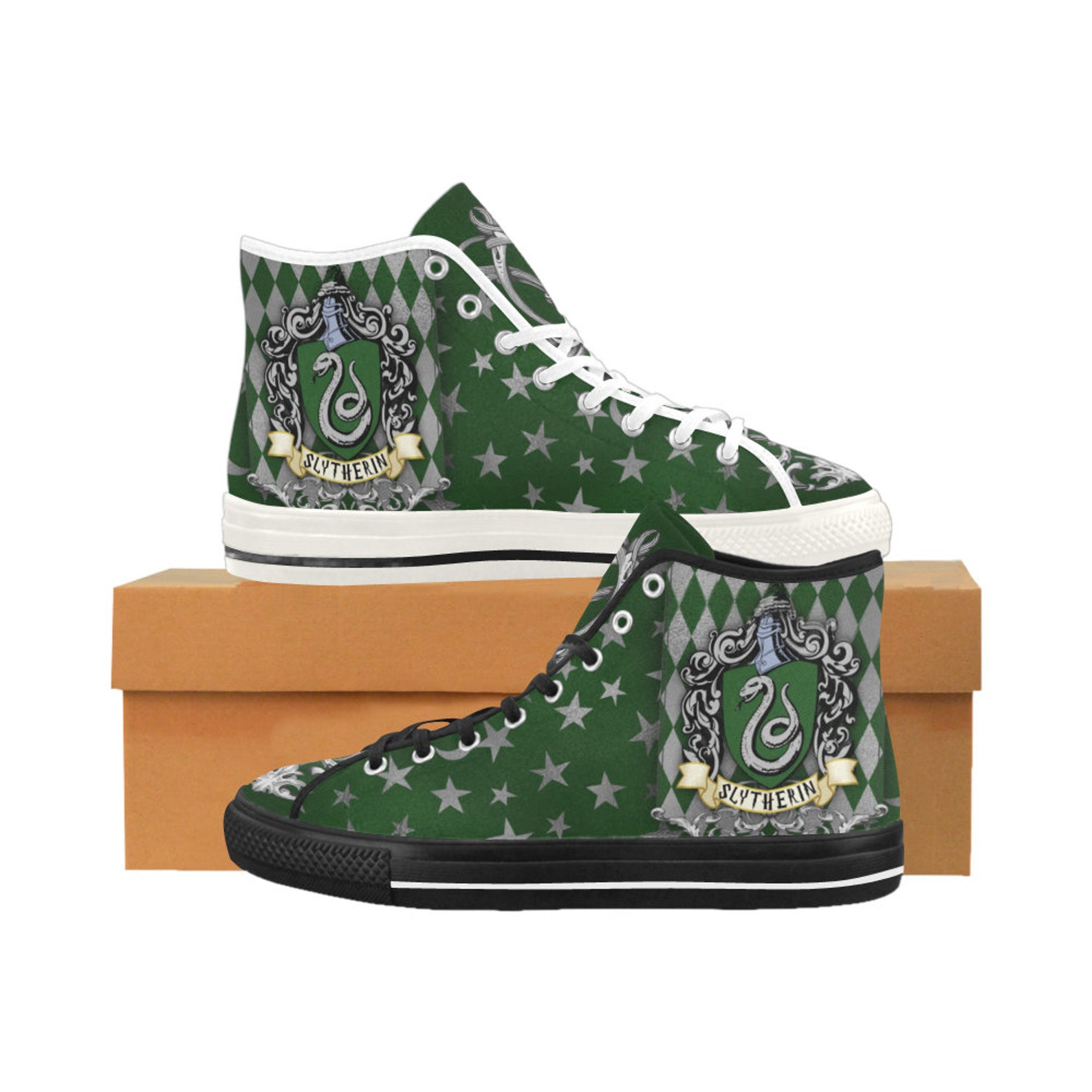 A badass Slytherin ring
Last but certainly not least, we have an awesome Slytherin ring. This ring is an amazing gift that will last a long time, plus think of the satisfaction you'll feel every time you spot them wearing it (if not everyday!) Sure this gift is a little on the pricey side, but it's well worth it for a quality piece of Slytherin jewelry. Click here to check out the prices and reviews.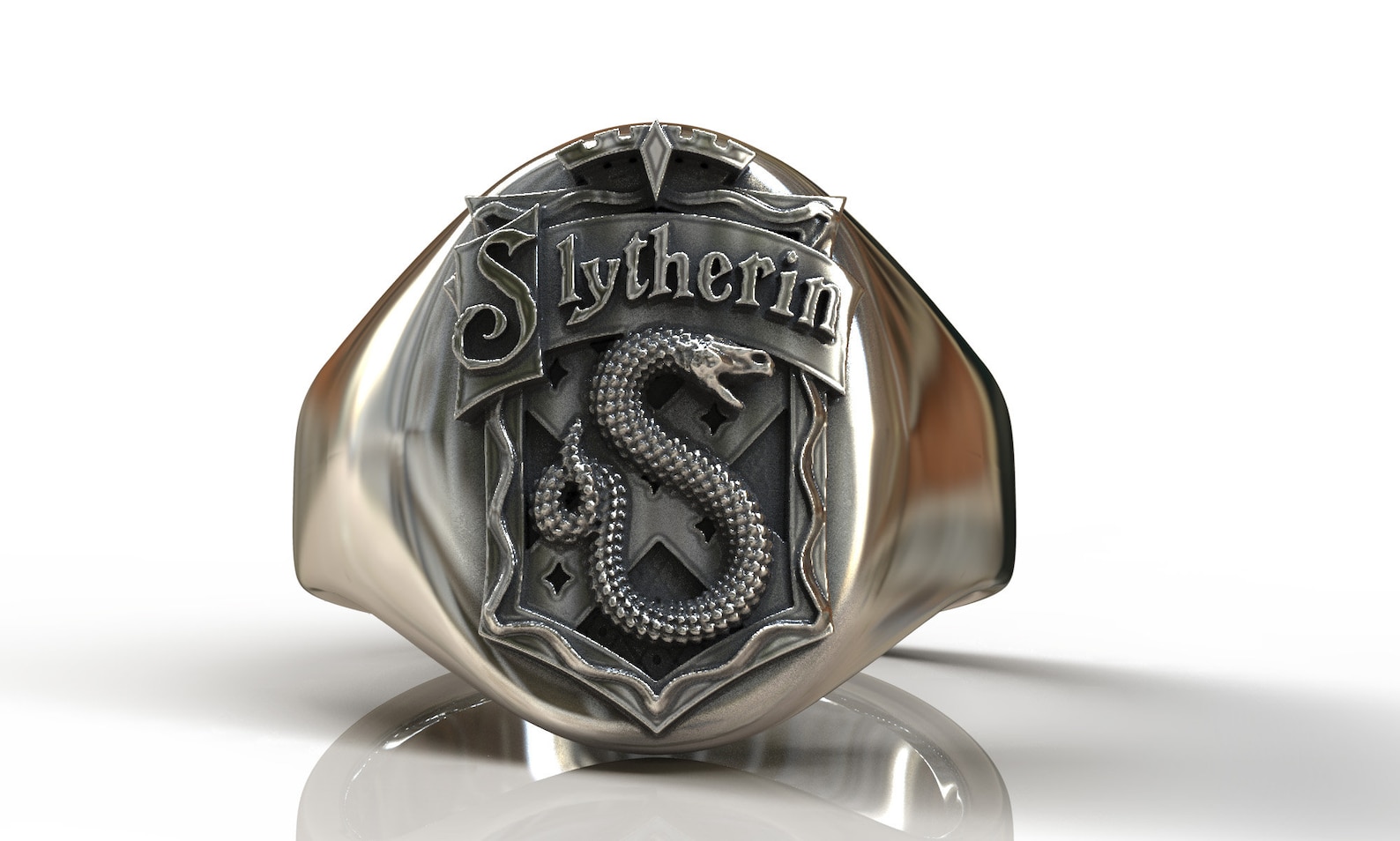 Any more ideas on gifts for Slytherins?
By now, you should have more than enough epic Slytherin gear for your wishlist, but let us know in the comments if there are any other Slytherin things we should add to this list!