*FYI - this post may contain affiliate links, which means we earn a commission at no extra cost to you if you purchase from them. Also, as an Amazon Associate I earn from qualifying purchases. Check out our Privacy Policy and Disclosure. for more info.
With Halloween soon open us, it's time once again to bust out the Holy Grail of humerus content: skeleton puns and dad jokes!
So, whether you need some cute punny additions to your Spooky basket, or you're already sick of milking pumpkin puns for Instagram captions, this list is here to help make your punny skeletal pursuits all the simpler.
… What can we say? We were kind of bone for this.
Now let's get to it – a fun list of skeleton puns and jokes that are perfect for your next Instagram caption!
Using one of these skeleton puns in your content? We'd hugely appreciate if you linked back to this page with credit!
Pin for later: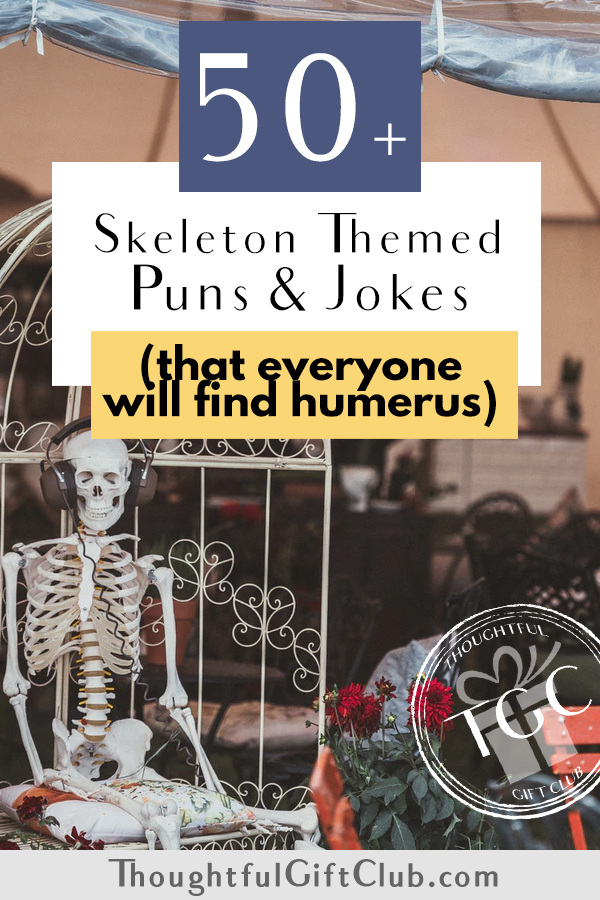 The Most Humerus Skeleton Puns & Wordplay for Instagram Captions
Whether to pair with a fun photo of you in a skeleton costume, or to go with a snapshot of your skeleton-related decorations, these punny skeleton and bone related IG captions will surely be a hit… although Tibia-nest, they are a little bit hor-rib-le.
Having a skele-TON of fun.
I've heard boney fashion is skelet-in this year?
Bone-jour, mes amis.
Having a real Halloween Bone-anza this year!
Bone away by how much fun I'm having.
I'm a bone-afide Halloween professional.
Bone to be wild.
A star is bone.
When cabin fever becomes cabin femur.
Spending time home a-bone this year.
I guess you can just say that I'm a natural bone leader.
I've always been a fan of Humerus costumes.
You know, as they say: Carpal diem!
No body gets my Halloween costume this year…
Dressed as a skeleton because I don't need no body to be happy!
Why did I decide on a Skeleton theme? Tibia-wesome, that's why.
This is my cont-RIB-ution to Halloween.
Chose this costume because I wanna be Hip.
Feeling pretty Vertebrae-ve.
Always here to be Sternum-p trouble. [Stirrin' up, get it?]
My favorite part about Halloween? The treats are all so Crani-yum!
Being a skeleton really isn't all it's cracked up Tibia.
You can definitely say that I'm a perfectly Skull-pted specimen.
Okay, maybe I dressed up as a clichéd skeleton, but punny captions are where I jaw the line.
No need to tell me because I already know – I look totally fibula-s.
Pfft – and people say I have no backbone…
I didn't know what to wear this Halloween until I had a true epipha-knee.
As the skeletons say in France… Bone appétit.
I really do think my skeelton costume will knuckle your socks off.
Thought about dressing up as a lumberjack, but came as a Lumbar-jack instead.
Wish I brought a jacket because I'm a little clavi-cold right about now.
Dressing up as a skeleton was definitely a phlang-enius idea.
I have a bone to pick with you…!
Listen buddy, I wasn't bone yesterday.
This year, I kinda had to abone-don all my plans so I decided to dress the part…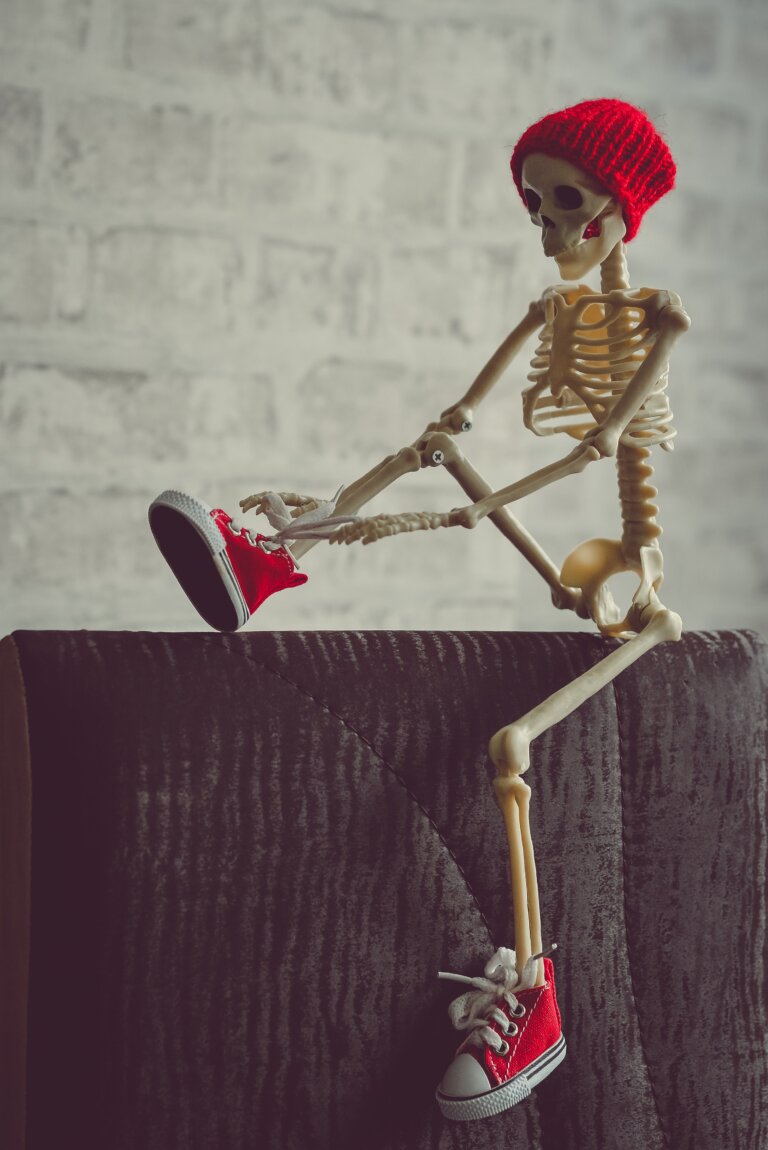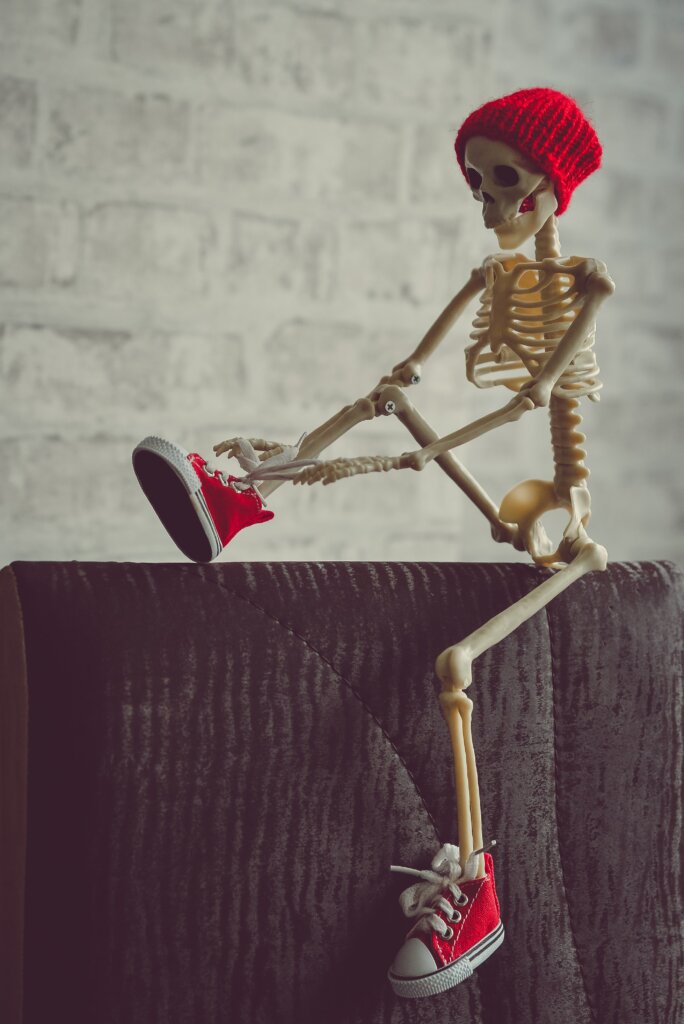 Skeleton Puns for Couple & Friendship Photo Captions
Looking specifically for some cute skeleton captions for photos with friends or loved ones? Here are some ideas we think you'll like.
Ain't nobody gonna Rib us apart.
Taking "jumping each other's bones" a little too literally this year.
Skele-Tinder date.
Always Sternum-p trouble with this one by my side.
Having this one in my life is always such a Bone-us.
Did we both dress up as skeletons? You've got Tibia kidding!
We marrow-ly escaped clichéd costumes this year.
Joint costumes can be a skele-ton of fun.
Well, aren't you going to Talus how great we look?
… Have you been spine on us?
You're looking at a couple of phalang-eniuses.
You give me femur… femur when you kiss me, femur when you hold me tight.
With this one, I always know everything is going tibia okay.
Never bone-ly with this one around!
The bone-ly one for me!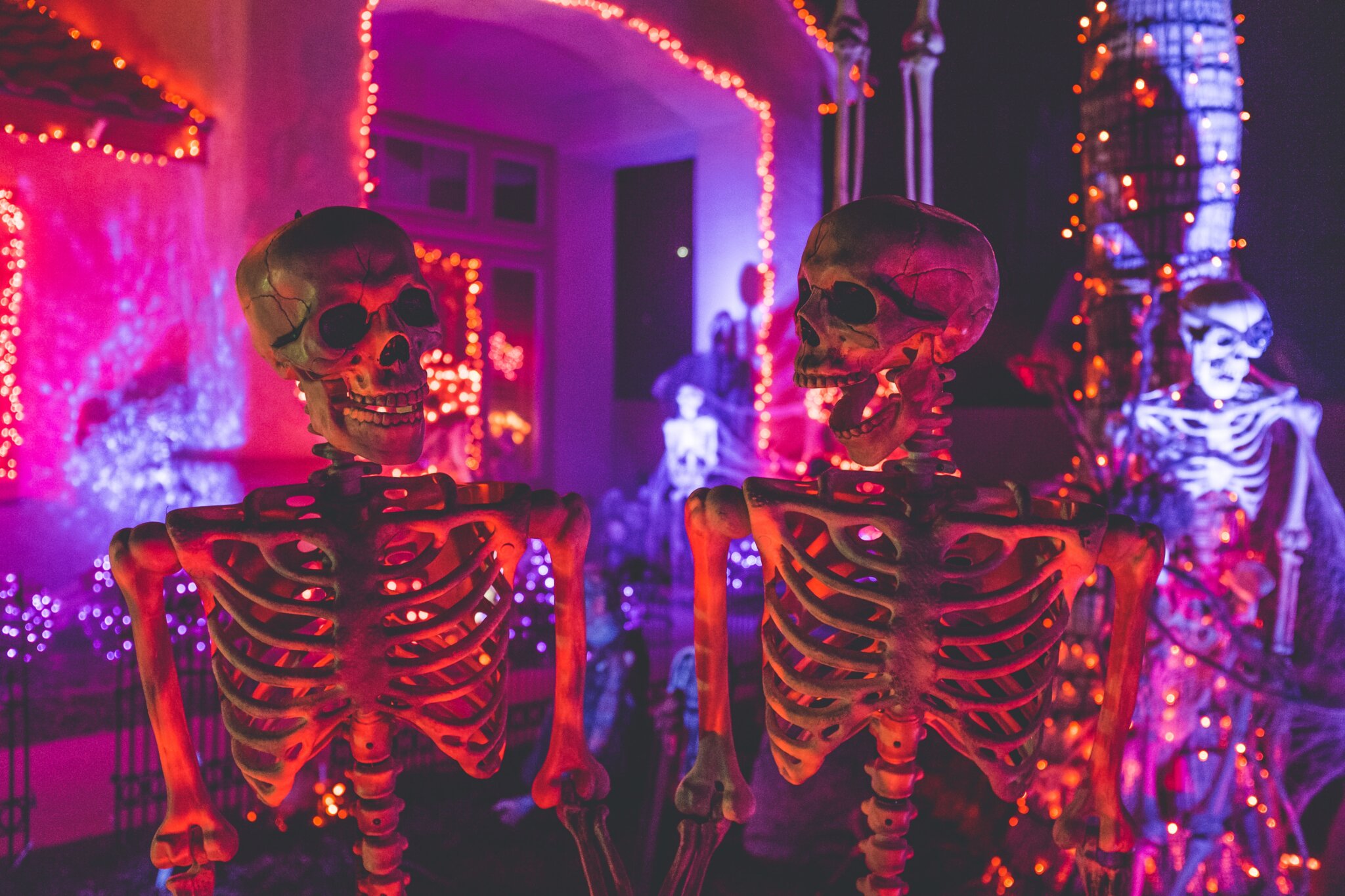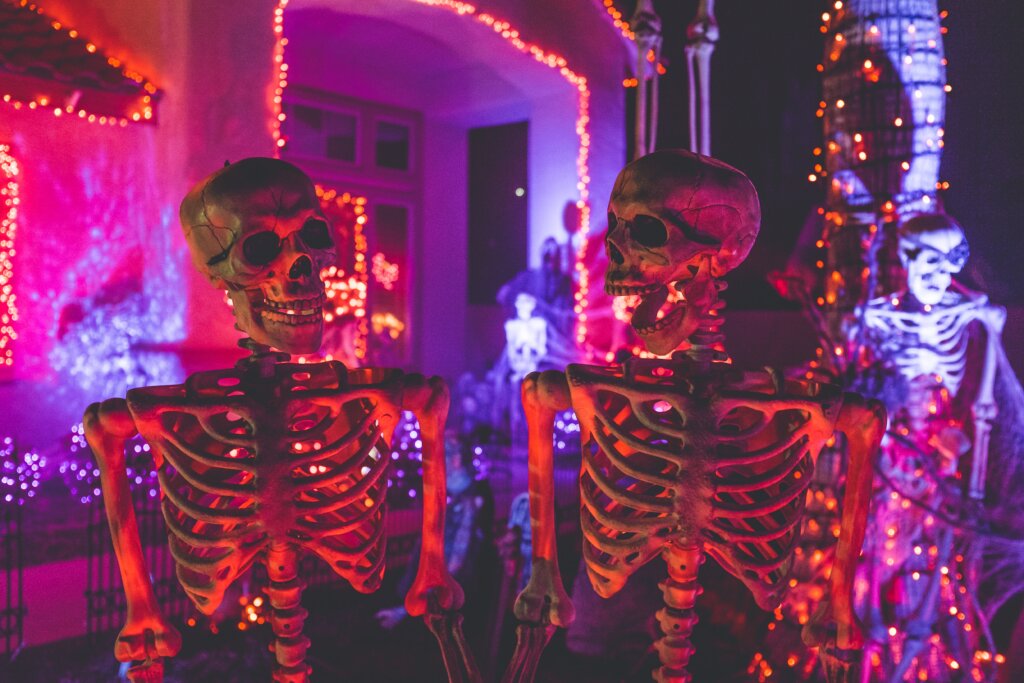 Punny Skeleton Jokes to Tickle Your Funny Bone
Now, it's time for corny skeleton dad jokes. Brace yourself – these are REALLY cheesy so we hope you don't get rattled too easily by corniness.
How much do human bones weigh?
A skele-TON.
What did the skeleton made out of origami?
An origami crane-ium.
What's a skeleton's favorite thing to get at a BBQ?
Spare ribs.
What did they call Napoleon after he was buried?
Napoleon Bone-apart.
Why was the skeleton always terrified?
He didn't have the guts to do anything.
Why are skeletons stressed out all the time?
Because they're easily rattled.
Why did the skeleton wife get mad at her skeleton husband?
She didn't like his skele-tone.
How do skeletons communicate with each other?
They use their skell-phones.
How did the skeleton mom reprimand her kids?
She skull-ded them.
Skeleton Puns for Names
We're not going to question why you might need a punny name for your skeleton.
We (hope) this would be in some way related to Halloween decorations, but we don't want to assume.
Either way, you can click here for a full list of funny skeleton names that we've put together, with gems like Boney Depp, Captain Jack Marow and moe!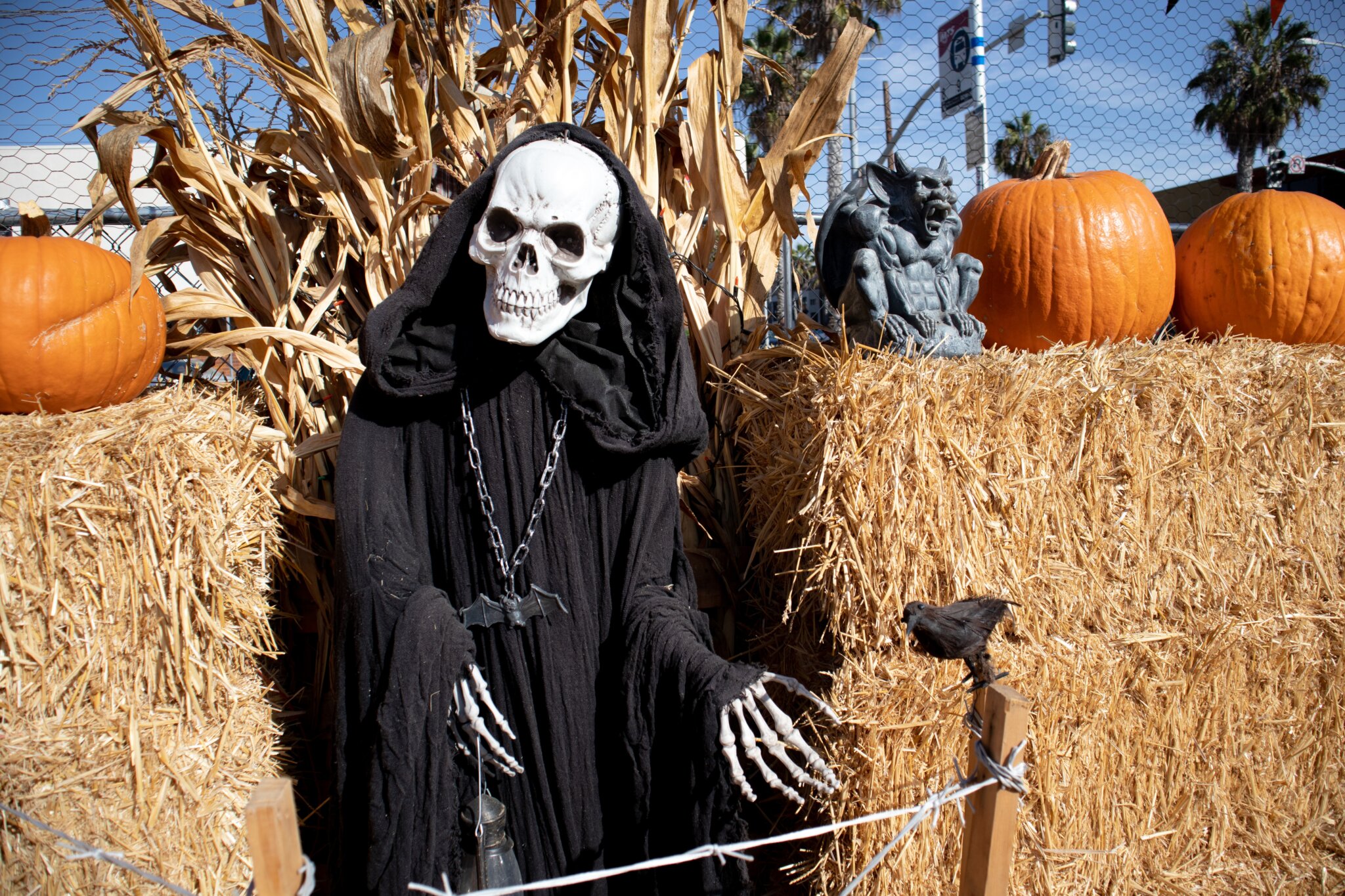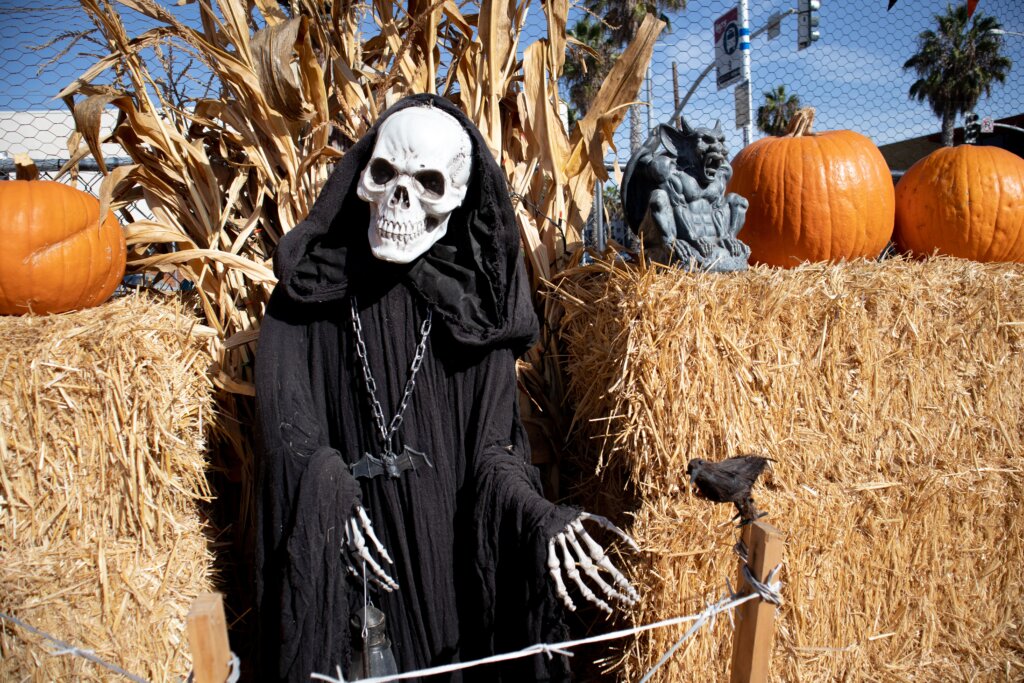 Have any other skeleton puns for us?
We hope you enjoyed this roundup of killer skeleton puns, jokes and Instagram captions. If you have any more ideas, do share your best in the comments, and be sure to also check out our Halloween alcohol puns article here for more punny festive inspo.