*FYI - this post may contain affiliate links, which means we earn a commission at no extra cost to you if you purchase from them. Also, as an Amazon Associate I earn from qualifying purchases. Check out our Privacy Policy and Disclosure. for more info.
Looking for wonderful Mother's Day quotes to use this year, whether it's to scribble into the perfect card, proudly post on Facebook, or mix into a good old fashioned Instagram caption?
You're in luck! In this post, we have gathered some of the best Mother's Day quotes that will have your mom smiling from ear to ear. We've broken them up into various categories (including funny Mother's Day quotes, Mother/Son quotes, Mother/Daughter quotes, and more) to help you best find THE perfect mom quote for your needs.
We hope you enjoy this roundup, and feel free to comment below with any favourites we might have missed!
In need of more Mother's Day ideas? Here are all our top Mother's Day articles in one place:
Pin for later: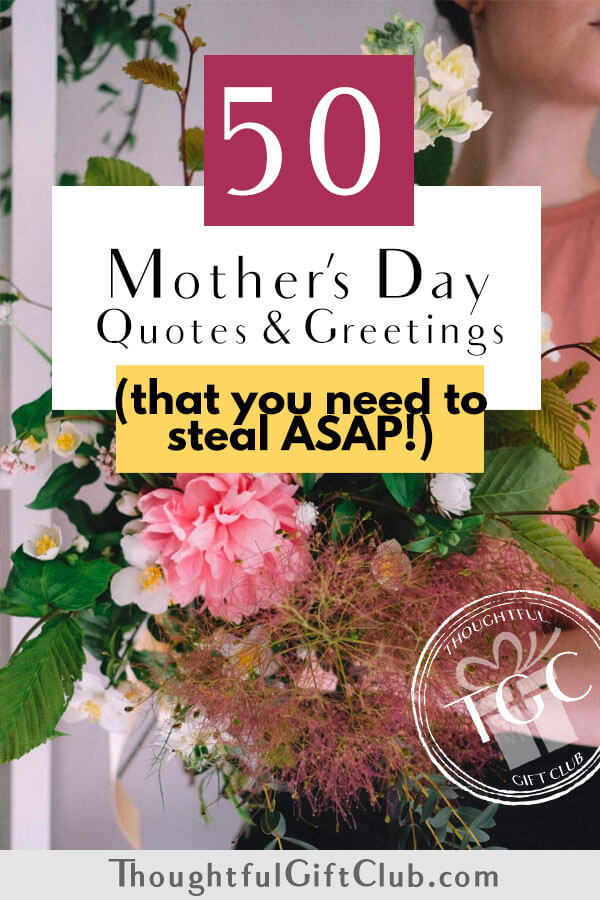 Funny Mother's Day Quotes
"Mom—you're definitely one of my favorite parents."
"It's not easy being a mom. If it was, dad would do it."
"No matter what life throws at you… at least you don't have ugly children"
"Happy Mother's Day! Sorry for kicking you in the womb"
"Hey mom. Mom mom mom mom mom mom mom! …. Happy Mother's Day"
"Life doesn't come with a manual; it comes with a mother."
"Well done, mom. I'm awesome."
"A mother's greatest sacrifice isn't giving birth. It's 9 months without wine".
"Mom, I love you, even though I'll never accept your friend request."
Heartwarming I Love You Mom Quotes
"Thanks for being the mom everyone wishes they had."
"If love is as sweet as a flower, then my mother is that sweet flower of love." – Stevie Wonder
"My mother was my role model before I even knew what that word was." – Lisa Leslie
"When you look into your mother's eyes, you know that is the purest love you can find on this earth." – Mitch Albom
"To describe my mother would be to write about a hurricane in its perfect power. Or the climbing, falling colors of a rainbow." – Maya Angelou
"All that I am or ever hope to be, I owe to my angel Mother." – Abraham Lincoln
"When you look at your mother, you are looking at the purest love you will ever know." – Mitch Albom
Happy Mother's Day to All Mothers Quotes
"I want to wish a happy Mother's Day to all Mothers who are a symbol of sacrifice and love because despite of being alone with their children, they are able to sacrifice many things to give the best to them. They deserve our admiration and all our respect."
"Happy Mother's Day to all the mothers out there: present, and soon-to-be. You have given the earth its greatest gifts."
"Happy Mother's Day to all the moms, grandmoms, foster moms, surrogate moms, stepmoms, moms-to-be, and all the men who are acting as mothers too. You bring so much light into this world and the world is better for having you in in it."
Short Mother's Day Quotes
"A mother's love is more beautiful than any fresh flower." – Debasish Mridha
"Life began with waking up and loving my mother's face." – George Eliot
"If I know what love is, it's because of you." – Hermann Hesse
Mother's Day Quotes for Your Wife
"Happy Mother's Day. A dearer wife there never was nor a better mother. I love you."
"To the world you are a mother, but to our family you are the absolute world."
"Thank you for for always being bad cop. You are my world. Happy Mother's Day!"
Mother and Daugher Quotes
"Behind every great daughter is a truly amazing mom."
"If I didn't have you as mom, I'd choose you as a friend."
"I'm a strong woman because a strong woman raised me."
"Remember, mom: a daughter is just a little girl who grows up to be your best friend. Thanks for being my best friend too. Happy Mother's Day!"
"A daughter's greatest treasure is knowing she may one day become as wonderful as her mother."
"My mother was my role model before I even knew what that word was." – Lisa Leslie
Mother and Son Quotes
"A man loves his sweetheart the most, his wife the best, but his mother the longest."
"Mother is her son's first god. She must teach him the most important lesson of all – how to love." – T. F. Hodge
There has never been, nor will there ever be, anything quite so special as the love between the mother and a son.
"Mothers are inscrutable beings to their sons, always." – AE Coppard
"Life began with waking up and loving my mother's face." – George Eliot
Quotes about Moms
"God could not be everywhere, and therefore he made mothers." – Rudyard Kipling
"Motherhood: All love begins and ends there." – Robert Browning
"Mothers are like glue. Even when you can't see them, they're still holding the family together." – Susan Gale
"When you are looking at your mother, you are looking at the purest love you will ever know." – Charley Benetto
"Mother is the heartbeat in the home; and without her, there seems to be no heart throb." – Leroy Brownlow
"There is no role in life that is more essential than that of motherhood." – Elder M. Russell Ballar
Single Mom Quotes for Mother's Day Wishes
"It's hard growing up without a father, but it's easy when you have an amazing mother who plays both roles so well. Happy Mother's Day!"
"She has to have four arms, four legs, two hearts and double the love. There is nothing single about a single mother."
"Mother love is the fuel that enables a normal human being to do the impossible." —Marion C. Garretty
Long Distance Mother's Day Quotes
"Not always eye to eye, but always heart to heart."
"Forever together and never apart, maybe in distance but never by heart. Happy Mother's Day!"
"In true love the smallest distance is too great and the greatest distance can be bridged." – Hans Nouwens
"I exist in two places, here and where you are." – Margaret Atwood
"If you think missing me is hard, you should try missing you."
"Distance means so little, when someone means so much." – Tom McNeal
"Mothers are like glue. Even when you can't see them, they're still holding the family together." – Susan Gale