*FYI - this post may contain affiliate links, which means we earn a commission at no extra cost to you if you purchase from them. Also, as an Amazon Associate I earn from qualifying purchases. Check out our Privacy Policy and Disclosure. for more info.
As wonderful as it is, Mother's Day can be one of the most stressful days of the year.
So we thought we would help you out with a laugh. Whether you're looking for the perfect Mother's Day meme to bring some joy to your mom's day, or a mom yourself looking for some funny relatable Mother's Day memes to share on social media, here are some ideas.
Get ready to forward these to all the moms in your lives!
In need of more Mother's Day ideas? Here are all our top Mother's Day articles in one place: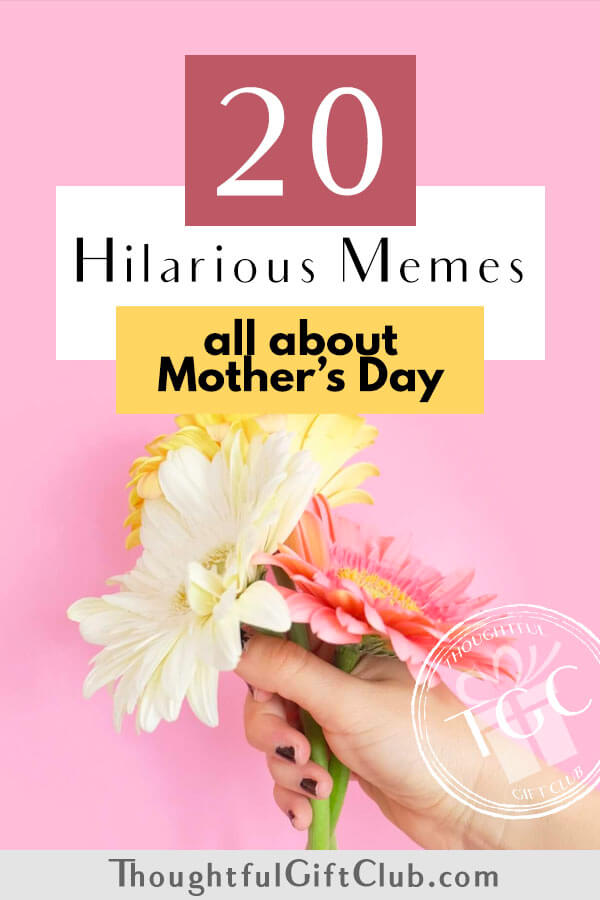 1. This meme that nails one of the central motherly superpowers
Honestly though – how do they manage to find everything when you've looked everywhere? Do mothers develop X-Ray vision in labour? What is the source of this sorcery?
2. This snarky meme about all the Mother's Day social media love-bombing
All in good fun, but this Mother's Day meme kind of nails it, don't you think…?
3. This perfect Mother's Day callback to every time you wanted McDonalds
If mothers had a union, "there's food at home" would probably be the slogan lovingly embroidered into their matching jackets.
4. This surprisingly wholesome meme about motherly love
Extra brownie points if you send this to your mom with an ugly selfie and the caption "how did I turn out?" Honestly though, mom's the real superhero.
5. This sad-but-true Mother's Day meme about a mother's vacation days
We're sure the moms in your life will get a chuckle out of this one…. a chuckle or a knowing sob, we're not sure.
6. This hilarious meme about being the best mom
Just really… nailing it.
7. This accurate meme representing what Mother's Day plans actually look like
A day for moms to finally sit back and relax? Riiiiiiiight.
8. This Mother's Day meme/greeting that every mom in your life will appreciate
I mean, is there an easy way to clean glitter?? Asking for a friend.
9. This Mother's Day ad campaign that just nails it
Get that woman a damn bouquet!
10. This perfect capture of an Ideal Mother's Day?
It's time for you to sit back and relax, mama.
11. And of course this Mother's Day meme about what we all deserve
We'll dust off the pink ballgowns…
12. This funny mom meme that you'll probably find way too relatable
I mean, there's definitely a shred of truth to this…
13. This accurate Mother's Day meme about homemade cards
Can we like, get a massage instead?
14. The Mother's Day meme every mom probably wants to show their families "jokingly"
Alone. With wine. And Netflix…….. and a jacuzzi.
15. This accurate meme comparing Mother's Day and Father's Day
The discrepancy is real!
16. The realest meme to ever meme
It's about time…
17. This relatable meme about the inevitable Mother's Day brunch
Pass the mimosa please? Actually just pass the whole bottle of champagne.
18. This aspirational Mother's Day expectation
Can we also add dishes and fixing that weird leaky faucet onto the list?
19. This ominous Mother's Day meme for fans of Bates Motel
If you know, you know.
20. The perfect meme to send to a sarcastic mom
Oh yay – the annual Facebook post about my greatness!
21. This sad Kermit meme about how much you wish you could spoil your mom for Mother's Day
Maybe a private island and the solar system next year, yeah?
22. This meme proposition for another Mother's Day in the year
I mean… that sounds pretty fair.
23. This meme showing the reality of Mother's Day
"Momma! Momma! Momma!"
24. Lastly, this meme for your personal Wonder Woman
But it's a nice mug, no?
Got any more awesome memes for Mother's Day?
We hope you enjoyed this roundup of hilarious Mother's Day memes! If you have any more to share, feel free to leave them in the comments below.