*FYI - this post may contain affiliate links, which means we earn a commission at no extra cost to you if you purchase from them. Also, as an Amazon Associate I earn from qualifying purchases. Check out our Privacy Policy and Disclosure. for more info.
When it's time to celebrate mother's day, it's important not to forget the OG ma dukes. Which is, you know, your mom. Or your spouse's mom. You get the idea. Because, especially in some families, the matriarch is strong, and it's advisable to pay respects.
And, if you're looking for the perfect mother's day gifts for grandmothers, whether it's to keep the peace or simply show your appreciation, you came to the right place! We scoured the Internet so you don't have to and compiled the definitive list just for you.
So, without further ado, here are the absolute best mother's day gift ideas for your grandma, or anyone's grandma, for that matter!
In need of more Mother's Day ideas? Here are all our top Mother's Day articles in one place:
Pin for later: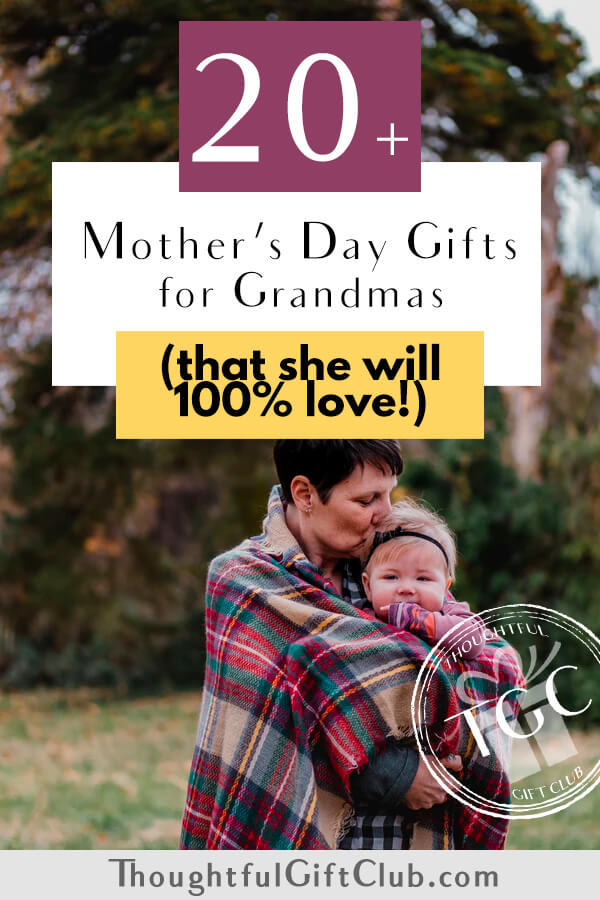 ---
The best mother's day gifts for grandma under $20
If you're looking for the best nana mother's day gifts on a budget but have your reservations, we get it. And, for your peace of mind, here are two things to know. Firstly, there are loads of excellent mother's day gifts for your grams that are both touching and affordable.
You don't have to break the bank to show you care and appreciate them. And secondly, we won't tell her you outsourced this task if you don't. Though, admittedly, grandmas and moms do have some kind of ESP you should be wary of. Regardless, here are the best and most inexpensive Mother's Day gifts for any and every grandma!
---
Granddaughter and Grandmother Matching Bracelets
Perfect for both grandmother and granddaughter, this is the kind of gift that'll be special to both. And, while there's no bond quite like that of a grandparent and grandchild, this granddaughter-grandmother matching bracelet set will only make it stronger!
Select the cord color and between one and two granddaughters, and this handmade item will be sent your way. Girls of all ages could appreciate it, and it even comes with a touching tribute to that special bond they share. You can't go wrong here!
Click here to check prices and reviews.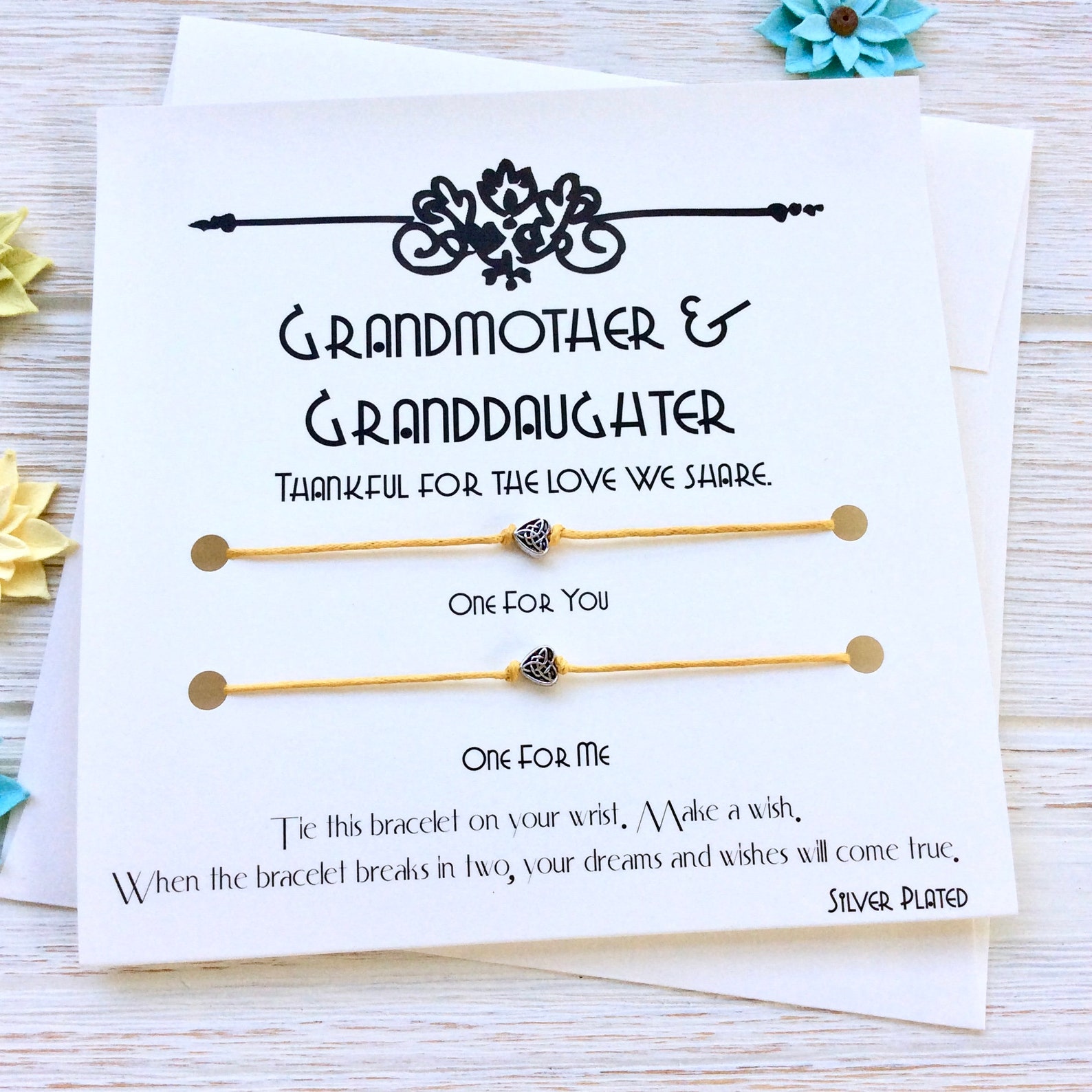 ---
Wildflower Seed Bomb Pack
Unassuming and perfect for any grandma with a green thumb, this wildflower seed bomb pack is also a great gift to get a grandma so she can teach her grandchildren the rudiments of gardening. This is the stuff memories are made of!
Simply select what gift tag you'd like—they have tags for thank you, have a beautiful day, teachers, and happy Mother's Day. This set of six seed bombs is homemade out of recycled paper, and they come ready to plant.
Click here to check prices and reviews.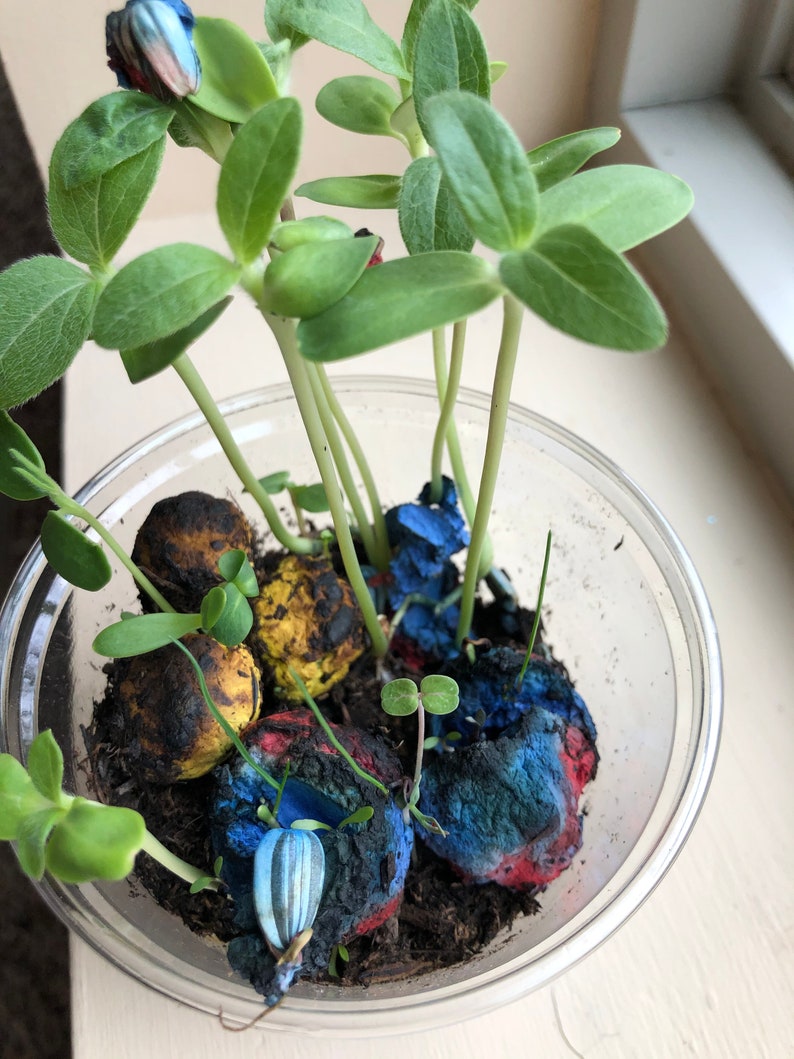 ---
Mother's Day Grandma Coloring Card
This is a great gift because it'll come directly from the grandchildren. And, honestly, there's probably no gift more meaningful than one wrought from the diligent work of a grandchild. This Mother's Day Grandma coloring card is incalculably meaningful!
A great way to sit your kids down and do something for grandma, simply buy and download the file. Then afterward, the little ones just need to color. And trust us: there's simply no bouquet of actual flowers that could even hope to compare to this!
Click here to check prices and reviews.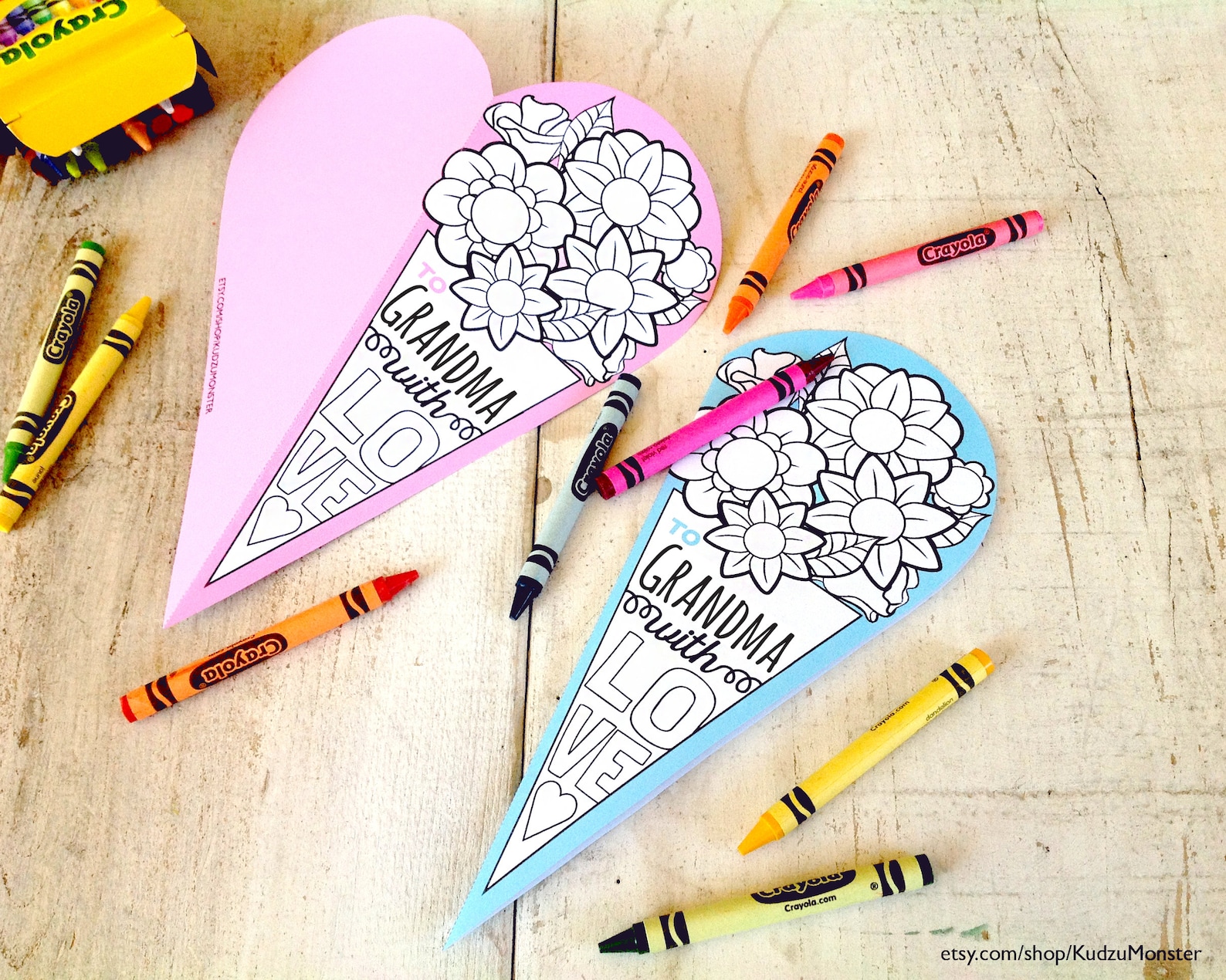 ---
Personalized Mug
Don't get it twisted—grandmas don't always wake up chipper and ready to unload love on anyone in their path. They need coffee too. And this personalized mug is a great way to remind her every morning that she has loads of adorers.
Black and with great cartoonish renderings of grandchildren, this 11 or 15 ounce mug is a great gift you can personalize. Just send in the names of your grandchildren and they'll be included to make this all the more special!
Click here to check prices and reviews.
BONUS THOUGHTFUL TIP: Combine this mug with some tea gifts or coffee gifts to really hit this Mother's Day out of the park.
---
What I love About Grandma Fill-in-the-Blank Book
There's nothing that warms a grandma's heart more than her grandchildren. And, if you can get them to write down all the things they love about her, even better. That's what makes this What I Love About Grandma fill-in-the-blank book so great!
With 112 pages, this book comes with lines you just need the grandchildren to sit down and fill out. It can be as sweet, serious, or funny as they want. This is the kind gift that was practically made to put out on display. Because even grandmas like to flex.
Click here to check prices and reviews.
---
The best mother's day gifts for grandma under $50
If you're still looking for the perfect gifts for grandmas on Mother's Day, even if you're looking specifically for god mother's day gifts for a grandma, there's plenty for you to choose from. And don't worry—we won't let technicality like that throw us off course. But we'd be remiss if we didn't admit that we admire your commitment.
And we're sure the lucky recipient will, too! So, whether you want personalized Mother's Day gifts for a grandma or just sentimental presents, we've got you covered. A willingness to spend a little extra cash certainly goes a long way. Here are our favorites!
---
Personalized Hand Stamped Keychain
A touching tribute to the different generations that this grandma undoubtedly has helped rear, this personalized hand stamped keychain is one of the best Mother's Day presents for any grandmother. It's important not to forget how it all started.
Hand stamped, this keychain is nothing short of unassuming. You can choose to have a necklace instead, and you can even choose a birthstone. Then, enter the required nicknames and years and you've got yourself a tearjerker!
Click here check prices and reviews.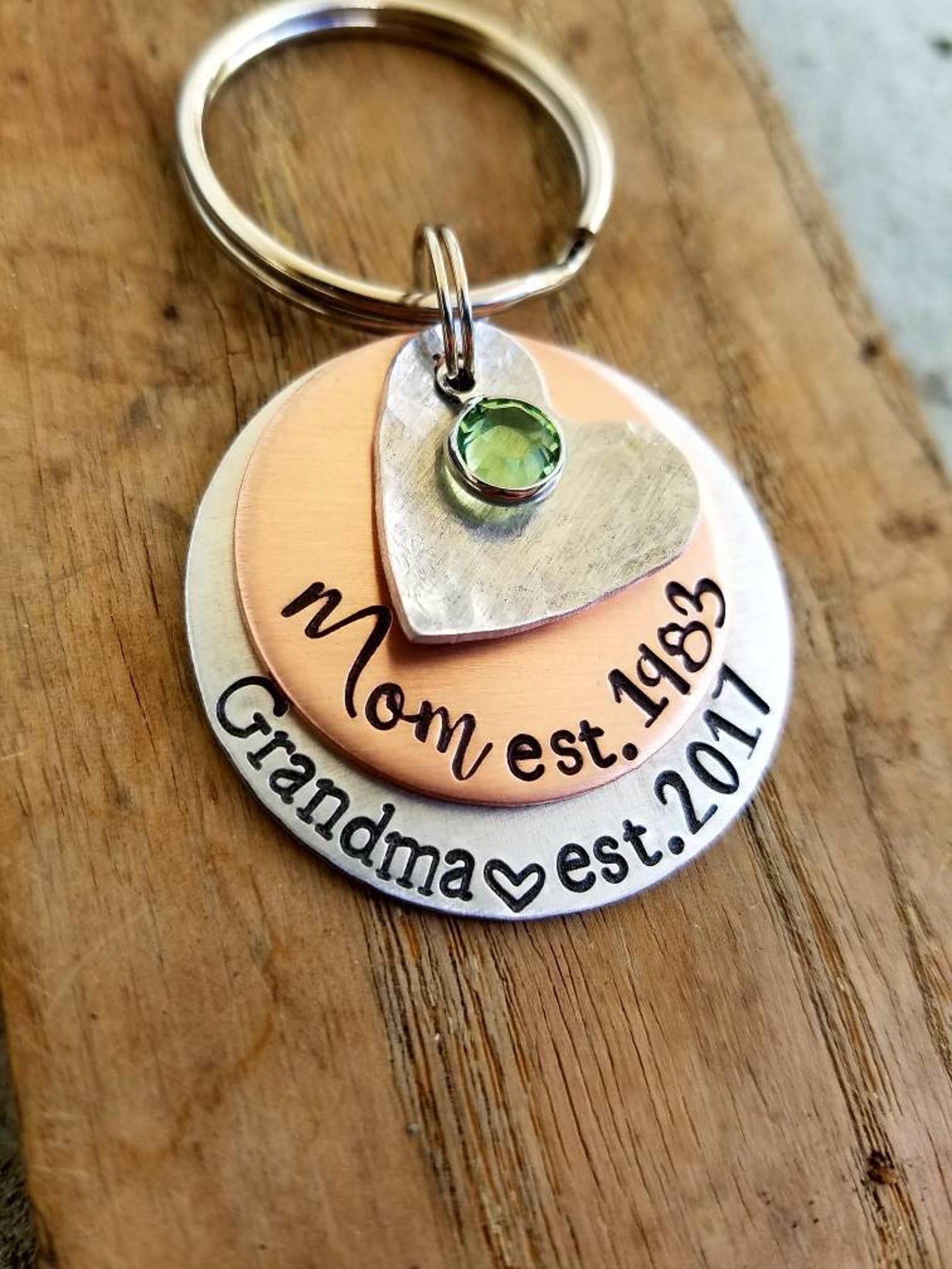 ---
Grandma's Brag Board
Something every grandma should have, this designated board for all those art pieces, photos, and whatever else grandma's love to waterboarding strangers with will certainly be a welcome addition for both grandchildren and grandparents!
Select the background color and lettering color, then select the size. You can even enter the names you want to appear on the board. Handcrafted out of wood, it comes with twine and clothespins, ready to hang and host only the most precious artifacts.
Click here to check prices and reviews.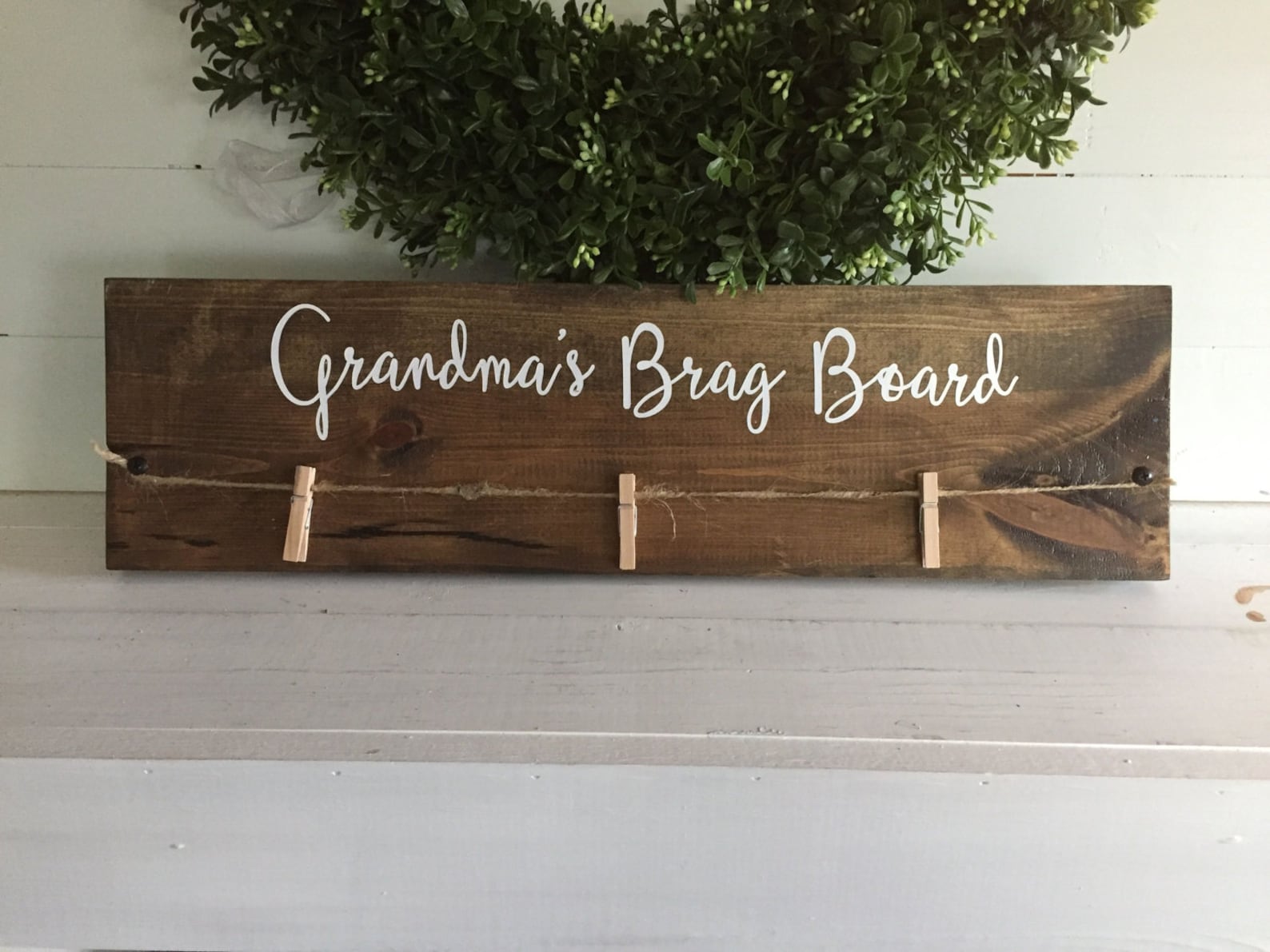 ---
Best Grandma Ever Bracelet
Now, this might be a little on the nose. But, still, show me a grandma who says they wouldn't love getting and rocking this kind of silver bracelet, and I'll show you a (geriatric) liar. But, all jokes aside, this is still a great gift!
Select how many charms you want as well as the size, and then enter the customizations for the charms you selected. With best grandma ever engraved in a stainless steel rectangle, she's sure to sport this bad boy like it was her own personal title belt.
Click here to check prices and reviews.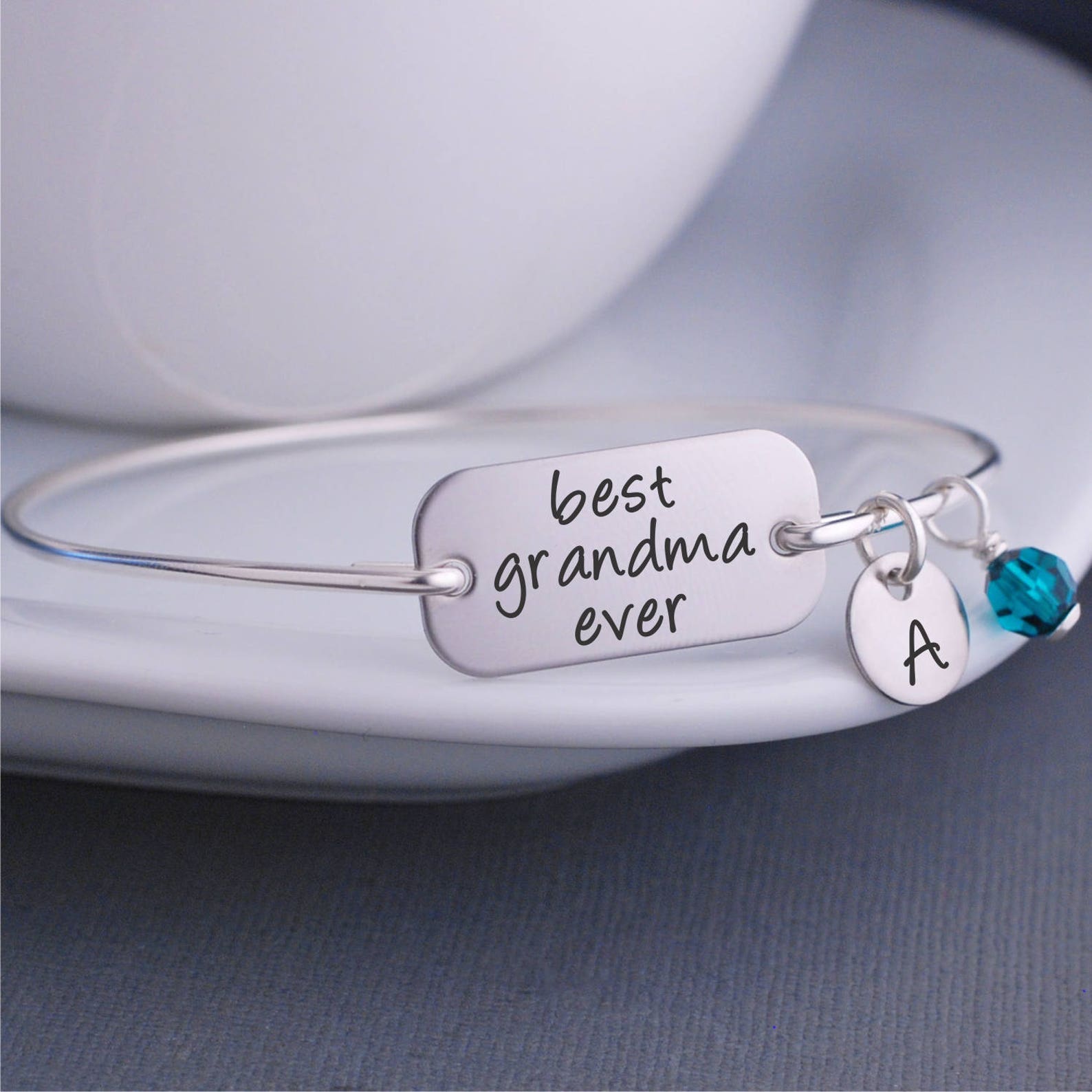 ---
Grandparent Pen Pal Set
Now, being a grandparent isn't always easy. Especially when there's distance between them and their grandbabies, it can be difficult to feel connected. But, luckily, this awesome grandparent pent pal set is perfect to keep that bond strong!
This set comes with prompts, fun lists, and other great activities for them to do remotely. It even comes with cheerful envelopes. And if I may dip into the platitudes: this is a grandma Mother's Day present that keeps on giving.
Click here to check prices and reviews.
---
EFYTAL Generations Necklace
A touching tribute to a love that bridges generations, this EFYTAL generations necklace is sure to be cherished by practically any grandmother. And, let's be honest, it's not like this kind of thing is appreciated nearly as much as it should be.
Made out of sterling silver, this necklace is the best symbol of the bond shared by grandmother, mother, daughter, and granddaughter. And, even better, the three infinity circles add another layer of meaning. This one is a no-brainer.
Click here to check prices and reviews.
---
The best mother's day gifts for grandma under $100
If you're still looking for the perfect Mother's Day ideas for a grandma, we can only suspect you were a real terror when you were younger. Or maybe you're just that great of a (grand)son. Regardless, we're here to help and, honestly, it's nothing short of respectable you haven't forgot, quite literally, where you came from.
And trust us, opting for a pricier present will only help in the long run. Besides, how often do you get to do something special for your grandma or mom? Anyway, here are the best Mother's Day presents for grandma that are a little more expensive but definitely worth it.
---
Personalized Handprint Cutting Board
For the most part, any food made by grandma is unparalleled. Their recipes and skillsets are seasoned, and in large part thanks to their own children or spouse, they've had plenty of opportunities to experiment and perfect it all. So this cutting board is a great gift!
Hand engraved out of hardwood, this personalized gift is sure to remind any grandma what they did all for. Provide the handwriting and children's names, as well as their handprints, and you have a gift that might sweeten some of those treats even more!
Click here to check prices and reviews.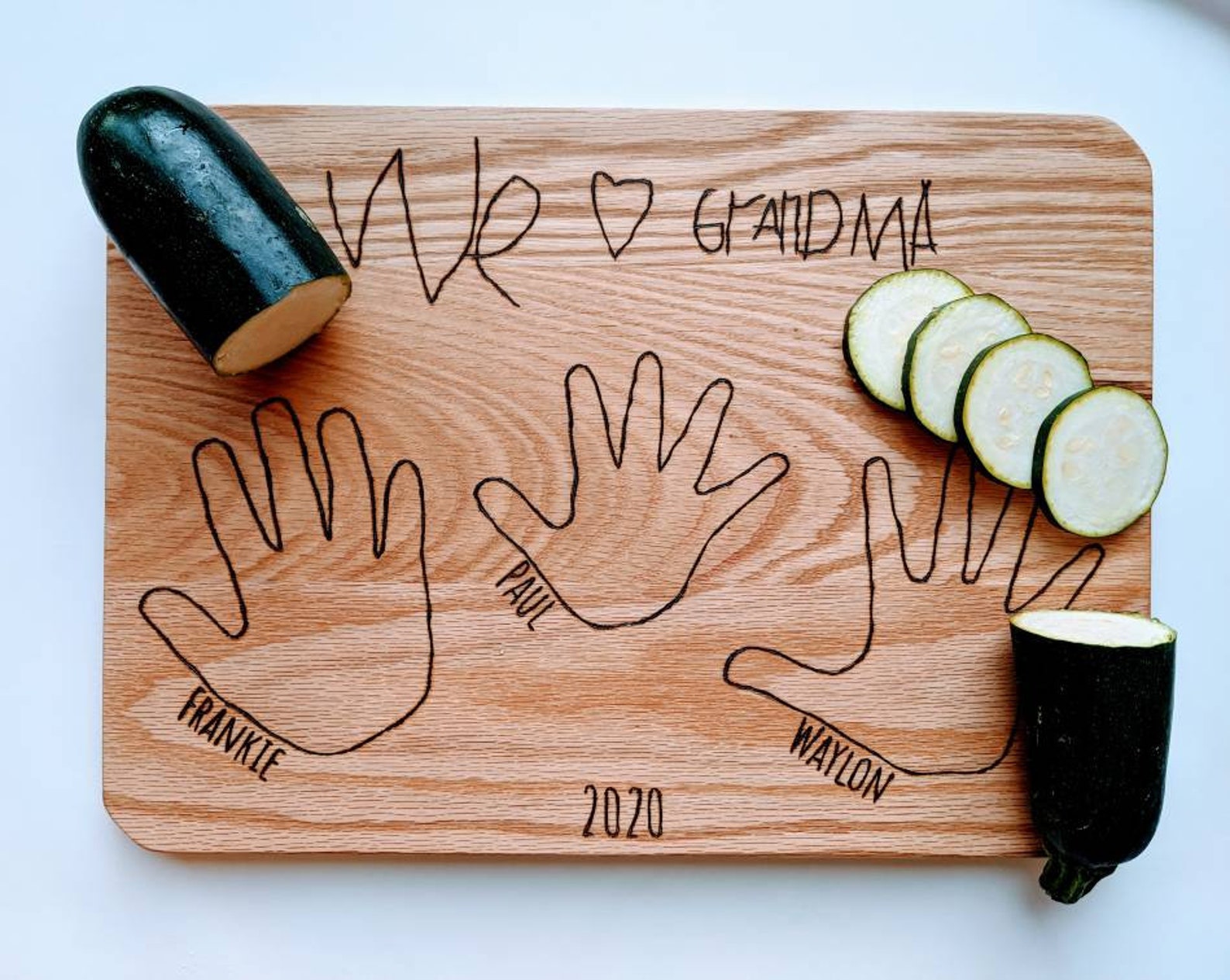 ---
Gold Heart Charm Bracelet
Sometimes, the best and most touching gifts are the simplest. Grandmas—and anyone else for that matter—don't always need the most extravagant gifts. Oftentimes, it's simple, touching gestures that mean the most! This gold heart charm bracelet is just that.
Select the size, and then select the number of charms you'd like. You can have each charm inscribed with a different name. There's no better visualization of the solar system of love that orbits every grandparent than this gift right here. And she's sure to love it!
Click here to check prices and reviews.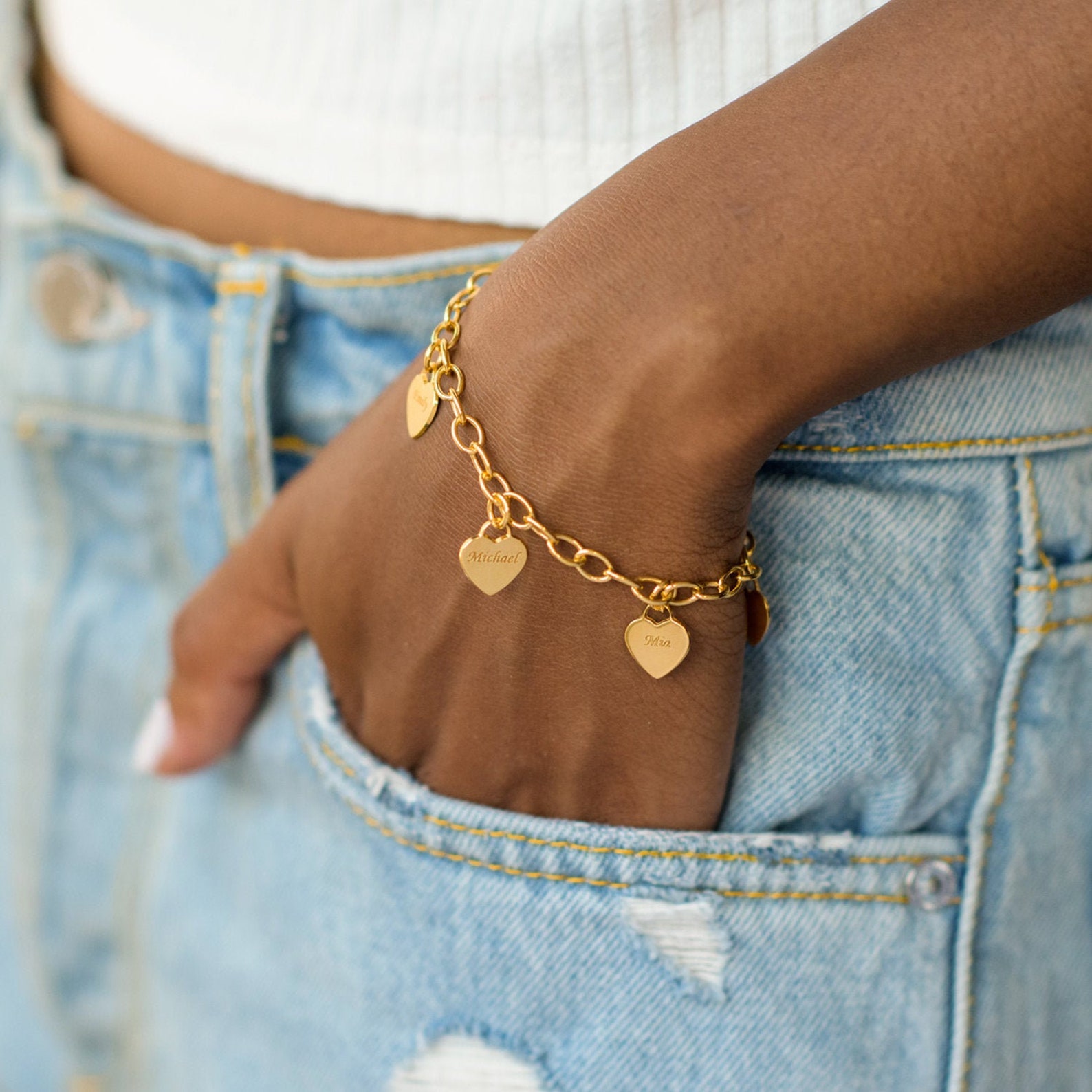 ---
Personalized Recipe Box
Let's face it—a grandma without her recipes is like, well, a guitarist without their instrument. And there's no better home for all the tastiest instructions than this awesome personalized recipe box. Plus, they'll be easier to find if she's reticent about them.
Handmade out of wood and laser engraved, simply select if you want dividers included. Then input the personalization so it's perfectly tailored. And, even better, she'll never have an excuse not to make your favorite dish again. It's playing the long game.
Click here to check prices and reviews.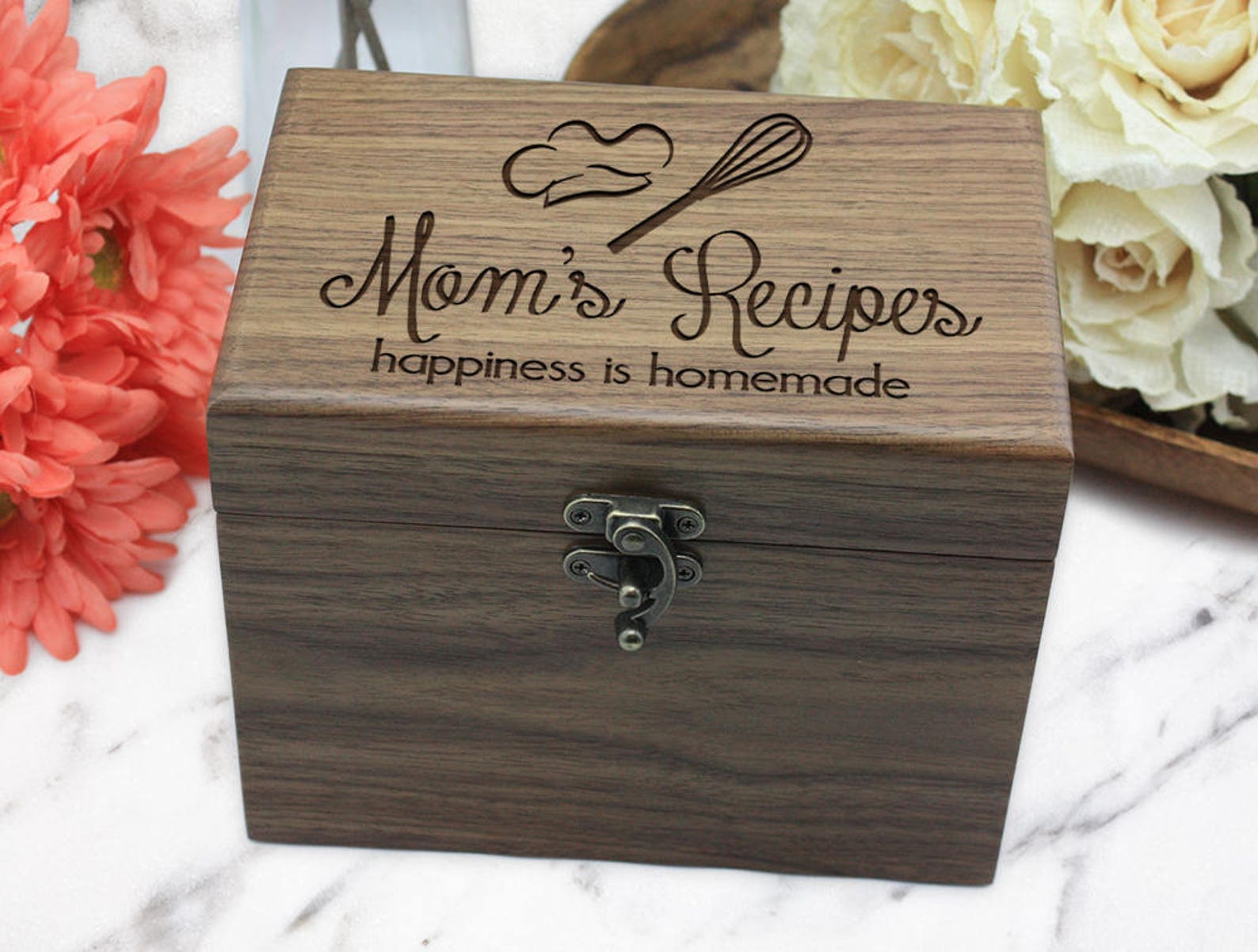 ---
Grandmother's Garden of Love Necklace
Grandmas hold a special place in every family. And this grandmother's garden of love necklace embodies that! Handmade out of sterling silver and gold plated brass, the touching stamped poem is sure to say everything you want and more!
Click here to check prices and reviews.
---
Self Care Gift Set
This isn't exactly true of every grandma, but grandmas definitely have a tendency to be selfless. From taking care of their kids to doting on grandchildren, it's no surprise they forget to take care of themselves. And this self-care gift set is a great reminder!
Select between a facial steam for oily or dry skin, and select what kind of face mask you want. Then just wait for this beautifully packaged set to arrive. It includes a greeting card, cleansing grains, facial steam, lip balm, bamboo spoon, and mask.
Click here to check prices and reviews.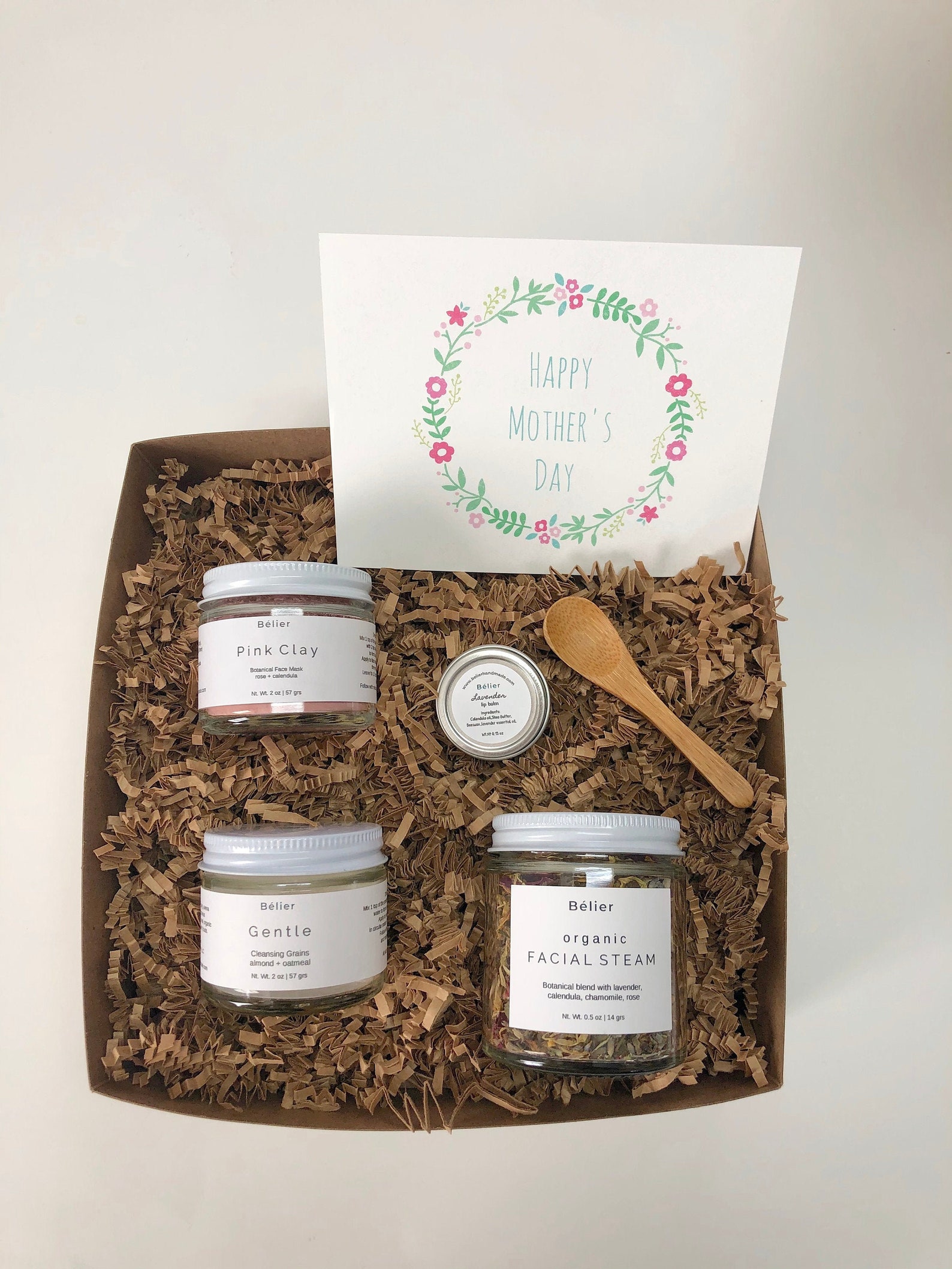 ---
The best mother's day gifts for grandma over $100
If you're still looking for the perfect Mother's Day present for a grandma, then I have to say: we're impressed. Though I am starting to suspect you're compensating for a few too many missed Mother's Days. But that's neither here nor there. All we're here to do is help.
And, let's be honest, while the price of a gift doesn't matter all that much—and while the thought certainly is what counts most—the price is, if nothing else, a nice and hefty supplement. Here are our favorite and most luxurious unique Mother's Day gifts for grandma that are sure to be a hit!
---
Adjustable Birthstone Ring
If you're shopping for a grandma that's more of a glamma, this adjustable birthstone ring might be perfect! Because, let's be honest, you never get too old to receive nice things. And this kind of thing goes a long, long way!
Select between a white gold, yellow gold, and rose gold finish. Then select how many birthstones you'd like included. And, lastly, specify what birthstones you want. This is a great luxury gift that can still be a touching reminder of how much their progeny cares.
Click here to check prices and reviews.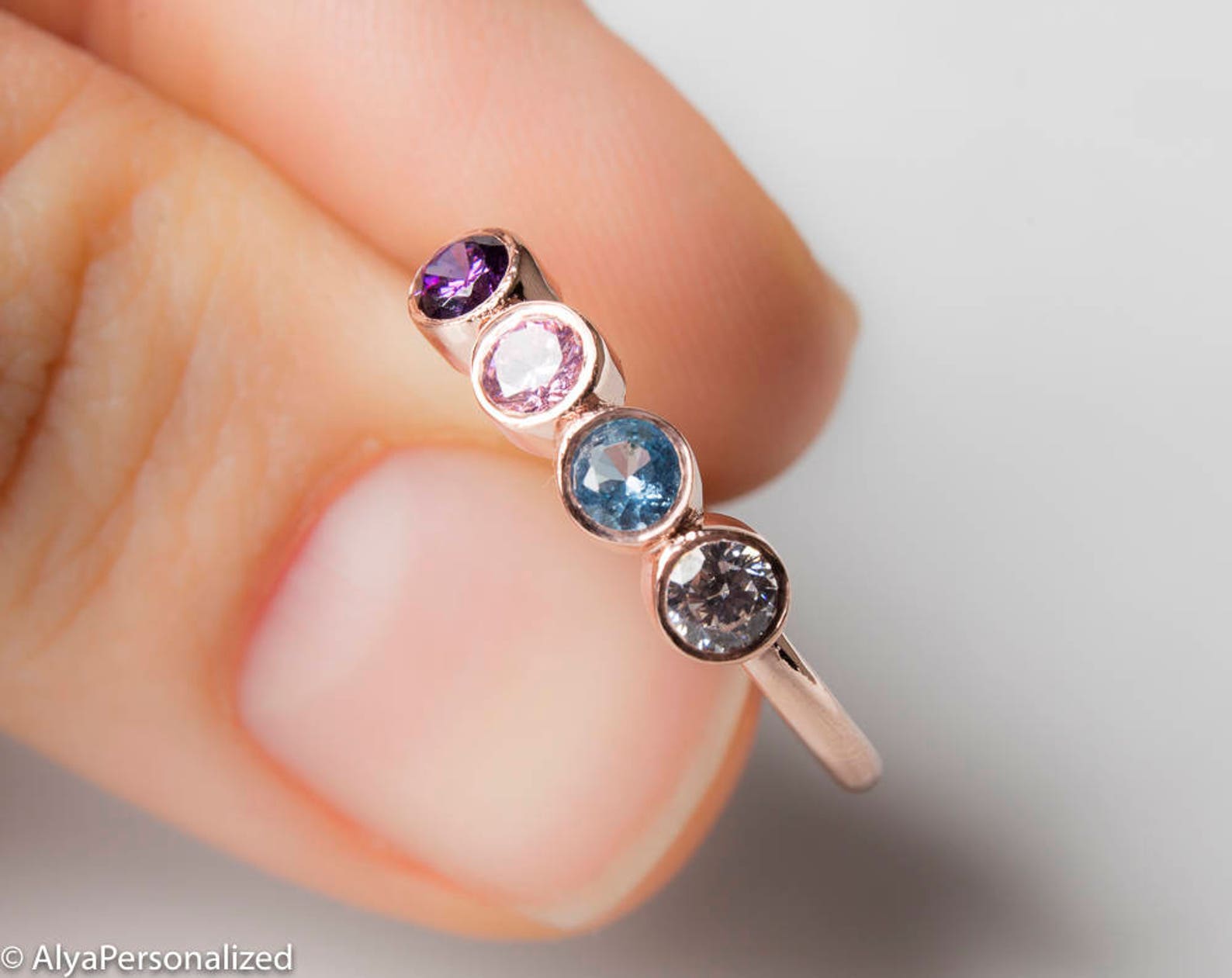 ---
Bobble Heads
Now, maybe not every grandma would appreciate getting this kind of thing. But, if you're grandma has a good sense of humor, these personalized bobble heads are great gifts practically guaranteed front-and-center positioning in their home.
Select what kind of model you want. You can even have just one person modeled. You can even have it inscribed. Just send in a picture and wait for this hilarious gift. Though, admittedly, for some this might border too close to voodoo.
Click here to check prices and reviews.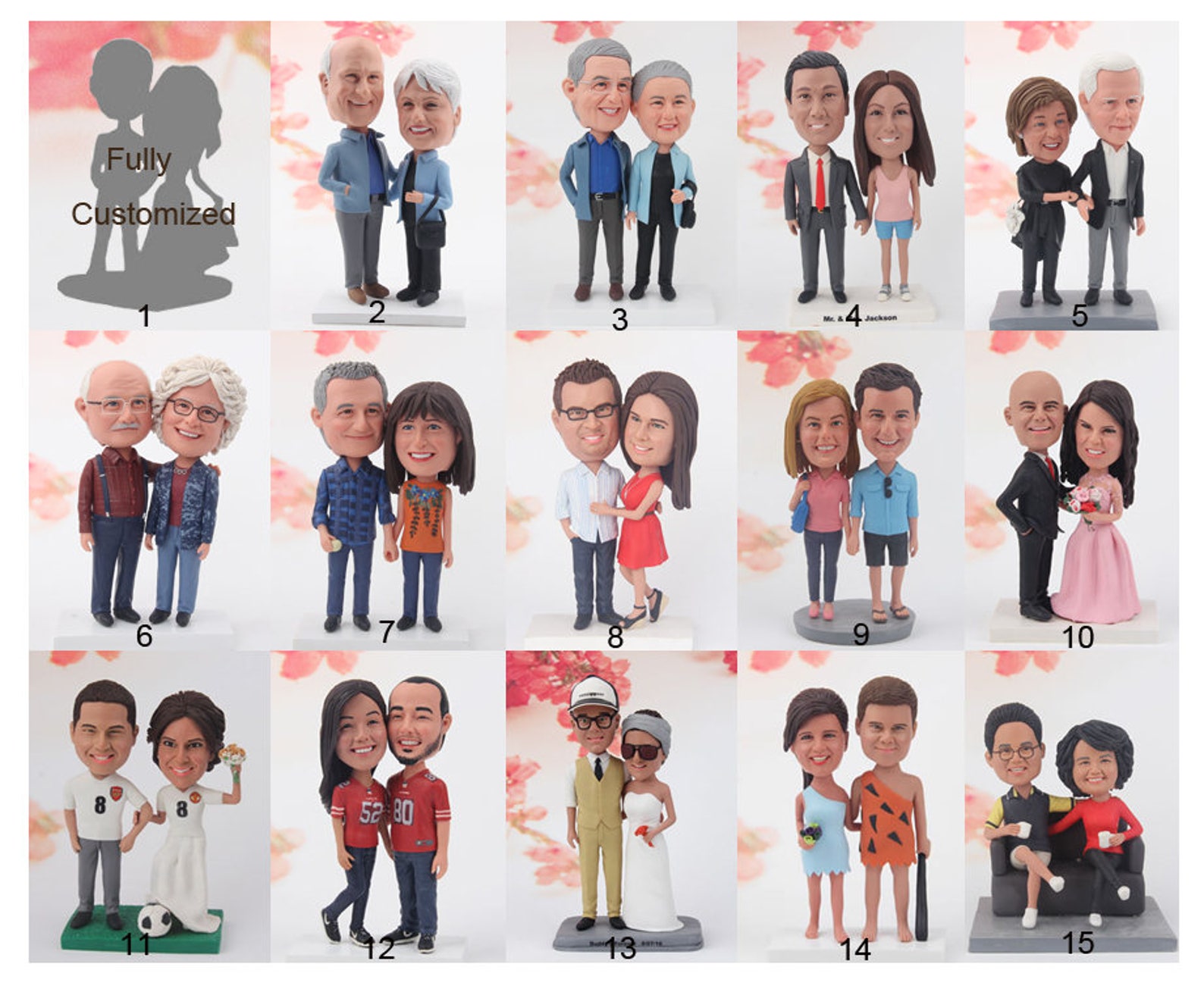 ---
Engraved Handwritten Note
This is a great and touching gift that could very well become an heirloom. And, in a world of mass-produced gifts with no individual touch, this engraved handwritten note does things differently. And any grandma would love to get it!
Select between walnut, cherry, and maple wood, and then select between a portrait or landscape orientation. Afterward, send a clear picture of a handwritten note, and it'll be engraved into the wood. If this isn't a throwback, we don't know what is.
Click here to check prices and reviews.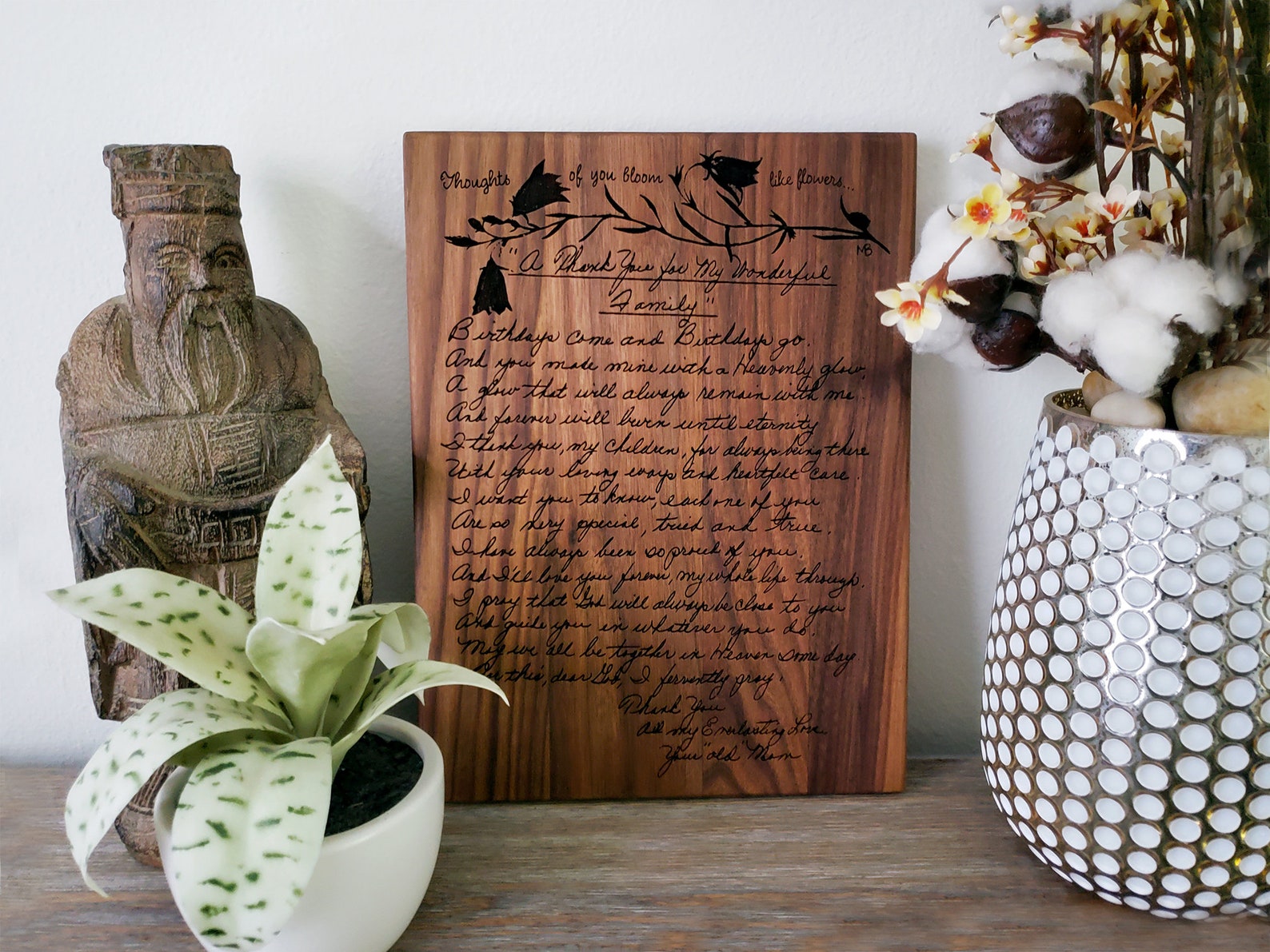 ---
Custom Recipe Tea Towels
Made out of a cotton flour sack, if you're looking for a great testament to your grandma's most delectable cooking this custom recipe tea towel is perfect! Though it's a good idea to get a feel for how she'll respond. Recipes can be an, uh, intimate secret.
But, still, choose up to 3 different recipes, scan them, and send high-resolution images to the seller. Then just wait. And, just in case you ever want to experiment and try your hand, it's good to know the recipes are at your disposal.
Click here to check prices and reviews.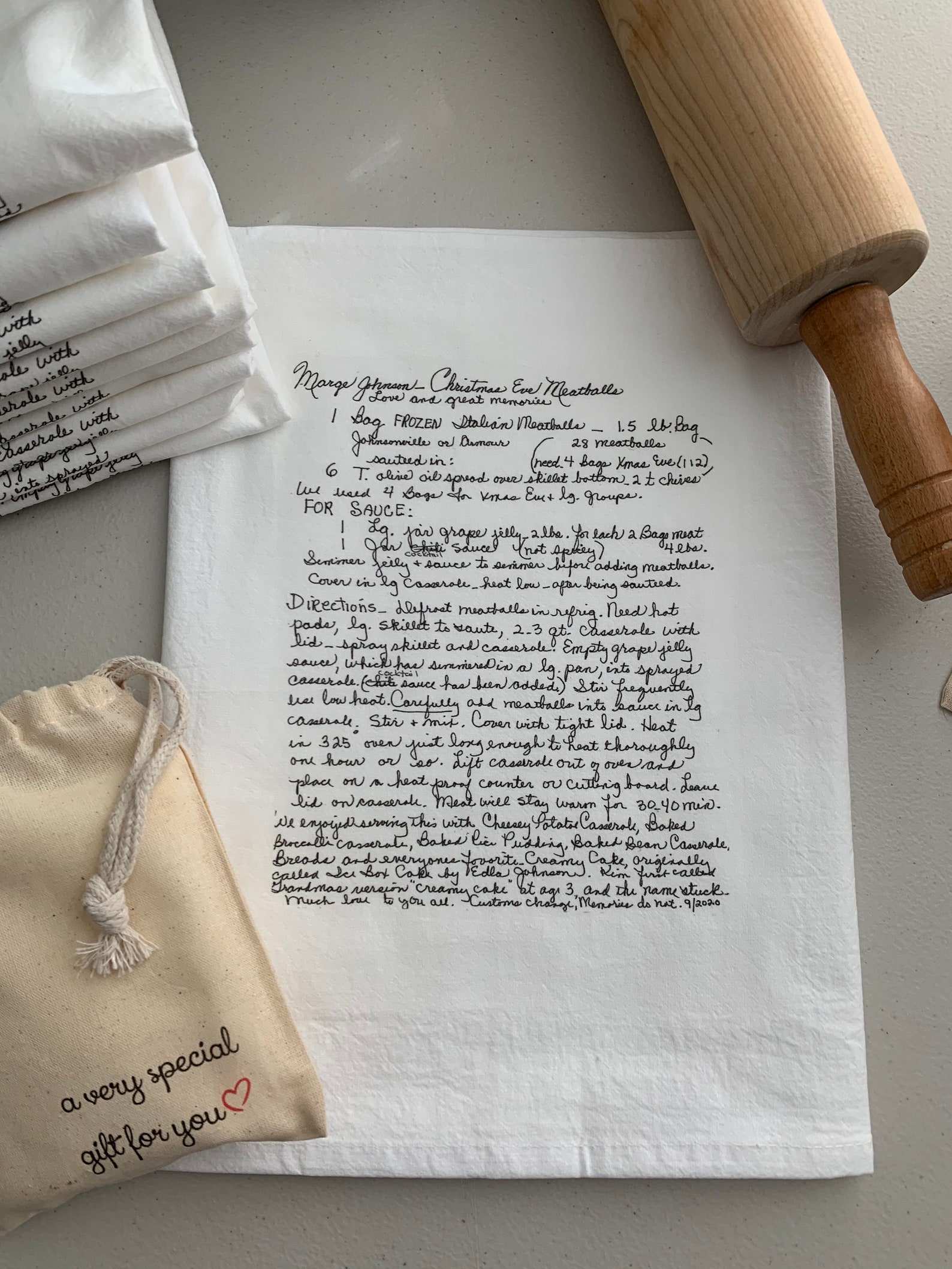 ---
Wall Framed A Grandma is Born Photo Art
One of the perks of being a grandma—or even a mom—is you get the license to kind of make your kids' lives all about you. So this A grandma is born wall framed photo art is a great way to commemorate the birth of this special grandma (and your child)!
With your choice of a black or white wall frame made out of BonanzaWood, the archival pigment ink adds an excellent touch. Simply send them a picture of that special day, and it'll always be cherished by grandma and grandchild alike!
Click here to check prices and reviews.
---
Hopefully our list helped you find the mother's day gift for your grandma you were looking for!
We're confident we've supplied you with the best and most definitive list of Mother's Day presents any grandmother would love to get! But if you didn't find exactly what you were looking for, hopefully we at least pointed you in the right direction.
Please don't hesitate to reach out if you have any questions, comments, or concerns at all. Mother's Day is important for all mothers. And, unfortunately, grandmothers are too-easily eclipsed. This is your opportunity to change that!