*FYI - this post may contain affiliate links, which means we earn a commission at no extra cost to you if you purchase from them. Also, as an Amazon Associate I earn from qualifying purchases. Check out our Privacy Policy and Disclosure. for more info.
Mother's Day matters. It's a day designated to show appreciation for the women who shape generations.
So finding the best Mother's Day gifts for your wife is an important way to acknowledge everything they've done and demonstrate solidarity.
And, if you're having trouble finding great Mother's Day gifts for your wife, then you're in luck! We've scoured the Internet so you don't have to find the best possible gifts for your wife on Mother's Day.
So, without further ado, here are the best Mother's Day gift ideas for your wife that we're sure she'll love.
In need of more Mother's Day ideas? Here are all our top Mother's Day articles in one place:
Pin for later: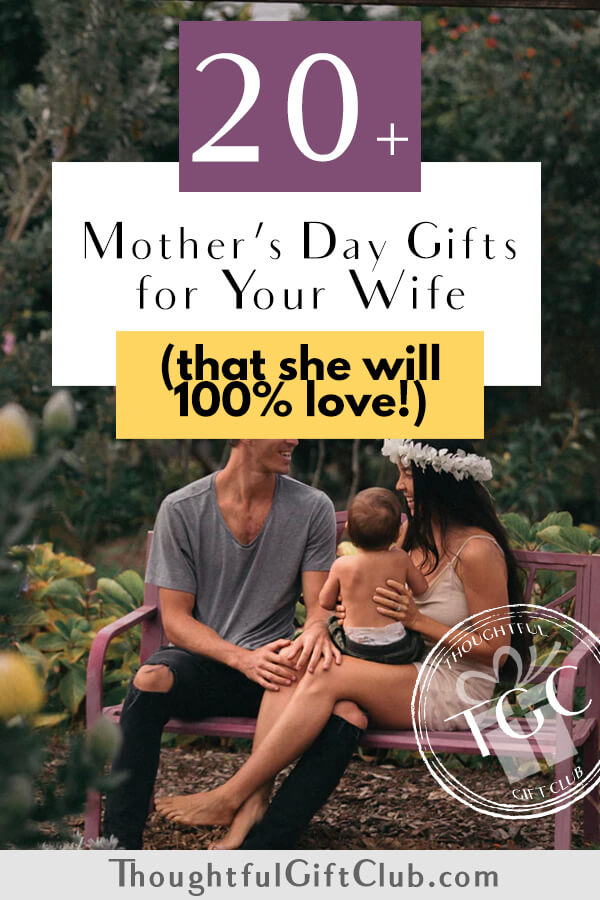 ---
The best mother's day gifts for your wife under $20
If you're looking for great Mother's Day gifts on a budget, don't worry. Just the fact that you gave this thought and effort will likely be enough.
You don't have to break the bank to show your wife you acknowledge everything she's done and sacrificed to mother your children (and probably you). There are plenty of inexpensive and touching Mother's Day gifts for every husband to give their wife. Here are our favorites!
---
Necklace
A touching and beautifully crafted gift, this customizable necklace is truly a testament to the fact you don't need to break the bank to show you care. And, let's be honest, finding affordable and nice jewelry can be difficult. So this is a win.
Select between silver, rose gold, and gold finishes, and you can even specify the chain length. Then just input your personalization for the disks. It's your chance to give your wife something that telegraphs how awesome she is to the whole world!
Click here to check prices and reviews.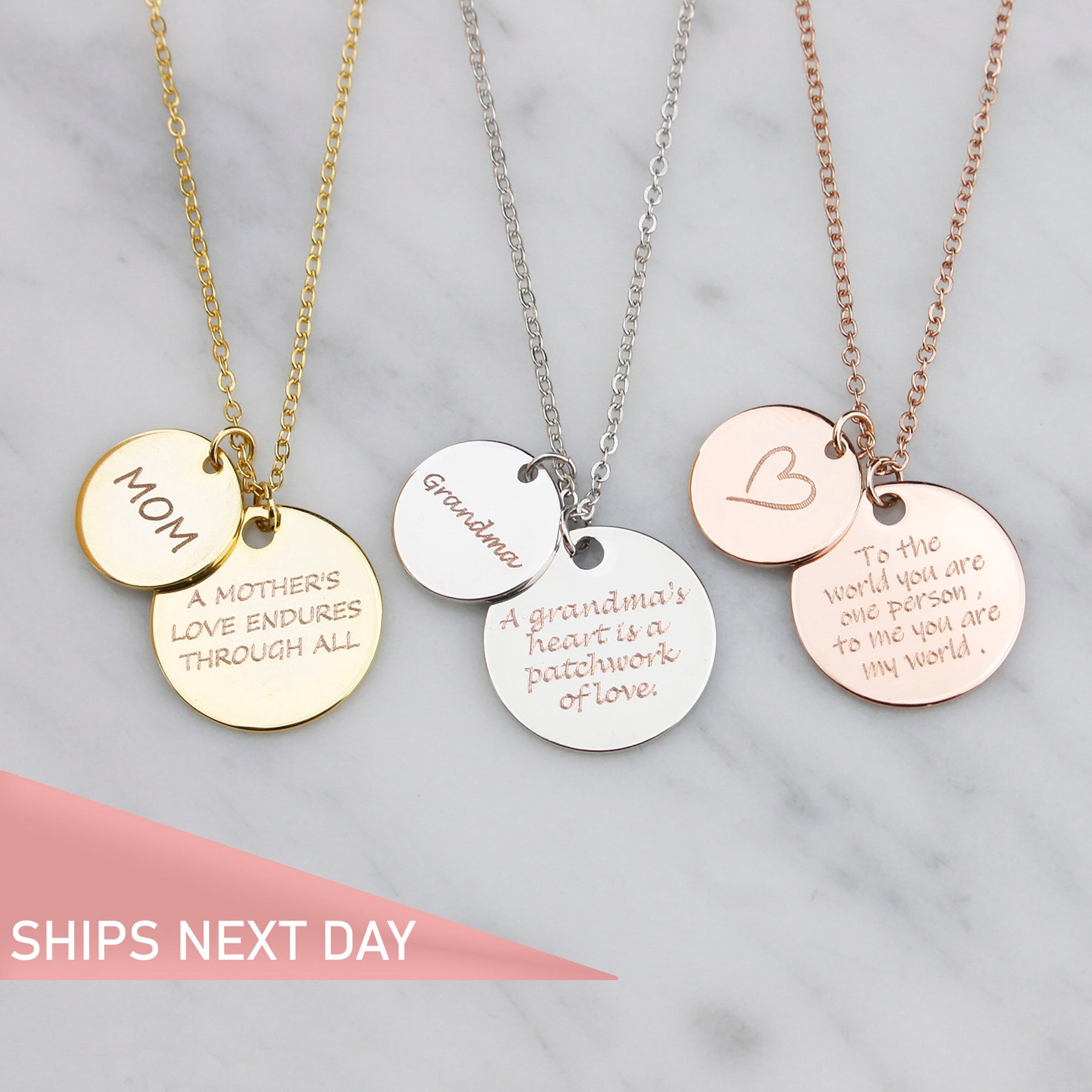 ---
Plant Markers
If your wife has a green thumb and you and your children have been enjoying the herbs, spices, or whatever she's been harvesting, then these plant markers are a gift that will look great in virtually anyone's garden! It's the least you could do.
Choose between aluminum, brass, copper, and bronze, and you can even choose between a wide variety of design stamps. Just let them know what words you'd like included. Each letter is carefully hammered in to the metal.
Click here to check prices and reviews.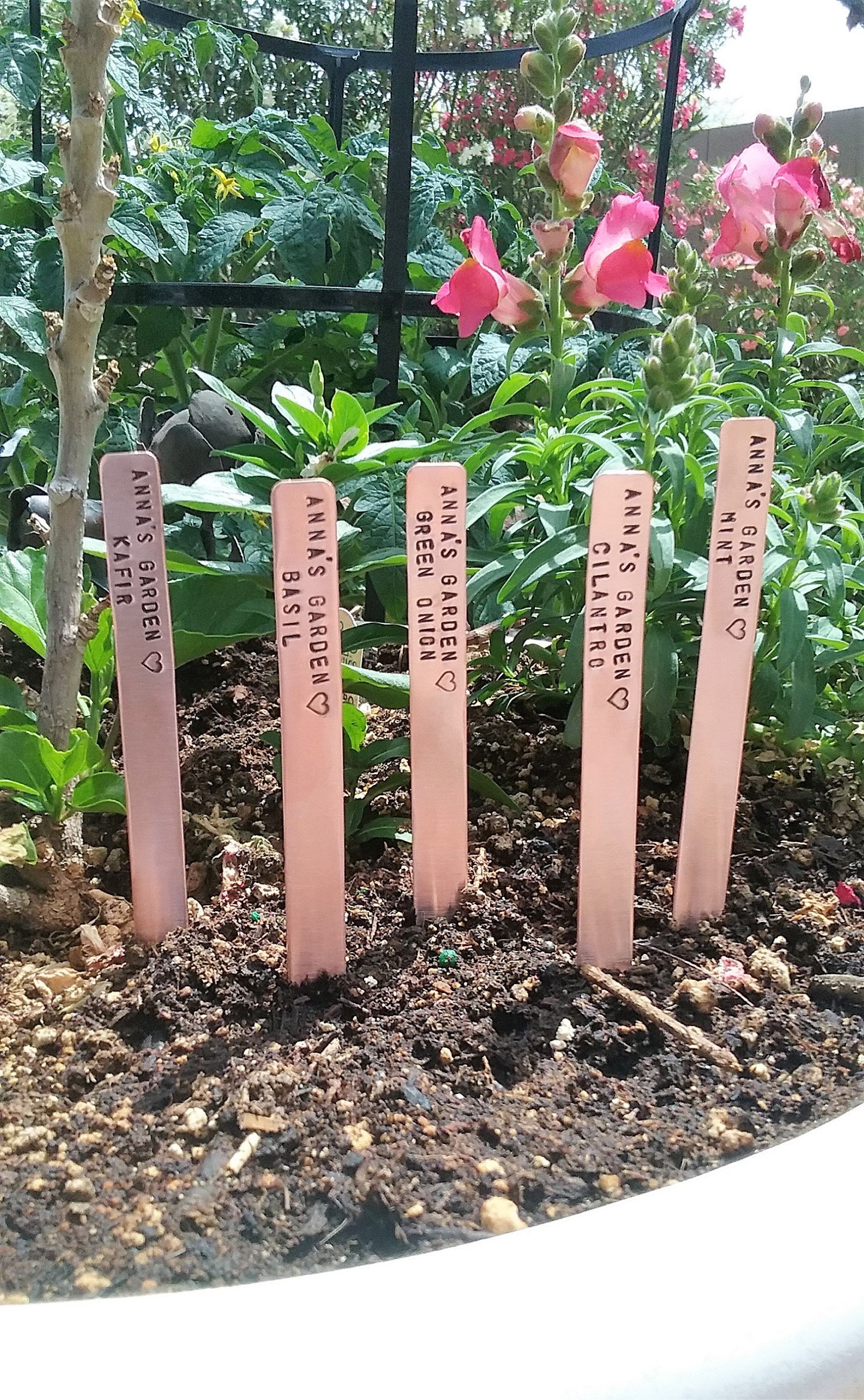 ---
Aprons
If your wife is a maestro in the kitchen or even on the grill, an apron like this might be a great gift to remind her why she puts the blood, sweat, and tears into each delicious dish. And it might even earn you a few extra treats if you play your cards right.
Select the primary color and then select what you'd like printed on it. Choose between, "Good moms say bad words," "Best mom ever," "Instant mom, just add coffee," and "Super mom, super wife, super tired." They even have pockets and waist ties.
Click here to check prices and reviews.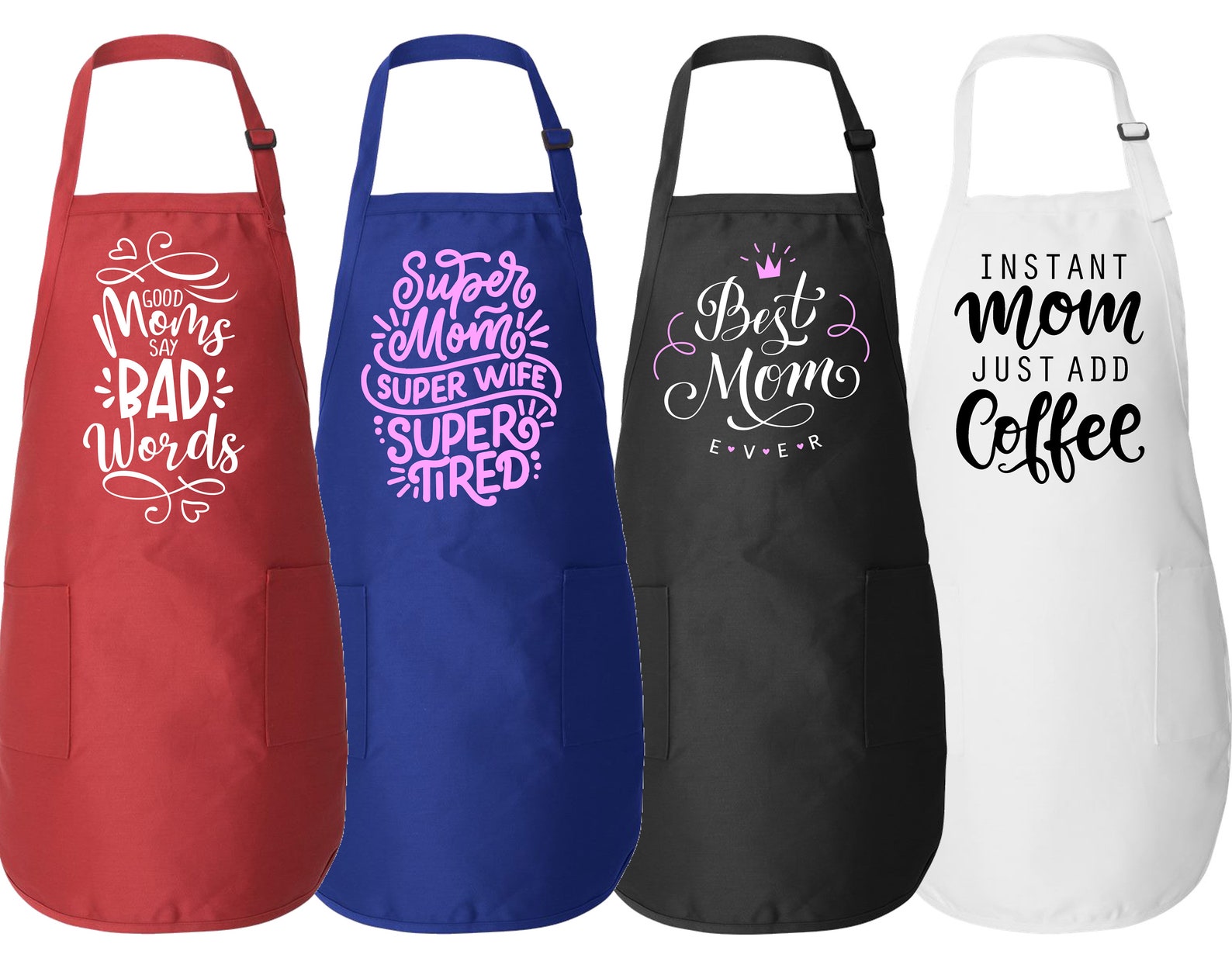 ---
Mamasaurus Tumbler
Now, if your wife loves dinosaurs and Jurassic park, you'll be hard pressed to find a gift that matches this Mamasaurus tumbler. Let's be clear, this is the kind of gift for a mom who likes to send a message. Fear is the most valuable weapon in a parent's repertoire.
Perfect for coffee or wine, this tumbler has a great design with, "Don't mess with Mamasaurus; you'll get Jurass-kicked" printed on it. And, of course, its double wall vacuum insulation will keep cold drinks cold and hot drinks hot.
Click here to check prices and reviews.
---
Personalized Spoon
Another great gift for a mom whose happy place is the kitchen, this great personalized spoon is what every cook needs. Because, like with any passion, at some point, you need special tools to do truly special work.
Made out of genuine beech wood, simply input the name you want engraved, and it'll be laser etched into the spoon. Sure to add a special something to every dish it touches, the whole family will surely benefit from this gift!
Click here to check prices and reviews.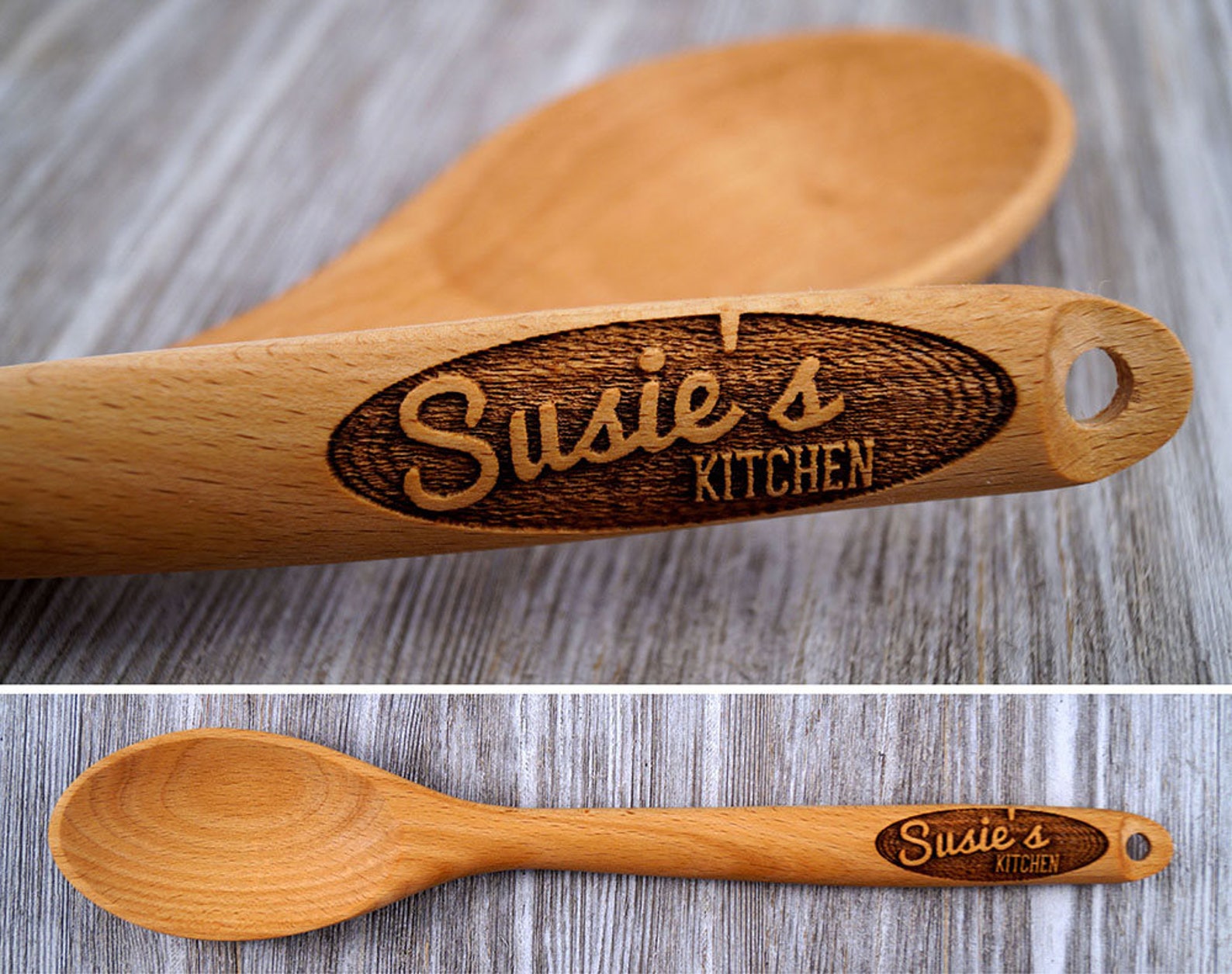 ---
The best mother's day gifts for your wife under $50
If you're still looking for the best presents for your wife on Mother's Day, there are plenty options available. In fact, a willingness to spend a little more will certainly go a long way with this kind of thing.
So, whether you're looking for unique Mother's Day gifts for your wife, or downright sentimental Mother's Day presents, for just a few bucks more, you can knock it out of the park. Here are our favorites!
---
Necklace
Another great option, this gift is like a Hallmark card and present all wrapped up into one. This necklace comes in a beautiful jewelry tray that will certainly convey all those things you want it to. Especially if it's hard for you to find the words.
Beautifully packaged, this necklace has the words "I Love You" in 100 different languages. And, if that wasn't enough, the tray itself has a touching message that's sure to pull out at least a few tears. And we mean the good kind!
Click here to check prices and reviews.
---
Picture Frame
While it's great to show your wife how much you appreciate everything she does, it's important not to forget what this holiday is all about. And the little ones play a big part in that. So this picture frame is a great gift every mom could appreciate!
Made out of Baltic birch plywood, this frame would be even better with a picture included when gifted, but that's up to you. With a wide array of customization options, just input the names as you'd like them to appear, and you've got yourself a winner!
Click here to check prices and reviews.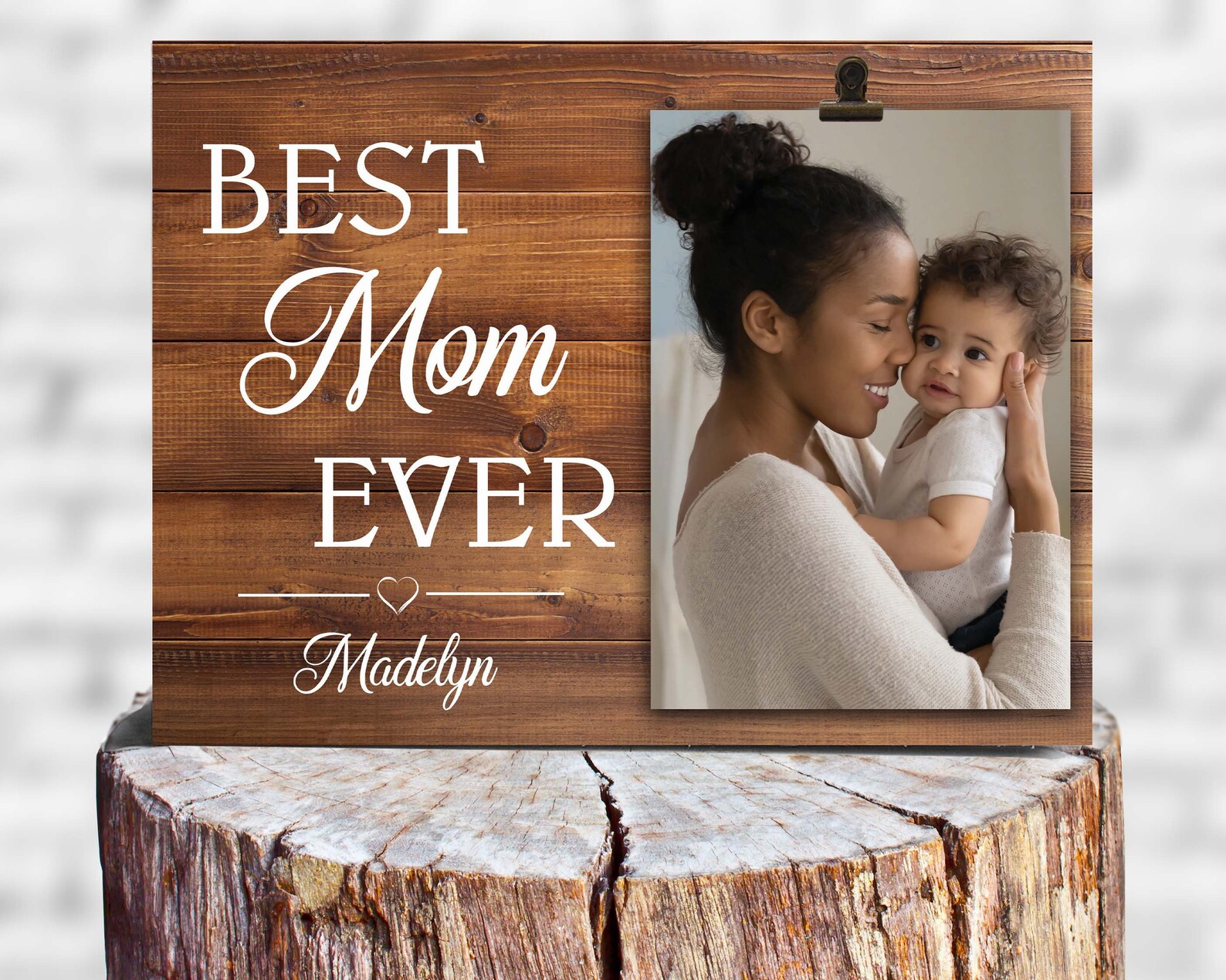 ---
Smush Face Pillow
A perfect replacement for that stress ball your wife has probably worn down, this great smush face pillow is exactly what she might need to find her inner-peace when the days get particularly long and difficult. And, with kids, that's not exactly a rarity.
Select between single sided and double sided print, then simply send in a photo of your children (or, if you're feeling brave, yourself), and your wife will have the perfect gift to take out that frustration on. After all, everyone needs an outlet.
Click here to check prices and reviews.
---
Watercolor Portrait
This watercolor portrait doesn't really need explaining. Select the size and material and then send in a picture to be rendered. Sometimes it's these simple gifts that are the most affecting. And this is evidence of that!
Click here to check prices and reviews.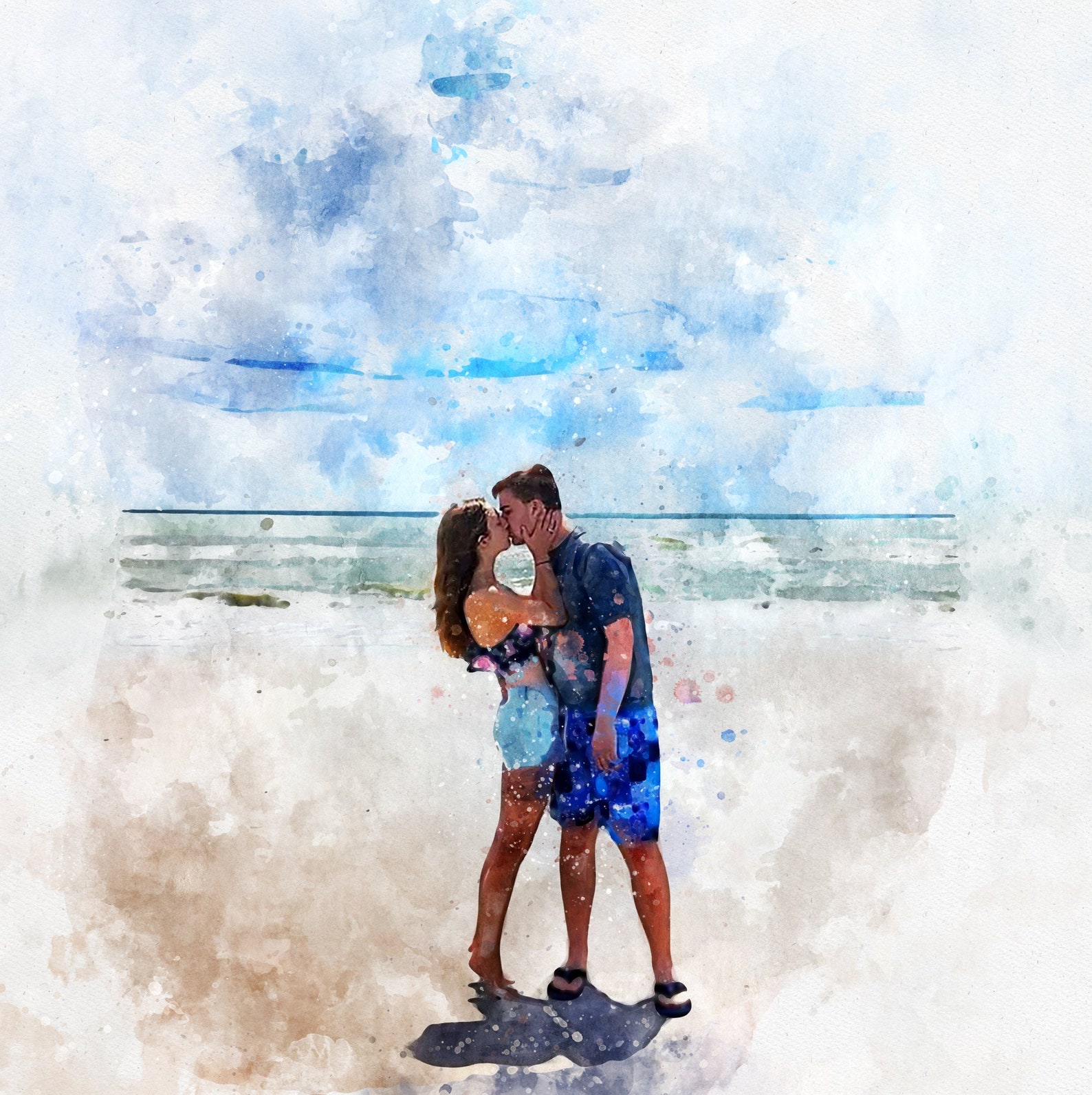 ---
Mother's Day Sign
If your wife could use a sign to hang on the wall to remind her of how much her kids and husband appreciate everything she does for them, then this excellent personalized Mother's Day sign is just that!
With the word MOM printed in big letters, you can have your name and your kids' names included in the art to make it that much more touching. This handcrafted piece is sure to be a hit. And, mounted on the wall, it's sure to help her cope on long days.
Click here to check prices and reviews.
---
The best mother's day gifts for your wife under $100
If nothing so far has cut it, I'm starting to suspect maybe you can be lumped in with the kids and can be demanding yourself. Or maybe you're just that appreciative and awesome and just want to make a nice gesture. Whatever the reason, we're here to help. And, while some of these gifts may be pricier, they're that much more touching and are sure to elicit all the feelings you intend them to. Here are our favorites!
---
Lavender Gift set
It's not often your wife probably gets the chance to take a nap. And, if she does, undisturbed sleep is usually not even an option with kids. This lavender gift set is a great way to help her get some much-needed rest whenever the opportunity presents itself!
This gift comes with a lavender grow kit, which is in-and-of-itself a brilliant gift, and it also comes with a sleep mask, pillow spray, and even a soy-blend candle. This is the gift you need to get to help your wife recharge. We could all use that sometimes!
Click here to check prices and reviews.
BONUS THOUGHTFUL TIP: Combine this set with some tea gifts or wine gifts to create the ultimate pamper basket.
---
Rose Petal Spa Set
Now, it's no secret moms have to make sacrifices. Everything revolves around their kids, and that means self-care can become a thing of the past. But this rose petal spa set is a great way to remind your wife she needs to take care of herself too!
And, when spa vacations aren't possible, this is the next best thing. It comes with rose petal body oil, a bath bomb, a hibiscus petal lip and cheek tint, and a rose clay and carrot lip cheek tint. Some people need a nudge in this direction. This is that nudge.
Click here to check prices and reviews.
---
Custom Music Box
If your wife loves music, especially if you guys have a special song or she has a favorite song or her and your kids have a special song, this custom music box is a great gift to pay homage to that. Sometimes songs say what words can't.
Made out of maple wood, you can select between a wide variety of styles and even a wide variety of colors. Just carefully select the song, and every time she opens this box, your guys' love is sure to wash over her.
Click here to check prices and reviews.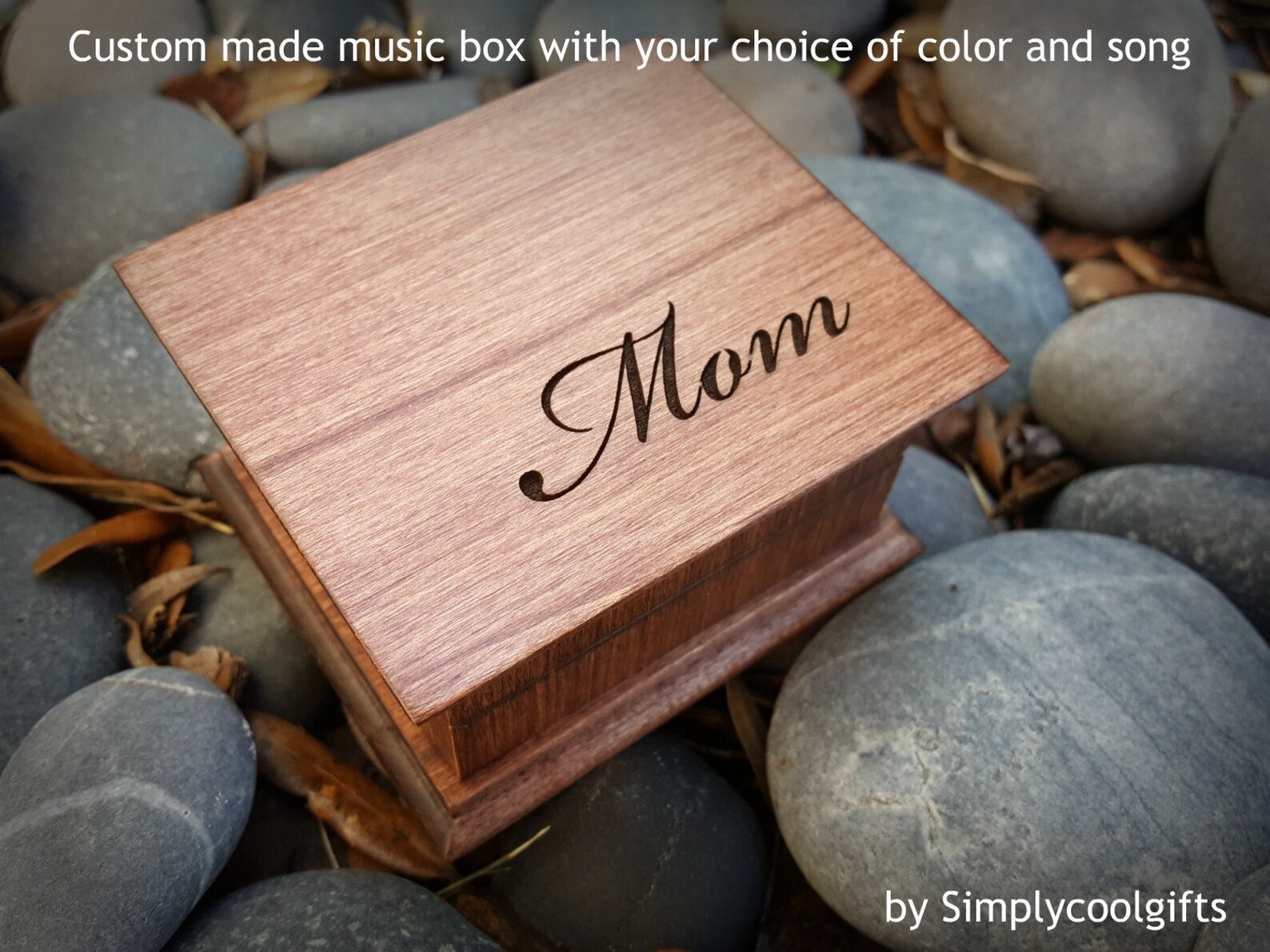 ---
Mother and Child Necklace
A great gift for any mom who feels like she has to work some sorcery to keep her kids from hurting themselves (which, you know, sounds like every mom), this mother and child necklace is a great gift to commemorate their special parental bond.
Fashioned out of brass, copper, bronze, and gold plated brass, you can select between a wide range of figure configurations to perfectly symbolize her devotion. Each piece is individually forged, just like each bond she shares with her children.
Click here to check prices and reviews.
---
Circle Pendant Necklace Leaf
Another piece of jewelry that's the perfect testament to your wife's commitment to her children, this personalized circle pendant necklace is one of the best gifts you can get. Plus, it looks good. Which isn't always the case with these kinds of things!
Select the number of beads and the material, and then simply input the customization information they need. Then wait, and you'll have a truly remarkable gift that'll be cherished long after little ones aren't little anymore.
Click here to check prices and reviews.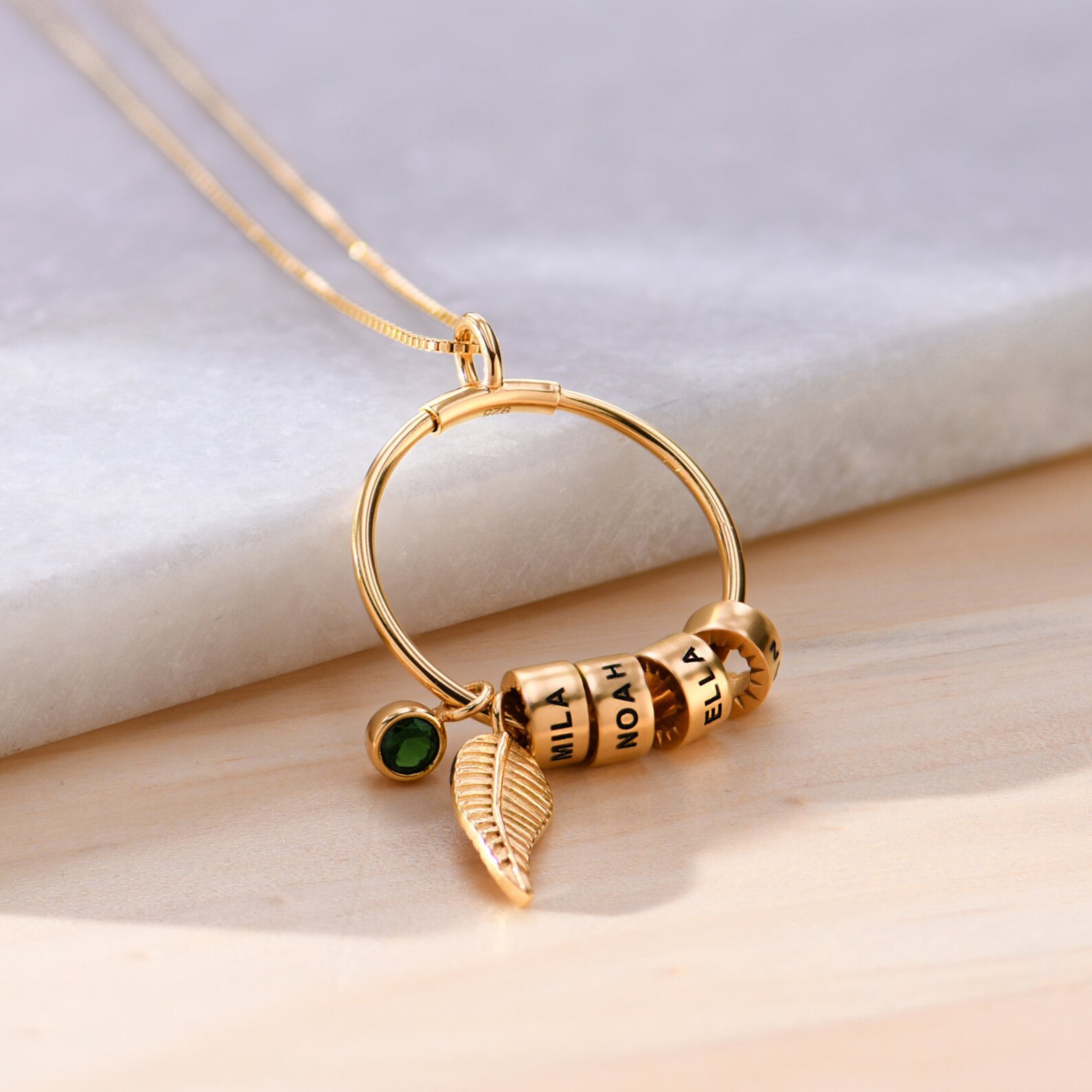 ---
The best mother's day gifts for your wife over $100
If you're still looking for the perfect Mother's Day present for your wife, we can only suspect she's been doing most of the parental legwork and this is your way of, like, apologizing. Or maybe you just want to go above and beyond and make this day truly unforgettable because you're that great of a husband or wife. Regardless, we're just here to help. So, from the most touching to the most personalized, here are the best luxury Mother's Day gifts for your wife available!
---
Solid Gold Birthstone Ring
If your wife has more expensive tastes, or you simply feel like going above and beyond, this beautiful solid gold birthstone ring is a great luxury gift that will certainly make this Mother's Day a truly special affair.
14k, simply select between rose gold, yellow gold, and white gold. Then select how many birthstones you'd like included and what kind. This is a beautiful and fashionable gift that will remind her of her family every time the light cuts across it.
Click here to check prices and reviews.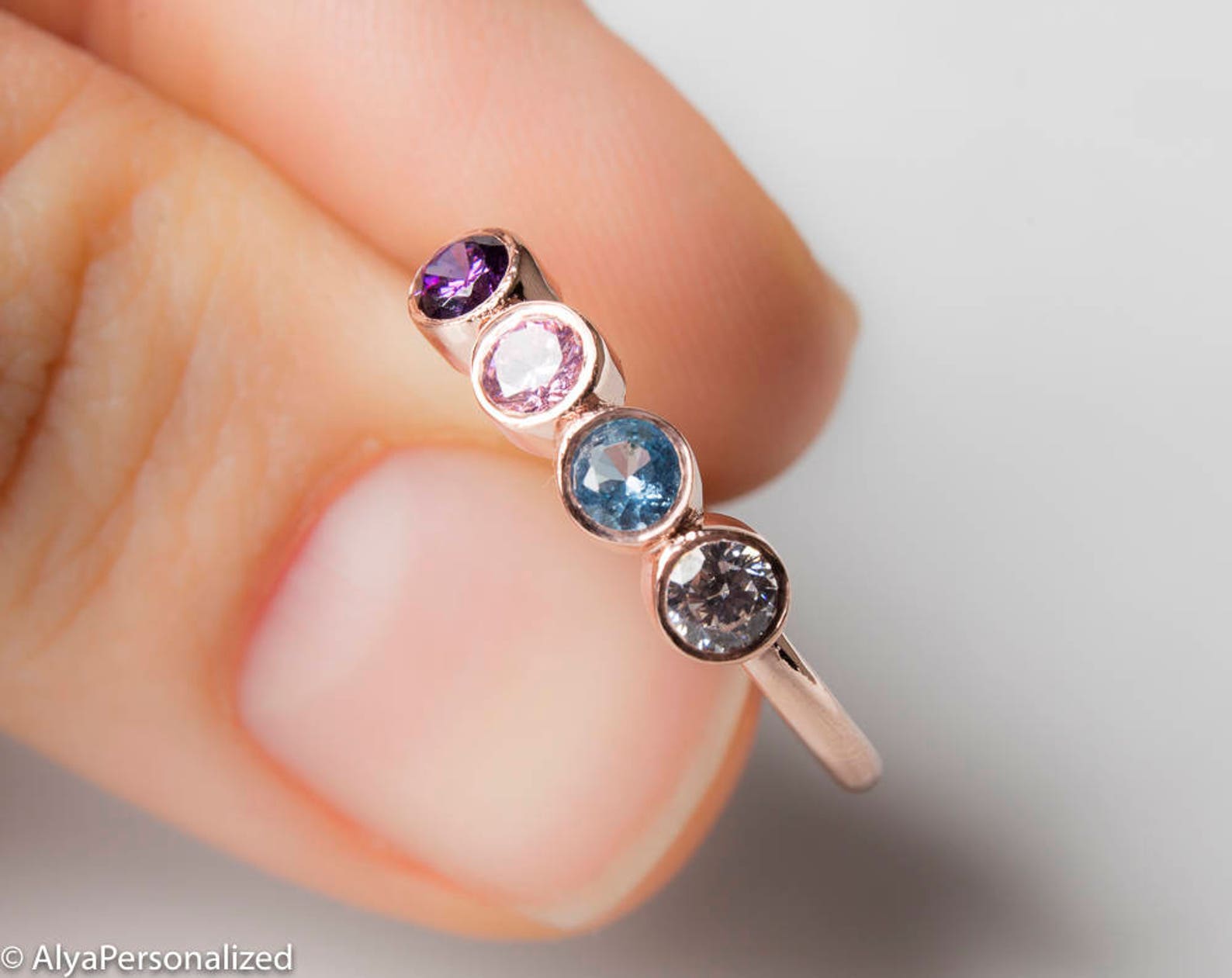 ---
Love Letter Blanket
If you'd like to literally wrap your wife in your guys' love, admiration, and appreciation to show her how much you care, this love letter blanket is perfect. Though it'll work just as well hung up on the wall for everyone to see.
Select the size, and you can even choose between having your own handwriting included or having them choose a font for you. Though we recommend you and your kid(s) go through a few drafts. This is the kind of thing you want to have perfect.
Click here to check prices and reviews.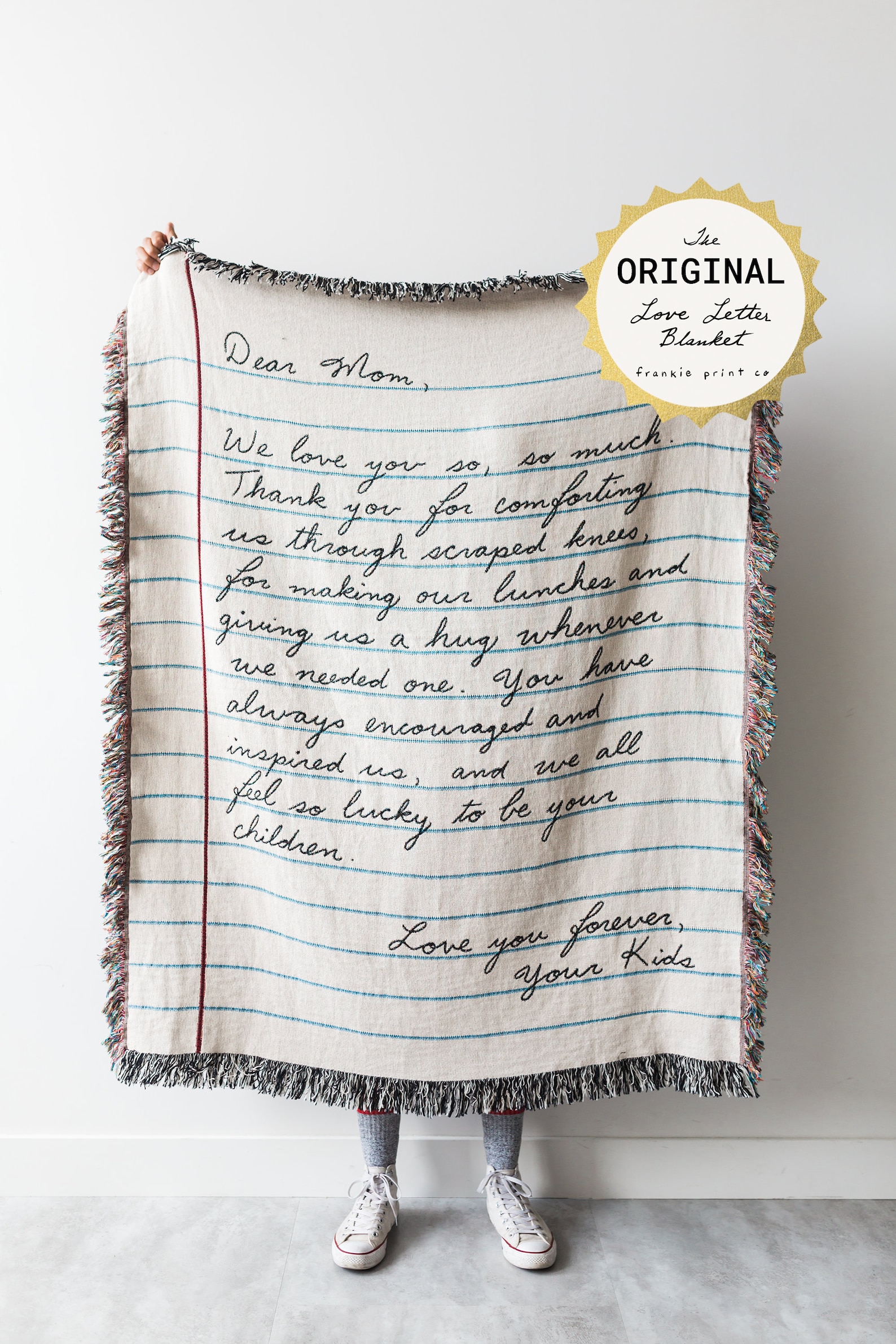 ---
Infinity Necklace
This 14K gold infinity necklace comes with a bunch of built-in symbolic meaning. And it looks great. Just select between white gold, yellow gold, and rose gold, specify the length, and you've got a simple but touching gesture of appreciation.
Click here to check prices and reviews.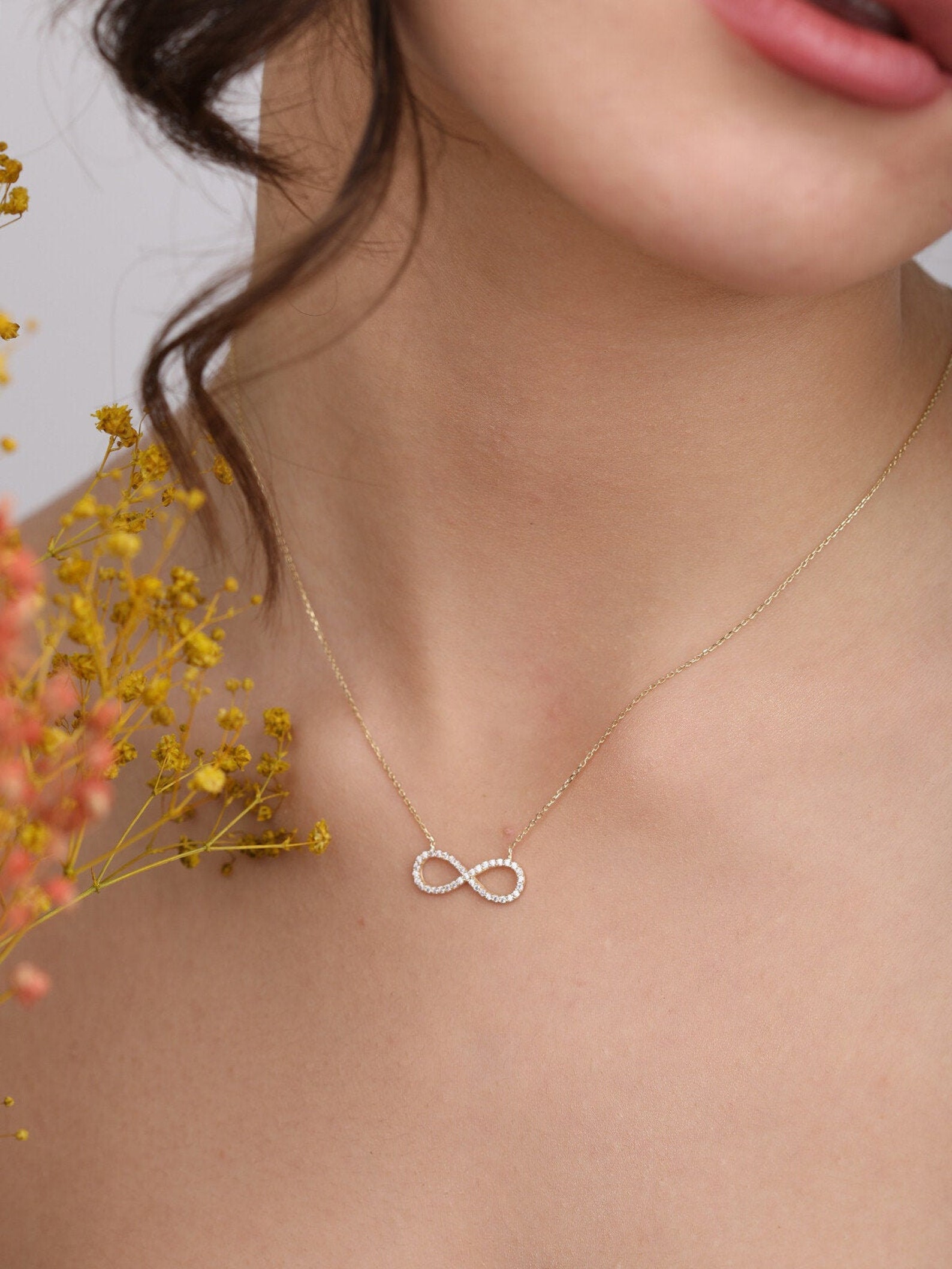 ---
Jewelry Box
If you've gotten your wife enough jewelry and she has more jewelry than storage space available, this jewelry box might be the perfect gift. With 3 drawers, this gift can accommodate any collection.
Handmade out of maple and walnut wood, this gift is an absolute gem of craftsmanship. And, if you want something laser engraved on the box, just let them know. Even the dimensions can be tailored to your needs.
Click here to check prices and reviews.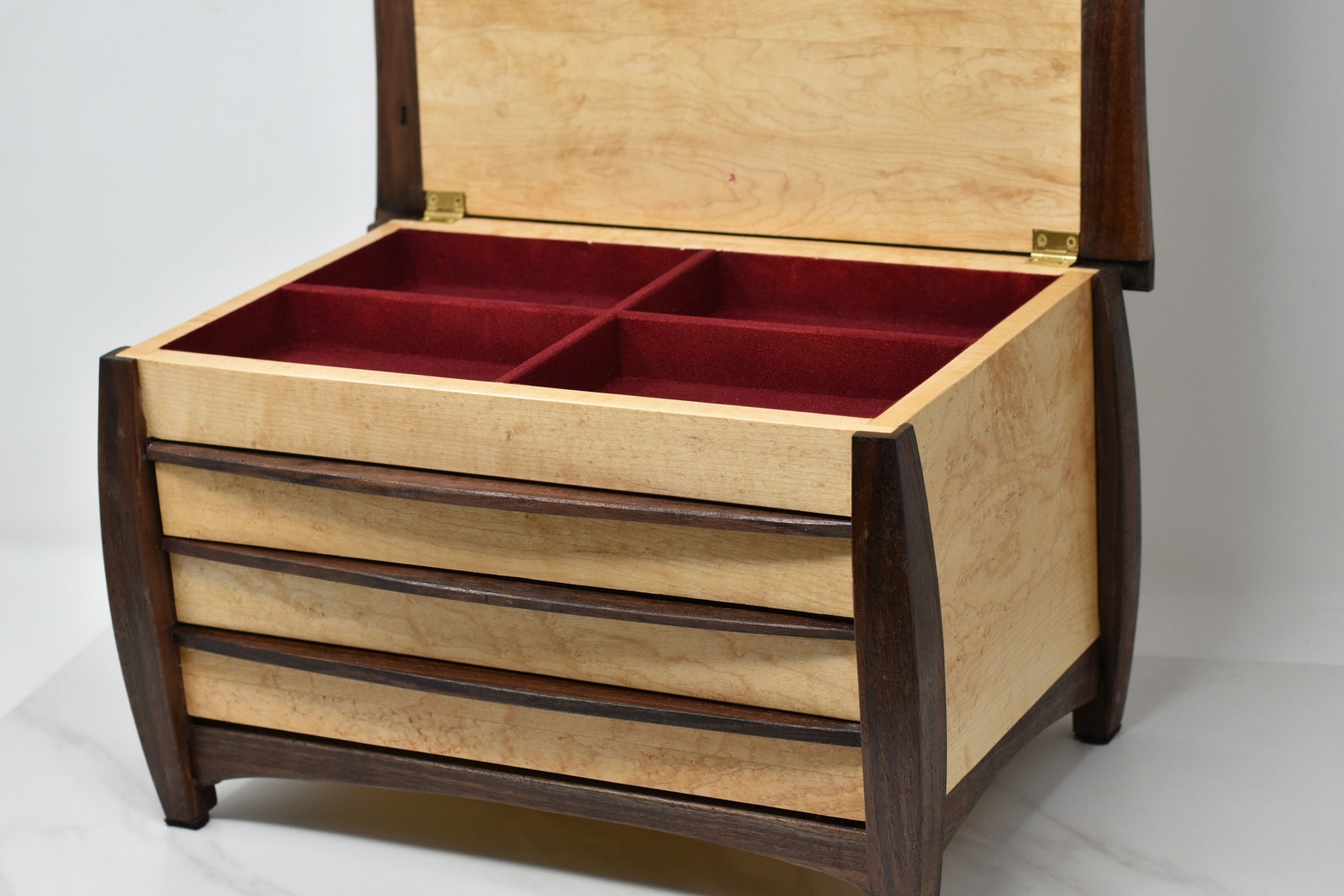 ---
Mothers Day Gift Box
If anyone deserves some coziness, it's a mom. Especially if she spends her days chasing down kids and keeping them on track, this great and cozy mother's day gift box is sure to be appreciated when she finally gets some time to decompress.
Choose between a black, charcoal, off-white, and sky blue blanket box. This comes with a blanket, two beanies, dryer balls, a female gnome, and a male gnome. This might be what she needs to finally take a load off! Because relaxation doesn't just happen.
Click here to check prices and reviews.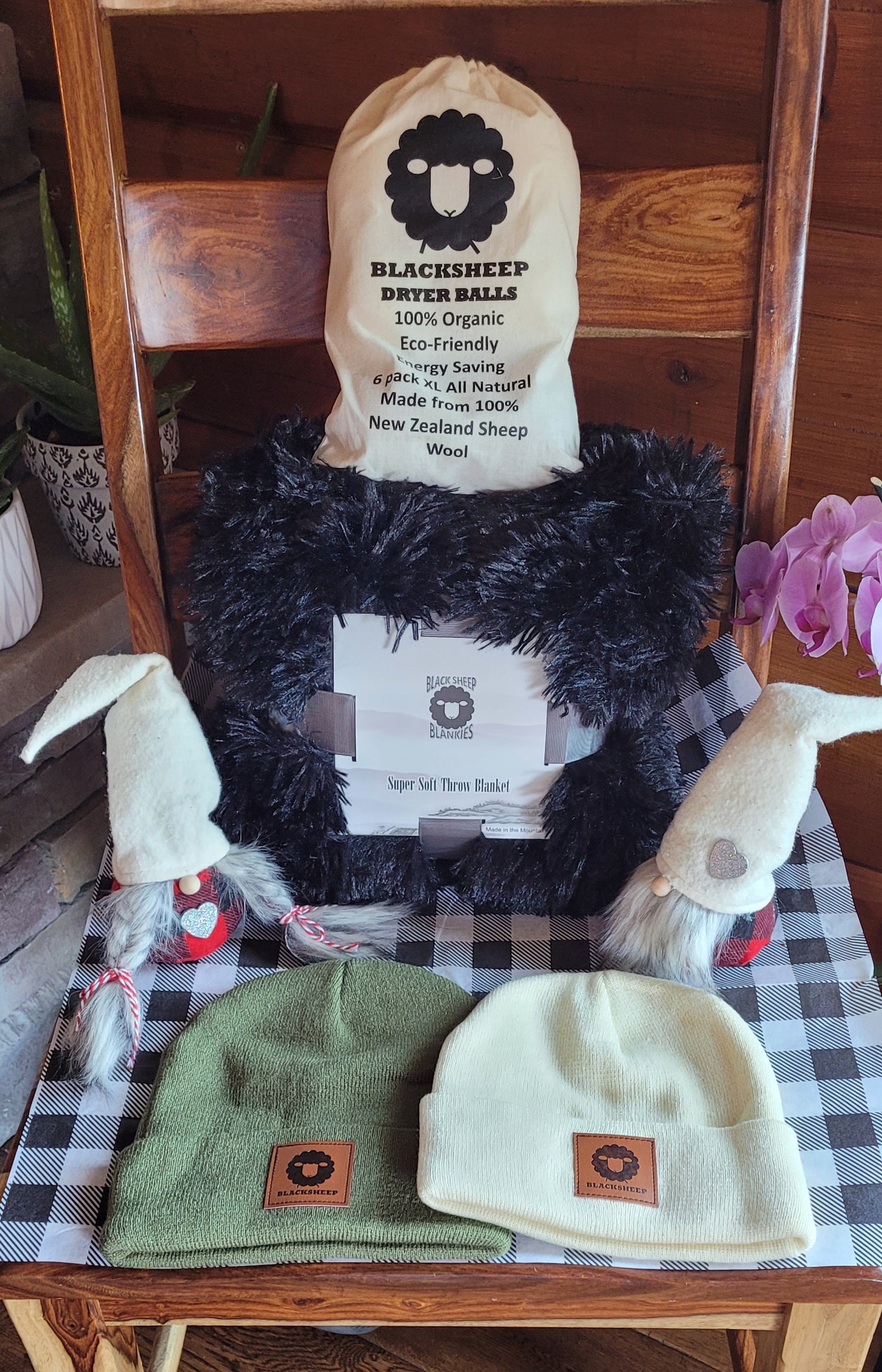 ---
Hopefully our list helped you find the mother's day presents for your wife you were looking for!
We're confident we've provided you with the definitive list of Mother's Day presents for your wife. But, if we somehow didn't find exactly what you were looking for, hopefully we at least pointed you in the right direction.
Please don't hesitate to reach out if you have any questions, comments, or concerns at all. Because let's be clear: if you don't knock it out of the park here, it could very easily mean moving into the doghouse. Which is best to avoid whenever you can.