*FYI - this post may contain affiliate links, which means we earn a commission at no extra cost to you if you purchase from them. Also, as an Amazon Associate I earn from qualifying purchases. Check out our Privacy Policy and Disclosure. for more info.
The best way to spread Christmas 'cheers' is drinking loads for all to fear…
And if you're currently hunting for a clever Christmassy alcohol pun to use, you're in luck. We've done all the hard work for you so you can focus on the important stuff: raising "spirits"!
Below, you'll find a fun list of festive, Christmas-themed alcohol puns, whether you're in need of a good Christmas wine pun, fun Christmas cocktail names, or simply some ideas for a festive Christmas drink Instagram caption.
After all, it's the most wine-derful time of the year!
Pin for later: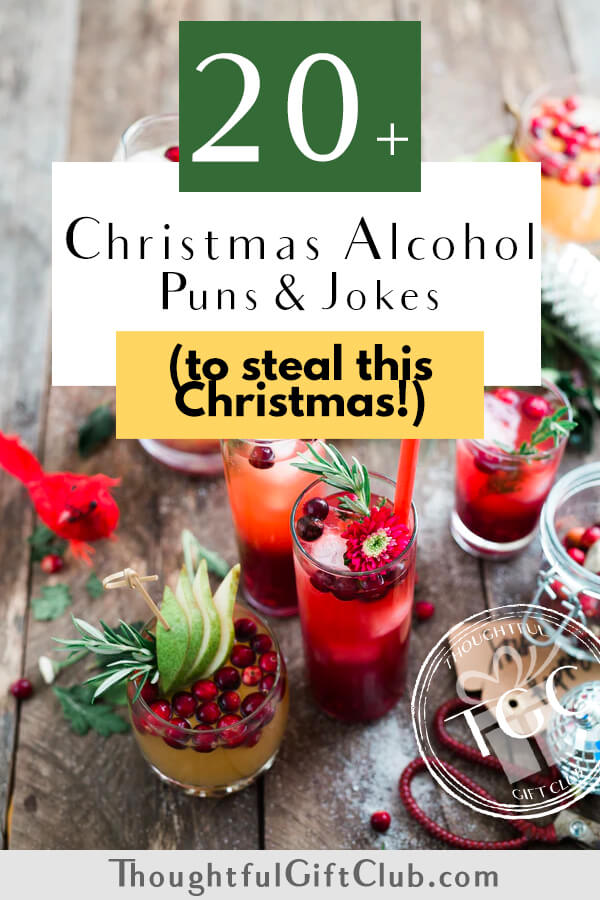 More Christmas Themed Puns
First – we should let you know this isn't our only article full of Christmas puns! Here's a full list of our top ones in case you're looking for further Christmas pun inspiration:
GENERAL HALLOWEEN Christmas/DRINKING PUNS & CAPTIONS
Alright, let's start with some fun basic Christmas alcohol puns that are perfect for Instagram captions. Feel free to mix these up and make them your own, but the punny basic building blocks are there fo you to craft THE perfect boozy Christmas caption that will either make your friends laugh, cringe, or a wonderful combination of both.
The best way to spread Christmas 'cheers' is drinking loads for all to fear… [yes we used this to start off our article, and no we are not ashamed]
It's the most wine-derful time of the year…
We wish you a hoppy Christmas!
I guess you can say I'm getting into the proper Christmas spirits…
Baby it's cold out-cider!
Just out here playing Rein-beer games.
Time to get fa la la la lit!
It's the holidays, so why not treat your elf?
Tis the season to be tipsy…!
I told myself just one drink this year, but I couldn't elf myself!
Don't worry – I'm limiting myself to a Wreath-onable amount of drinks this year!
Deck the halls with boughs of shotskis, fa la la la la!
Yule never guess how many cups of [insert preferred holiday drink] I've had!
Tidings of cup-fort and joy.
Took "stocking" up on [insert preferred holiday drink] a little too seriously this year…
The holidays are a great time to have a festive drink just be Claus.
Just a red-faced Brew-dolph with their rein-beer friends!
Gin-gle bell, gin-gle bell, gin-gle bell (on the) rocks?
I'm dreaming of a wine Christmas…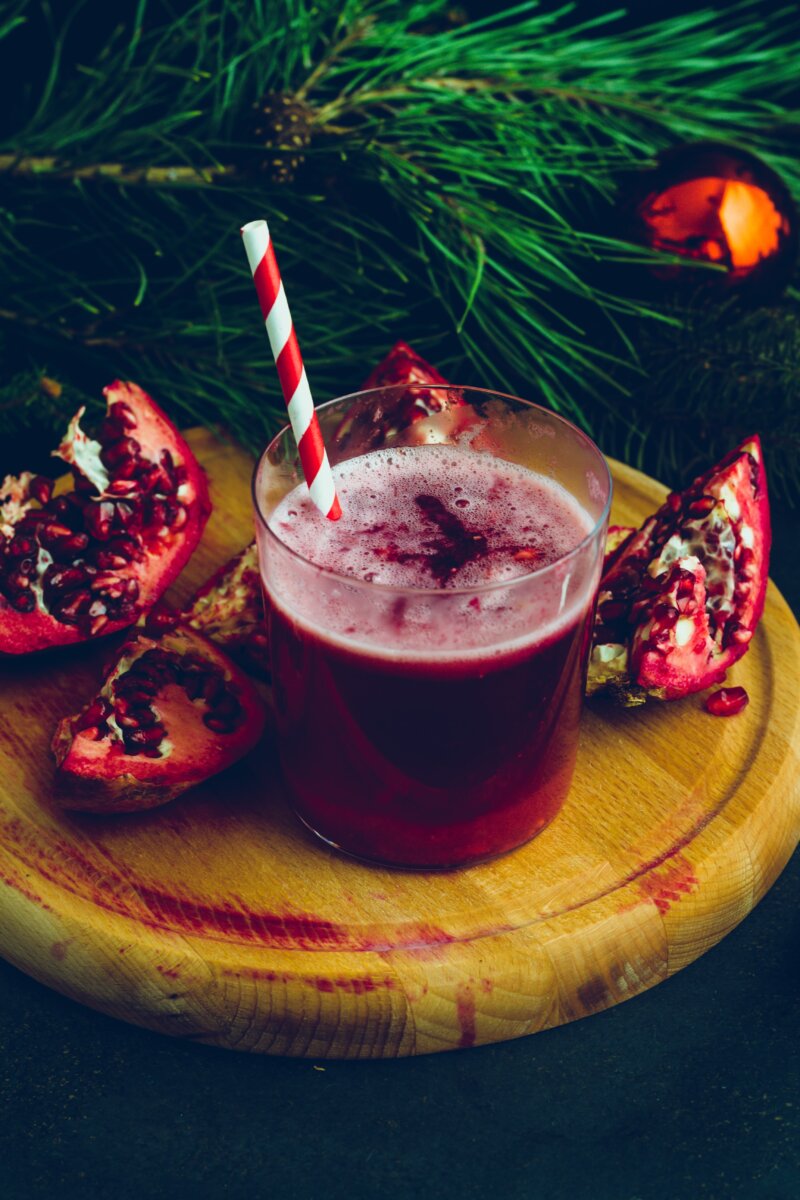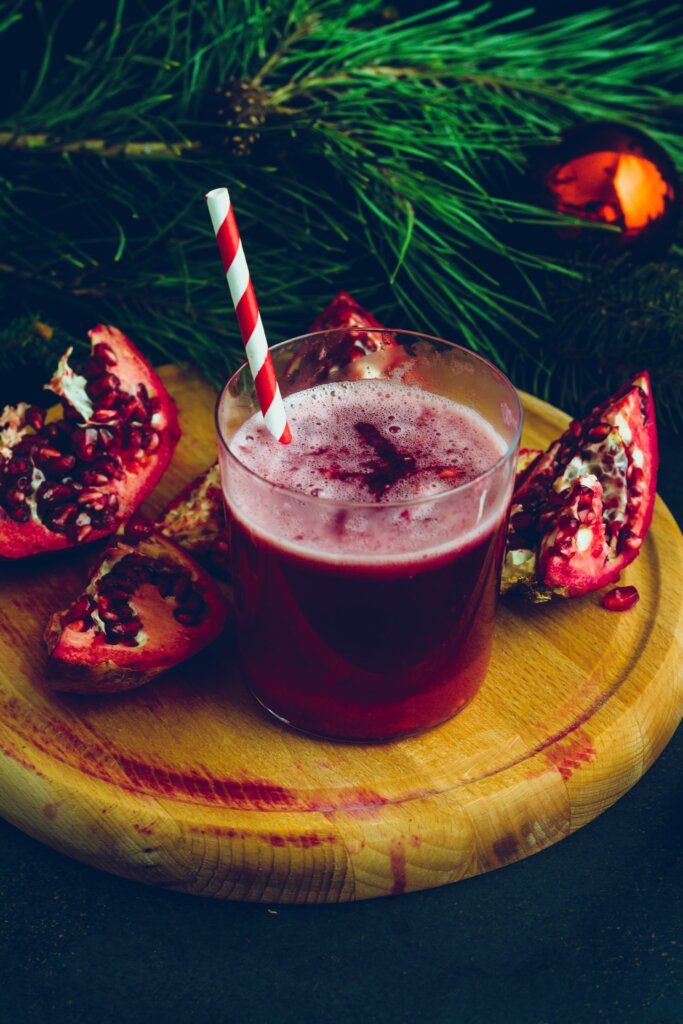 Christmas Cocktail Puns
Looking to create a Christmas-themed cocktail menu? These Christmas cocktail puns make fun festive puns out of your favorite alcoholic mixed drinks. Enjoy!
Daquiri: Daqui-Reindeer, Decor-i, Da-coal-ri, Da-carol-i Daqui-rejoice
Gin and tonic: Gin-gle bells and tonic
Mojito: Moji-tinsel, Moji-Toys, Mistletoe-jito
Long island iced tea: Long Island Iced Tree, (Yule) Log Island Iced Tea, Long Island Icing Tea
Manhattan: Man hat on (accompanied by a photo of Santa or something), Manger-hattan, Manhat-Tin of Cookies
Margarita: Merry-garitas
Bloody Mary: Bloody Merry
Cosmopolitan: Christm-apolitan, Coldsmopolitan, Coals-mopolitan, Carols-mopolitan
Tom Collins: Toy Collins, Tom Carollins
Moscow Mule: Mistletoe Mule
Screwdriver: Scrooge-driver
Hurricane: Hurri-Candy Cane
Martini: Merry-tini, Mar-Treeni
Tequila Sunrise: Tequi-lights Sunrise
Pimm's Cup: Pine's Cup
Shirley Temple: Shirley Tinsel
Mai Tai: Mai Ti-dings
Piña Colada: Piña Cold-ada, Pine-a Colada
Sangria: San-greetingsa, Sang-tree-a, Saint-gria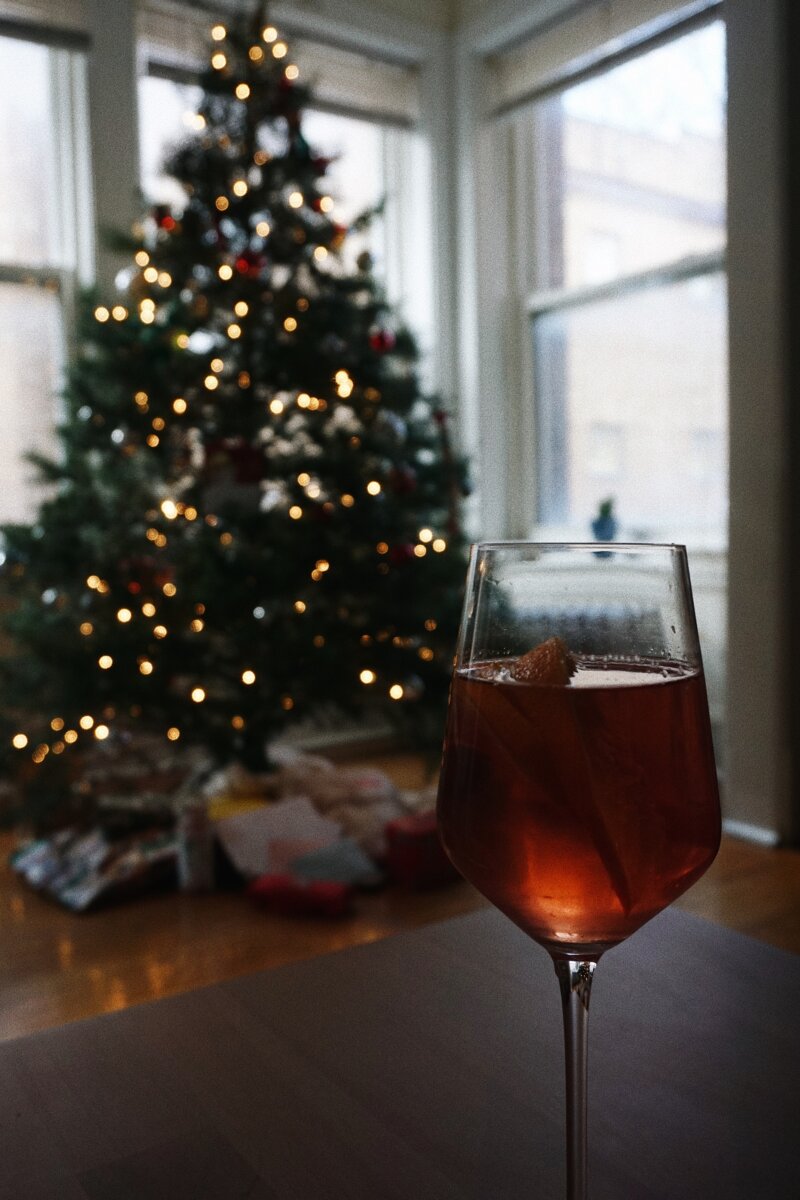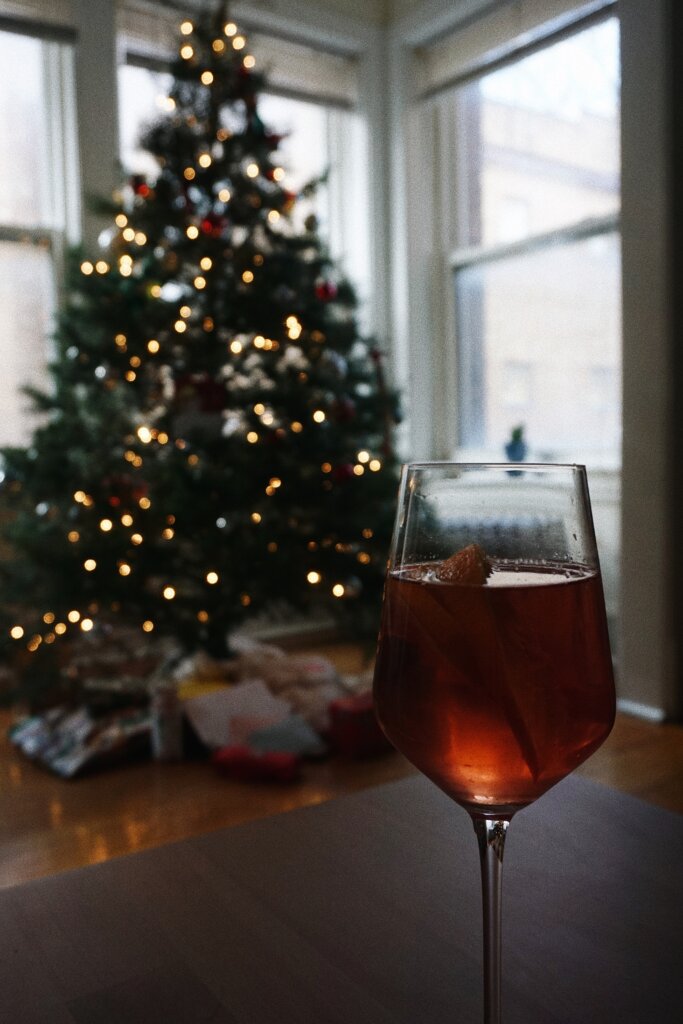 Christmas Liquor & Liqueur Puns
Looking to make your own Christmas alcohol puns or jokes? Here are some Christmas-themed liquor puns that you can easily add into different punchlines, punny cocktail names or just for fun.
Gin: Gin-gle bells, gin-gle all the way
Amaretto: Amaret-Toy, Ama-reindeer, Ama-red-nose, Ama-ribbon
Baileys: Bough-leys, Bow-leys
Bourbon: Bough-bon, Bow-bon, Brrr-bon
Brandy: Br-Candy, Br-Candy Cane, Brrrr-andy
Campari: Cam-party, Cam-partridge in a Pear Tree
Kahlua: Kahlu-fa-la-la-la-la
Jägermeister: Yay-germeister
Rum: Pa rum pum pum pum
Sambuca: Santa-buca, Sam-bough-ca
Sherry: Merry
Tequila: Tree-quila, turkey-la, toy-quila
Vodka: Vod-carol, Vod-kandy
Christmas Wine Puns & Beer Puns
Whether to add as a final touch to a cute wine gift, or for an IG caption featuring your preferred sips, here are some festive wine/beer puns that Yule love:
Wine: Wine-derful (e.g. it's a Wine-derful Life, it's the most wine-derful time of the year)
White Wine: Dreaming of a White Christmas [for white wine]
Prosecco: Prosec-ho ho ho
Champagne: Champ-pine
Chardonnay: Chardon-yay
Merlot: Merl-ho ho ho
Pinot Noir: Pin-ho ho ho Noir
Sauvignon Blanc: Snow-vignon Blanc, S-ho ho ho vignon Blanc
Riesling: Rieslingle Bells
Pinot Grigio: Pinot Greetings-o
Moscato: Moscat-ho ho ho, Merry-scato, Moscarol
Shiraz: Brrr-az
Beer: Hoppy Christmas, Brew-dolph, Rein-beer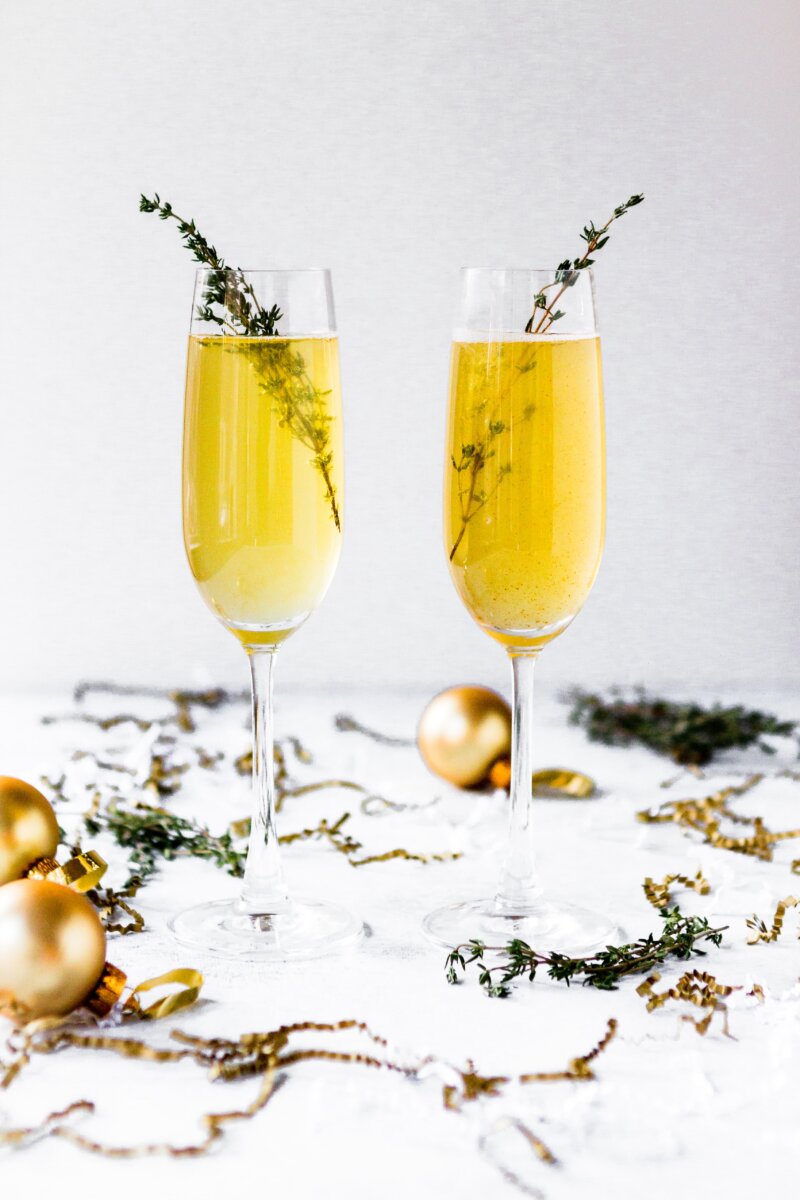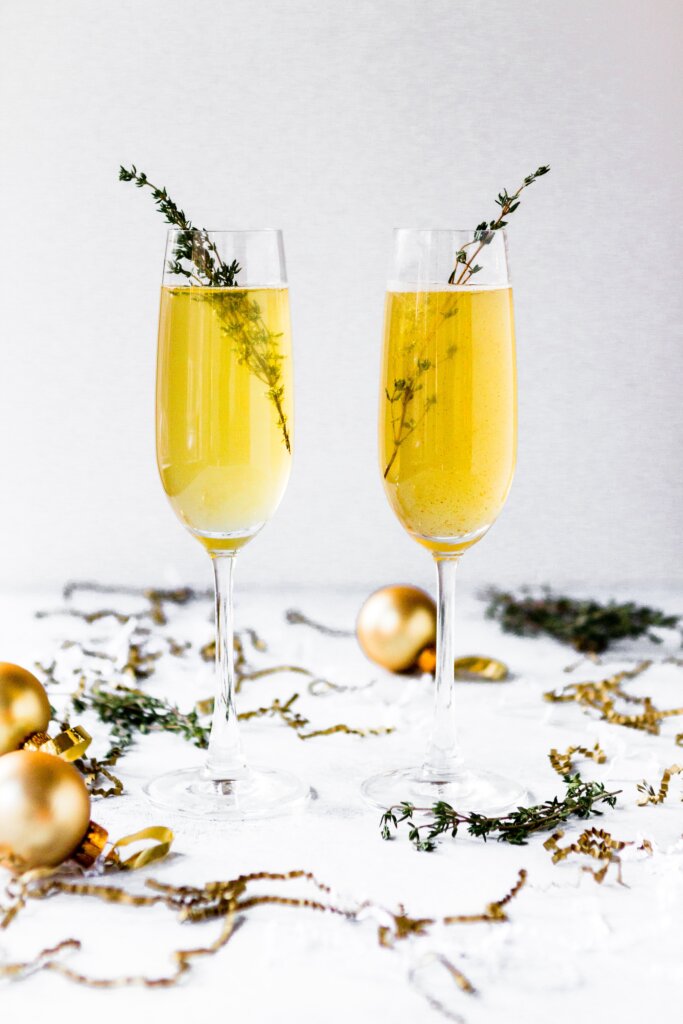 Do you have any more Christmas alcohol puns to add?
Give us your best "shot!" below!