*FYI - this post may contain affiliate links, which means we earn a commission at no extra cost to you if you purchase from them. Also, as an Amazon Associate I earn from qualifying purchases. Check out our Privacy Policy and Disclosure. for more info.
If you're currently hunting fir the perfect Christmas tree pun to spruce up a caption, card or joke, we have you covered.
After all, we here at Thoughtful Gift Club love a good play on words, especially when festive cheer is involved.
So, if you love wordplay as much as we do, you're in for a real tree-t. Below, you'll find a collection of geniusly cheesy Christmas tree puns, including a list of punny Christmas tree names, for you to steal this year for all your caption & greeting needs.
We hope you'll enjoy them just pine.
Pin for later: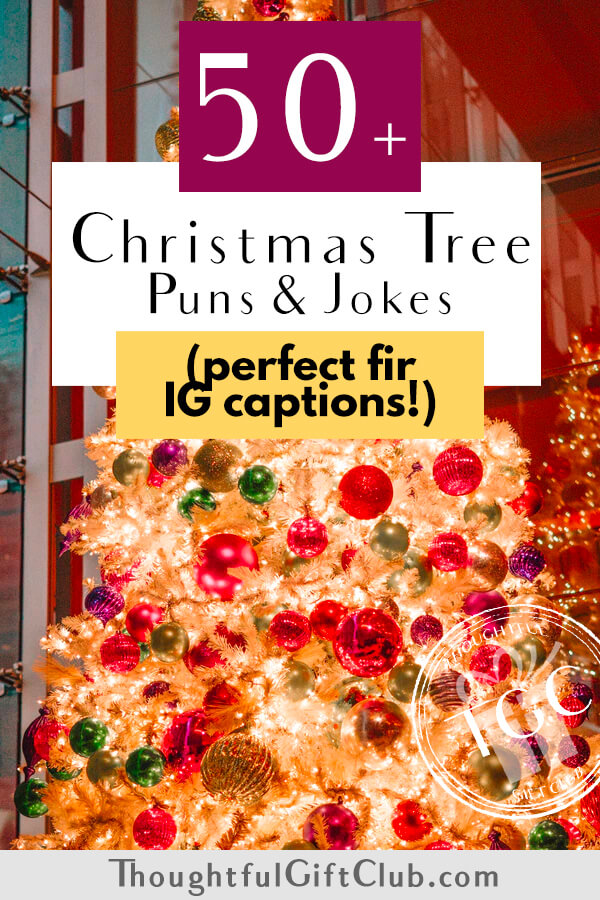 More Christmas Themed Puns
First – we should let you know this isn't our only article full of Christmas puns! Here's a full list of our top ones in case you're looking for further Christmas pun inspiration:
General Christmas Tree Puns & Wordplay for Instagram Captions
Whether you need the perfect Christmas tree pun for a cute caption ft. your Christmas tree, or just a beautifully decked out tree in general, we're sure you'll enjoy these ideas:
So thankful fir this beautiful tree!
Can you be-leaf this awesome tree?
They say that Christmas is a time to "tree-t" yourself, so I took that pretty literally.
My tree this year is pretty fa-la-la-la-lit.
This year's tree decorating experience was a bit of a Tree for all.
I wasn't sure if this photo was cheesy enough so I tree-cided to add a punny caption Fir good measure.
Who needs trips when you can have tree-ps?
You know we're pretty picky with our decor, so we decided to go for something that was compliment-Tree to our aesthetic.
Tree so fine I can't help but Pine fir it.
Decorating this bad boy was pure Poe-Tree.
Decorating this year was such a Tree-t.
I think we have pretty good chemis-Tree, what do you think?
You know what they say – two's company…… tree's a crowd.
I almost Fir-got how much fun it was to decorate a Christmas tree!
Oh darling, you're so Pine, you're so Pine you blow my mind.
Feeling tree-mendously happy these days.
One of the best Christmas trees I've ever had….. fir sure.
Took "Spruce"ing up the place a little too literally this year. What do you think?
You Cedar tree over there? That one's mine!
I was going to make a joke about our decorations, but that would be Tinsel-ting.
Gar-landed us one of the best trees around. What do you think?
This is Bauble-bly the most wonderful tree I've ever decorated!
I wanted to decorate the tree myself but decided that the holidays aren't a time to be tinSel-fish…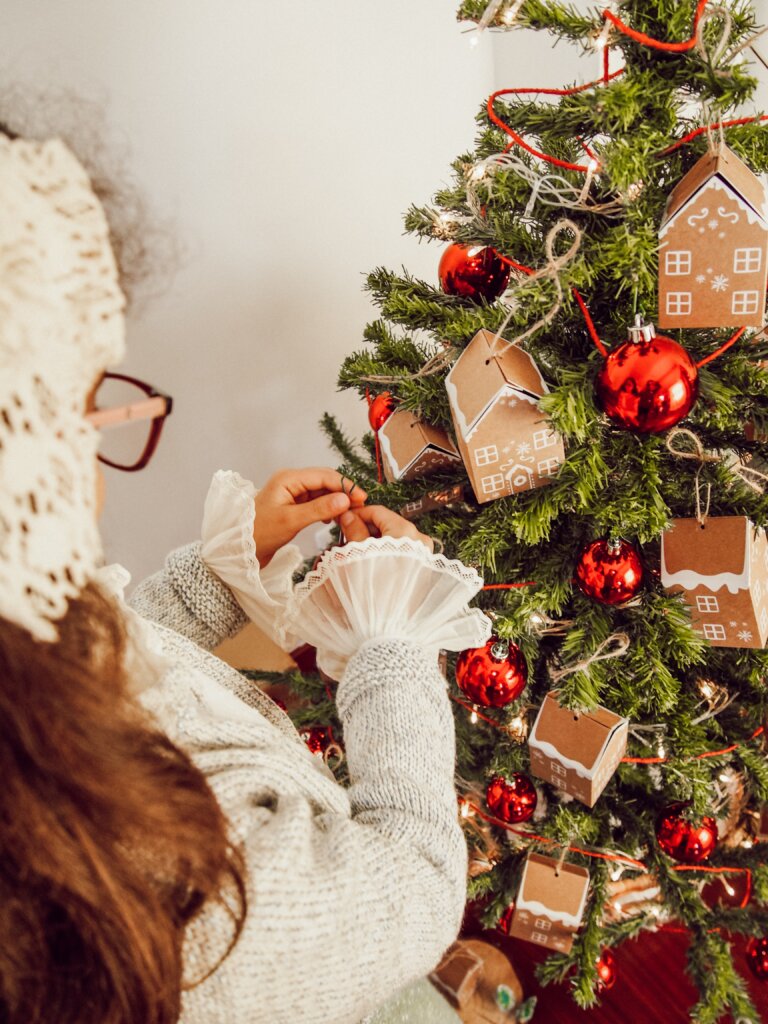 Punny Christmas Tree Names
Into naming your Christmas tree? Don't worry – us too. If you want some clever Christmas tree names that are ultra punny and wonderful here are some options for you, ft. some famous celebrity names you probably already now…
Spruce Wayne
Fir-eddie Mercur-Tree
Chris Pine (maybe too easy)
Spruce Willis
Spruce Lee [or Bruce Leaf]
Fir-rest Gump
Fir-ances McDormand
Fir-ank Sinatra
Fir-nando Alonso
Franz Fir-dinand
Fir-ah Fawcett
Fir-ell Williams
Spruce Springsteen
Tree Diddy
Queen La-Treefah
Keanu Treeves
Tree-twood Mac
Justin Timber-lake
Au-Tree Hepburn
Tree-na Turner
Tree-na Fey
Ka-Tree Holmes
Fir-lock Holmes
Fir-yl Crow
Fir Ian McKellen [This will work with anybody who is knighted]
Fir-licia Day
Tree Larson
Leaf Schreiber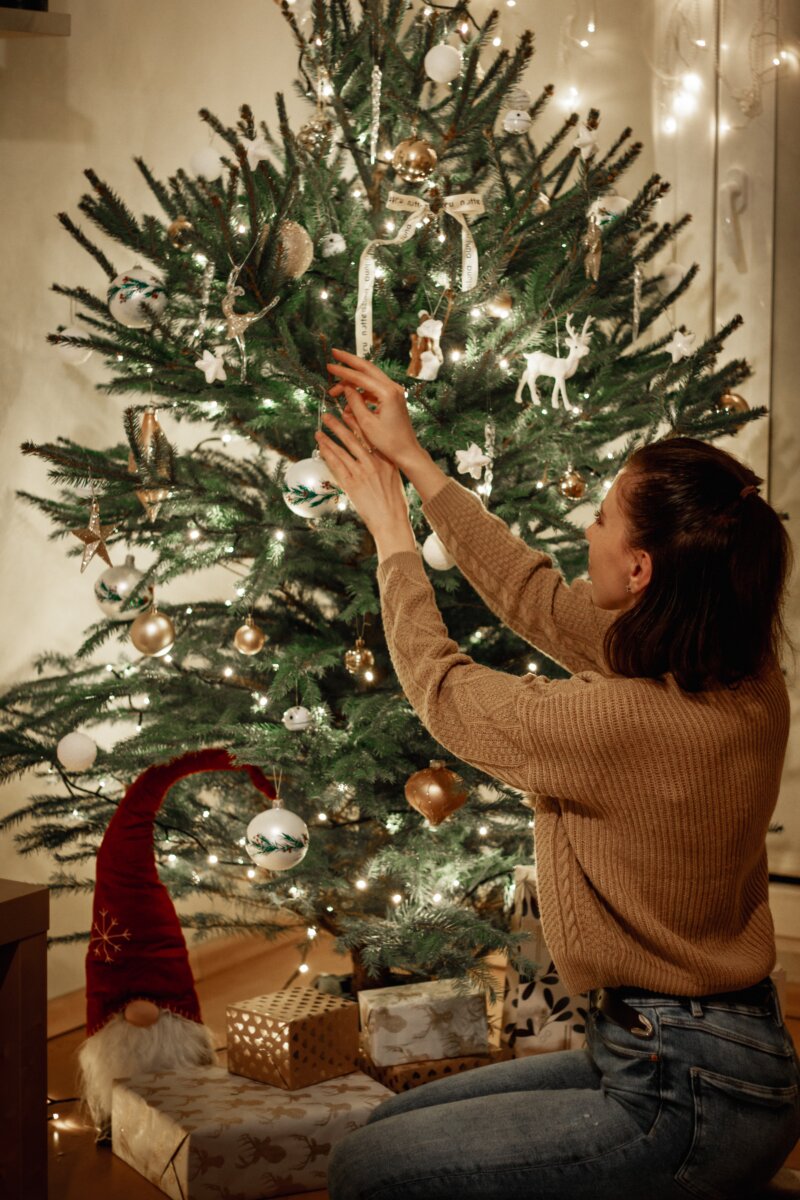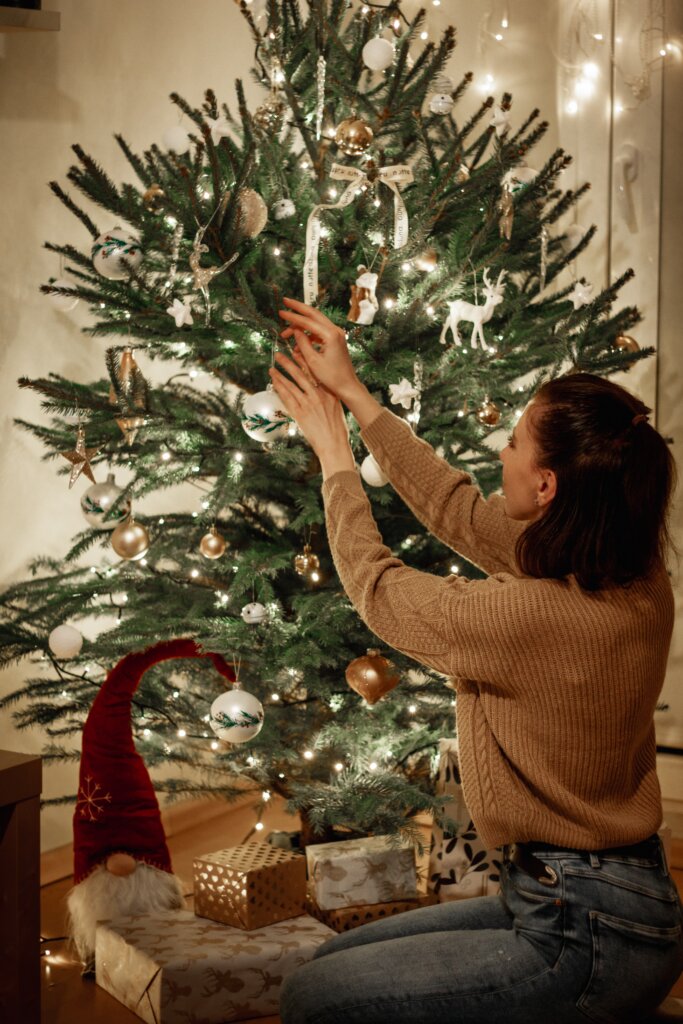 Did we miss any of your favorite Christmas tree puns?
Let us know in the comments if we missed any punny Christmas tree wordplay that you think we should include. We hope you found this article helpful, and be sure to Tree-t yourself this year!