*FYI - this post may contain affiliate links, which means we earn a commission at no extra cost to you if you purchase from them. Also, as an Amazon Associate I earn from qualifying purchases. Check out our Privacy Policy and Disclosure. for more info.
Awesome Harry Potter themed gifts aren't just for kids anymore…!
Trust us, the Internet is swimming in absolutely epic and magical Harry Potter gifts for adults, ranging from gorgeous wine glasses and home decor to fancy wax seals, secret safes and hidden book phone chargers.
Whether you're looking for something practical, or just something wickedly cool, we've rounded up an epic list of HP gifts that will delight all the adult Potterheads in your life.
Trust us, if your gift recipient loves Harry Potter, there is zero way that they won't adore these gifts with every fibre of their being. With them, they'll feel as if they've transported to Hogwarts, even if just for a minute.
So, here are some of THE best Harry Potter gifts for adults that you can find online. Enjoy these beautiful gifts, and resist the urge to buy something for yourself! (Or don't, because you deserve magic too!)
Pin for later: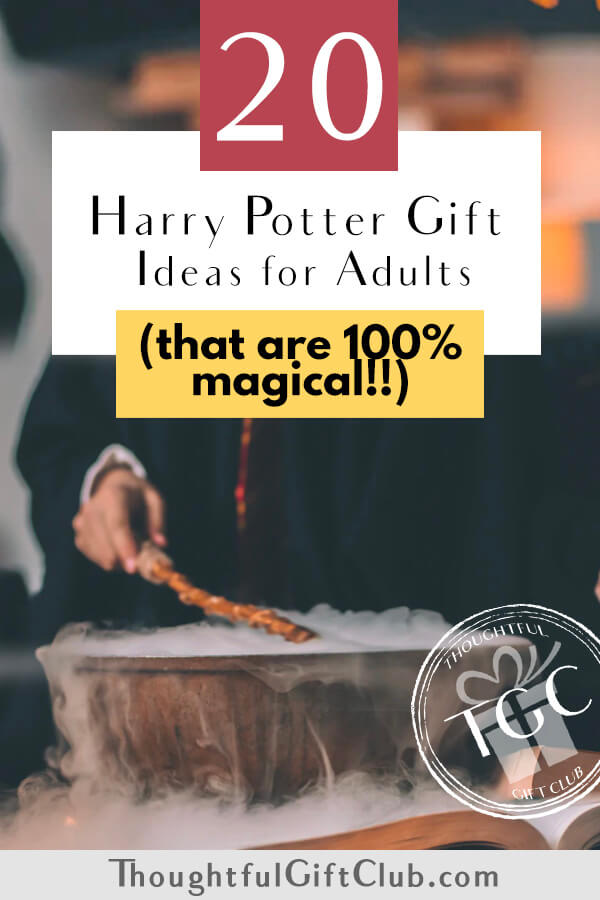 House-Themed Harry Potter Presents
Before we get into a breakdown of Harry Potter gift ideas for adults categorized by budget, we want to share some other gift guides with you specifically related to each house!
If you're shopping for someone who proudly identifies with their Hogwarts house (we find Hufflepuffs are particularly guilty of this haha), then you should definitely consider getting them something awesome that helps them rep their house proudly.
There are tons of cool Harry Potter gifts that are house-specific. Here are some of the gift guides we put together specifically with each house in mind:
Harry Potter Gift Ideas for Adults Under $20
Looking for cheap Harry Potter gifts? Here's the good news: there are tons of affordable options for cool Harry Potter gifts that won't break the bank. Here are some options:
1. The Unofficial Harry Potter Cookbook
If you're shopping for someone who loves to cook, the ultimate Harry Potter gift for them might be this unofficial Harry Potter cookbook, filled with beautiful recipes for everything they could ever possibly make from the franchise including classics like Treacle Tarts, Pumpkin Pasties, and Molly's Meat Pies.
If your gift recipient is a wizard in the kitchen, this is the perfect Harry Potter gift to make that official!
2. A Fun Harry Potter Mug
Another budget-friendly Harry Potter gift for adults is a fun, HP-themed mug.
Honestly, what adult couldn't use another mug:? Coffee is pretty much the closest thing we have to magic in the real world anyway.
We've written a separate article summarizing our favorite Harry Potter mugs, but here are some ideas:
3. Awesome Harry Potter Bookmarks
If you're shopping for a Harry Potter superfan, odds are they like to read.
Well, why not get them a cute set of Harry Potter bookmarks (representing the different houses) as an affordable, but still adorably thoughtful gift? Click here to price check.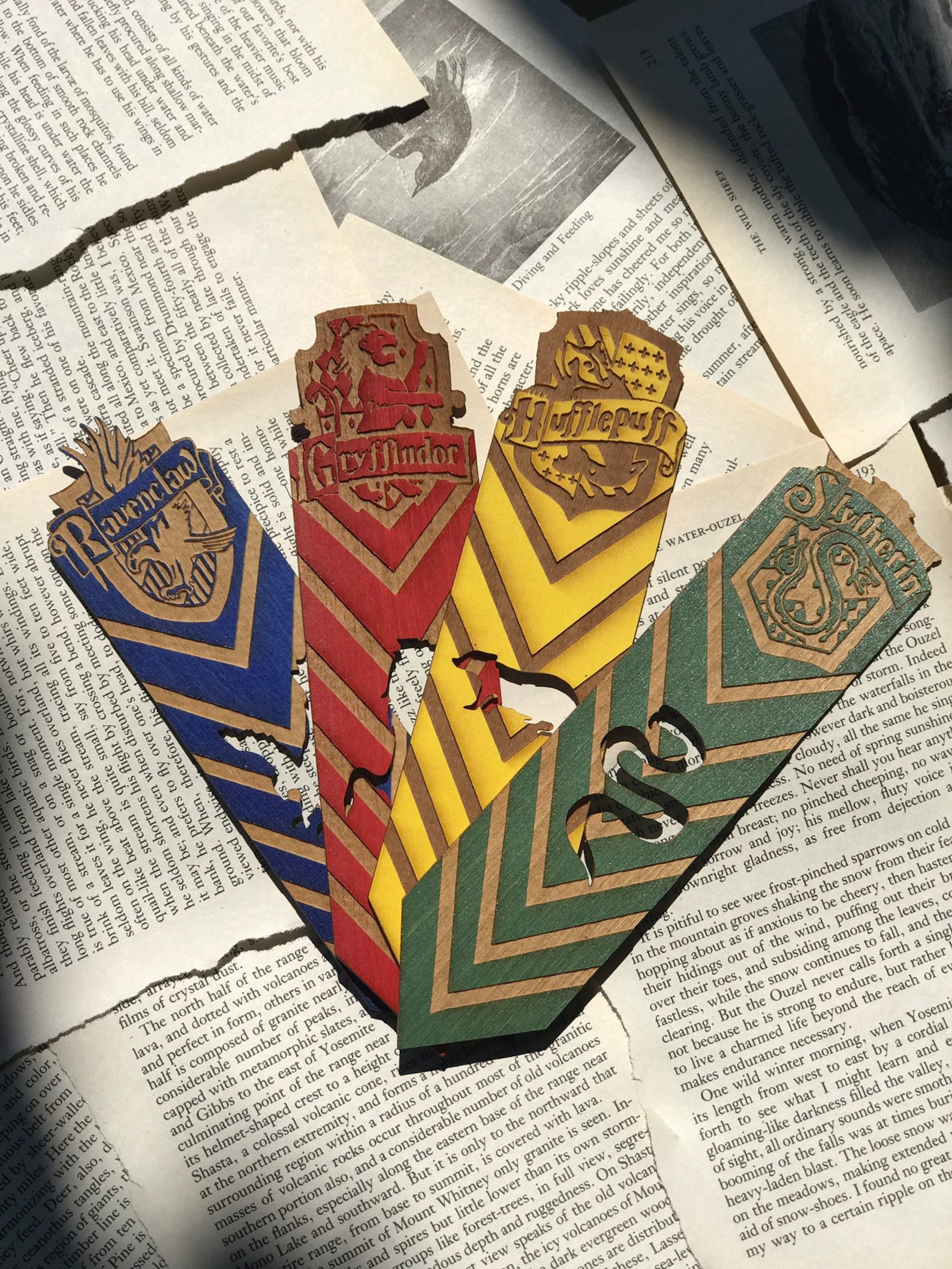 4. Their Own Time-Turner
There's no shortage of cool Harry Potter stuff you can buy online, but this is one of our faves. What adult doesn't wish time-turners were a real thing?
I mean, think of all the naps we could fit in… Well, until these beautiful creations are invented for real, we still have cool ~ decorative ~ time-turners that we can buy to amuse us in the meantime.
If you're shopping for someone who is perpetually busy, this is is an amazing (and cheap) gift idea that will make any adult Potterhead smile. Click here to price check.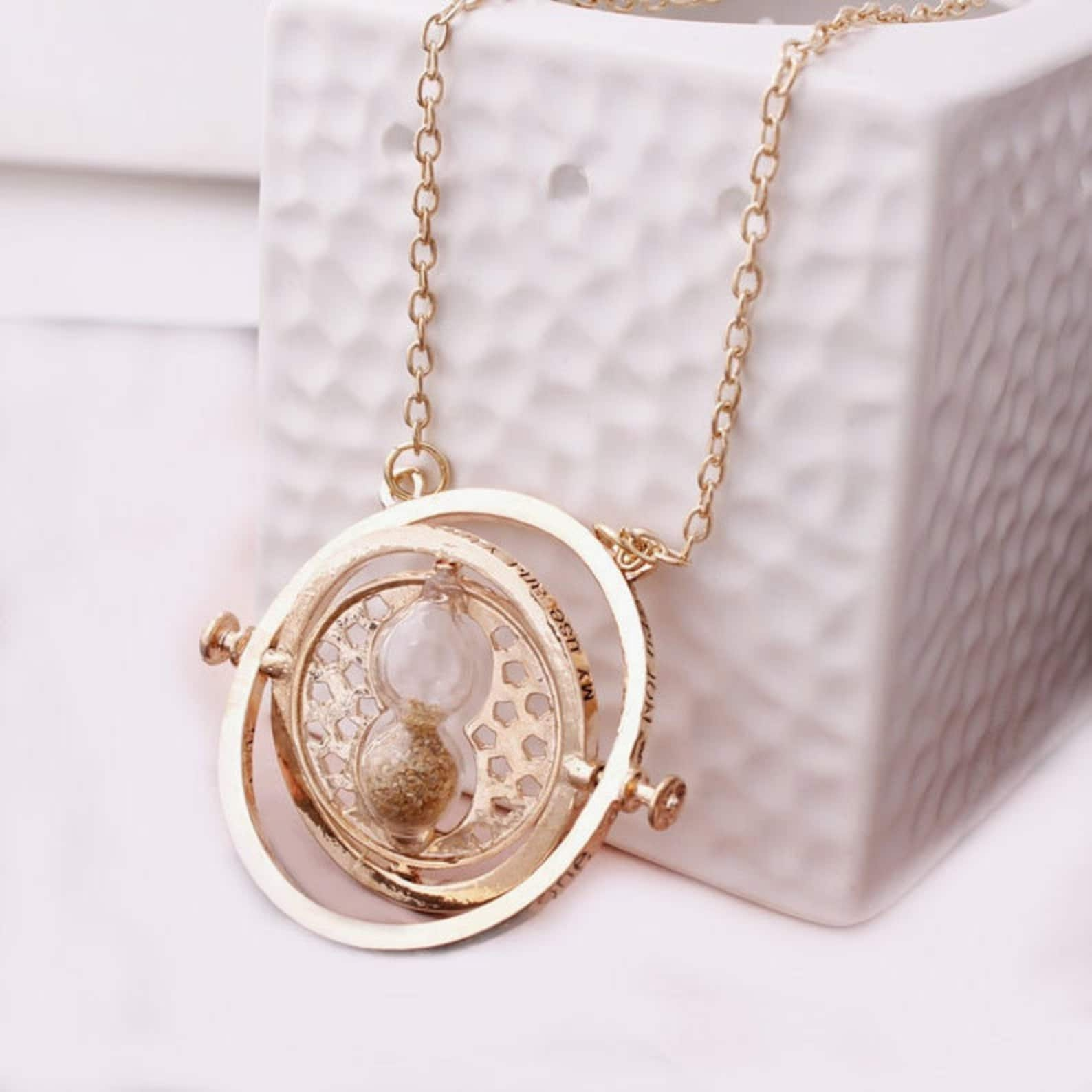 Gifts for Adult Harry Potter Fans Between $20 – $50
Alright, looking to spend a little bit more? There are lots of truly amazing HP gifts for grown-ups that cost a bit extra but are still under 50 bucks or less. Here are some of our favorites:
5. An awesome personalized Harry Potter hamper
Take one look at this epic Harry Potter hamper and you'll see why any Harry Potter fan (kid or adult) would love to receive it.
Not only does it come with a beautiful Hogwarts house crest box, you also get your own Marauder's Map, an assortment of Harry Potter candies, an actual Hogwarts acceptance letter (wax seal included), plus cozy Dobby socks and more.
Any Harry Potter fan would love this – trust us. Click here to price check.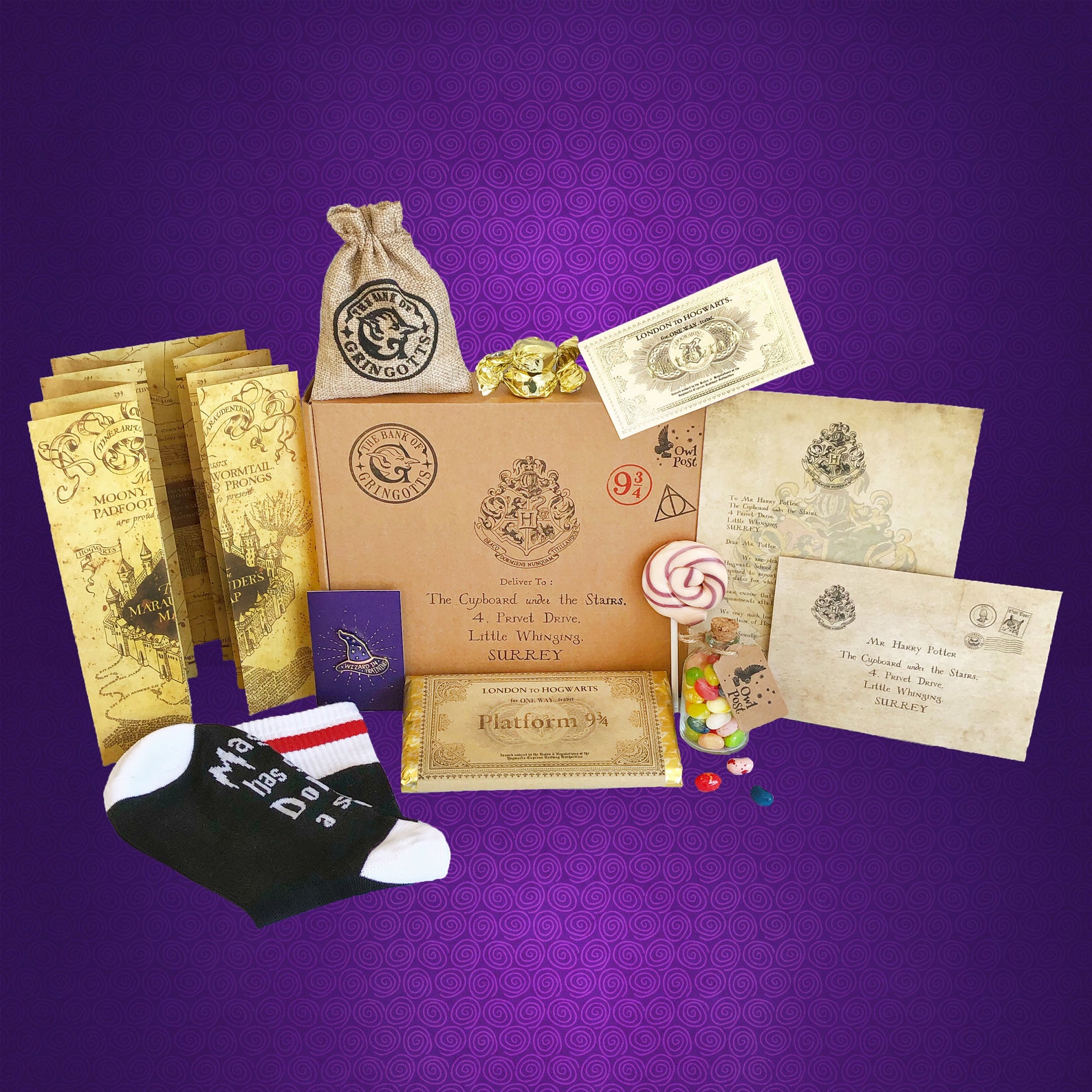 6. A Gorgeous Harry Potter Music Box
For a Harry Potter gift that's beautiful, thoughtful and romantic, consider getting your Potterhead a Harry Potter music box.
There are lots of great options out there that are not only HP-themed on the outside, but also play Harry Potter classics like Hedwig's Theme.
For a more detailed guide, we've written a separate article rounding up our top Harry Potter music boxes, but here are some options: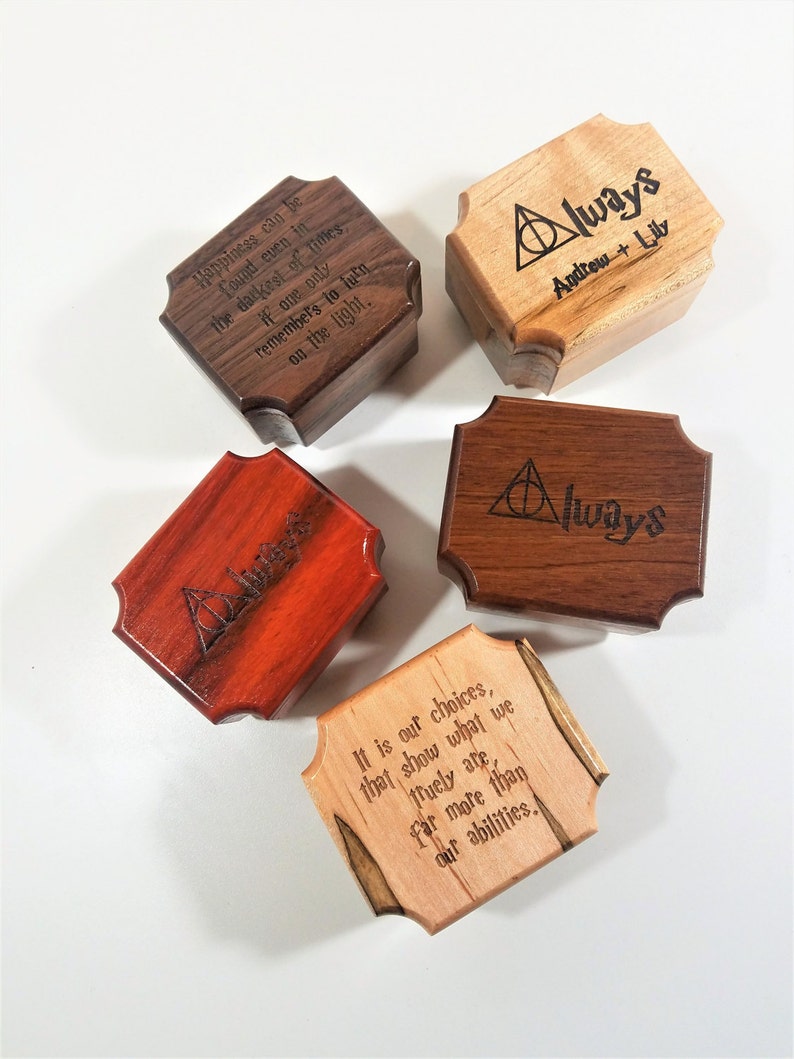 7. A Personalized Harry Potter Cutting Board
Here's another fun gift for the kitchen wizard in your life that would make an especially good Harry Potter housewarming gift.
This personalized cutting board can be customized with your recipient's name and has the fun (reworked) slogan of "I solemnly swear my cooking is so good".
This would make a perfect accompanying gift to go with the unofficial Harry Potter cookbook mentioned above, or simply a fun gift to give on its own. Click here to price check.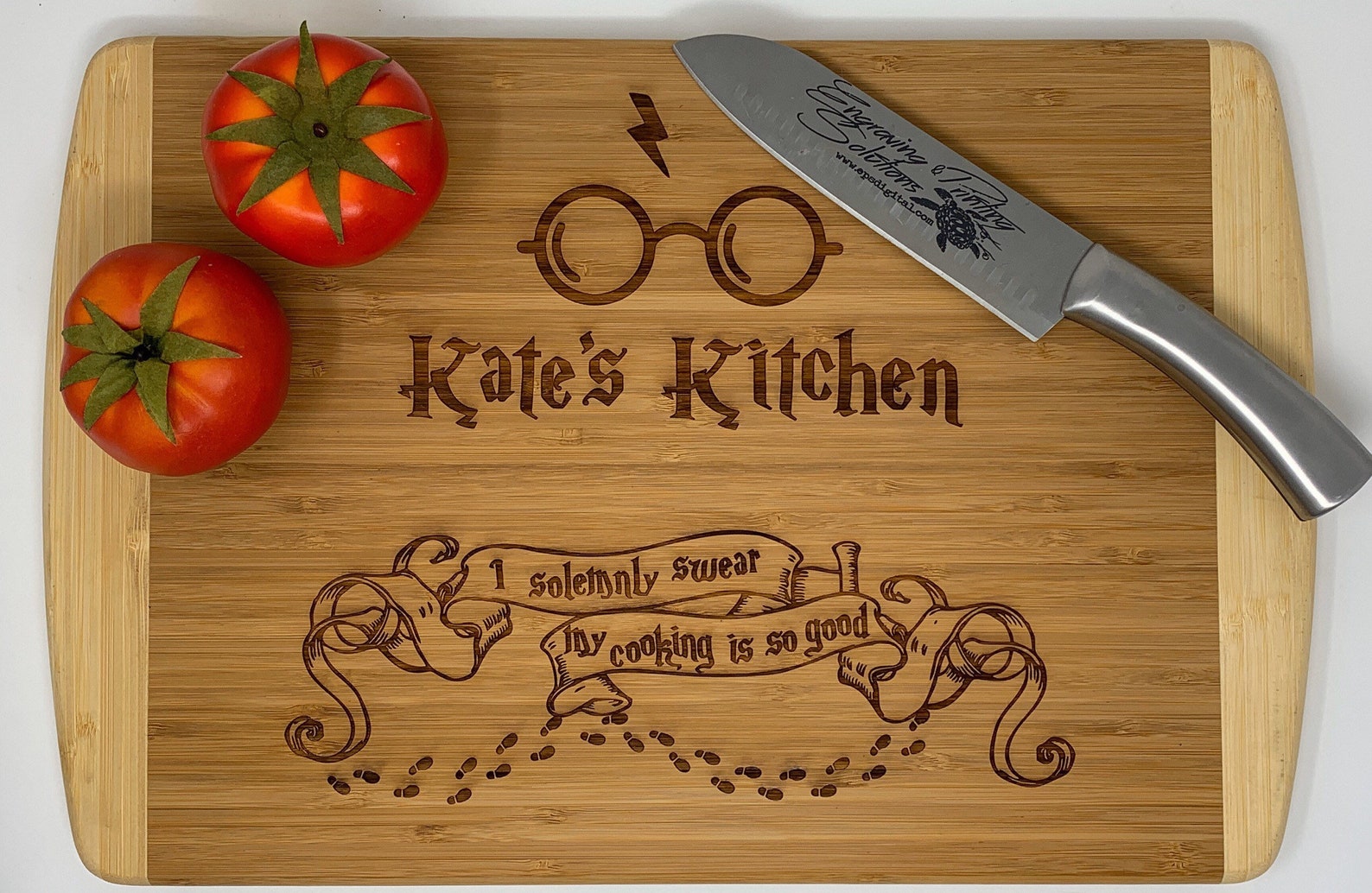 8. These Beautiful Harry Potter Wax Seals
If you're shopping for someone who loves wax seals (trust me, there's definitely a type for this, and usually Harry Potter fans are into this sort of thing), then getting them a set of HP-inspired wax seals is a truly epic gift idea that they're sure to love.
While this might not get as much practical day to day use as some of he other unique Harry Potter gifts for grown-ups listed in this article, they're a guaranteed slam dunk in the thoughtful and special department. Click here to price check.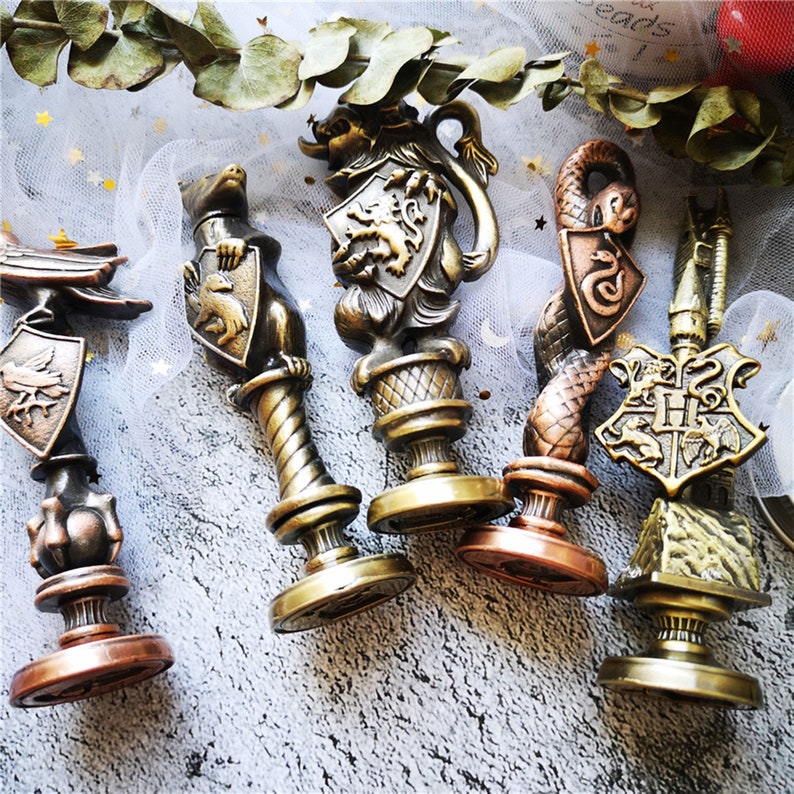 9. This beautiful set of Quidditch balls
Harry Potter decor for grown-ups can be hard to get right, but this gift idea can help.
If your gift recipient likes interesting decor and "conversation starters" in their home, then the perfect Harry Potter gift to get them is this gorgeous set of Quidditch balls!
While they would look amazing on display anywhere, they serve the bonus practical purpose of making your gift recipient Quidditch-ready at all times… just BYOB. Bring your own broom. Duh. Click here to price check.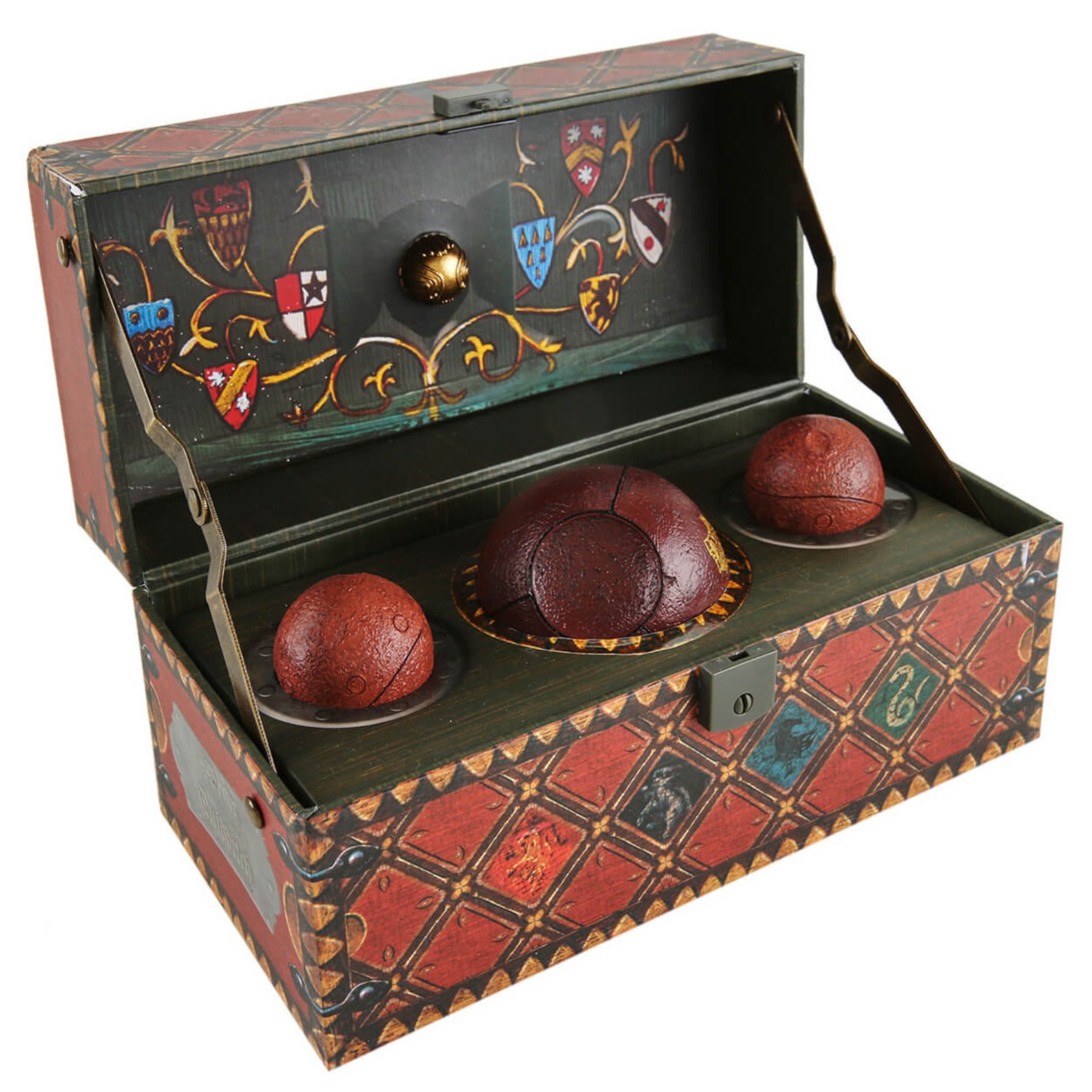 10. Fun Harry Potter Inspired Letterboard Letters
Letterboards are all the rage these days and if your gift recipient is someone who already owns a letterboard, then this simple gift will absolutely make their lives!
These fun HP inspired letterboard letters come in the iconic Harry Potter font and include fun elements like a little sorting hat. This is definitely one unique Harry Potter gift that they'll love. Click here to price check.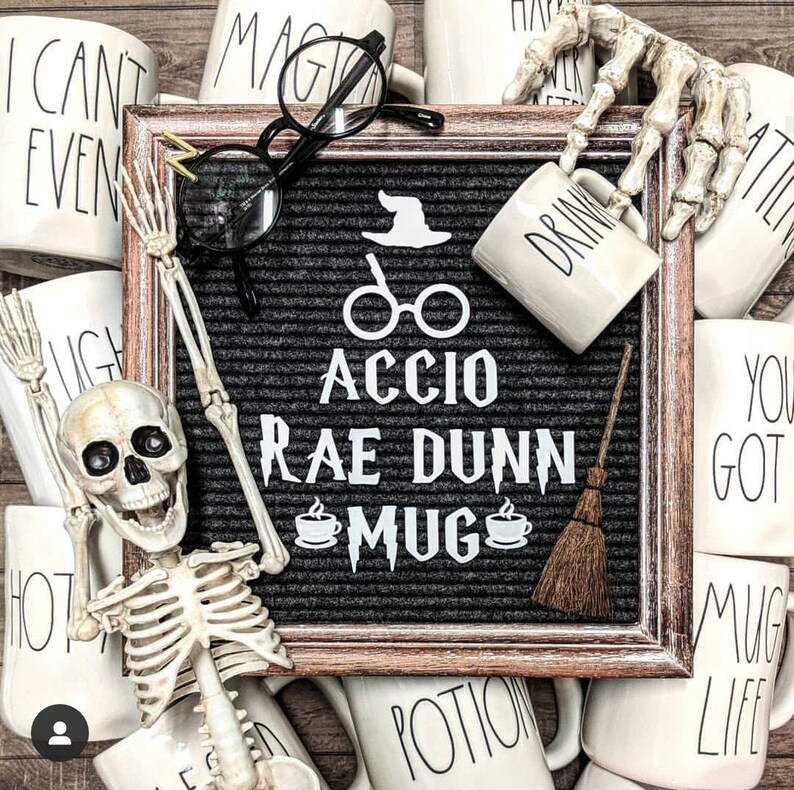 11. This adorable Harry Potter Tea Set
If your gift recipient's idea of a good time is relaxing with a nice cup of tea, then this beautiful set of Harry Potter inspired teas is the perfect gift idea. They include house brews for each house, and come in adorable burlap bags that are so wonderfully aesthetic, we're tempted to get a few bags ourselves just for decoration. Click here to price check.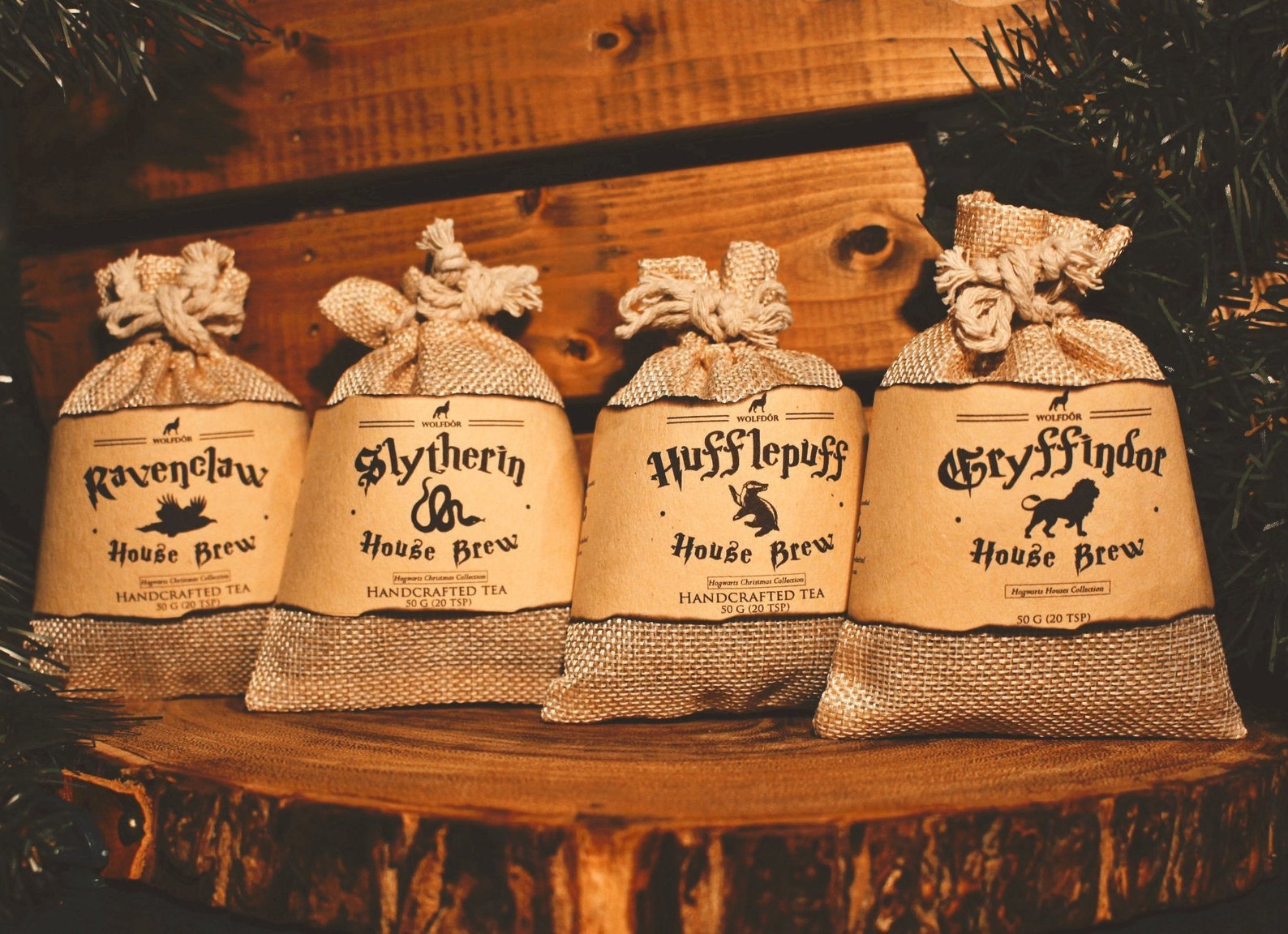 12. Hogwarts House Makeup Brushes
Shopping for a makeup wizard?
Since sometimes the makeup transformations we see seem like true witchcraft, why not add an extra magical touch with these gorgeous Harry Potter inspired makeup brushes?
You can get ones representing each house or even just a simple one with the Hogwarts crest. No doubt, any make-up loving Potterhead would adore these! Click here to price check.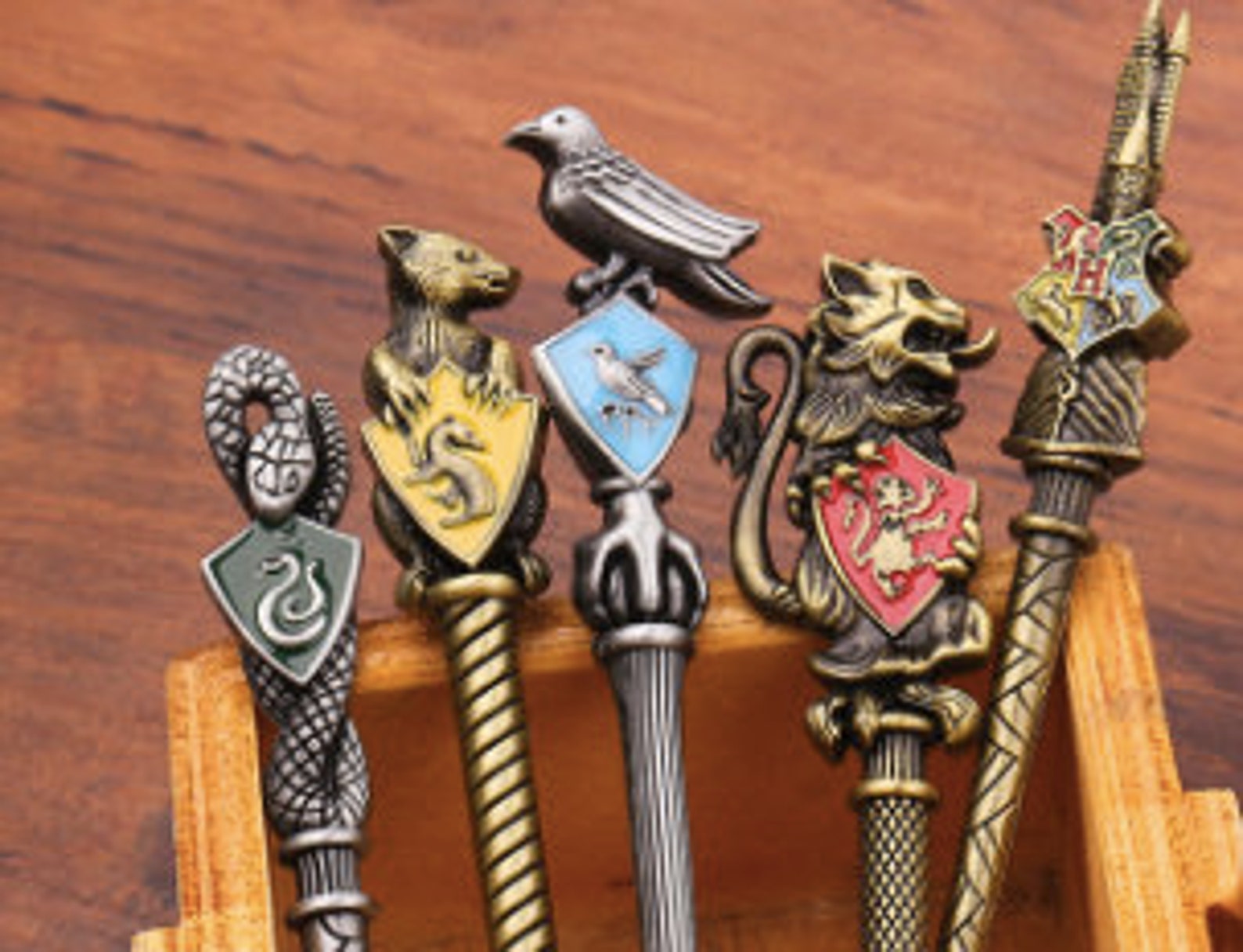 13. A Secret Harry Potter Book Safe
This super clever gift is perfect for somebody who loves practical (but still nice and aesthetic gifts).
This copy of Defense Against the Dark Arts hides a fun secret – it's actually not a book at all, but a secret safe! This genius (and highly practical) Harry Potter gift idea is a sure winner for any adult who needs a safe space for their most precious belongings. Click here to price check!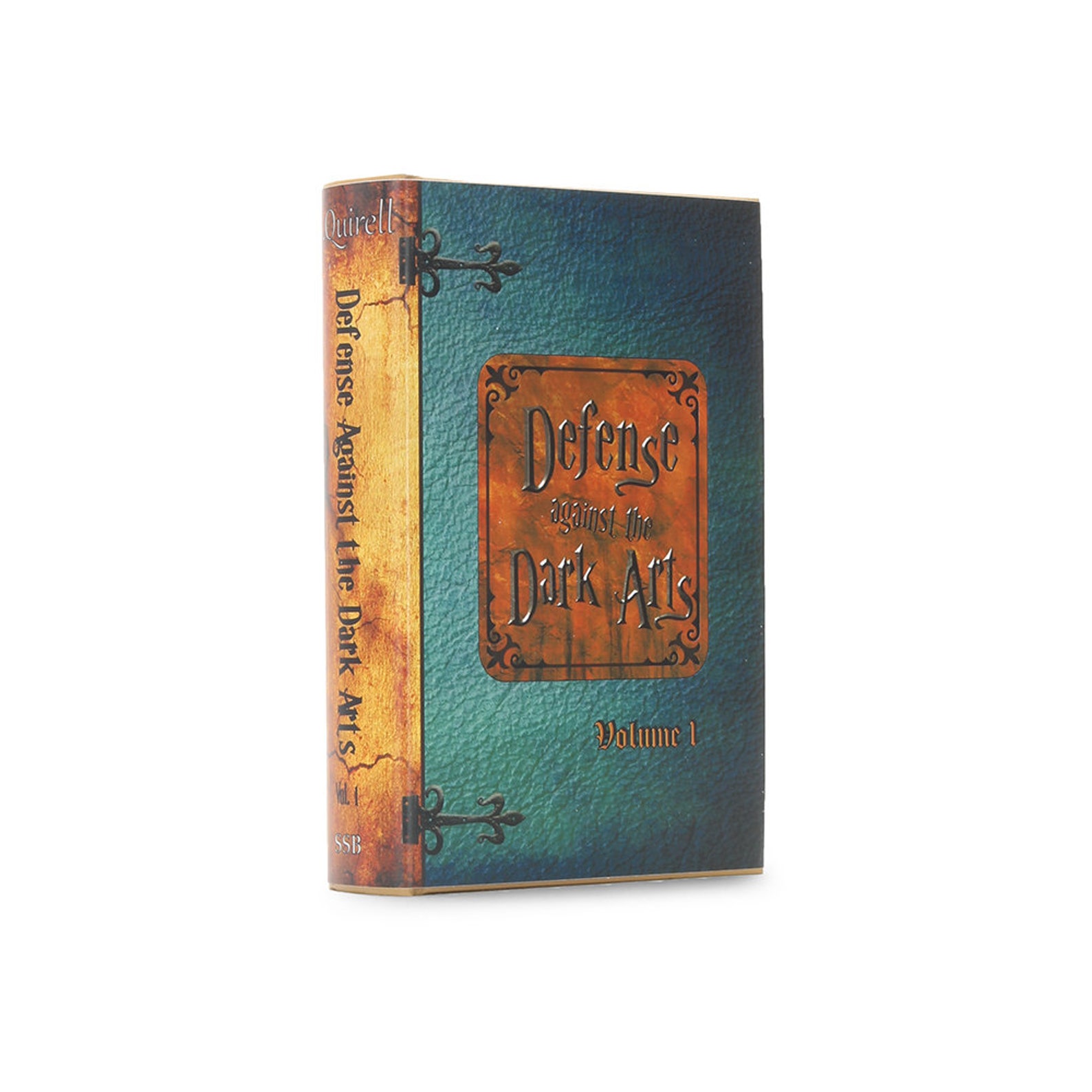 Cool Harry Potter Themed Gifts for Grown-ups $50+
Alright, wanting to really spoil the Potterhead in your life? These awesome luxury Harry Potter gifts at a higher price point are sure to please. Here are some truly magical Harry Potter gifts fo adults that are $50 or over.
14. This HP-inspired take on Cards Against Humanity
If you're looking for fun Harry Potter gifts that are guaranteed to get plenty of use, consider getting them a set of these HP-inspired Cards Against Humanity Set. After all, who doesn't love Cards Against Humanity?
If you're shopping for someone who plays this game frequently, they will absolutely love this Harry Potter inspired version known as "Cards Against Muggles". They have a limited number of sets to sell, so click here to price check.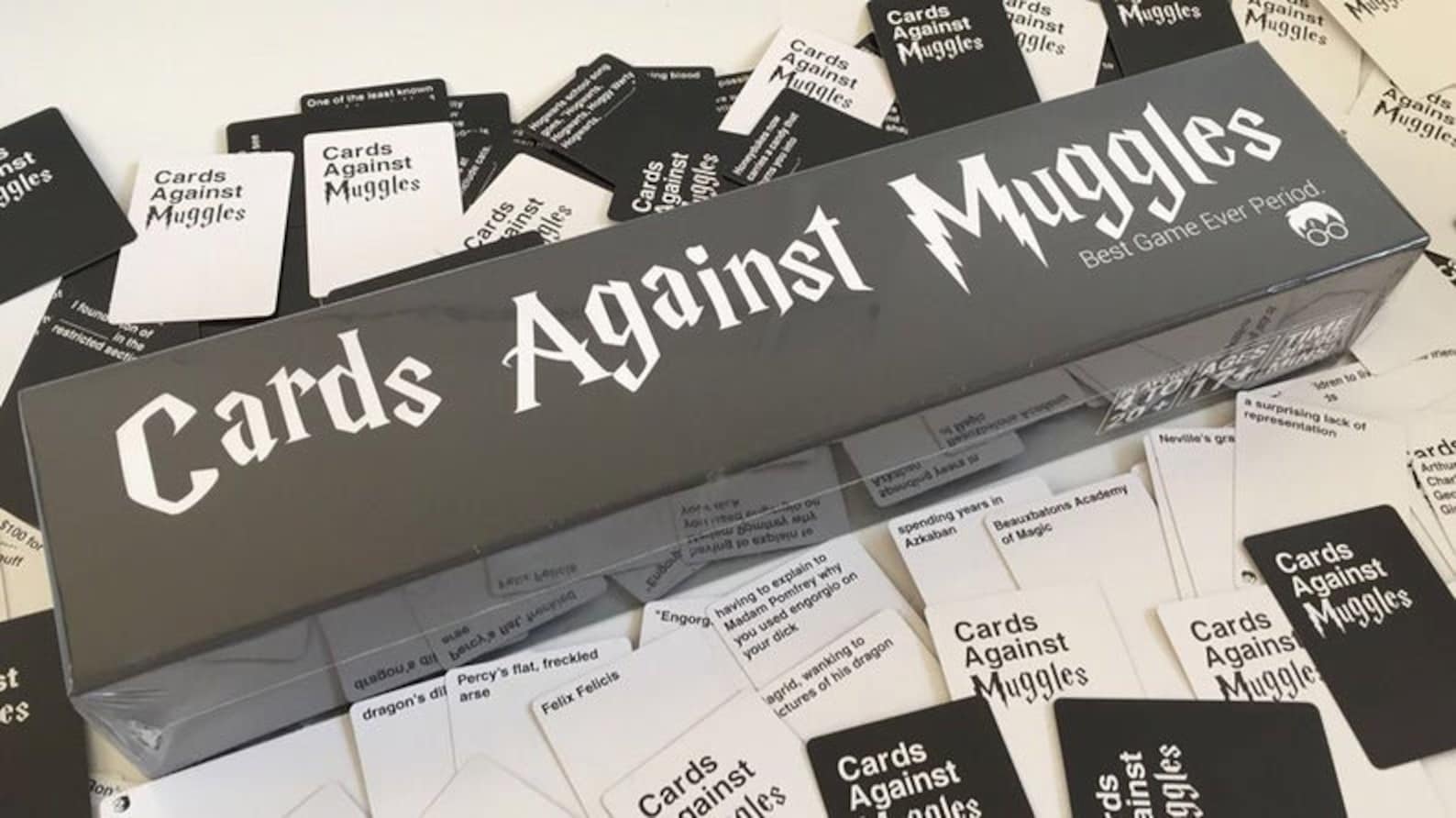 15. This gorgeous handmade brooch
If you want a beautiful decorative Harry Potter gift that any fan will love, consider getting them this stunning Golden Snitch brooch that is handmade and absolutely the accessory of dreams. Click here to price check.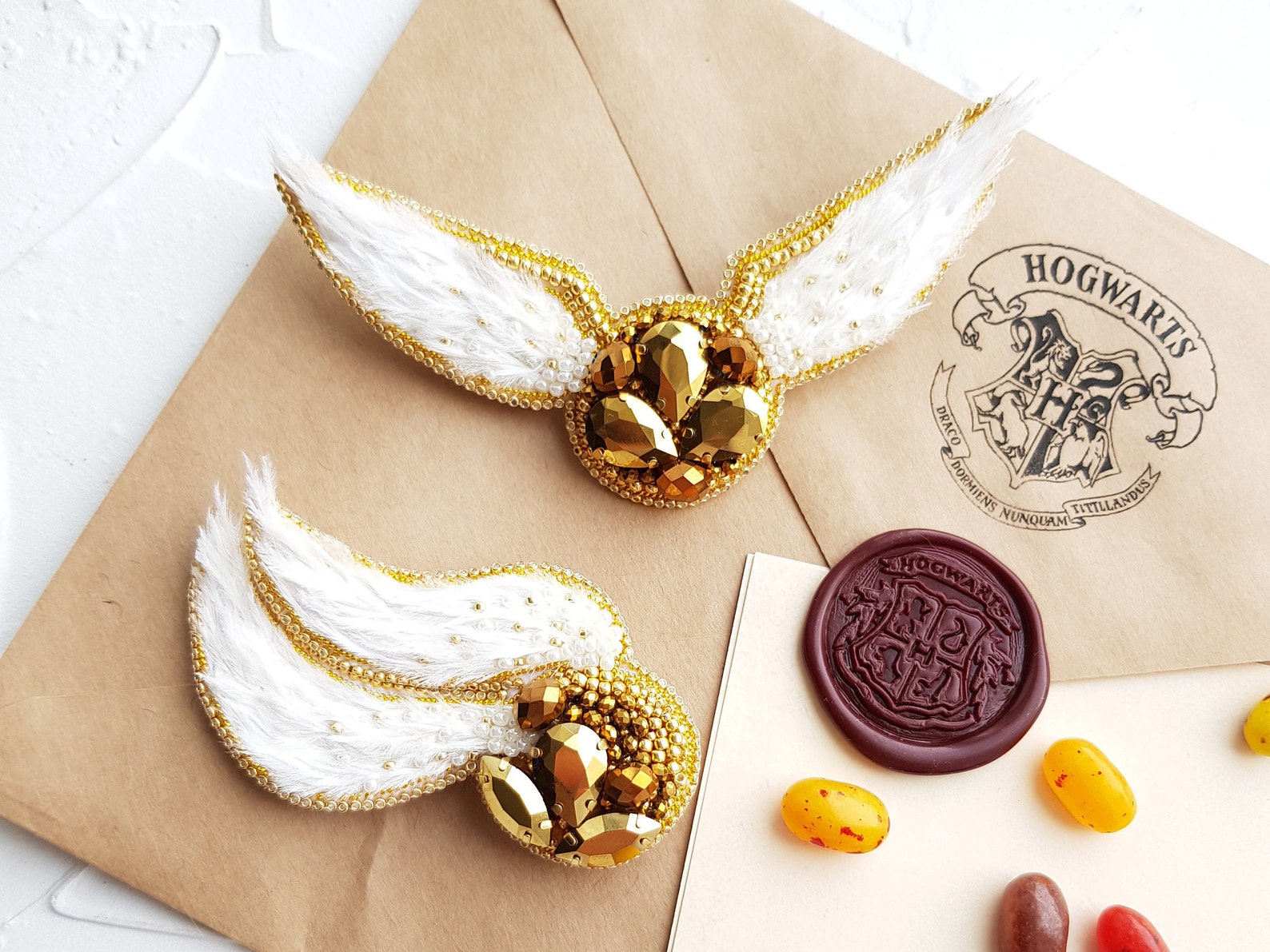 16. This magical Harry Potter book that is secretly a phone charger
Speaking of magic, why not get your gift recipient an amazing Harry Potter book that cordlessly charges their phone??
This magical phone charger hidden inside an HP book is the perfect way to gift something practical yet cool… plus it would look great on any coffee table! Click here to price check.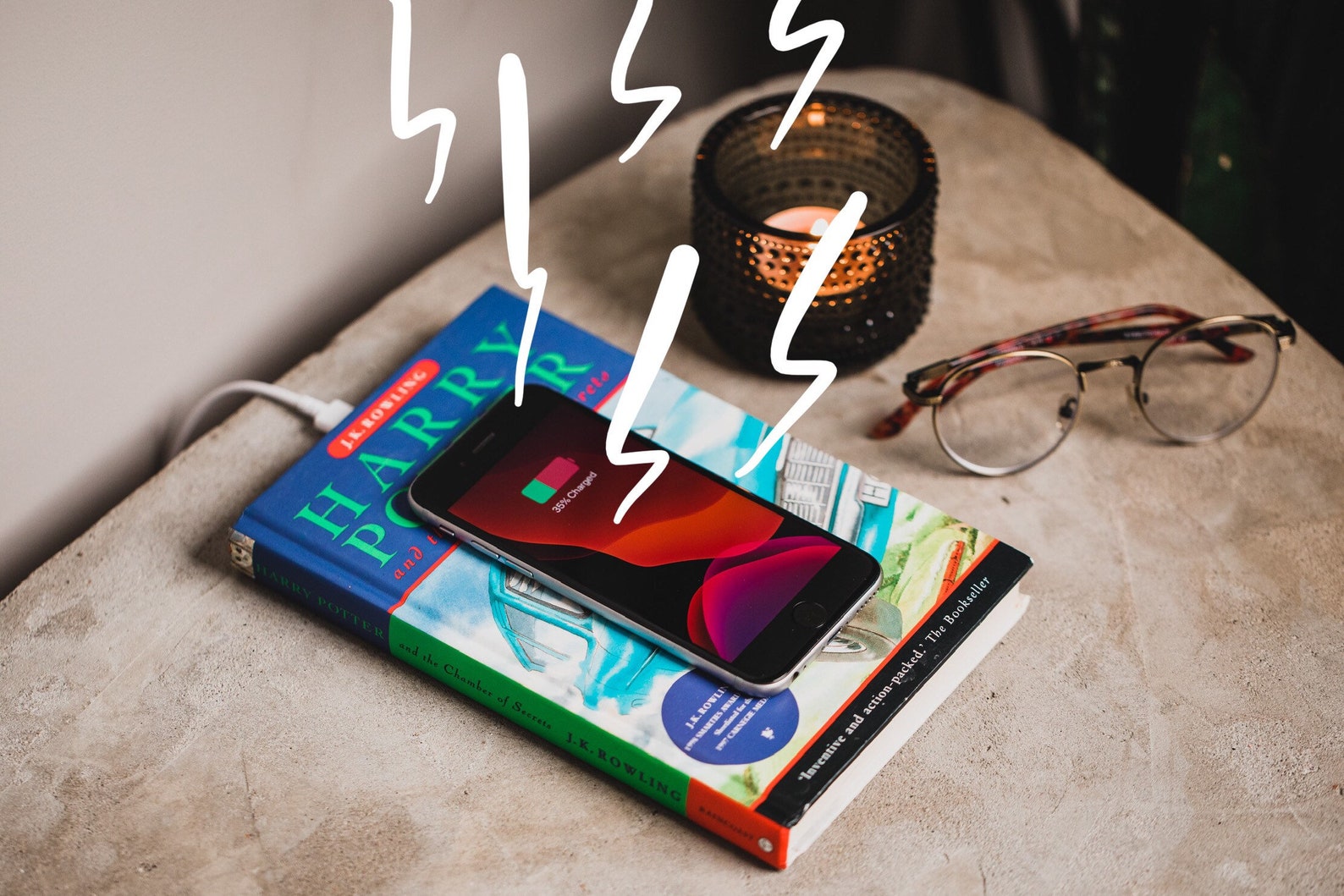 17. A beautiful Harry Potter box set (in a magical trunk!)
if the Harry Potter fan you're shopping for doesn't have all the books already, one of the most epic gifts you can get them is a beautiful box set.
Trust us, this is a gift that they will treasure forever… especially when it comes in a beautiful trunk like this one!
18. This gorgeous hand-carved trinket box ft. the Hogwarts crest
Looking for a special handcrafted Harry Potter gift?
Check out this beautiful trinket box that's hand carved with the Hogwarts crest.
Whether your gift recipient uses it to store jewelry, coins or… even snacks, this is sure to be a beautiful gift that they'll treasure for a lifetime. Click here to price check.
NOTE: This could also make a stunning Harry Potter wedding gift for a couple!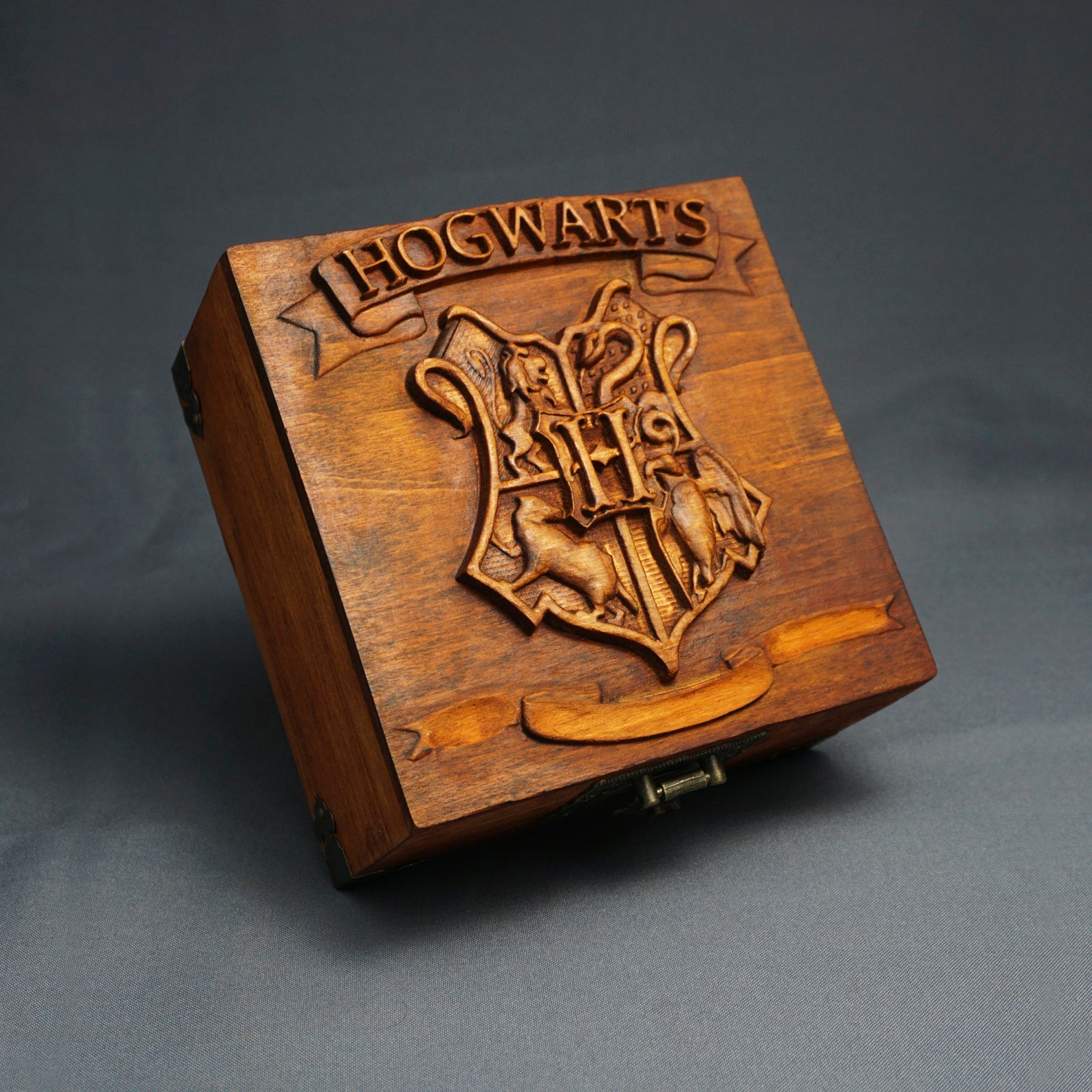 19. This beautiful Harry Potter inspired trunk
Imagine lugging your belongings around in one of THESE. Instant respect.
This trunk would make the perfect gift for someone who wants a classy piece of Harry Potter decor to add to their home, or someone bold enough to straight-up use this as an everyday travelling bag.
Either way, it's a badass gift that is guaranteed to score you plenty of brownie points. Click here to price check.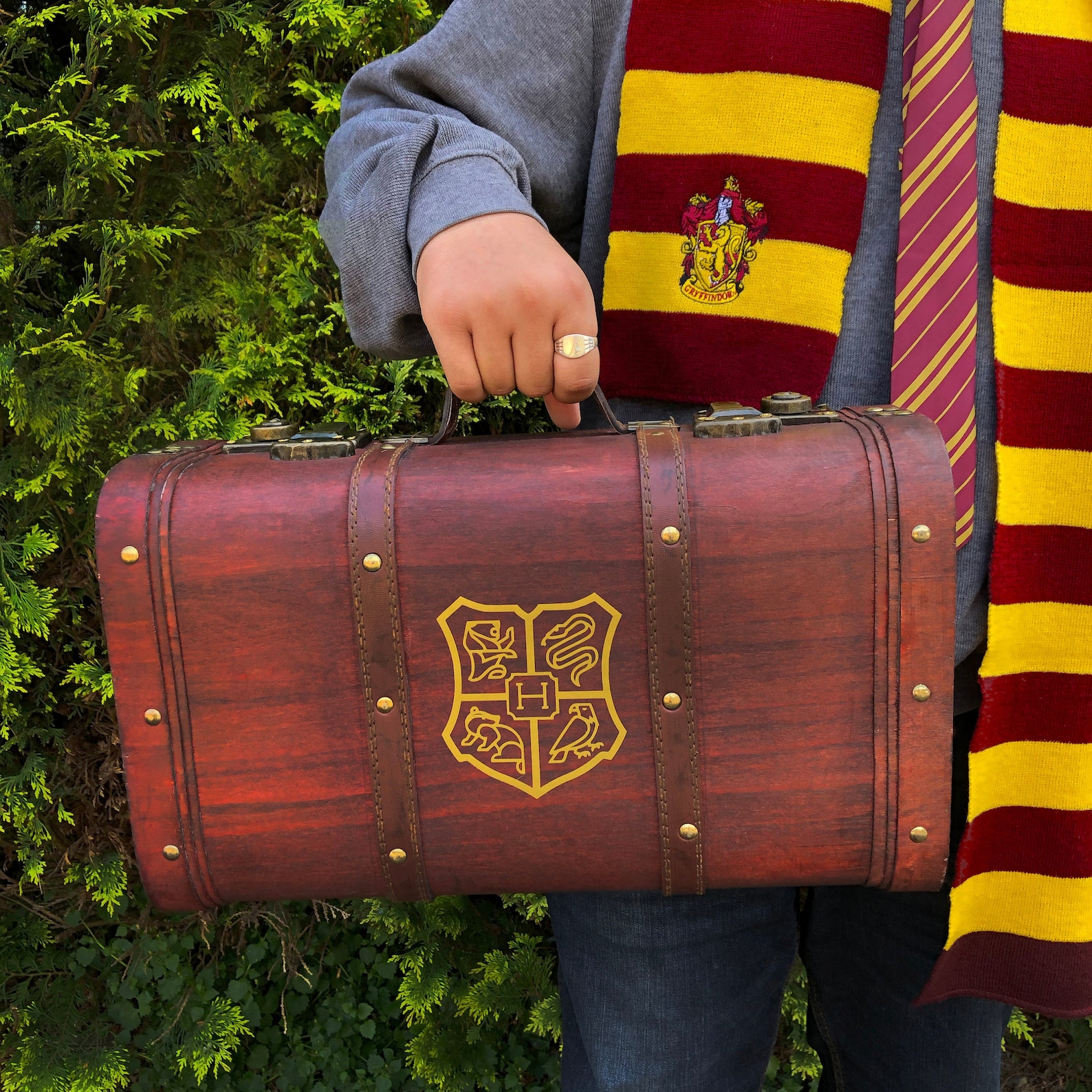 20. This glorious LEGO Hogwarts Castle
Last but not least, we have this amazing Hogwarts Castle LEGO set.
This is probably THE most epic gift you could get a Potterhead, especially a crafty one.
Sure, some might argue this isn't exactly an HP gift for adults, but I'd beg to differ. Most Potterheads are kids at heart in some capacity, and you need some serious brain power and hand-eye coordination to assemble this badass thing.
The price tag is (admittedly) very steep, but if you have the cash to splash, this is one gift that you'll be getting brownie points for forever. Click here to price check.
We hope you enjoyed this list of Harry Potter Presents for Adults!
Let us know in the comments if you have any more ideas for grown-up Harry Potter fans.